Sassy Tweets From Brands That Shook The Internet
By Shane Ronen June 30, 2021
---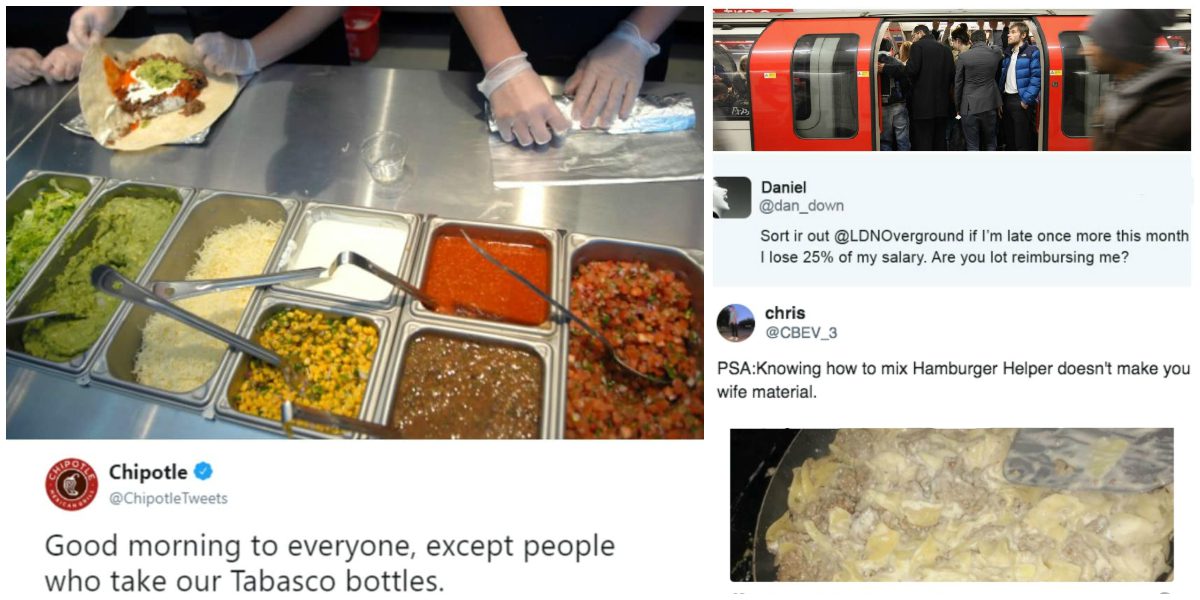 Twitter has become one of the lead social media platforms in the world. As a brand, if you don't have an active Twitter account, well, you don't really exist. Additionally, by having an active account, you agree to the main rule – which is that there aren't any rules. Get ready to read 40 tweets from well-known companies that brought their A-game, and ended up building a great reputation from answering their customers in a sassy way and tone. Some of these 'get backs' made us love these companies even more. Such as tweets from big companies like Chipotle to Kit Kat, and even McDonalds, you're sure to find one that'll make your day. The "competition" in this list is not easy. Lets find out who made the most wittiest of comebacks in their responses.
Things Are Heating Up At Chipotle
The Mexican fast-food giant is putting an end to this jalapeno sauce bandit. Chipotle is known as one of the most crowd-engaging brands out there, and not just because they're filling our tum-tums with yummy burritos. The burrito king is always checking in on its fans.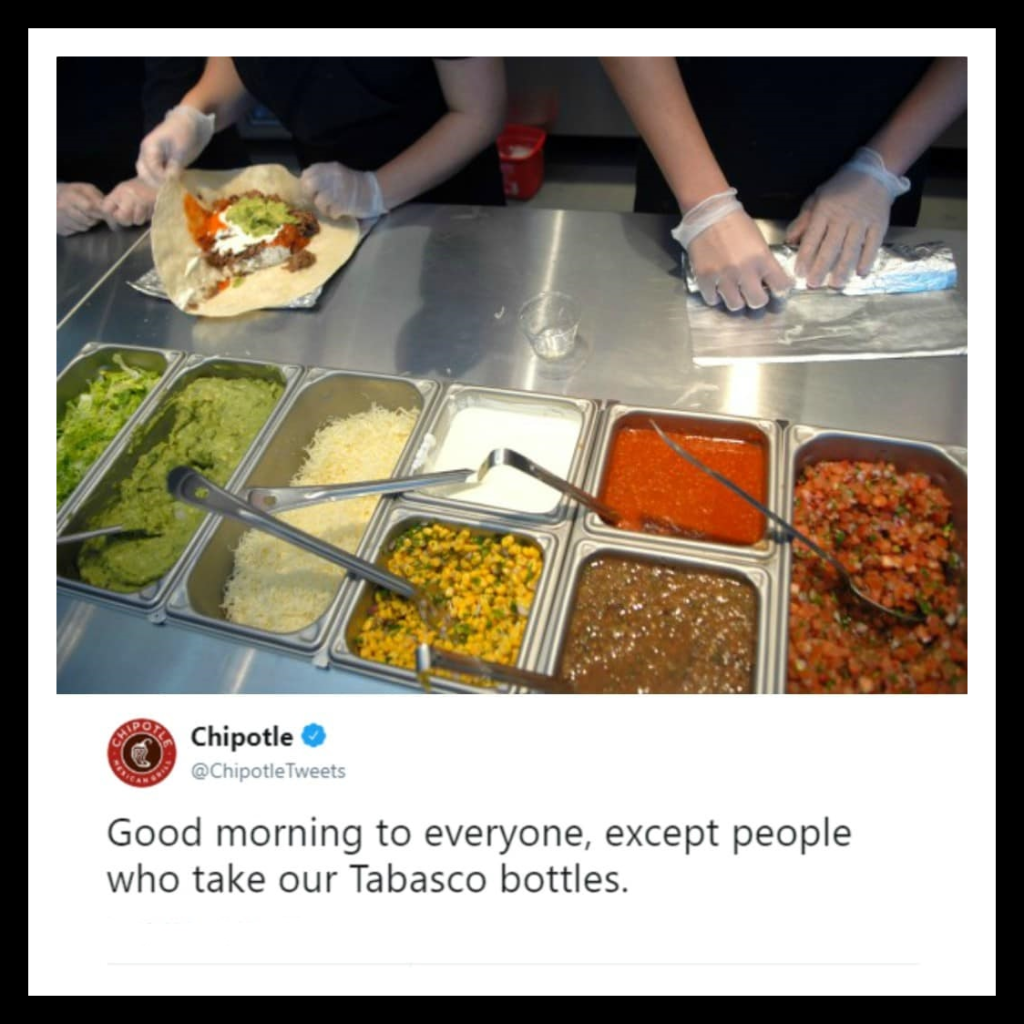 They've expressed zero for the person who is shamefully stealing their hot sauce. Like, dude, they offer free salsa and sauces. There's no reason to steal… Unless, this is Taco Bell's mastermind, as they engage in a little corporate theft while stocking the fridge at the headquarters of Tabasco? We'll never know!
The Breakfast Wars
While IHOP and Denny's argue over which one of them is the OG pancake maker, we are much more interested in which of them has better pancakes. Who the OG is can be quickly figured out with the help of Google.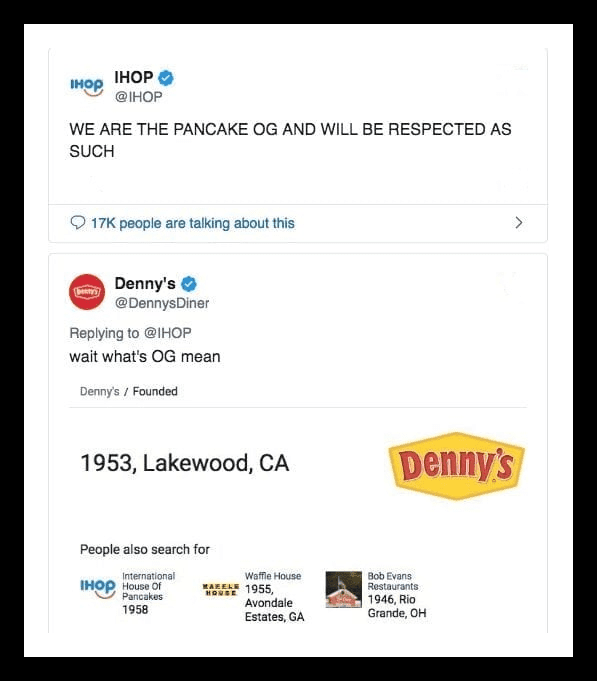 But deciding who has the better pancakes is much more difficult. So of course, we will do what we have to do, like a pancake war. And yes, we are free at any time and at any place to judge this competition. We will get our palates ready.
Don't Hate The Player, Hate The Game
One of the many things about social media is that it gives a voice to anyone and anything. Especially for brands that take advantage of social media by building an online presence. Social media provides these companies with a voice and a fun way to build loyal relationships with their customers. Take this AMC Theaters post as an example.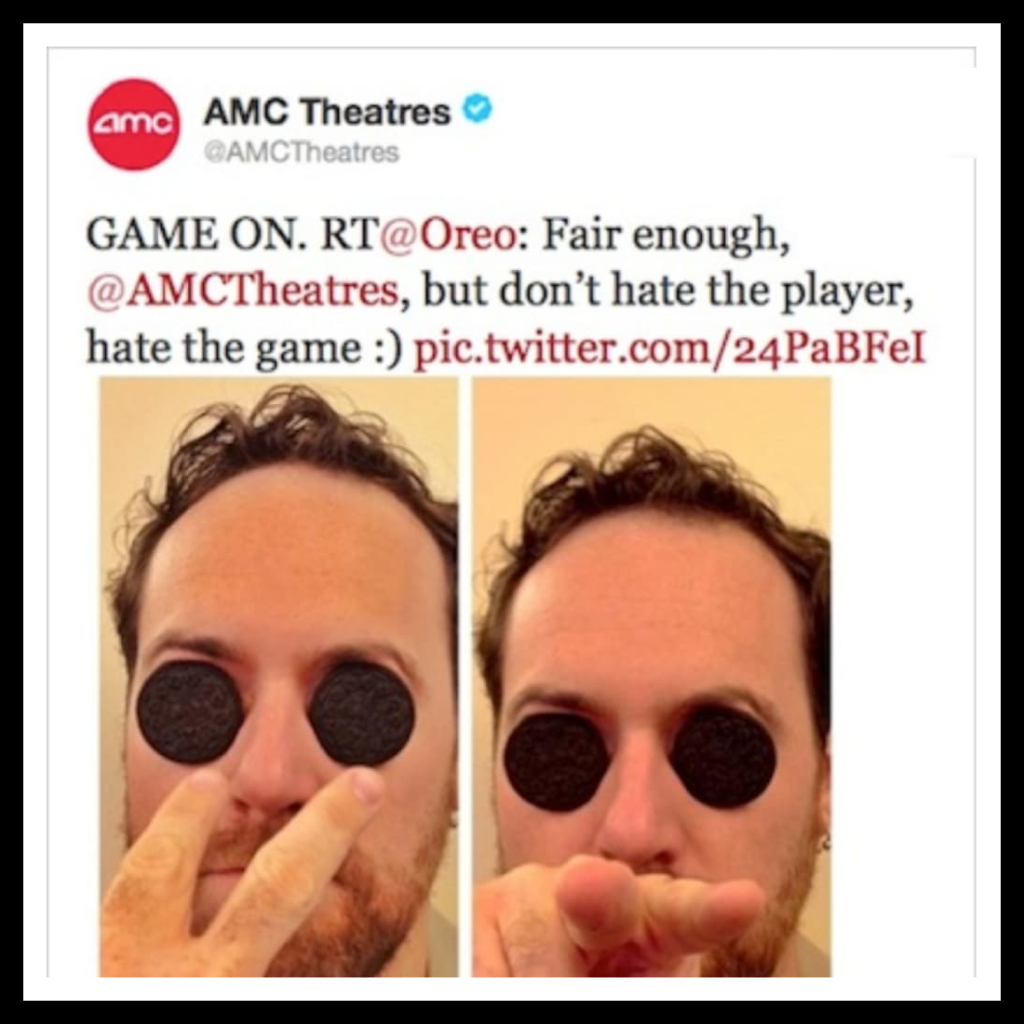 If you needed to imagine AMC as a person, you would probably imagine them as a movie enthusiast or something along those lines. But after Oreo posted a tweet about sneaking in cookies to the movie theater, AMC built an online presence we weren't expecting. AMC decided to make fun of the cookie company which helped in establishing AMC Theaters as fun and oh so playful.
Mailing In The Burn
Here comes the Royal Mail with their daily dose of BURN. Since grade school, we are taught to expect a locker filled with Valentine's Day cards. One of the great things is being surprised by a secret crush sending us a heart-shaped card.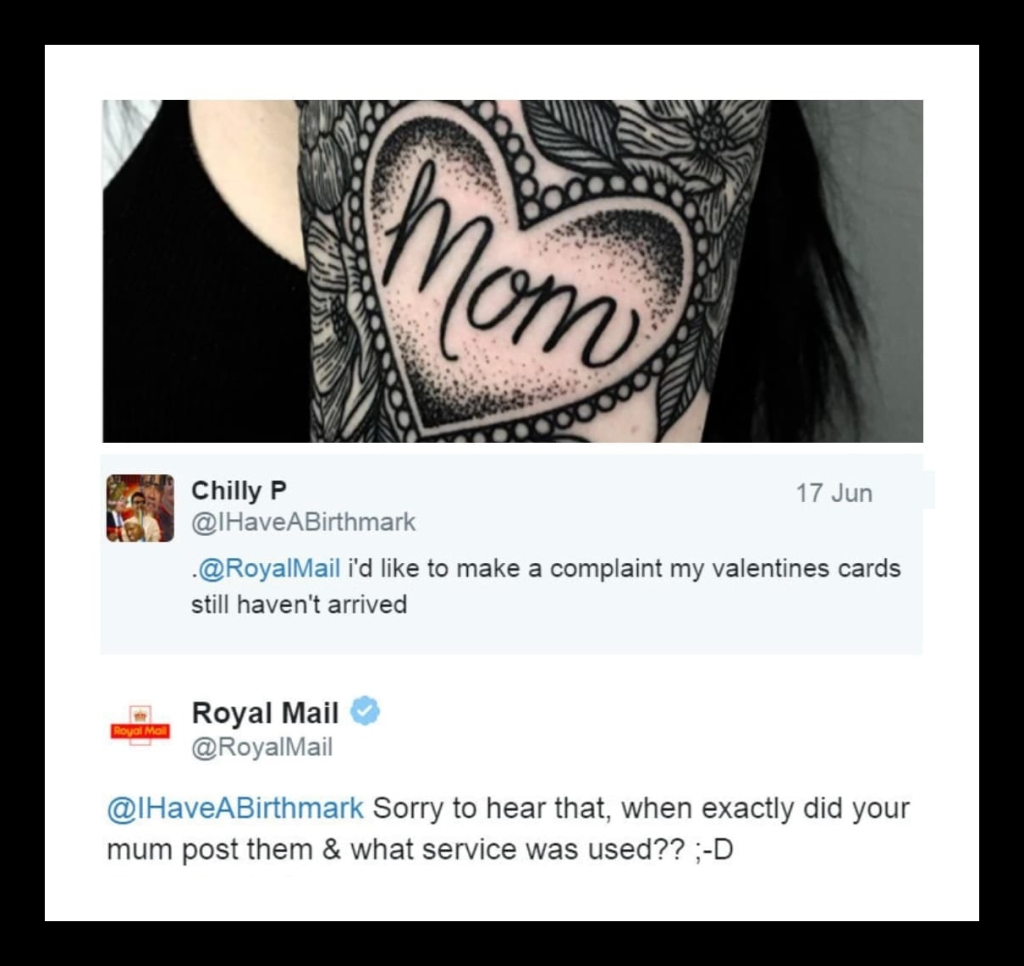 The main thing about these Valentine's Day cards is the effect of surprise. You may have an idea of who will send you a card, but it's not like you don't sit and wait for it… Well, unless you're this guy – "Chilly P." He assumed he will get some Valentine's Day cards. Unfortunately for him, Royal Mail had another kind of message for him. As we said – BURN!
The Fight For Laura's Affection Begins
As chocolate lovers, we would die for two giant chocolate companies to fight for our brand loyalty. This is exactly what happened to U.K resident chocolate lover, Laura Ellen. Laura tweeted about her sweet tooth, and that she follows both Kit Kat and Oreo. Of course, these two companies needed to win her over with some, sweet competition.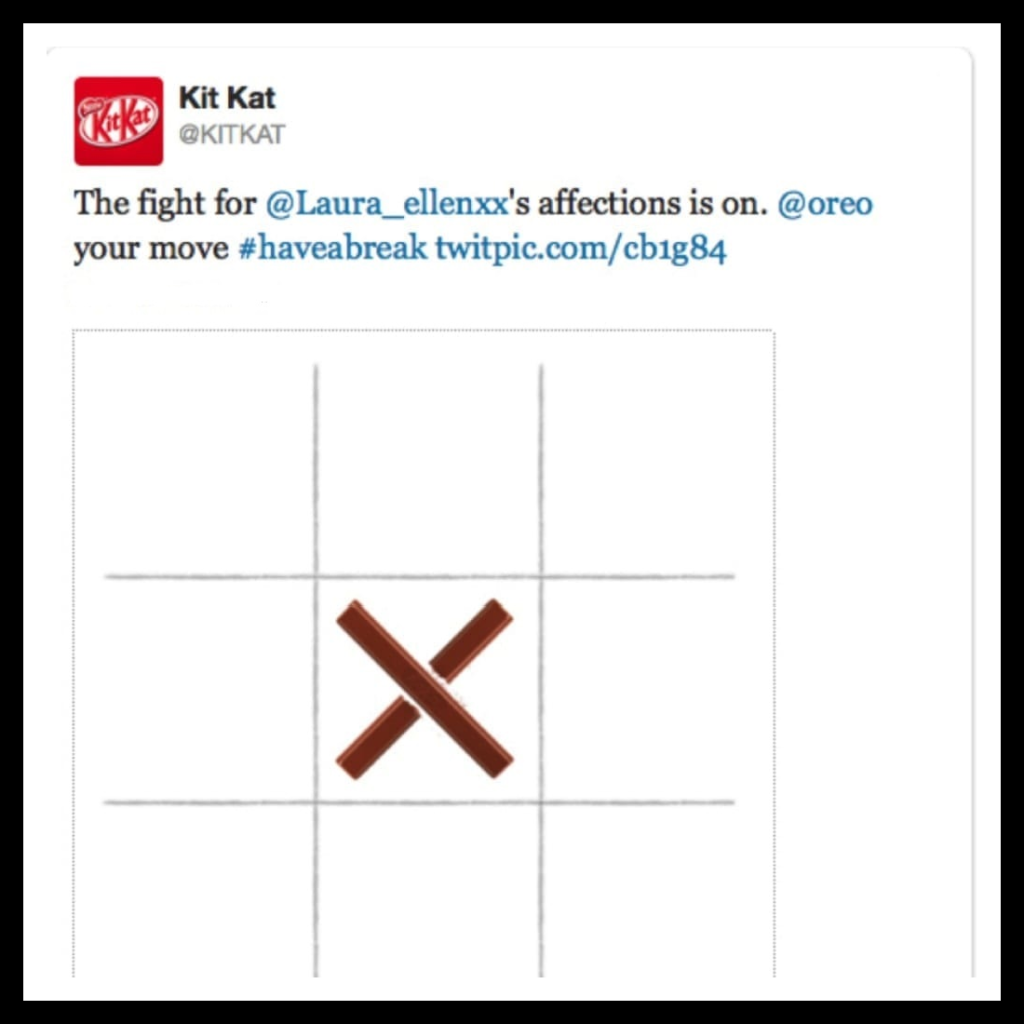 Kit Kat was the first to challenge Oreo for Laura's heart and affection. And what is a better way to challenge someone than a friendly game of tic-tac-toe? If you're wondering how Oreo responded to this…Well, you will have to keep on reading.
Just Couldn't Resist
You didn't need to wait too long to see Oreo's epic response. In response to Kit Kat's tic tac toe challenge, the cookie company chose a surprising way to win this challenge. Oreo actually ussd Kit Kat's slogan against them with the #GiveOreoABreak hashtag.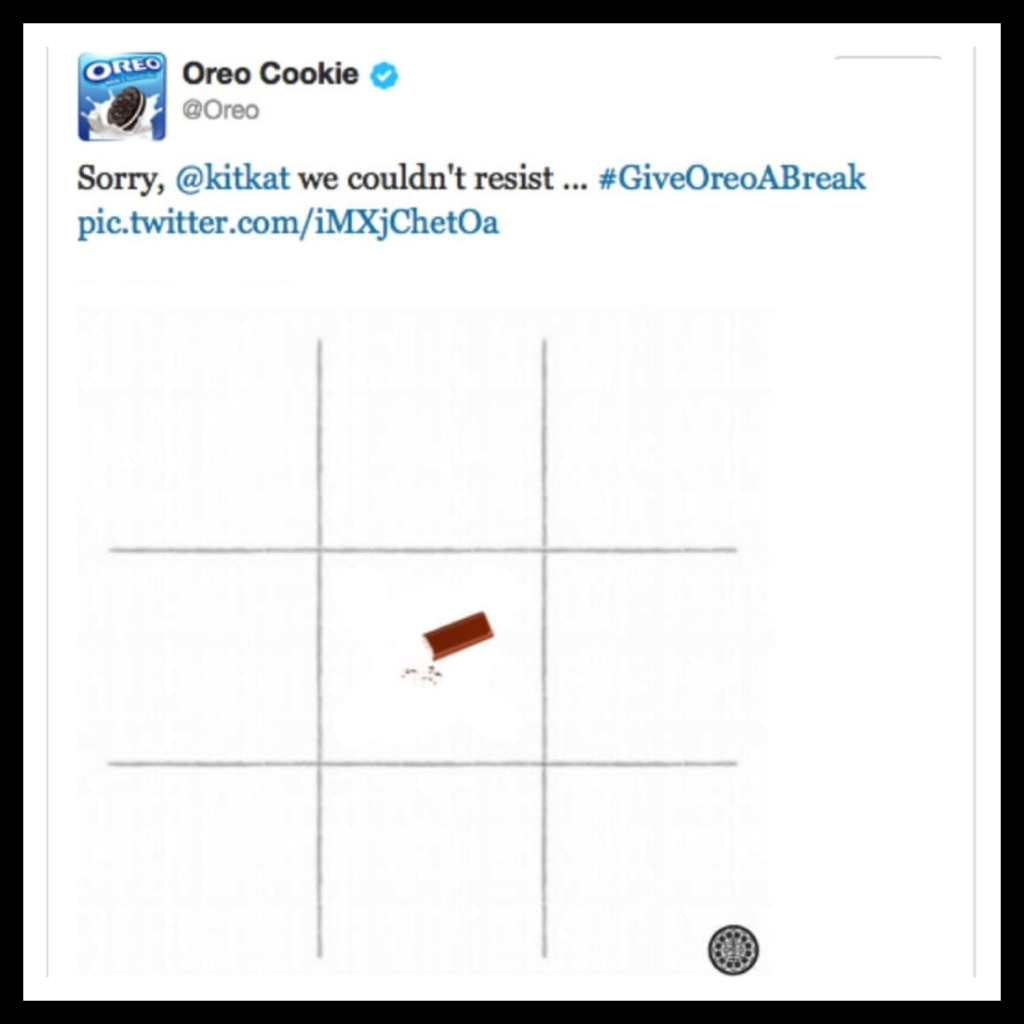 But, they also took a bite out of a Kit Kat bar. What do you know! We can honestly say that both brands nailed it! They came up with genius and witty posts. Now, all that is left is for Laura to choose which brand she likes best.
Ooohhh Snap!
Who knew that besides making killer burgers, Wendy's also excels in smack-talk. When Devon Peacock tweeted a tagged Tweet towards Wendy's asking how much a Big Mac costs? Check out their response. Their answer is a huge burn – something you won't expect.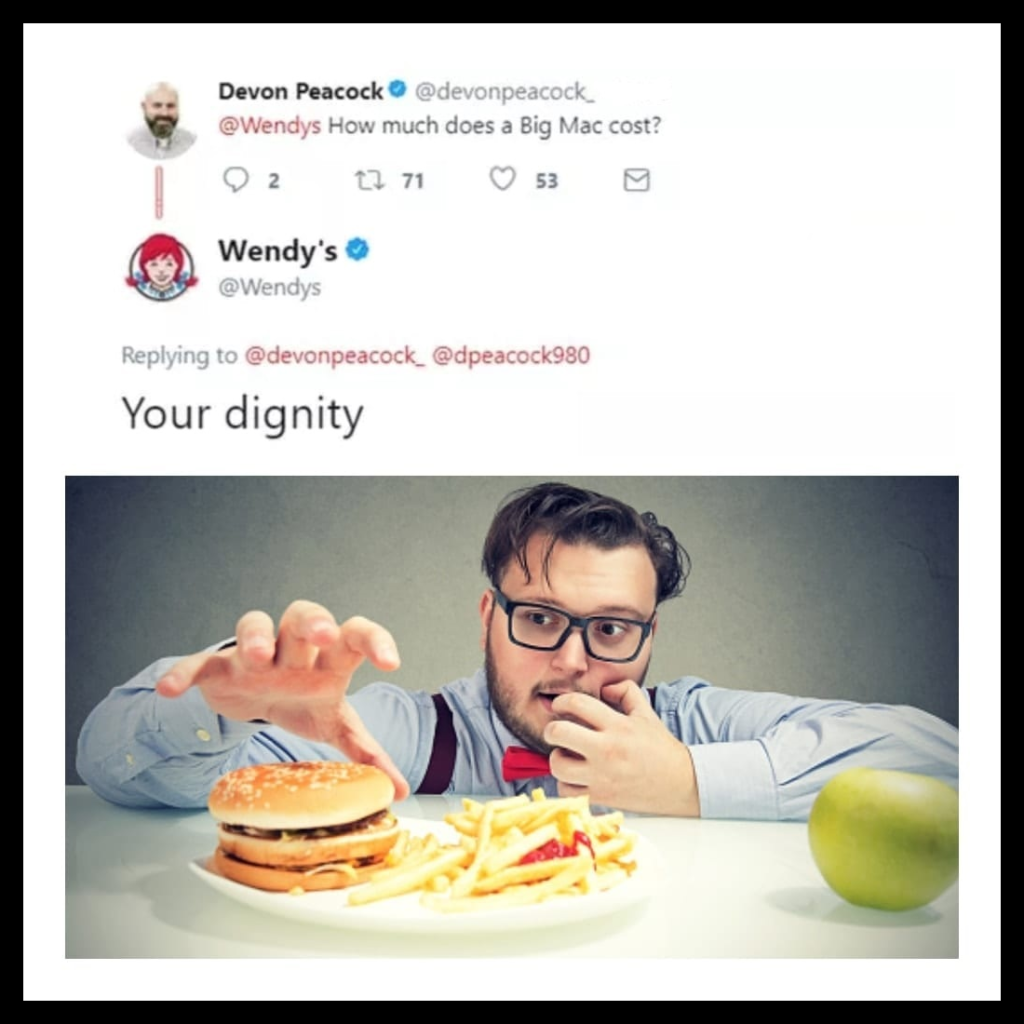 They replied in a feisty way- your dignity. To be honest, Wendy's can totally back up their smack talk. Their burgers are out of this world. So, all that's left to ask is will Devon choose his dignity over Micky D's dollar menu?
Would You Rather?
You should know that usually whenever you go after someone, you should be prepared for them to come back at you. Speaking from experience, throwing shade on someone else to bring yourself up is usually not the best technique in the world. Just ask the BBC about it.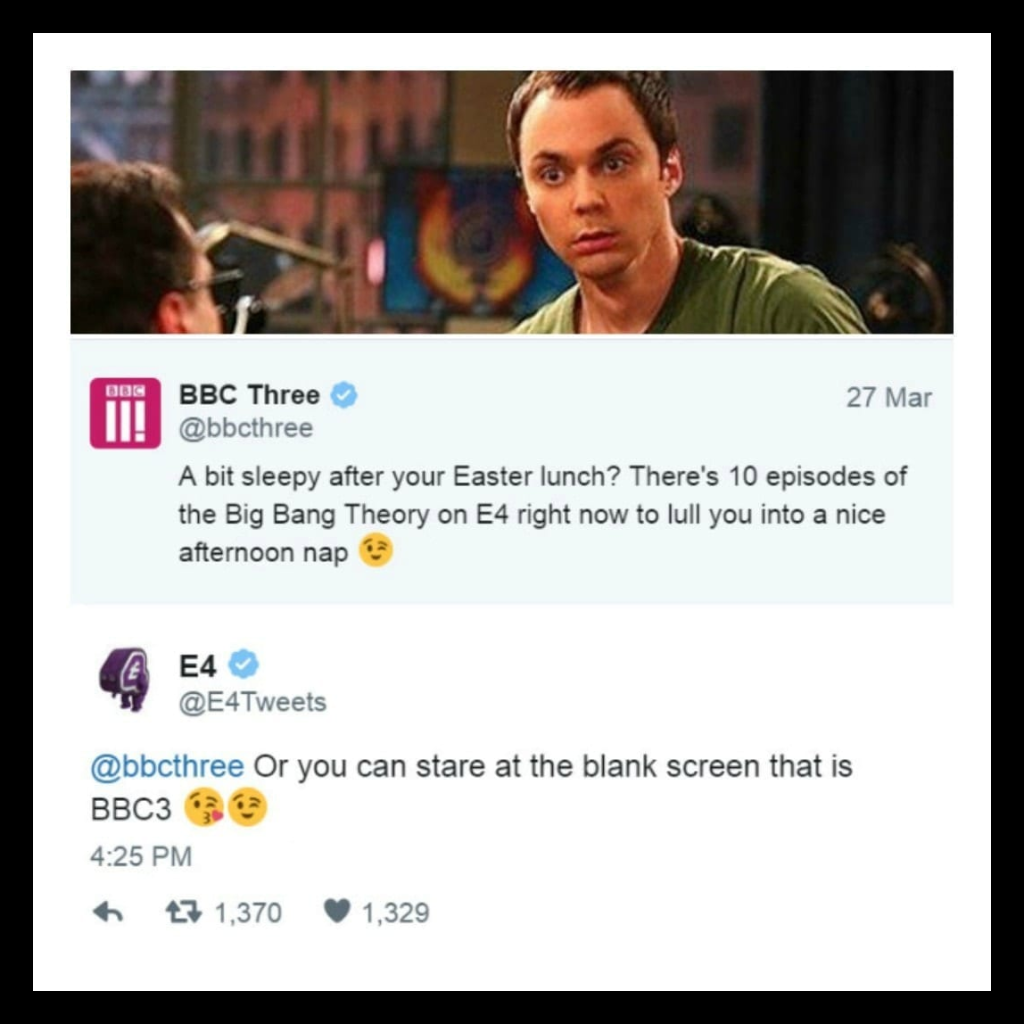 We understand that it isn't easy for cable TV in today's world since Netflix and other competitors arrived on the scene. We wish we had some comforting words for cable TV channels, but we don't. So, we guess they can keep going at each other.
When Hell Freezes Over
So, unfortunately, we don't know a lot about soccer. But what we do know is that soccer fans are extremely loyal to their beloved teams no matter if they win or lose. The London based team, Arsenal, is known for being a great team.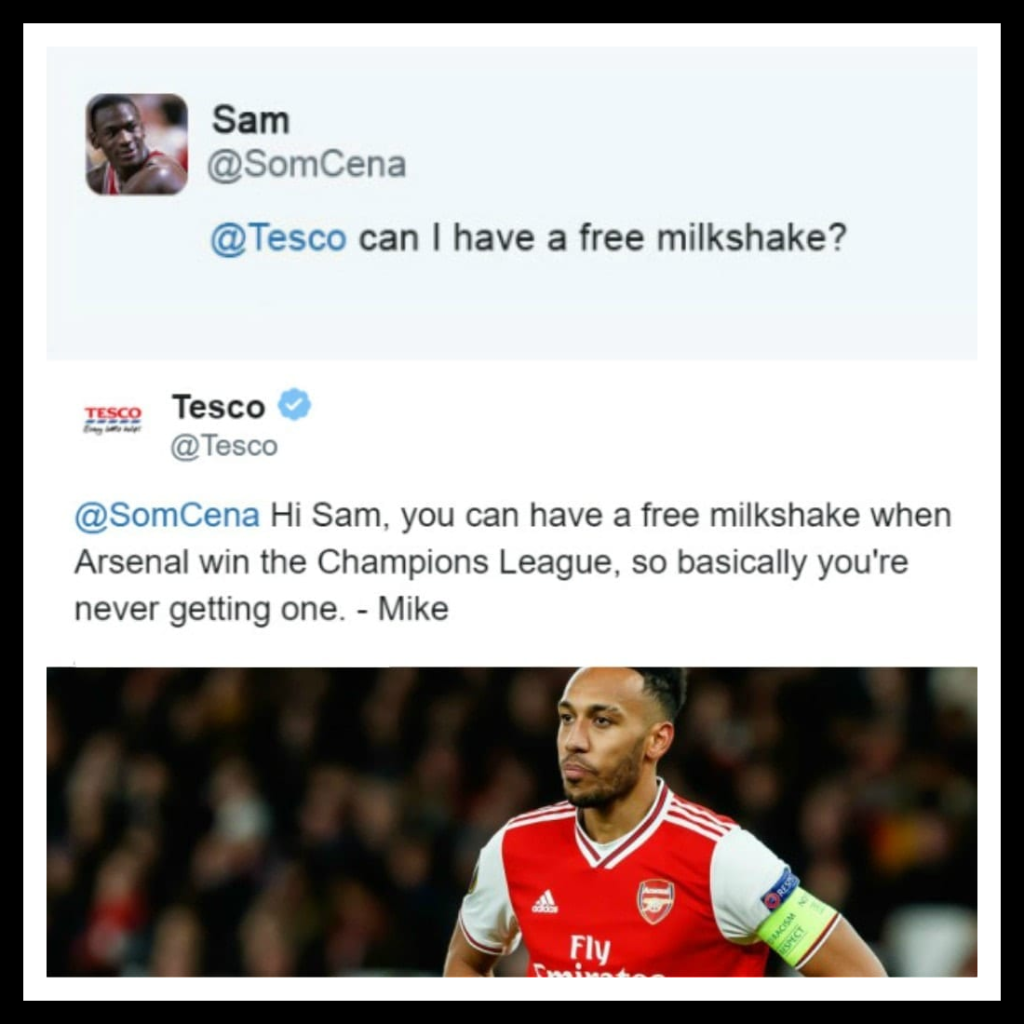 Unfortunately for them, they are currently also known for their losing streak. We are pretty sure poor Mike wasn't ready for a soccer-related answer to his request. Ooh, burn. And also, nice reference! We love a company that can understand sports references.
Disrespecting A Scholar
We all have a certain appreciation for super-intelligent people. But, with all honesty, we all prefer feeding our tummies than feeding our brains. This is exactly why Neil deGrasse Tyson's tweet fell on deaf ears. With someone like him, a lot of references aren't going to fall on eager people.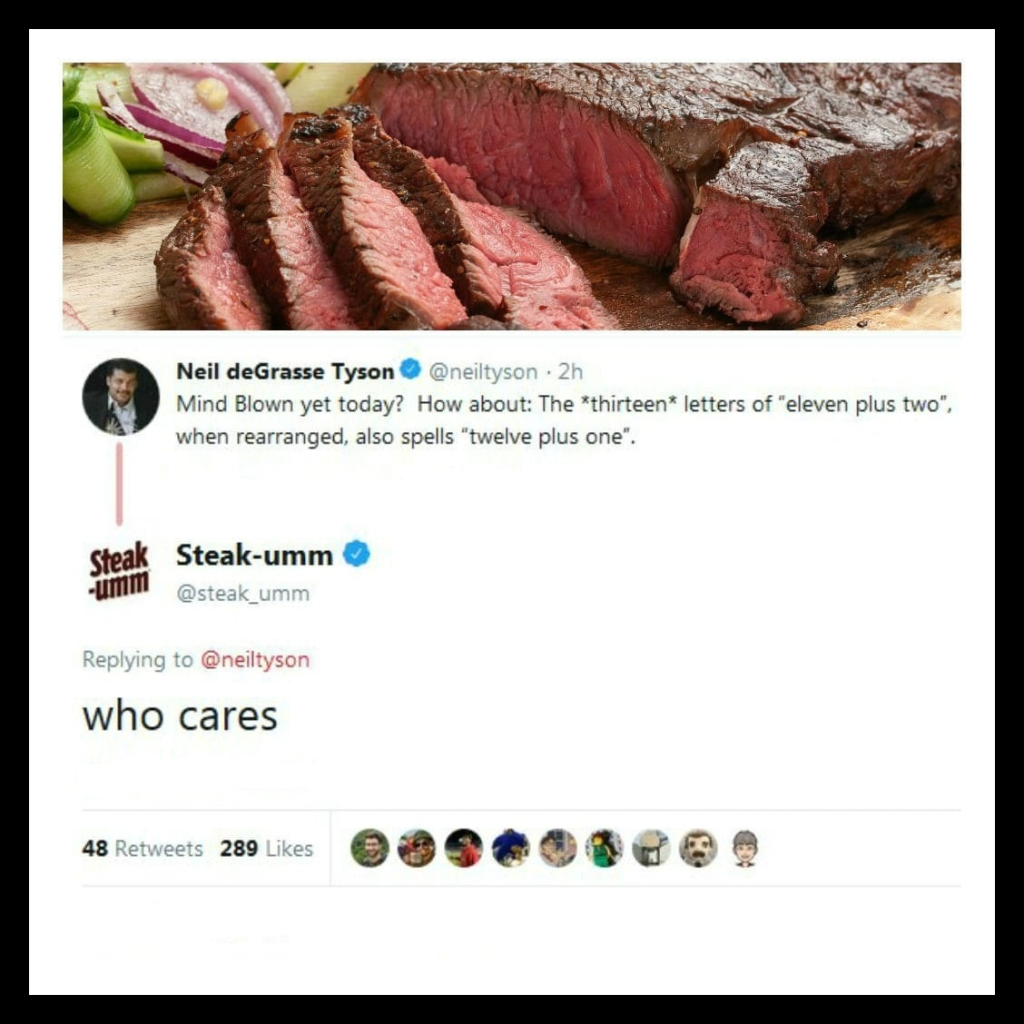 We are sure Neil will agree that nothing can beat the taste of steak, not even a mind-blowing word game. What we can say is that we didn't care for Steak-umm's dismissive answer. But, all in all, nothing can beat steak, and unfortunately for Neil, Steak-umm knows it.
It's A Whole Food Thing
When we think about Whole Foods, we think about the wide variety this store offers. Thousands of organic, plant-based, and preservative-free food offerings. Another thing that comes hand and hand with Whole Foods is the fact that unlike their variety in food, they certainty lack variety in their customers.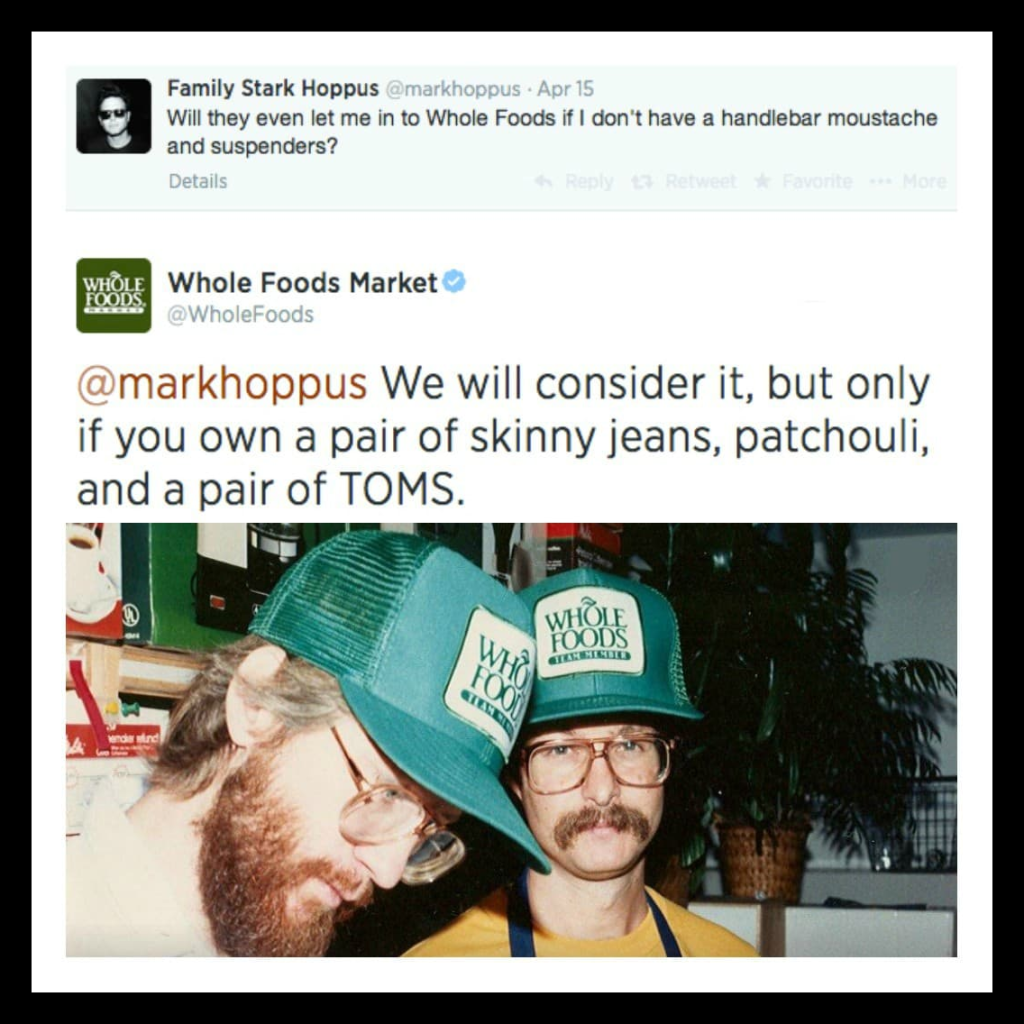 Something that "Family Stark Hoppus" was happy to point out. With their handlebar mustache, suspenders, and reusable shopping bags, we would love to know if the food there is worth the price, and if the "look" is actually a thing when it comes to shopping at Whole Foods?
That's Just Charmin
When we think of all the different companies that need a strong online presence, toilet paper companies don't come to mind. So, in case you were wondering why they need to have an active Twitter account, we invite you to take a look at the tweet below.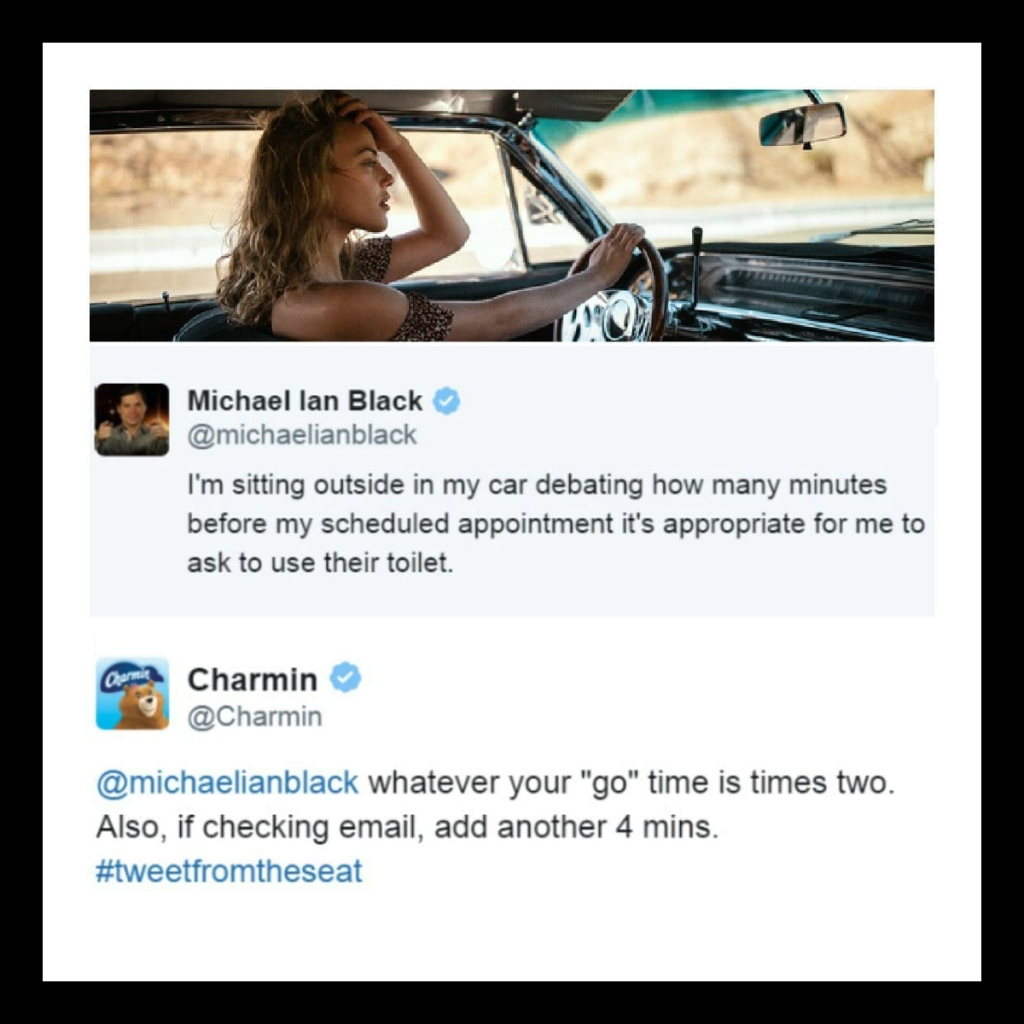 We probably all have wondered the same thing as Michael many times. Thanks to Charmin, we now have the answer. We think we should all save this tweet, print it out, and keep it somewhere safe. This question will certainly come back into our minds.
On Wednesdays We Wear Pink
This girl certainly knows her fashion rules. Who can forget the famous high school movie featuring a then successful Lindsey Lohan, Mean Girls? In case you live on a different planet, this movie dictated a whole new set of fashion rules which one of them was on Wednesday, we wear pink!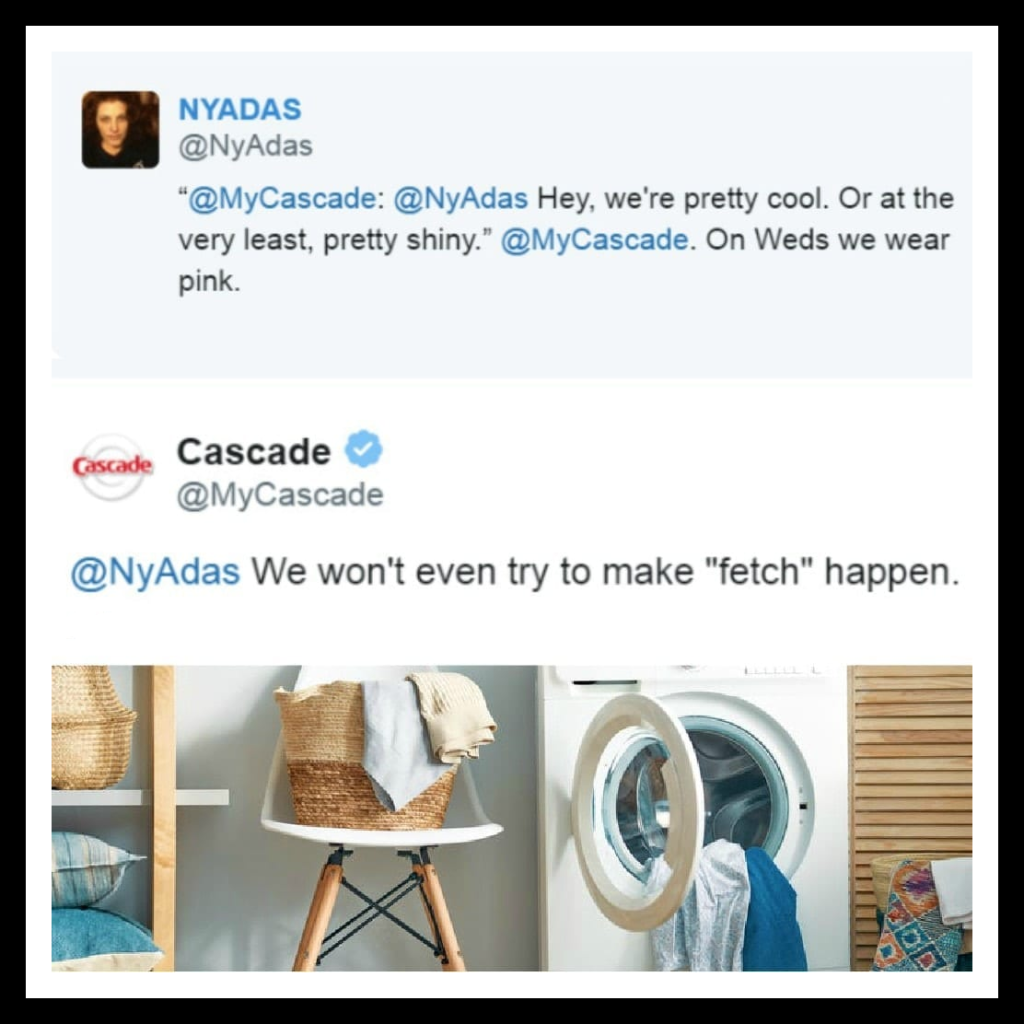 Thankfully, Nyadas is completely aware of these Mean Girls rules and can remind all of us of these fashion musts. As far as we know it, "fetch" is still not happening. Sorry, Gretchen Wieners. Move over, Cascade is the new queen bee here.
Snickers With The Perfect Plug
Marketing class 101- always utilize a popular slogan whenever you can, especially if it's on behalf of another company. This is exactly the case with the famous chocolate bar Snickers and the department store JC Penney. It all started when the well-known department store, JC Penney, posted a weird grammatically wrong tweet. Of course, many companies jumped on the bandwagon and commented.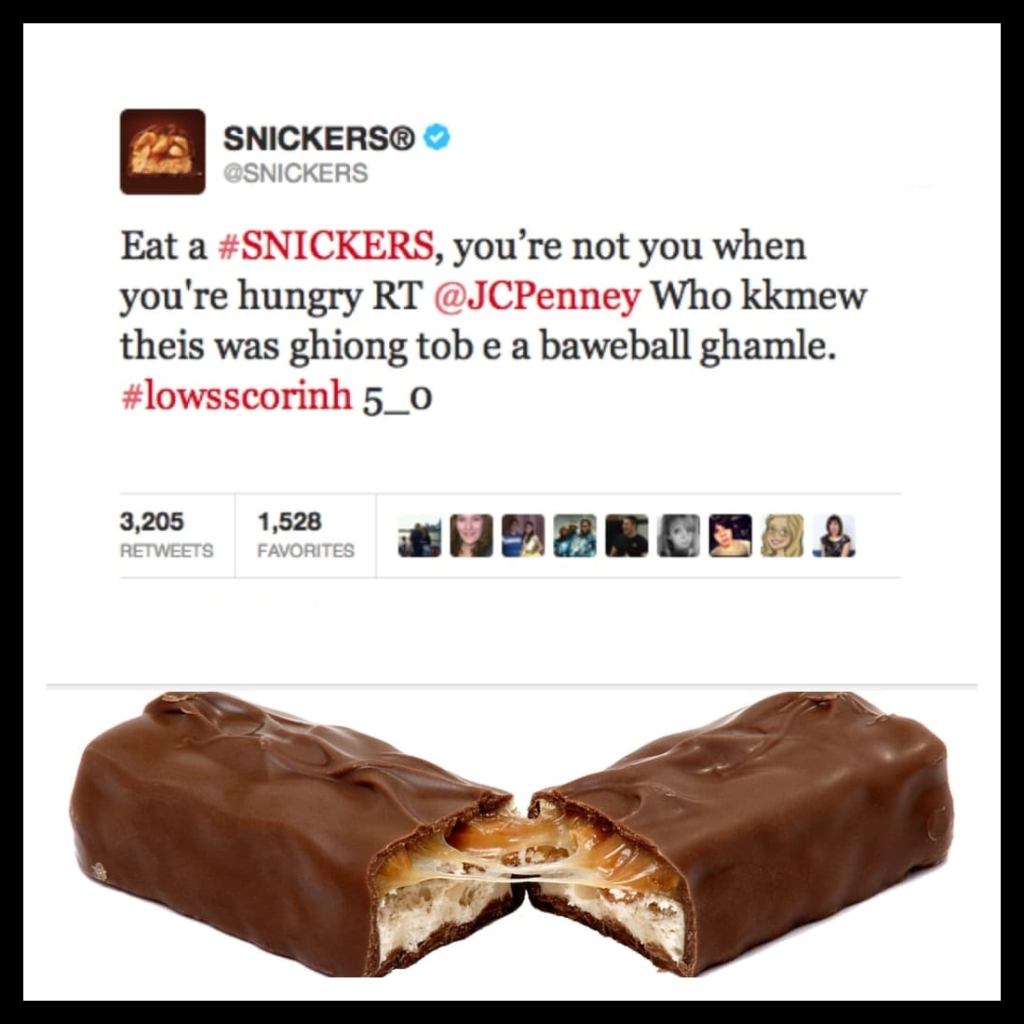 But Snickers isn't just "another company," and jumped on the opportunity to promote their candy bar. They found a funny way to not only make fun of JC Penney's mistake but also use their famous slogan – "You are not you when you're hungry." Snickers, you passed marketing class with flying colors!
The Marshmallow Assassin
In today's world, it seems like the internet is filled with irrelevant profiles for pretty much anything and everything. From profiles for a person's pet to a profile for a chocolatey puff called Moon Pie. The internet world is truly boundless.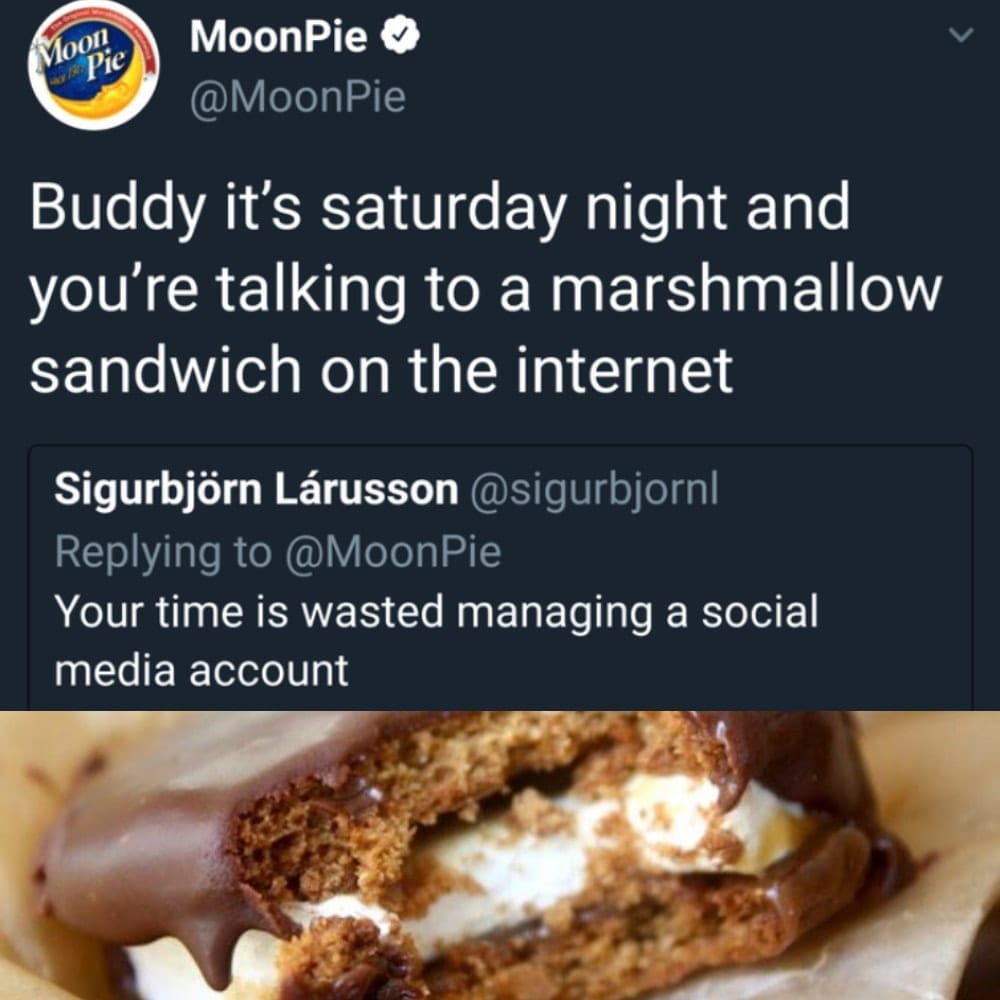 Yes, you read correctly, a profile all devoted to a chocolate ball filled with a marshmallow puff. So of course, as any good Twitter user, you will call out this unnecessary profile, which is exactly what Sigurjorn did. To our surprise, Moon Pie fought back with the snarkiest reply.
Hooters Gets Roasted
When Hooters commented on a Wendy's National Roast Day tweet, they probably didn't think that their waitress's uniforms would be roasted. For all clarity, Hooter's uniforms have been a subject of discussion for many years. We don't think anyone ever brought up staying warm in the Winter, which is a really good point!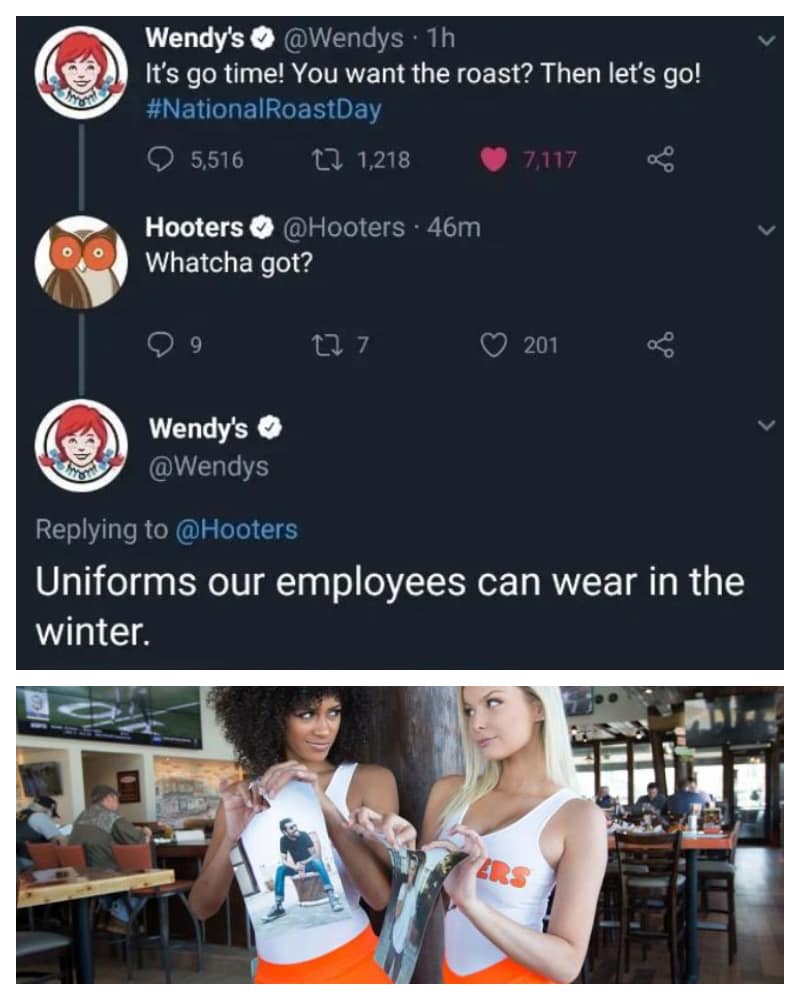 What we do know is that the uniform has been modified and changed, and still succeeds in grabbing the customer's attention. Unfortunately, we didn't have Hooter's comment on this "roast," but if one thing's for sure, these uniforms help bring in big tips.
Super Bowl Smack
It doesn't matter if you are a football fan or not. One thing is for sure, when it comes down to coming after fans of a football team that just lost is SUPER risky. We guess DiGiorno Pizza didn't get the memo, and they succeeded in offending thousands of football fans when their team lost the Super Bowl.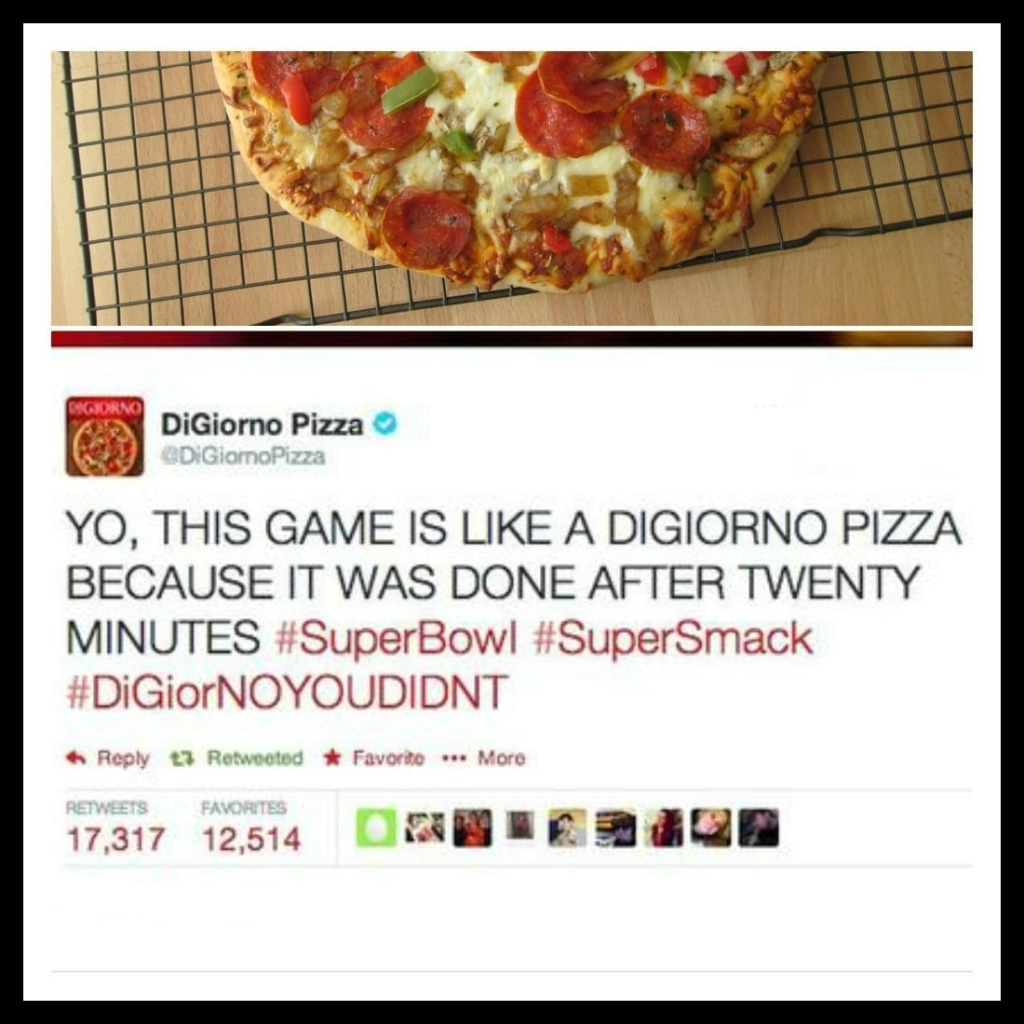 To be honest, we appreciate this snarky remark from DiGiorno. They went for a touchdown with this tweet. Same as football, they saw an opening, and well, they went for it! And they also aimed for a pizza reference – we give them a 9/10 for this.
Nostalgia For The Rainbow
"See the rainbow, taste the rainbow." How many times have we heard this slogan by Skittles? It's true, whenever you see a bag of skittles and the colorful candy, you think of a rainbow. But in all honesty, even though it's nice seeing all the different colors of skittles, you always hope there are more of the purple and pink ones rather than the other colors.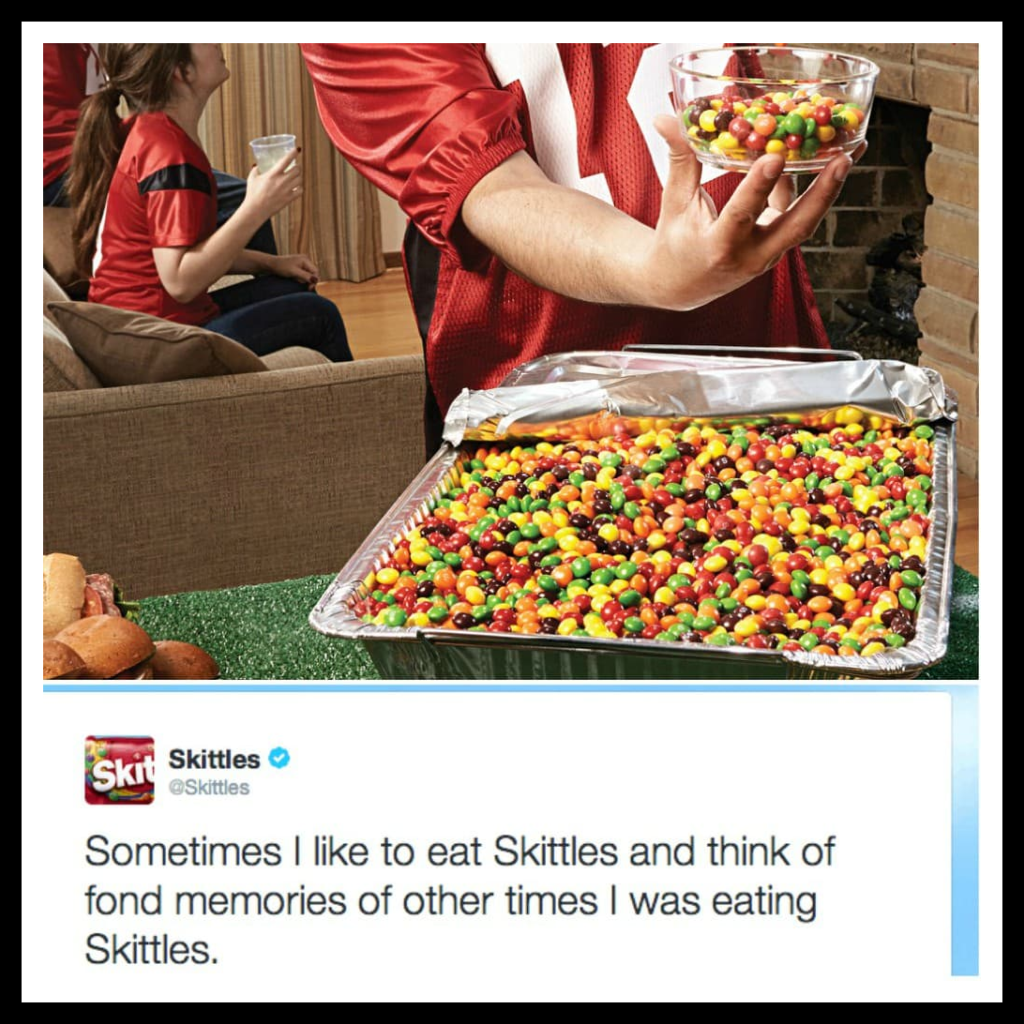 Thanks to Skittles, they have come out with different, tasty flavors over the years. And of course, we will be happy with any color of delicious skittles. But, our favorites will always be the sour skittles in the bright green package. Who's with us?
Old Spice Got Jokes
You would think that in today's world, finding your perfect match would be easy. In a reality that we have everything at our fingertips, swiping left or right seems like the legit way to find your significant other, no? Think again.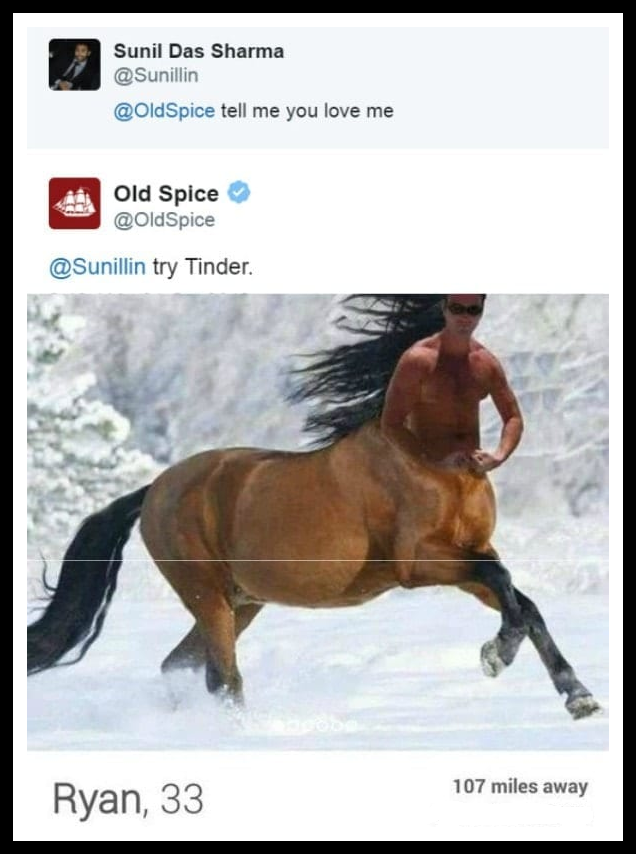 Unfortunately for Sunil, the dating scene isn't going so well. Which is why he was reaching out to a lifelong friend "Old Spice." Sadly, they had a different response in mind. Instead of reporting in a negative way, they proposed an alternative. `
MoonPie Don't Care
You probably don't remember this, but in 2017, one of the hottest topics was the solar eclipse. Planning on how to get the perfect shot of this truly special moment was planned to the T by many people, including companies like MoonPie. Go figure.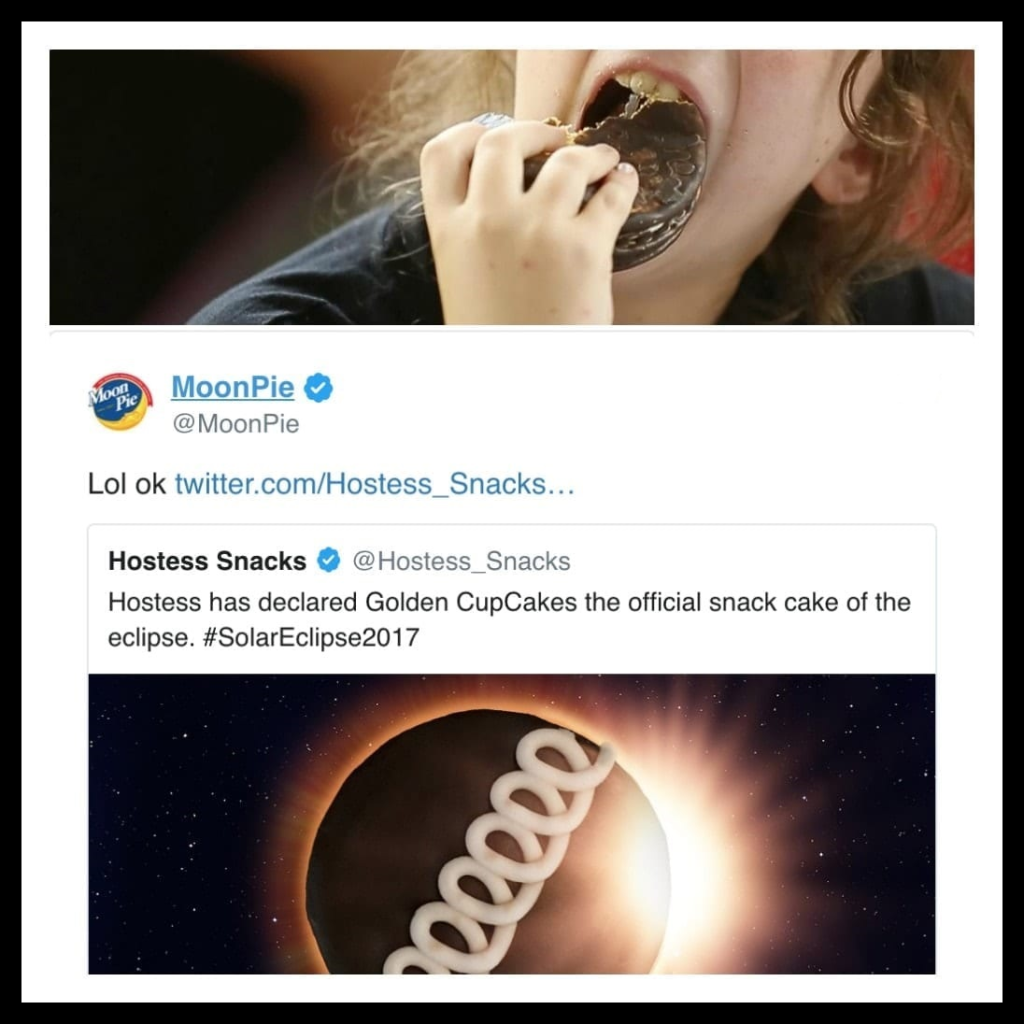 It was such a hot topic, that everything round-shaped got some coverage. For example, Hostess Snack declared the hottest round snack of the eclipse. Unfortunately for MoonPie, the round golden cupcakes snagged the title. Who decides these things? We'd love to know.
False Advertising
There are a couple of well-known companies out there that make you question what happened during their brainstorming meetings when they were coming up with their brand name. One of these companies is definitely Old Spice. People interpret this name in a couple of different ways.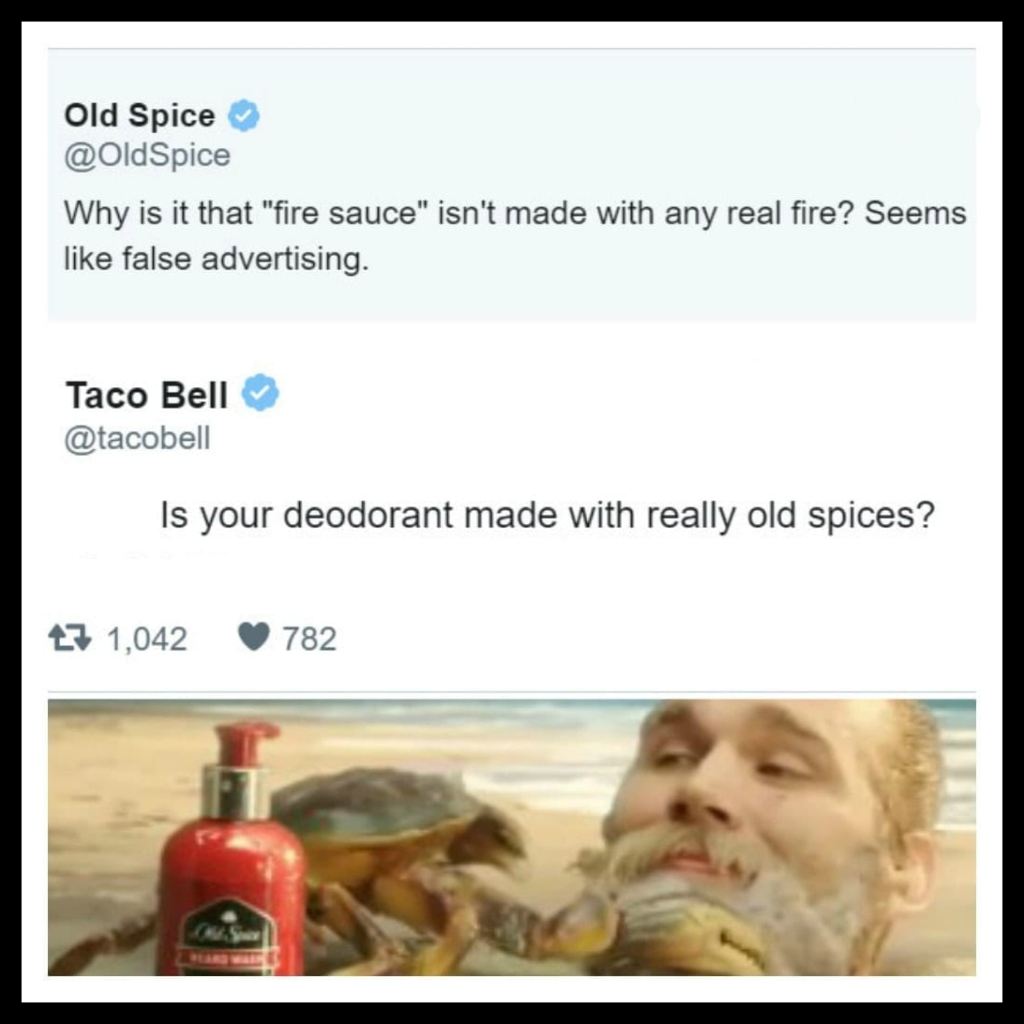 To be honest, it doesn't matter what you understand from Old Spice's name because, in the end, it works. We all know and love the scent, so its good that no one stopped to think or question the name. Oh, the wonders of marketing.
Someone Doesn't Trust Wendy's
As we all know, in today's world, it is really easy for people to be jerks and post nasty comments when they have a screen to protect them. We truly recommend that if you want to start a "fight" with a nasty comment, please do some fact-checking beforehand. Especially if your target is the well-known burger joint, Wendy's.
Yes, we are pointing our fingers at you – Thuggy-D. Wendy's worked for many years to build the reputation they have, as well as their high beef standards. So, if you're coming for Wendy's, be ready to get schooled by them!
McDonald's With The Diss
Not sure where McDonald's is throwing their shade at? Same here. We needed to investigate a bit to find the answer for this. But no worries, here is the answer. In 2014, Taco Bell came out with a new breakfast menu. Seems legit, right?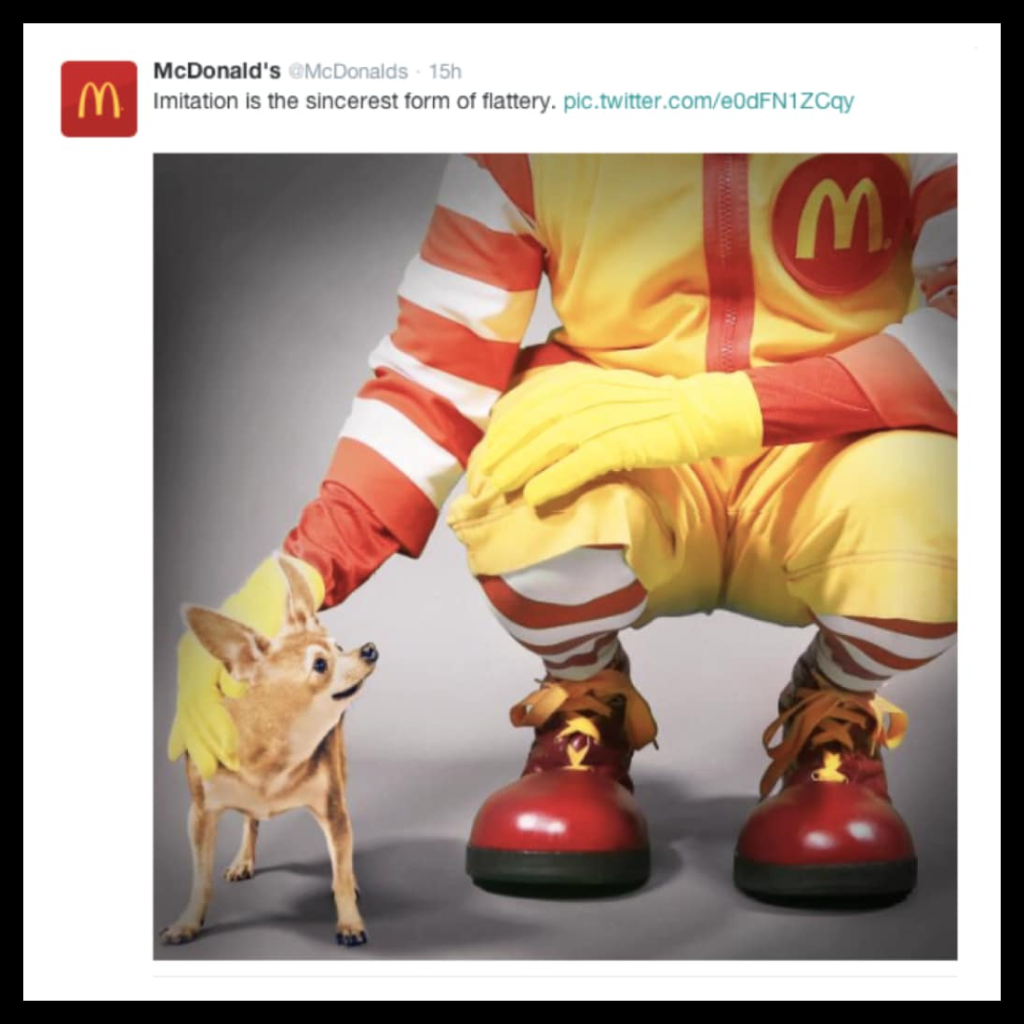 Well, to promote these new products, Taco Bell used a charterer named Ronald McDonald. In response to this MacDonald's tweeted a not so subtle response to defend their title as breakfast royalty. To our surprise, Taco Bell kept quite.
Fishing For Laughs
You go to the supermarket in order to buy some battered fish. You find what you are looking for, but oh no! You get to the register and you find out the battered fish doesn't have a bar code or even contain the cod you so desperately wanted.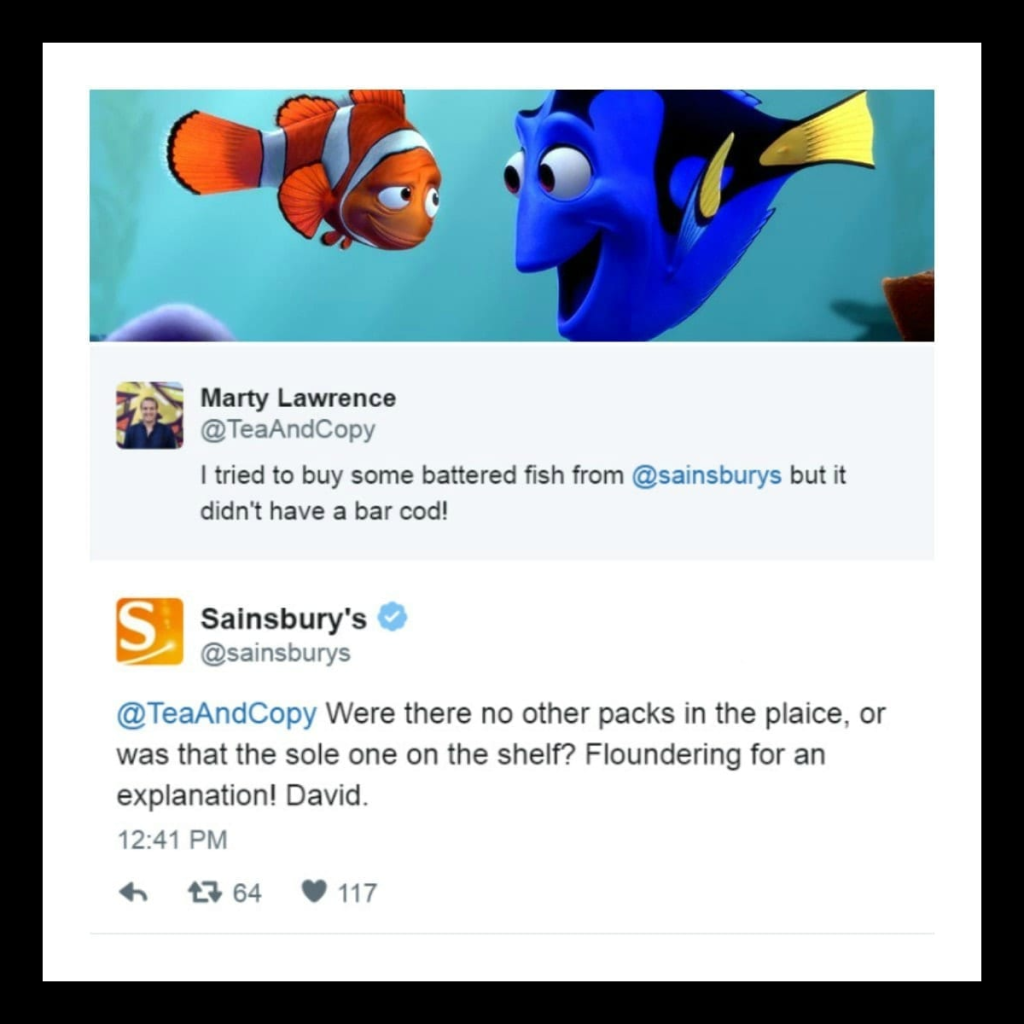 You go back home, disappointed, and tweet about it. This is exactly what Marty did. By the way, we would love to know if the battered fish was missing a bar code on the package or a "bar codfish" in the package. Waiting for your reply.
Shots Fired!
Wow Tesco, we can feel Felipe's heartbreak through the screen. Unfortunately for Felipe, we have to take Tesco's side on this one. If you tweet about turning off a girl because of her mobile network, you probably don't have a lot of options to begin with.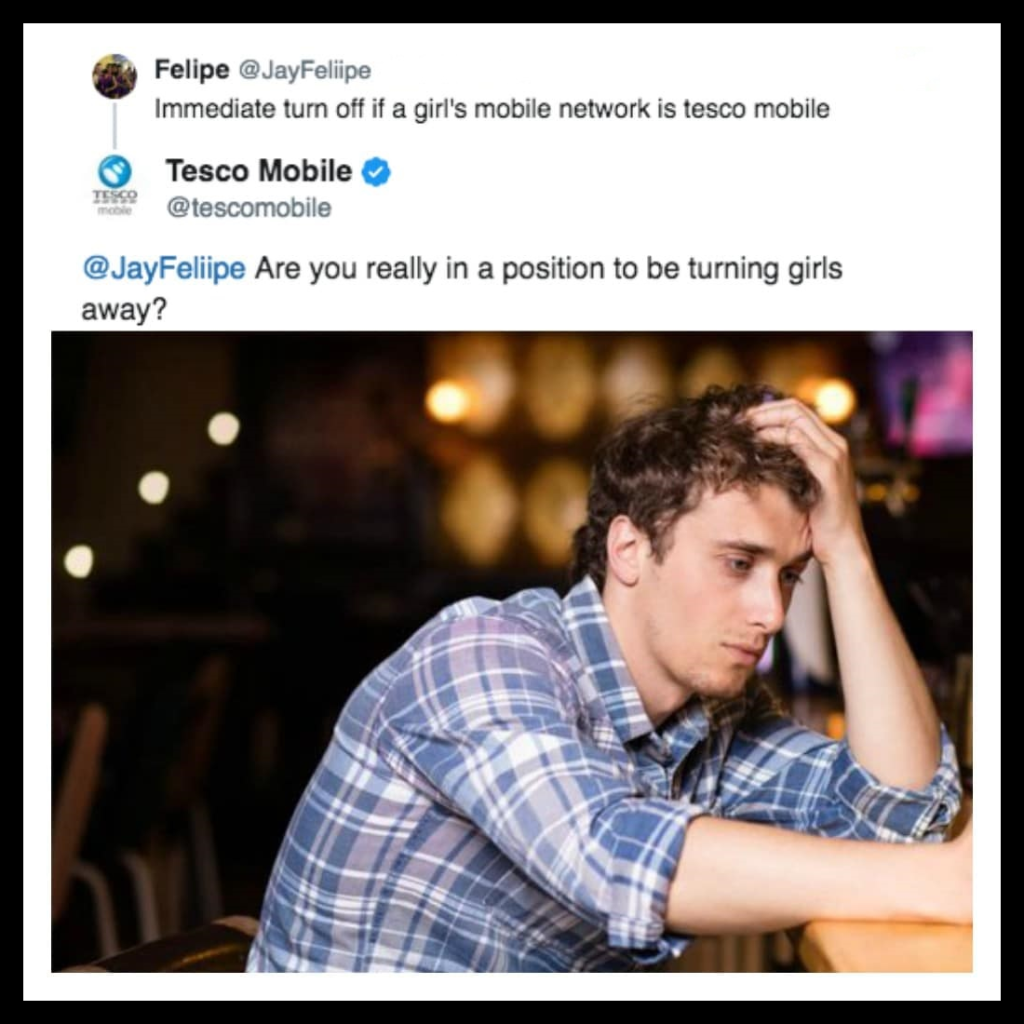 We would suggest dear Felipe to try getting to know people before judging them by their mobile network. Oh, and another piece of advice, maybe don't start a virtual fight with a global company, such as Tesco, if you can't handle the burn!,
The Importance of Being on Time
How easy is it blaming everyone else besides yourself, right? Yes, Daniel, this is dedicated to you. The fact you are late every morning for work isn't London Overground's fault, but your own. By the way, their life lesson of leaving early is free, you should use it!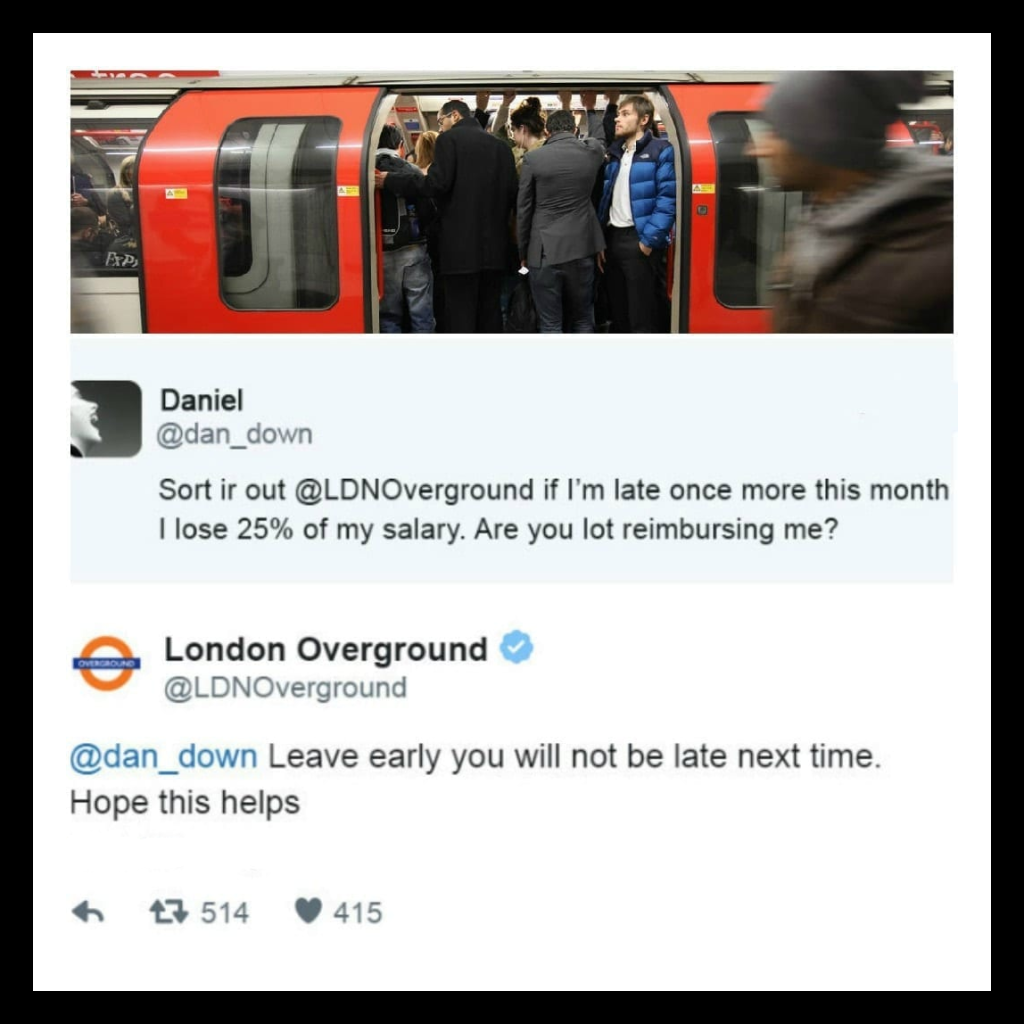 We do agree that being late because of public transportation is annoying, but it has become a fact of life that happens every now and then. But, if this happens to you constantly, it is safe to say that the problem is with you and not just public transportation. Oh, and you should probably buy a watch and set it 20 minutes later, so you will always arrive early to places. You are welcome.
Stop The Illuminati
When we are extremely hungry, we started seeing food everywhere. But with all honesty, we never imagined seeing triangles everywhere. Unlike the Illuminati conspiracy that made everyone see triangles everywhere, even in the Taco Bell sign.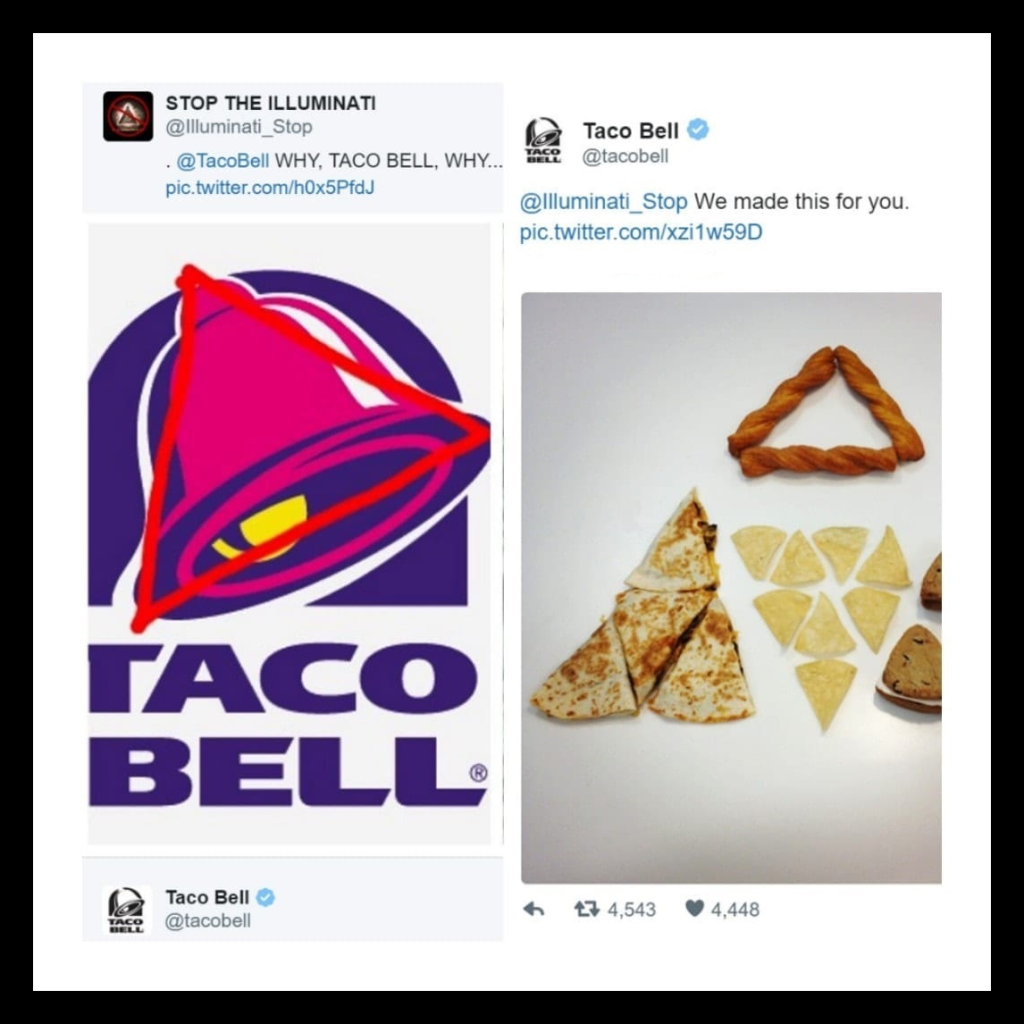 Thanks to "Stop the Illuminati" for bringing this to our attention and confronting Taco Bell by asking the "Why?" Taco Bell answered in the most epic way by presenting all of their tasty food in the shape of triangles. We don't care what the shape is, we are now starving!
Play Nice
Our parents always taught us that what you give to the world will be what you get back. We are just guessing here, but Lucid Billz probably didn't listen to his parents even though he should have. Which is exactly why no one wants to play with him.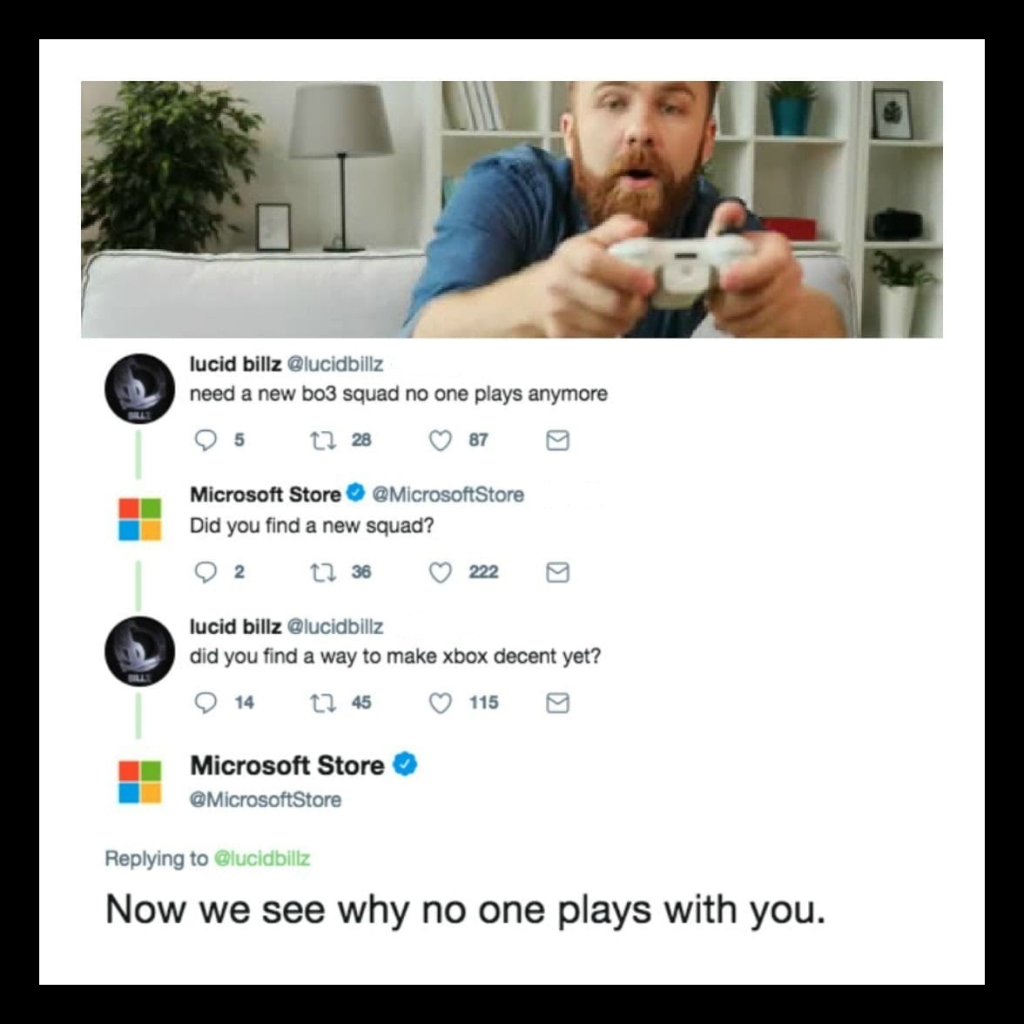 We can't point out the main reason why no one wants to play with Lucid Billz. But, we have a strong feeling it has to do with his attitude or his gaming skills. If the skill of making new friends has anything to do with his gaming skills, we are also passing on this gaming partner.
It's Better Than Holding Hands
We think that holding a pancake from Denny's is so much better than holding hands with a real human. We would take pancakes any day over holding hands. Pancakes are always tasty and fluffy, always nice to you, and they can't feel if your palms become sweaty. What more do you need?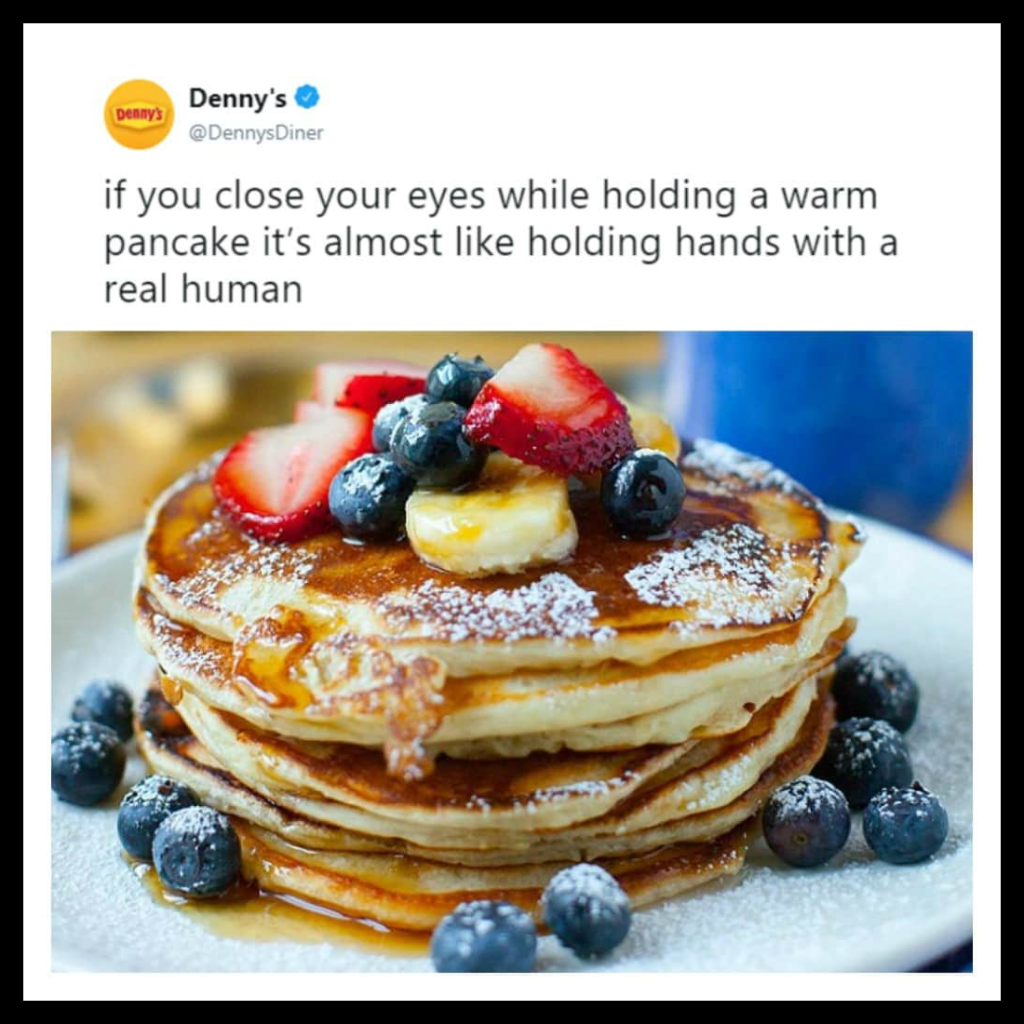 Most importantly, a pancake will never break up with you! Which means the only reason for you to cry is when you are all out of pancakes. We know it is probably super easy to sell pancakes, but we still suggest Denny's come up with a better tag line. We are here if you need any pancake tasters though.
The Abuse of Hashtags
Some people care more than others. Some people also care and have an opinion about the most ridiculous things such as protecting hashtags. Even if it's to protect their parent's integrity. Well, it's 2020, and everyone is speaking up now.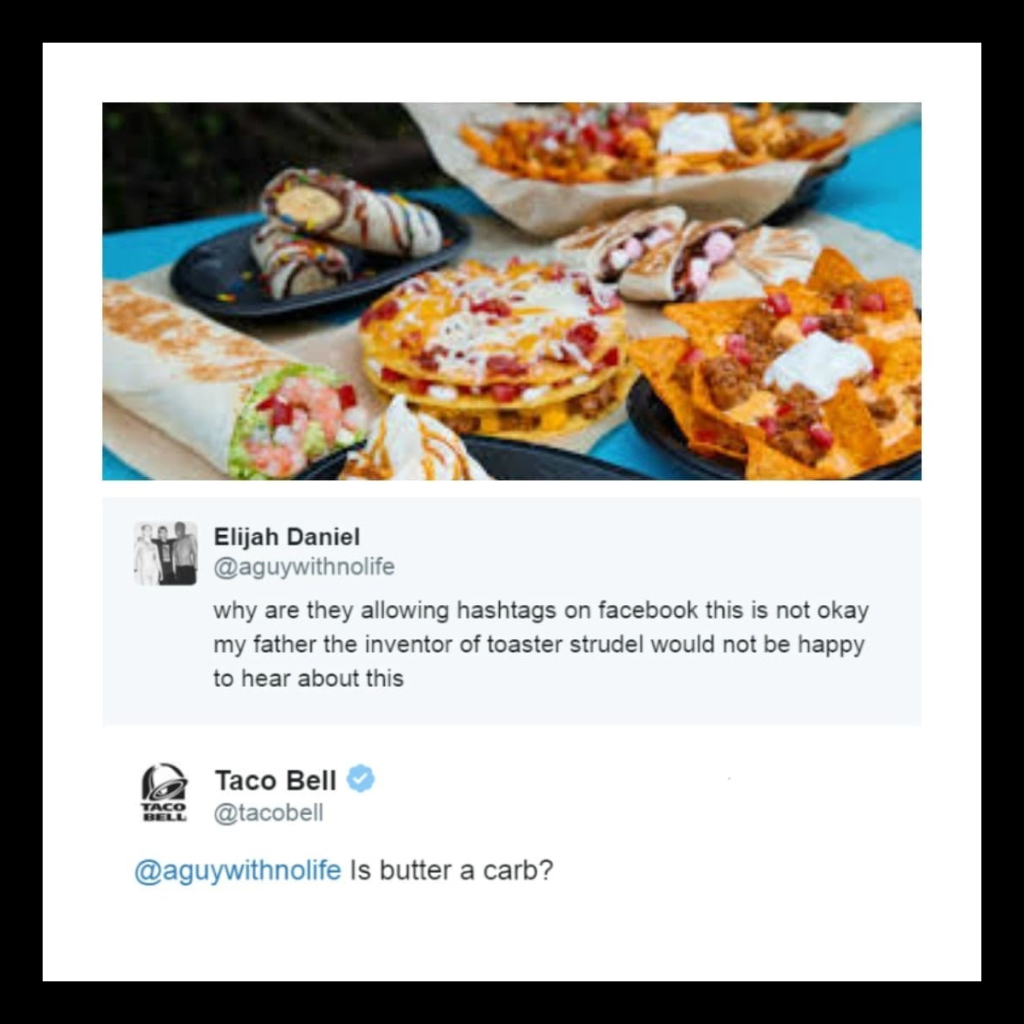 The main problem here is not the caring or the opinion, but the name this guy gave himself. "A guy with no life?" How can you take into consideration anything a person with no life tells you? Unfortunately for him, Taco Bell was well prepared to play this Twitter game with him.
Know Your Worth
Thanks, Hamburger Helper, for sticking up for all the hard-working wives that spend hours in the kitchen cooking for their families. We are not sure why, but for Chris, it seemed legit to go behind his wife's back and post a nasty post about her cooking. Luckily for all of us, Hamburger Helper was there to put him in his place.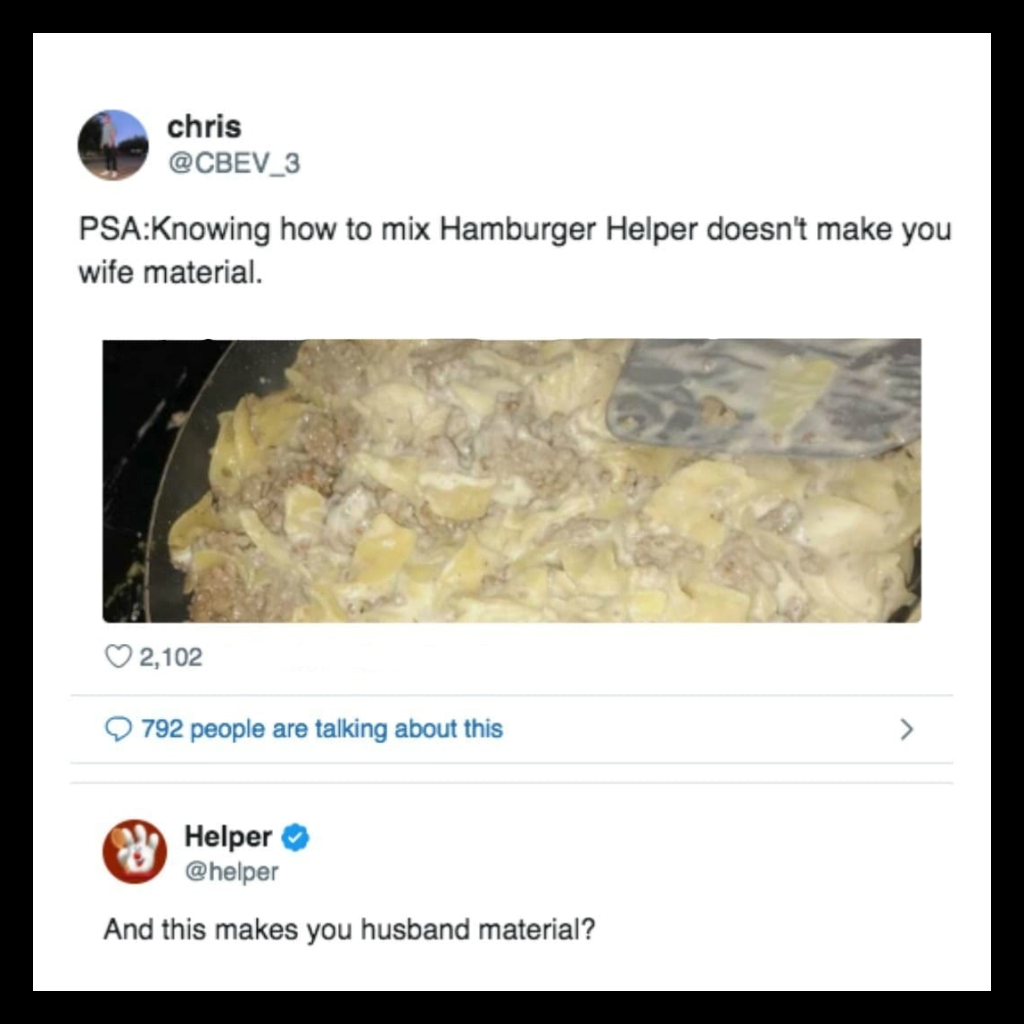 FYI Chris, when someone is making an effort and cooking for you while you have the time to take pictures, upload them to your social media and complain, there is no place for you to question their choice of what to cook. Next time, you are more than welcome to cook something by yourself!
On Wednesday's We Go To Taco Bell
We aren't so sure about Taco Bell's comment here. What we are sure about is that they have great taste in movies, which is already a plus. Their response to this person, even if it is a fictional person doesn't put them in the best light.
Fiction or not, this person is all for Taco Bell. She says that going to eat there is considered "something fun." Good to know! We can only say we feel sorry for Regina and her carb diet and wish her all the luck in the world. We're heading to Taco Bell. Karen, would you want to join us?
Natural Hamburger Shape
Every time we are faced with something new and unfamiliar, we question it. Companies try to reinvent themselves all the time. But square hamburgers are where we draw the line. We are completely fine with the round ones. We all know that the natural shape of hamburgers isn't round, but the squared shape just makes you think about it and takes away from the joy of eating the burger.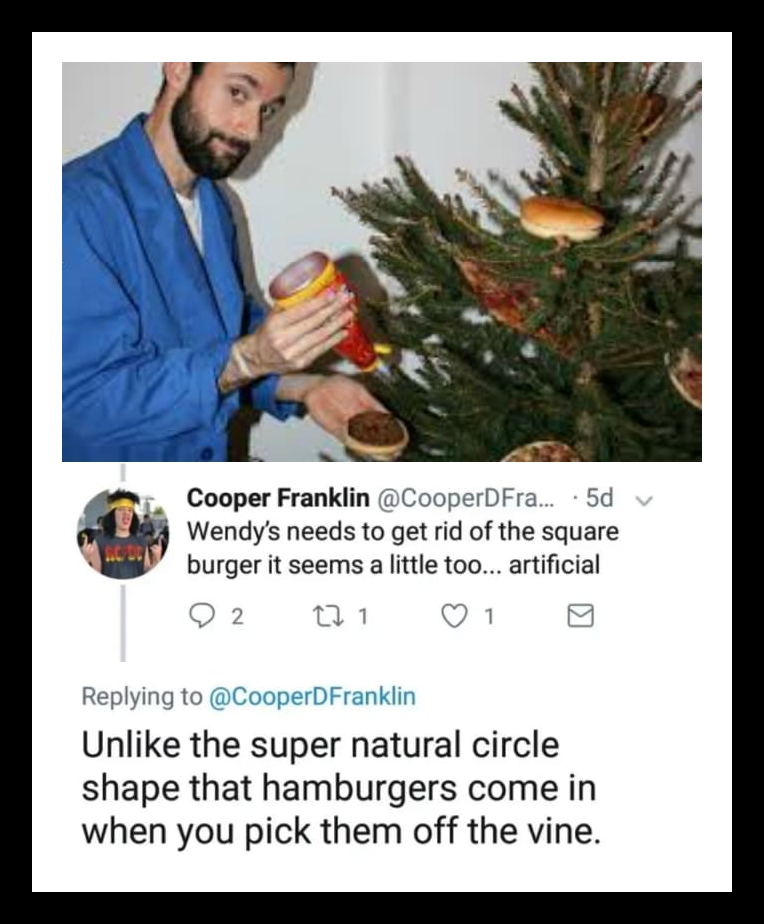 It's O.K., we understand where it's coming from, but we all got used to the round shape, and we are all fine with it. Wendy's burgers are so delicious that it doesn't really matter in what shape they serve them. But, we still kindly advise them to keep the round ones.
The Way
Living with roommates is annoying. Living with roommates that don't replace the toilet paper once they finish is the most annoying. Thanks to our favorite toilet paper company, Charmin, and their excellent social media managers, all these annoying roommates have a new way to ask for forgiveness.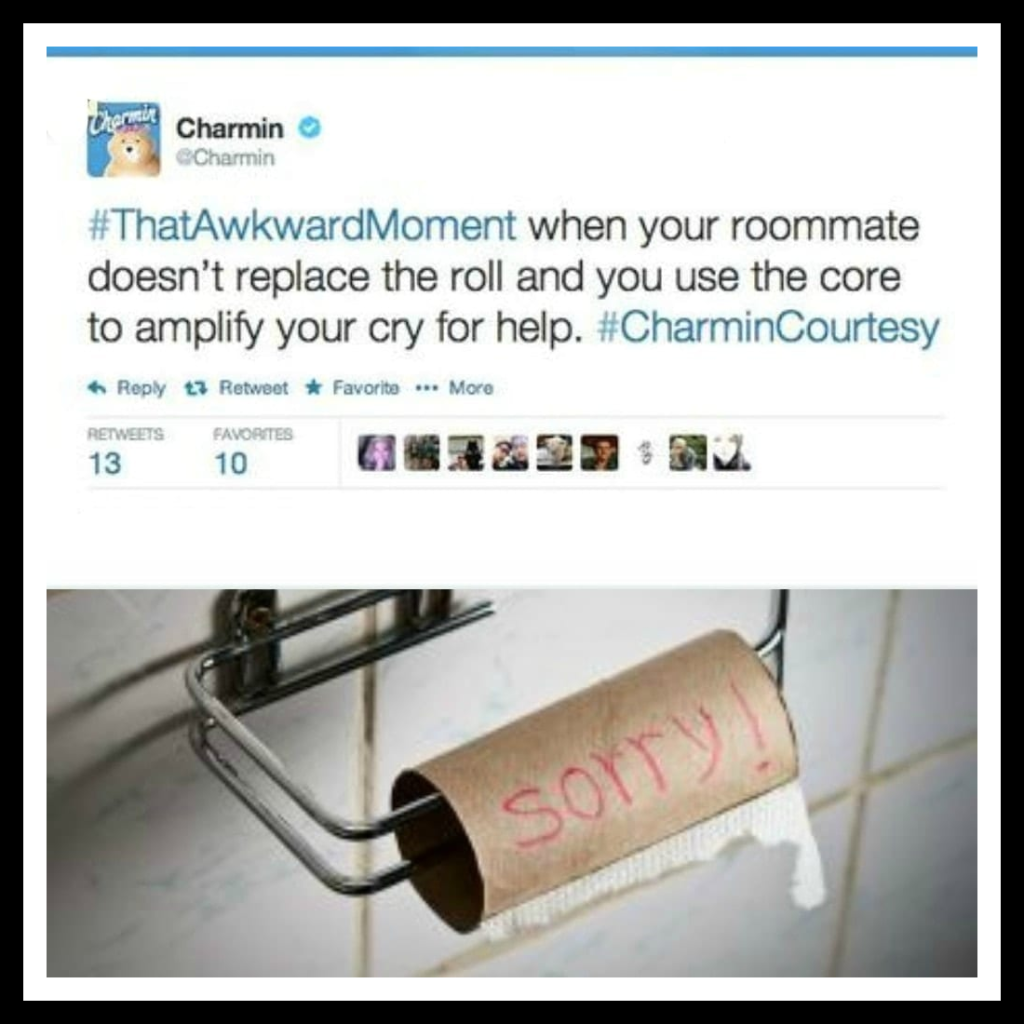 As seen on Charmin's social media account, you can just use the core of the toilet paper to say you're sorry. Between us, we can't imagine a situation where you are stuck in the bathroom with only a pen, but we won't rain on Charmin's parade.
Tom Brady's Butterfingers
Tom Brady is a well-known quarterback, and he is known for his throwing techniques, and no matter how many Super Bowl rings he has, his legacy will go on and on. But, like any other athlete, you win some and you lose some, and Brady's catches are sadly not his cup of tea.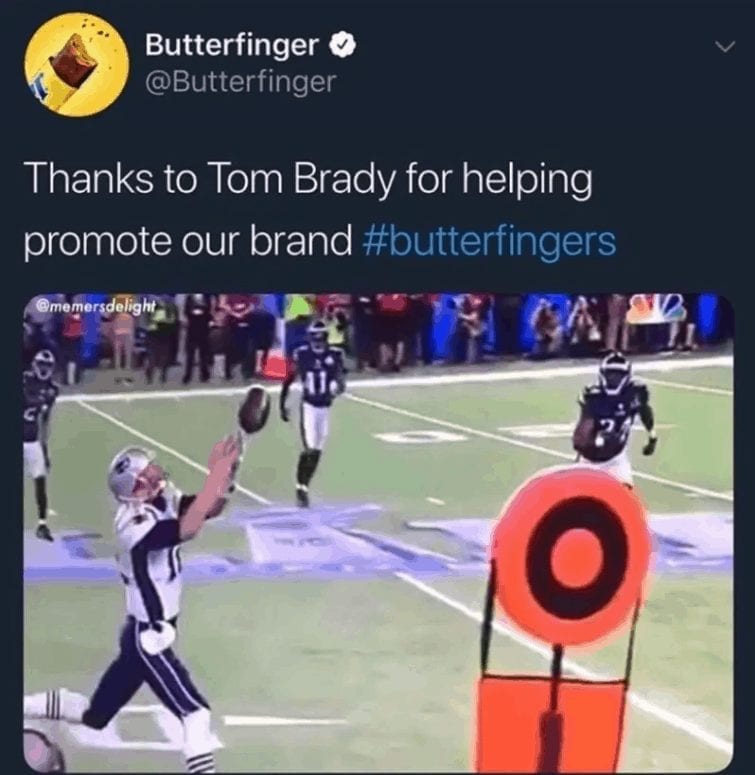 If the media has it right, than Tom is supposed to be a guy that knows how to take a joke. Even if it's on his behalf. Anyways, It's different when it's done for the greater good of the American people, and their favorite chocolate bar – Butterfinger.
Double Dipping
When we think about Pop-Tarts, we think of all the different flavors of this tasty snack. What we don't think about is dipping this sweet-tart in ranch dressing. Dipping doesn't make any sense, and it is also disrespectful ,as said by Pop Tart themselves.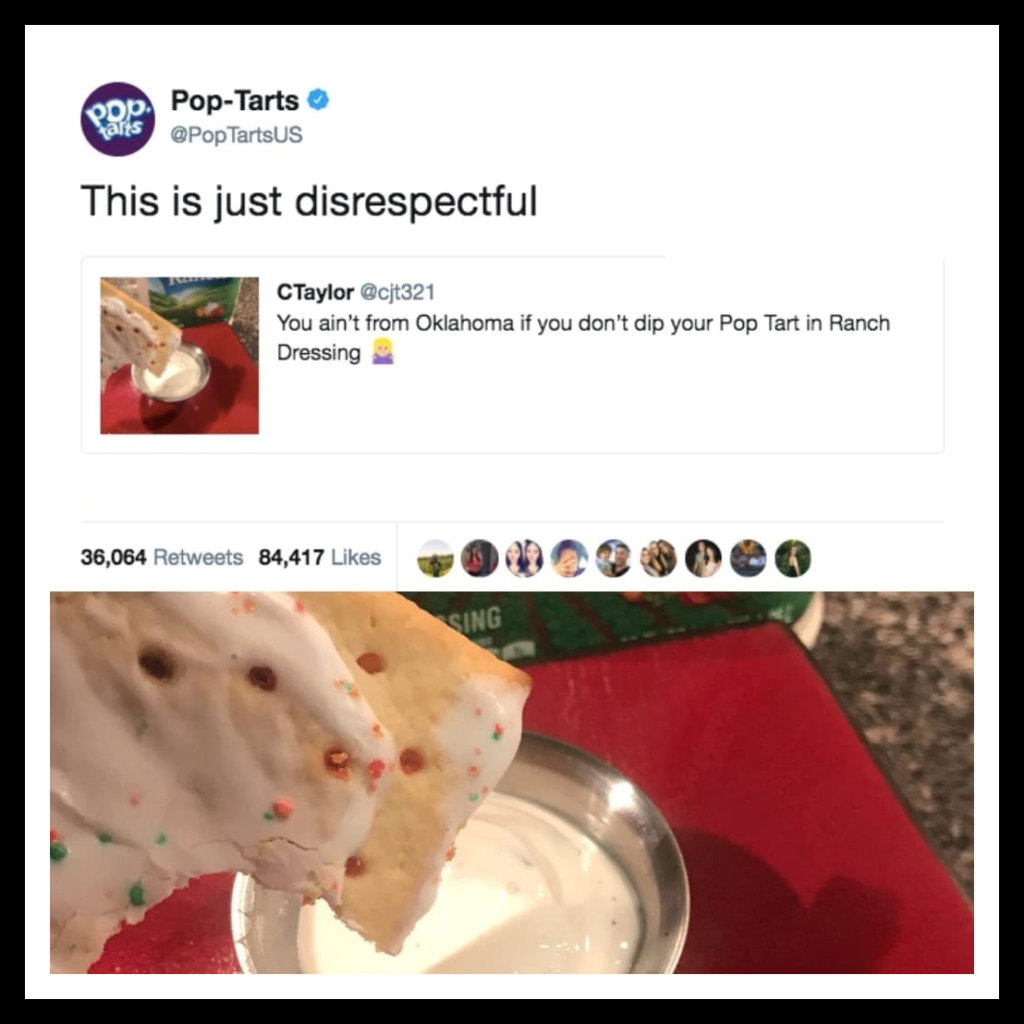 "CTaylor," we don't want to judge you, and this is a free country, but really? Ranch dressing with pop tart? Mixing something so sweet like a pop tart with a salty salad dressing? We truly hope this is a sick joke.
Going Down in History
Strolling the different lanes of the supermarket, you can find many different cuisines. Like most of us, we often look for the easiest and fastest thing we can get our hands-on. For this reason, Hot Pockets is one of the smartest inventions to ever exist.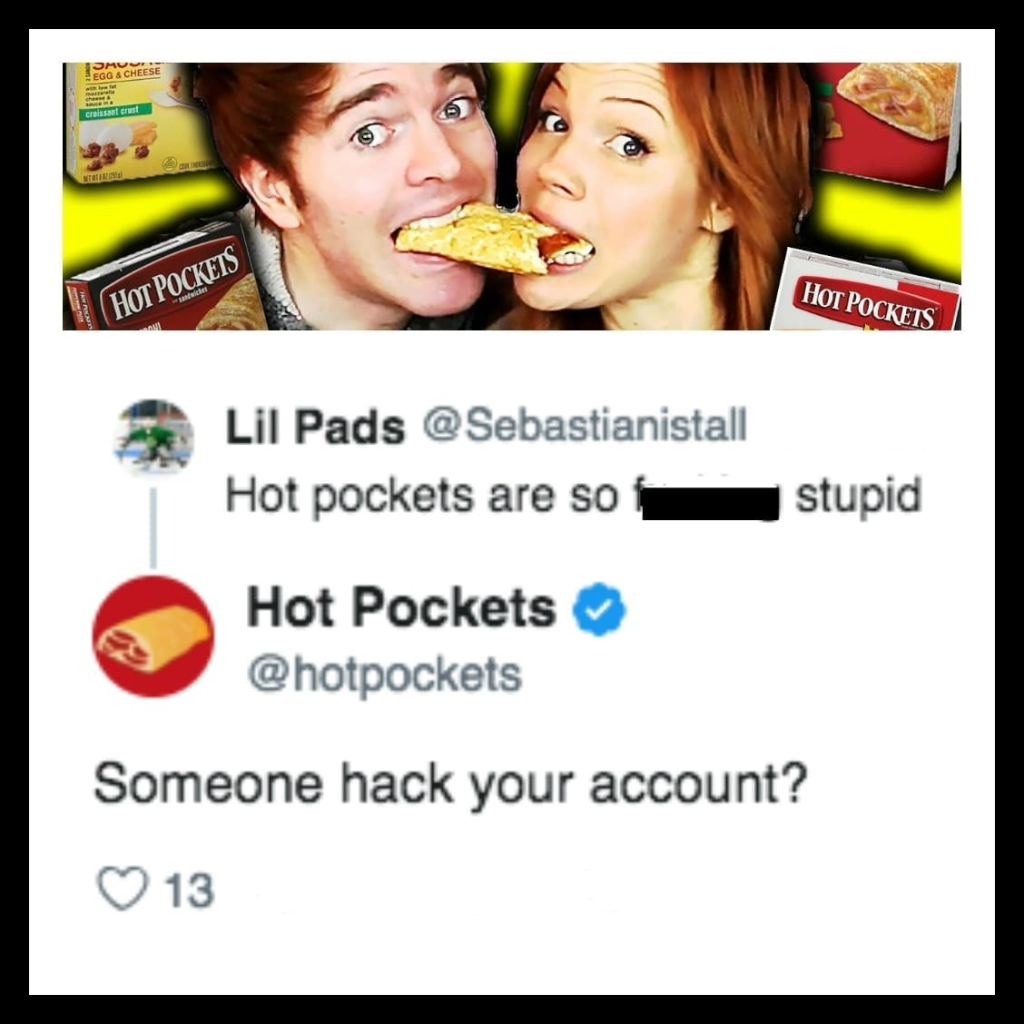 Hot Pockets are delicious pockets filled with magical pizza sauce and are ready in minutes. They are the perfect size for finger food, and most importantly, are mess-free. So, only a crazy person with no taste can call this masterpiece stupid.
Voicemail Reminder
Tesco isn't known for their good service. On the contrary, they are actually known for their bad cellular coverage, dropped calls, and slow service. Luckily for them, they compensate for this with their hilarious responses to all of their "haters".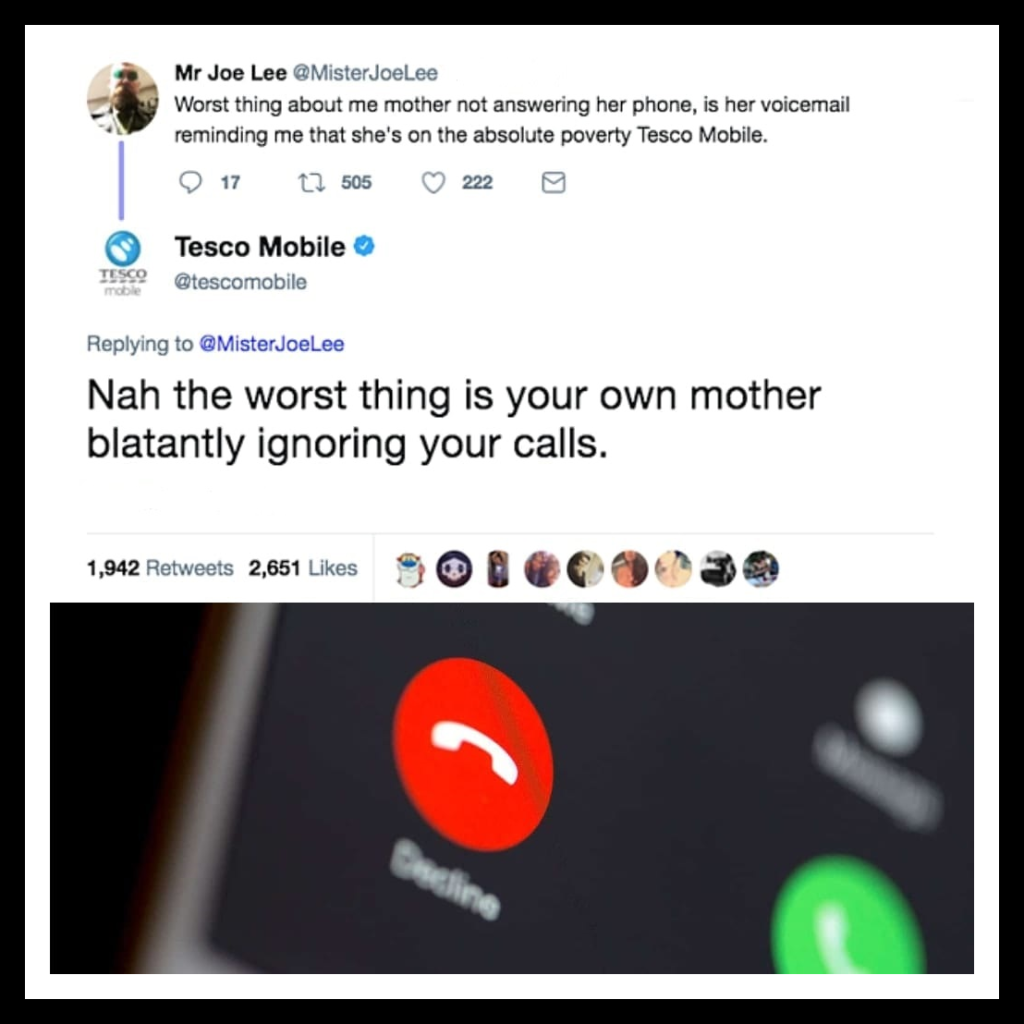 Mister Joe Lee is one of these talked about Tesco haters. He vented to his Twitter account with a tweet about Tesco's bad service. Unfortunately for mister Joe Lee, Tesco had another thing coming for him and responded with the most hilarious tweet.
Reblog This
No one can argue with the fact the Denny's has become a well known established diner chain restaurant. But in today's world, even well-established brands need to maintain a strong social presence. Which is why Denny's tried reaching out to their fans through Tumblr.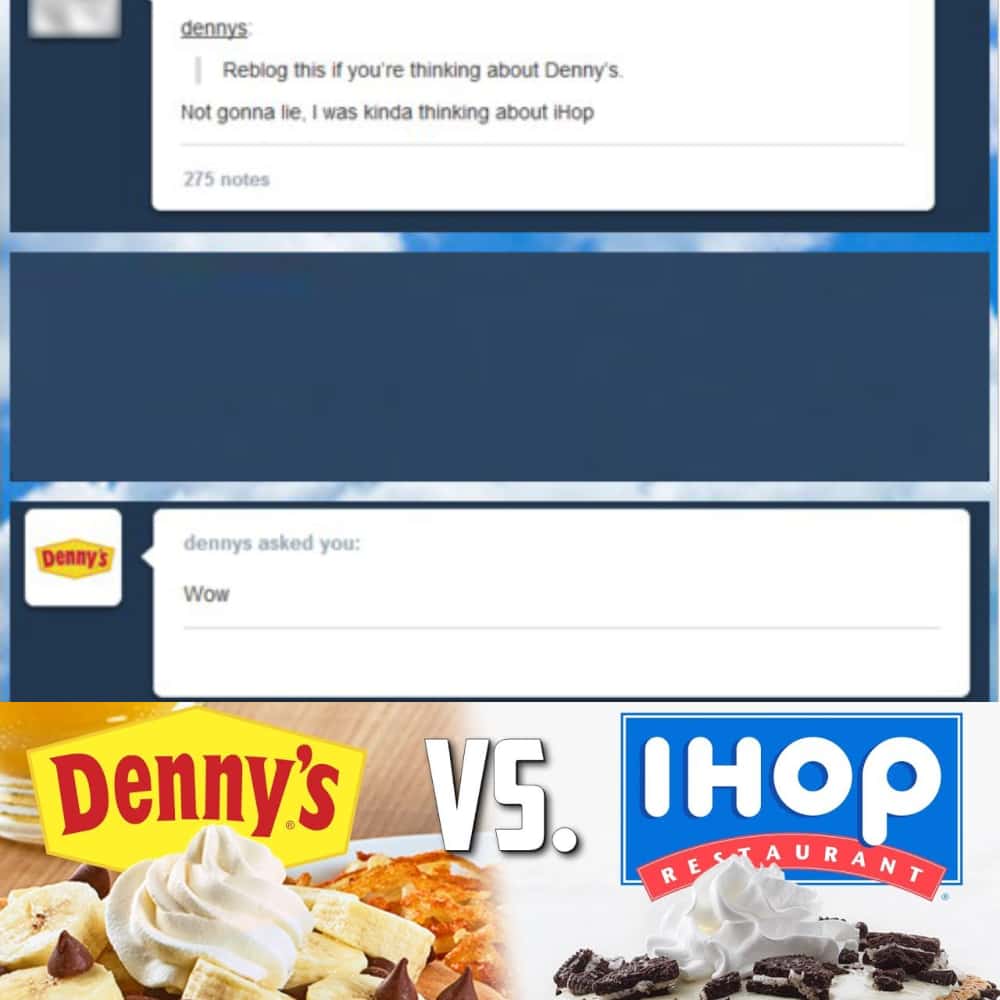 Their marketing team decided to post messages on a personal blog, which sounds like a smart idea. But unfortunately, they had another thing coming. They got a different kind of response which they weren't expecting. You can feel their shock with their one-word response, "wow".
#MadPooper
Once again, a genius tweet from the toilet paper company, Charmin. They have a well-known hashtag called #TweetsfromtheSeat, and they also share with their followers some important stories. One of their shared stories was about a police hunt after a woman that enjoys pooping outside of people's homes.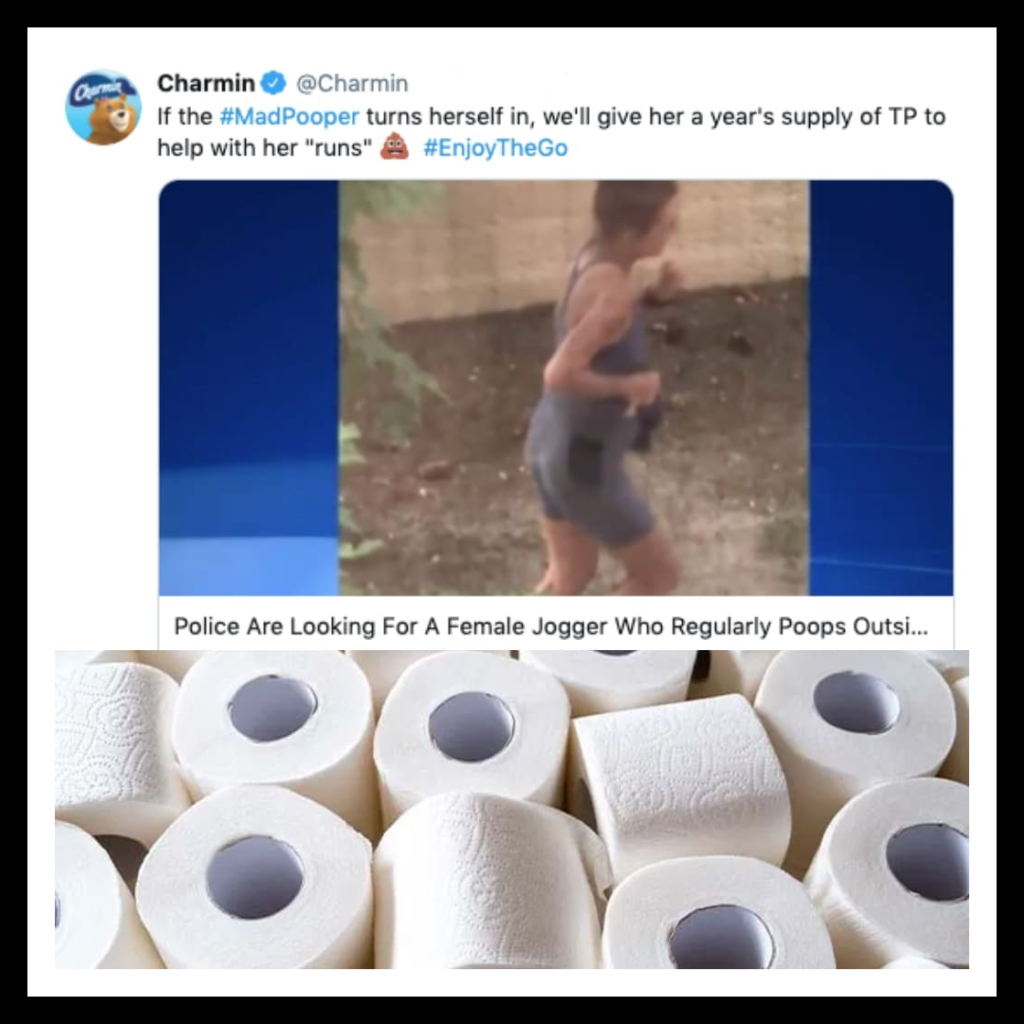 The media called this woman the "mad pooper". Just so you know, the mad pooper was caught thanks to residents from a neighborhood in Colorado. The charming Charmin toilet paper company wanted to help out and offered a years worth supply of toilet paper if the mad pooper woman turned herself in.
Disclaimer: This Article was First Published on politicallycorrects.com and is published here with approval.