Deal-Making Business Cards That Are Too Good To Be Overlooked
By Rekha R November 17, 2021
---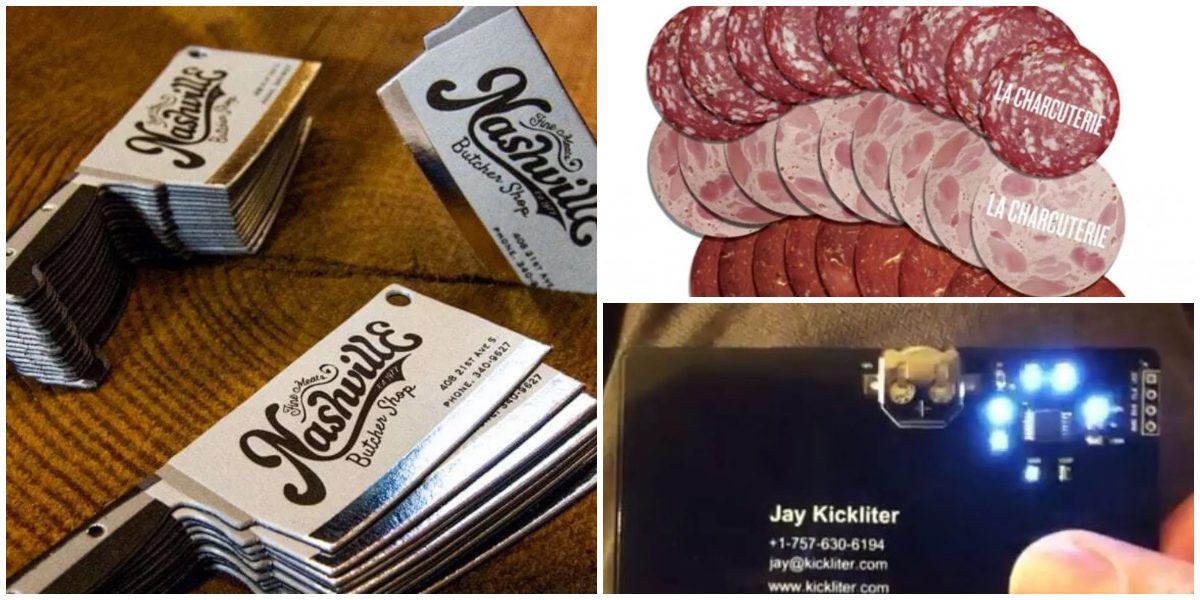 A business card is how clients get a sense of your business and what you can do. It is your time to put out your best foot forward and list your service or product. So, it's always better to put in all of your creativity and thoughts into getting your own business card made. Some businesses choose to go with the classic card with their business logo, contact details, and nothing else. But not all businesses (or businessmen, for that matter) are the same, are they? This is why not all business cards look the same. In fact, some of them are so creative and bizarre that they hook clients instantly. We have compiled some brilliant and hilarious card concepts because we think it'd be shameful to keep them from the world. Let's have a look!
1. Decode The Message
It doesn't hurt anyone to broadcast their skills. After all, you are your best marketer. And this guy looks to be someone who believes in this very idea. We all know that the tension belt is one of the most important pieces of equipment in physical training.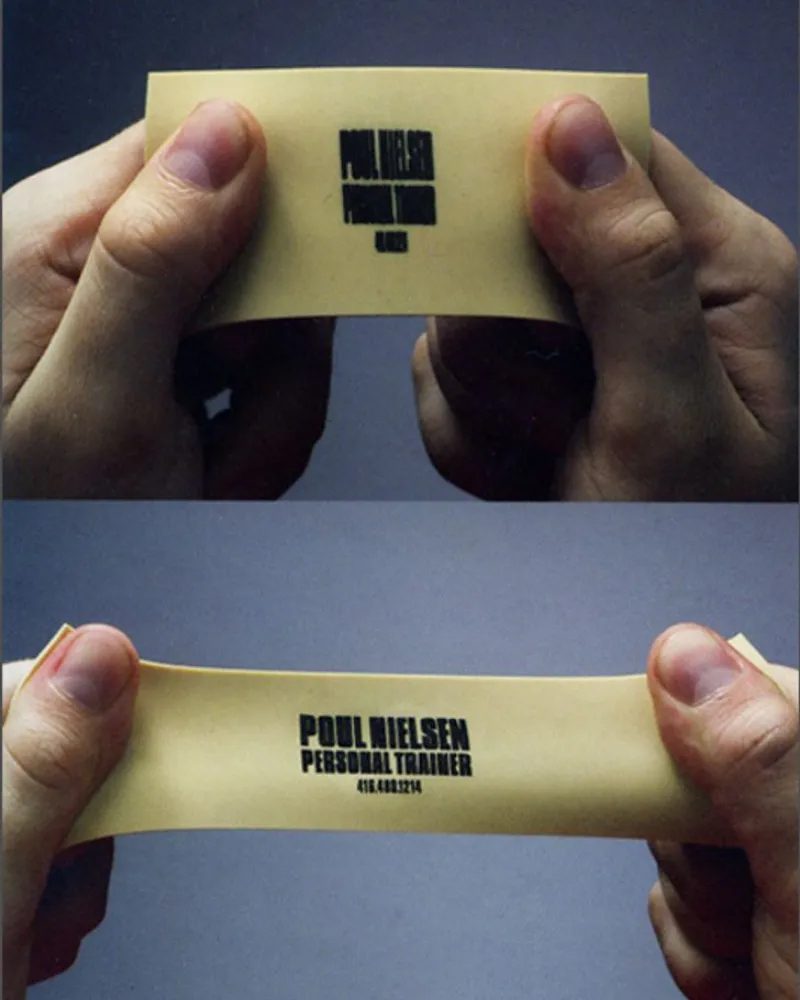 But to use the same fad in your business card is one of the smartest things! At first, it looks like the words are not properly legible, and there has been some printing mistake. But the moment you start to stretch the card out, there he is.
2. Keep Troubles Coming In
There is always someone you know that has had bad luck with the law. They keep getting parking tickets or getting themselves in even stickier situations. So, what they need is a lawyer, and what a lawyer is, is a trouble magnet.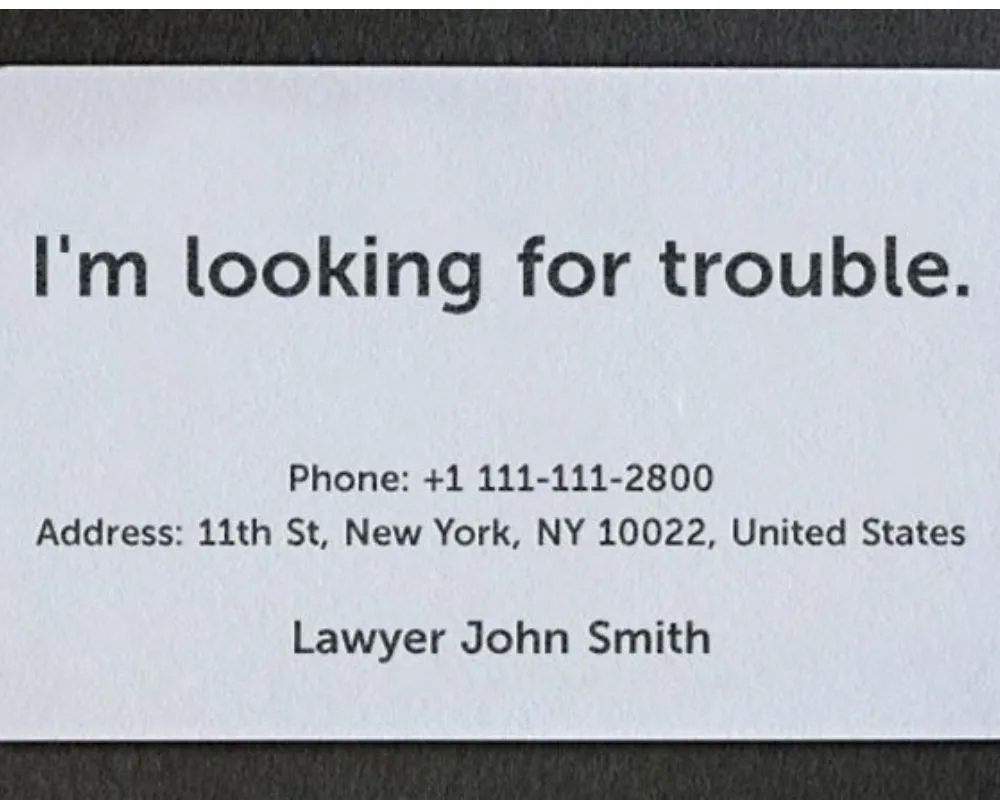 The lawyer who picks this template knows how to put their word out and who they are targeting. It looks like a basic business card with the standard details like name, contact numbers, and address. But the appeal is in the tagline.
3. Gimme A Pin Please
Hairstylists love to show off their skills, and for a good reason. Their skills and handwork sell and keep their clients coming back. And this stylist was not messing around. They believed that a business card should be based on a clever concept.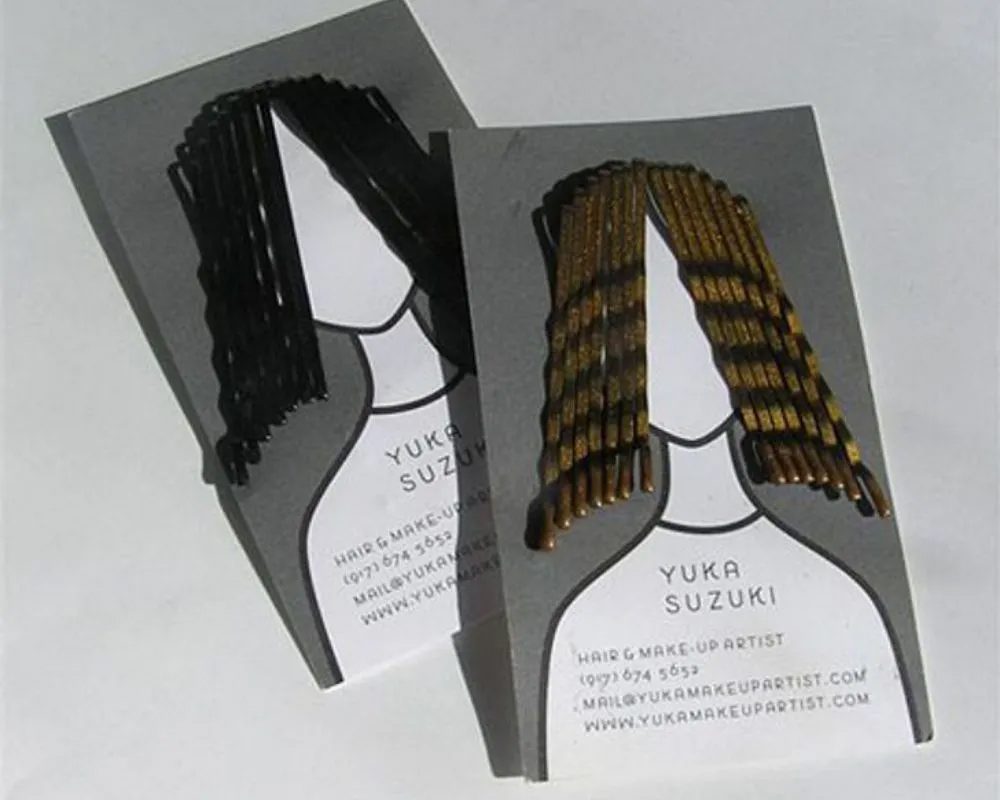 Even if the business card cost them a bunch of bobby pins, it did its work. It is beautiful how they look like a woman's hair. The clients can take the pins out and use them. Not only this, it depicts the skills and business of the stylist perfectly!
4. Unlock Impeccable Fitness
We love a business card with a hidden meaning. It's even better when the card is symbolic of the service we are interested in. The effort they are putting into something as small as a business card is proof of how well-thought their business is.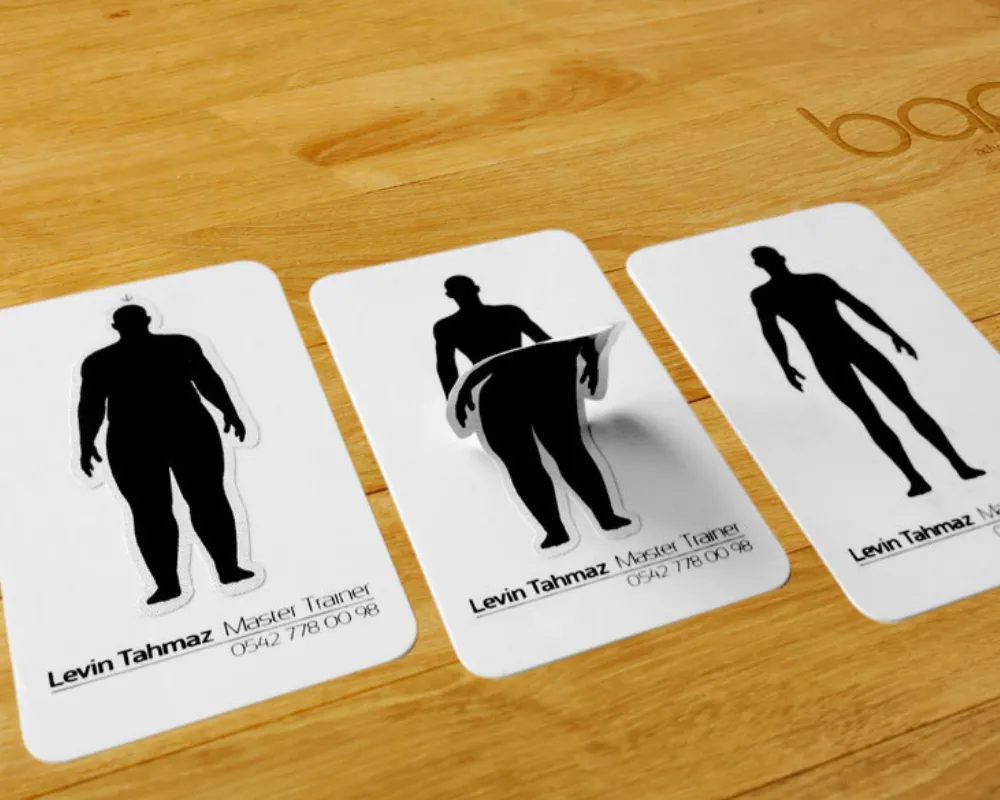 What better way to tell people you are a physical trainer than to show them how their bodies can transform after working with you? None, actually! In this card, you just have to peel off the sticker to know what the trainer can help you achieve.
5. Business Card Or Seed Packet?
After seeing the picture below, you must be thinking, is it a business card or a seed packet? It is both in one. Gardening is absolute bliss: there's no doubt about that. But some of us forget about them. So, those folks need a dedicated gardener and designer who also knows how to pitch their clients.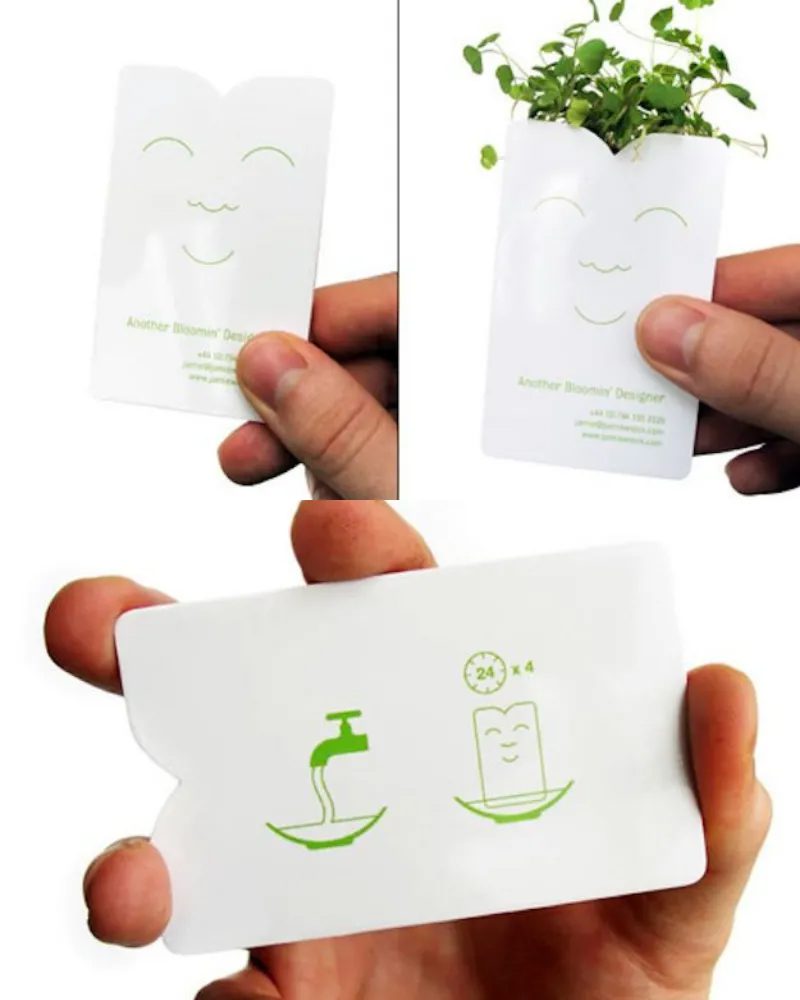 The business card gives the business's contact details and rejuvenates the thrill of planting and growing. This is where the role of a gardener comes in. We must say, the person used their shot well! They even gave clear instructions on caring for the plant.
6. Get Yourself Some Roof
Roofing is such detailed and time-consuming work. Everyone shops around so that they know it is being done the right way. But how can you put yourself out there and grab the attention of the clients? What can make you stand out and gain the trust of your client in one go?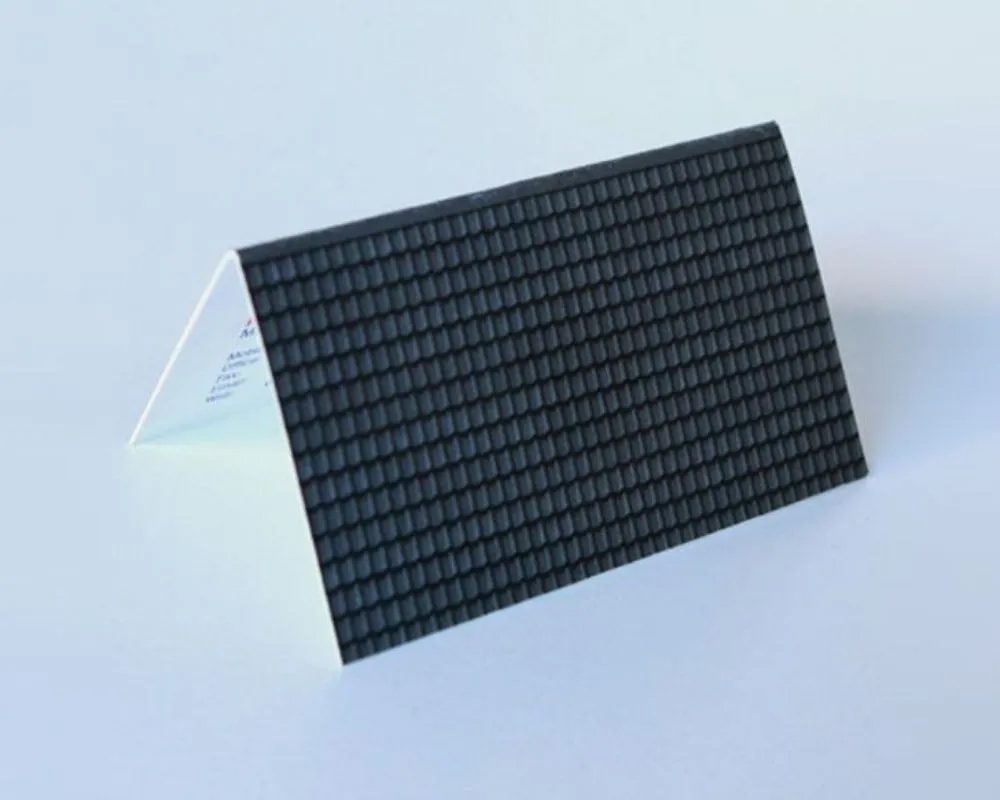 A simple business card makes your company and work look simple too. So, this person made theirs unique and extremely clever. It is both beautiful and well thought out. We think the card did exactly what it was supposed to.
7. Break Those Bricks
Talk about a creative business card. This one wins for sure! Many kids, and even adults, fancy being so strong that they can break a brick with their bare hands. This class would help you gain strength and attentiveness and help you protect yourself and your peers.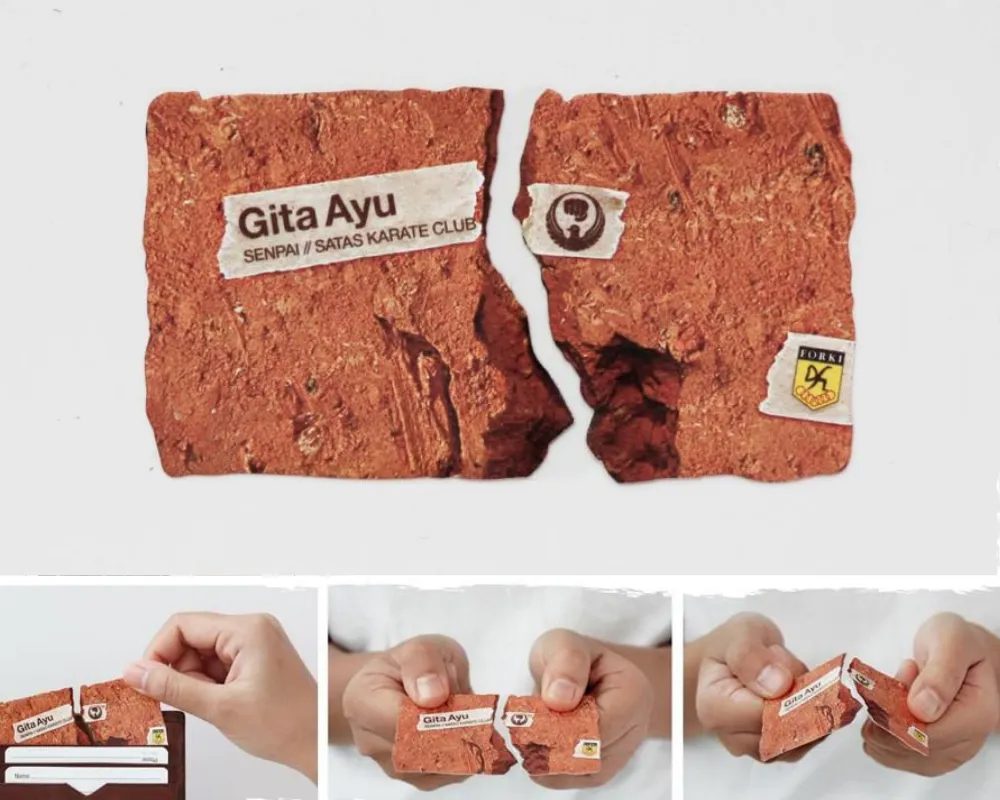 This karate trainer went all in and designed the perfect business card. It shows how we all could do it; all we have to do is join the right class. It is pretty impressive how the card says it all rather than just being an uninteresting piece of paper with a number on it.
8. Architectural Masterpiece
As an entrepreneur, you want to have something unique that stands out from the rest in the industry. You want to display your skills in a way that catches everyone's attention and adds a personal touch. This is the case with an architect. If you want clients, you have to put your all in everything.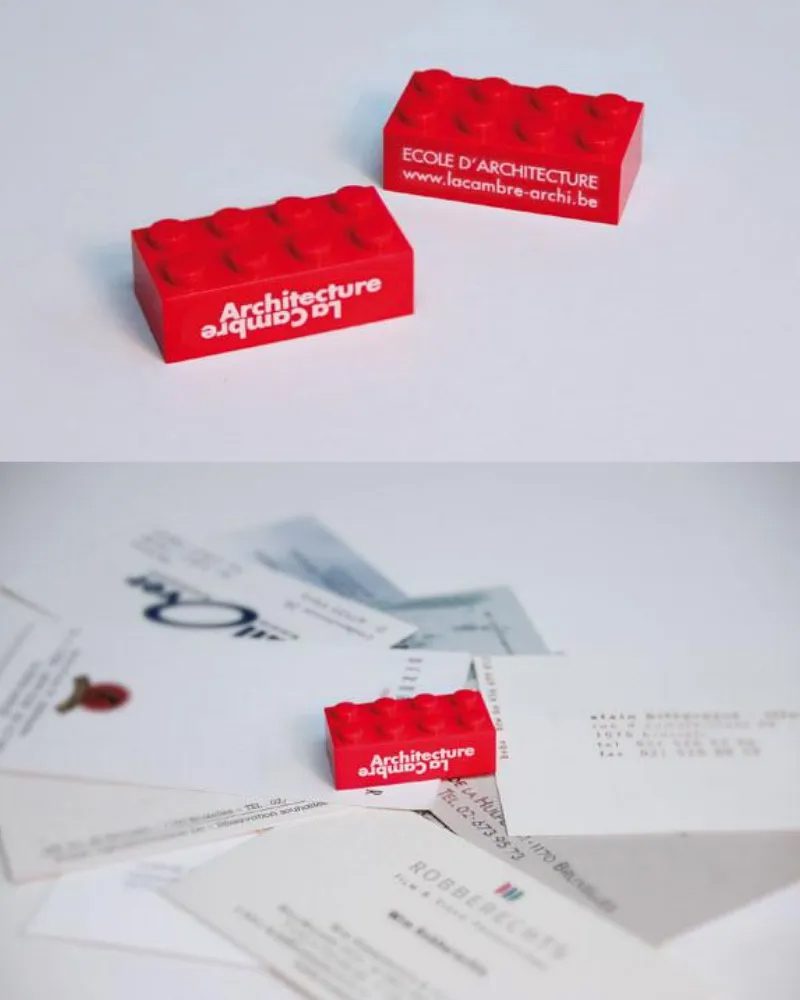 The inner child in all of us who aspired to be an architect found its solace in Legos, where this concept comes from. The business card is creative, without a doubt. Plus, it says the simplest of things in a catchy manner.
9. Get Rid Of Your Stress Knots
Our muscles get tense because of stress and exhaustion. This leads to those painful knots. There is no better remedy for these knots other than getting a relaxing and rejuvenating massage. But how do you know who is the best- the one that binds your attention, starting from a business card.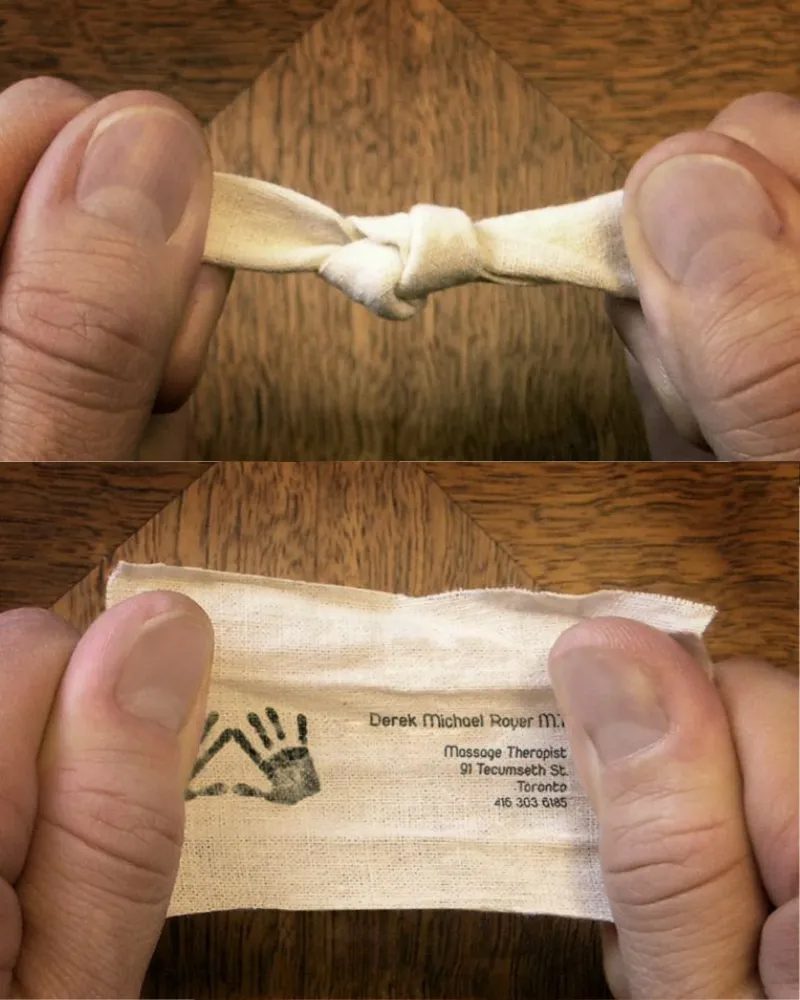 This massage therapist knows what he is doing and has put his best efforts into his business card. It clearly represents how committed they are to their work, and they are not here for their clients. The concept is simple – open the cloth knot like you want your muscle knots to open and discover who can do that for you.
10. Solve The Riddle
Who doesn't like a functional business card that is also engaging? While you design yours for your business, you want it to display the unique skills that you're selling. It also engages the clients so that they feel inclined to come to you over everyone else.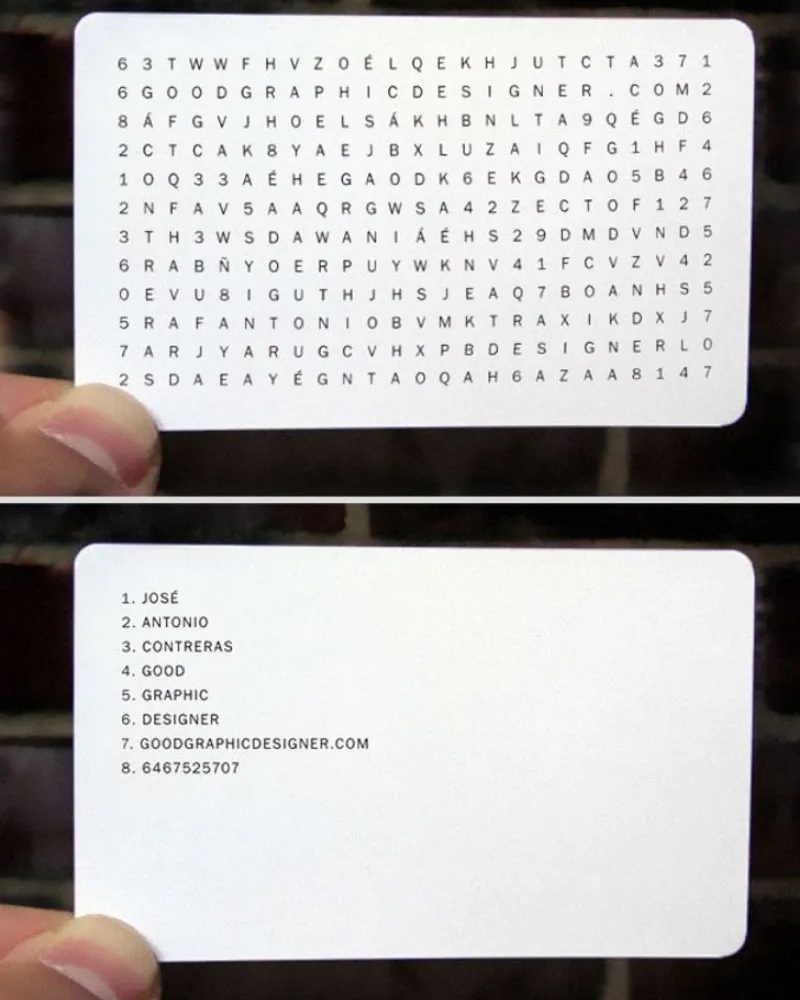 This business card is a smart way to get people to pay attention. The words to search are there at the back, and so are the contact details. So, potential clients have a good time and also get the message.
11. Get Yourself A Yoga Mat
There are many ways to put your name out there. What matters is the way of delivering it. Yoga is one of the best ways to stay fit and relieve yourself of stress and tension. But you surely can't do yoga without the right mat. And so, this yoga trainer gives out a mini version along with their business details.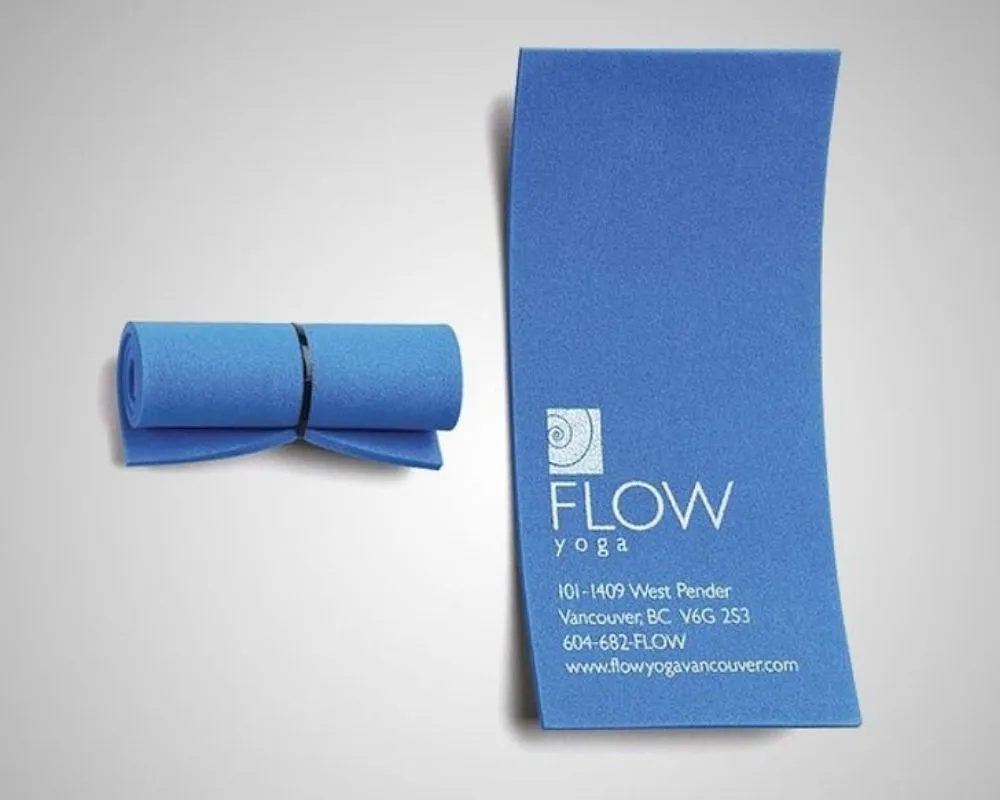 It is rather intelligent to put out your business card for the clients like this. The representation couldn't have been better! And the little mat is so cute that it surely intrigues the clients to sign up. To be honest, even we are tempted!
12. Do It Right!
How about you tell people about your furniture business, but instead of saying that it's unique, you show it? For any newcomer, the best way to say things is through your business card. It can portray your individual "brand" without even using an extra word.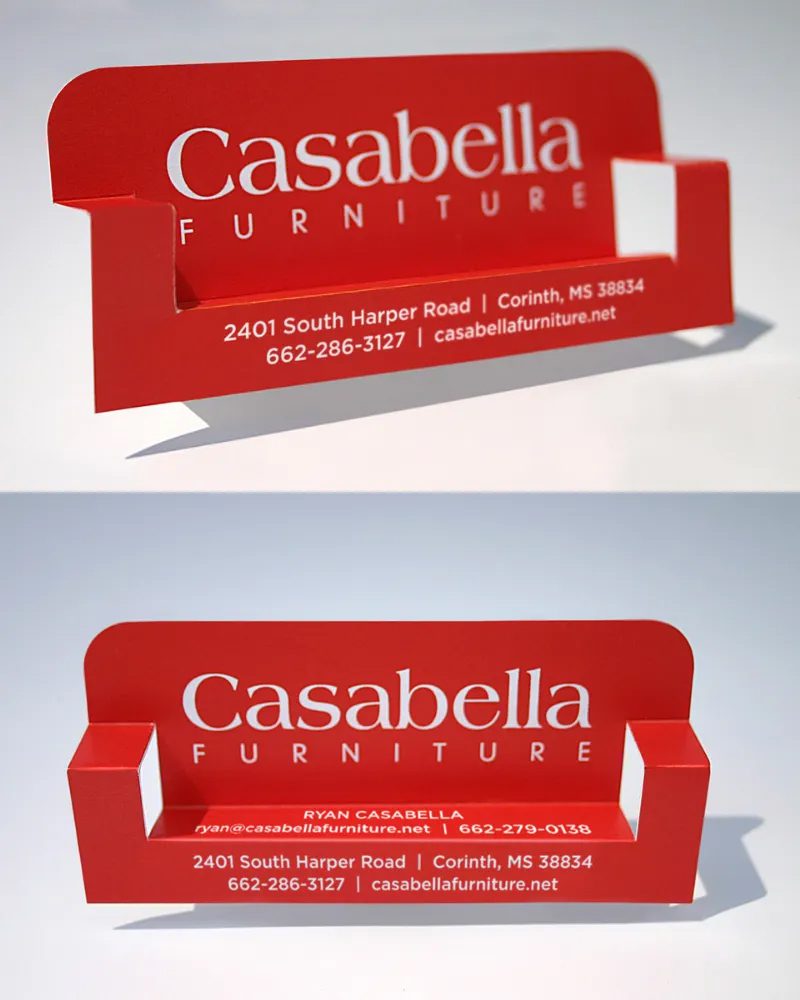 This furniture business went all out to not only provide future customers with their business contact details but also give a peek into their uniqueness. We don't know about you, but Casabella Furniture is doing it right! Do they ship outside of Corinth? Asking for a friend.
13. Grill To Know
The smartest business cards are the ones that require only a glance. Of course, they must have the correct contact details. But the card gets even better when it is filled with creativity and mystery. From fluorescent texts to foldable figures, they don't have to be boring.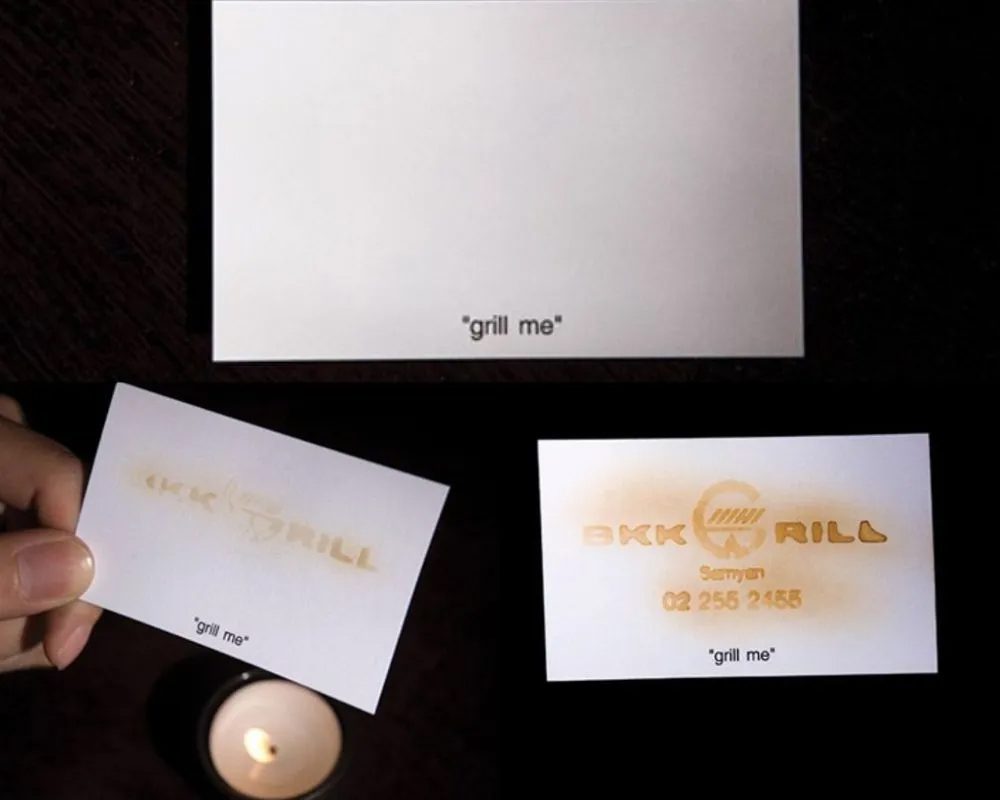 This grill and kitchen business card have nothing else than "grill me" written on it. But as soon as you actually heat the paper a bit (not literally grill, of course!), the actual message appears clearly on the piece. Along with the contact number and name, you get a beautiful and unique business card.
14. A Comb That Sings
We all love a card that is beautiful, informative, and, on top of it, thoughtful. Even though many people think that music and hairdressing are not related, we can't deny that both are relaxing and rejuvenating in their own way. A cross-over of both is a pleasing idea.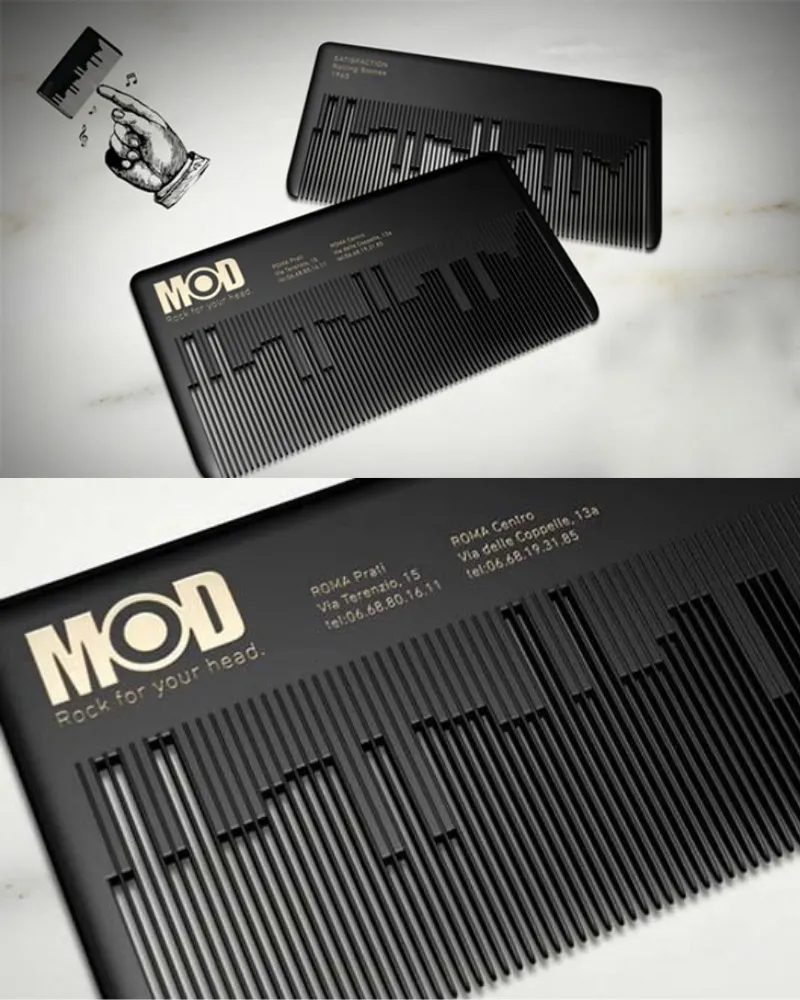 When any business designs their business card, they can make it plain or make a long-lasting impression with something a bit spicier. And this salon went with the latter option and made a musical, comb-shaped business card – a piece of art!
15. Floss Your Teeth!
This dentist took his job very seriously and went on to make that clear with his business card. Until the teeth, it was a pretty typical card. But they went on a step further to insert the floss, which is hilarious.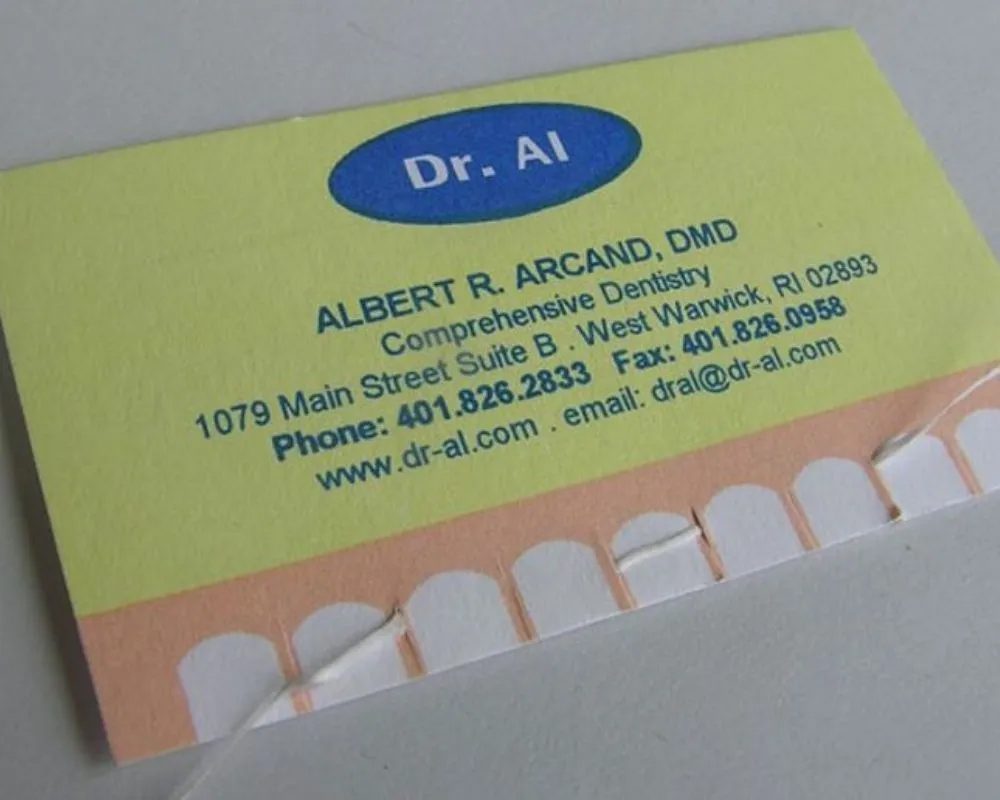 The business card is your first chance at communicating with the client. If you leave a deep impression on the client through your card, they will be more likely to remember you and would prefer to come to you over someone else.
16. Bring It Together
We all know that where there are broken things, adhesives come in handy. But to remind folks of its necessity with your business card is a master move indeed. There are many ways to communicate simple contact details and company names but everyone's way of saying it is different.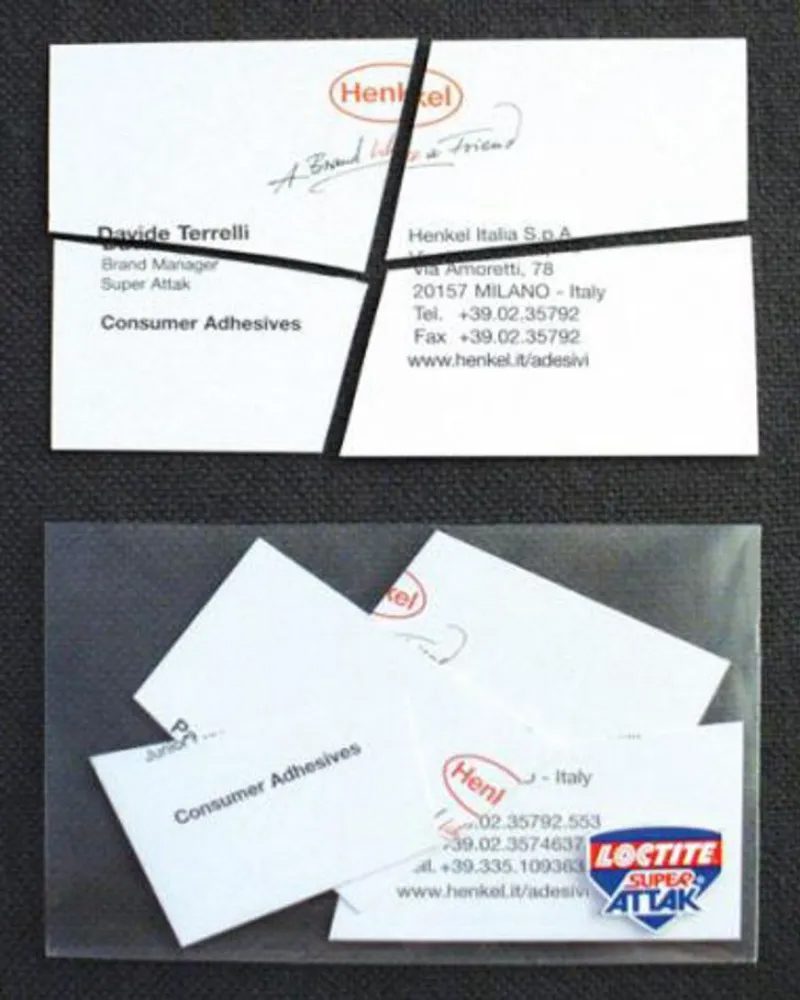 This consumer adhesive company went all in. It is just another simple and sleek business card, but it is not as simple as it seems at first. It is severed in four parts in a plastic case. When you put the four parts together, you get the business details and the thought behind the card's design.
17. Handle With Care
We all know how hard it is to get stuff across borders. It really helps if you can find a reliable cargo company to handle this work for you efficiently. And you can see the commitment and imaginativeness of a business right from its business card.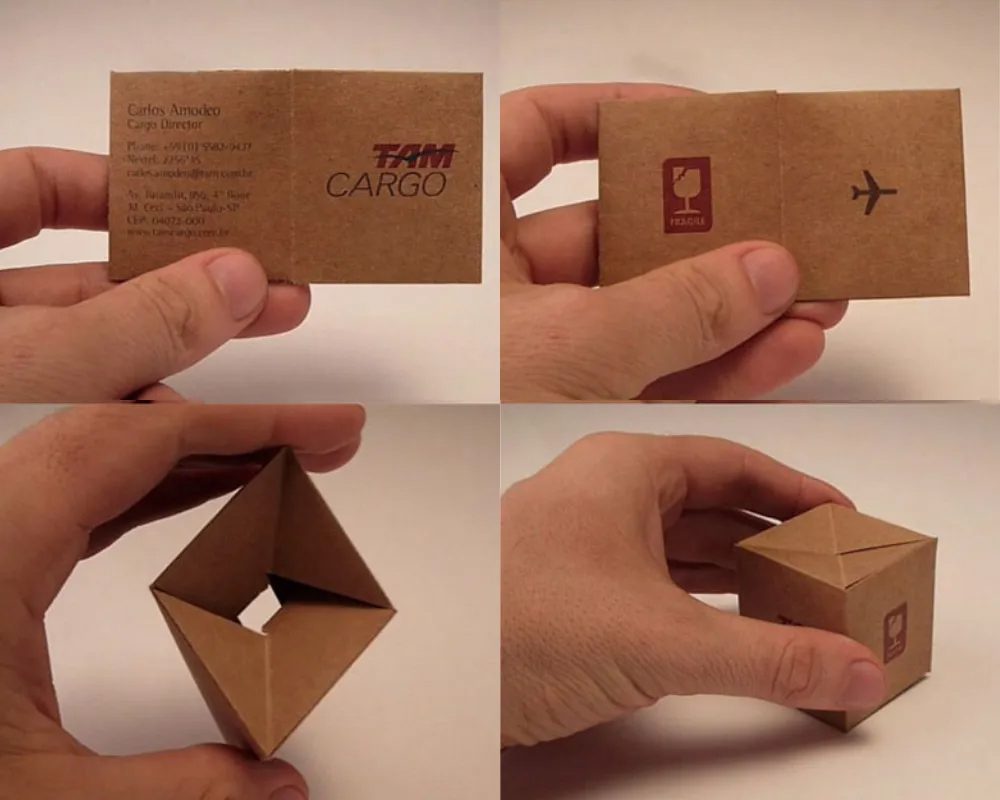 Now, this particular business card may not fit in your typical wallet but will make a home in your mind for sure. You will remember this cargo company, and this increases your chances of contacting them when in need. We are completely hooked.
18. How Greeks Party
If you don't know how Greeks party, here's a glimpse- people in Greek culture believe the breaking of plates is a symbol of joy and happiness. So, wherever there's something to celebrate, they dance, drink and break plates with happiness, and cry out, "Opa!"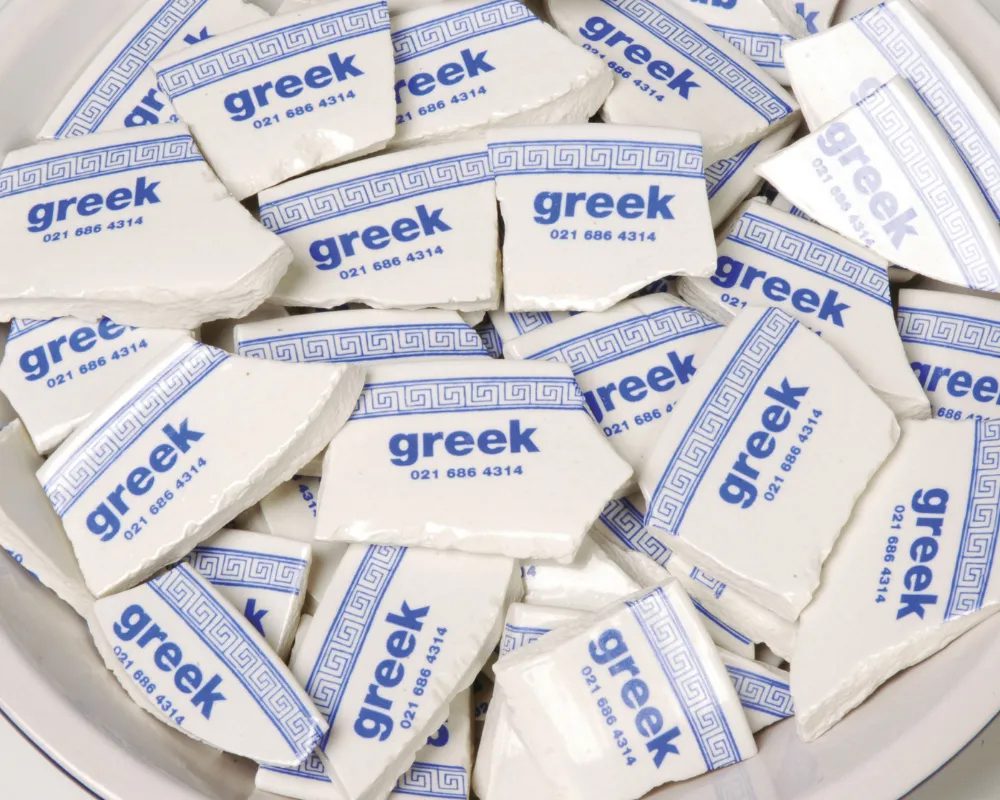 To introduce a Greek restaurant, it is quite right to do it through this unique tradition. And this restaurant designed their business card accordingly to hit them where it feels good. These are not only contact details, but the details are printed on broken pieces of plates. Thoughtful, indeed!
19. Break That Heart
We all love to see business cards based on unique and personalized concepts that represent the business perfectly. Even if your business is not as interesting or attention-grabbing, your business card can get the clients' attention. And so, be sure not to settle for simplicity while designing a card.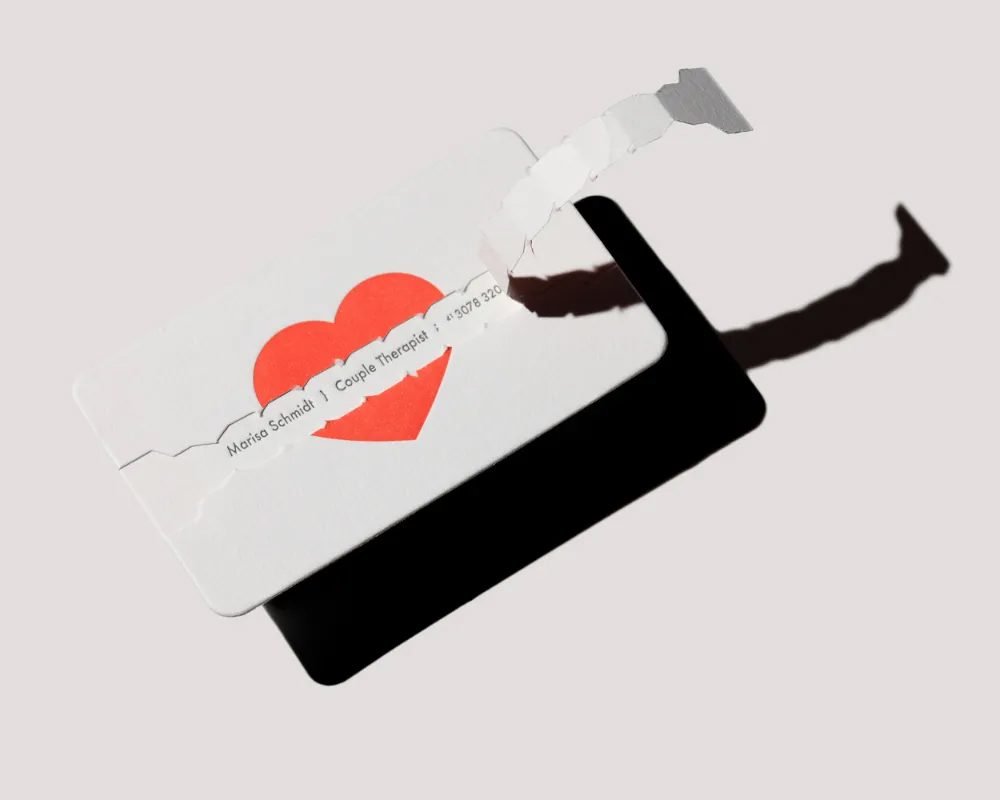 Now, this card might seem plain and white on the outside, but once you peel the middle segment, you see the business details. The creative part is the red heart in the middle, and that when you remove that piece, it looks like a broken heart, symbolizing the need for a couple's therapist.
20. Get Rid Of Those Cavities
You really hate that black mark and the feeling of a void in your tooth. We all do! It might be because of excess sugar intake or simply because of improper brushing. But whatever the reason, the cavity needs to be fixed quickly. You need a trustworthy and dedicated dentist.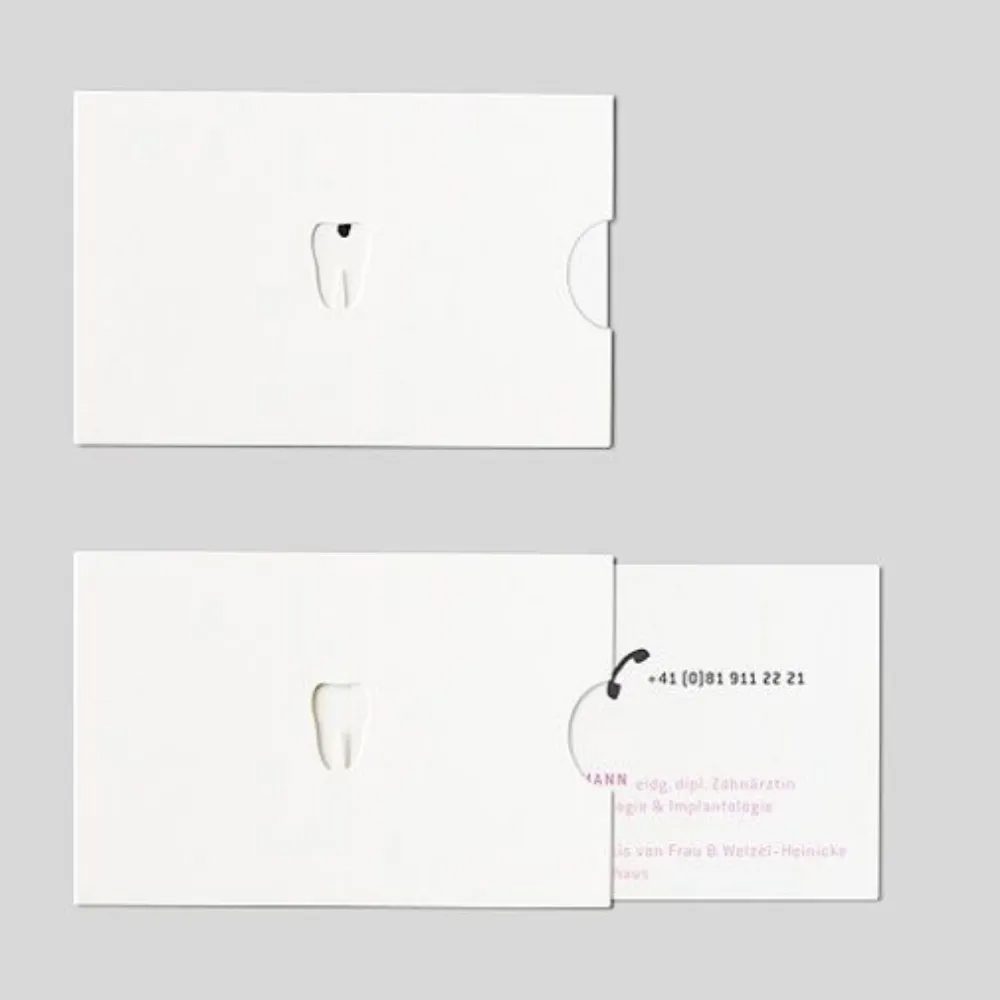 Any dentist can establish their image from something as little as a business card, and this dentist was sure of establishing a good one. While on the outside, it looks like the tooth has a cavity, when you pull out the other piece of paper, it has a different story to tell.
21. Mend Relationships
We always believe that we can mend relationships with proper communication, understanding, and honesty. But sometimes, you may feel like the relationship isn't working, and you can't seem to find a way to fix the problems. The situation gets even more sensitive when you are in a committed marriage.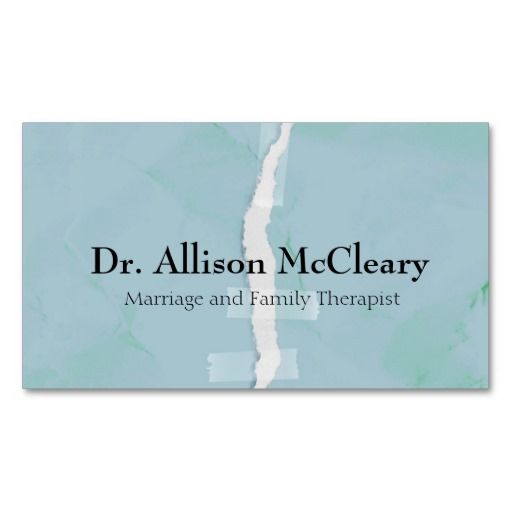 This business card is not only catchy but also meaningful. Any counselor is committed to providing the best possible solution to the relationship problems, but saying it with the business card is a clever step. She plans to put the family back together.
22. To Be Honest
Imagine holding a business card, as simple as any other. The card is plain white. But then, you turn it over, just to check if there is any additional information, only to find this quote written there. Along with the text, there is a scratch space. After scratching it off, you find this brutally honest message.
Don't deny it; you would totally be laughing too! It is funny and upfront at the same time, which we really appreciate from a company. And definitely, there is no better way to get someone's attention than by making them laugh.
23. Eco-Friendly And Useful
A company that thinks about the environment and its well-being is automatically desirable. Today, if a company is thinking of our planet and is willing to give its selfless contribution to it, there is nothing better that can testify to its integrity.
One thing is being connected to a business that contributes to environmental progress. Another thing is to design your business card to motivate clients to contribute towards nature's betterment. Even if the client chooses not to hire the company, they can still plant the seeds in the neighborhood and remember their good work.
24. Put It Back Together
It is easier to get musical instruments fixed by an expert than to mess with them yourself. But how can you find a good repairer? The expert who can mend it quickly and at the lowest cost? Obviously, you can't know all this just by one interaction with them, but you sure can get an idea through their conduct and business card.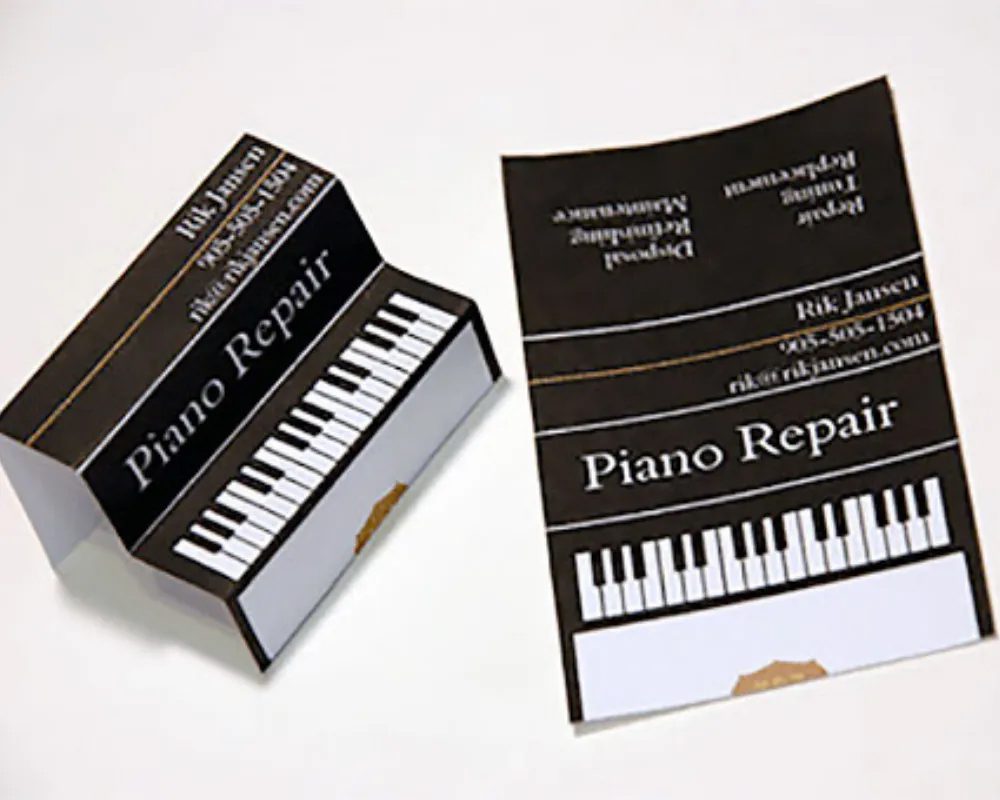 Many people think that it is a waste to spend big on their business cards, but the fact is that it makes a lot of difference. This business offering piano repairs can be instantly trusted because of its thoughtfulness, creativity, and dedication. We wouldn't think twice before contacting them.
25. Open To Know
It is hard for a social work organization to get donors. It is even more of a problem to get volunteers to work for various causes time and again. It looks like these organizations are always short of volunteers. So, they make every effort to make these organizations look trustworthy and worthy of investing time in.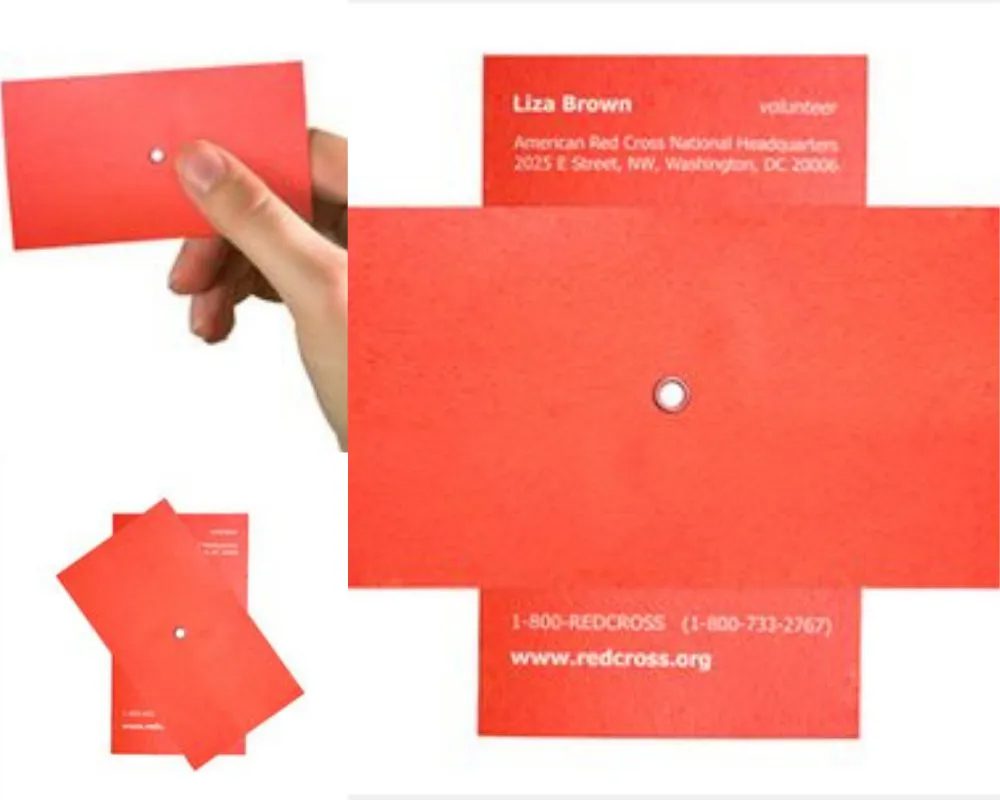 This card is entirely red, which is in sync with the organization, Red Cross. But on the face of it, we can't find any contact details. But as soon as we cross the card, we unlock an additional card that has the relevant details and also makes the cross we all recognize.
26. Hinged On It
There are many things involved in door repairs, and hinges are quite an important part. It is one thing seeing them on your doors and selecting the right ones for you and it's another thing getting them on your business card.
It always works to have an elaborate and creative business card, the one that catches the attention of the clients and makes them think. And by designing hinges and making the card look like a door, this business has done some good work.
27. Save Your Resources, Upcycle
It is one thing to endorse values and it is a whole different thing to live by those values. And this is very appropriate whether talking about one's personal life or business. Every company is established on some values and it warms the hearts of the clients to see that it practices what it preaches.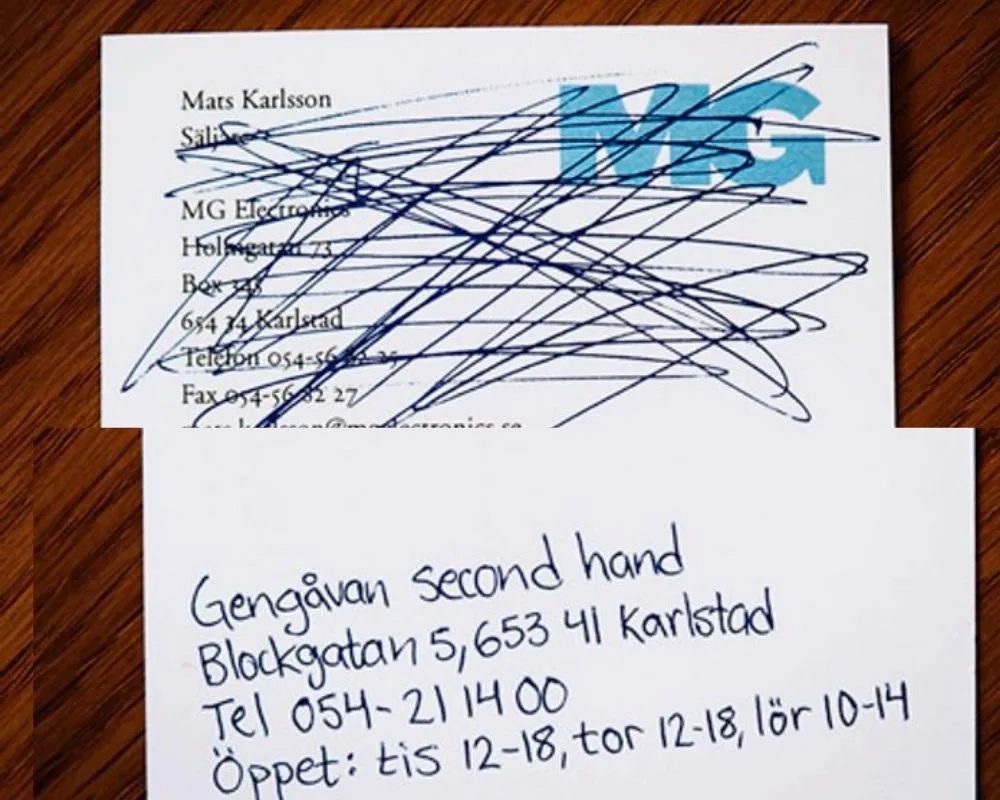 Take the example of this second-hand store. Had they chosen to make new cards, it would've defeated the very image of the business. So, it was rather smart of them to upcycle existing cards and reinstate their business details on the back.
28. Don't Kiss And Tell
There are not two people that don't like a pretty shade of lipstick. Lipsticks are the best way to freshen up and get ready without going all out. It lifts up your face in moments and keeps you going all day long with confidence.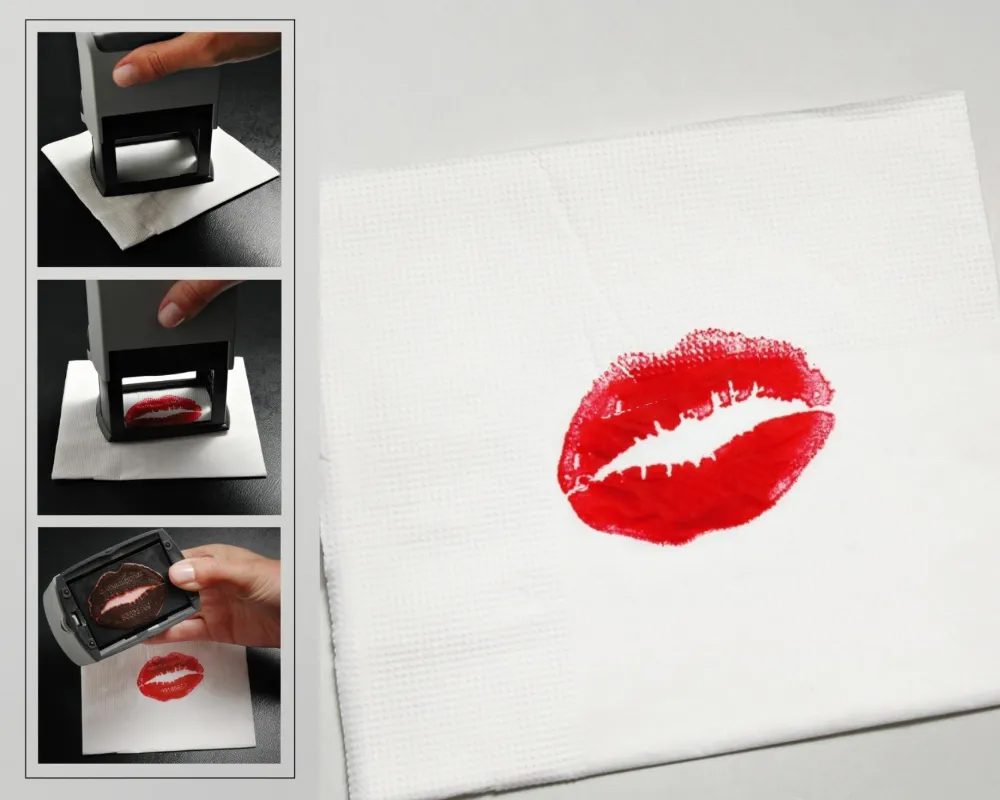 It is very convenient and handy. The details can be easily just stamped to any piece of paper and so, there is no need for a separate card. Also, you don't have to carry the cards around; you can stamp the details on even a napkin if you want.
29. Get Through Locks
Like we said before, to establish a business on a particular belief system or social service is one thing and to actually see the business practicing these values is another. And, this practice is not usually seen in businesses whatsoever.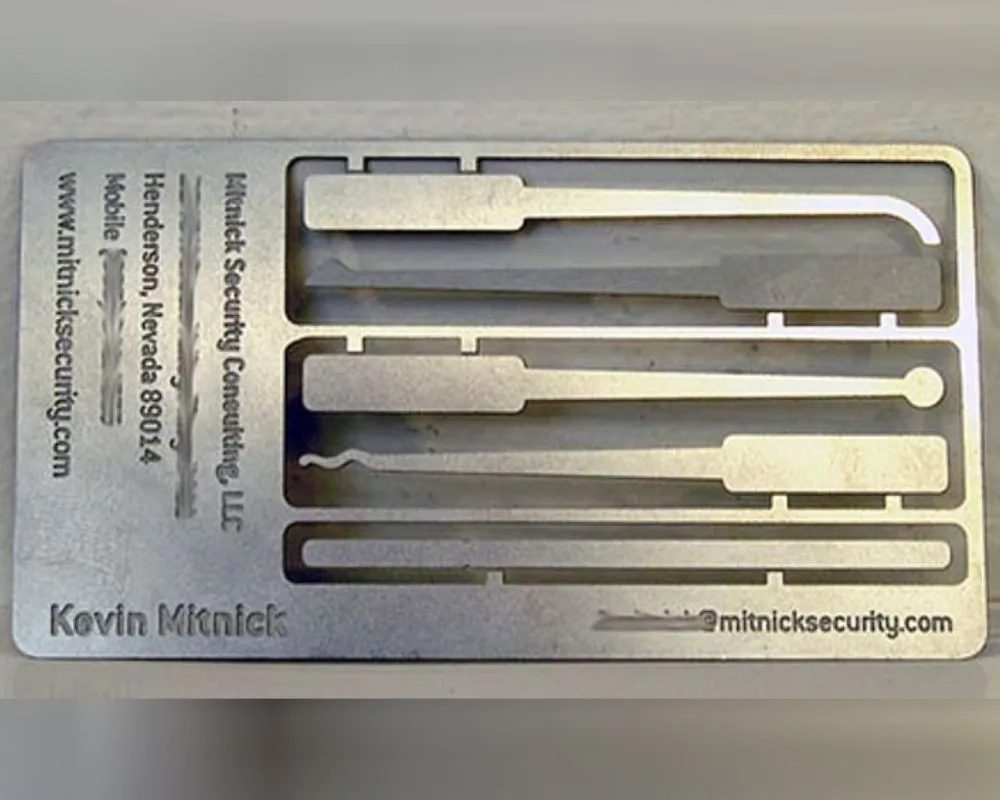 This security firm is providing security consultancy services but doesn't want people to thoughtlessly rely on their word. And they are helping the clients even though their business cards. The business card is in the form of a lock picking set that can be used in emergencies.
30. Award-Winning Business Card
A business card doesn't have to be dull. No one made the rule but at the end of the day, every other business card in your wallet looks the same. It is only once in a blue moon that one stands out among the crowd.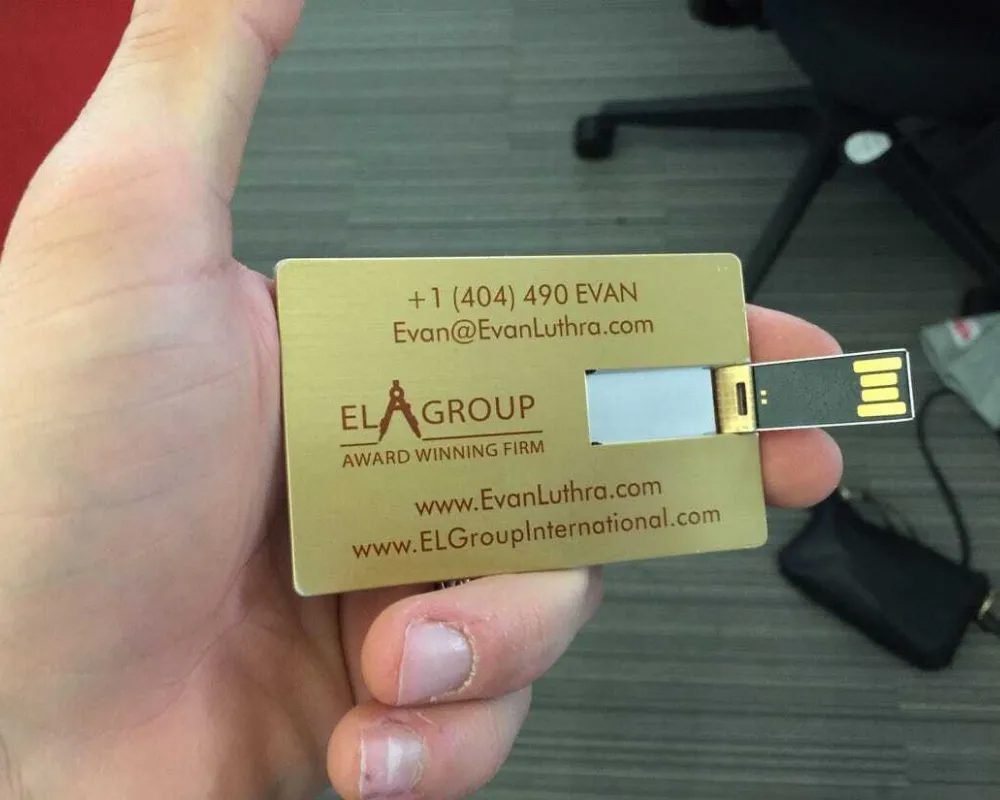 This business card shows how something this small doesn't have to disclose all the information about the company that any client may be interested in. They installed a USB in the card which probably holds all the necessary information about the business for the clients to know.
31. Strive To Be Different
There are many business cards that look exactly the same. So much so that you can't be certain which business it belongs to unless you carefully read the details. But a difference in appearance and functionality impacts the memory of the clients a lot.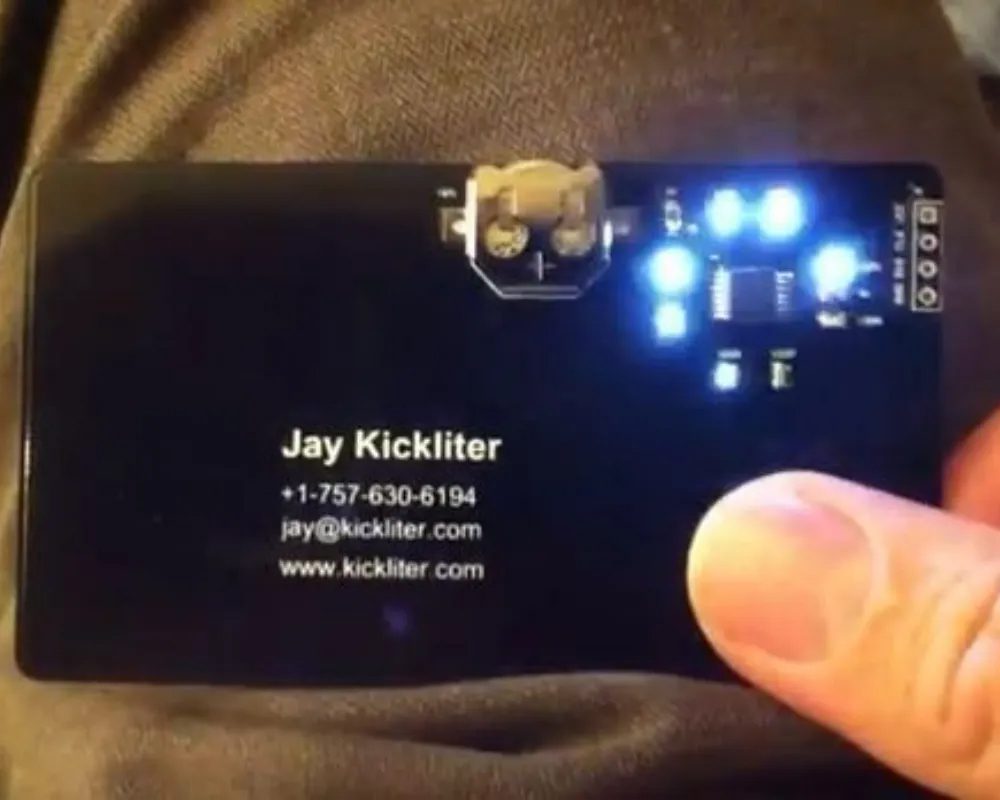 Even though it cost Jay Kickliter lots of money, they went ahead to make a touch-sensitive business card. This card doesn't only have the business details but also lights up a number of LEDs. It is very impressive and the effort behind the card is evident.
32. Get Your Dinner
We all have those local butcher shops that we go to every now and then to get meat. It's a necessity but wonder what happens when you have more than one to choose from? Apart from the basic criteria like hygiene and transparency, the shop that makes its mark will be more desired by the masses.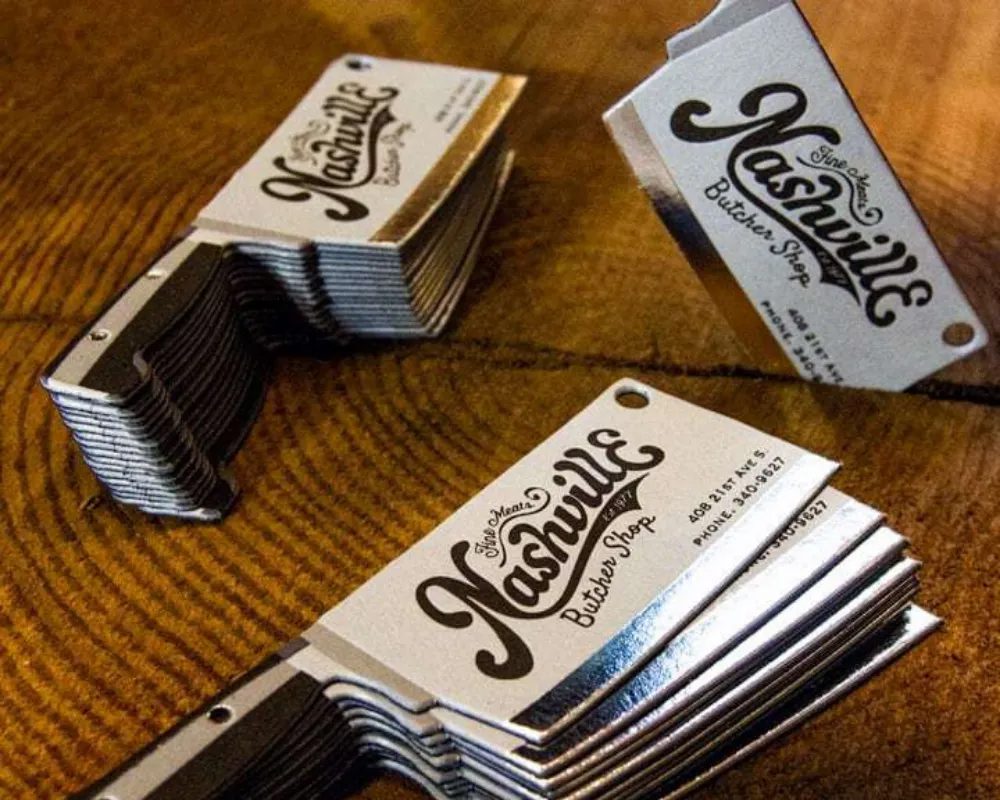 Here, the butcher's card is very unique and stands out in a number of ways. Being designed in the form of a butcher's knife makes it clear what this business sells. So, when two business cards of two butcher shops are compared, this one would definitely steal the show.
33. World Through The Lens
It looks like this photographer was given the assignment to make people know that they are a photographer without telling them that they are one. And we must say, the person nailed the task. After all, what else is a business card supposed to do?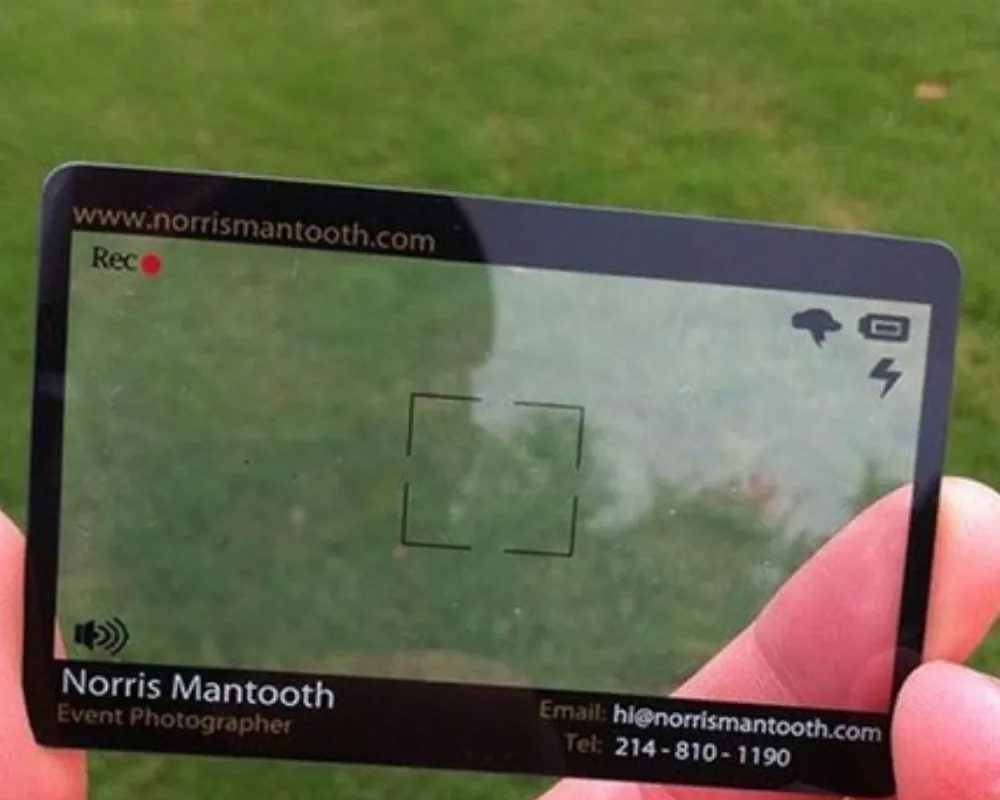 The business card looks like the screen of a professional camera. And since the screen is transparent, it gives the clients the chance to explore their imagination. Plus, the card is solid and well thought so it can't just get lost among the other business cards.
34. Season Your Contacts (Or Vice Versa)
We all love extra seasoning, don't we? But these sachets can hold much more than just extra flavor. Or, we can say that business cards can hold much more than just business details. No one knew about this crossover but it is surprisingly pleasant and interesting.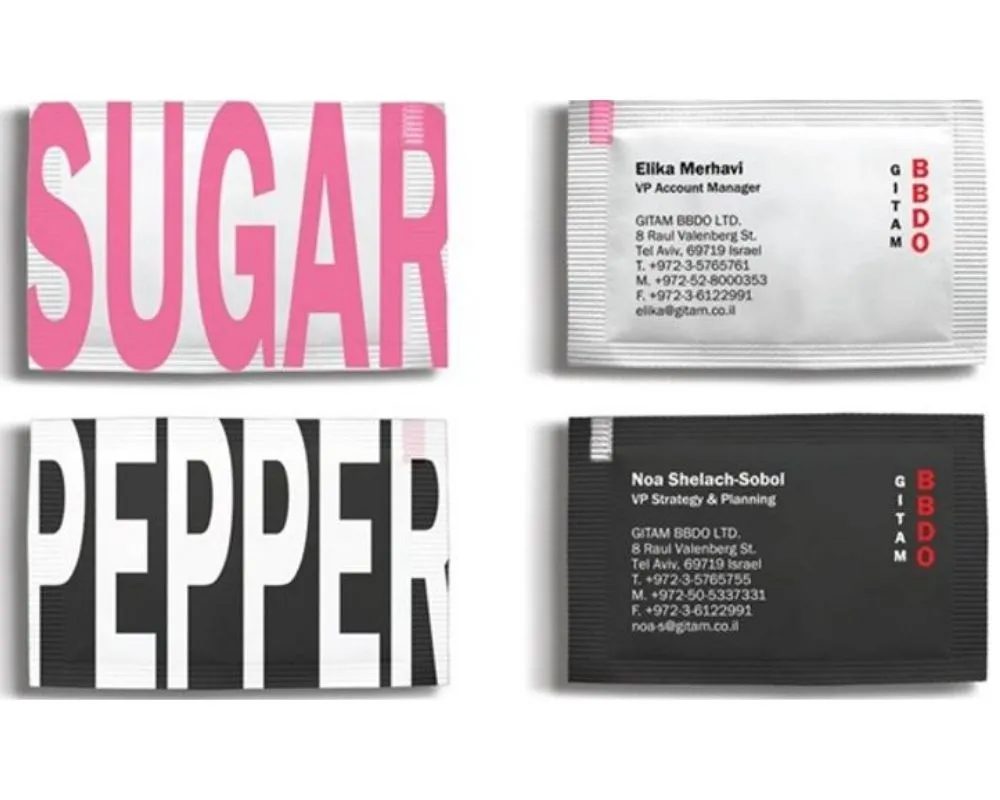 We firmly believe that this advertising agency is taking the onboarding of clients very seriously so not even the ones that visit the cafeteria are left out. Even if you get a coffee, you'll get a sugar pouch, on the back of which is all you need to know about the business.
35. Old Habits Die Hard
When you start off early, you experience a lot of new adventures and challenges that actual professionals can't relate to. It is only your skill and communication that sells and it can't always be supported with a complete knowledge base or education.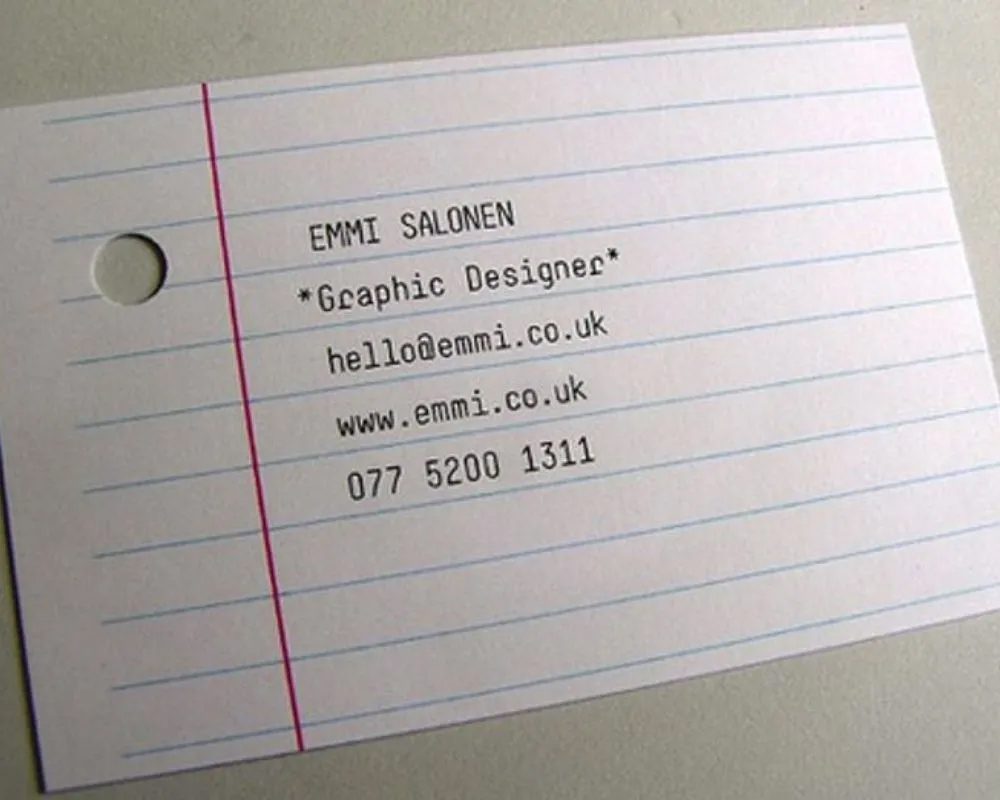 The story behind it seems to be that the designer started so early and small that they didn't have enough resources for professional business cards so they would simply write their details on a piece of paper. And so, when they did happen to have the resources, they stuck with the original design.
36. What Does Your Cookie Say?
We all open our fortune cookies with the expectation that there will be something fun inside. Well, but not everyone thinks of making a business card out of it. While he might catch clients off guard with this idea, it is what makes this card so unique and memorable.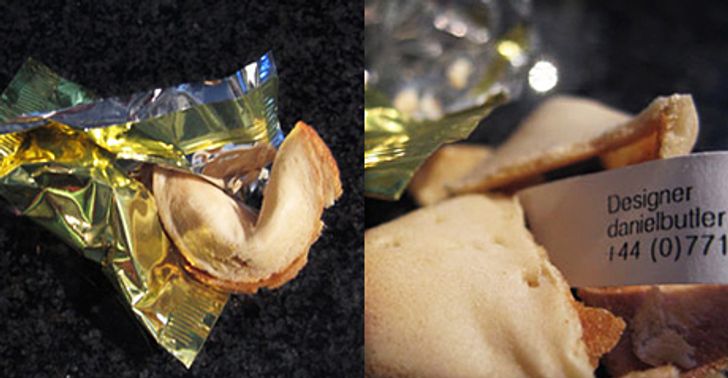 But we must say, if all the fortune cookies in the bowl offered to the clients are only business cards, it would not be pleasing. But it is good to have random cookies having the right contact details for the designer inside so it is both spontaneous and fun.
37. Recycle Rather Than Fix
Business card designing and printing is without a doubt a considerable expense. Even more so if your card is designed a certain way, which is more creative and decorated than a standard card. But to control the costs and keep the card as attention-grabbing as it is, something creative and resource-friendly is to be done.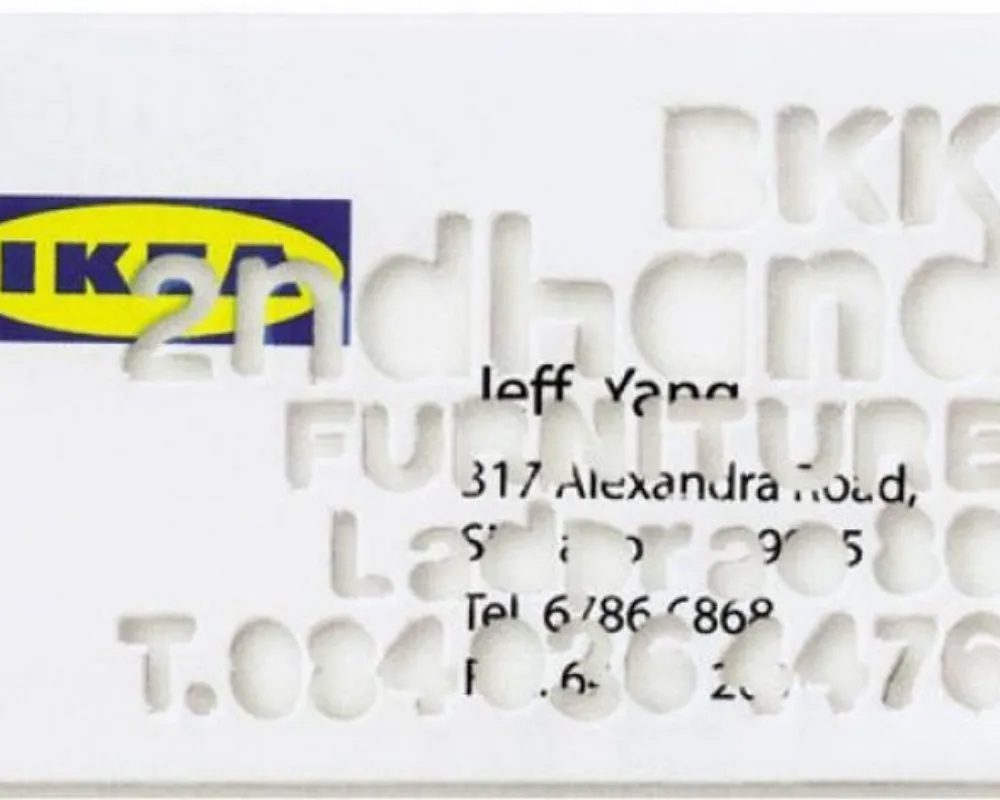 Nothing works better than recycling the card. It also sets an example among the clients about the strong values of the company. This business card is also recycled and the new details are engraved over the old ones, making the point clear.
38. Stretch Them Legs (Or Hands?)
Imagine a business card that is informative as well as playful – a total delight! A little playfulness never hurt anyone. So, it is business owners' call for showing their authenticity and creativity that can create a bond between their clients and themselves.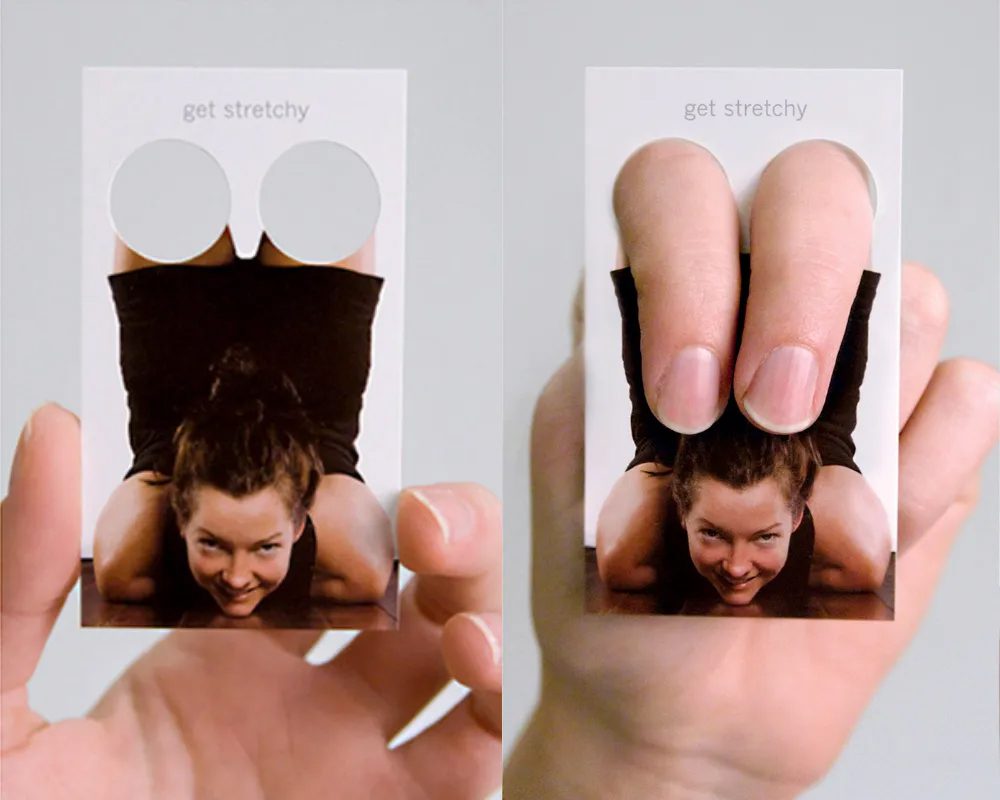 This business card for a yoga class is very interesting. To complete the woman's stretching position, you can put two fingers in the holes on the card, and voila! The image is complete. It is an adorable card without a doubt that is also clear about the service provided.
39. Hand Them Out
Did you know that a card can be purposeless? Or for light humor? These are great icebreakers and help start a good connection or end the meeting on a light note. These are becoming more and more common with time and so, some hilarious cards can be seen around.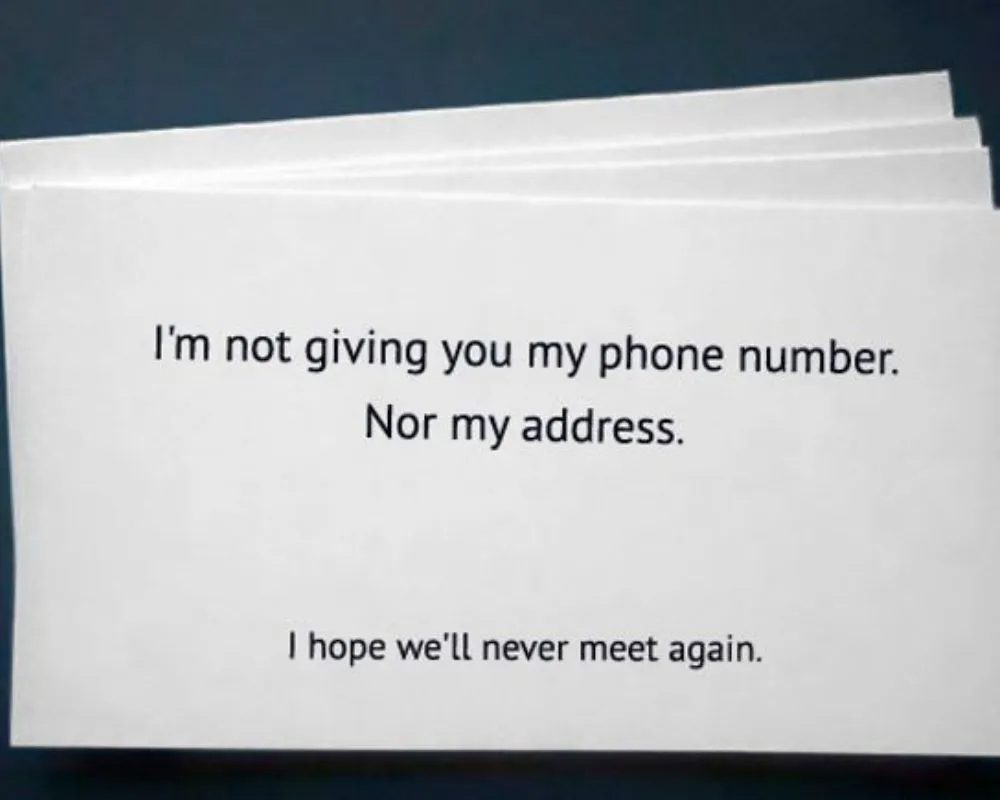 Like this one, which is sure going to make you laugh if handed down to you! You can also use it to pass on after an unpleasant date or just to tease your friend. But it is also a way to ask someone to cut strings without saying it out loud.
40. Survival Kit Essentials
We all need some training to face life-threatening and sensitive situations. It trains about which approach would be the best to adopt. So, we consider getting training from a survival trainer that we can trust and get the best guidance from. But who to choose?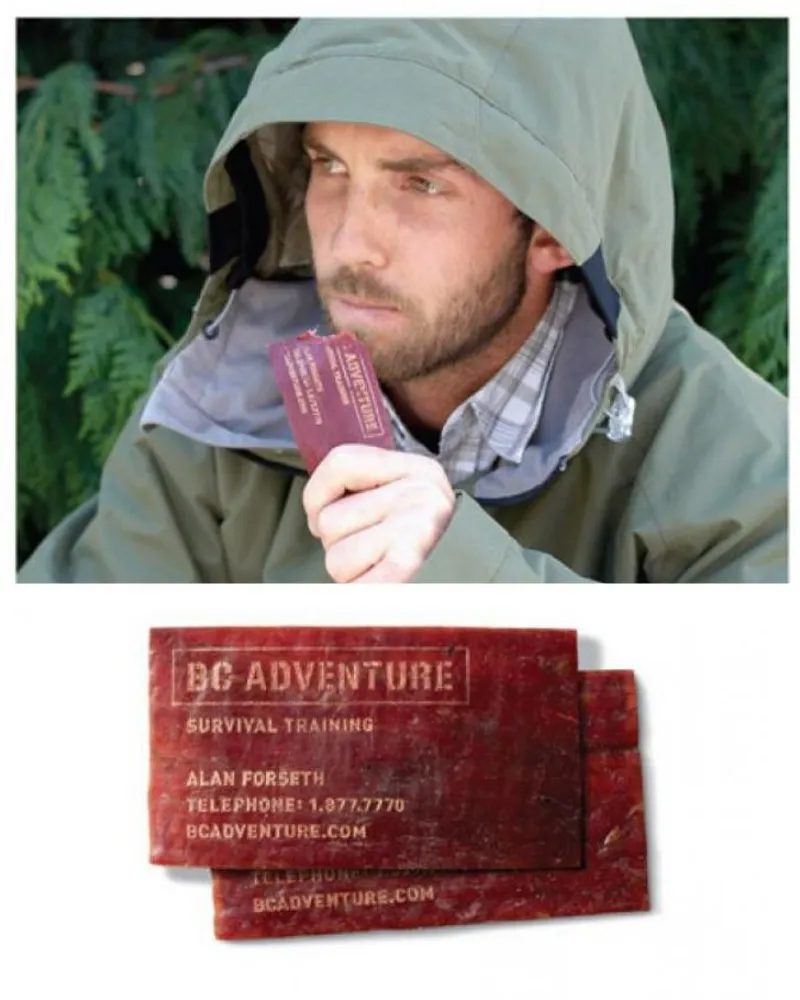 The seriousness and dedication of this training company can be seen even from the business card. The interesting fact is that the business card is not only a card holding the contact details but is actually a piece of beef jerky.
41. Cut It With A Harmless Razor
Graphic design is a dynamic field. You sell your unique skills and creativity at their highest. For most businesses, the first interaction ever is in the form of a business details card. This is quite convenient because it gives the designer a space to actually go all out and show what they've got.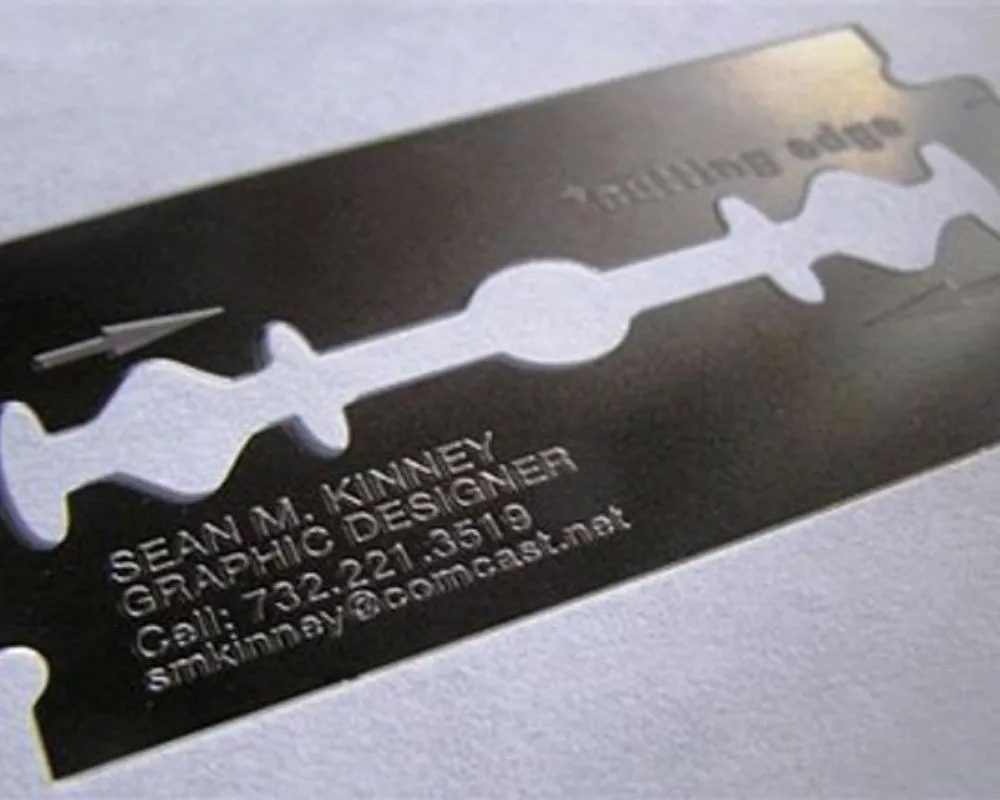 One thing is writing that you can provide cutting-edge technological solutions through graphic designing, but making the card look like a razor is another. So, you can this is a business card that would stay on clients' minds for a long time.
42. Multi-Purpose Prescription
Even though doctors don't need to market themselves like other businesses, they still can't just skip handing out their contact cards to people. There will never be enough doctors for all the world's population ever but it doesn't mean that they can't put in extra effort to let people know about them.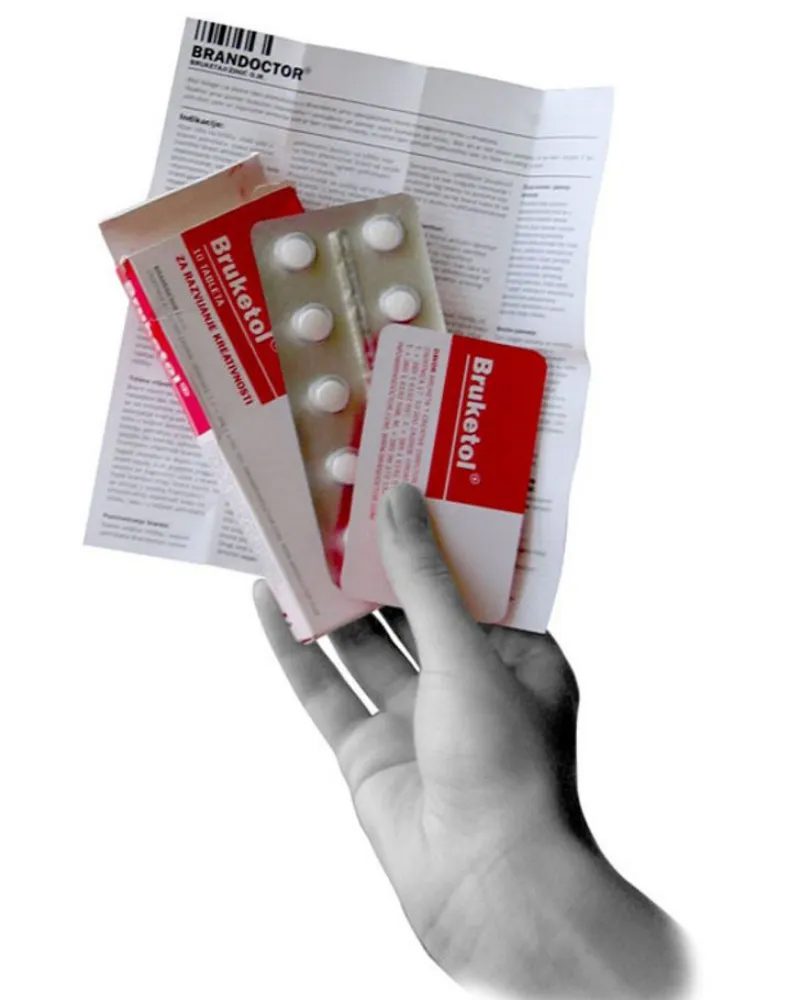 This doctor took to the creative approach of handing out their business cards. What they do is that they put the card in the medicine box itself. It makes it easier for the patient. Everything comes packaged together for their convenience.
43. Cat Hidden In The Box
You might not get the idea about the firm's business from the business card's design but it sure does sync with the name of the business. The business' name is The Cat Box and the design of the business card conveniently shows a cat hidden inside of a box.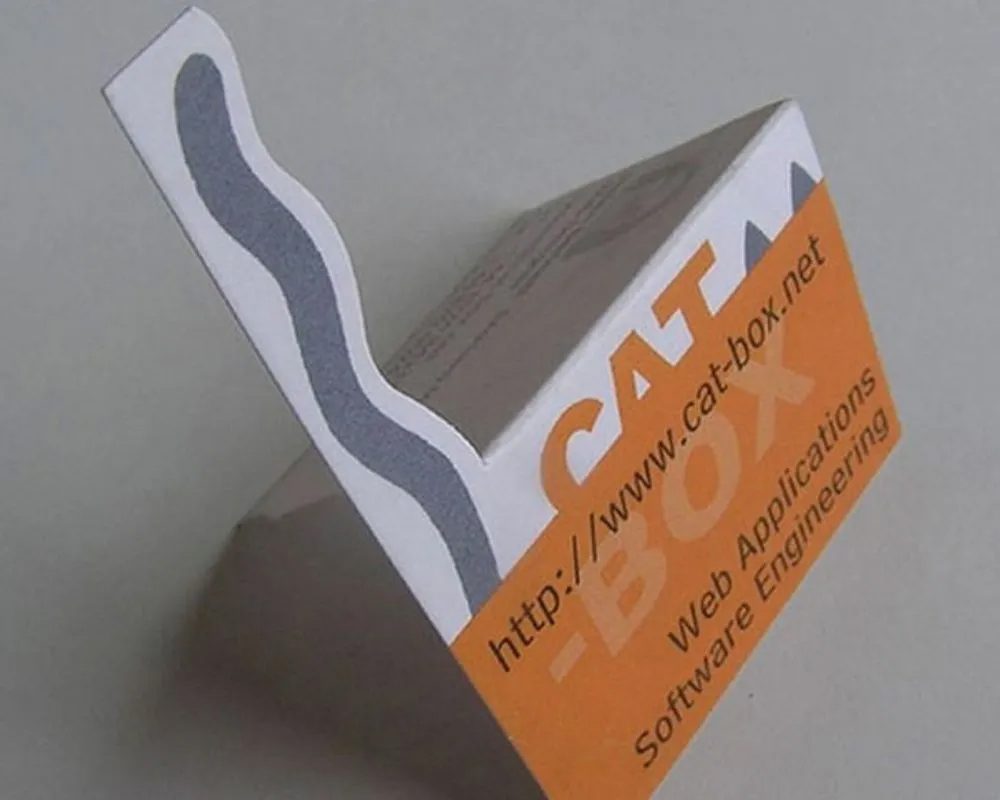 The cat's tail and ears can be seen and it is surely an adorable card. Now, what you may not remember from the company's card is that it actually is an I.T. firm. However, since the design goes so well with the business name, it is excusable in our view.
44. Face Of The Store
There are many ways to make a business sound and look interesting and having a well-thought, creative, and attention-binding business card is one of them. The best way is to dig through your ideas and motives you have for the business and design a personalized and wholly original card design.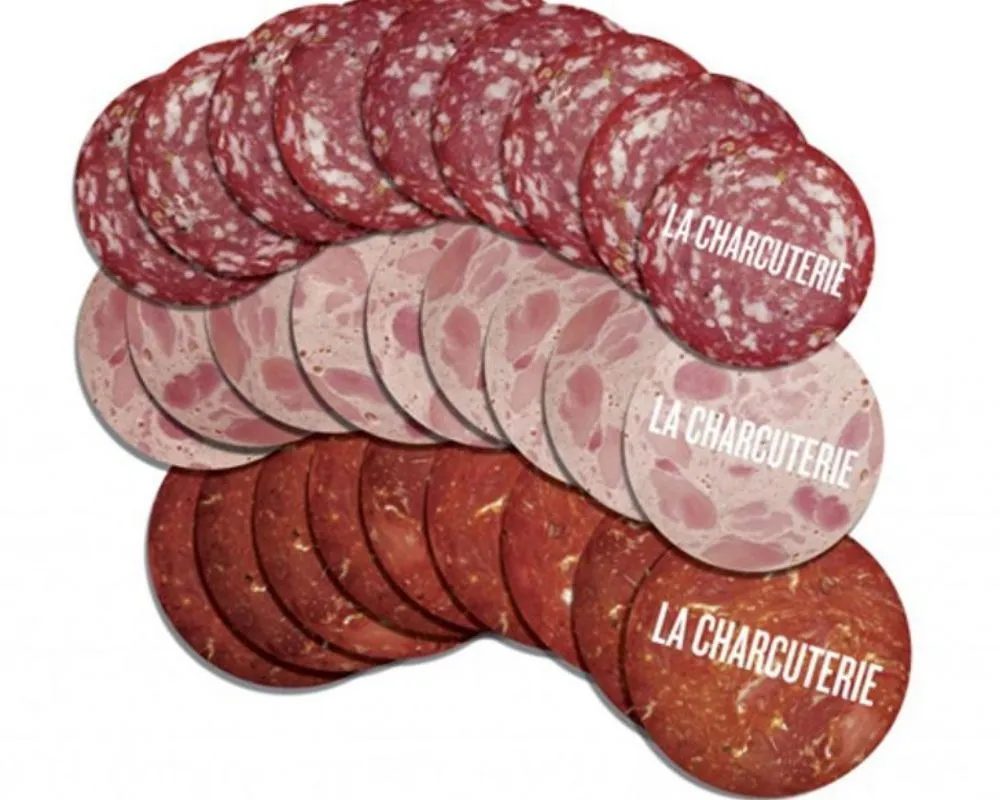 This artisanal food store took to making their business cards look like the meat they are selling. You may not be intrigued by their store but the card will definitely intrigue you and hints at the vibe of the store. It serves the purpose quite well.
45. Jazz Up Your Business
When it comes to making a unique and personalized business card, there is no limit to creativity or execution. Even if you have a simple stationery store, how you communicate about it to the clients makes a lot of difference and motivates them to visit your store at least once.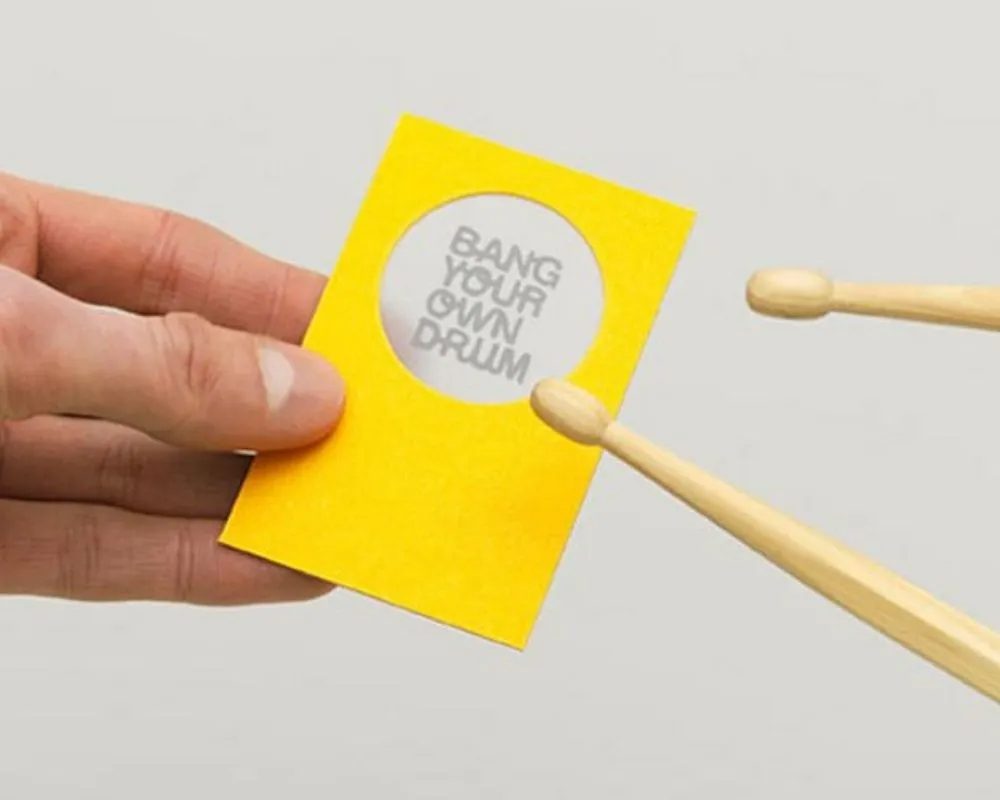 This business went wild, literally, and made their visions come true. We have never seen a more fun card other than this, that is for sure. It is so playful because you can really play some drum sounds on the section given on the card. The card binds enough attention of the clients that they will be willing to visit the store itself.