From Beyoncé To Tom Hanks: 35+ Wedding Crashers That Are More Than Welcome
By Ekhama O June 17, 2022
---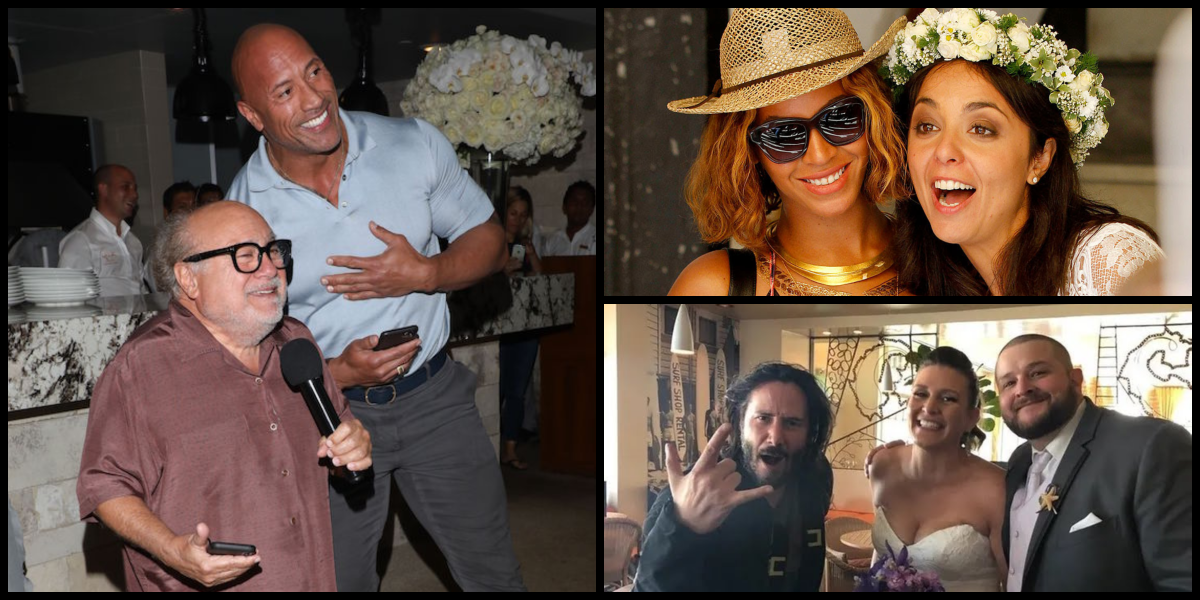 Planning a wedding is usually lots of work and everyone involved wants it to go according to plan. No hiccups, no monkey business, just smooth sailing all the way through. One of the worst nightmares for any celebration is a wedding crasher. They're always unwanted…unless they're Beyoncé, of course. And believe it or not, this has happened more times than we can count with a whole range of celebrities. It's also worth noting that the newlyweds certainly didn't mind these uninvited guests one bit, and their faces tell it all! A celebrity unexpectedly finding themselves in the middle of a wedding may cause a ruckus but makes for a truly memorable and Instagram-worthy moment. While the average Joe would face repercussions for wrecking a wedding party, these celebrities were more than welcome to join in on the fun. Here are the famous faces that took a bride's worst nightmare and turned it into a story to retell.
Katy Perry's sippin' gin and juice with wedding guests
Katy Perry gave these newlyweds the shock of a lifetime by crashing their party held in the same hotel she was staying at while on tour. It goes to show this California girl is just as fun behind the scenes as she is on stage!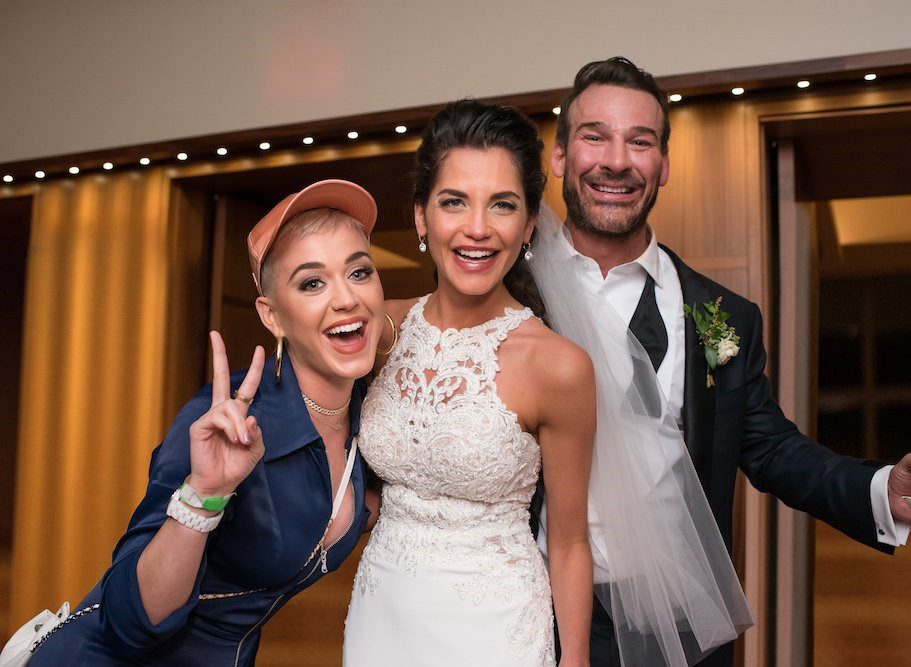 It might have been just for ten minutes, but that's long enough to make it an unforgettable event. Which was the best part: celebrating at the Four Seasons or having Katy Perry and her whole crew in attendance? It's obvious which the couple remembers most.
Robert Pattinson gets "mobbed" by a group of Bridesmaids
The Twilight star was grabbing a drink in Culloden Hotel where the reception was being held when he was spotted by some wedding guests. The bridesmaids couldn't help themselves and rushed over to the hotel bar for a little photo op with Robert.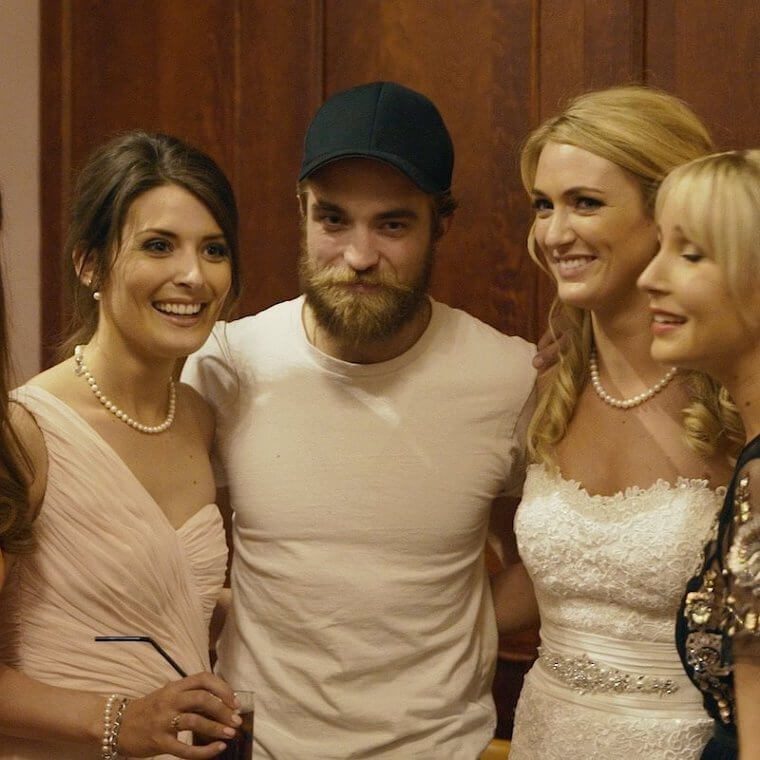 Twihards all over the world have another reason to go green with envy. Understandably so, their favorite heartthrob owned the night. What an unmissable moment! And although Robert termed it "disgusting," we have to say, the facial hair wasn't half bad.
Is it really considered wedding crashing when it's Snoop Dogg?
Snoop made a special guest appearance at a Hindu wedding in Chicago back in 2014. The photographer, upon the request of a relentless force — the groom's mother — approached the rapper for some photos. And who could say no to such a beautiful couple?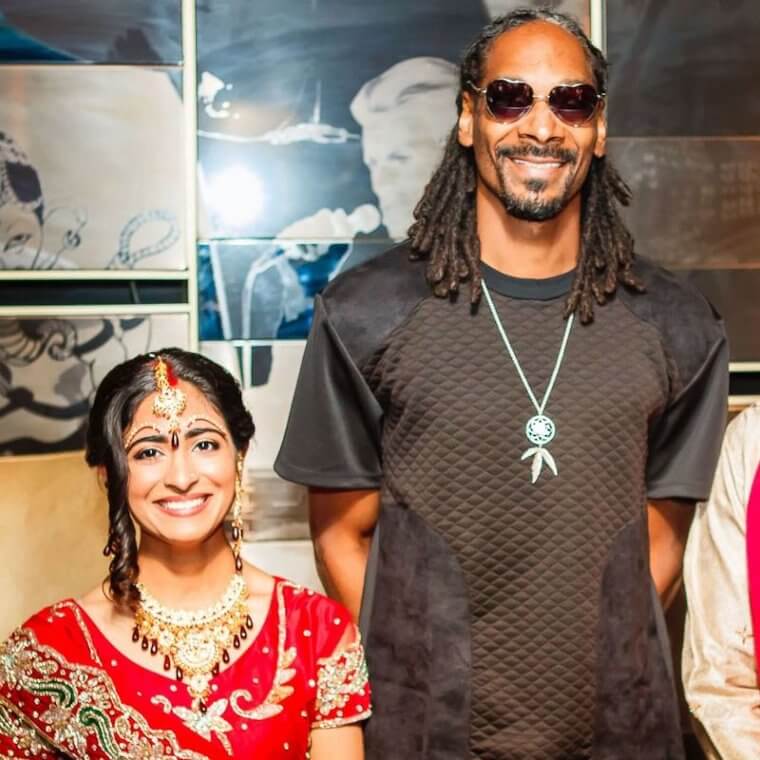 Later, photos of the event were posted on social media and even went on to headline the North Coast Festival the following Sunday. We're not sure what part of the story we love more. The fact Snoop's their favorite rapper or that this is certified legendry.
Wedding Crashers actor crashes a real wedding and grabs the bouquet!
Yes, we're telling you Bradley Cooper, whose role in the 2005 comedy was to stop a group of wedding crashers, showed up a decade later in the same town the movie was filmed to crash a wedding of his own!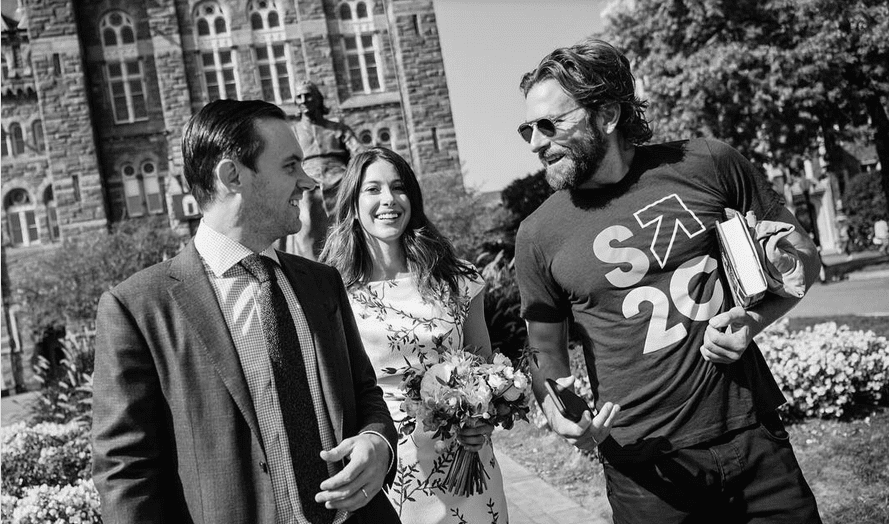 Bradley dropped by to support Lady Gaga's performance on SNL the night before heading to his alma mater, Georgetown University, where this couple was celebrating their union. Telling from the photos, it's clear the two didn't mind his company. We can't blame them; we wouldn't mind it either!
Sugar? Yes, please!
It's always fun to see what crazy, weird, or embarrassing ideas artists will come up with next. And a certain band did more than just give us something unique; they also gave these couples their very own exclusive shows. What a sweet gesture!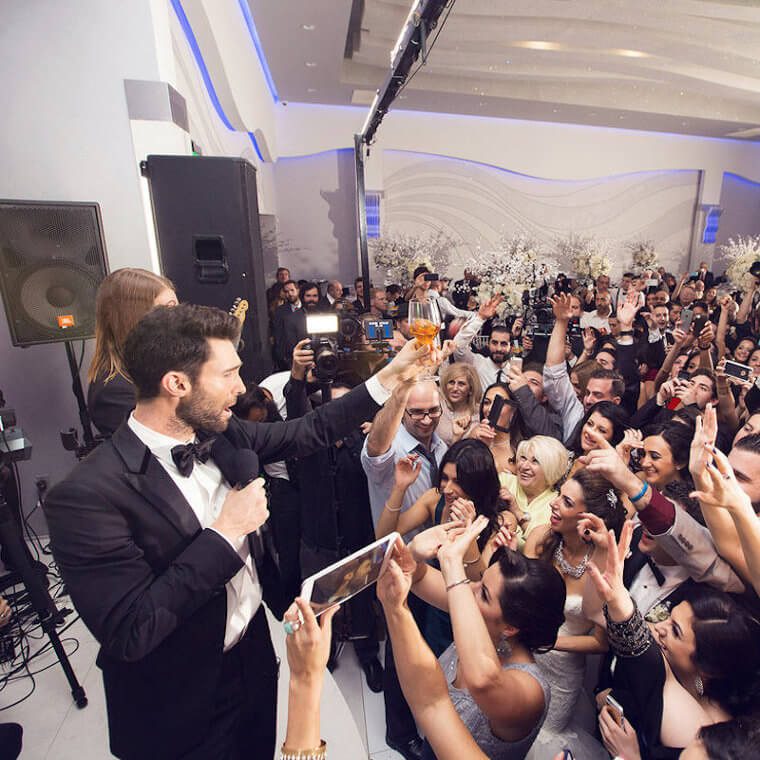 Maroon 5 made the term "wedding crasher" a music video concept, taking to several venues, and performing for a bunch of newlyweds and their guests. There's never any harm in sharing a little love and we were all for it.
How about a wedding photo shoot?
This couple had just gotten married and scheduled their photo shoot for the same afternoon Denzel Washington was taking a jog at Central Park. In town to film Journal for Jordan, the Oscar winner posed for a quick pic. Talk about perfect timing!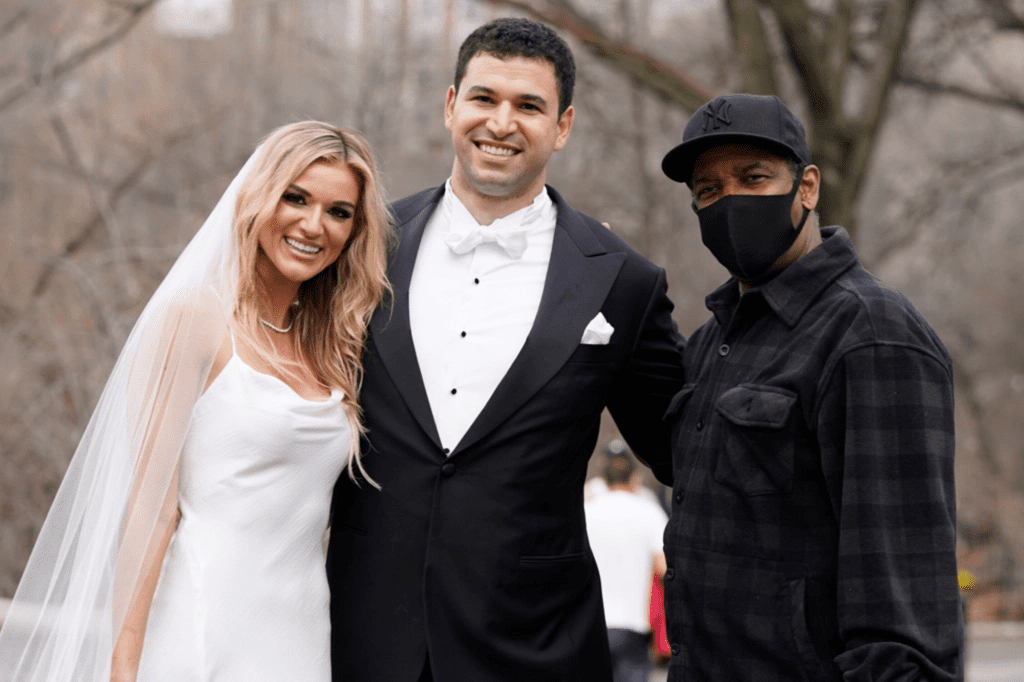 While he kept his face mask on for health and safety, we're sure he's got a big smile on underneath. After nearly four decades of marriage with his wife, Pauletta Washington, he might just be this gorgeous couple's lucky charm.
Brad Pitt causes a stir at an English wedding
"Brad Pitt is in the bar," this groom said to his new wife, pulling her away from their reception and into the hotel bar where the A-lister was. Brad agreed to a photo and even complimented the bride on her dress!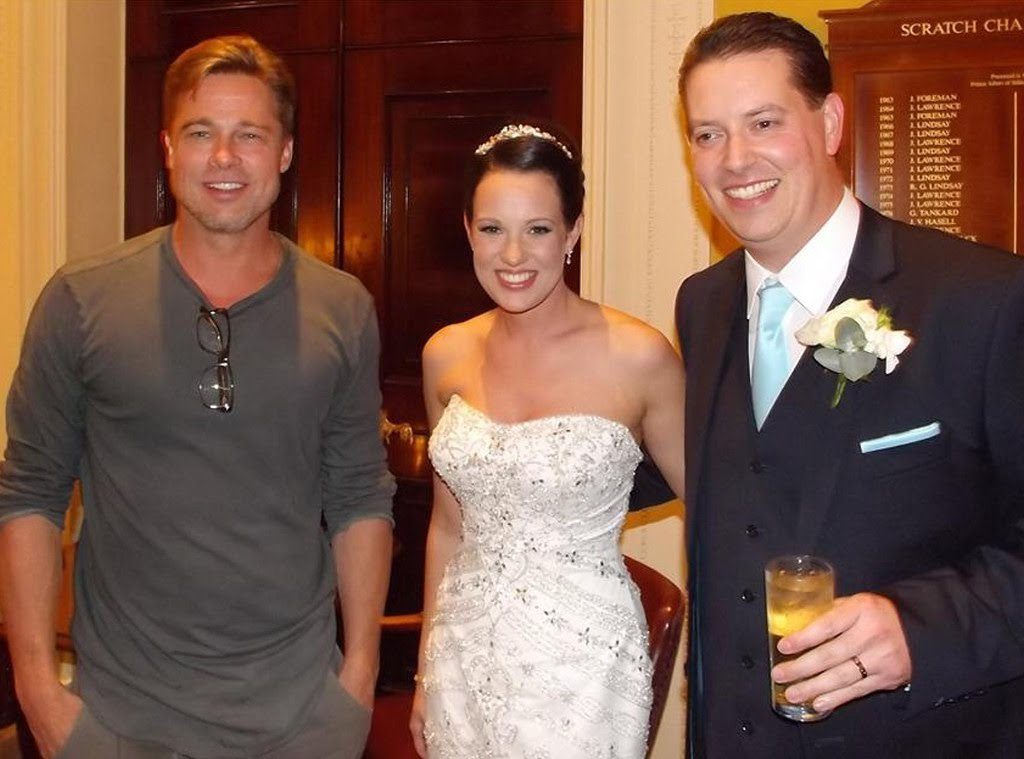 The bride thought her husband was pulling a prank on her until she met one of the biggest names in Hollywood on her wedding night. That must have been one heck of a shock! And we thought we already had enough reasons to love Brad Pitt; what a gentleman.
Read my Poker Face
Lady Gaga wasn't dressed for a formal event; she was on her way to a show when the bride spotted the celebrity. Upon hearing her name, the pop sensation took the time for a couple of photos with the newlyweds.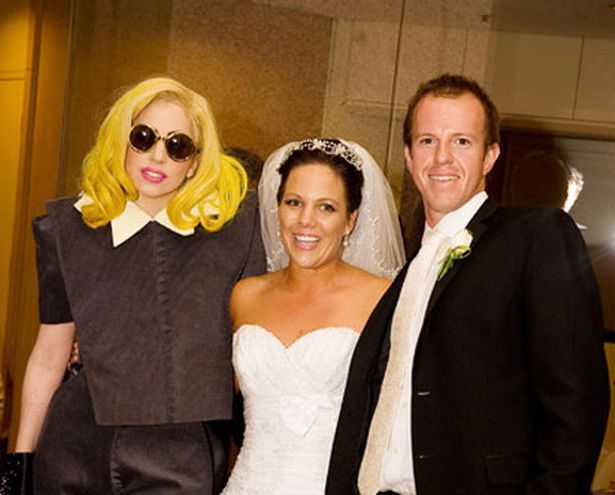 But it didn't stop there. The "Bad Romance" singer was happy to cheer on the budding love with a reprise after her show, and even came back, treating the whole crowd to drinks. What a way to celebrate your special day!
Ed Sheeran brought a pleasant surprise
Back in 2015, this Sydney couple was having some trouble organizing their event. An Australian radio show stepped in to help them out and contacted the talented Ed Sheeran. He crashed their wedding, performing a touching version of his hit song "Thinking Out Loud."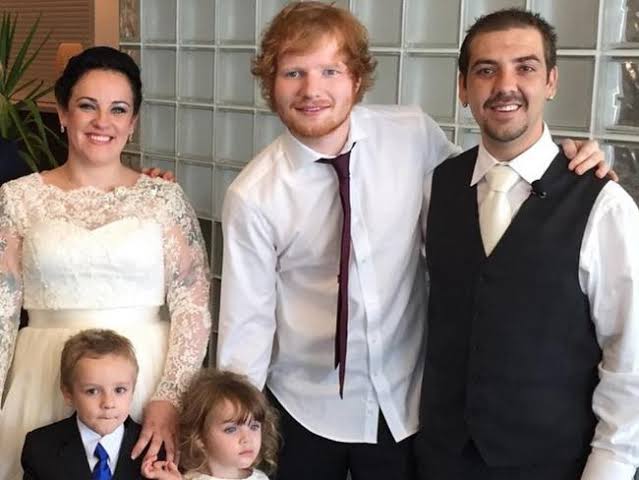 The show, Kyle & Jackie O, funded the wedding and contacted him, Ed was able to pull off this grand gesture. We love a celebrity who shows up and shows out and this act of kindness can only be described as one for the ages!
Lebron James wins NBA Finals! Then crashes a wedding!
Sometime in April 2012, LeBron was scheduled for an interview at a hotel in New Jersey after becoming a champion. Their venue was taken, so LeBron and the interviewer decided to bask in the beautiful sun, holding the conference outside, where he met this Jewish couple.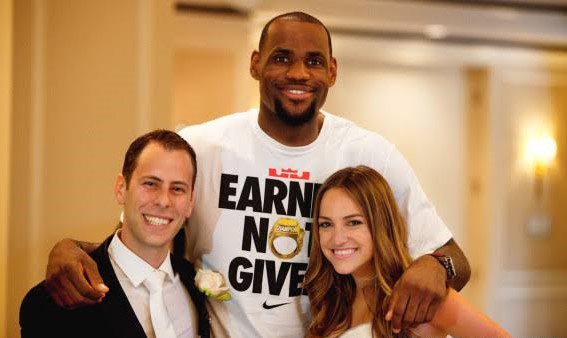 The champ reportedly made conversation with the guests who came alive at his presence, even taking this picture with the bride and groom! This party might have not been his, but LeBron still managed to turn things up a notch.
Kevin Hart and Josh Gad in the Wedding Crashers
Not only did these two co-stars walk into this event in the middle of speeches, but they each grabbed a mic and gave some of their own! In town for a photo shoot, the two comedians certainly made their presence known.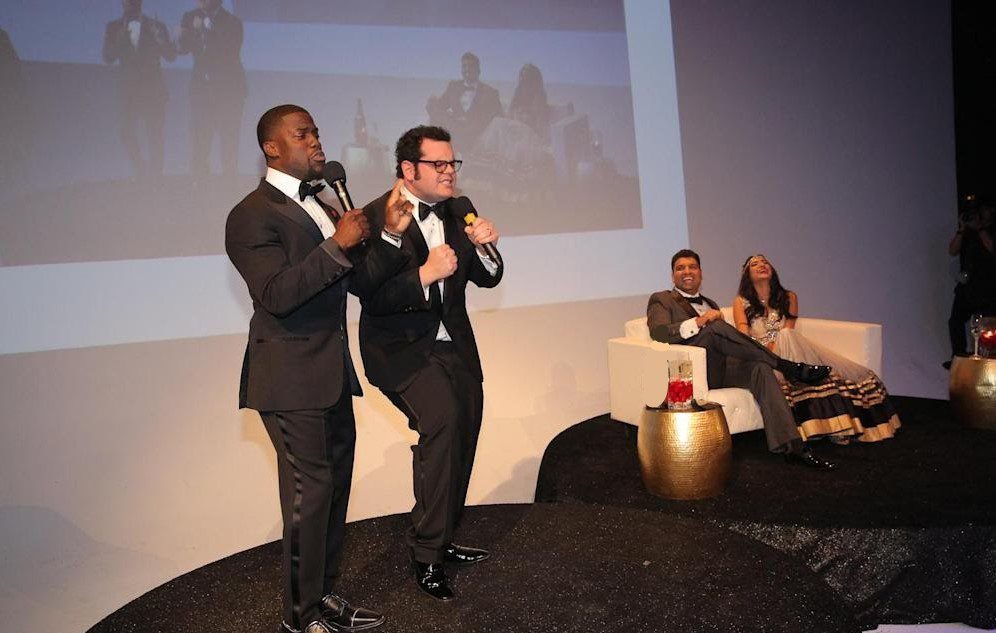 It's always nice to put a smile on people's faces, and Kevin and Josh made this couple grin from ear to ear, showering compliments on the two and leading the guests onto the dancefloor. We're not saying we're jealous or anything…
Keanu "Crashes" a Californian wedding
These lovebirds were about to get married when they spotted the bearded actor and couldn't resist asking him for a photo. Of course, Keanu Reeves happily obliged. The Matrix star got up, shook everyone's hands, and struck that iconic pose!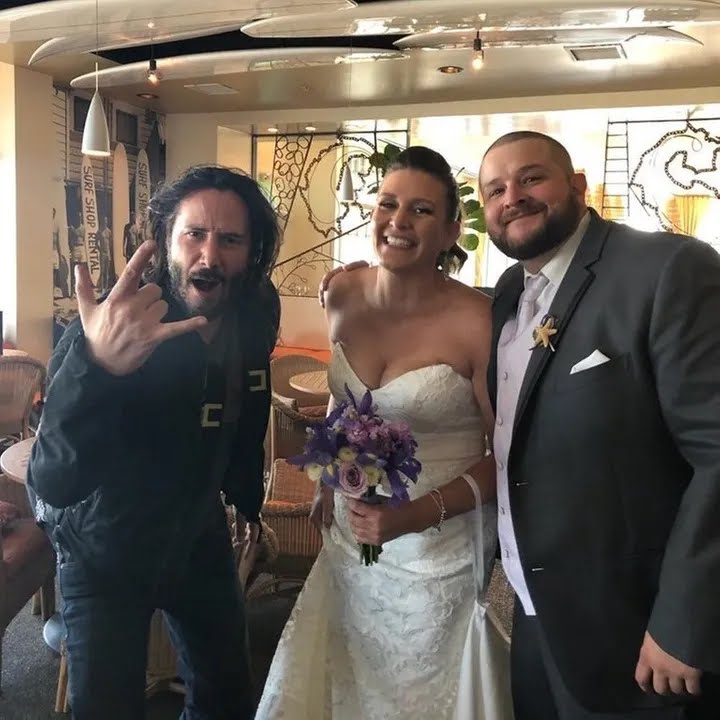 Keanu has been described as "totally awesome" by this groom's brother, and we could not agree more. The fact that he pops up now and then to remind us of his immortality keeps us on the edge of our seats. What can we say? We're obsessed!
The fastest man alive, Usain Bolt, slows down for a photoshoot
Eight-time Olympic medallist and one of the most revered names in the world of sprinting was going for a stroll in France's capital when he ran into these two newlyweds. He didn't just run by; he stopped to congratulate the couple.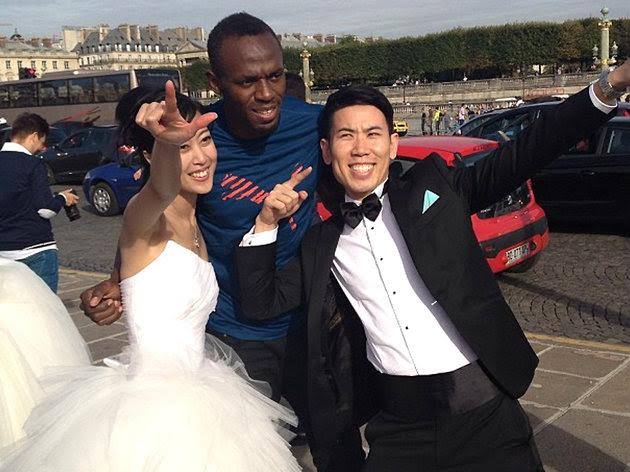 Bolt posed for photos with the elated newlyweds, but we can't seem to take our eyes off the supposed photographer at the back, missing the opportunity of a lifetime! Probably trying to adjust something on his device. Poor guy, Usain was just too fast for him.
Twice as nice as Keanu!
Keanu Reeves is at it again, but this time, in the city that never sleeps. The bearded actor is pictured, dressed informally in stark contrast to the couple adorned in their wedding finery. And, as always, was happy to stop for a shot.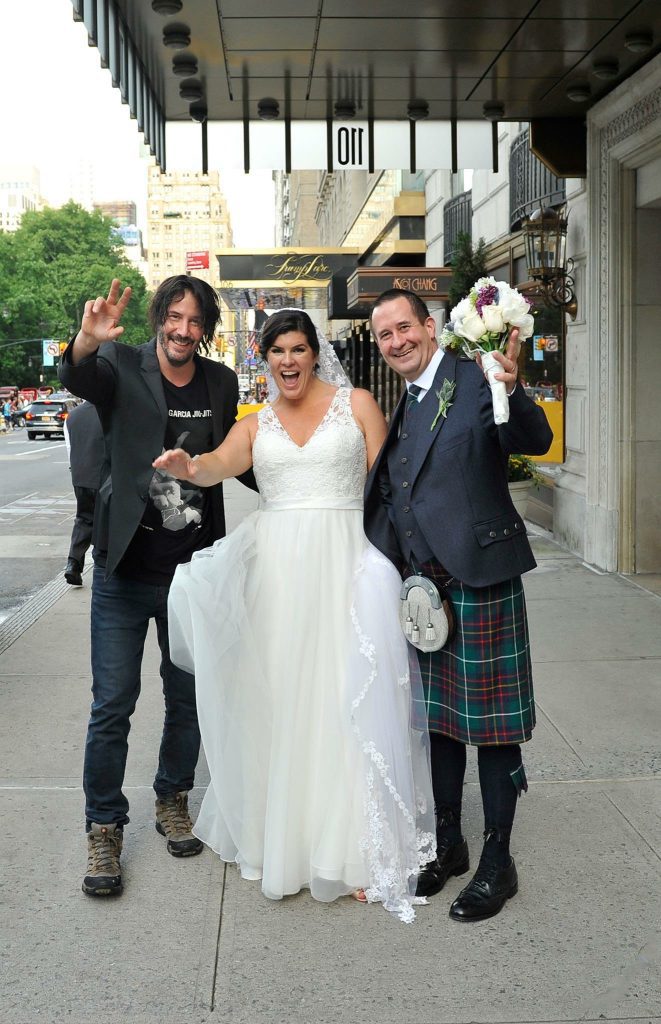 Keanu tied the knot with his long-term friend later that year and that, people, is what we call fateful coincidence. Hollywood's favorite Mr. nice guy may not be on your wedding list, but don't be shocked if he drops by anyway.
Conan O'Brien hops on the "trend"
Upon learning the talk-show host was staying at the same hotel the event was taking place, a loyal bridesmaid decided to Tweet him, hoping he'd attend. And he did! Conan came, chatted with the couple, and even stayed for a bit.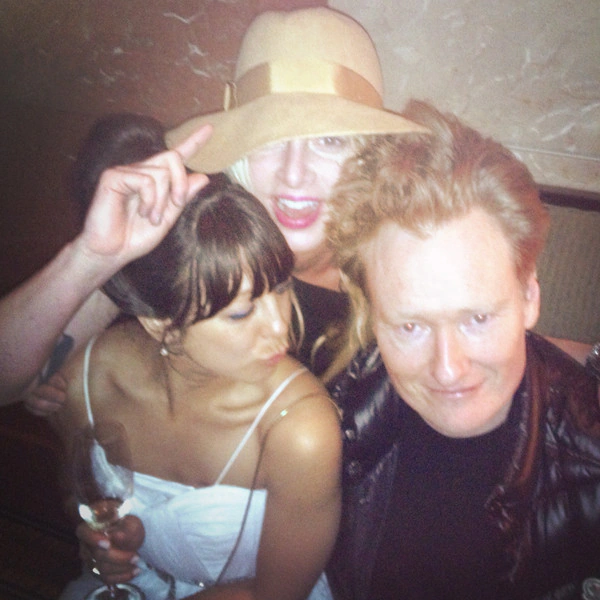 According to one of the lucky guests, he casually walked up and introduced himself. They were pleasantly surprised that such a big star showed up. "He was super personable, walking around and taking pictures with everybody." Conan O'Brien everyone, what more can be said?
David Hasselhoff's in Austria!
The Baywatch star came upon a wedding while vacationing in Vienna. David treated the newlyweds to a photo and later posted it on Twitter with the caption, "Just crashed a wedding in Vienna! Congratulations to the lovely bride and groom."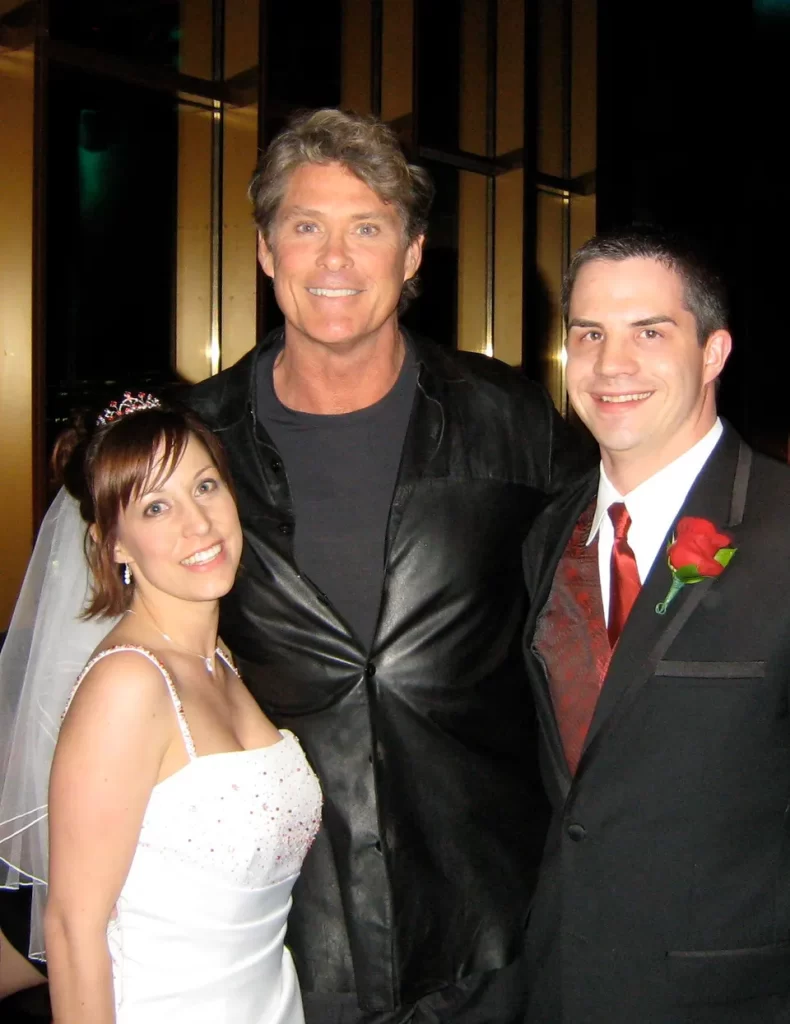 Most celebrities have one thing they're particularly known for, so they really don't have to do much to get recognized. David Hasselhoff is definitely one of those stars. We're almost certain the lucky couple hasn't forgotten a moment with a popular face like this just yet.
Gerard Butler crashed a bachelorette party
Gerard was in the emerald city to film the movie Gods of Egypt and gave this bride-to-be a bachelorette party moment for the ages. This was much more than a little surprise, as he stayed for longer than a few quick photos.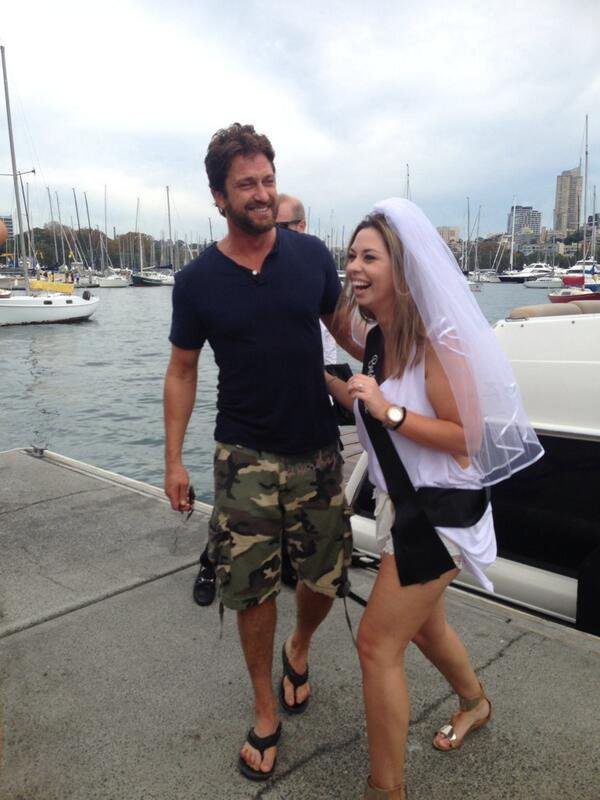 The star dazzled the group with his appeal, giving the special gal a hug and complimenting her. It was reported that he told his management he would like to stay for a bit, and he took some fun photos with the ladies.
Liam Hemsworth is present on a fan's big day
This British couple traveled all the way to the Gold Coast for their wedding party. But unknown to them, Liam was having some drinks at the very same time, in the very same spot they set aside to celebrate their nuptials!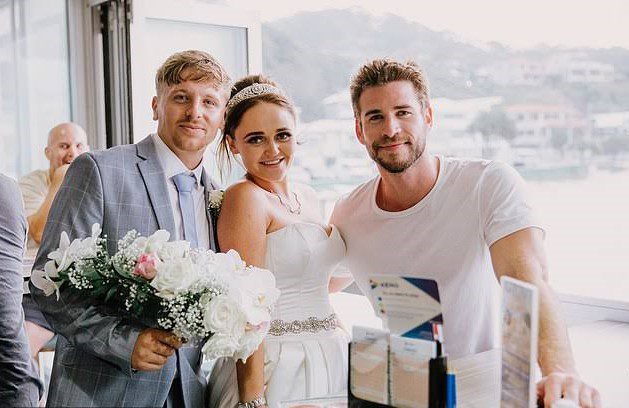 Choosing a venue to commemorate a union is no easy choice, and these two picked somewhere far away from home. But after meeting the fantastic Liam Hemsworth, it's safe to say they didn't regret choosing that location for their special day.
Danny DeVito and Dwayne Johnson took wedding crashing to The Next Level
A wedding in Cabo San Mucas, Mexico, became a little more interesting with the appearance of the Jumanji co-stars. Dwayne and Danny overheard the cheerful sounds of a wedding reception and invited themselves to the festivities. Of course, they were welcomed in with open arms.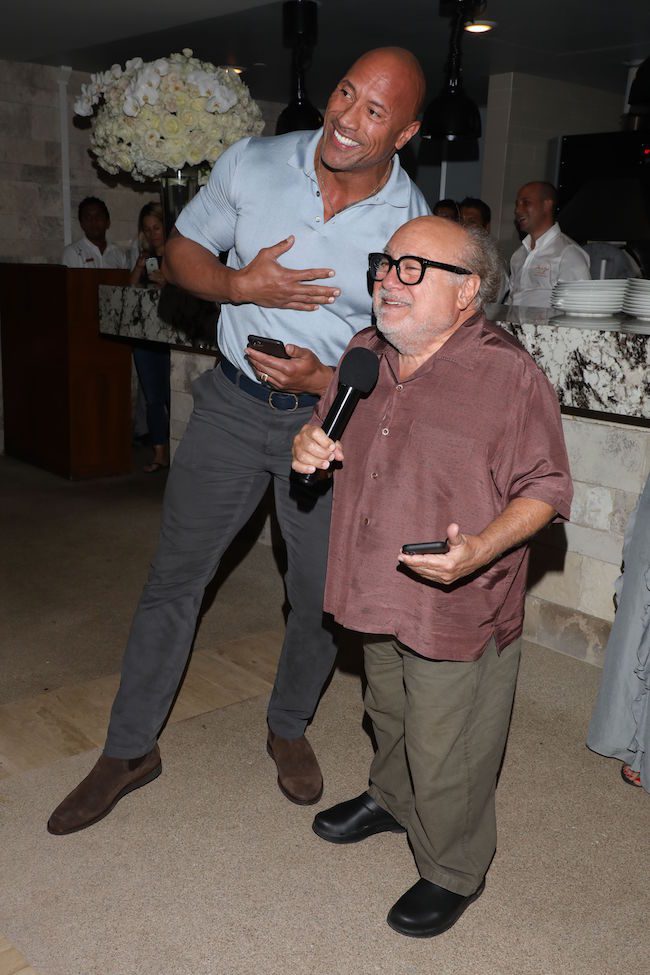 The Rock later posted a video of their wedding escapades on Instagram and, just saying, "Owen Wilson? Vince Van-who? Sorry, we don't know them." This comedic duo has stolen the show and our hearts! We love it when celebrities share wholesome moments like this.
Steven Tyler hits all the right notes!
Oh, how wonderful it is to have a celebrity as a pal, just as this lucky groom got when his party was crashed by Steven way back in 2011. And just when we thought he couldn't get any more fascinating!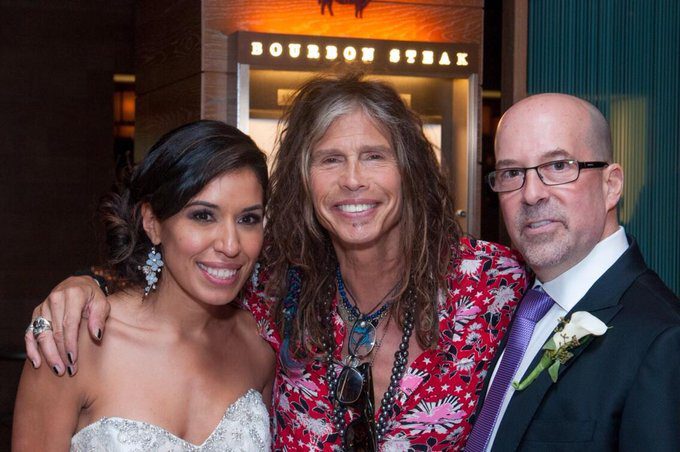 Steven Tyler grabbed a mic and performed his love hit "Don't Wanna Miss a Thing" for the couple's first dance as husband and wife. It's safe to say there wasn't a dry eye in the room. Steven is just an amazing guy.
Taylor Swift delivers a "cathartic" performance
In this wedding crasher story, the groom's sister planned an amazing wedding gift, and she got some help too — from Taylor Swift. This thoughtful sister must have had some well-deserved bragging rights for quite a while after this big surprise!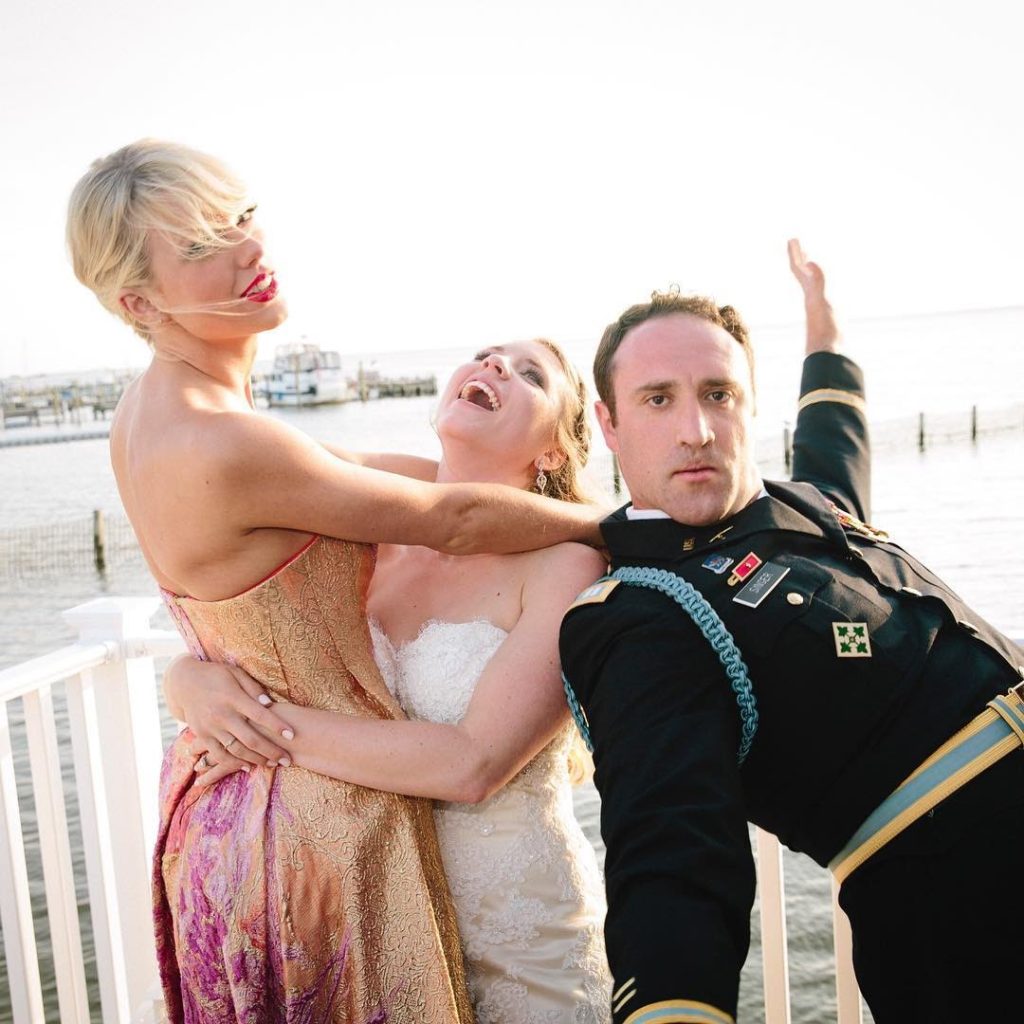 The couple was going through some emotional times with the groom's mother passing away, so a "Blank Space" performance (the couple's favorite song) was a very thoughtful gift. How considerate of the pop singer. We're sure many tears of joy were shed that day.
John Travolta at a Georgian wedding
Are you trying to renew your piloting license? Why not take a page out of John Travolta's book and crash a wedding while you're at it! John was in town for the purpose when he met this young couple at a bar.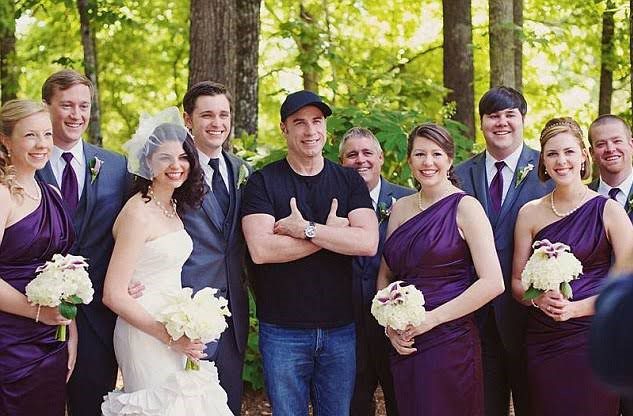 The two would become one the following day and John treated them to a photo that night. But that's not all he did; John attended the wedding in practically the exact same outfit the next day! What a down-to-earth guy.
Jenifer Hudson stuns two Dallas grooms
These lovers thought they'd just be saying their vows but to their delight, the W Hotels had something else in store for them. Jenifer Hudson appeared from behind the curtains to perform "I Still Love You" for the happy duo.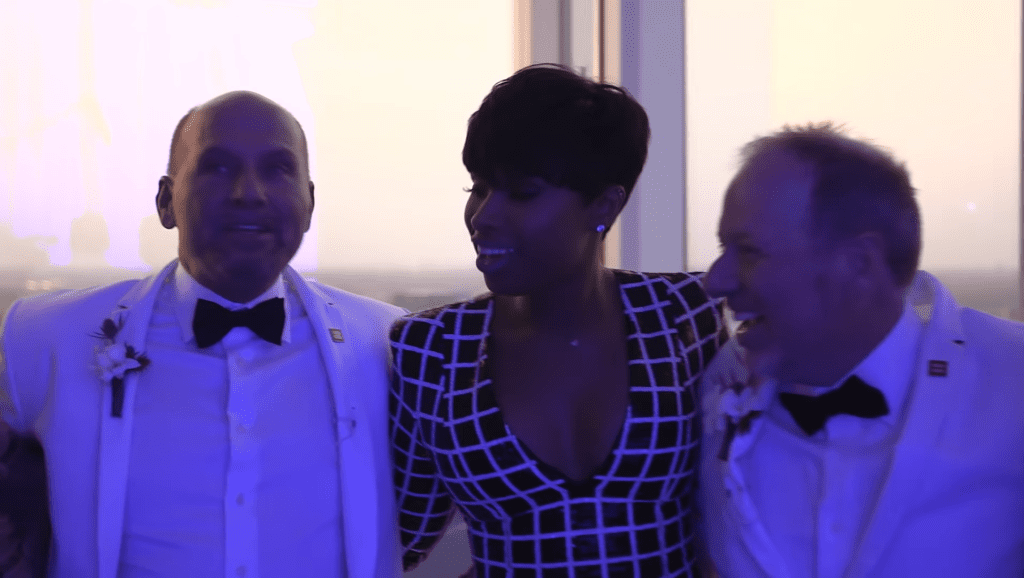 They danced their hearts and sang the night away to her graceful voice. Jenifer also took pictures with the grooms as well as the guests at the W Hotel, and posted them on social media afterward. All hail Queen Hudson!
The cast of Tag crash are it at a wedding
Do you know how to make the promotional tour for a movie louder, wilder and more fun? We don't either, but the cast of Tag certainly got creative with Jeremy Renner reportedly taking away the mic from the best man during a speech at a Miami Beach wedding.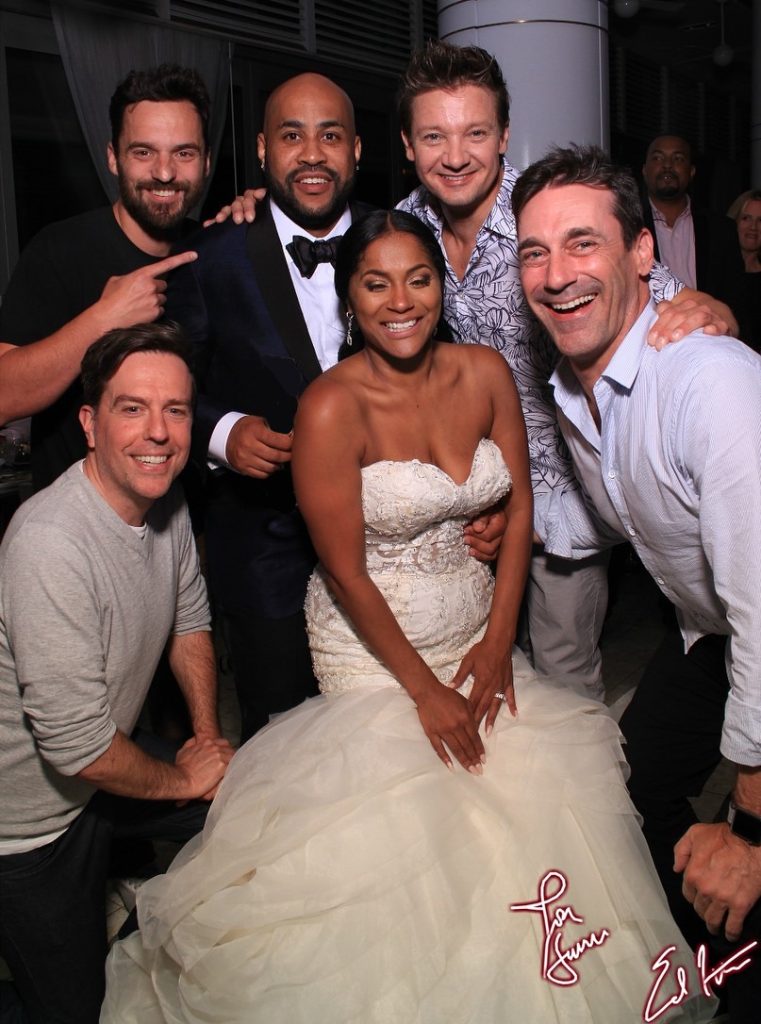 He told the guests he was in a middle of a game of tag as his co-stars, Jon, Ed and Jake, casually walked in, prompting a round of applause, much to the delight of the bride and groom as they happily posed for some pics later.
Nothing to see here, just another Aussie going surfing…
…except that Aussie happens to be the hunky Chris Hemsworth! Unsuspecting newly-weds Anneka and Kent were having a wedding photo shoot at the beautiful Byron Bay in Australia when the photographer spotted Chris. The new bride was confused by this random newcomer.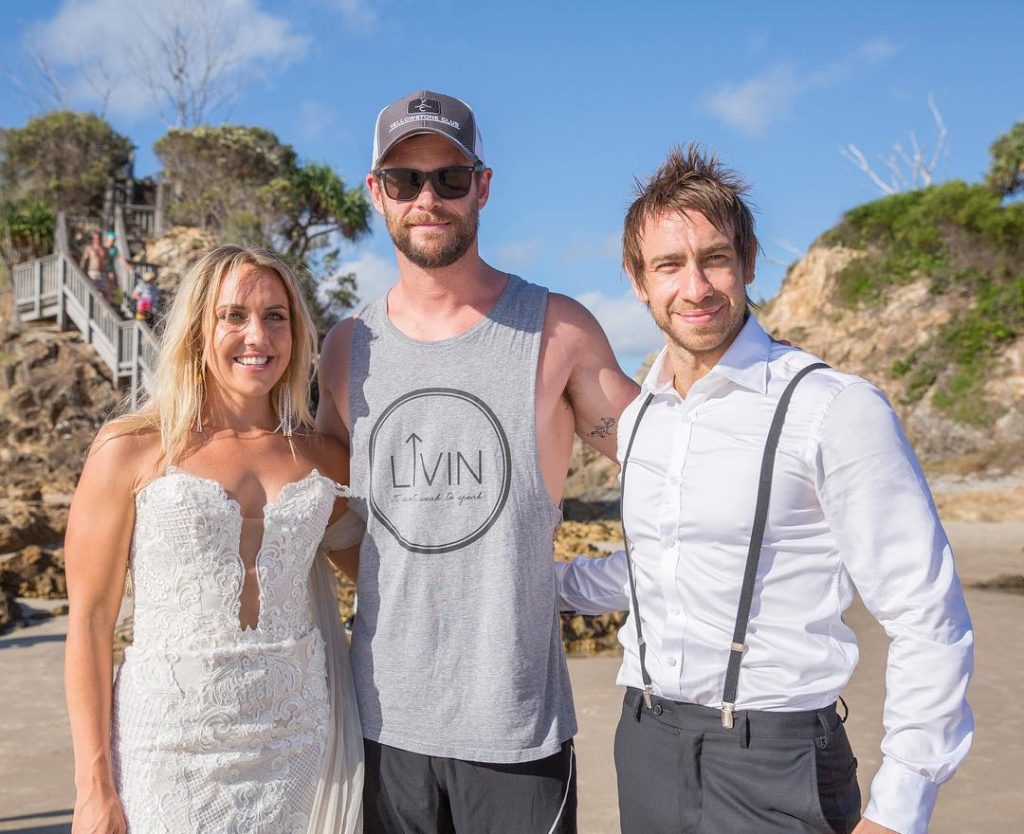 Anneka had absolutely no idea who the star was, as she kept asking her husband why they had to take photos with a random stranger. Despite that, there was so much electricity in the air. Try taking a wild guess who it's from.
Twilight star, Kristen Stewart crashes a Winnipeg wedding with her girlfriend
A couple decided to take the party from their backyard wedding to the Pizzeria Gusto. Coincidentally, the actress and the Victoria's Secret model were also enjoying their time there, so the manager decided it would be fun to get the two couples together.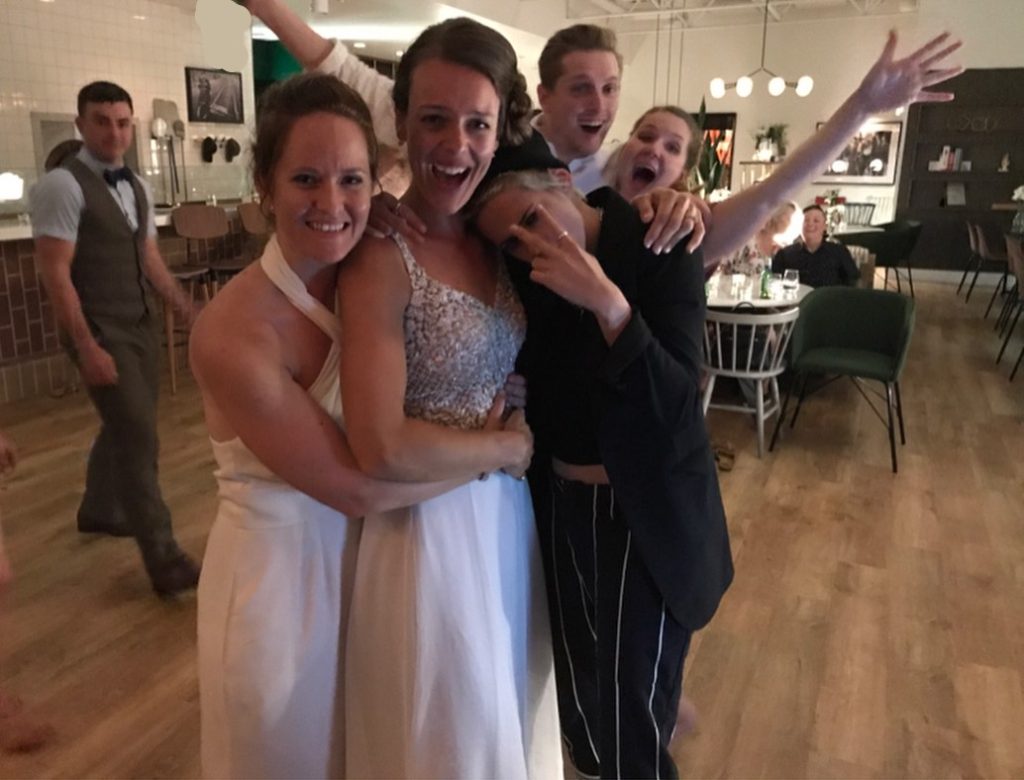 Newlyweds Kirsten and Kayleigh, who weren't exactly sure who the stars were, had a lot to say about how lovely the night went. Kristen was in town shooting a movie, and although this was certainly the experience for the married ones, it was nothing compared to the thrill of tying the knot.
Tom Hanks is getting some sand between his toes
Brides Diciembre and Tashia Farries had no idea the Oscar-winning actor was taking a walk on the Santa Monica beach, the same venue of their occasion until he came up to them and said, "Who is this guy getting in our photos?"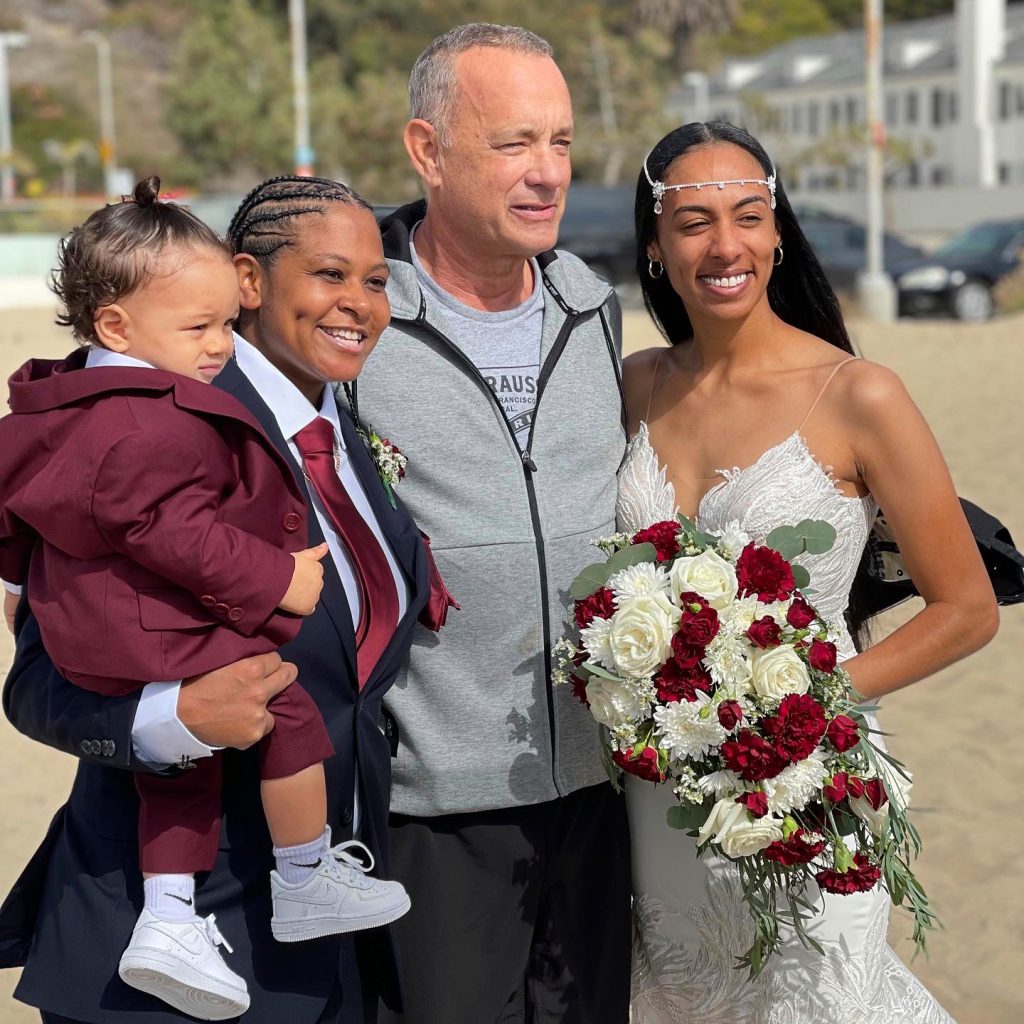 The humble Woody…we mean Tom, stayed for a couple of minutes, taking photos with the couple and even offered them some matrimonial advice. Given he's been married for 34 years and counting, he must have some great advice. What a way to add to an already wonderful day.
Bill Murray loves crashing engagement photos
We all know Bill has a knack for popping up in unexpected places. Googling "Bill Murray at…" brings up lots of suggestions, and this time our focus is on the engagement photoshoot he crashed in 2014. Murray was wandering around Charleston, South Carolina when he spotted the couple.
"It's fun to drop in like that, but you don't want to change the event, you don't want it to be about you, it's just kind of fun to jump on those things once in a while," says the thoughtful Bill and we couldn't possibly agree more.
Lil Nas X dances to "Old Town Road" with a bride at Disney World
If you thought things couldn't get more random, well, you're wrong. Dressed in all-white, the Grammy-award winner walked together with the bride (a fan) to her wedding reception where they were greeted with cheers and applause. And he didn't just walk in…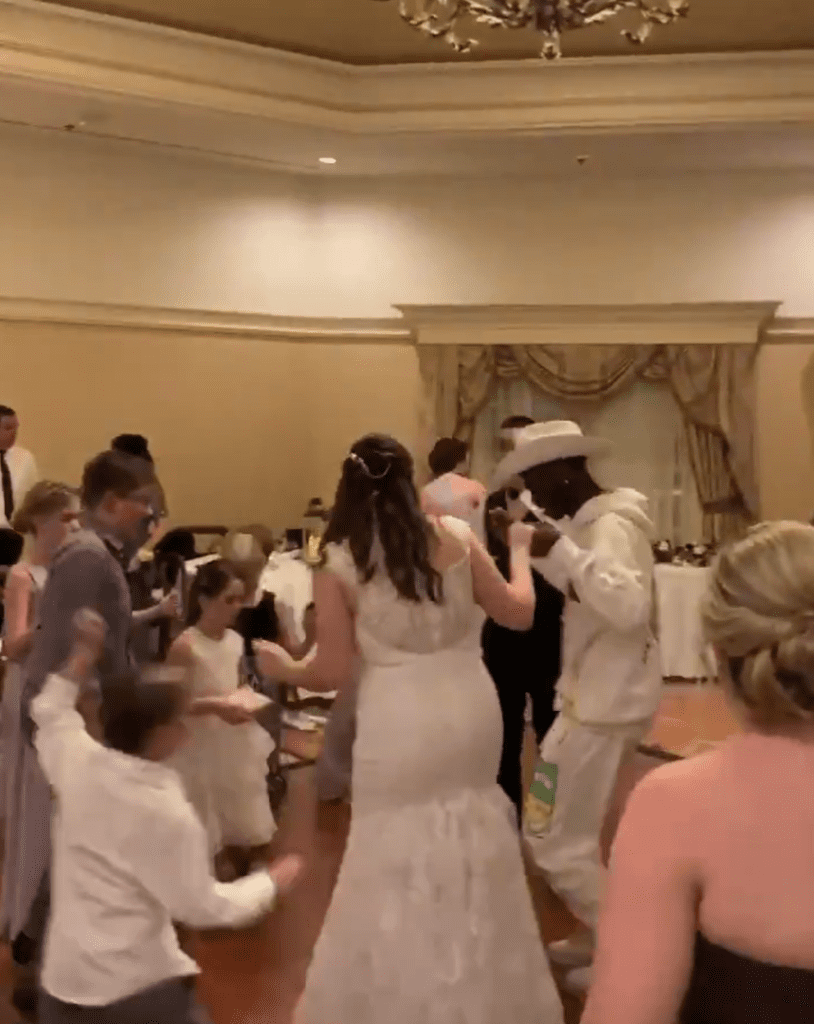 …he danced with the crowd, too. He later posted a little video of the delightful experience with the caption, "just crashed a wedding at Disney World." Lil Nas has got so many hits and becoming a wedding crasher is just another entry under his belt.
Serena Williams crashes wedding in a leopard-print swimsuit
This multi-time grand slam champion is also a Bikini Wedding crasher! Serena was enjoying some Miami sun with fellow tennis star, Carolina Wozniacki when they came across a beachside wedding. We're seeing a trend with so many beach wedding crashes!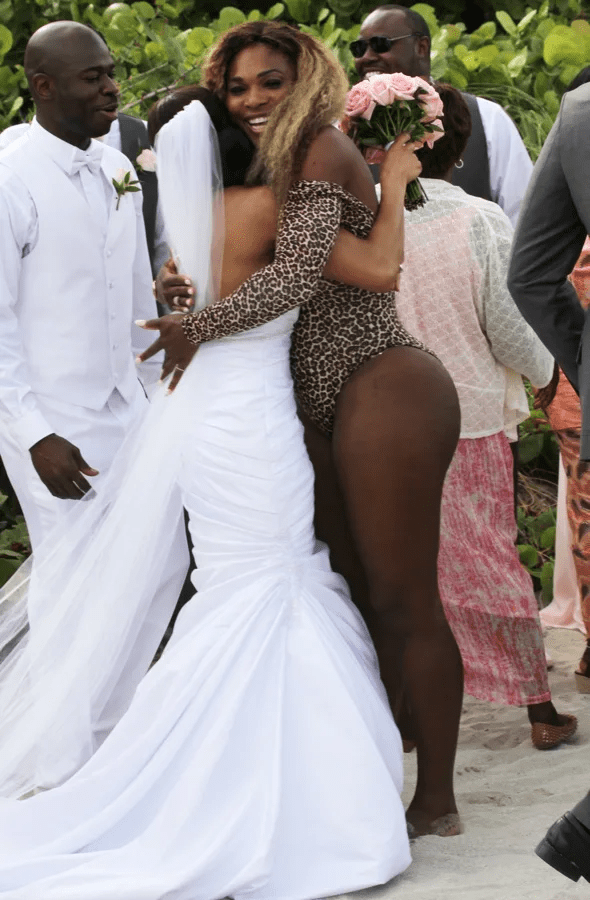 Though Serena was not in wedding-appropriate attire, wearing a leopard-print swimsuit, she was more than welcome to join the celebration. Cameras were out and Serena was happy to take pictures with the bride and groom, who were also thrilled she was present.
It's a star-studded wedding with the cast of OITNB
Lea DeLaria shared photos of the event on Instagram as she and her two co-stars, Danielle Brooks and Yael Stone, atten… crashed a wedding down under. The three were in town for Sydney's Gay and Lesbian Mardi Gras festivities and decided to engage themselves in some shenanigans.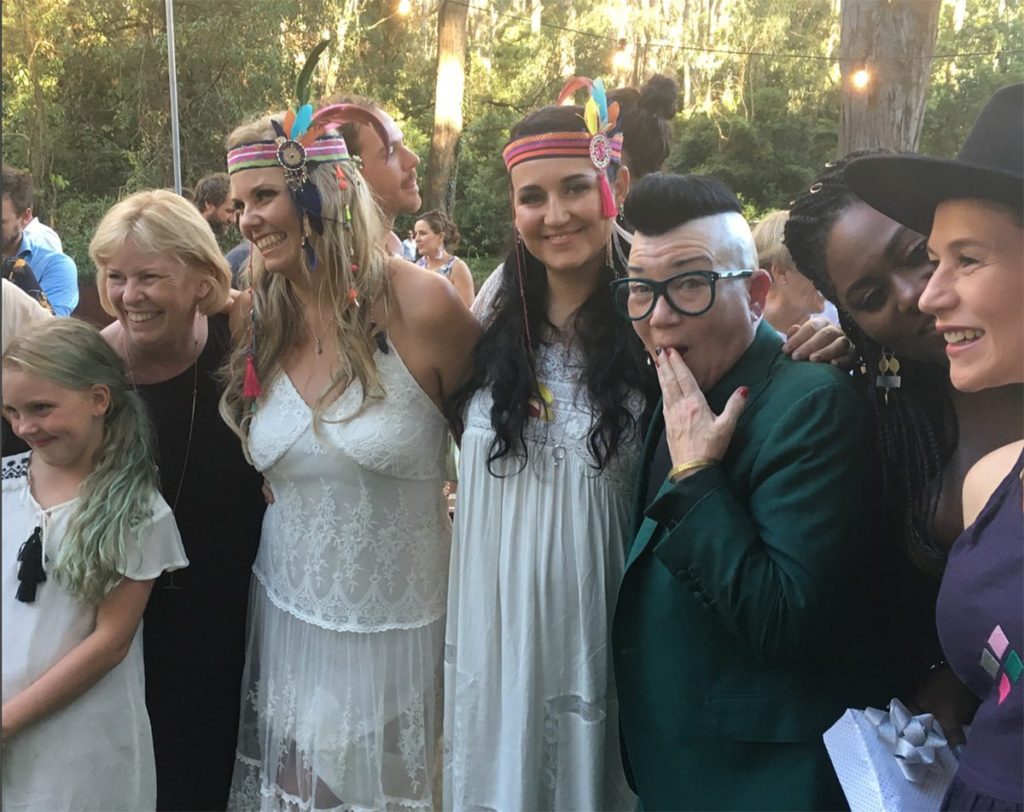 It's one thing to have a celebrity crash your wedding, but it's another story when a whole cast does it. This is no everyday event, what a lucky couple these two are to have had the whole cast partying and engaging with the guests.
This Malibu couple couldn't Beliebe their eyes!
Justin Bieber and then-girlfriend Selena Gomez were enjoying a moonlight stroll when they stumbled across a wedding reception. If they needed a sign to stop by, Bieber's hit, "One Less Lonely Girl" was on! We doubt that the DJ planned it, but it was too good for them to pass up.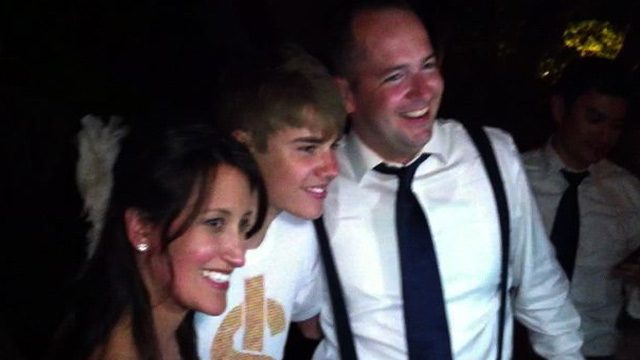 The bride wasn't around to witness Bieber's welcomed intrusion, but Justin was happy to wait for her return. He grabbed the mic and made a little speech, even sticking around some more to take photos with the happy couple. Surreal indeed.
Justin Timberlake charms a couple
A wedding is incomplete without an album and this couple was filling up the pages of theirs when the A-lister crashed it for an extra-special shot. Timberlake was at the Omni Mount Washington Resort when the bride's father spotted the singer and asked for a few pics.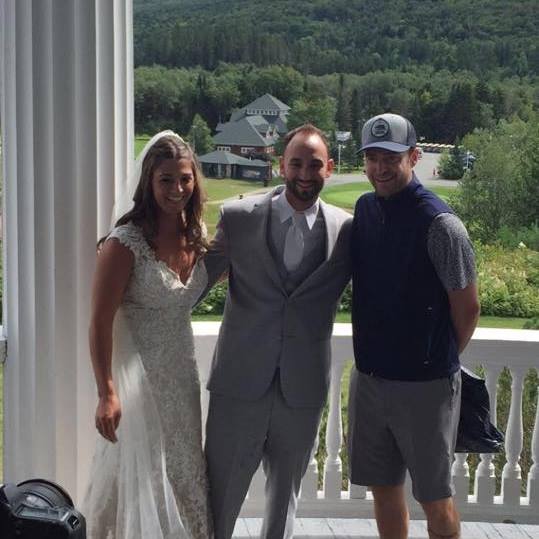 The delectable Justin was casually dressed and stressed he had to make this one snappy, he had another wedding to crash! Even if he couldn't stick around, it was sweet of him to give the happy couple a few minutes. That's one way to make an already big day slightly more memorable.
Tom Hanks just loves walks, doesn't he?
It's great to see that some of our Hollywood faves love to stay fit! The beach wedding was not actually Tom's first time being an uninvited guest to a stranger's special day. A pre-wedding photo shoot in Centra Park was.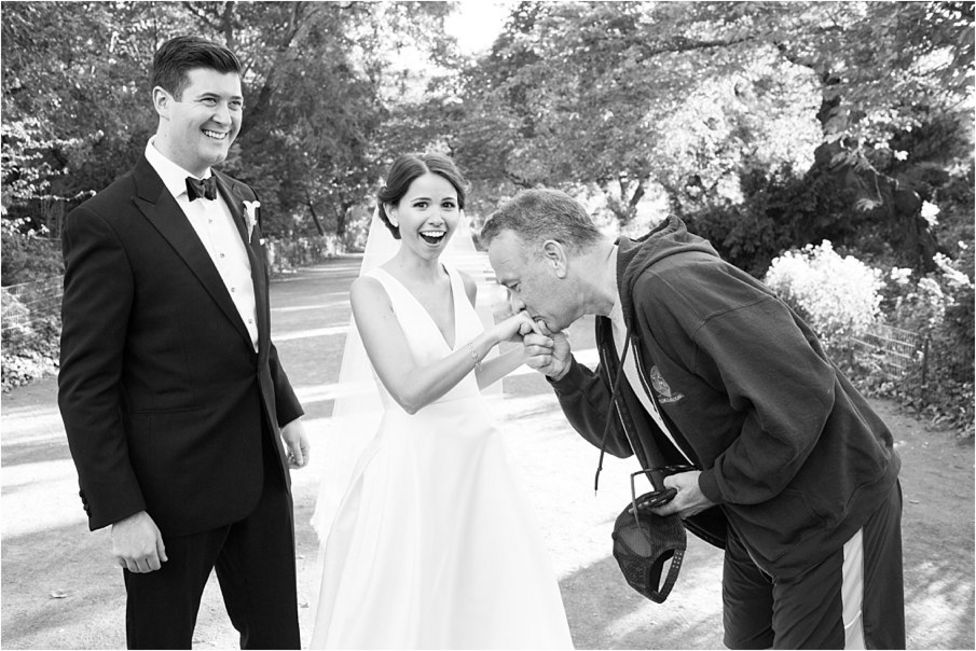 The Forrest Gump star met the couple and planted a kiss on the bride's hand, telling her soon-to-be husband he was a very lucky man. He even snapped a selfie for his own Twitter account. We have to say, Tom sure knows how to make a woman feel special!
Adam Sandler: Wedding Singer AND Wedding Crasher
But only this time, Adam didn't bless us with his vocals. Adam was in town filming Murder Mystery with Jennifer Aniston and Luke Evans when he met this couple, taking the time to pose for photos with them. The basketball t-shirt clashed with the formalwear, but no one cared.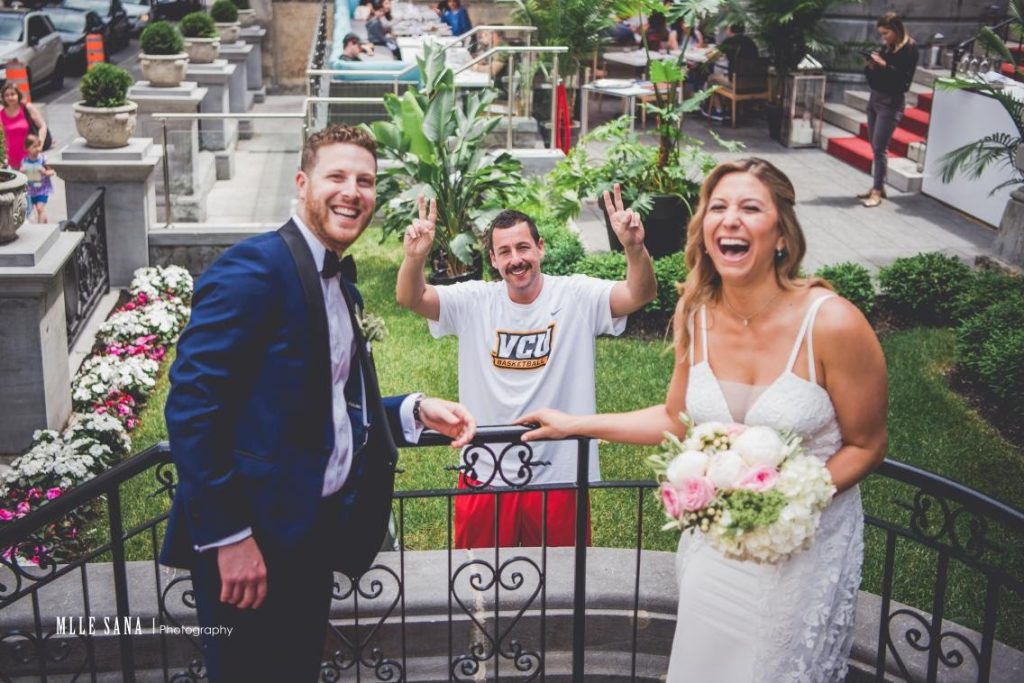 The bride invited him to the wedding's reception but unfortunately, he couldn't make it, Adam was currently having lunch with his family and left them for a quick cameo. "It made our photos and wedding that much better," said the groom.
John Mayer performs for a father-daughter dance: The Year is 2001
John Mayer showed up at this NYC wedding, shocking the bride and groom. It was a surprise organized by the bride's father and a wedding planner. The crowd cheerfully sang along to his hit song, "Slow Dancing in a Burning Room."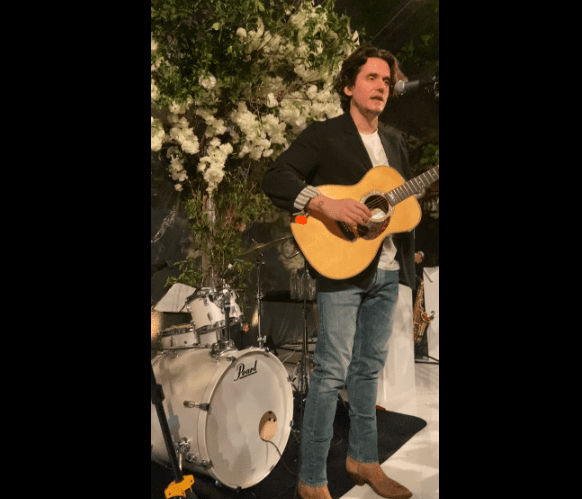 If there's anyone who can make a song about holding on to a relationship that's falling apart work at an event to commemorate one that's successful, it must be John, and that's one of the many reasons we love him!
Bill Nye's an awesome guy
He's a scientist, an actor, and he also happens to be the wedding crashing type! Bike riding in New York City turned impromptu meet and greet for Bill when he met a couple ecstatic to take a photo with the science guy himself.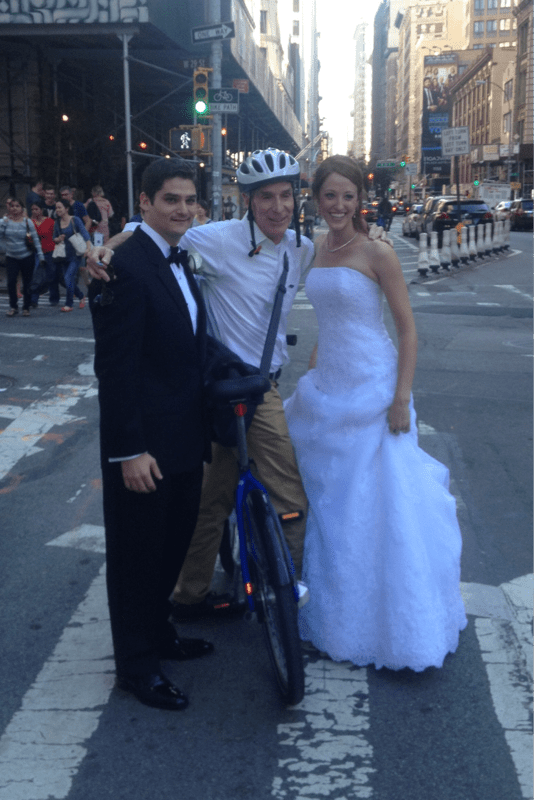 Bill knows a thing or two about chemistry, so it was nice he congratulated the couple and made this grand gesture to people that have clearly got lots of it. It was nothing short of a historical moment for sure.
Amy Schumer hilariously crashed an Irish wedding!
In Dublin to promote Trainwreck, Amy and director Judd Apatow decided to go for some drinks at Grogan's pub where she came across two newly-weds. Glen Hansard was also present, and this little coincidence made the day even more fun.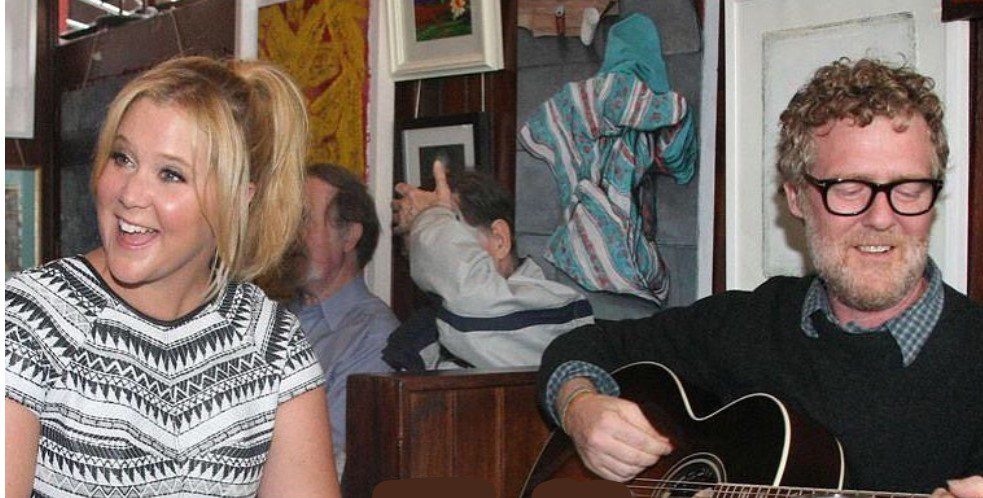 The Emmy-nominated actress initiated a sing-along to the classic Irish folk song "The Auld Triangle" and judging from the photos, everyone was having a wonderful time. It seems that comedians have a special skill for making "wedding crasher" an enjoyable experience.
Die-hard Jon Bon Jovi fan gets him to attend her wedding
On this episode of shocking celeb appearances, we've got the legend himself, Jon Bon Jovi, at a fan's wedding. In response to a plea page the bride set up, Jon attended her wedding and even walked her down the aisle!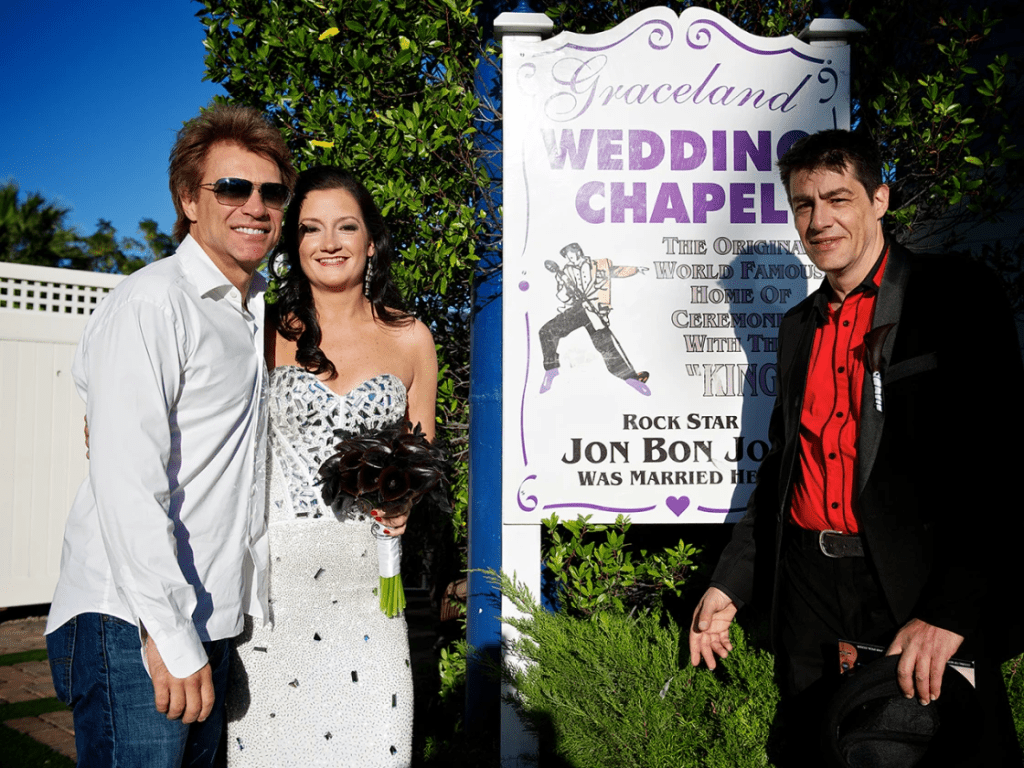 She chose the same venue Jon tied the knot just goes to show her dedication as a fan. And although Jon was already in town for business, taking the time out to make her day even more special was quite generous of him.
Beyonce and Jay Z have found two lovers in Portofino!
Walking together on a romantic getaway in Portofino, Queen Bey and Jay Z decided to take a look inside a church. To their surprise, and to the newlyweds and guests as well, there was a couple right there, tying the knot!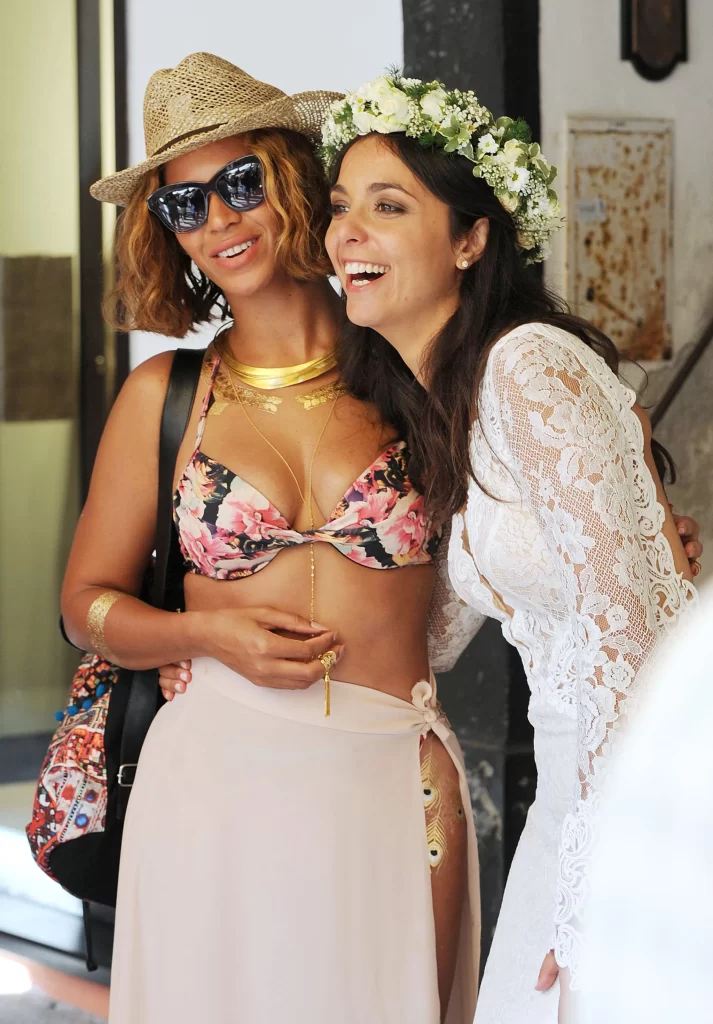 Jay Z as well as the groom stood back and let the gorgeous bride take some fast snaps with the stylishly dressed Beyonce. It's evident the couple didn't mind the cheeky interruption, just look at the smile on that gorgeous bride's face!