60 Playful Recreations of Celebrities' Instagram Pics
By Aileen D July 15, 2020
---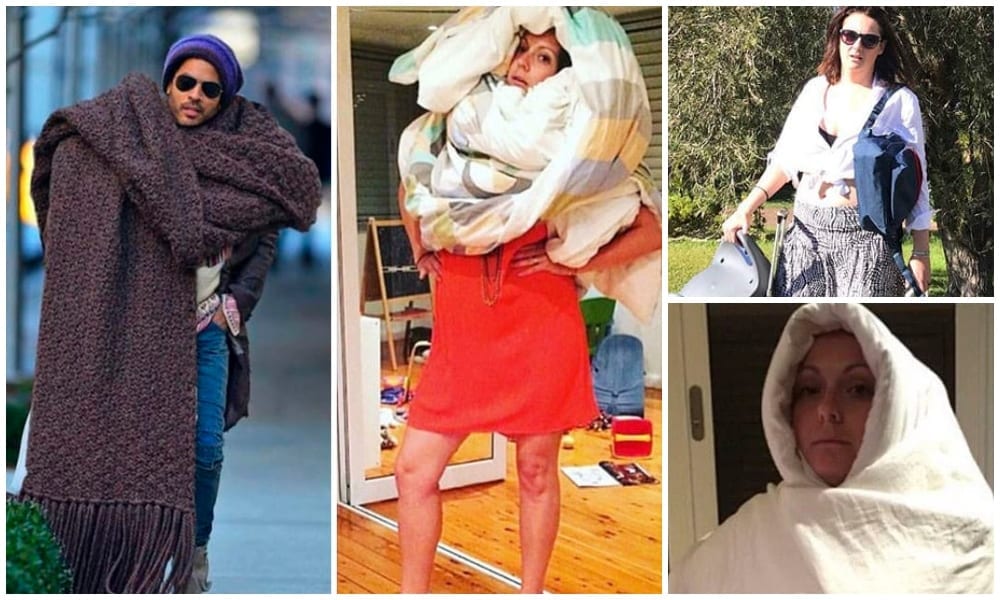 They have ultra-perfect lifestyles, or so they make it seem on social media. They have a swarm of assistants, attendants, drivers, and secretaries. And we're not even sure if they sweat. Adding insult to injury, they'll post Insta-worthy pictures that will keep you questioning your existential purpose, life savings, and pore size! These celebrities don't know how to show it real!
On second thought, no human can be that perfect. So while some people resort to scrutinizing their favorite celebs Insta posts for Photoshop edits and imperfections, others try recreating these idyllic pictures to make them more relatable to us mere mortals.
Look no further than Celeste Barber. She has over 7.2 million Instagram followers to date! And it's all because she has an entertaining way of poking fun at these supposedly perfect celebs and the lifestyles they show the world in their Instagram stories. You'll catch yourself laughing at yourself for even following any of these celebrities in the first place.
Enjoy!
Cooling Off
Emily Ratajkowski doesn't seem to understand what the term cooling-off implies. We're supposed to experience a drop in temperature from being splashed with water, but all she does is turn up the heat. No one could look that good after having a bucket of cold water thrown on them, or could they? Celeste has a different approach.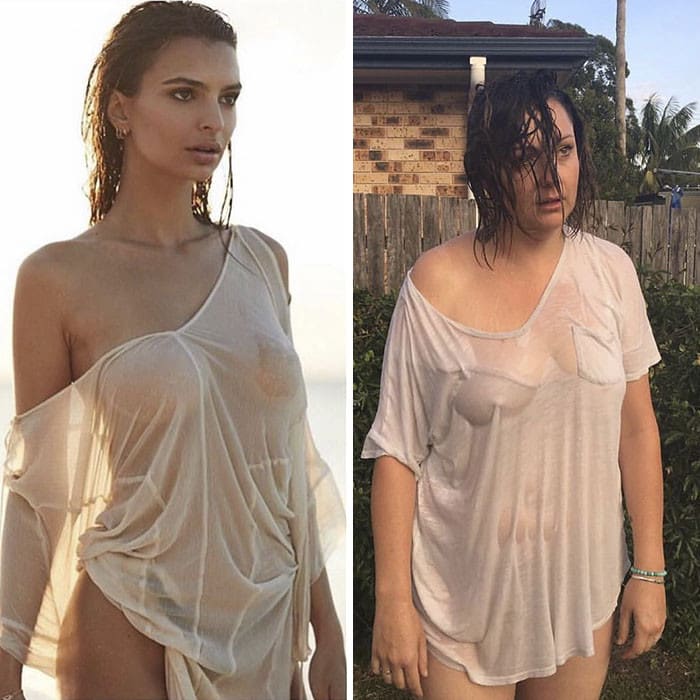 So that's how it is supposed to look – we are starting to feel relieved. Water tangles the hair and smudges one's make up, and in reality, no one looks picture perfect after taking an unexpected bucket of water to the body. Thanks, Celeste, for the reality check.
To Have and to Hold
Trust fall. It's a powerful trust-building exercise where you stand with your partner behind you. Stand stiffly and then communicate that you'll take the fall. Your trustworthy partner should catch you. A good alternative is the one below. Instead of your partner attempting to catch you, he can attempt to keep you from falling into the pool!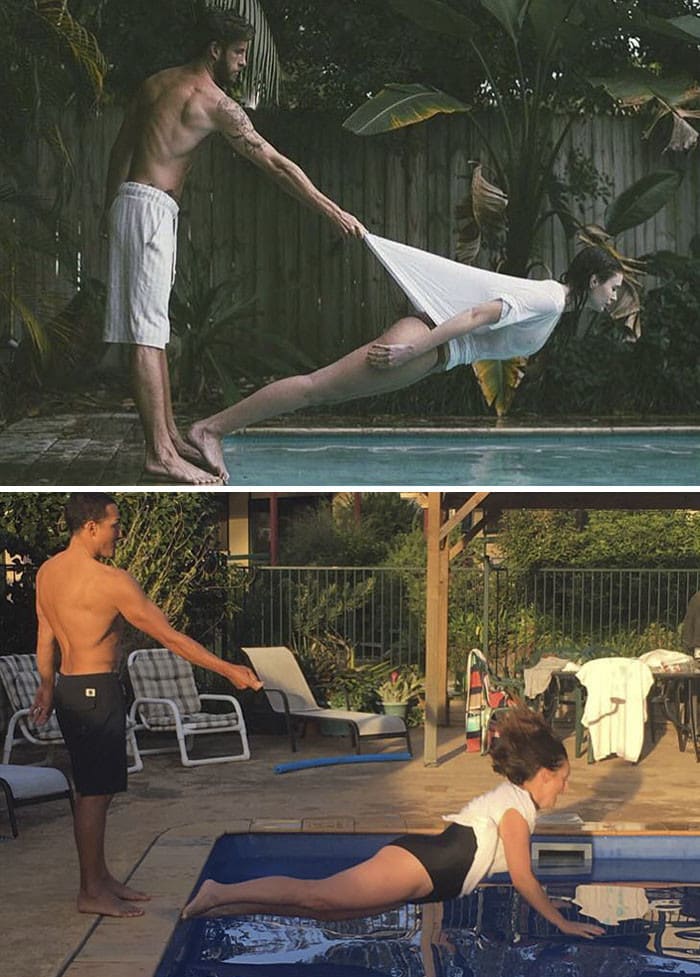 Which of the two types of trust falls do you prefer? We would have preferred the classic one. We don't mind taking a dip in the pool, but not through a splashing! Do you think this trust fall requires some degree of muscle strength or did Celeste's partner intentionally let her fall?
Just Another Day
People say that confidence is vital. There's always something worrying in thinking about how others will respond to us – what impression we will make on them? So seeing a figure, we can identify with exuding confidence inspires us to action. Take, for example, Emily Ratajkowsi who struts the streets clad in a bikini, while walking her dog. Hell, if she can do it, then so can Celeste!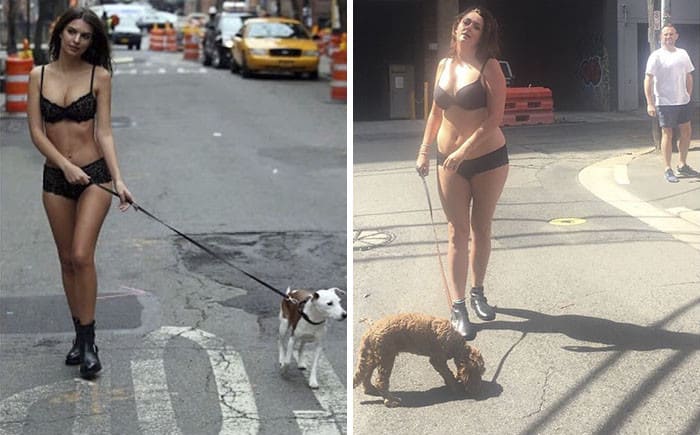 Who do you guys think fared better? They obviously displayed the same degree of apathy, if not maybe Celeste displayed it even more. But why do we feel like something is missing…like there's something wrong? Ah, that's probably because there aren't any taxis around!
Rolling Out of Bed
Let's face it; some people look glamorous even if they have just gotten out of bed. Even with a few hours of sleep, they make it look like they had a peaceful rest And then, there are other people who look like they have just fallen out of bed. So which of the two are you?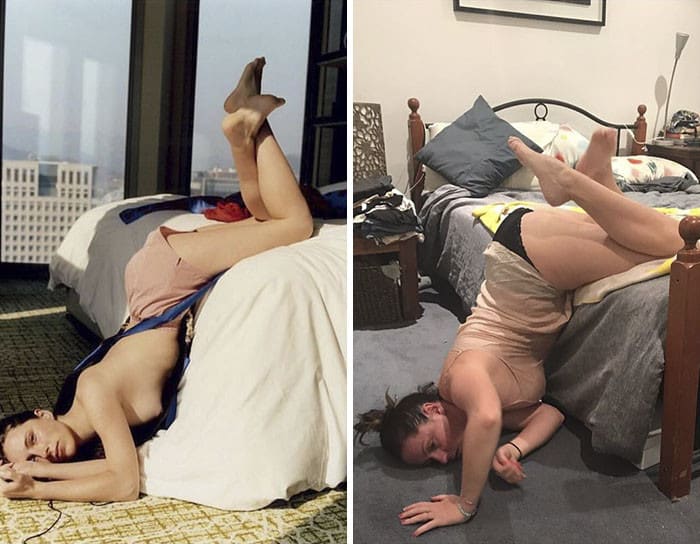 These are people who, just by the looks of it, are going to have a rough day ahead. Maybe we should put on some guard rails or pillows by the side of the bed. That should keep them from waking up with the carpet etched on their faces, right?
I'm Present
Time goes by so fast! In a few more months, it'll be the festive season. There'll be stockings to fill, trees to decorate, chimneys to climb down from, stomachs to fill, and gifts to be bought. What do you guys have in store for your loved ones? Maybe we could use this tip from Kylie and Celeste?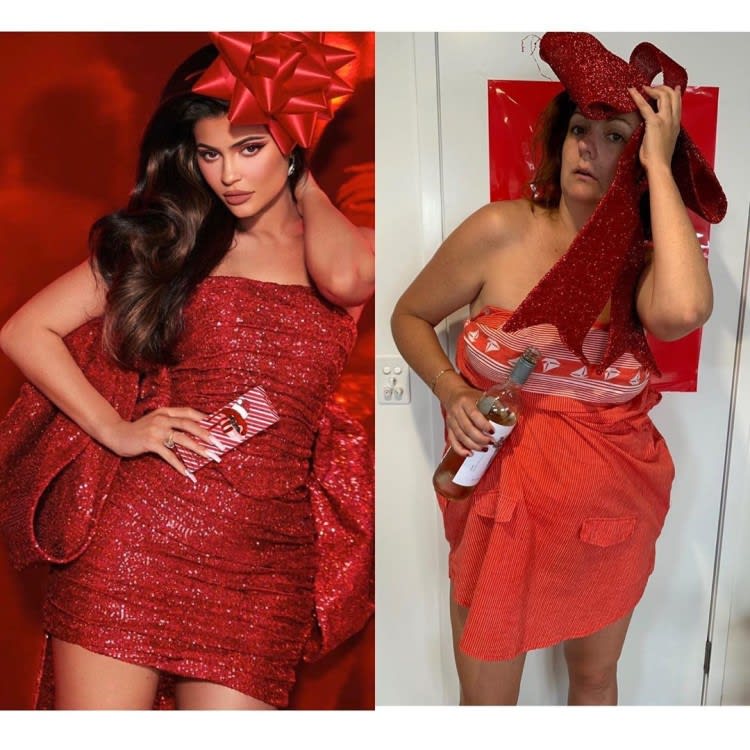 Dress ourselves up in a killer dress, and wear a bow for a headband. If anyone wonders why we've come empty-handed, it's because this season brings us as tidings' gifts! Okay, maybe we should bring an open bottle of wine like Celeste. At least she left some to share with some friends.
Boss Queenbees
With her fleek eyebrows and her individualized protein drink, Kyle Richards poses for the camera. It's a signature power move. We hope that one day, we will be worthy of copying it. Until then, chin up, keep your back straight, and secretly smile at the camera.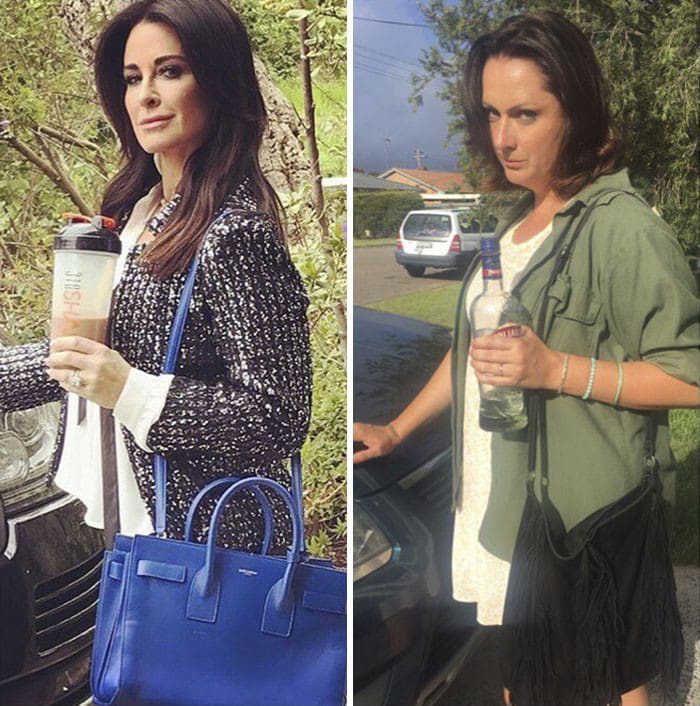 That or you can just look disapprovingly at the cameraman. If you find yourself struggling on the way up the corporate ladder, remember that every trouble in life can always be solved with a bottle of vodka. Cheers To success, to every woman! But we suggest that you lay off drinking until after work. You'd want to stay employed until after you achieve your goals.
Maternal Shoot
Even after becoming a mother, Beyonce had to keep up with public appearances and posed for a maternal shoot. It was extravagantly done – with an archway of flowers, a flowy purple gown, and a veil worn on the back of her head. It helps that she's got an even, bronze skintone and that her babies are fast asleep. Wish we were all as dazzling as Queen B, right Celeste?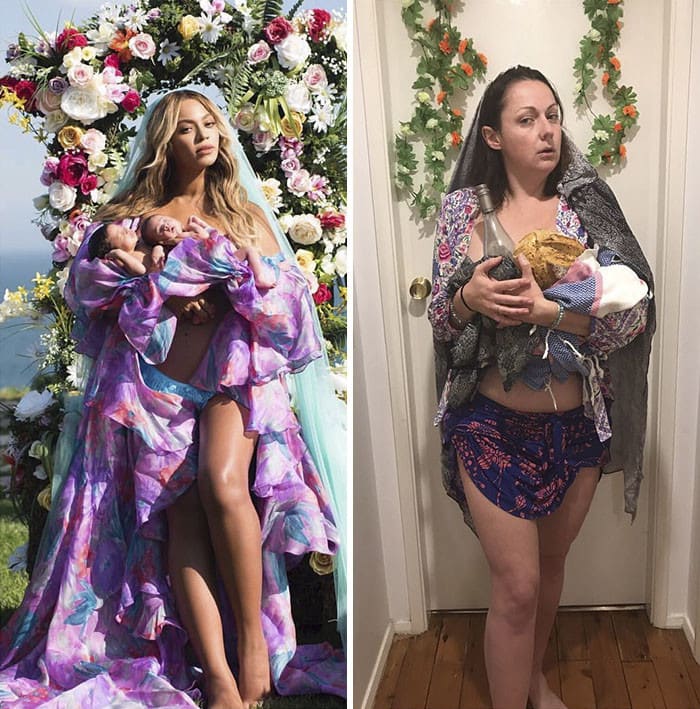 Well, almost. Celeste's kids have probably grown up, so she couldn't really hold them in her arms. How about we clutch a few things for the beach instead, because it seems like Queen B's flowy dress is also suitable for a trip to the sea.
Floatable Flamingos
Celeste has got Kendall Jenner running for her money. Between the two, we'd have to say Celeste slayed it! You'd think Kendall would be more mindful of the picture quality and the color wheel. But sadly, she's only fit to be a model. Leave the aesthetics to the likes of people like Celeste, who can be both the subject and a creative director.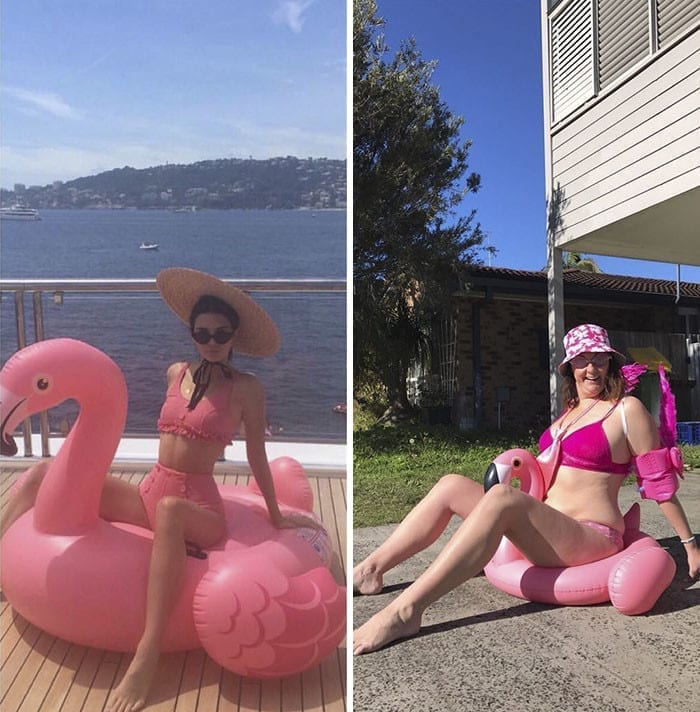 That popping magenta is a better contrast to the green background. Even Celeste's skin tone is a better match against the gravel path. And that flamingo- it's padded in the right places to accentuate her shapely legs! It's a befitting cushion for a queen. Now hand her the arm floaties!
Lose You to Love Me
This is downright unrealistic, Selena! Nobody in their right mind would look this unconcerned if this happened to them. Sure, we'd be initially struck with denial, but only for a brief second. The next minutes would be an onslaught of anger and disbelief. If only we had been more careful, then maybe we wouldn't have to lick the juice(or liquor) off the floor!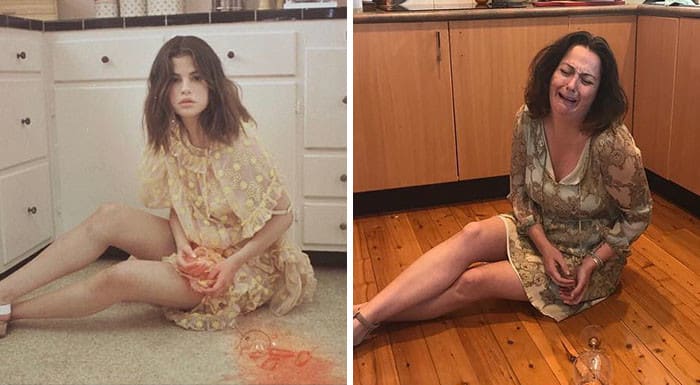 Yeah, Celeste, you go, girl. That's what we would look like if we had broken our wine glass and spilled the precious content over the floor. If you look a bit closer, Celeste's doing it leagues better. To recreate the shot, she didn't even bother to spill any vino. That would have been a waste! Attagirl!
I'm so Fancy
It's a form of self-care. Set aside a few minutes every week, feel the stubble on your skin, choose your treatment, and then reach into your cabinet. Bring your attention back to the room around you, to the points of contact your skin has on the razor, and then slowly bring your focus to your breath. Keep it steady. You don't want to cause yourself any pain or nicks. Shave away.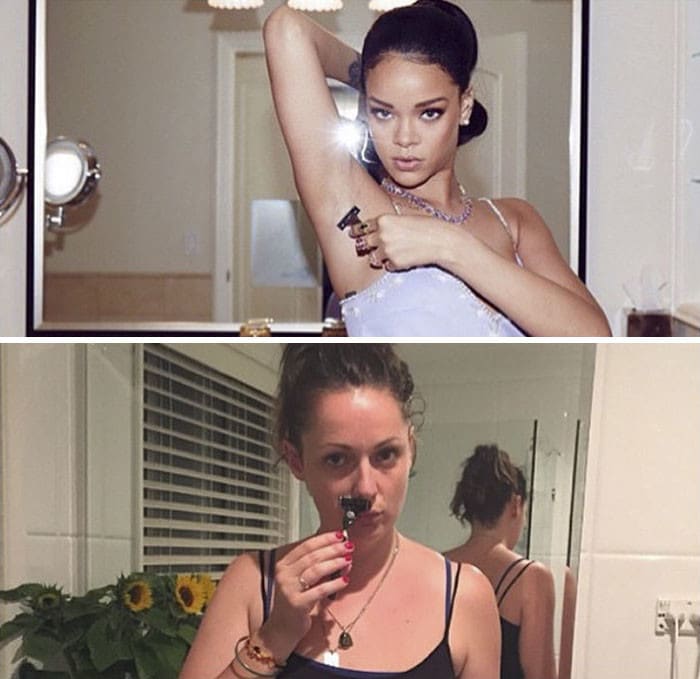 Some women are just luckier than others. They don't have to deal with over-all body hair – just the ones on their extremities and their armpits. They don't have to deal with the ones on their face like we testosterone-driven women do. That's okay. It just takes more time than usual, but it's definitely manageable.
Photoshoot
We would understand why Miley would want that fan all to herself. When you're a teen idol performing on tour, you'll be subject to the scrutiny of the public, and the heat of those stage lights. So backstage, prepare yourself with a glam fan or …a leaf blower?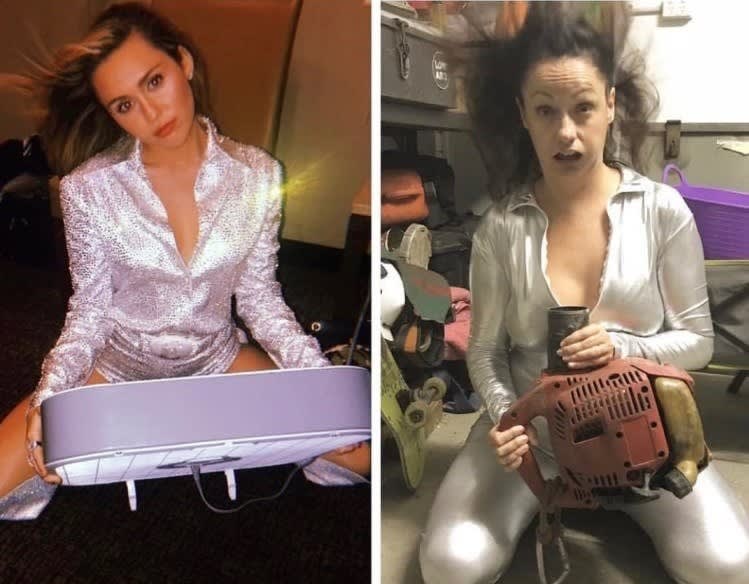 A leaf blower seems more effective in the long run. Air is channeled into a long tube, and straight onto a specific area…say your mouth! You could even use it to blow-dry your hair, so it serves different purposes in just one go! Of course, it wouldn't be complete without the glitzy white suit. Just don't go too crazy with it. Miley's eyes are starting to turn red.
Amazonian Goddess
Of the clan, Khloe is the tallest – standing at 5'10. She's also got the body and the looks of an Amazonian goddess, far from the vibes her sisters Kim and Kourtney give off. Here you can see her shooing off some hunters in a clearing. Back boy, back!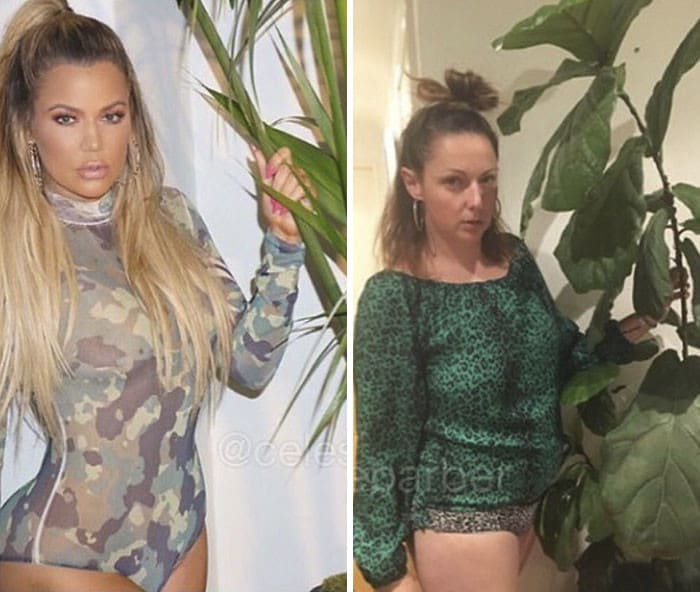 She holds the raft of that bamboo and casts it aside to get a better vantage point. Or should we say so that you could get a better vantage point? That camouflage print is also to die for. Celeste personalizes the look with an animal print posing next to her air-purifying plant.
Hear me Roar
"Feed me," said Katy Perry's tummy. In what looks like an attempt to hasten food service, Katy Perry walks over the dinner table, bent backward with her face facing skyward. Should we call the manager or the exorcist? Better call on both, and then say grace. She hasn't even had anything to drink yet.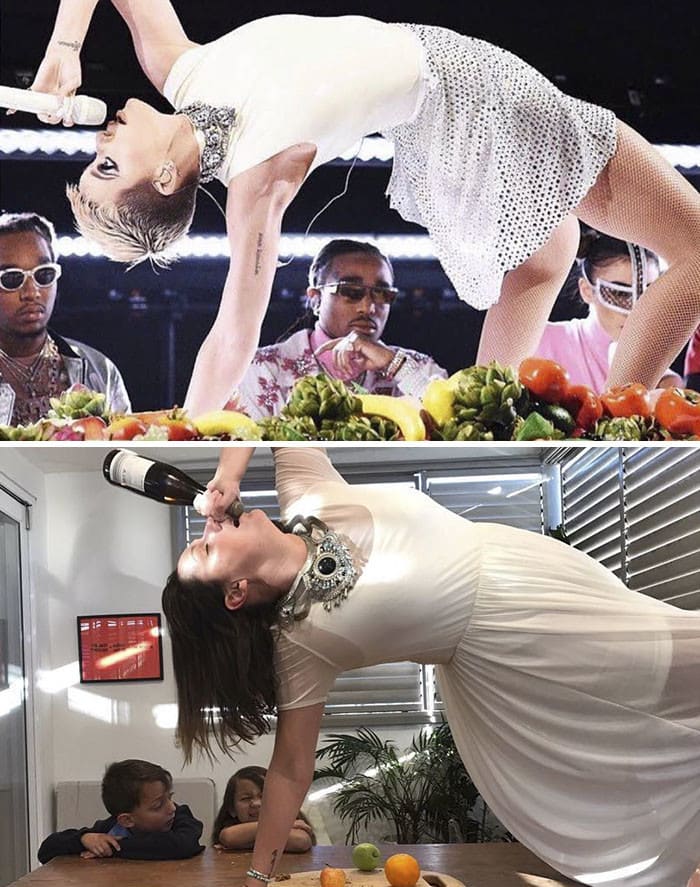 Are there any specific instances you have felt like doing the spider walk? When you've prepared dinner, or after unpacking stuff from the grocery store? There's always a stash of red wine nearby, so we can enjoy some me-time, while the kids play about. We'll even hand them a cookie if they promise not to tell daddy.
Cool Edge
There is no way you can photoshop that back. In what looks like Miranda Kerr's most impressive modeling shoot, she leans back and looks innocently at the camera. Her hair falls behind her, and her face is perfectly contoured.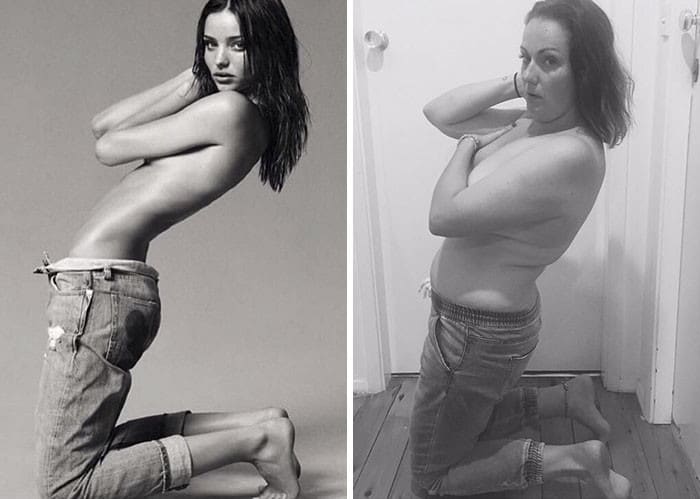 It doesn't even look like she's straining. That takes some serious core control and muscle strength. How many shots do you think it took them to catch this magazine-worthy look? No wonder she's one of the highest-paid models out there.
Self- Love
Ruby Rose is as fine as hell, before and after her state of transition(yes, she's gender fluid). If you've seen her music video, Break Free, she makes an empowering move with just a few chops. She bares her skin and dresses as she feels like. As she puts it, she's having the best of both sexes.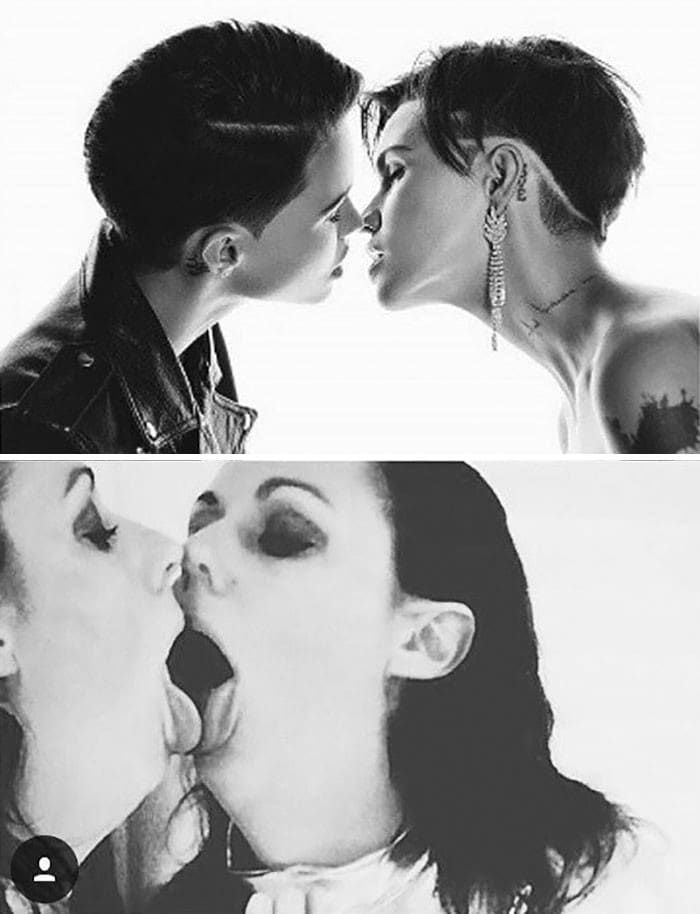 And her high degree of self-love is evident. The five-minute short film shows what it is like to have an identity that deviates from the status quo. Well, we know what that feels like. Sometimes we just feel like kissing ourselves in the mirror, you know. That's self-love, y'all!
Straight Outta Bed
You've just bought new lingerie, and you can't wait to try it on. So you hurriedly undress and then fit the bodice over your body. It fits you perfectly, and you stand in front of the mirror to take a photo of yourself. You're not alone in this liberating feeling, here is one of Emily Ratajkowski's selfies.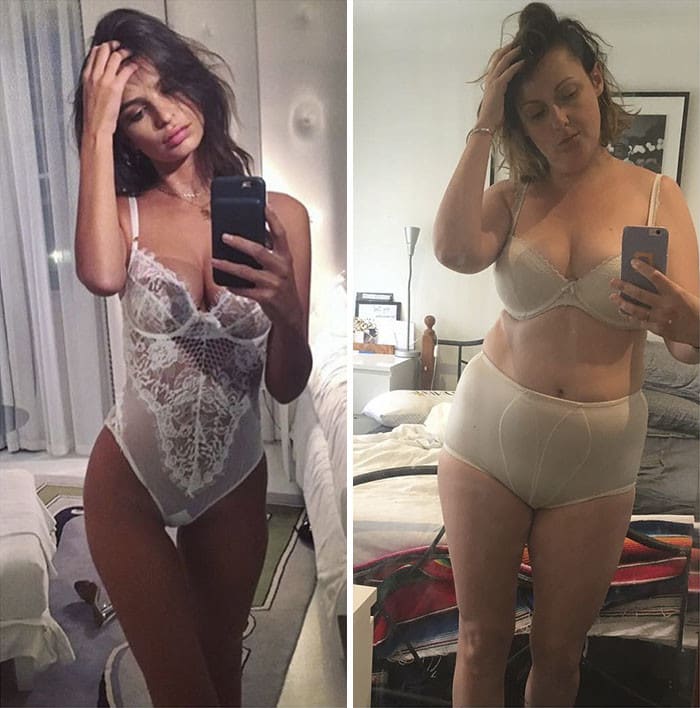 Upon seeing these many selfies on Instagram, you would feel envious, if not, curious to want to join the bandwagon. Maybe you'd even copy the pose and unconsciously match the lighting. Perhaps that'll help make you feel more appealing within your self.
Midnight Snack
It's a bad case of low blood sugar levels. You're working on your term paper, or you've woken up to change your kid's nappies, and then you feel the need for a sugar rush. You might chastise yourself, but the reality is, you need to take care of yourself to take care of your family. So head on down to the kitchen. Creep stealthily towards the fridge door. But don't take too long. Otherwise, your spouse might come looking for you and see you looking like either one of these.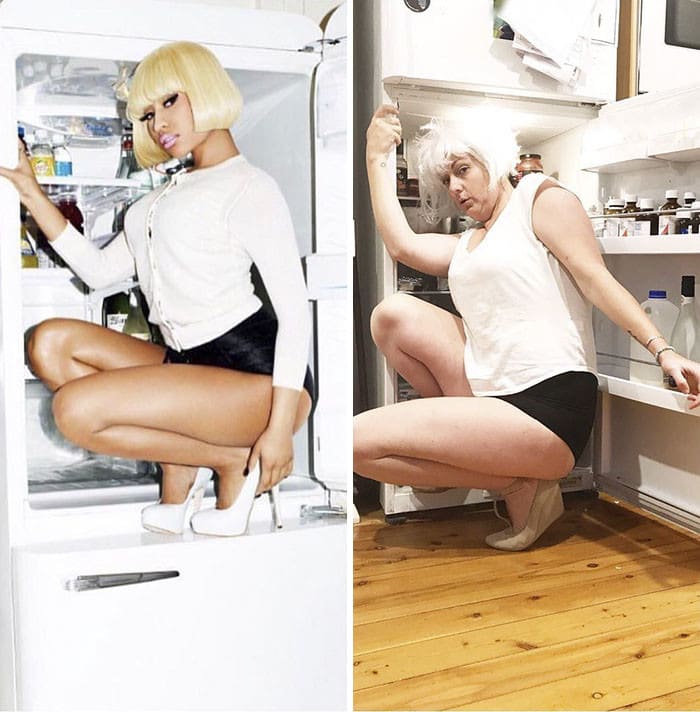 I wasn't doing anything. I wasn't … *chomp chomp Who ate the cake? It's the last attempt to save face, but with your soulmate, you won't have to worry about looking unattractive. You had promised to love each other for better or for worse, in platforms or in wedges, with fillers or without. Now, how about you share a plate of cake with him.
Inclined Planes
We are all tempted to take pictures this way. Wear a two-piece swimsuit, and for a change, use a mountainous landscape as our background. The curve of the hillside is nearly parallel to Kylie's back – and it makes for quite the sight! But where did that foldable chair come from?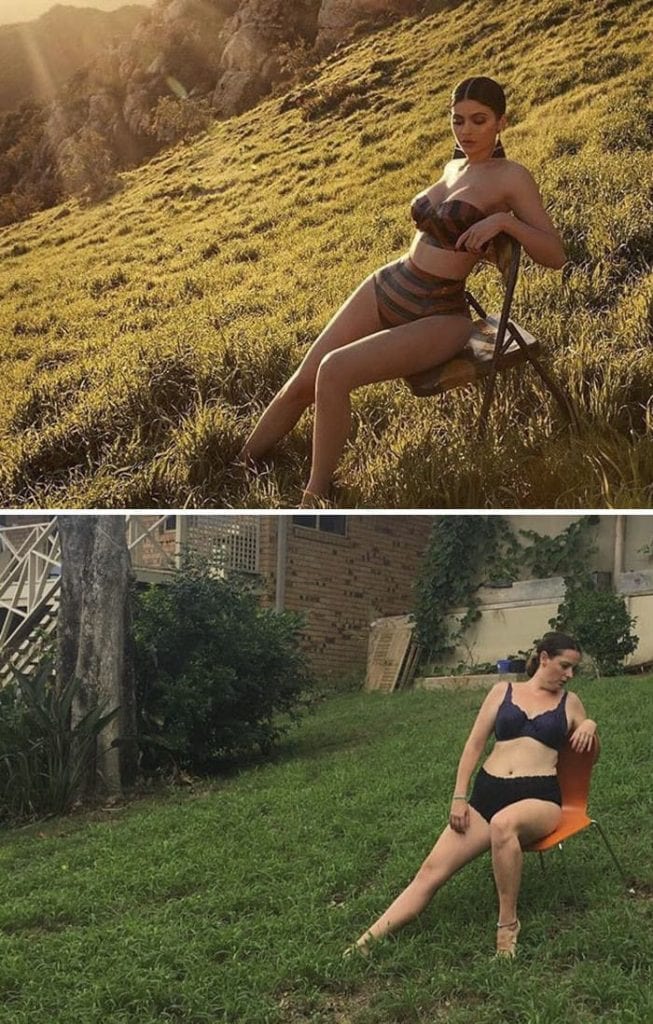 To make it realistic, we would understand if she had posed atop a mat. It could have an Aboriginal design, which would suit her swimwear. If you sat on a chair by the mountainside, you're in danger of falling like Celeste.
Power Move
The ultimate power move on the beach is to shift your weight to one leg and then tilt your hip to that side. Then take off your glasses in the midday heat. Squint afar. You'll look like a boss babe with these ultra sexy moves. You can even run your fingers through your hair, just because.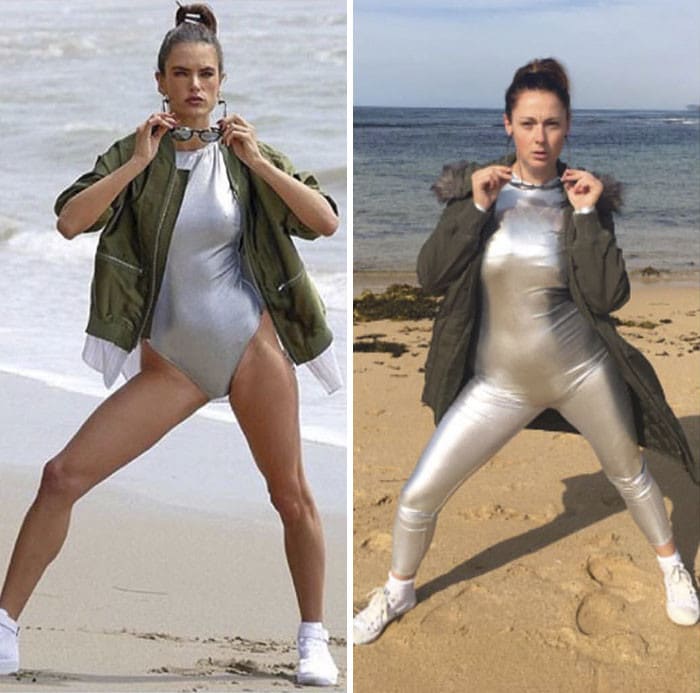 And since you're on the beach, you can wear a glitzy swimsuit. For fashion's sake, wear footwear, like rubber shoes, so that you won't dip your feet in the cold sea. You're only there to look fierce and enviable, but you're not supposed to have fun doing it.
Royal Decree
How do you pass the time on the throne? Do you meditate and focus your attention on the plop or the hiss? Or do you take the time to catch up with colleagues, for some idle talk? Sitting atop the throne, you're likely to issue royal decrees to your husband below. Tell him, "Take the mac n' cheese out of the microwave in 10!".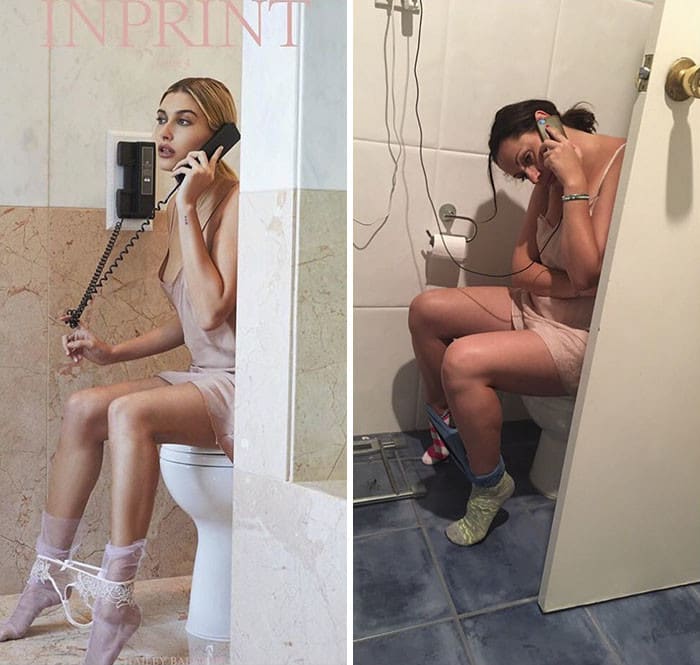 For a lot of women, it's the only way they can enjoy some me-time. It's their guilty pleasure, away from their kids. It's not like it's a bad thing. We can always delegate a few of our chores to our husbands. After all, aren't they supposed to be our better halves?
Fresh Milk for Breakfast
Looking at Alexis Ren, we never noticed how atrocious that shirt was. We hadn't even considered whether it was acceptable to be worn in public. We just knew that if she could work it, then so should we. How about wearing that loose tee with bronze leggings?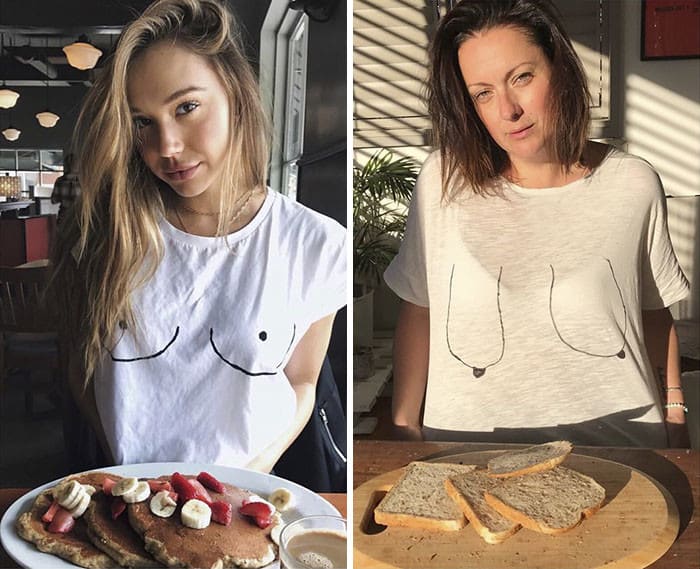 Any passerby would think we shouldn't have bothered wearing clothes. Thank you, Celeste. Thank you for showing us another version of reality- and to make us rethink our fashion choices. Guess posture, and a pretty face won't always cut it. What do you think? Would you head on to the store to find a white shirt with nips on?
Holiday Travel
What kind of traveler are you? We like to travel light so that we'll have fewer things to preoccupy us while we're on the go. We have kids to think about, and passports to secure, so baggage should be the least of our worries. And then some women are like Karlie Kloss.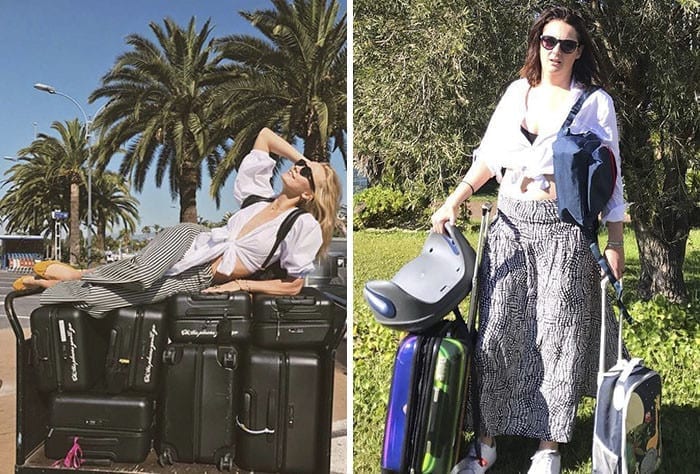 You wouldn't even think it was a holiday given that she's brought along her whole closet with her. It's like she's moving out of her house and will be residing indefinitely elsewhere. Now that is not a fun trip. You're meant to enjoy the views, not be the view on your travels!
Country Ridin'
Miley has disclosed that she had many pets growing up. Is it any wonder? She grew up on a farm with country singer Billy Ray! She had Lucy the chicken, goldfish named Lyric and Melody, and Eeyore the donkey. Here she is riding on a fine looking steed while fixing her hair.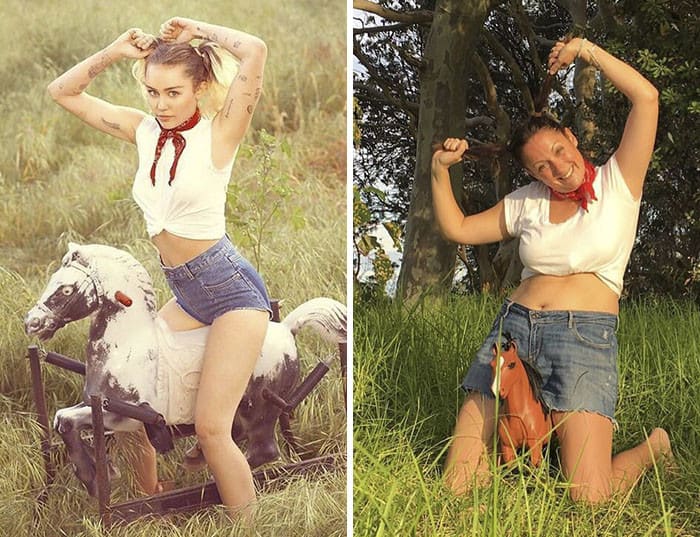 Well, kind of. Maybe the producers prioritized Miley's safety and thought it best to have a toy pony to saddle up on. Celeste has one too. Luckily for her, it's only a foot tall. No reason for her to fall. Guess there's a country girl in all of us wanting a ride to giddy up on!
Choosing a Top
Remember what it felt like when you forgot to launder a piece of clothing for a particular look. You hurriedly toss it in the washing machine, set the dials, and then wait for the chime. You dance around and even reconsider about finding another top. But there's just nothing that will fit your attire to the tee. Visually, you'll look like this.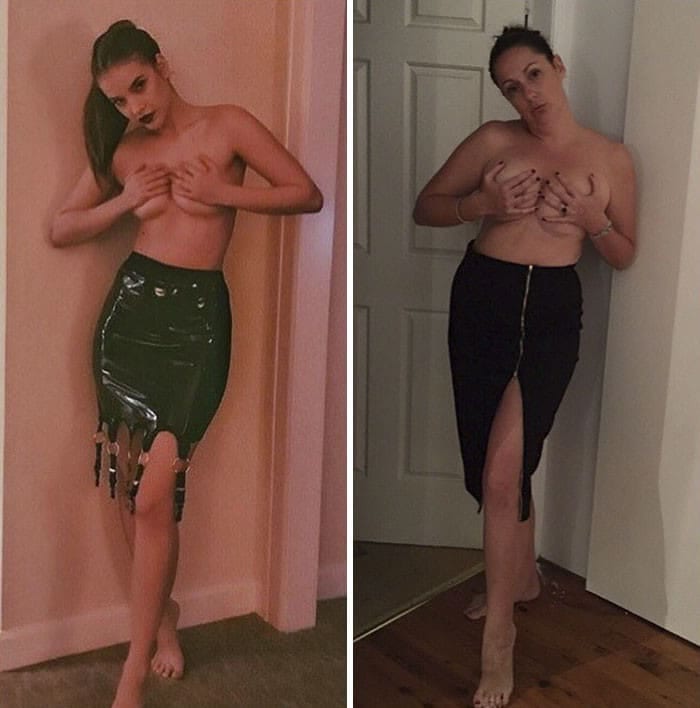 And by the time the chime rings, you dash to the machine and hurriedly throw it on. You can't wait to show off your look to your friends. You've saved all your money to buy that skirt with its cute tassels, and now you've got the perfect top to go along with it!
Lost and Found
With the number of selfies online, how do we up our vanity and make a profit from it? By having our faces laser-printed onto merchandise! The Kardashians are known for it. Kim and Kylie are the best examples. Kim has her face imprinted on jackets, whereas Kylie has hers bejeweled on shirts.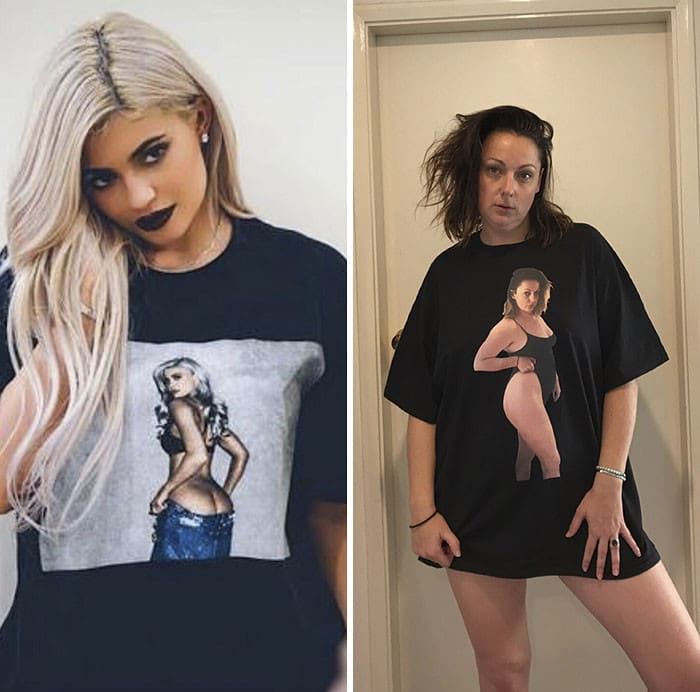 Way to go for making her mark in the fashion industry, by imprinting her face on every shirt. We're not sure if she's selling her face or the sweater, but either way, she sells!. These types of imprints will remind you just who you are, Kylie- a diva! They're also a great way of branding your merch. No counterfeits here, just implants! We mean, imprints!
The Simple Life
Remember, from 2003 to 2007, when Paris Hilton and her bestie, Nicole Richie would go on internships. They would be "adopted" by different families, and help in each household. You would often find yourself facepalming, all the while, your eyes were glued to the screen. Well, Paris has grown since then. She's built an empire. Here she takes a break and sits on some machines, in what looks like the simple life.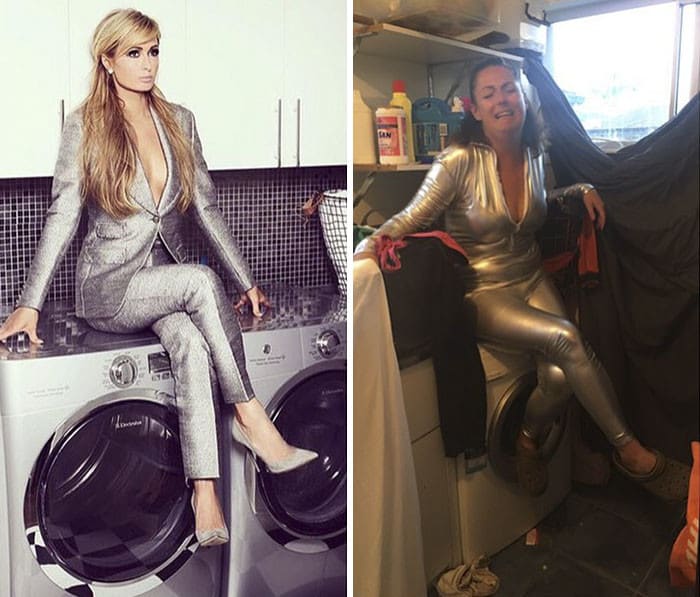 Maybe now she actually knows how to do her own laundry. And it looks like she has dominated this life skill, much unlike us and Celeste, who whine about having to do loads of laundry. It's back-breaking work, to be honest!
Modeling vs Reality
You have to give it to them. They're willowy and tall; tough despite the strict diets; graceful despite being made to wear smaller shoe sizes on the runway; and dressed up like the moving mannequins that they're paid to be. On days off, they'll be posing in the oddest angles, but looking downright glamorous at the same time.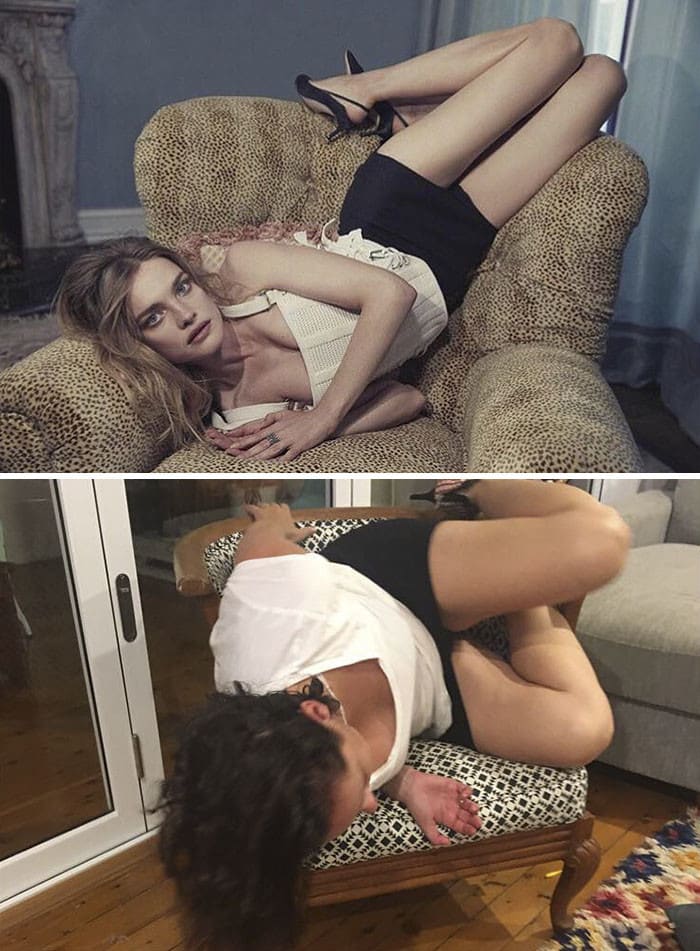 Now, why'd we say odd angles? Because as Celeste has shown, it's easy to fall off the couch by recreating that picture. May we suggest that Celeste settled for a bulkier one? At least, it wasn't monobloc. She might not have even lasted a second for any type of photo to be taken.
Go for Makeup
How many towels do you need to bathe? We usually go with just one – it's enough to dry off the body and our hair. So why are some women covered with towels after taking a shower? It doesn't even look like Adriana Lima has washed her face. She's wearing makeup!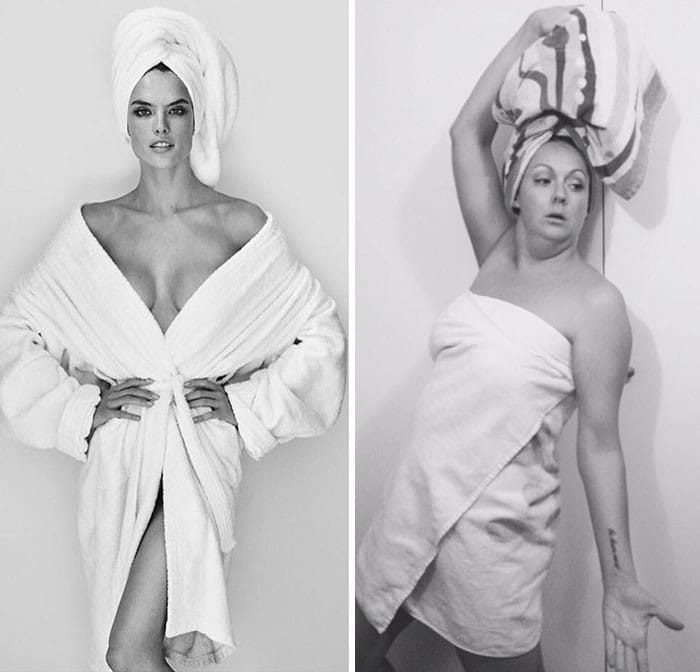 Without having to explain any further, Celeste tells us why it's an everyday incident. She holds the edge of her towel in one hand and displays her other palm – as if to say ta-da, this is how real women bathe. Well, okay, to each her own.
Slaying in the Cold
What are the ways to keep warm during the winter? Give occasional hugs( the longer, the better). Cover yourself up with wool and layers of clothing—warm your hands with mittens or a cup of freshly brewed coffee. Strut on down a NYC street with a blanket …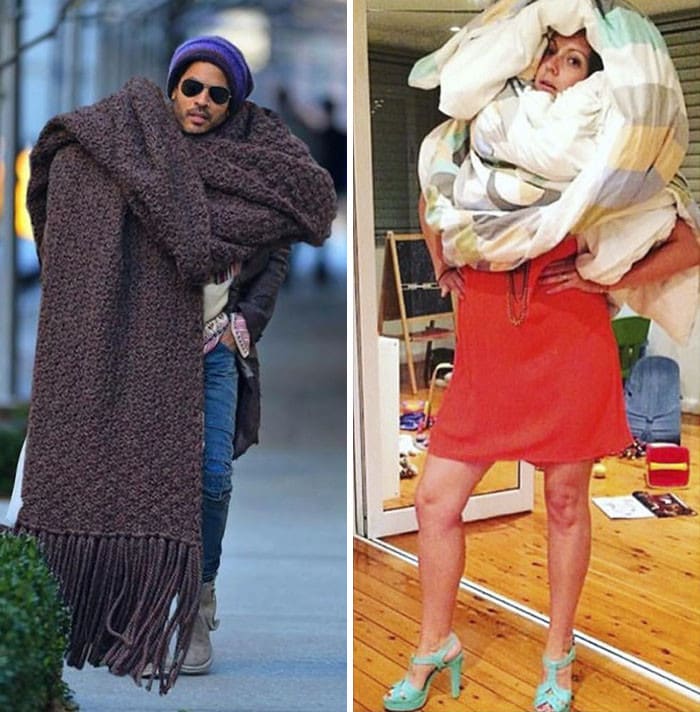 Shucks, you don't even need to bother wearing a coat. All you need to do is lazily pull the comforter off the bed, or your dog's wool rugs and then wear it over you like an alpaca poncho. Especially in this time, those layers will guarantee social distancing from other commuters. Win-win!
What to Wear
So this is why women have a team to help them dress for a night out. It's probably because they own too much clothing, that they're unsure which items work well together to make a good impression on others. As Chrissy Teigen is pondering her outfit choices for the day, her assistant listens empathetically to her.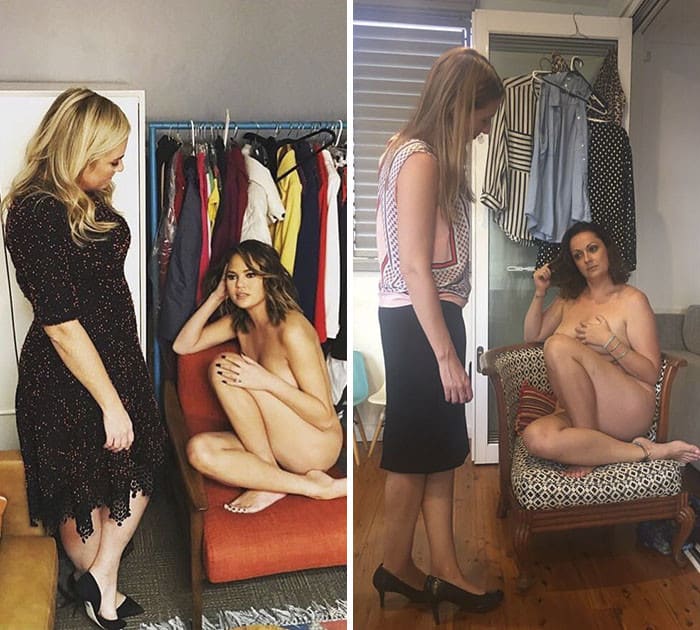 All while she's naked. Good thing this isn't limited to the rich and famous. Even people like us have a group of friends to rely on when we're choosing an outfit. Look no further than Celeste, who bares it all and shows us the reality of sisterhood.
In for a Bath
The best way to unwind is to take an hour-long bath. Light some candles, choose your playlist, and then undress before settling in the tub. Let those moisturizers seal in nourishment, and rinse off all the grime from your day job. In no time, you'll be looking like this.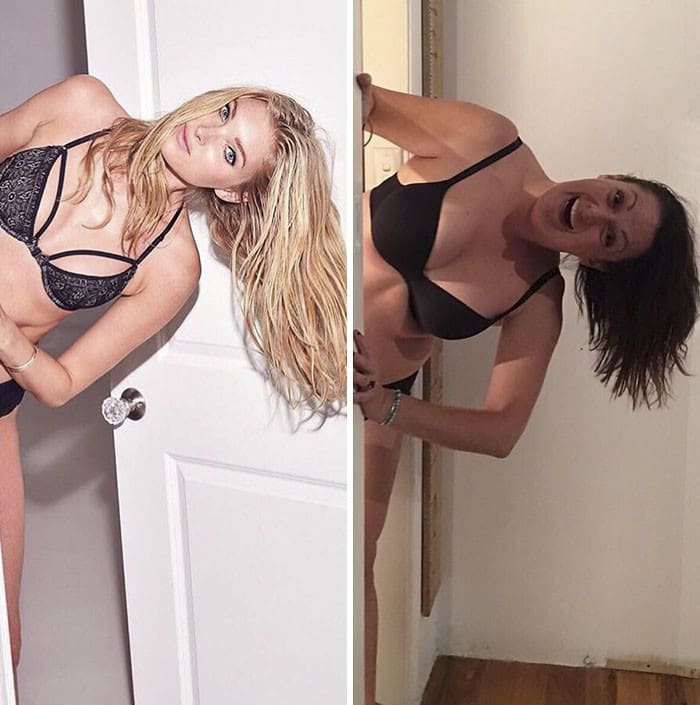 You'll be ready for a night out if you feel like it. Call up your girlfriends and ask them where they're at. Head down to the club or go for a few drinks. Enjoy the beat and let the music wear away your inhibitions. Go ahead; you deserve it!
Tensile Strength
Lingerie has to be made as seductively tantalizing as possible. You want to stimulate your imagination with its texture- And it has to be durable. There'll be a lot of friction and movement in one's daily hustle. Models advertise this through their poses.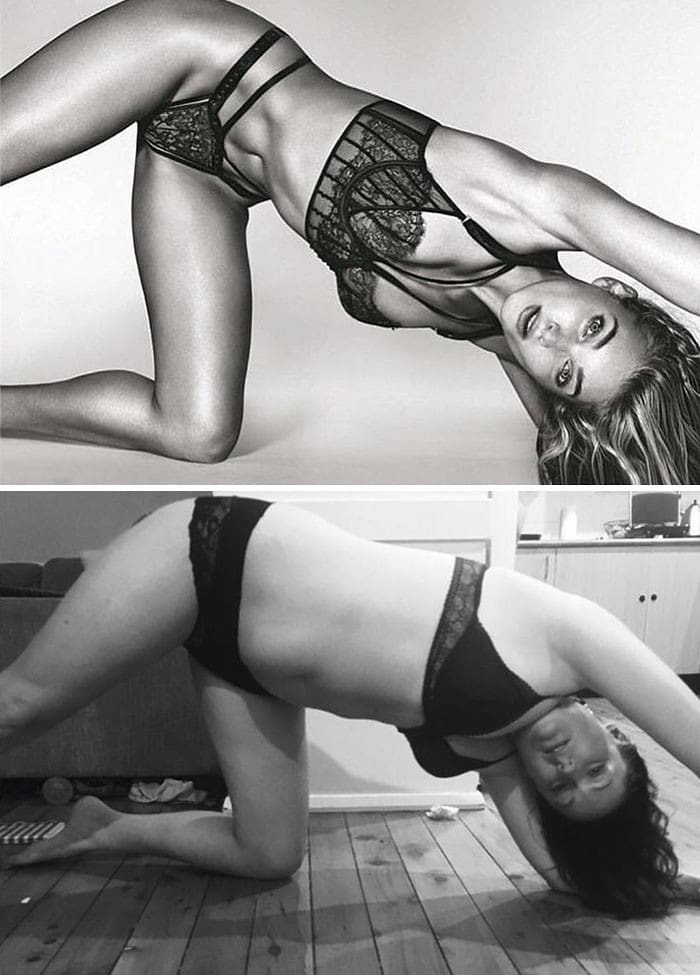 Yes, they're elastic enough to hold your girls close to home and ensure privacy while you go about your daily activities. Be it bending, walking, or moving, this lace underwear will make you look sexy worn on or off.
Queens
More women are dominating the spotlight. Why wouldn't they? With this much elegance, you would be left awestruck, with or without a backdrop. All you need is someone to hold a layer of clothing behind your back. The sequins will move on their own even on a still-frame.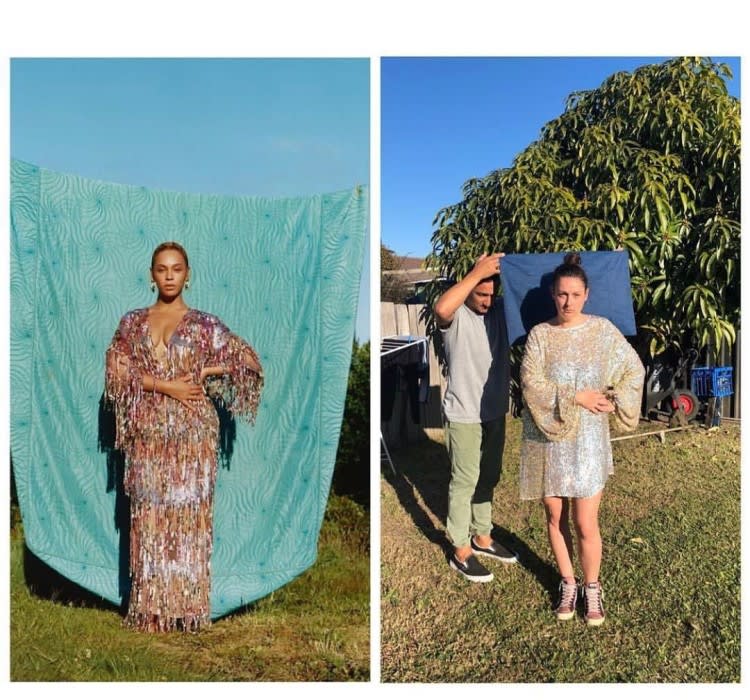 If you don't have any sequins, then you can just don your daughter's prom dress. Try throw a translucent over-sized shirt over it and voila, you're ready for your debut! It's always good to have support by your side. Strike a pose and let your truth radiate!
Loads of Dough
Half dressed women, fast cars, and wads of dough. That's the typical make-up of a ghetto music video. It' appealing in that there's easy money to be made without having to put in much effort and by living the unconventional life. After all, who wouldn't be hooked by the possibilities that money can buy.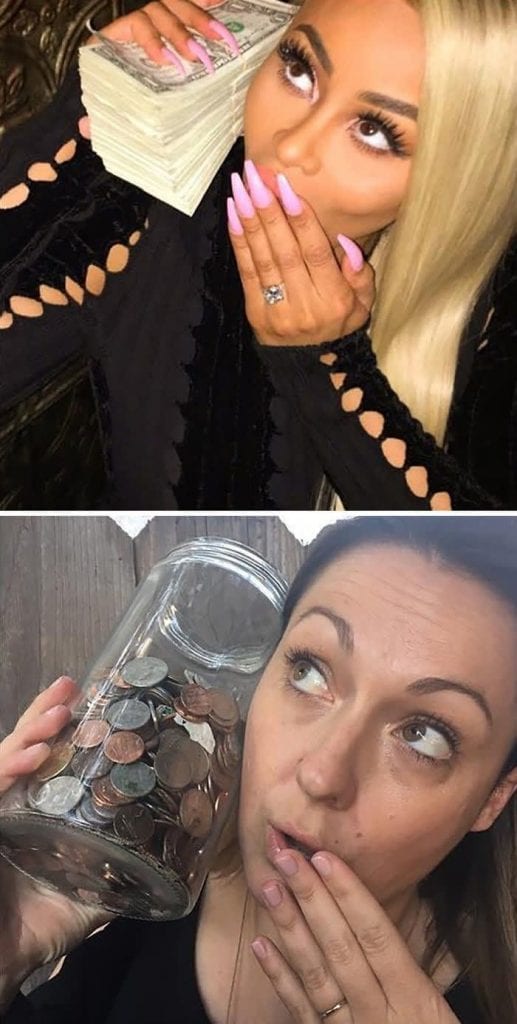 But that wad of cash is thick because they're one-dollar bills. If we wanted to make noise on social media, we would do so with a jar of coins. After all, they're cheaper than Washingtons but attract twice as many people.
#WokeUpLikeThis
One of the most common hashtags on any social media platform is "#wokeuplikethis." Women love to show off their natural, fresh faces online…with a couple of smudges of eyeliner, clumps of mascara, tinted blush-on and glossy lips. They'll probably wear an oversized t-shirt, or none at all, like this one here.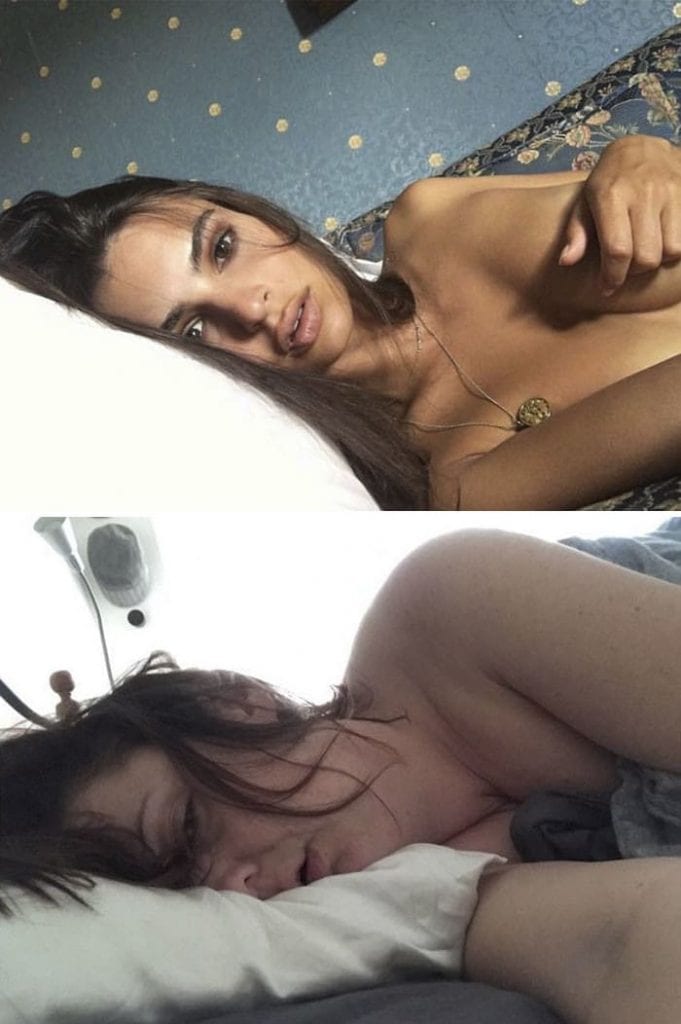 Although the reality is, if we had taken a picture of ourselves upon waking up, our hair would be in disarray, our lips wide open, our faces imprinted with the lining of the sheets, and drool on our mouths. It's a no-no to wear make-up to bed. So rest assured, we'd wake up without any. We'd be literally bare-faced. There'd be no declaratory hash-tag.
Is that Kylie?
It's difficult to believe that this is Kylie. We're accustomed to seeing her showing off her curves or botox-filled lips, but we see neither in this picture. She covers her entourage of assets with blue fur. From the looks of it, it's comfortable and lush. Say, she almost looks like Audrey Hepburn in this still shot.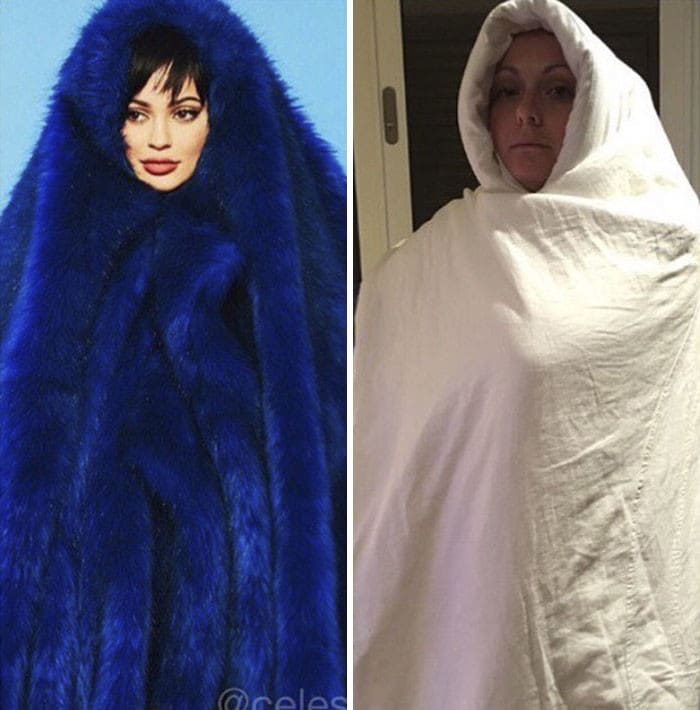 On the contrary, Celeste looks like a nun with her white comforter and sharp-edged nose. That snotty angle makes it look like she's mother superior looking down on Kylie Jenner's figure. Should we say a Hail Mary and a litany of other prayers to repent for this fashion fail?
Undeniable Truths
Sometimes, the internet is a safe haven for people who search for the truth. Some strangers will take kindly upon themselves to comfort you or acknowledge a few life facts. These things save you time. You don't have to hypothesize and experiment. Take for example,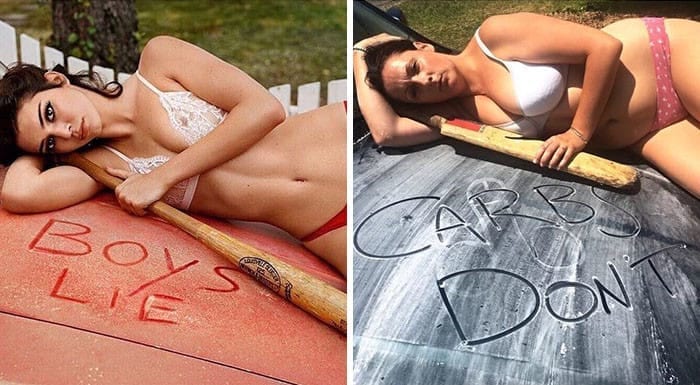 Yeah, boys won't lie about you having gained weight. They'll tell you without being asked, although they might be quicker to lie about other things. Another similarity between these two is that you'll still keep running to boys and carbs. That is unless you change your preferences.
Nearly Elegant
Even in black and white, Kim K astounds us with a sequin-studded dress. Its bodice is fitted to her torso, while the skirt flows complimentary over her figure. She rests her head on the wall…until you discover that it's actually the cubicle partition. The whole ensemble is elegant had it not been for the fact that it was shot in the men's restroom.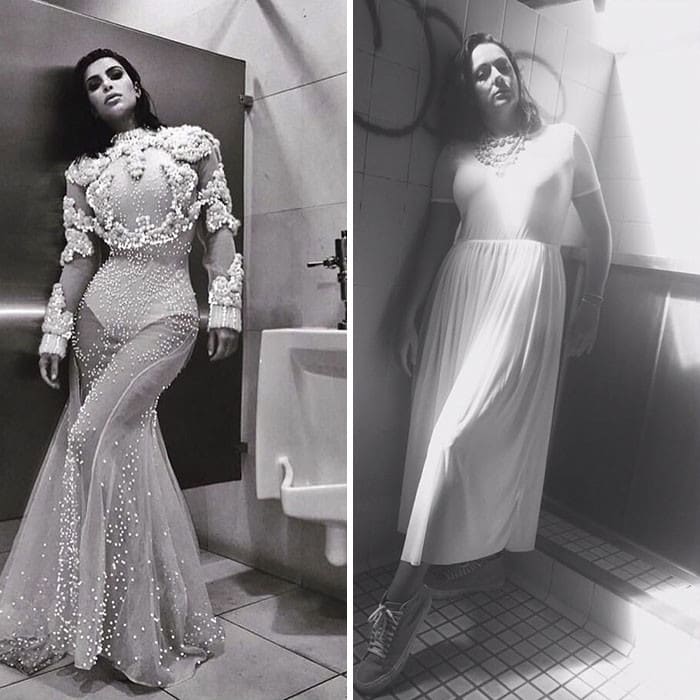 At least Celeste did not recreate hers with a urinal insight. But we can see from the graffiti on the wall that it's a bare bathroom of some sort. She pairs the loose dress with a cluster of pearls and sneakers. It doesn't exude the same vibe as Kim K's dress, but at least it's edgy.
Remakes
The original Baywatch was a series created by Michael Berk, Gregory Bonnan and Douglas Schwartz. It aired from 1989 to 2001. It was shortlived, not because it was unpopular with fans, but because the studio supporting it went bankrupt. About two years ago, they did a remake of it – featuring The Rock and Alexandra Daddario.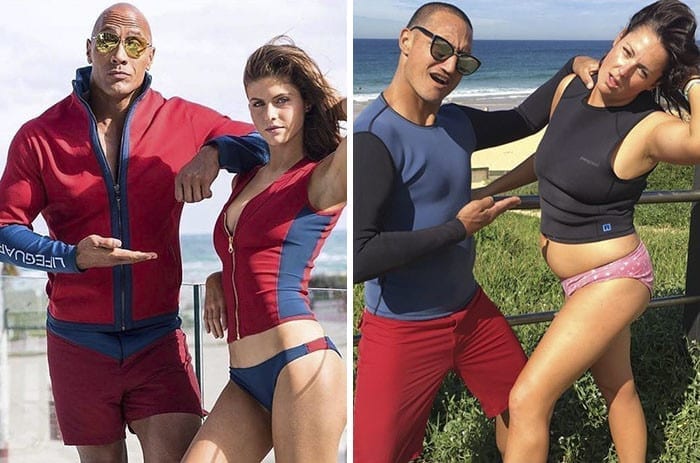 To honor the remake, Celeste did just that. At least in her world, there isn't a dangerous crime wave hitting Emerald Bay. There's just an ultra-supportive sidekick to give attention to her assets and direct you to them. We get the look! You go, Celeste Barber, you're the heart and soul of this very shoot!
Body Party
Nobody's invited to this party except us. Tonight it's going down between these two women. Wearing jean jumpers, Ciara and Celeste pose in front of the camera to celebrate motherhood – well, at least one of them is celebrating it glamorously because she's nine months pregnant.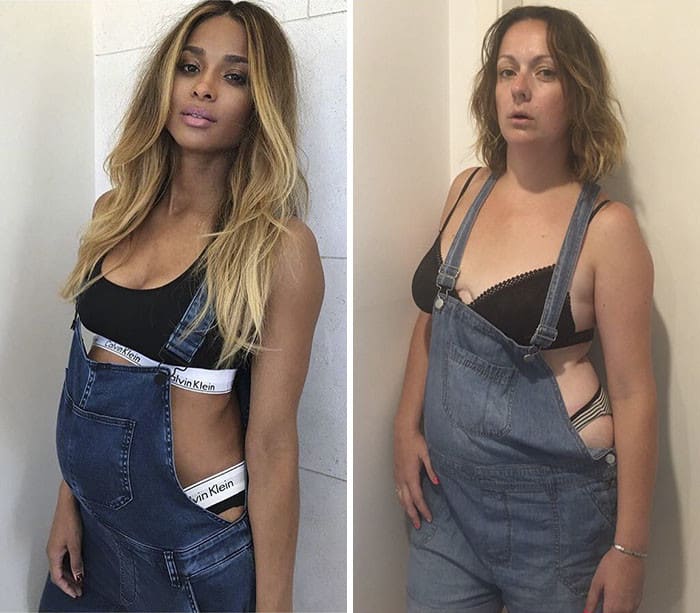 Well, we wouldn't shy away from a maternal shoot either. Being blessed with a newborn in X number of months is something to be grateful for. So it's understandable why these women would want to commemorate it and post it publicly.
Cheap Thrills
Gotta do my hair, put my make-up on. It's Friday night and I won't be long. I don't need dollar bills to have fun tonight. Yeah, listening to Sia's song is a cheap thrill. A particular image should come to mind – one with a woman's bangs covering her face. It's mostly to maintain her anonymity and to exude an air of mystery. Being a talented singer, Celeste paid tribute to Sia, in the most thrilling way.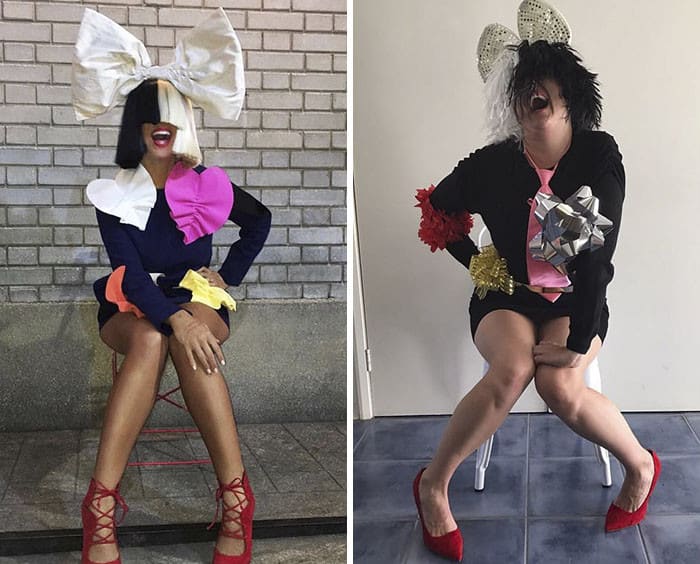 By using a mop as a cheap thrill to copy the getup.- It's a good thing they're both sitting. You wouldn't be offered a good view of everything with those wigs. But unlike Sia, Celeste doesn't have to hide her recreative genius after breaking through on the internet as an artist. That's okay; we love them both!
Beach Babe
What comes to mind when you hear or read the word lifeguard. To us, it's a slim woman dressed in a red swimsuit, primed, and ready to blow life into us. Somehow, she's unbothered by the grainy sand, the heat of the sun, or the indecisive wind direction blowing her hair into disarray.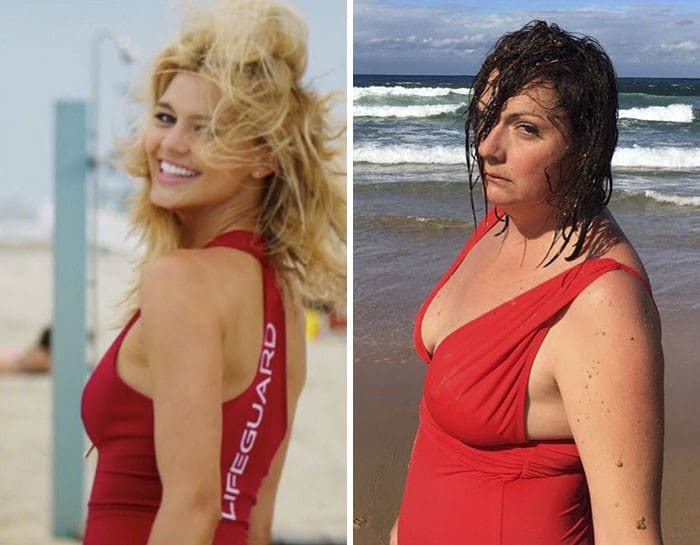 Yeah, she's almost always gorgeous. So is Celeste, even with her hair matted up from saltwater. Maybe she had gone in and performed CPR on someone. It looks like she had just saved a life, given her facial expression. Being a lifeguard is tough work. It sure is meaningful, though.
Tide is High
Surfing is a rough sport. There are always different elements at play – wind velocity, tides, and swells. No two waves are alike. When you have chosen your surf spot, the next thing to consider is your play of choice. Are you one to ride the waves, or one who plunges in them? Gisele or Celeste will show the difference between the two.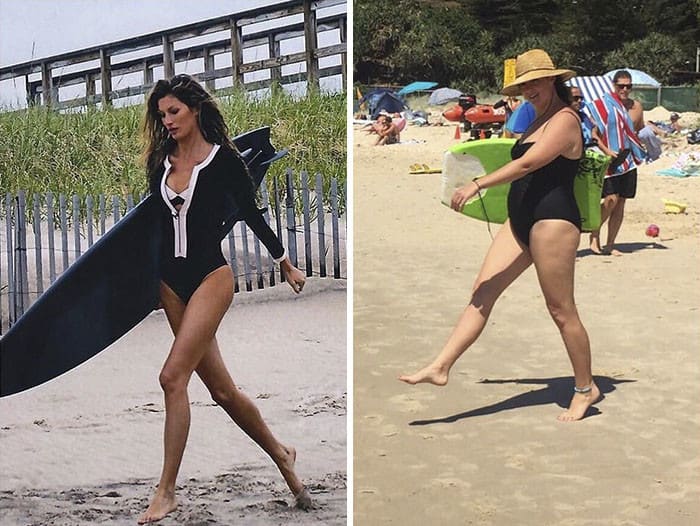 With your bodyboard, you're more likely to ride bigger waves with greater precision. Your weight is closer to the base of gravity. You can always transition into surfing if you feel like it. Over time, you can perform so many different tricks, and you can use various boards and fin setups!
Playtime
Wanting to pass the time can be boring. So while Nicki Minaj sat on the top of a flight of stairs, she had thought of mounting both feet against the steel railings and then holding the same. To sum it up in words, it's like monkey bars for adults. And you'd definitely want her to reach your end.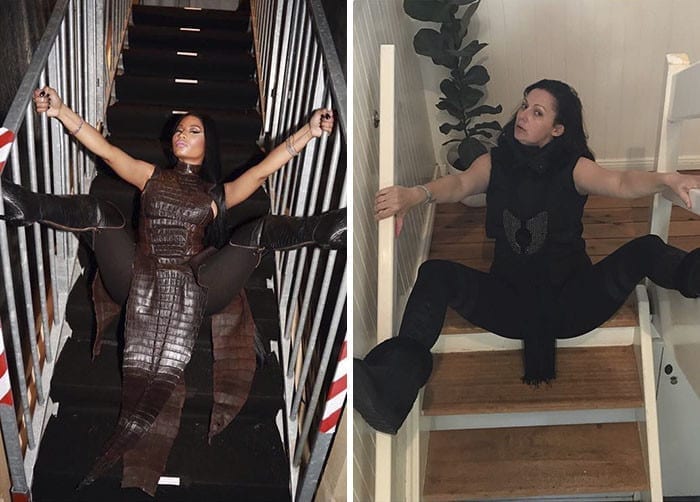 Don't you just love the way her privates are covered up by the middle fringe? And how it cascades down, like Celeste's shawl down the flight of stairs. Let's hope they can unhook their feet from those railings. That position can be tough if you're inflexible.
Dead Weight
Well, isn't this pose a fave amongst Instagram users? A sun tan wouldn't be complete without emphasizing the curves of your back and then contorting your body into strange positions. It may not look like it, but she does have some strong obliques and ab muscles. Celeste wasn't quite able to keep up with the pose.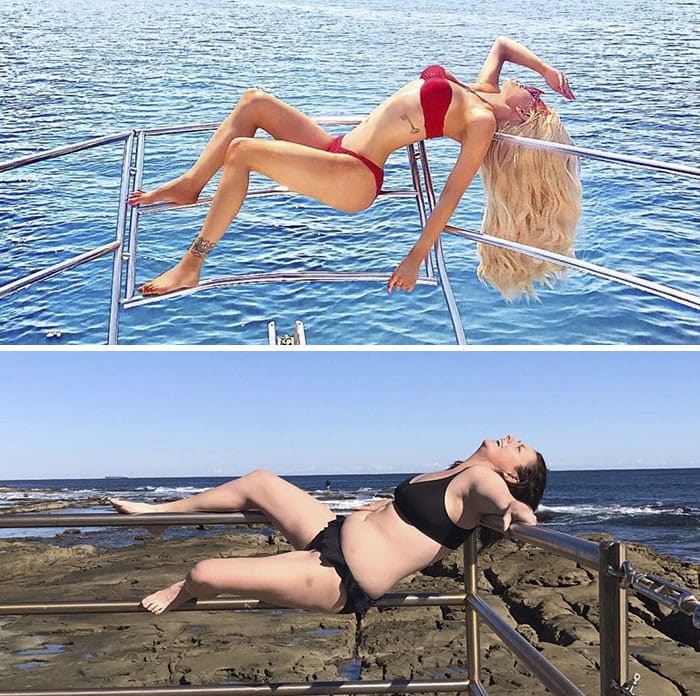 Which makes us wonder, why had Gigi Gorgeous settled upon the bars of her yacht? Wouldn't it be more comfortable to lie down on a deck chair? But then again, that would mean less exposure to the sun. Well, to each his/her own. Right Celeste?
Knee- Chest Position
This is the all-too-common look girls have when a guy comes over their place. Whoops, I can't find my keys. Here let me try to find it within one-meter from you. And they're going to do it in a highly uncomfortable pose. They're also going to try and find them in the most unlikely spots, say the couch!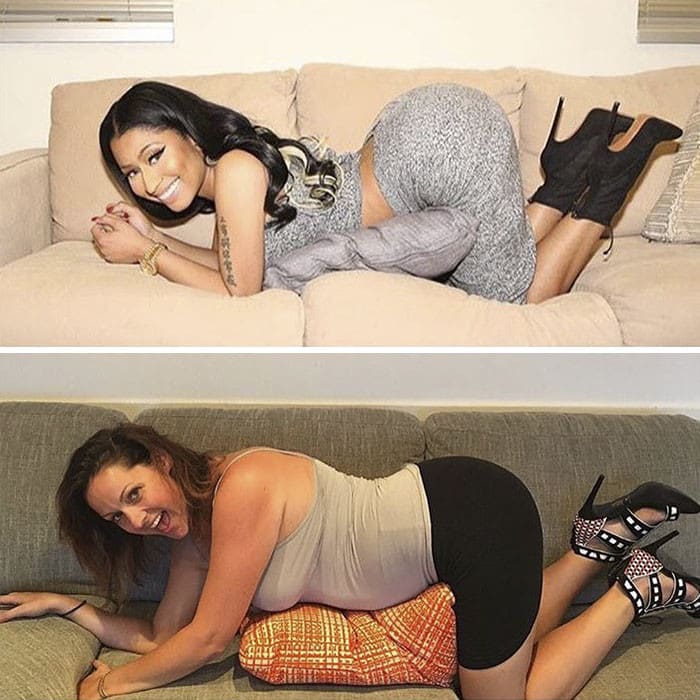 Nicki, you had all that time to find them – between doing your hair and your makeup, and you hadn't bothered to look for them until now. Isn't it a peeve? Having to feel your way between the sofa cushions is the worst! You're all made up. You might ruin your makeup from the effort.
Up Here
If there's anything a Kardashian is known for, it's for grabbing your attention. They have a way of seizing it, with less and less clothing, on random body parts. Sometimes it's their bare back, or their legs. In this case, it's her thighs. Do you think she was wearing something underneath?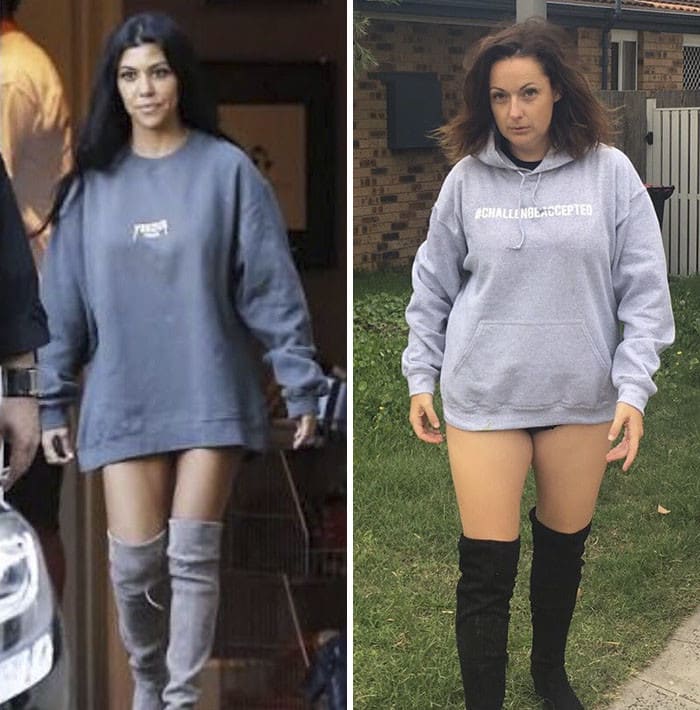 Well, given their tight schedule, we'll probably ask Celeste. We have a better chance of receiving a reply from her than from Kourtney's…assistants. Besides, this is another publicity stunt. It's designed to shock and awe. But guys, beware. Eyes up here!
Clad in Undies
Rather, clad in just undies. Hailey Bieber sports a white high-waisted panty from Calvin Klein. It seems we're going full-on retro to the 90s, where everything was more relaxed and more comfortable to wear. Hailey covers her bosom with one arm and holds the tail of her hair with the opposite hand.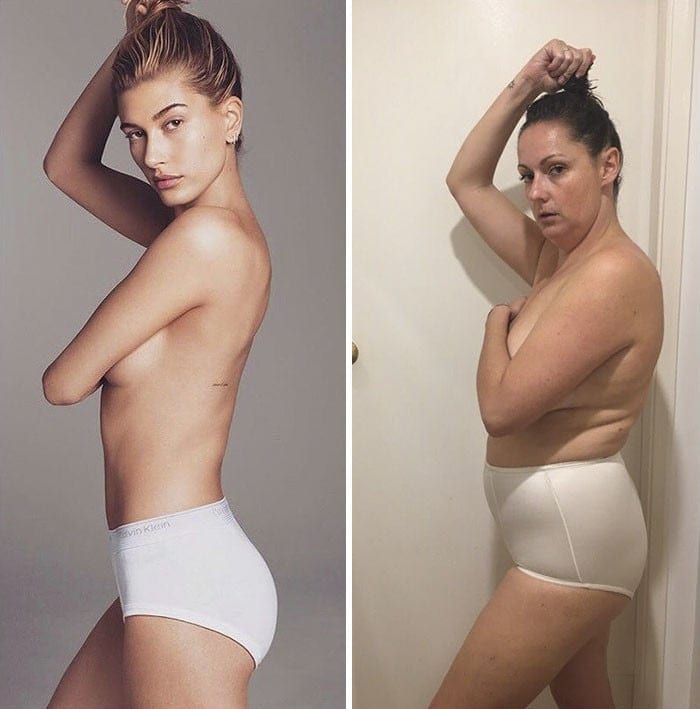 Celeste manages to outdo the fashion mogul by wearing a panty girdle. We can't think of another woman who can do that, much less manage to humor us at her expense. It seems that the internet has valid reasons for catapulting Celeste Barber into fame.
Call Me Maybe
Imagine Carly Rae Jepsen's Call Me Maybe with a suggestive 40-year-old woman. So you're not overly confident about love, or where the relationship will go, but you're coy and hopeful about it. You might lather yourself up in soap, wear that skimpy bikini, fill the bucket with water, and in the meantime…do some stretching exercises.
I trade my soul for a wish, pennies and dimes for a kiss, I wasn't looking for this, But now you're in my way. It's hard to look right at you, baby But here's my doctor's number, so come with me maybe. Yeah, that's a sure winner for the guys. He'll have you on a crutch and laid out on a stretcher by 9 am.
Feeling Myself
Nicki Minaj is definitely feeling herself in this picture. Inadequately dressed in latex, she dons half of Cris Cyborg's helmet. We hope she doesn't wander away in those. It easy to stumble into more fashion fails. Now, let's see how Barber fares.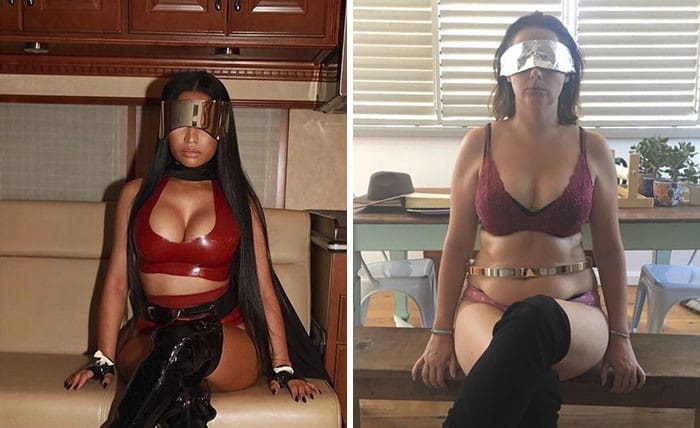 By wearing a sheet of foil over her eyes, she barely covers her midriff but manages to hide her belly button with a belt of some sort. While Nicki's outfit evokes whips and bondage, Celeste's speaks of sleeping and cuddle time. At least both women pay no attention to haters.
Morning Rituals
So you've just roused yourself from your sleep, sit on the bed, throw the covers back and then blindly feel your alarm clock on the side table. If you're a millennial, you'd feel for your phone. You check the time and date and then slightly open the drapes. You might take a selfie, just because—post #allnaturallook.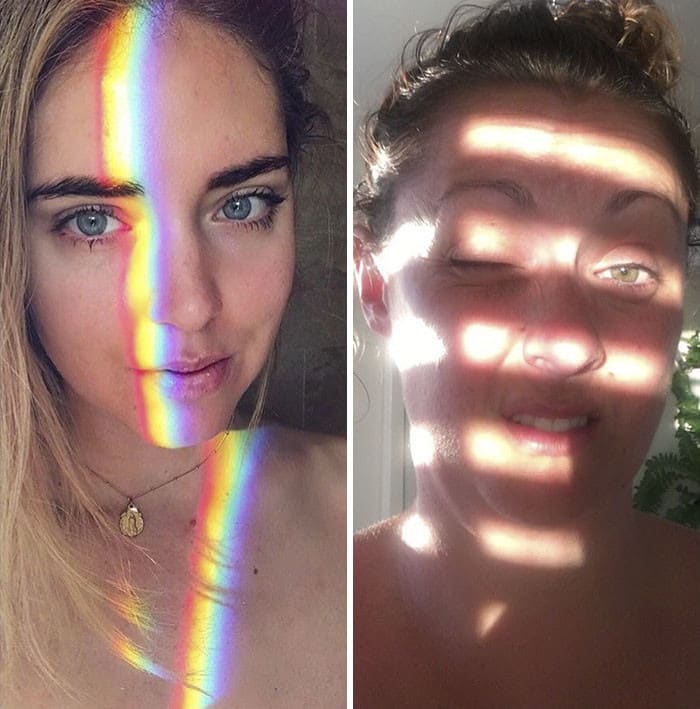 We would have believed it had it not been for the impossibility of that pink sheen. There's no natural way to get that hue. Shiny, yeah, that's possible, but glossy is a giveaway. Besides, don't normal people squint at the sun, instead of gaze lovingly at it? With or without prism-colored rainbows!
Milking Maid
We're unsure why the background has a cow in it, but at least the model looks like a goddess with that baby blue dress and a leather jacket. Those shades are to die for! But just be careful about having to step in dung near the edge of the track.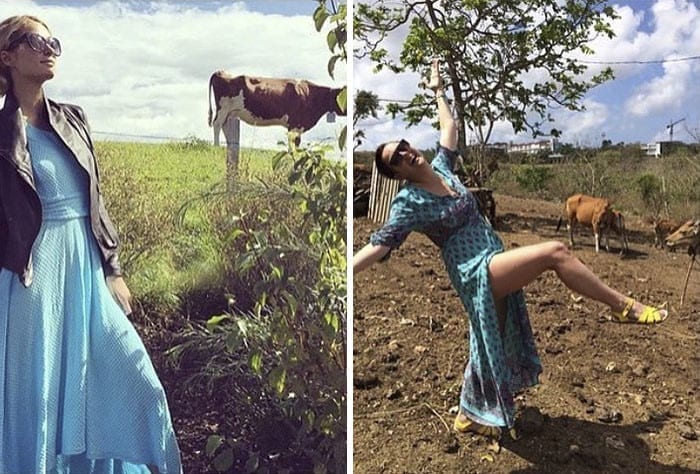 What does Celeste have in store for us? Barren road, a thigh-high slit and a cow behind her. The only thing that's missing in the picture is a bucket and warming rags. It's high time that someone collected a fresh pail of milk. They're dressed and ready for it.
The Two Sides to Parenting
Sure you had planned on starting a family, but you hadn't thought about what you would have to give up. It seemed tolerable – giving up on liquor from 9-5 or settling for over-sized clothing. But with everything falling apart, how do parents like J-lo manage velcro diapers? Or at the very least, one-handed hoisting?
That's probably because J. Lo has at least two hours to spare every day to work out. Her work out routine focuses on upper and lower body strength. To tone her arms, she does Spider-Man push-ups. When was the last push-up we did? Pushing off the bed!
Mowing the Lawn
How do you know if the lawn was mowed properly? Do you judge solely by what you see, or by the feel of your feet touching the ground? Bella Hadid has us reconsidering our performance standards. How does she do it? By laying on the freshly-mowed lawn.
From the looks of it, it should be itchy, with a fresh grassy scent. Just to make sure that you can feel with the whole surface of your body, wear a thin, white dress. It won't be easy to launder, but it sure makes for an impressive display.
Digging Deep
If there's a common feature amongst all artworks, it's their purposeful logic – the kind that makes you tilt your head, and ask, "is it even possible to bike on sand?".Well, it's just a shoot. It's all for show, so long as it seizes our attention and captivates us, it's all good!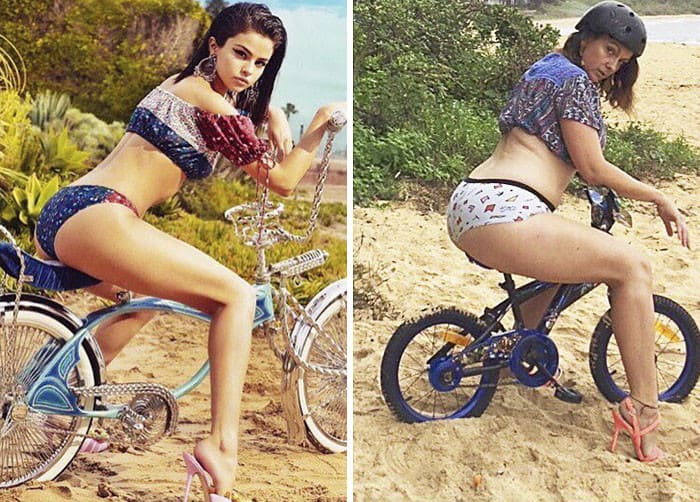 Of course, the whole look wouldn't be complete without the women wearing heels. What better way to move inefficiently by peddling with only the pads of your feet. Nonetheless, Selena and Celeste look amazing! It's perfect for a beach look.
Dip it Low
How about making a wedge rubber shoe? It'll be comfortable, practical, and chic. Just have a famous singer wear them, and they'll be up for grabs the minute she uploads it on her feed. But how do we make them look desirable? Well, strike a pose like this!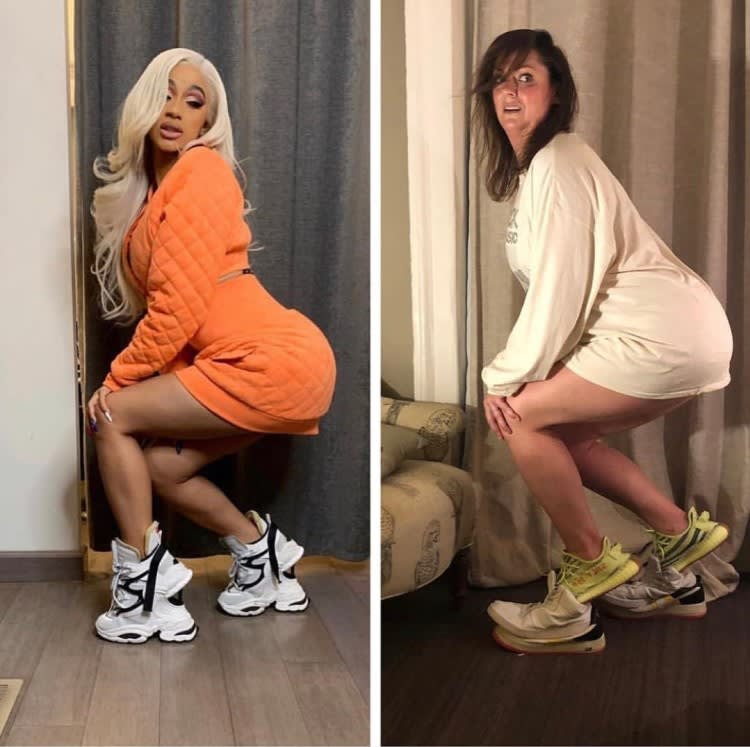 Okurrt! Even Celeste has got it going on. But instead of buying overrated rubber shoes, it's way better just to wear one and then slip it on to an old sneaker. Hers looks nearly the same as the Cardi's. We're not complaining; neither Cardi B nor Celeste B will be able to run in their shoes. It's all for show!
Who's for Entree
Who says you can only fine-dine at a restaurant, the seats for which are reserved a week in advance? You could have a five-course meal for two—Prep the curls, hair mousse, and shimmery body spray. For dessert, you'll have berries and some fine wine. But the sheer decadence is up to your woman's serving.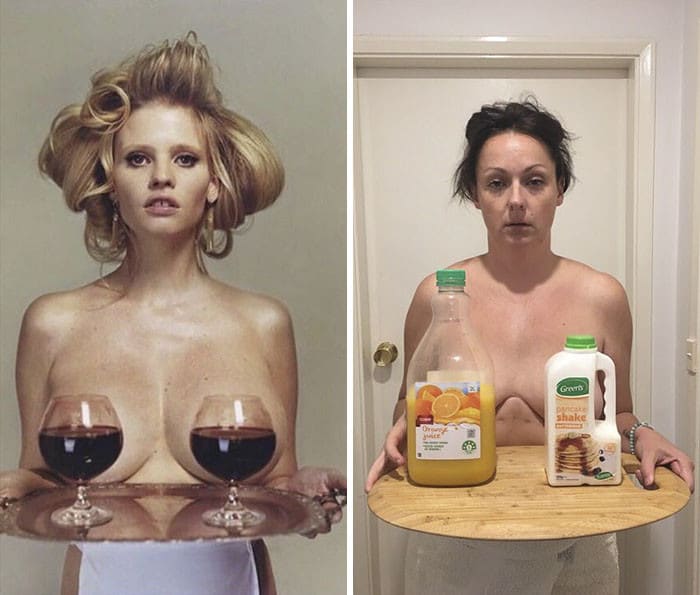 If you've run out of wine, from your nightly splurges, you can always go for orange juice and milk. Nothing beats some citrus O-J and cream or pancake mix in Celeste's case. One is to cleanse the palate, while the other eases the main course down. Just make sure to give your missus a hand. Take the initiative to launder her apron.
Flexing at the Gym
One of the ways people reward themselves after a workout session is by taking a selfie. That must probably be why gym walls are lined with mirrors – to feed the vanity of its members and to ensure correct form while doing squats. But how do people manage to take pics of themselves? How can they even manage to hold up the phone after that workout?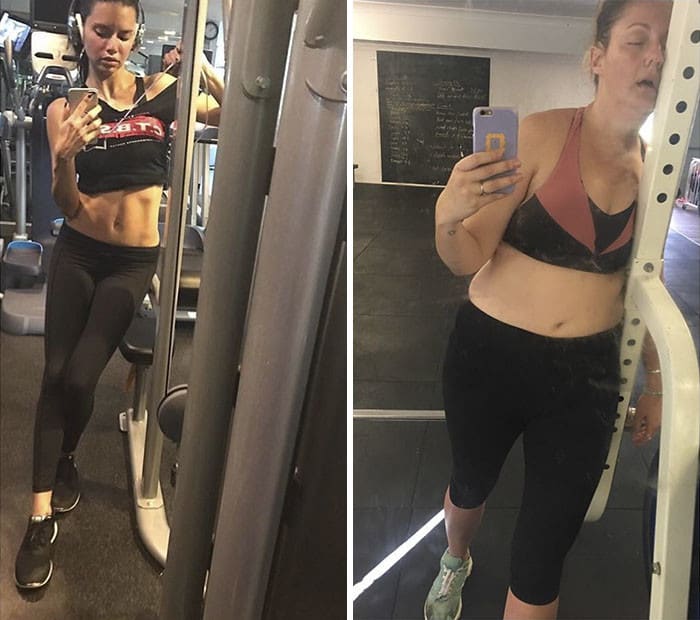 We feel you, Celeste! A couple more reps and you're done. And by reps, we mean a couple more shots. Don't worry; you'll have a cheat day coming up soon. Just think about that protein whey shake waiting for you in your locker room drawer. That, and the dress you're dying to fit into.
Dealing with the Heat
What is the number of ways to deal with the heat? You can turn on the AC; wear light, breathable clothing; use a fan or best yet, turn the heat higher so you can cook some sauce with it. Below, you'll have two women coping with the stress of heat. The model averts it with even blows, while the other harnesses it with cholesterol control.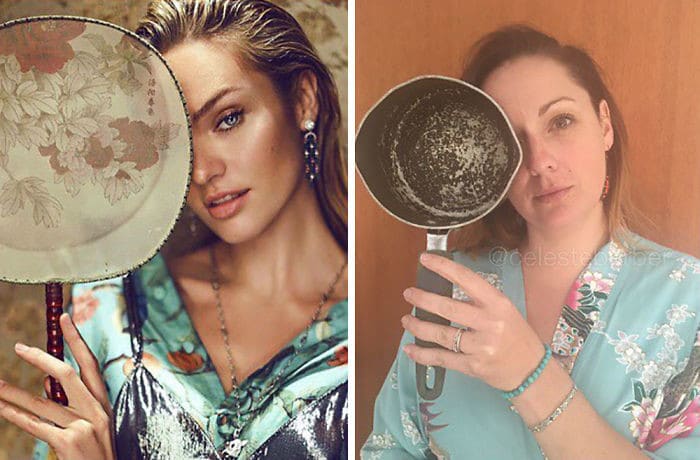 Despite the slight differences(pans and fans), both are sure winners in their respective categories. You don't need filters, edits, or lighting crews to be photogenic and create the perfect shot. All you need is some cookware, confidence, and a pinch of humor.
Sheen Queen
Kim K is raising the standard for body-painting. Dressed in a silver suit, she lies on a floor of silver paint. Her hair is slick back, and she poses suggestively at the camera, inviting us to come hither. Well, Celeste definitely came hither and spiced things up in her own bathing pool.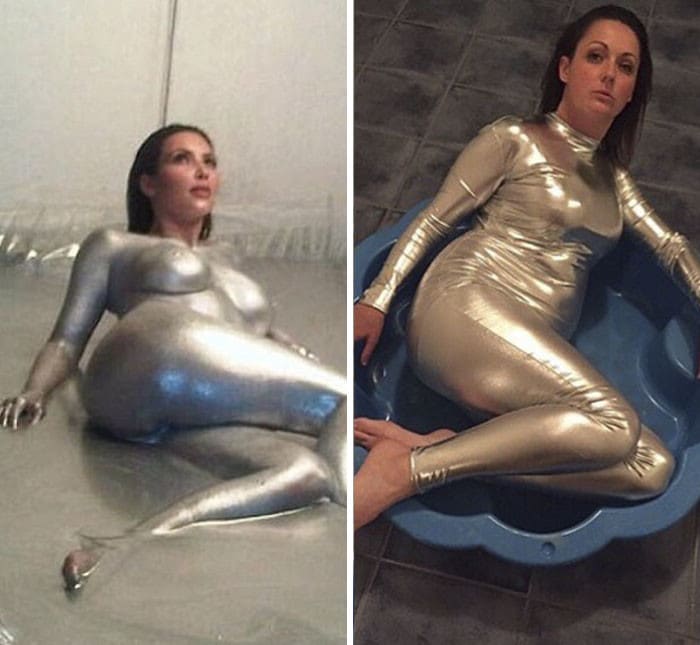 Unlike Kim K's shoot, Celeste's was probably more uncomfortable. The sides of that tub look a little cramped up, but none of it showed on the picture. It's better that she didn't bother with the paint. Her skin is more appealing against the background than Kim's on the floor.