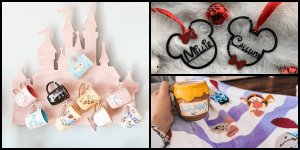 40 Ways To Feel The Disney Magic Without Visiting The Park Gift Shop
By Navkiran K
---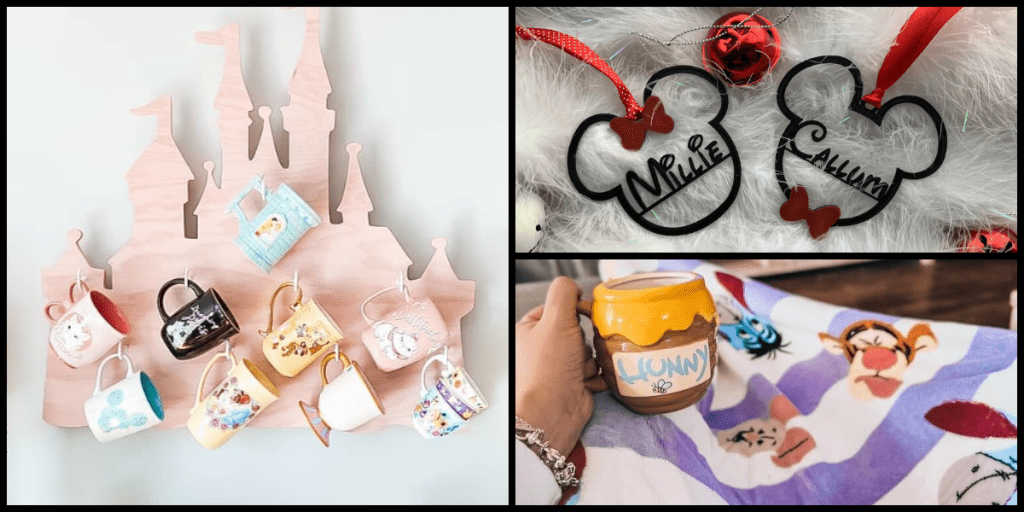 Do you often find yourself reminiscing about your childhood Disney World trips? Do you miss the excitement of meeting your favorite characters and going on rides? Who says being an adult means you can't enjoy the magic of Disney?
Plenty of products allow you to experience all the wonder and joy of Disney without having to visit a theme park. From clothes to accessories to home decor, these items are perfect for bringing a little magic into your everyday life.
These products will help you create new memories with your loved ones. So go ahead and indulge in your inner child with some magical Disney products designed for adults. Make a list for yourself and figure out which item(s) speak to you!
1. Mad Hatter stuffed Mickey ears
Disney fans know that Mad Hatter is one of the most beloved characters in Wonderland. What's not to love about his bright personality and zany sense of humor? Now you can bring a little bit of the Mad Hatter's magic into your life with these adorable plush Mickey ears.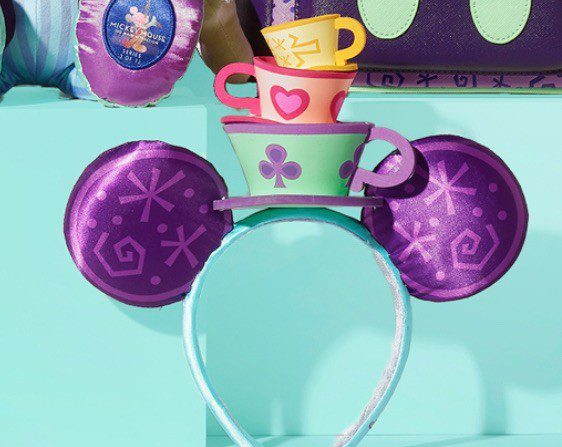 They're perfect for any fan of Disney, Alice in Wonderland, or just whimsical fun! The soft, plush fabric and colorful details are sure to please, making a great gift for any occasion. So don't wait — order your Mad Hatter stuffed Mickey ears today!
2. Donald Duck neck pillow
No one can resist the charms of Donald Duck, and this neck pillow is no exception! If you're looking for a comfortable travel pillow that will keep your head and neck supported, look no further than this charming Donald Duck design.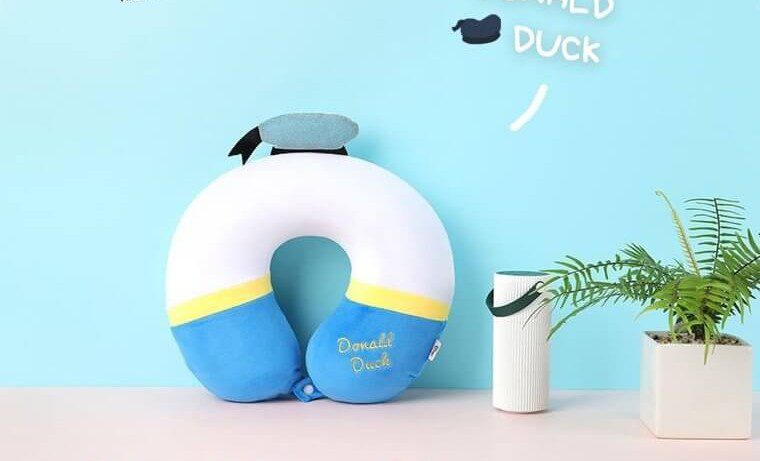 Its contoured shape ensures a perfect fit, while the memory foam material comforts the neck. The Donald Duck cap design is minimal yet enchanting for Disney fans. These pillows are washable, so their maintenance is convenient. Add this must-have pillow to your bedroom today!
3. Winnie the Pooh yoga mat
Is there anything more relaxing than stretching your body on a soft yoga mat? And what could be more fun than rolling out your mat with an image of everyone's favorite honey-loving bear, Winnie the Pooh? This yoga mat is perfect for anyone who loves all things nature-themed and cuddly.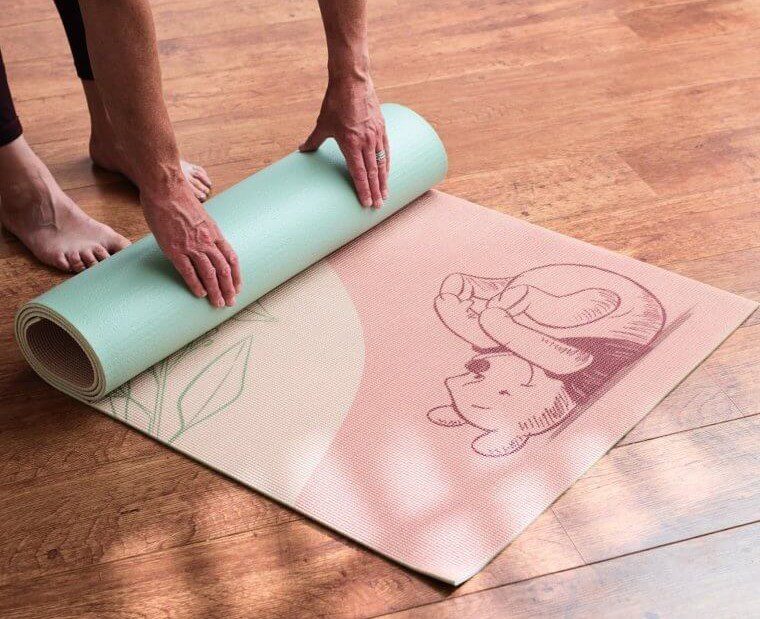 This mat is great for fans of classic children's characters and will help you to keep your practice light and playful. The non-slip surface will keep you in place as you move through your poses, and the comfortable fabric will make you feel at ease from start to finish.
4. Adventure book
Your inner child deserves the best, and that's why you should buy an Adventure Book inspired by Disney's movie Up. This beautiful book is filled with stunning illustrations and exciting tales of adventure, all designed to capture the imagination of any adventurous person.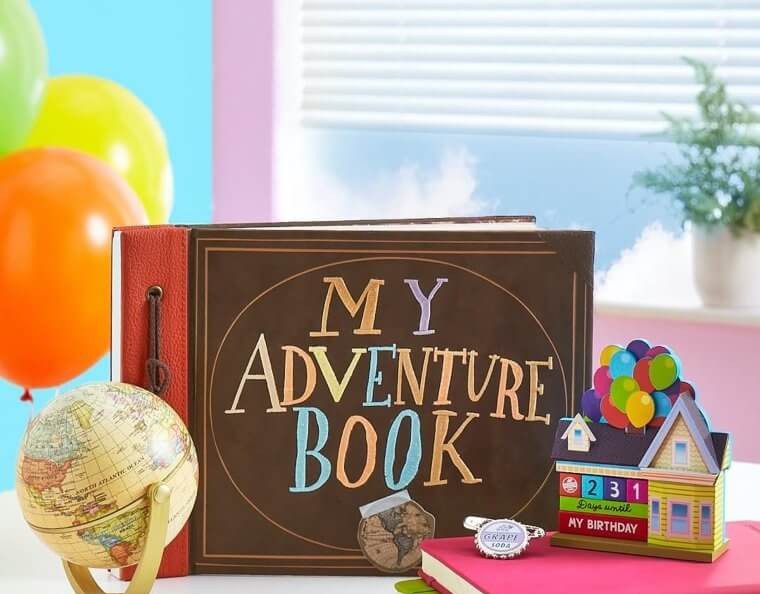 With its heartwarming story and inspiring message, this book will surely bring joy to your inner child and keep you entertained for hours on end while making memories. Most pages in the book are left blank for you to add to your adventure memories.
5. WALL-E and Eve coffee mugs
There's no need to be embarrassed! We all have our Disney fan moments. And what could be a more ideal way to show off your fandom than with these adorable WALL-E and Eve coffee mugs? They make a great gift for any diehard Disney fan.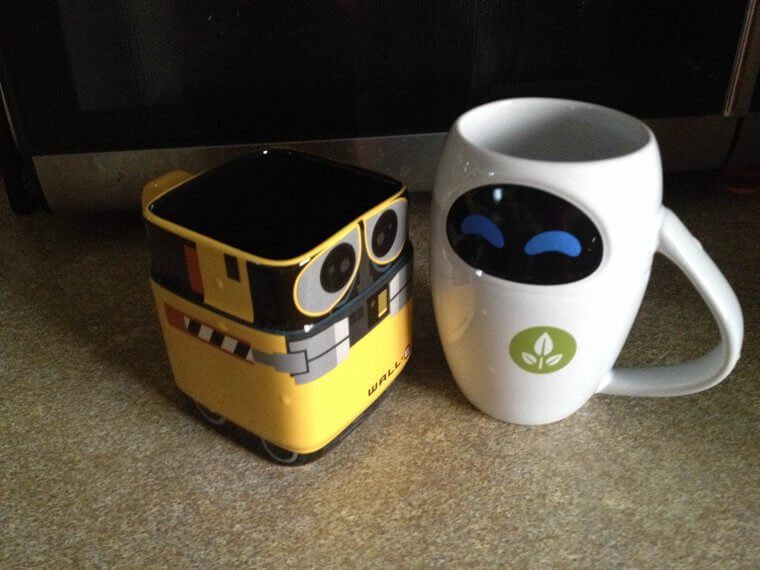 The unique design is sure to get lots of compliments from guests. The mugs are made of high-quality ceramic, perfect for your morning coffee or tea, or even as a seedling planter, if you want to use them for Wall-E-themed decoration.
6. Disney-themed signs and posters
There are a plethora of Disney-themed signs and posters, which can make it difficult to decide which fits your personality best. If you're looking for a beautiful and classic piece of art, we would recommend the Cinderella's castle poster. It makes an enchanting accessory to any room in your home.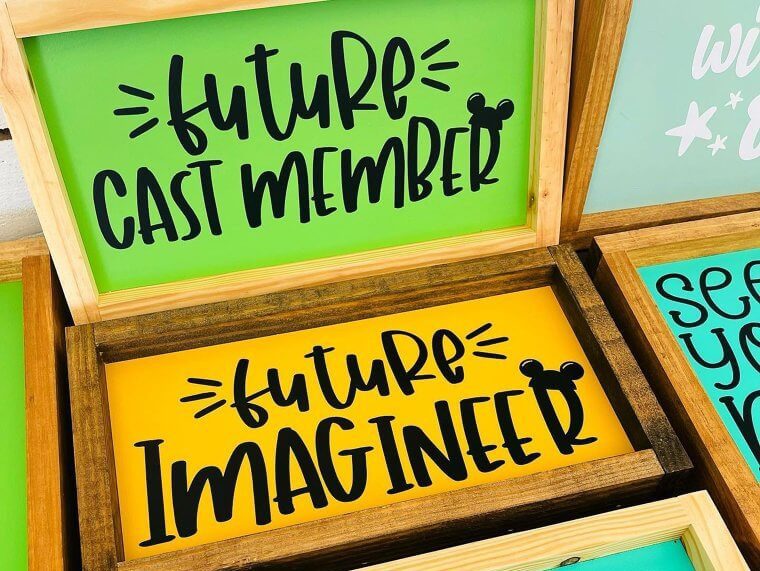 If you're on the hunt for anything more whimsical and fun, try the "I'm a Little Bit Pooh" poster. And if you want a sign that will add some magic to your home, get posters with quotes like "When You Wish Upon A Star.
7. Enchanted tea set
This enchanting tea set has a teapot, sugar bowl, creamer, candle stand, and cups, all themed from Beauty and the Beast. Each piece is made to perfection and is beautifully decorated to resemble the characters such as Mrs. Potts and Chip.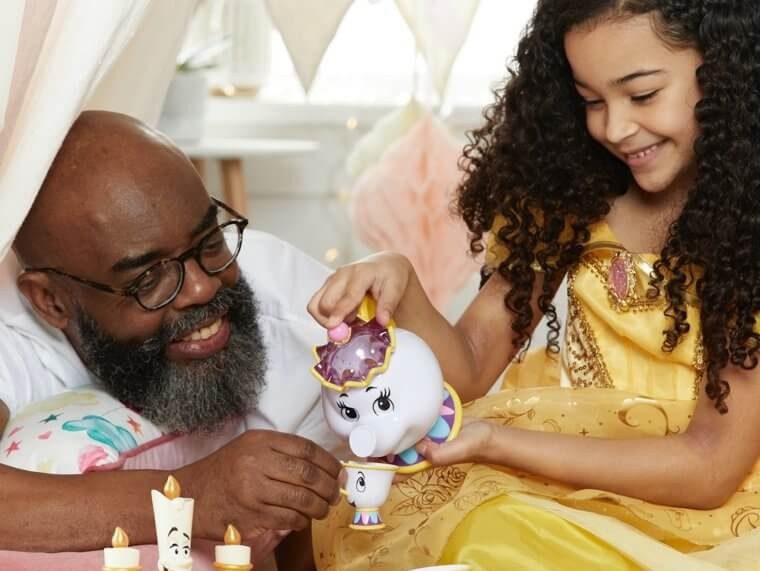 You can get the plastic version for the kids and an adult ceramic version for yourself. This will make an ideal gift for any fan of the movie or for anyone who enjoys a nice cup of tea. Look for a microwave and dishwasher-safe set that's easy to clean and perfect for everyday use.
8. Winnie the Pooh kitchen collection
The appeal of Winnie the Pooh kitchenware is that it captures the classic, nostalgic feel of the Hundred Acre Wood while infusing a touch of whimsy and fun. The soft colors and adorable characters make every meal an event. Nothing's more satisfying than tucking into a hearty breakfast in the company of your favorite bear.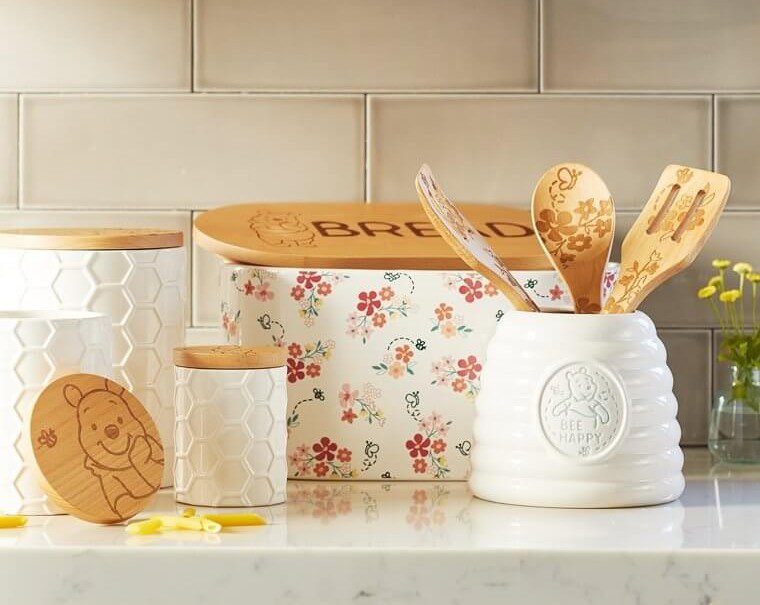 Whether you're looking for an everyday dinner set or something extra special for a themed party, Winnie the Pooh kitchenware is sure to please. The collection includes a variety of fun and whimsical pieces, like a honey pot measuring cup, a porridge pot, and even a tea set.
9. Mix and match the Pooh platter
If you're in the market for a beautiful, new addition to your kitchen decor, look no further! This Winnie the Pooh wooden platter, mason jar, and flower pot are fantastic. The charming designs of both Pooh and Piglet will brighten up any mealtime.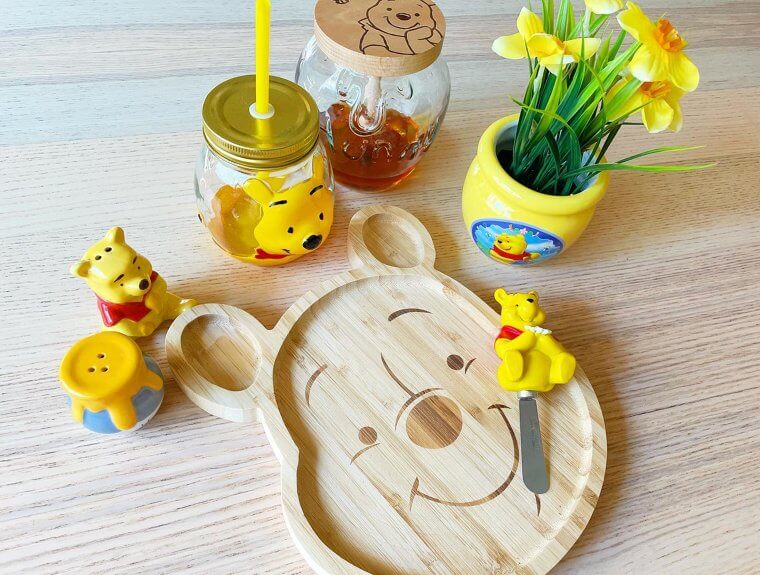 You may also get other Pooh serving accessories such as a Pooh butter spreader and drinking glasses. These pieces are so different from each other but go well together because of their Pooh Bear theme. They are too charming not to get your kitchen to serve magical meals.
10. Mickey Mouse print basketball
Everybody, no matter how young or old, knows Mickey Mouse. And who doesn't love his big ears and cheerful personality? He is a classic for a reason. So it makes perfect sense to get a Mickey Mouse print basketball for your inner child.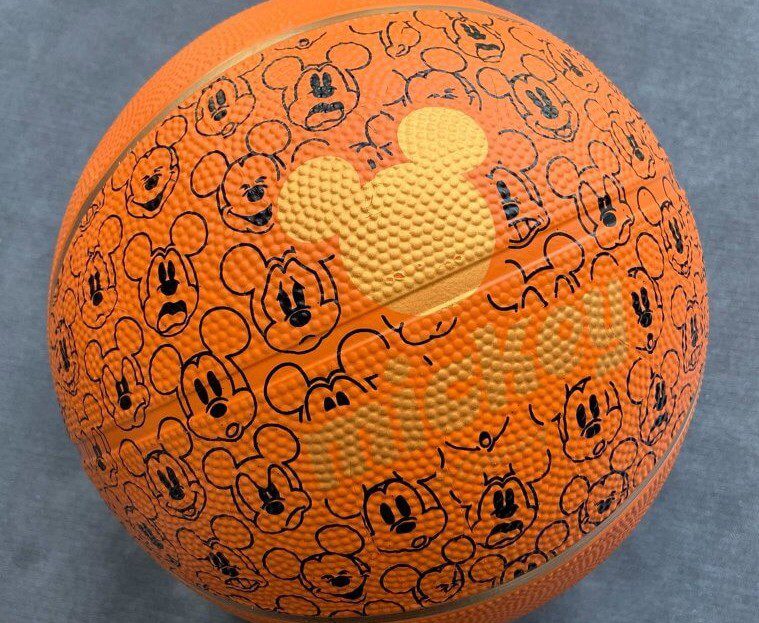 Whether you like shooting hoops with friends or dribbling a ball to pass the time, a Mickey-themed ball will add some nostalgic fun. Plus, it would make a great gift for any Mickey Mouse fan. So go ahead and light up your day with this cool basketball!
11. Disney princess bathing suits
There's no need to feel ashamed of your love for Disney princesses. Embrace it! And what better way to do that than by wearing a bathing suit inspired by your favorite childhood Disney princess characters? There are plenty of options for both kids and adults, so you can find the perfect suit for your needs.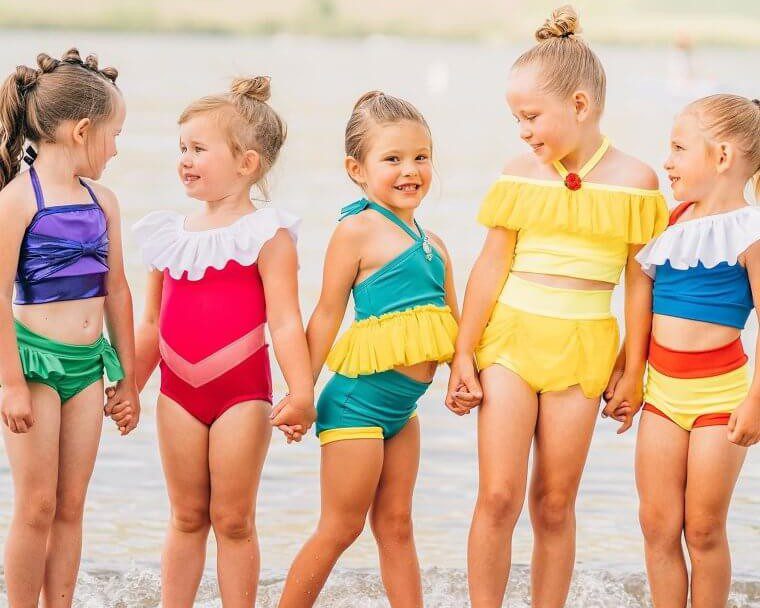 Whether you're looking for something cute and playful or something more stylish and elegant, you can find the perfect fit for you. You don't have to wear a fancy large gown to feel like a princess; these bathing suits will do the trick.
12. Scented candles
This "Be Our Guest" candle from the Disney store is the perfect way to make your house feel like a little slice of enchantment. The candle is available in a beautiful glass jar with a decorative metal lid and smells like warm apple pie.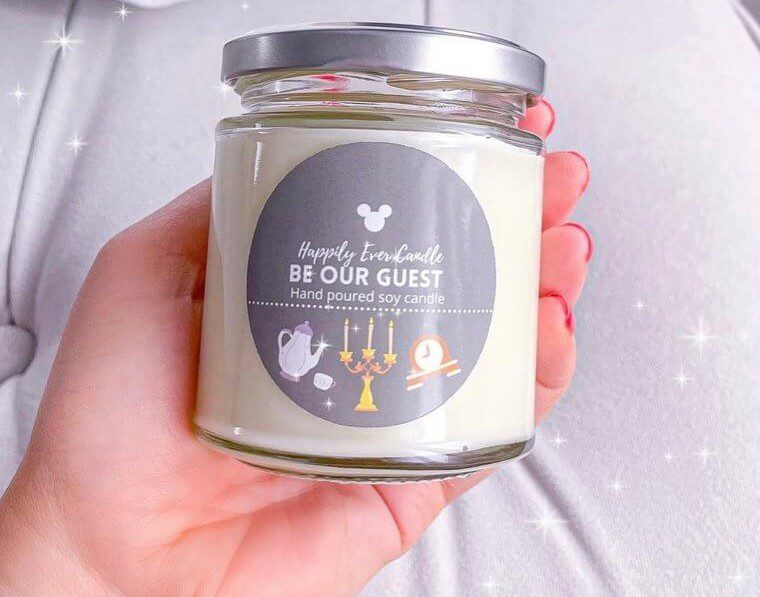 Lighting this, you can celebrate your love of Beauty and Beast! It would make the perfect gift for any Disney fan or for anyone who loves to relax in a home that smells delicious. It's a great match for a late-night Disney movie at home.
13. Minnie Mouse phone ring light
A little bit of fun goes a long way, and this Minnie Mouse-shaped phone ring light is the perfect way to add some fun to your day. It's bright, colorful, and just plain adorable, and it's sure to put a smile on your face every time you use it.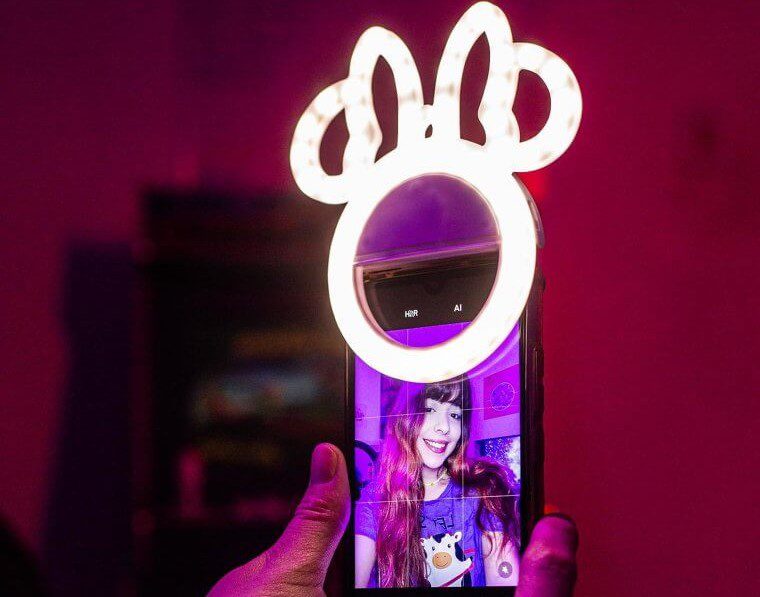 Whether you're using it as a flashlight for emergencies or just as a little extra light when you're reading in bed, this phone ring light is perfect for any occasion. Its cute Minnie Mouse design is sure to add a touch of personality and make taking selfies more fun.
14. Fancy Winnie the Pooh makeup
If you love Winnie the Pooh and makeup, then you'll love this new line of cosmetics! The collection includes everything from blush to brushes, all with an adorable Winnie the Pooh theme. Moreover, you can get a Pooh makeup bag to store all these makeup supplies.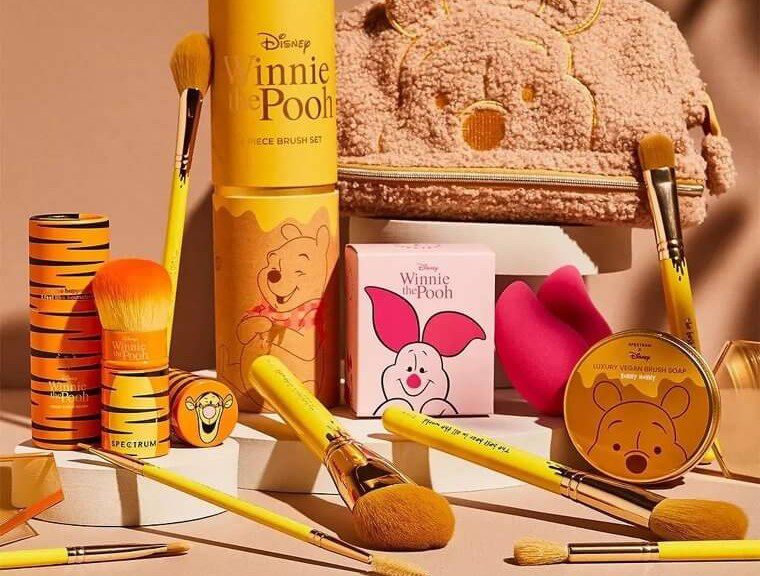 The best part is that this line is perfect for Disney lovers of all ages. Whether you're young or old, there's something in this line for everyone. So if you're looking to include some extra magic to your makeup routine, check out the Spectrum Winnie the Pooh-themed line.
15. Minnie Mouse sneakers
Because, even as adults, we all need a little reminder to let loose and have fun! And there's nothing more fun than dressing up like our favorite cartoon characters. If you can't don a full outfit, accessories like sneakers or flip-flops give your inner child a chance to shine.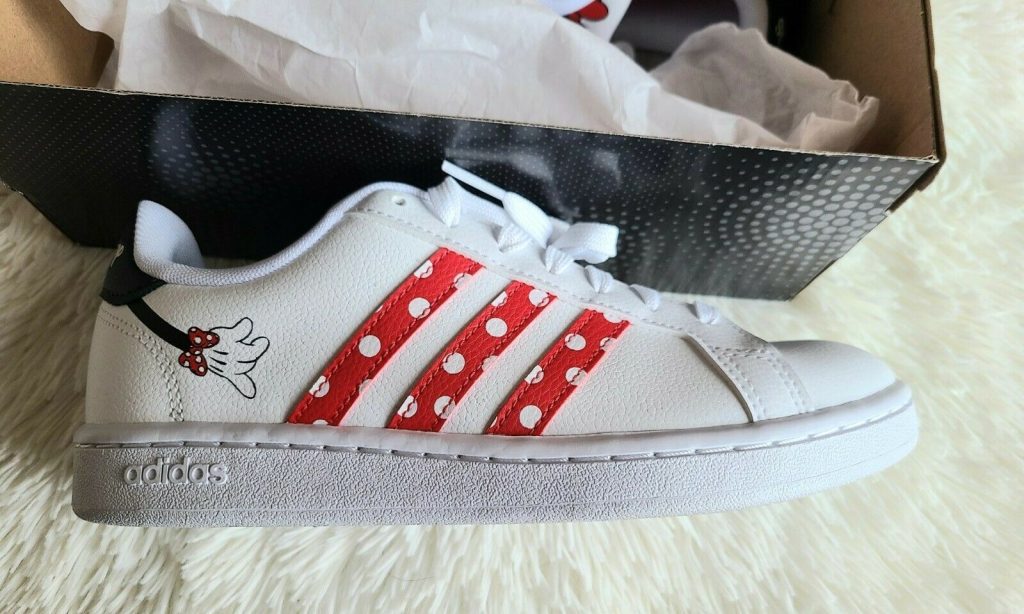 They are cute, comfortable, and stylish! No matter which shoe you get, be it sneakers or flip-flops, they'll help you stand out from the crowd and make a statement wherever you go. You'll have fun wearing these as they're perfect for walking, running, or dancing around your house.
16. Mickey kitchen cart
This Mickey two-tiered kitchen or bar cart is perfect for the Disney fanatic who wants to show their love for the iconic mouse everywhere they go! It's both incredibly fun and functional. The top tier comfortably fits bottles and glasses.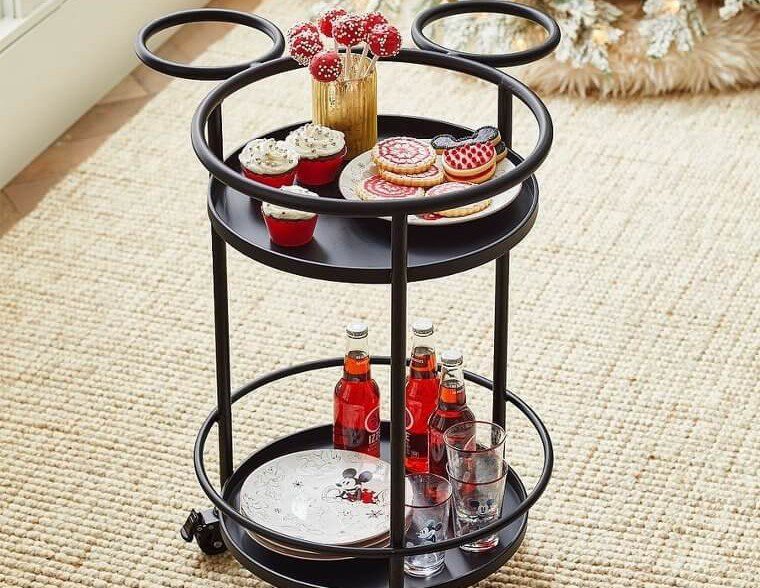 The bottom tier can be used for holding snacks, drinks, or even extra utensils. Plus, the cart can wheel around, making it easy to move to whichever room the party is in. Whether you're using it in the kitchen or the den, this Mickey two-tiered cart is a must-have item for any Disney fan!
17. Disney nail stickers
If there's one thing that all Disney fans have in common, it's our love for all things Disney. And what could be more thrilling than expressing that love with some amazing Disney nail stickers? You may choose from the Disney Villains nail sticker set or the Disney Princesses to match your light-hearted vibe.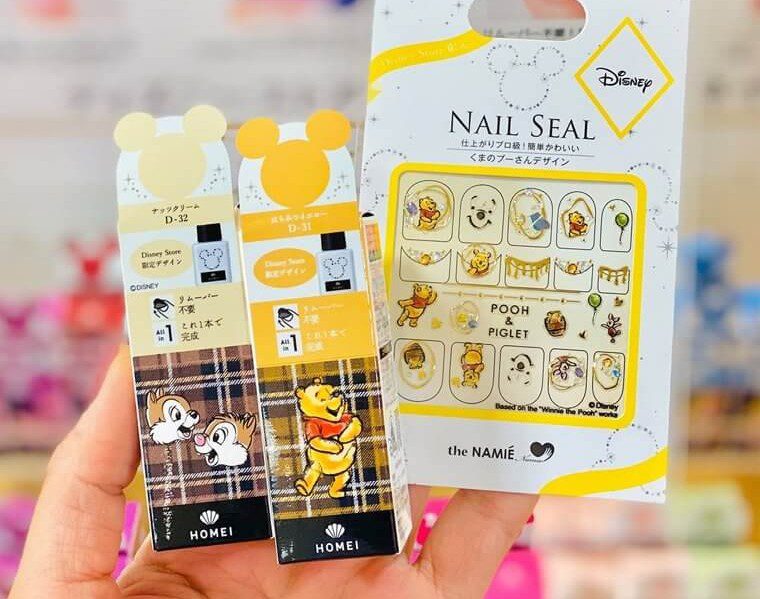 Whether you're a fan of classic characters like Mickey and Minnie Mouse or you prefer the more recent characters from movies like Frozen and Moana, there is a perfect set of nail stickers for you. Plus, they're so convenient to use — just stick them on your nails and go!
18. Pooh baby body carrier wrap
Is there a better Disney character to swaddle your baby than Winnie the Pooh? A soft, cuddly Pooh Bear wrap is the perfect way to keep your little one close to you while you are out and about at the Disney parks…or on a walk in your hometown.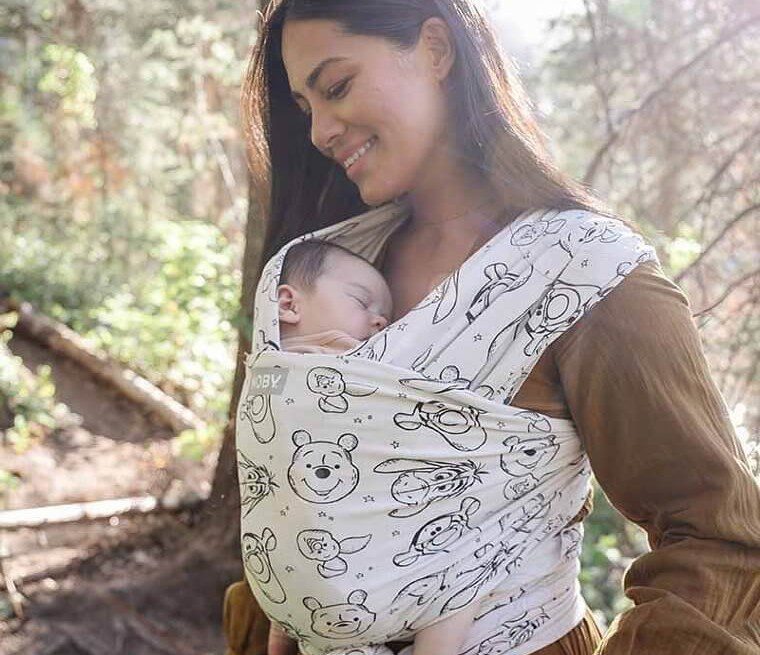 It's made of high-quality materials and is sure to keep your little one warm. This cloth carrier is easy to carry instead of an ordinary heavy-duty carrier. So wrap your baby up in this Pooh Bear-themed wrap and keep them cozy and comfortable all day long.
19. Royal coffee corner
The Disney Princess mug is a delicate piece of china that requires a certain level of protection while it's not in use. Why not store it in this sturdy castle-shaped hanger? You'll have a decoration for your kitchen that shows your love of all things Disney!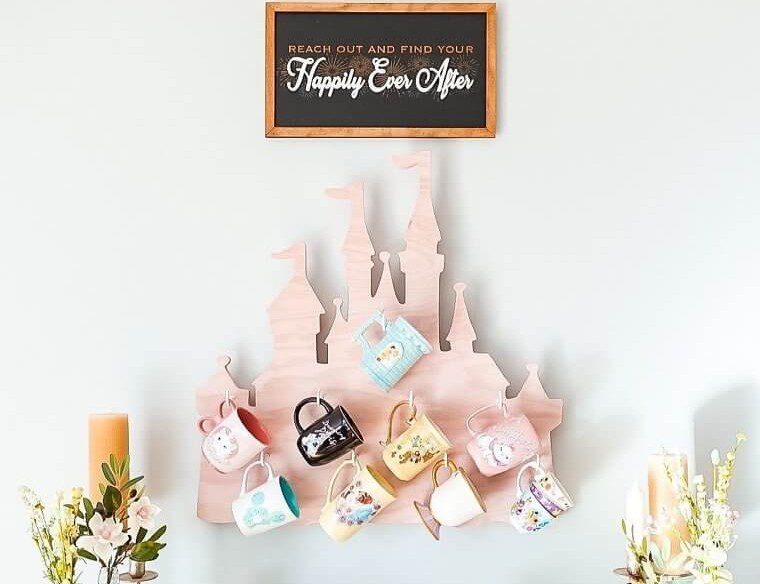 This is the perfect mug hanger for any Disney Princess fan! It's easy to install, and it makes your mug look like it's part of a beautiful castle. You may also hang Disney signs around it to make the whole wall look like a dream come true.
20. Wonderful glass prop
This is a wonderful Alice in Wonderland-themed glass bottle! As you can see, the bottle is designed to look like a potion bottle, and it features the famous tag saying "Drink Me." It would make a perfect addition to any Alice in Wonderland collection.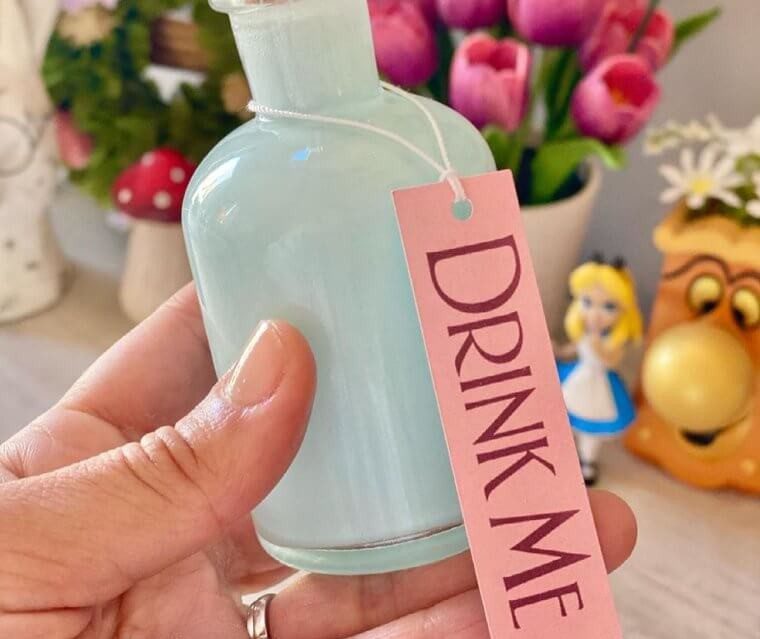 It is simple yet undeniably thematic, and the basic design makes it extremely versatile. You will find it's perfect for storing your favorite drink or as a decorative item on your shelf. We're sure it will bring you immense joy.
21. Mr. Potato Head mug
This Mr. Potato Head mug is perfect for Toy Story fans. You can use it for your morning coffee, afternoon tea, or mid-day snack. The unique ceramic dish is a great kitchen piece to add to your existing Disney collection.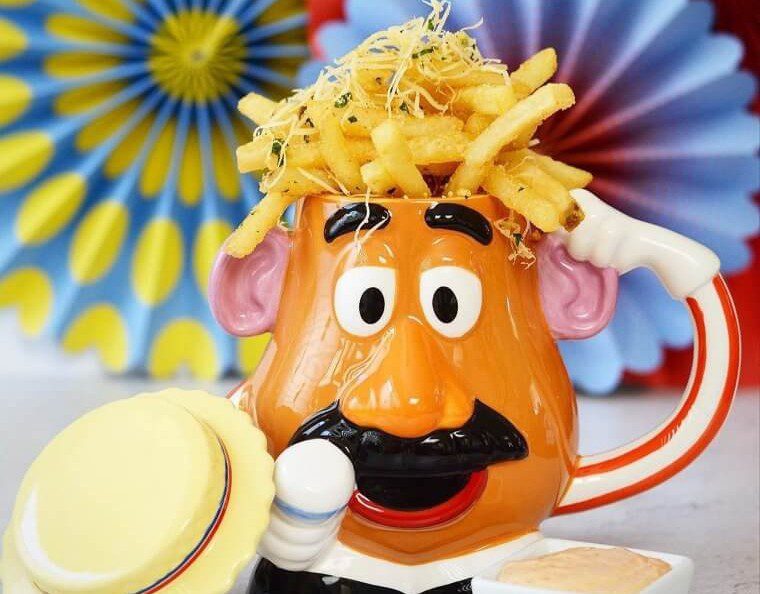 It's ceramic, so it'll keep your drinks nice and warm. You may also get creative and use the mug to serve some crispy fries. One fun fact about Mr. Potato Head is that it's licensed by Hasbro, even though it was featured in Disney-Pixar's movie Toy Story.
22. Stitch-themed makeup set
These makeup brushes are perfect for your inner child. With their fun, Stitch-themed designs, they're sure to add a little bit of magic to your beauty routine. They're made with high-quality materials that'll help you achieve a flawless makeup look.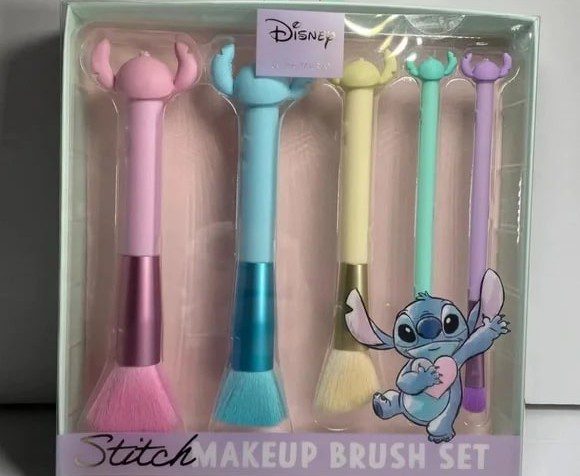 You may do your face makeup and eyes using these brushes. Also, they're a great option to show your love for this blue alien character. Don't forget to listen to "Hawaiian Rollercoaster Ride" on repeat while you put on your makeup.
23. Cinderella-inspired jewelry
There's no need to wait for a fairy godmother to come along and grant you a magical wish — with the right jewelry, you can feel like a royal princess anytime you want! If you're looking to include some sparkle and fun in your wardrobe, check out these beautiful Cinderella-inspired pieces.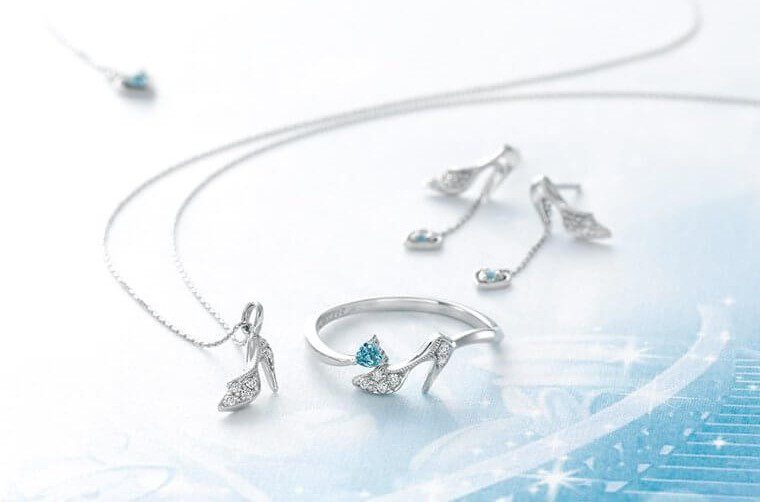 They're perfect for bringing out your inner child — who doesn't love feeling like they can conquer the world, just like Cinderella? No matter which accessory you're looking for, there's something there for everyone. So go ahead and embrace your inner Disney princess — she's worth celebrating!
24. Mickey waffles
Mickey waffles are the perfect breakfast for any Disney lover out there! The Mickey shape is just too cute, and it's easy to make whip them up in your kitchen. This is a fun breakfast for both kids and adults. Preheat your Mickey waffle maker according to the manufacturer's instructions.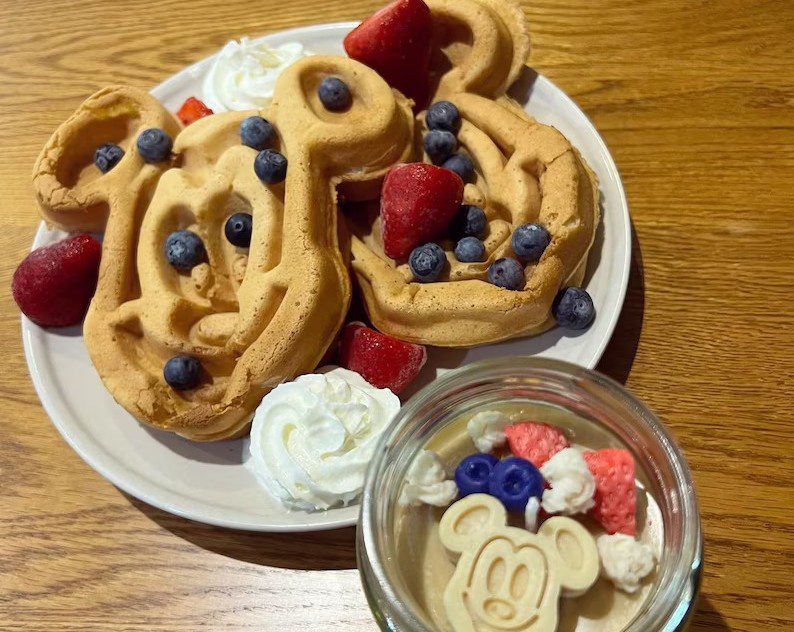 In a bowl, combine 1 cup of all-purpose flour, 1 tablespoon of sugar, 1 teaspoon of baking powder, milk, butter, and a pinch of salt. Stir until everything is well combined. Grease the waffle maker and cook the batter. You'll get cute Mickey waffles that you may serve with cream and syrup.
25. Honey coffee mug
If you're looking for a fun and whimsical coffee mug that celebrates your love of all things Disney, then this Winnie the Pooh honey jar coffee mug is perfect! The nostalgic design will take you back to your childhood days spent watching cartoons with Pooh and his friends.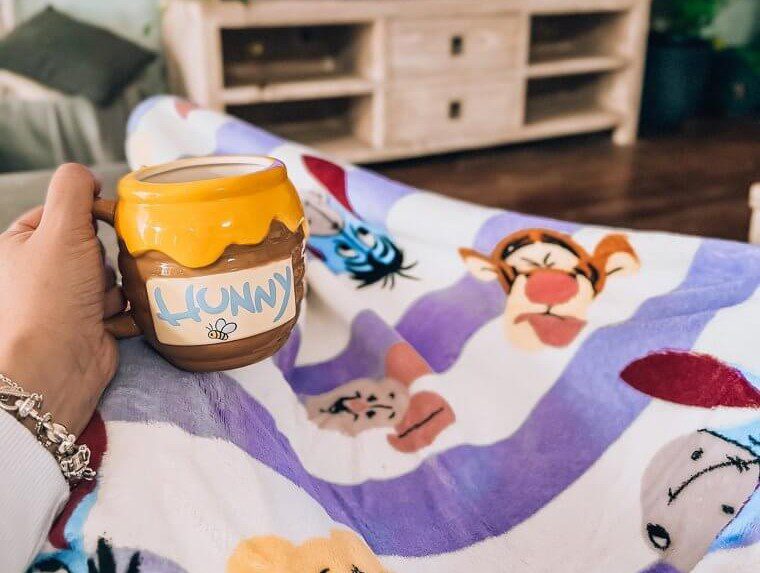 The high-quality ceramic holds up and keeps your company no matter how hectic your day is. And the large size holds just the right amount of your favorite drink, meaning fewer trips to the kitchen for a top-up. So why not add this must-have mug to your collection today?
26. Magical box
Mickey Mouse ears are such an iconic part of Disney culture, and it's fun to have a little piece of that nostalgia with you wherever you go. Go ahead and buy yourself a wooden box to store your Mickey Mouse ears in. You could even decorate the box with your favorite Disney characters.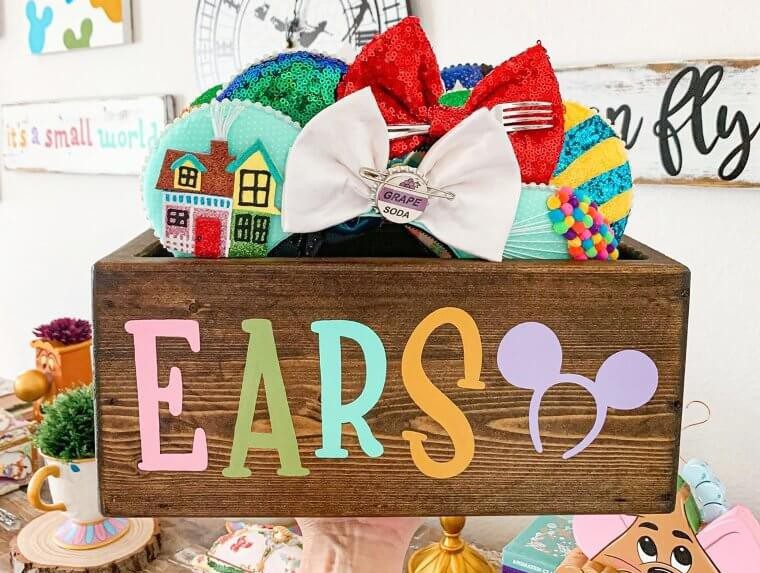 This will bring the magic of Disney into your home. That way, you can keep them safe and sound when they're not being worn, and you'll always know where they are when you need them. Plus, it's a nice way to show off your love for Disney whenever anyone sees your box.
27. Minnie Mouse bookend
What's more fun than having a Minnie Mouse shape bookend to help you keep your books organized and in place? This adorable bookend is the perfect way to add some Disney magic to your reading space. It's also amazing to finally experience all things, Disney.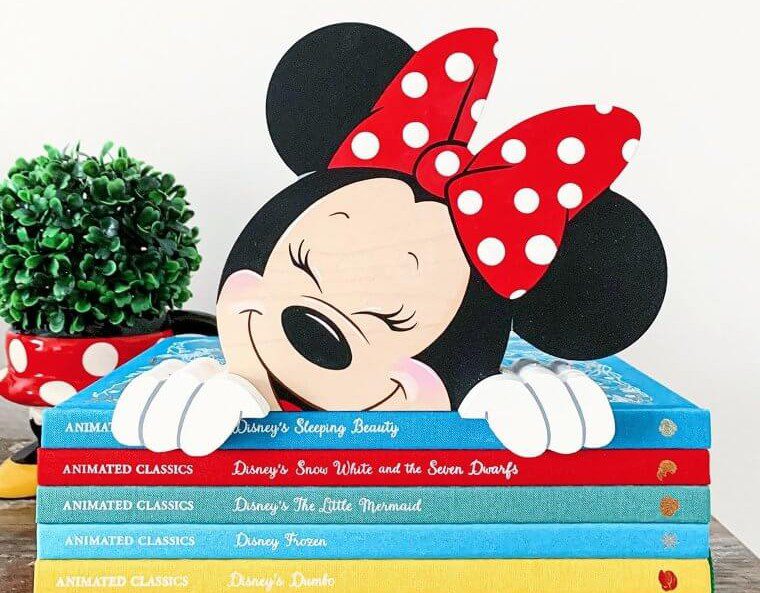 It'll help you remember your playful side and bring a smile to your face every time you look at it. Plus, it can hold up all of your books, so you don't have to worry about them taking up space on your desk.
28. Mickey shower curtains
A Disney bathroom is a dream for many children; however, you may achieve it even as an adult. First, buy a few Mickey shower curtains and bathmats. Don't worry, these are easy to source. Then, remove everything from your bathroom and replace it with Disney-themed decor.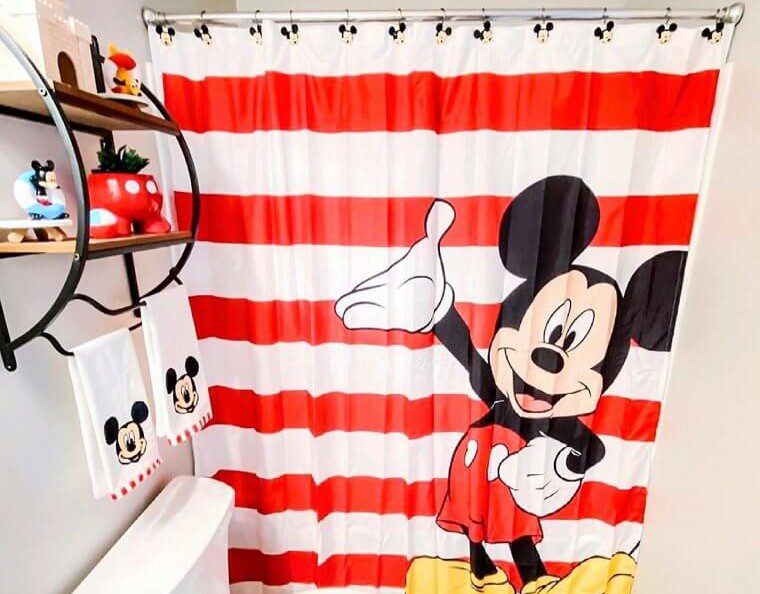 Think along the lines of colorful towels, toothbrush holders, soap dispensers, and baskets. Finally, add in some fun accessories like a Cinderella rug or a Sleeping Beauty towel rack. For a softer look, you should get a dreamy princess shower curtain.
29. Star Wars measuring cups
Those who love cooking know how vital it is to have fun cookware. With such cute Disney baking utensils, you won't dread washing your reusable kitchenware. And with Star Wars measuring cups, you can ensure your ingredients are always perfectly portioned.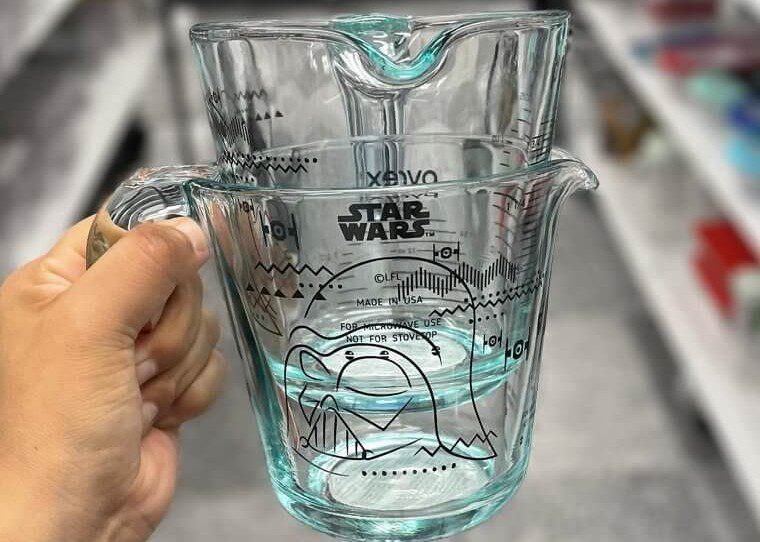 They're sure to make your baking experience more fun — and who knows, maybe they'll even help you make some light sabers out of sugar and flour! For a weekend brunch, you can make pancakes or cakes with a Star Wars theme.
30. Adorable Bambi cup
All the Disney fans remember watching Bambi. The movie explores the life of a baby deer in the forest. Bambi makes friends with Flower and Thumper, and the whole tale is nothing short of an enchanting experience. Now, you can add Bambi plushies and kitchenware to your home.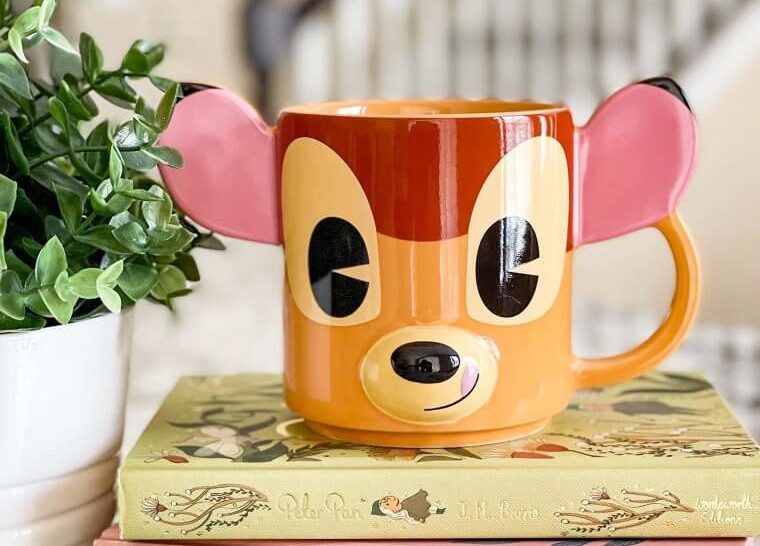 This cup is perfect for the inner Disney child in you. The adorable Bambi design will make your morning coffee or tea extra special. Add this cup to your collection today and bring a little bit of magic into your everyday routine.
31. Tangled planner
If there's one thing the past few years have taught us, it's that we all need a little bit of Disney in our lives. And what more charming way to add some magic to your year than by getting a Tangled-themed planner? The lanterns on the planner will light up your day.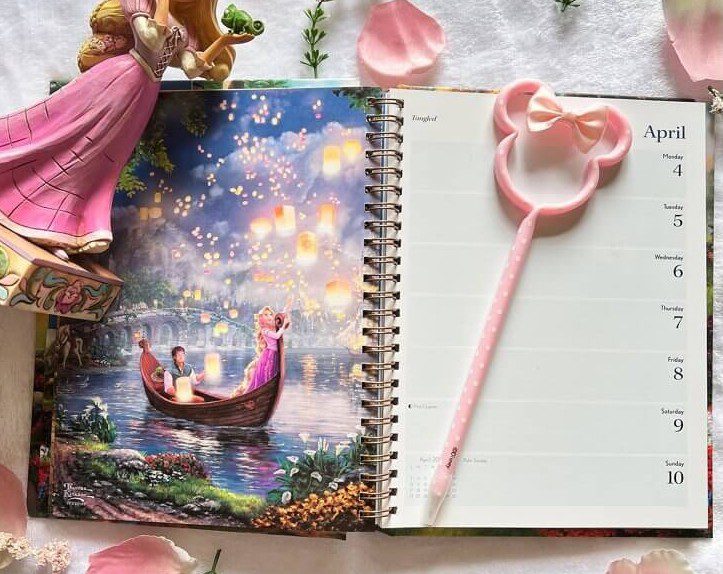 Not only will this planner help you stay on top of your schedule, but it'll also help you keep track of all your important dates and memories. Plus, the adorable design will make you smile every time you check in on your daily tasks.
32. Cute waffle shirts
We all have some Disney magic in us. And what sweeter way to celebrate that than with a fun and playful Mickey Mouse waffle shirt? Whether you're dressing for a day at the theme parks or an afternoon with your friends, this shirt will add some extra flair to your look.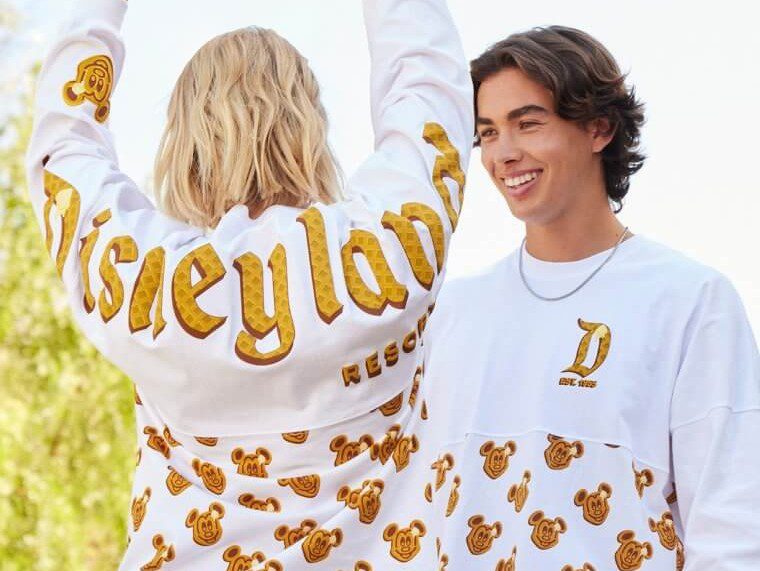 This shirt will make you feel like a kid again with Mickey waffle prints all over it. No matter where you are, you'll get plenty of compliments on your stylish outfit. You'll feel like the source of the Disney magic every time you wear it.
33. Strawberry Mickey ring
This ring is perfect for the Disney fan in you! The cute strawberry Mickey mouse shape ring is perfect for wearing to your favorite Disney theme park or just around town. With its bright design, this ring will turn heads and make you stand out from the rest.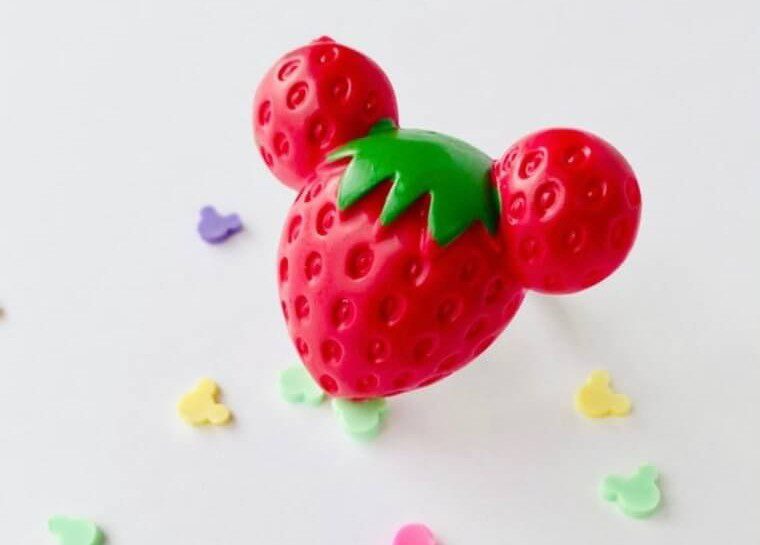 And if you're looking for a unique and special gift for someone who loves Disney, you may check out the Strawberry Mickey Mouse shape ring! You may get strawberry Mickey mouse earrings and necklaces along with the ring. With these accessories, you can add fun to a boring outfit.
34. Cool Disney float
There's no need to feel guilty about indulging your inner Disney child—everyone needs a little magic in their life! Nothing could be more magical than having your own cool Disney float for the pool. This fun, inflatable raft is perfect for kids and adults alike.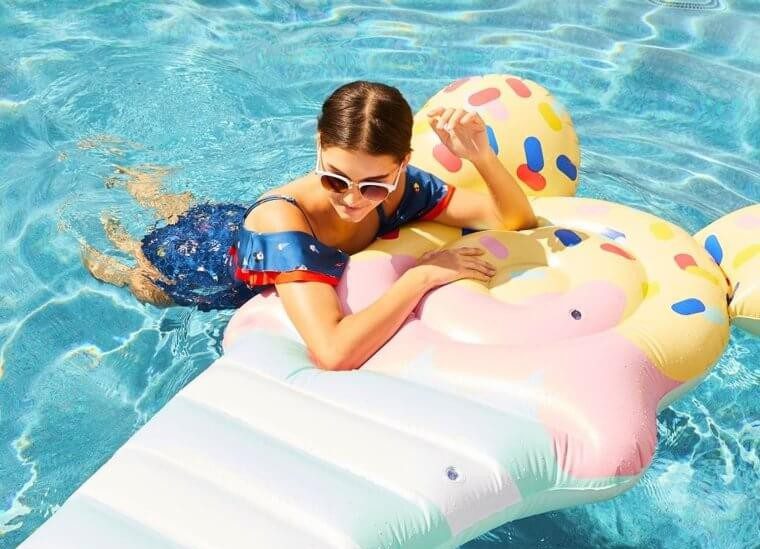 It features a large Mickey Mouse head on the front, with images of other beloved Disney characters all around. It's made from durable vinyl so that it can withstand hours of playtime in the pool. Ready to let your imagination run wild? Order your Disney float today.
35. Pixar dress for summer
A Pixar lamp dress is the perfect way to show your fun and playful side this summer. Whether you're hitting the beach or going out for drinks with friends, this dress is always in style. It's also a great way to show your support for your favorite animation studio!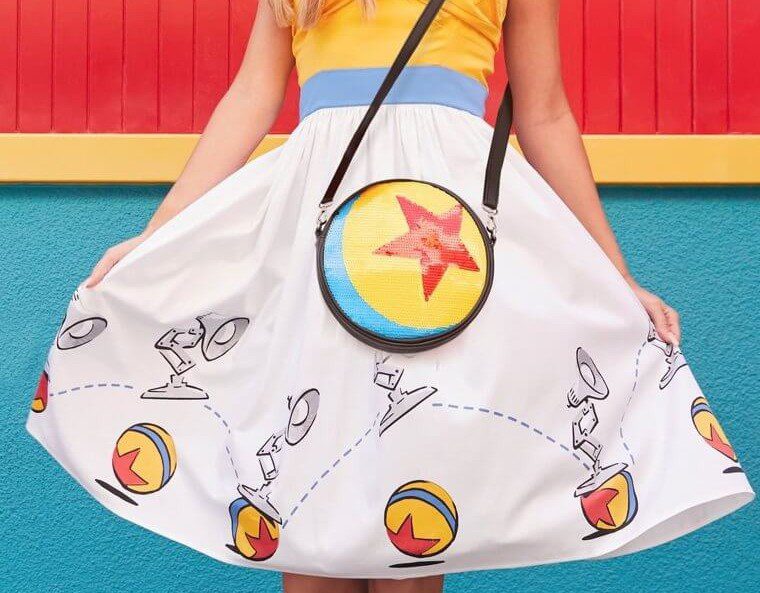 Add one of these cute and quirky dresses to your wardrobe, and let the good times roll. Pick a dress that's big enough to fit comfortably around your waist. Whether you're hitting the beach or just running errands, this dress will make you feel like you're walking in a cartoon world.
36. Christmas ornaments
There's no denying that the inner Disney child in all of us loves decorations that bring to life the magic of Disney movies and characters. And for a truly unforgettable Christmas, what could be better than decking your tree with ornaments straight from the happiest place on Earth?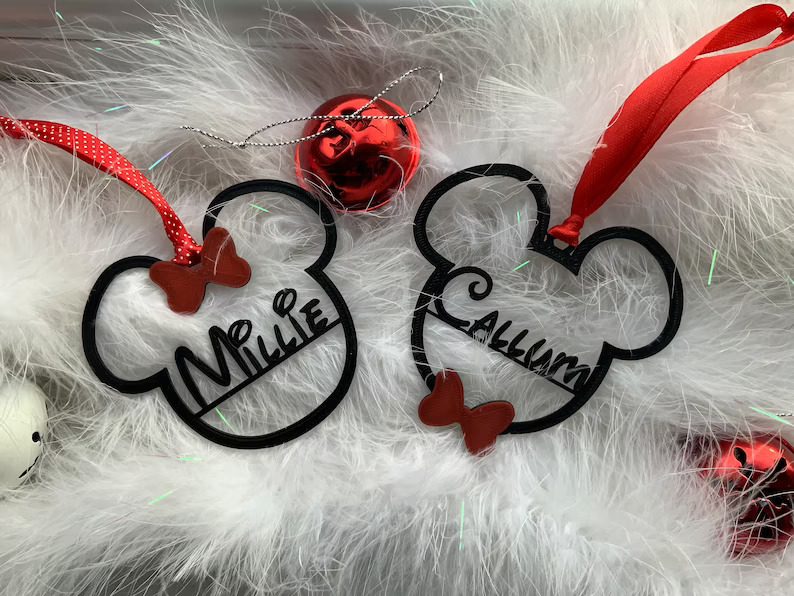 There are so many different types of Disney ornaments to choose from; you're sure to find the perfect setting to capture your favorite movie moment or character. Pick from classic holiday scenes like Mickey Mouse, A Christmas Carol, and The Nutcracker to modern favorites like Frozen and Moana.
37. Metallic wall art
There's no need to hide your inner Disney child anymore! With these metallic wall art prints, you can showcase your love for all things Disney in a fun and stylish way. From classic characters like Mickey Mouse and Snow White to more modern icons like Sven and Pua, there's something for everyone.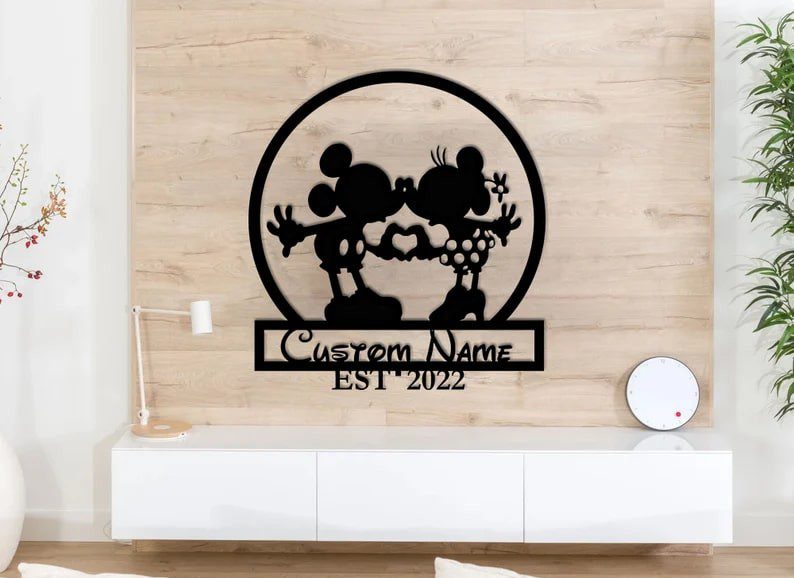 You may also get these metal signs customized. Add your name or combine different Disney characters to make a custom sign for your home. With vibrant colors that shimmer and shine, these metallic prints are sure to add a touch of whimsy to any room.
38. Disney bow
If there's one thing we know to be true, it's that every girl deserves to feel like a princess! So why not break out the Disney bows and let your inner child shine? There's nothing quite like feeling like a little girl again, and with all the different designs and colors of Disney bows, it's easy.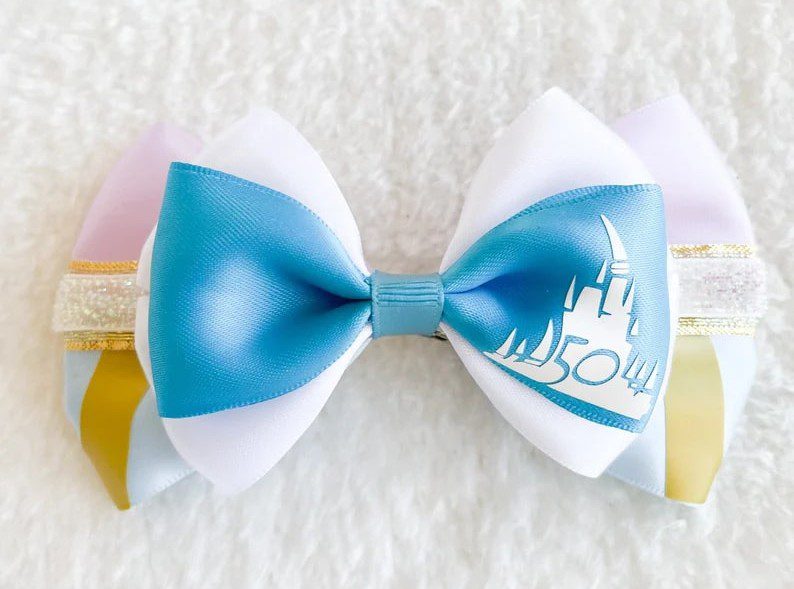 Whether you're dressing up for a special occassion or just want to add a touch of magic to your everyday look, Disney bows are the perfect way to do it. Be sure to wear them with pride — after all, you deserve it! You may even find special anniversary bows for yourself.
39. Princess dress
Have you ever seen those adorable baby Disney Princess dresses? Now you can dress your little one up in one of these precious outfits. There are many different styles and colors to choose from, so you're sure to find the perfect dress for your baby.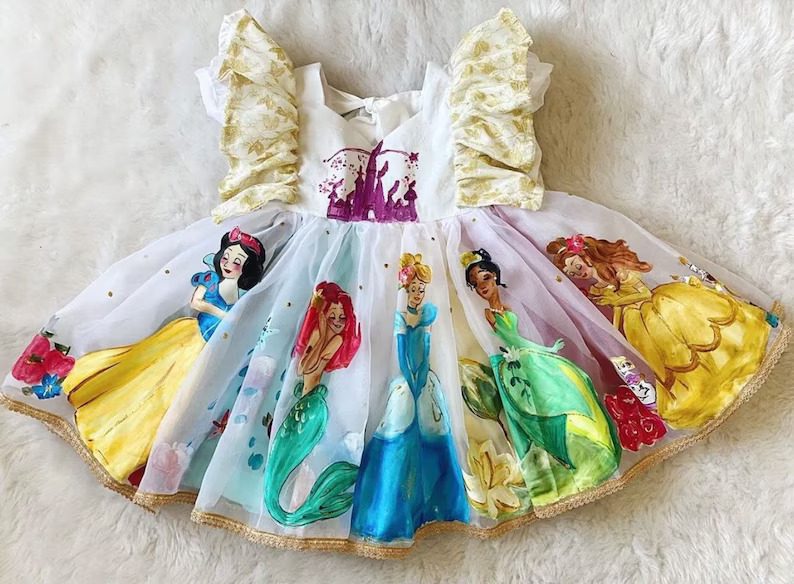 You're sure to locate the perfect dress for your little one, whether she loves Cinderella, Belle, Ariel, or any of the other Disney Princesses. Plus, these outfits make great photo props! So grab one today and let your little one sparkle and shine like a true Disney Princess.
40. Iron or sew-on patch
It's easy to show your love for Disney movies and theme parks by sporting some cool merchandise. You can find cool Disney clothes, accessories, and home decor items. But for the real Disney fans out there, why not go with an iron-on or sew-on patch?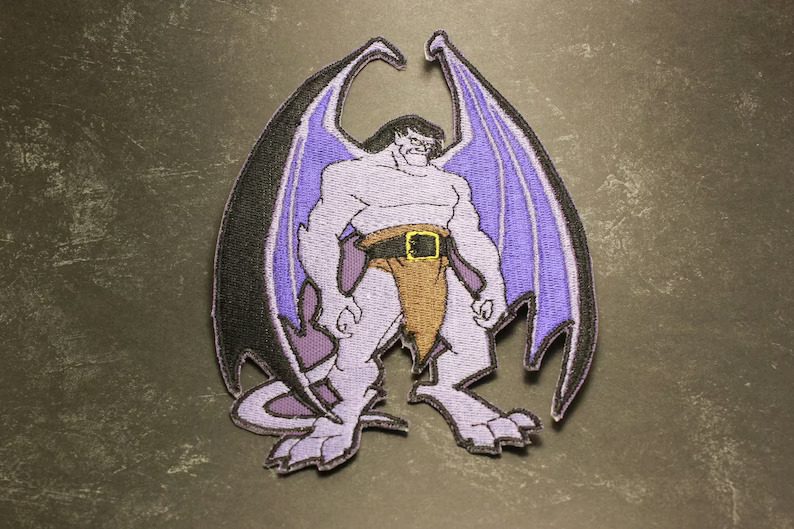 There are several unique designs to pick from, so you can find the perfect one to reflect your personality. And no problem if you're a fan of more than one movie or park! There are plenty of designs that cover all the bases.