40+ Ways To Upgrade A Drab Dorm Room With Pizazz And Personality
By Navkiran K July 3, 2022
---
This article was originally published on
MoreHackz
There are many things that you need to get for college before your move-in day. One of the most important is your dorm room. While it may seem like it's just one space, there are so many things about your new living situation that you don't know yet. Living in a dorm room is tough, especially when you have to optimize a very small space. Besides, it can feel like there are no corners or edges left for all of your belongings, and it's hard not only to find things but also to keep them dust-free and neat. Luckily we're here with some clever ideas that will help turn this little loft into an efficient yet stylish home away from home. These dorm room hacks will suit every new student; they can help with everything from organizing your clothes to making your bed more comfortable. 
1. You Can Make Your Own Charging Station
Technology is great! But it can be arduous to keep track of gadgets. When you are in a hurry, it can be challenging to find space for charging your devices. But nowadays, these devices are essential, especially for note-taking in class.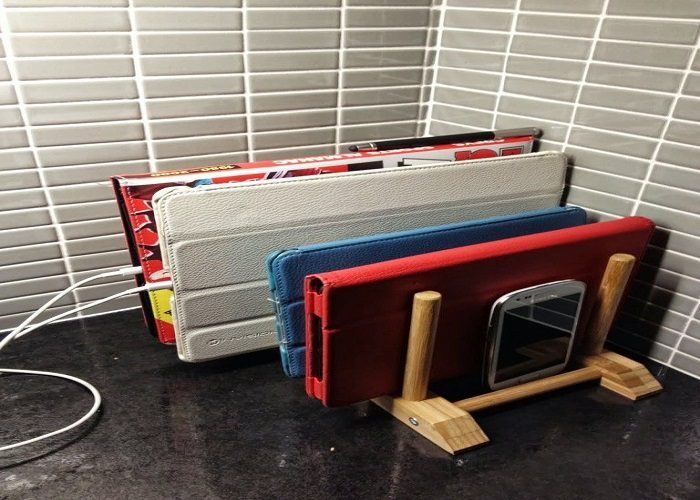 Create your charging station by using one of these DIY ideas to store all your devices in an organized way. They're easy and inexpensive, so buy one for yourself already made or create one of your own with materials from home.
2. Make A Perfect Kitchen Space
Suppose you have a collection of appliances like a coffee machine and mini-fridge cluttering up an already tiny dorm room. There is hope for you yet. Designate another area to be used as your kitchen in your new home away from home.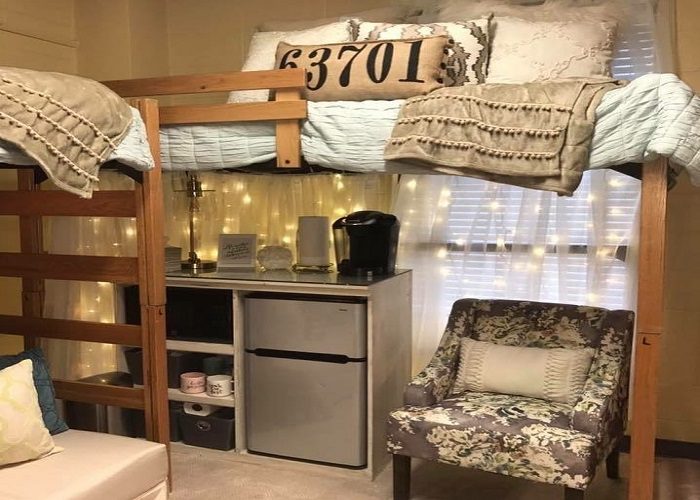 By installing a few of these comforts and putting all sorts of items in the cubbies, you can free up more room by placing appliances on top. Trying to think vertically will allow you to make space for things that would otherwise take up your flooring space.
3. Leave Your Extra Seasonal Stuff Behind
You'll want to pack light. We promise that you do not need to take your entire closet with you. This is because you plan on coming back one way or another, so leave behind all the things that aren't necessary.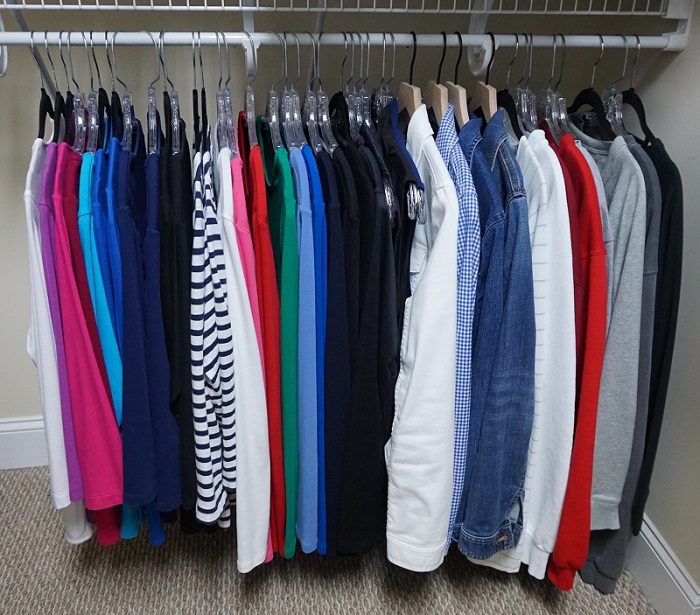 Out-of-season clothes take up space in your room. If you have summer clothes in the winter, or vice versa, it will take up a huge amount of space. If you like something out of season, limit it to one or two things only.
4. Use Binder Clips To Organize Your Wires
In a small room, you have to use the same outlet for everything. There're cords all over, and it gets annoying when they are mixed up on the ground, and you can't find what you're looking for in time for class.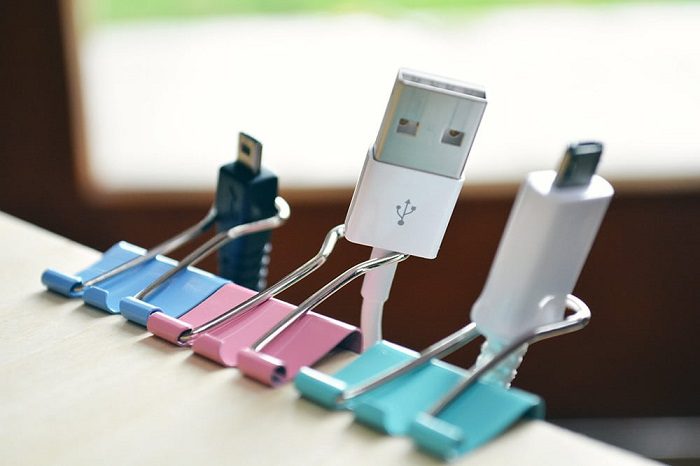 The best way to keep your cords organized is by using binder clips. You can clip them onto the front edge of any desk or table, then slide wires through so they are hanging right in front of you without getting tangled.
5. Get A Waterproof Shower Caddy
A shower caddy is an essential tool for any college student, whether you are sharing the bathroom of your dorm with roommates and even if you're lucky enough to have it all to yourself. This waterproof container can come in handy anytime, anywhere.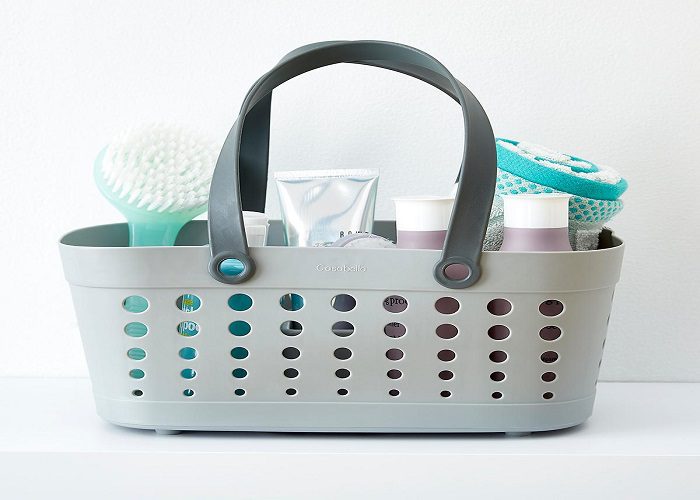 This way, you can store all of your favorite bath essentials in one place and have them at hand whenever the mood or moment strikes. Also, they come in styles ranging from chic to industrial, so they suit everyone's personality perfectly.
6. Maximize Your Under The Bed Storage Space
Putting stuff under your bed is a genius hack for any stage of life, not just in your dorm. All sorts of things can be hidden away in there, and it won't crowd out any other area in your room. Get some shelves that fit underneath your bed frame.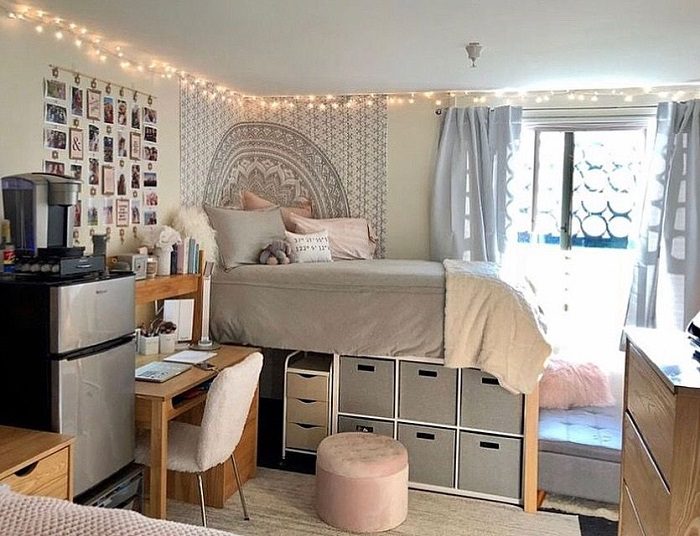 However, if your bed is too close to the ground, there are other ways of using extra space. You can buy items that lift your mattress safely or try this simple trick of placing your bed on top of a cabinet for maximizing limited dorm room opportunities.
7. Purchase A Bunk Bed
Of course, you're going to need a bed. And if it's allowed, then consider getting a bunk bed for yourself. You can turn that space underneath into anything from a kitchen area to the living room and even an office where you write all your papers.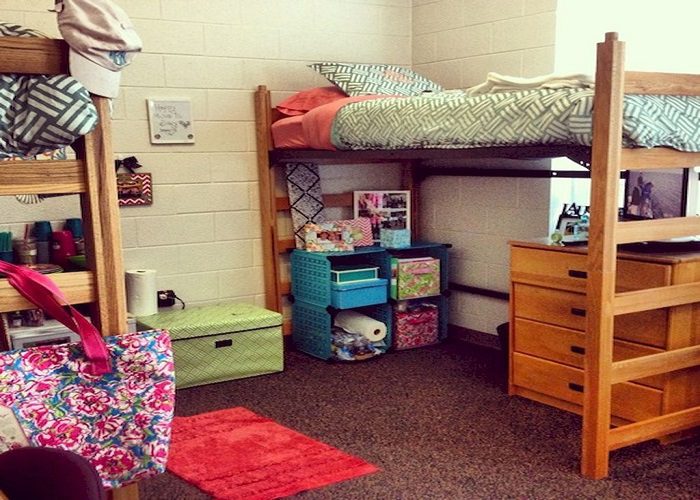 This hack is one of the best because you won't have any other way of utilizing the height of your room. And if you think they're not cool, wait until all your friends see how awesome it looks with extra space for hanging out together.
8. Try Over the Fridge Shelves
You'll never have to fret about rushing out of space in your kitchen with this nifty little solution. The mini-fridge caddy will give you extra space and make those tight corners a thing of the past. Not one square inch wasted!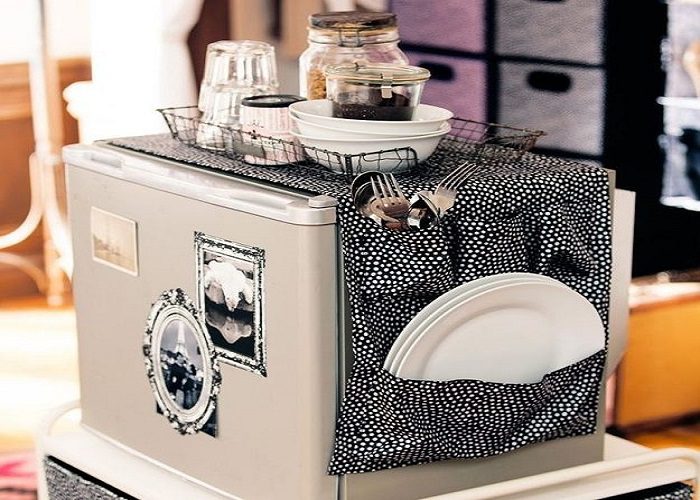 This caddy provides a place to put snacks, plates, and silverware, or whatever you would need that space for. You can give your kitchen a dramatic and stylish makeover with these things. They come in all shapes, colors, and materials.
9. You Can Use Drawer Organizers For Office Supplies
If you have a drawer full of paper clips and pens, it can be hard to find what you need. It is easier if they are organized in some way. You can use the same boxes that you would use in the kitchen.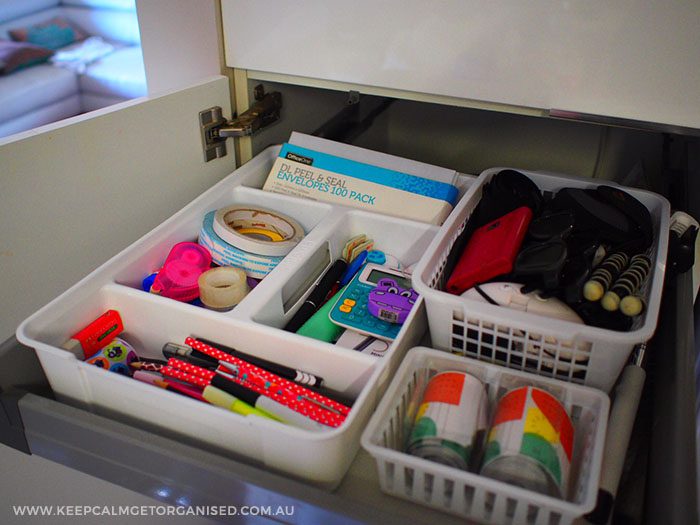 Organization boxes are the perfect way of grouping items. These boxes will give you more vertical space, and they are easy to move around as well. Now you won't have to keep things jumbled together on shelves or in drawers.
10. Have A Bedside Pocket
There's another option, a bedside pocket, for those who like the option of having extra storage but don't want everything underneath their bed and can't stand room clutter. These handy things slip under your mattress and hang off the side.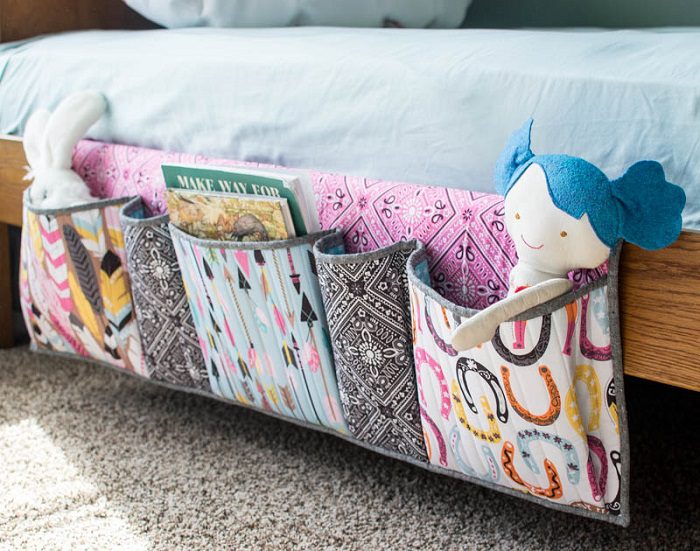 Bedside pockets can hold anything from a remote control to a notebook. You can keep your style consistent since these come in many designs. And another tip, they can also be hung on your couch. You can have as many of these as you can fit.
11. Choose The Right Shelf For Your Entertainment System
If you're looking for the perfect storage solution, then this is it. Not only will your TV stand to look great in any living space, but with a wide range of cubed shelves to choose from, there's also no clutter or wasted space.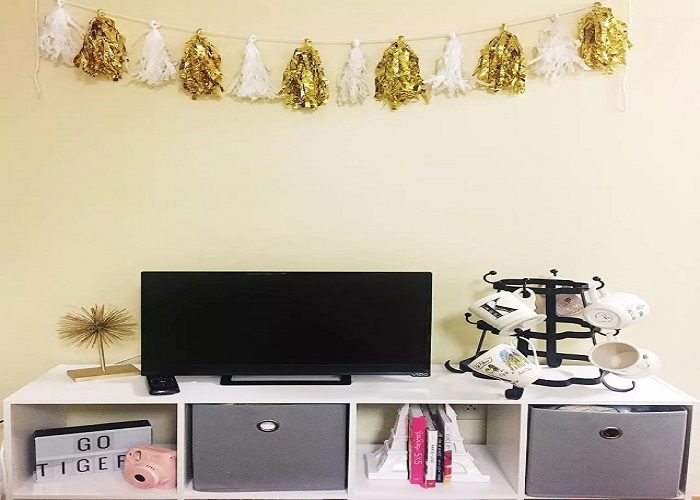 You'll have a place for everything in your room, from DVDs and books to video games. There is also a space on the shelf where you can store all of your decorations to make your dorm room look more attractive.
12. Use A Long Bed Skirt To Cover Up Extra Storage
If you're seeking a way to spiff up your dorm room, try using bed skirts. It's an easy way to hide things under the mattress. You don't need one if you're lazy, but we think it will help your room look cleaner.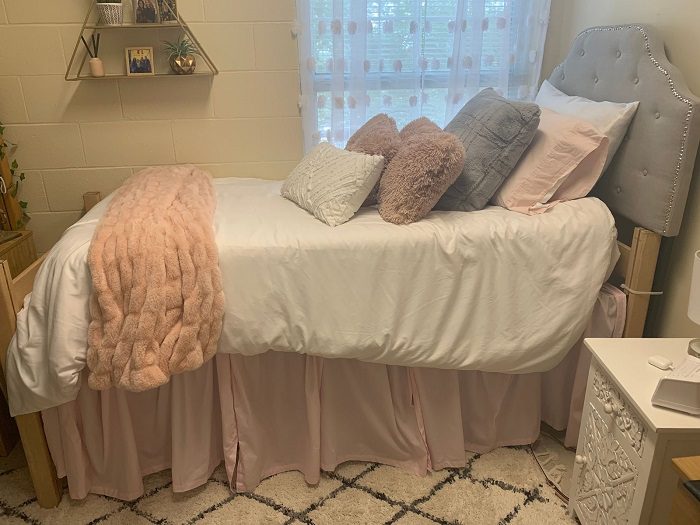 On the other hand, If you like the look of your room with shelves underneath it, then it may be a good idea too. It's up to you, but this dorm room hack will help it look more spacious and empty.
13. Drawer Organizers Are Great To Organize Your Jewellery
When it comes to jewelry, you need a place that will keep all your pretty pieces in check. You'll be happy to know that there are also organizers made just for jewelry. These can be the best to help keep them organized and untangled.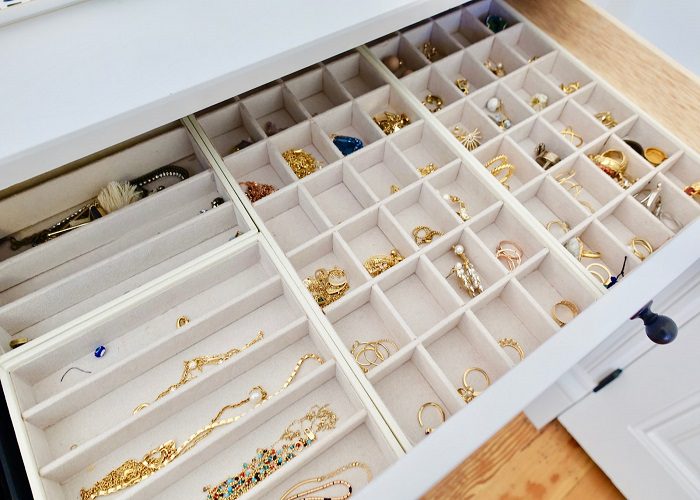 These are good if you have items that are similar in style, color, or shape, as they'll be easier on the eye when looking for what you want. Besides, organizers can help keep your things from getting scattered across drawers and eventually lost.
14. Get Adorable Basket To Store Your Blankets
It's always a fantastic idea to keep your blankets stacked, but they can end up all over the place. If you want them neat and tidy with plenty of space for snuggles, then buy yourself one of these adorable wicker baskets.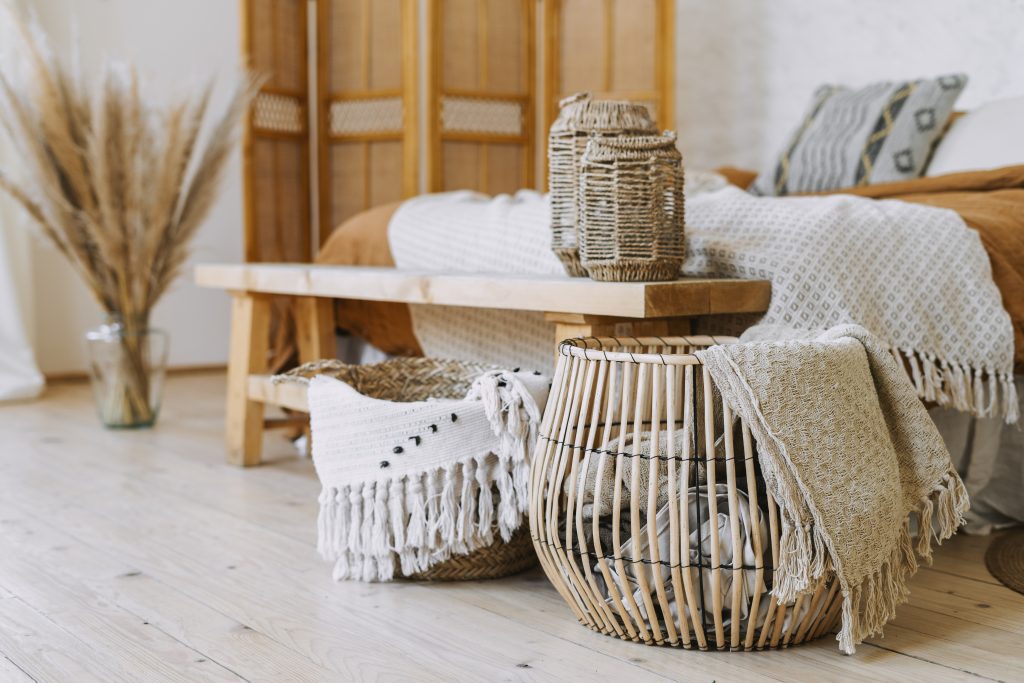 These baskets also look nice and homey. And because these little beauties can be tucked under a chair that you might love sitting in so much, it'll take up even less of the precious floor or closet space you have.
15. Use Shower Curtains To Hang Your Scarves
You can save yourself some storage space by making a DIY hanging scarf rack. All you need is an old dowel or hanger, several screws, and shower curtain rings in any color, but we recommend clear because it goes with everything.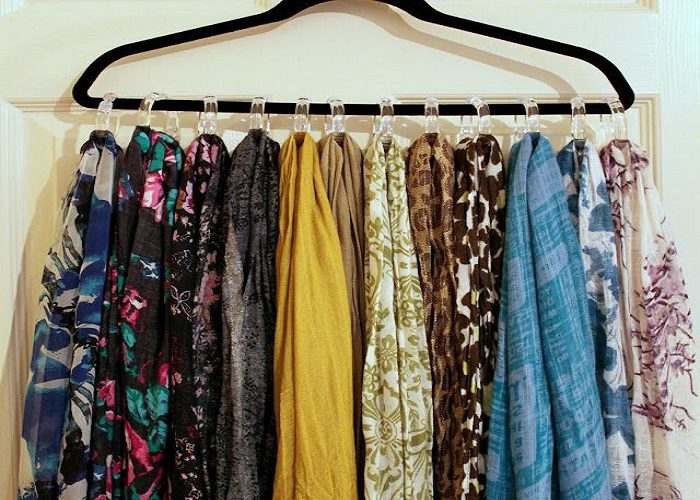 You can drape scarves from the rings to keep them from wrinkling. Make this for yourself and brighten up the space by color-coding them. This project doesn't take very long; it's also pretty cheap and adds personality to any room.
16. Display Your Hat Collection
If you have a ton of hats and no way to stack them, try hanging up some extra bars on the wall or in your closet. It's a great way to decorate your room while showing off all those incredible pieces.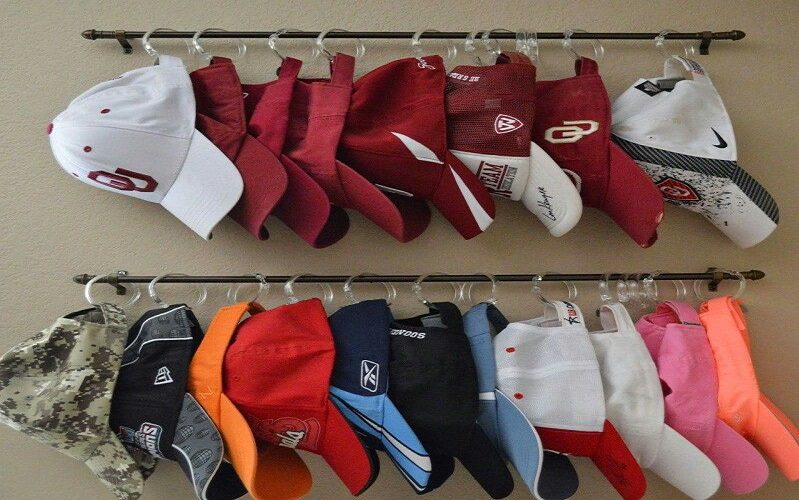 Hanging your hat instead of stacking it up is a great way to keep them from getting ruined or dirty. You can even store them in the wardrobe where nobody will see what's in there if that's more comfortable for you.
17. Buy Over-The-Door Storage Unit
The bathroom and front door are your best spaces to hang things. This means no more jackets and towels taking up valuable space in your front or back door. Instead, invest in some metal hangers that you can hang on your door.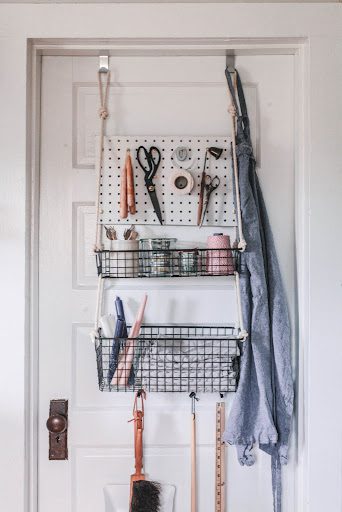 These metal hangers with hooks can hold anything securely, so you will always know where they are. They're also great for storing keys or other small items. This way, your stuff will always be close by, visible, and easily accessible.
18. Utilize The Space Above You
You might think you used up all of the space in your dorm with furniture and decorations, but what if we told you there is still so much more that could be done? If you mount shelves, you can make space above your bed.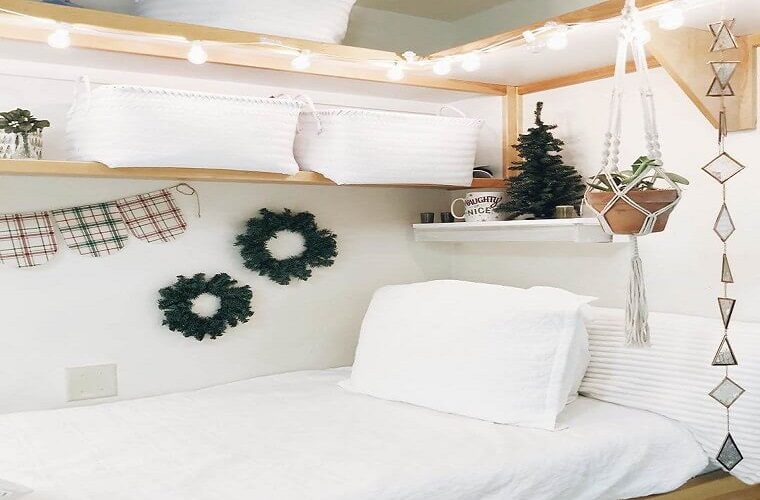 You can store anything you need in your bedroom, including extra blankets and sheets. If you're worried that it'll make the room feel cramped, don't worry. This storage idea is perfect for making it an architecturally efficient place as well, depending on where you hang them.
19. Hang Your Jewelry On Wall Like A Decoration
Are you having trouble liking the idea of putting your jewelry in a drawer? Try putting it on the wall. There are plenty of decorative wall hangings available for this purpose, and they make great accents. Many people have tried this idea and will never go back.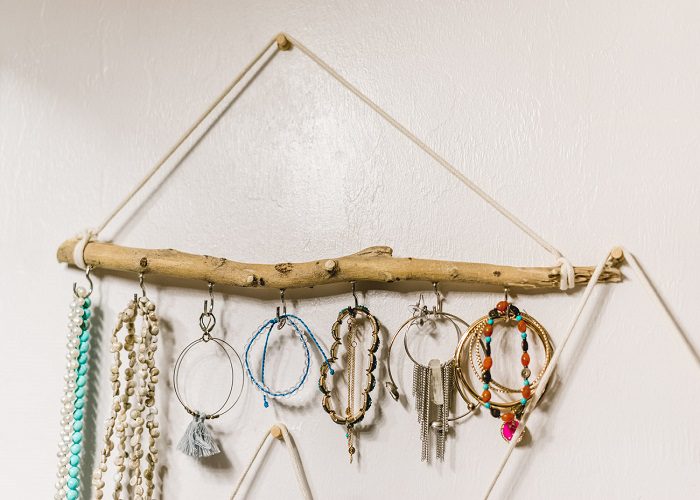 You can use this hack to spruce up your room when you have no other embellishments. There are so many options that it's guaranteed to fit whatever statement. The great thing is this is super easy to make if you're strapped for cash.
20. Adhesive Hooks For Everything!
You know those hooks with the adhesive sticker on them that you see everywhere? Well, they're pretty handy. You can stick them in any position and take them down when needed without damaging the wall or making unnecessary work for yourself.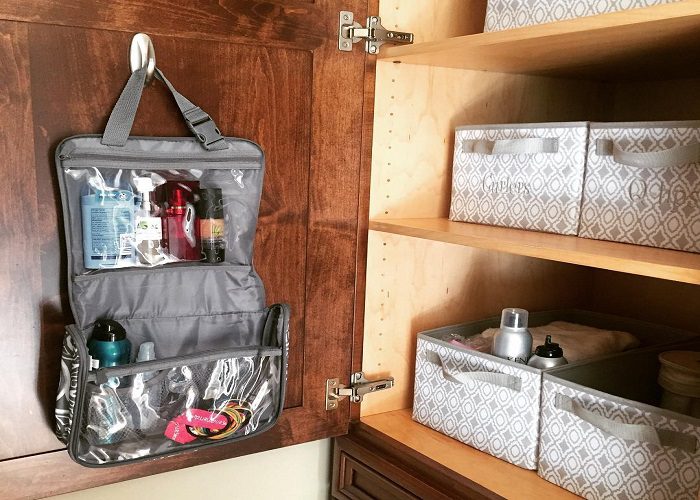 Some of these hooks are reusable. Anything you have that is hangable can be stored with something like this. You can find super clever spaces in your house to use these hooks, even places like the door of your medicine cabinet.
21. Get Stackable Shelves
We know you love to maximize every bit of your space. Why not buy yourself some shelves or storage? They'll help stash things up against a wall without taking much floor room, and they can be tucked away nicely in corners.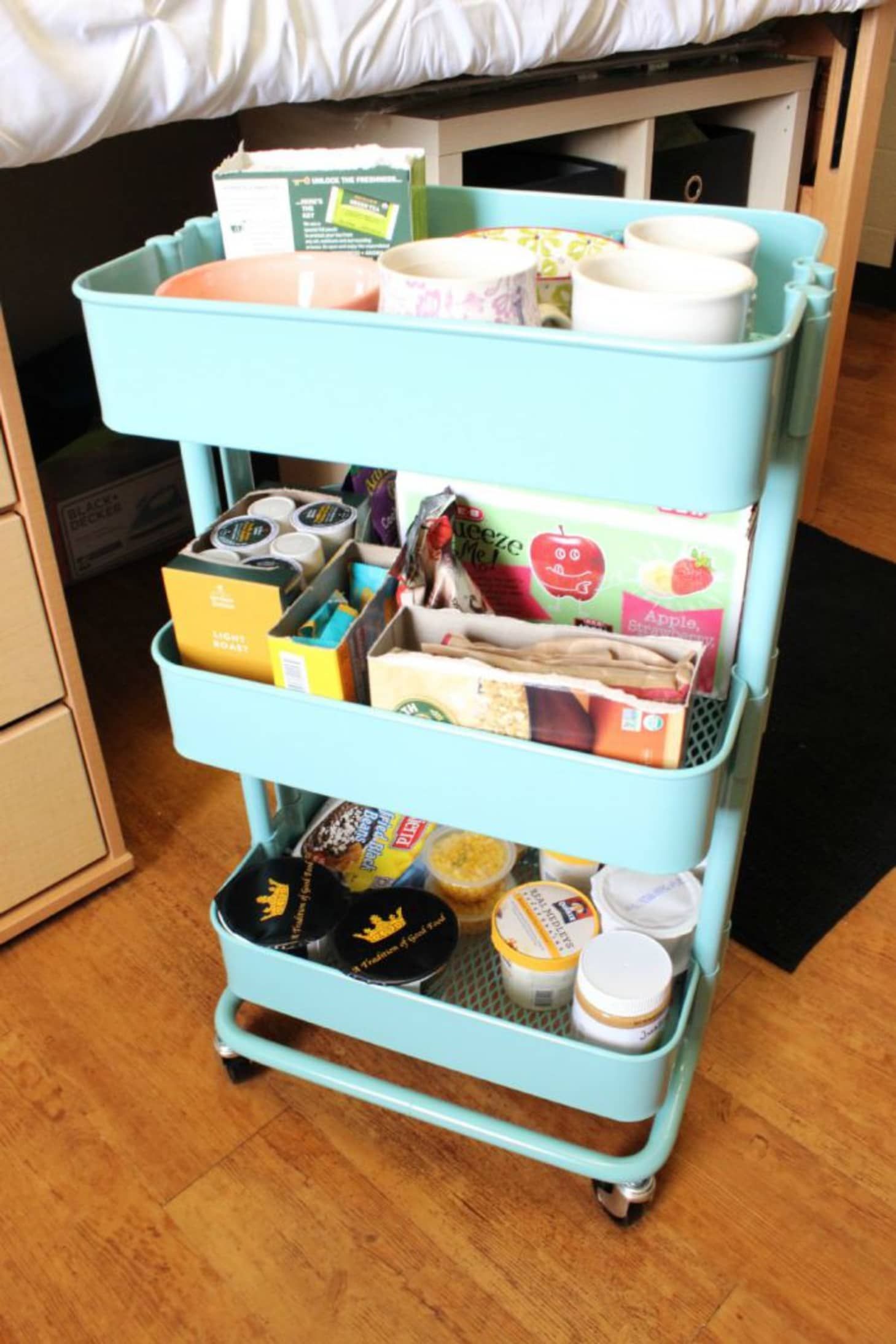 They are available in all kinds of colors and materials, from white metal to polka-dotted plastic. If you have been looking for space, this is what you need. This hack will make your dorm room look put together and bigger simultaneously.
22. Invest In Some Magic Hangers
If you are looking to give your closets a serious upgrade, look no further than these as-seen-on-TV magic hangers. These will make the most fantastic storage space expansions you have ever seen; they're durable and can hold all your chunky sweaters too.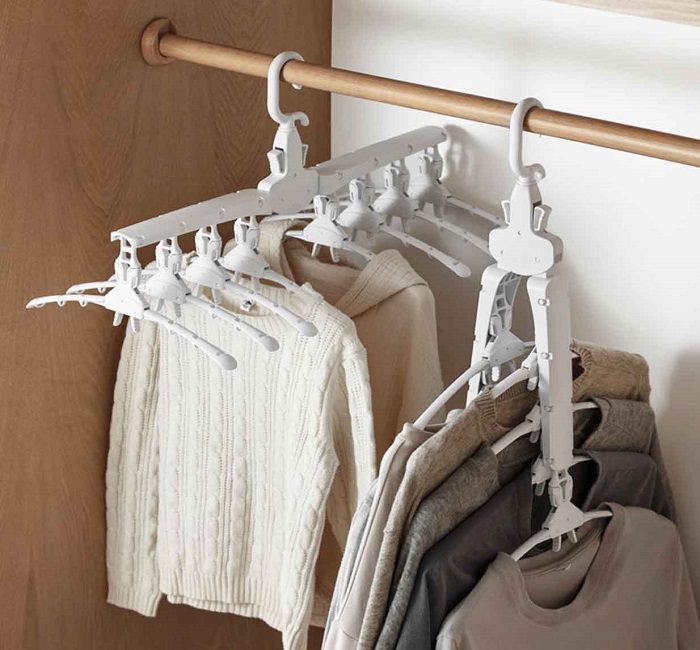 When mounted on the rack, these hangers allow you to hang multiple pieces of clothing and then unhook one side. Once this happens, it folds all your clothes onto themselves, giving more room in your closet. Don't they look amazing?
23. Store Your Favorite Makeup Using A Magnet Board
The best way to put your makeup is right in front of you. Instead of using drawers, hang them on a magnet board and keep the access nearby. You'll never have trouble finding the makeup again; it's fashionable and functional.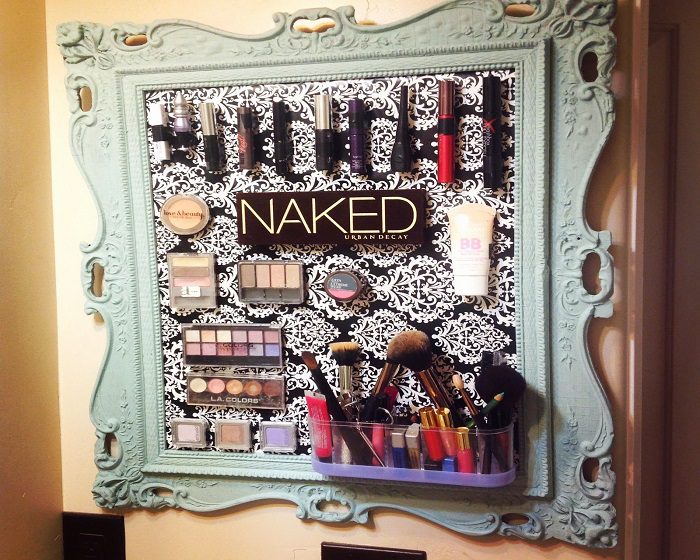 Whether that be cotton pads, Q-tips, or even your brush collection, it's a great way to use up all that wall space you have. Ensure to put strong magnets on the back of your eye shadow so they don't fall and break.
24. Put Mini-Stack Shelves Under Your Sink
The space under your sink is a lot more versatile than you think. It can hold all the toiletries and cleaning supplies you need to keep your room tidy. However, there isn't enough room there due to piping running from top-to-bottom.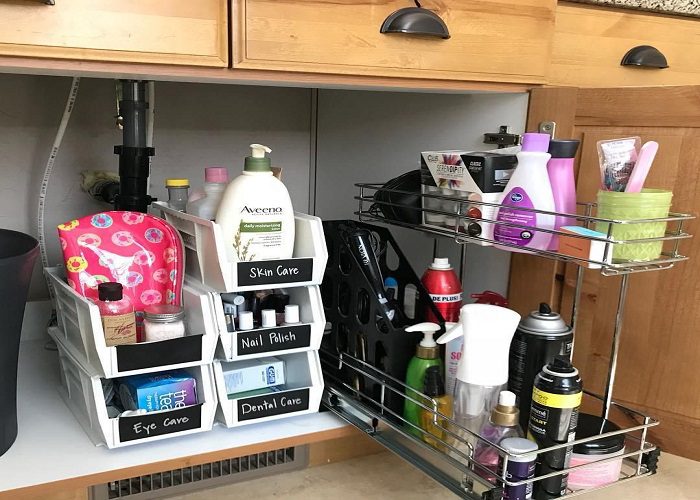 Mini stacking shelves are a great way to make use of that space under your sink. They're sturdy and can create an entire extra shelf. Or you could get one with slide-out baskets like the one shown in the image above.
25. Boxes, Boxes, And More Boxes!
Boxes are the best way to store things because they're stackable and this can make getting around your dorm easier. You can put anything on top of one another without any hassle, which makes organizing all your essentials and non-essesntials super easy.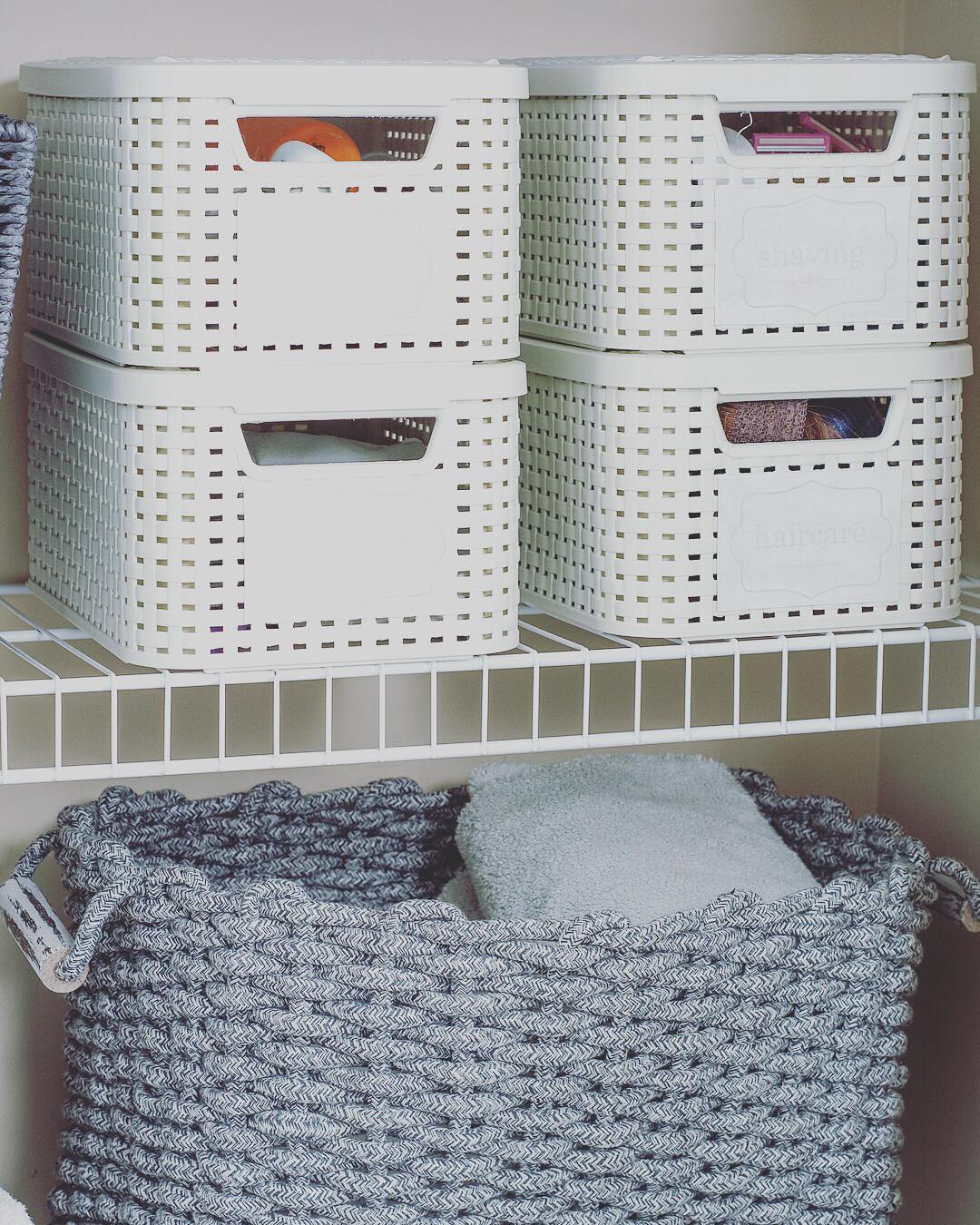 Also, boxes are amazing to help maintain your closet space; the more of the same kind of box you have, the easier it gets. It makes everything accessible because nothing will stop you from getting to them if you place them correctly.
26. Purchase Desk Hutch To Increase The Desk Size
The desk hutch is the answer to all of your office space woes. You can find desks in different shapes and sizes. They can fit with any style. And it gives you space to work on top of your desk without moving anything.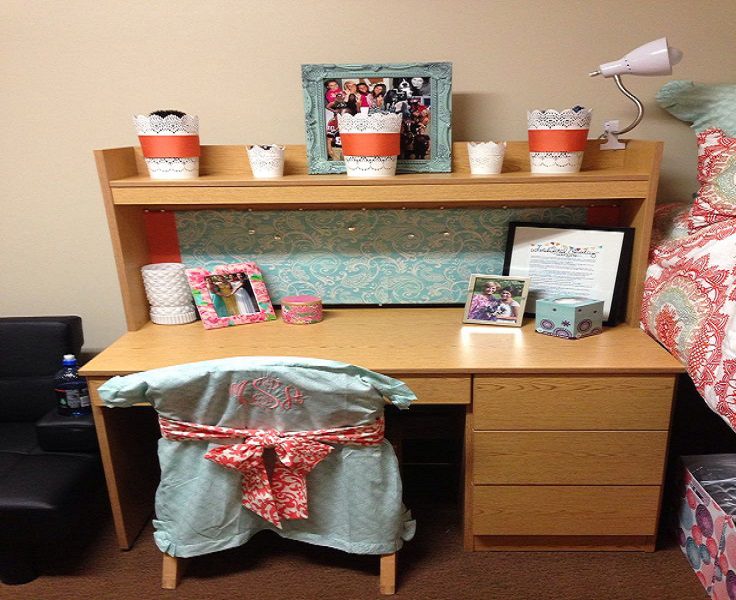 Moreover, you can make a space as individual and creative as you are with this desk hutch. We recommend getting one, like, right now for storage or decoration because this kind of cabinet is the perfect addition to any dorm room.
27. Make Under Desk Storage With Ottomans
Why not consider using your chair as additional storage space? Well, there are many options for that. Some boxes can double as ottomans and sitting areas. If you want to use all those legroom under your desk, then we suggest getting one or two.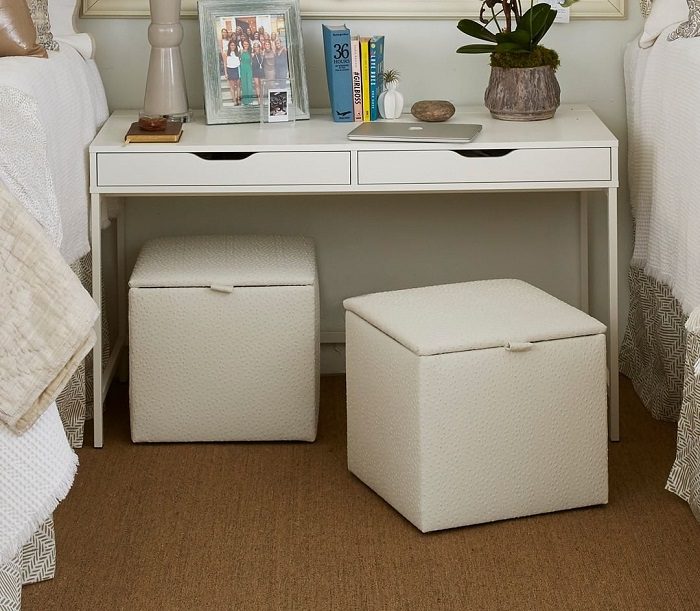 The best part? You can store everything from your class textbooks to homework binders and even have space for sitting down. If you want more than just chairs with backrests, some are specially designed, so they function as storage too.
28. Make Clip Lights Your Best Friends
Want to save space on your desk? We've got the answer! If you go with clip lights instead of a traditional lamp, there will be plenty of space left on your outlet. Also, there'll be no need for additional power cords all over the room.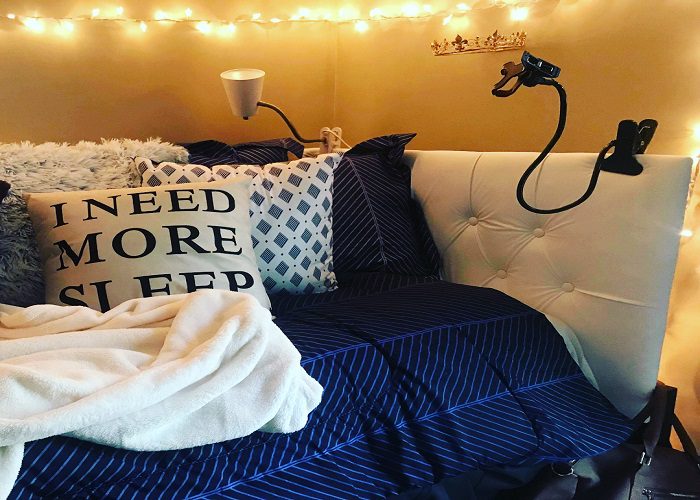 These lights are a great way to add some ambiance and style to your small space. Plus, they come with adjustable necks so that you always have optimal light, even if it is from a shelf or another high-up area.
29. Utilize Binders and Magazine Holders
A three-hole punch is actually a pretty helpful thing. If you can't find space for all of the papers you get from your profs and folders aren't cutting it. We suggest using these binders to keep them neatly stored on your bookshelf.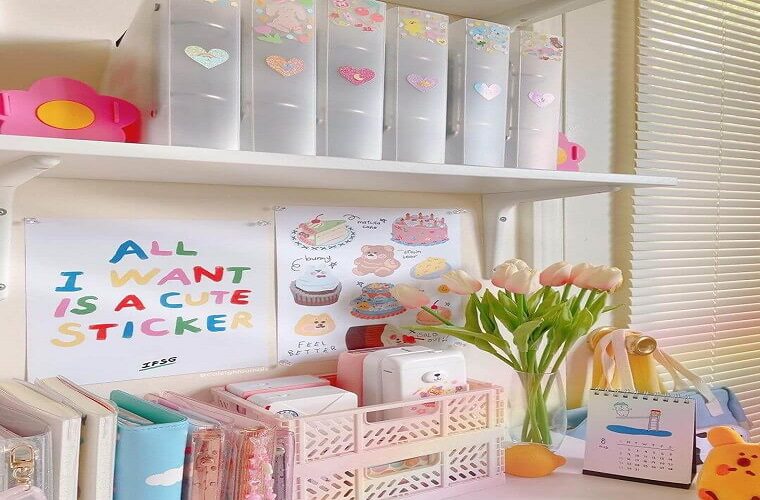 Magazine holders are excellent to store all of those folders you have in your room. You can use them for new storage options, and they're also great to repurpose items that would otherwise just sit around taking up space.
30. Invest In Hanging Storage Units
You can make a lot of space in your dorm room by using the closet to hang up some shelving units. It's an easy way to be able to stash more stuff without taking up any extra space that may already be limited.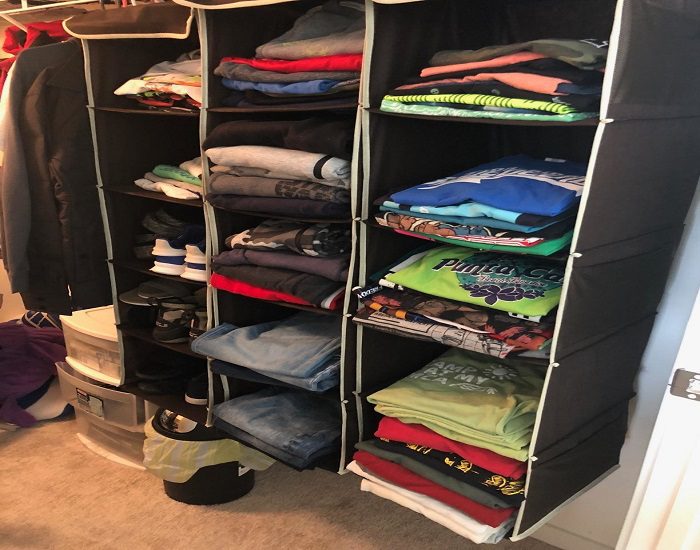 There are ones for shoes, cubbies to hold t-shirts and pants, and there's even an expensive one that creates a second space for more clothes. Plus, they have the added bonus of hanging from the door to avoid wasting any shelving or wall space.
31. Use A Cork Board Or Whiteboard
Adding some customized pizazz to your room can be done in many ways, but if you have a dry-erase board, it's the best way. Boards are perfect for drawing all kinds of things and replacing them later without any hassle.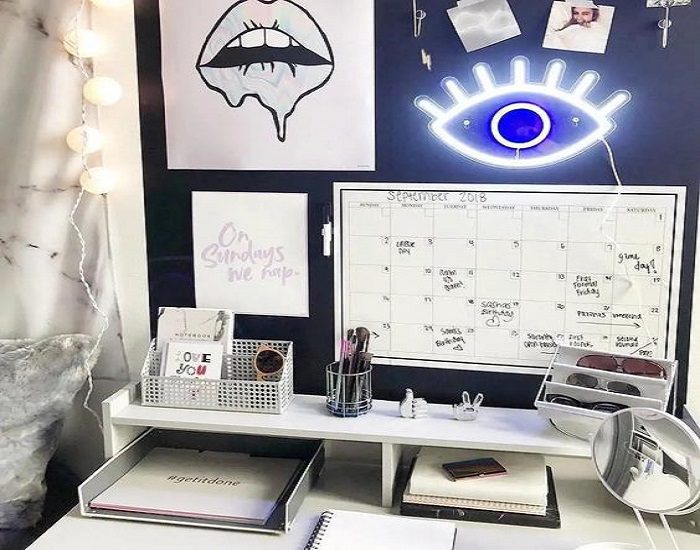 Corkboards provide another great option because they allow you to hang up anything created on paper, so you can even use your favorite pictures within these spaces to decorate. We actually suggest some mix of both for the most desirable effect.
32. Repurpose Your Mason Jars
The world is a greater place when we recycle. We can use jars for many different things, not just for drinking coffee and tea. For example, make art projects and other crafts that will really add some flair to your room.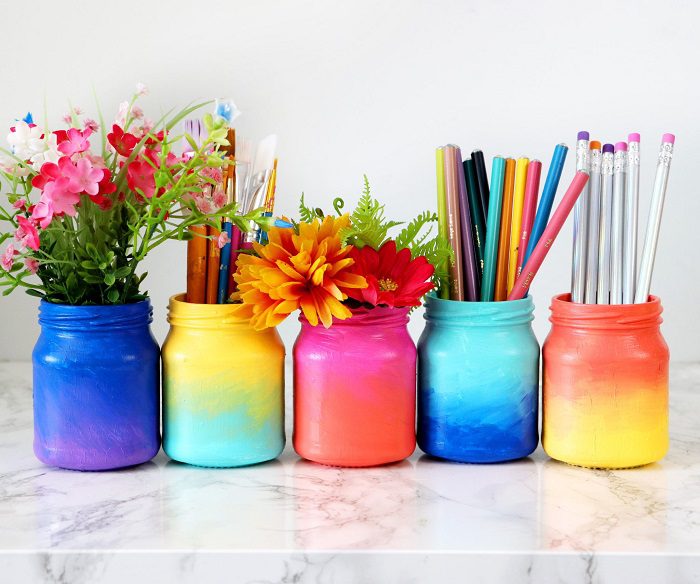 Additionally, you can also use mason jars to store food or your office supplies. They are useful in many ways. You can adorn your dorm room with them. Also, because they are made of glass, they help the Earth too.
33. Buy Furniture That Can Go Against The Wall
You can only get the most out of your dorm room if you are getting the most out of every square inch. To do that, get the furniture that goes up against a wall and takes up the least amount of space possible.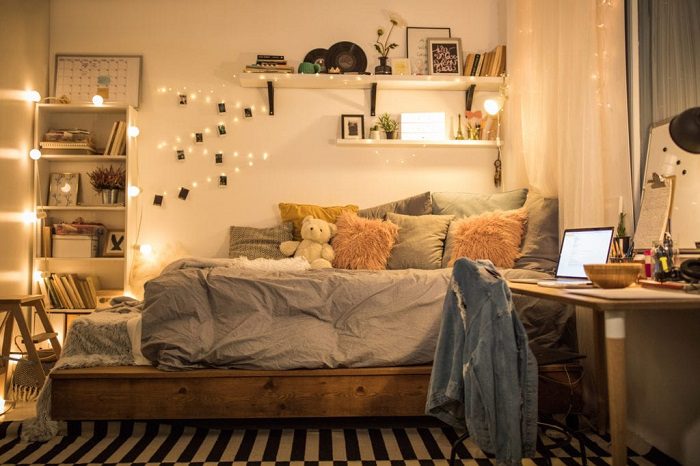 You can save space by not having chairs in the room. Additionally, use fairy lights to brighten up the room instead of a floor lamp. Also, if you have plenty of space, you can decorate it the way you want.
34. Invest In A Full-Length Mirror Storage
You need a mirror, don't you? If so, then why not spend your limited money on one with extra storage space built into it? They come in different heights and are super handy when you're low on wall or floor real estate.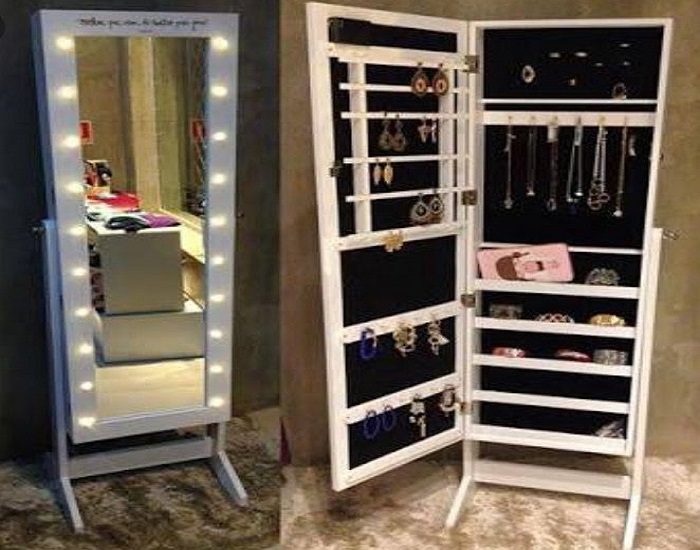 Also, with these full-length mirrors, you are really getting your money's worth. If you are going to get a mirror anyway, these mirrors cost about the same as most others. So we think it is worth getting one of these instead.
35. Roll Up Your Clothes To Free Dresser Space
Rolling up your clothes can be a great way to save that precious space. It can be more convenient when you have a rounded dresser because folding them makes them boxy, whereas rolling is able to fit around curves much easier.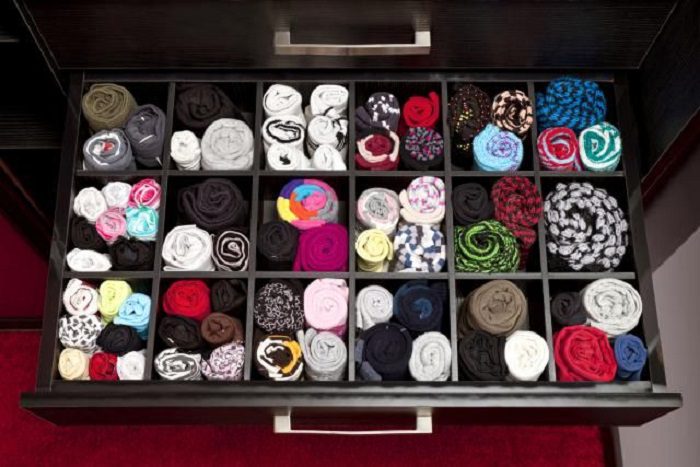 Additionally, if you roll up your clothes, you can fit more of them in your drawer. It all depends on what kind of clothes you're rolling up. Try it a few times before deciding how best to organize according to your preferences.
36. You Can Use A Wine Rack For Water Bottles
Store your favorite drinks in style with this easy-to-install wine rack. In order to stay ready for class, it's a good idea if you have accessible kitchen space in your dorm room. You can keep bottled drinks handy by storing them on small wine racks.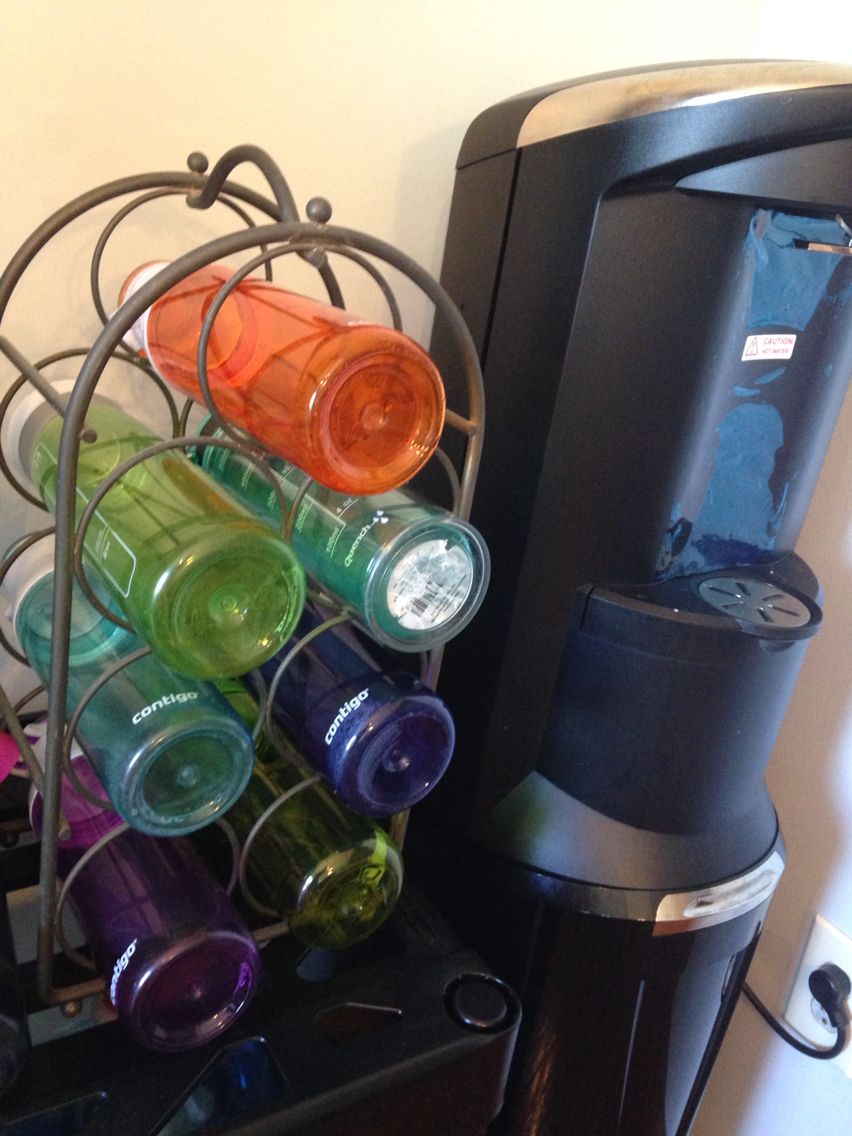 Additionally, it can be placed on either a desk or bedside table, the perfect spot for grabbing one before class. This fantastic hack will help you stay hydrated and happy during those long hours of studying. It's also good if you like to have guests over.
37. Get Creative With Your Reminders
Sticky notes are great until they overwhelm your bulletin board. There are many ways to use sticky notes, but if there's not enough space for all the information on your board, then you may want to consider using an alternative.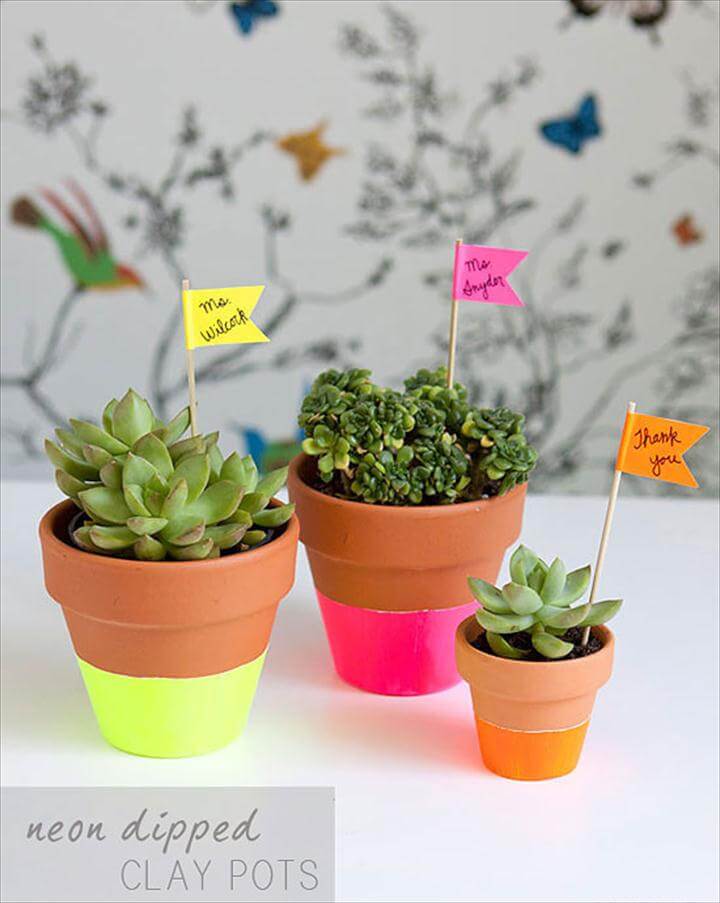 If you're looking to make a statement with your desk decor, then why not use colorful plastic cocktail sticks? Stick them in a small plant with your note on top of it, keeping the essential memo front and center at all times.
38. Make Your Dorm Room Smell Better With This Hack
Almost every dorm bans candles, and some don't allow wax melt warmers to help kids combat the problem of odors. In fact, there are usually restrictions on many things when it comes to filling your new room, but not with these two items.
The easiest and most cost-effective way to make a room smell good is simply by sticking a dryer sheet on top of your fan with paper clips or tape. This will cause the fragrance to circulate throughout, making it smell great in no time.
39. Plush Pillows
We all know just how much a few throw pillows and colorful cushions can do for your room. They add texture, color, and sassiness to any space. You could have lots of fun playing around with different designs, styles, and patterns.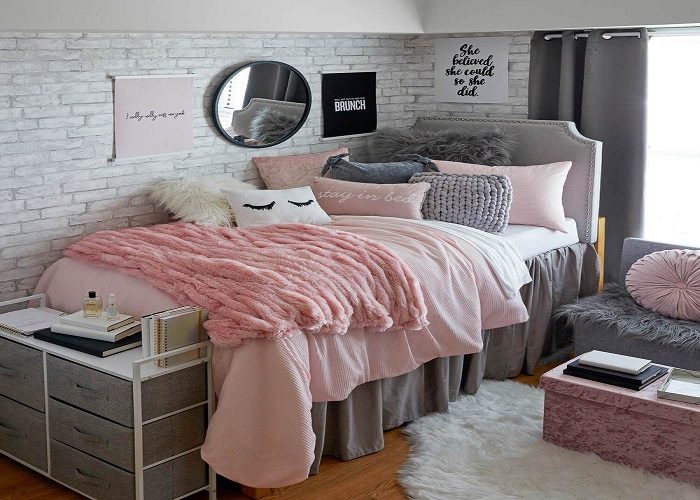 These little accessories are an excellent way to add some color and personality to your new temporary home. A few brightly patterned plush pillows can change the entire vibe of a space, making it cozy without being too extra.
40. Hang Tapestry On Wall
When you want to bring a calming presence into your dorm room, there's no better way than with the perfect tapestry. This floral design will cover up all those drab walls in one go and make your space look like something extraordinary.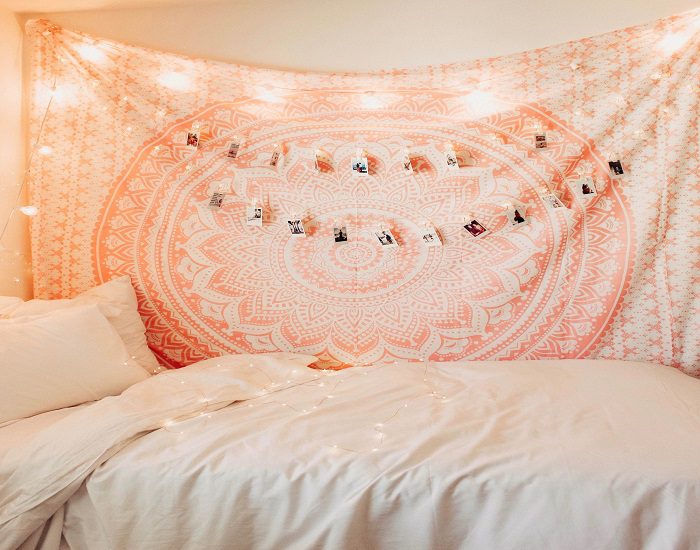 In addition, it's like a tangible breeze wafting behind your bed. Tapestries are also great if you want to create that boho-chic look in the room. Pair it with some colorful pillows, and voila, you will feel right at home for the semester.
41. Get a Stool That Doubles Up As Storage
We know we have covered a couple of ways to maximize storage in dorm rooms, but we have another bonus one for you. Stools that also double up as storage are quite useful since you can use them to keep things that don't fit anywhere else.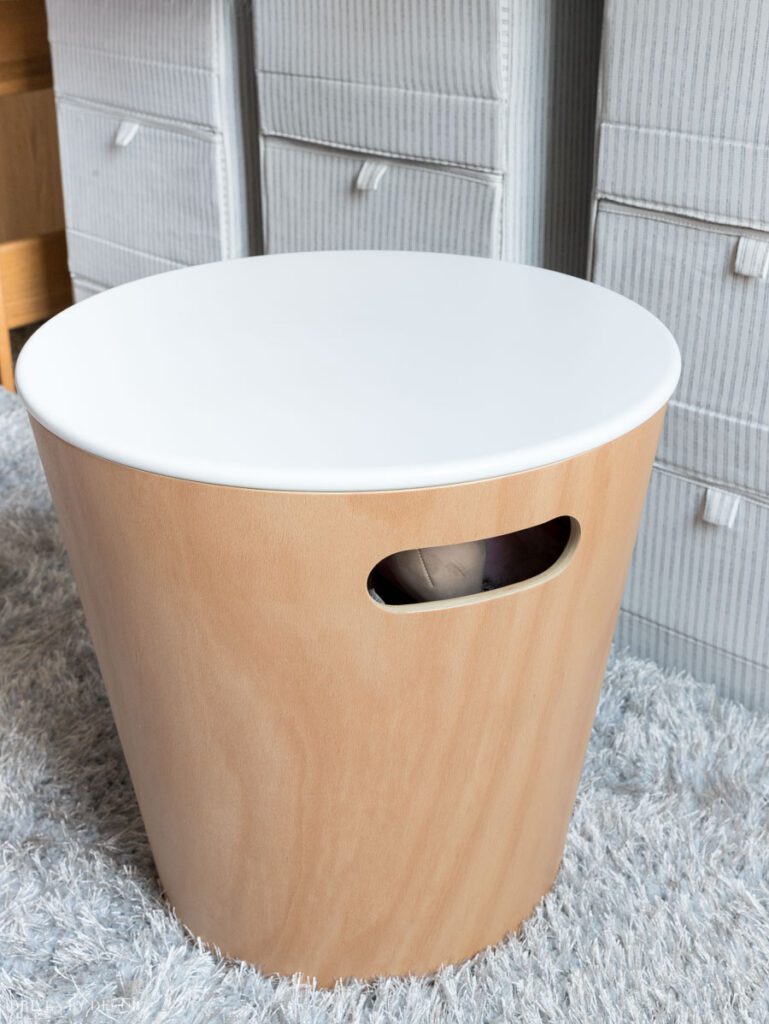 This hack is especially beneficial if you decided to loft your bed since you'll need something to step on to get on it. Additionally, it can be used as a place to sit when you're hanging out with your friends. Just remember to pick one that matches the theme you picked for your room!