Uncommon Architectural Designs That Left Us Asking, "Who Drew Up The Plans?"
By Jhoana C June 29, 2021
---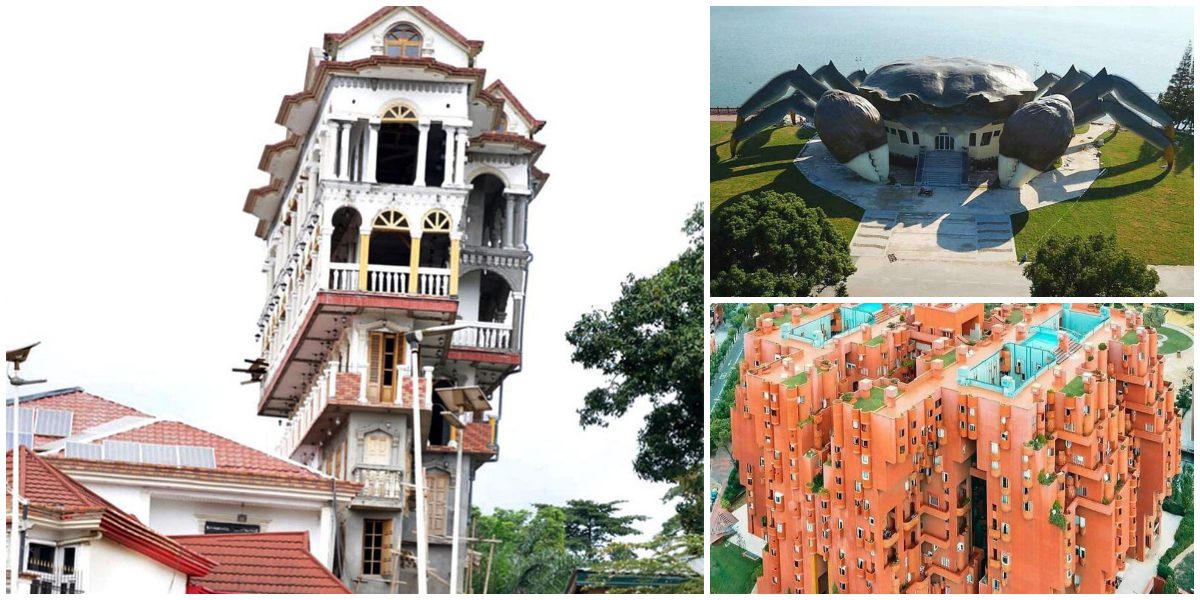 People who are into art, design, and style have a reputation for being a little bit weird and funky, but thank goodness for their creative minds, otherwise, we'd be living in a boring world. Architects come up with the most unusual designs for buildings and homes. The designs they come up with either leave us in awe or scratching our heads. Sometimes, we get the notion that architects just want to stun people. Sometimes, we think they forget to consider the usefulness of the space, and the comfort of the individuals who are supposed to live or use the structures. Would you rather have a magnificent building that doesn't make any sense, or a run-of-the-mill space that serves its actual purpose? Before you answer that question, let's first take at a special compilation of buildings with jaw-dropping designs and architecture.
When you want a big house but you also want it to be cozy
This house looks like the architect tried to design a small and cozy home but at the same time large enough to accommodate his ever-growing family. This is exactly how we imagine the Weasley's house from Harry Potter if all the children were to get married and have their own families.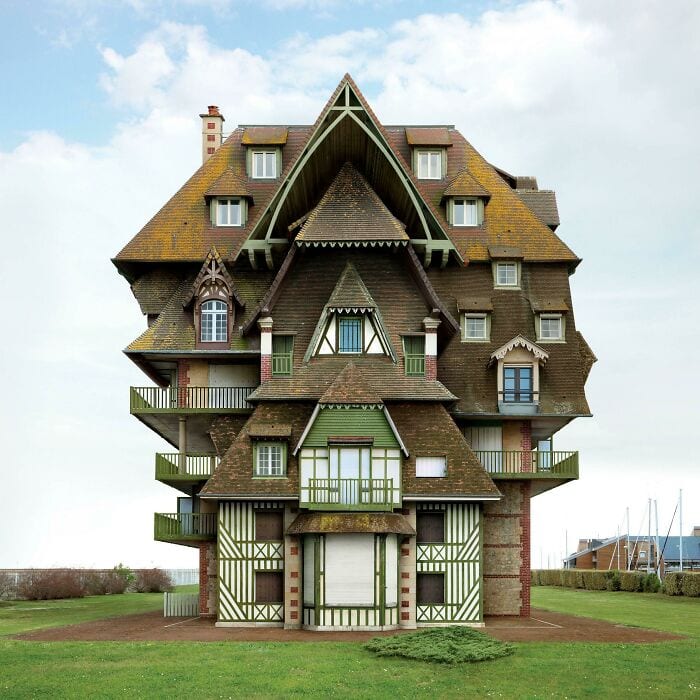 We're doubtful of the house's structural integrity. Will it be able to support the weight? We're scared that anytime now, it might topple over. But it looks beautiful, though. We'd certainly want our picture taken with this house in the background.
From the apartment to the highway in 5 seconds
If you ask people how long it would take to get from the office or home to the highway, most people would answer at least 20 or 30 minutes. But not this person. He can get from his office to the highway in record time.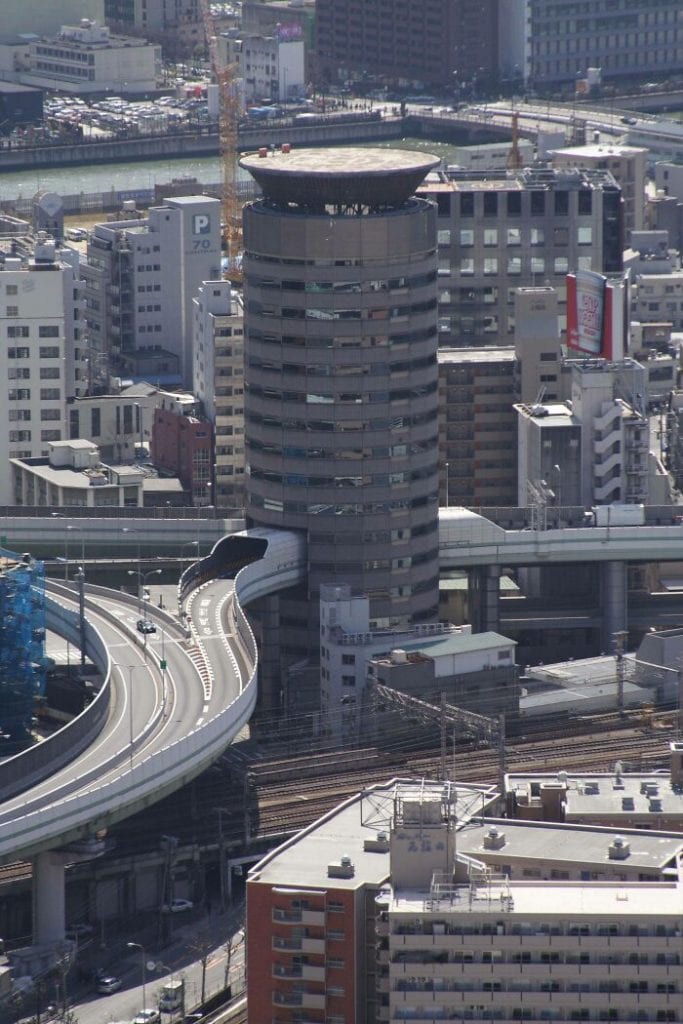 Why? Because their offices are literally above the highway. Imagine the incessant noise of the vehicles passing through. Would you be able to get efficient work done there? We think not. Whoever thought of this was seriously unwell or not thinking straight.
This is messing with our brains
Ironically, this is a medical center for the brain that happens to be successful in messing with the mind. This is the Lou Ruvo Center for Brain Health in Las Vegas, Nevada. It looks like something out of a cartoon show, but this is a real building.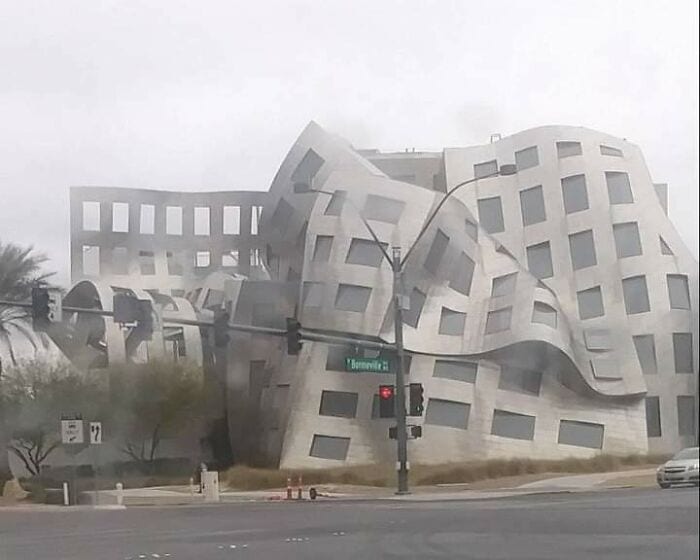 People who have been to the building say that it's quite cool, so we checked for photos of the interior online. It's undeniably unique. But, won't it make you feel dizzy just being inside the building. Won't it trigger your anxiety?
Where's the door?
This house has us thinking that the owner must hate having visitors over. We can't even see the door. How do you go in, and how do you go out? Is it a trap? Were the homeowners trying to be unique because they need to be left alone?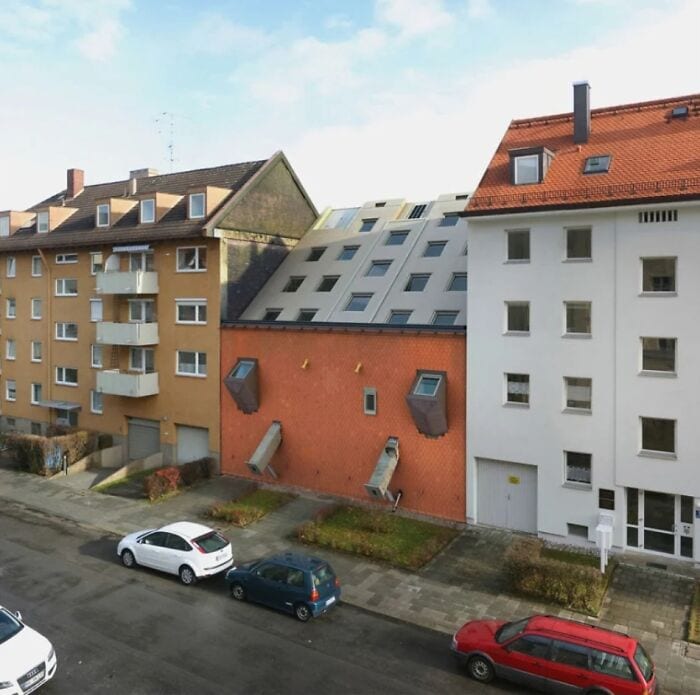 This building, if it's auditioned, can easily pass for the set of Christopher Nolan's, Inception. It would blend right in with the rest of the props and surroundings. It's confusing, it's on the wrong side, and it's difficult to get into.
North Korea's skyscraper
North Korea's is known for having extremely interesting architecture. But, there are not as many well-known skyscrapers there as there are in other parts of the globe. However, they do have one skyscraper that remains unoccupied today called the Ryugyong Hotel.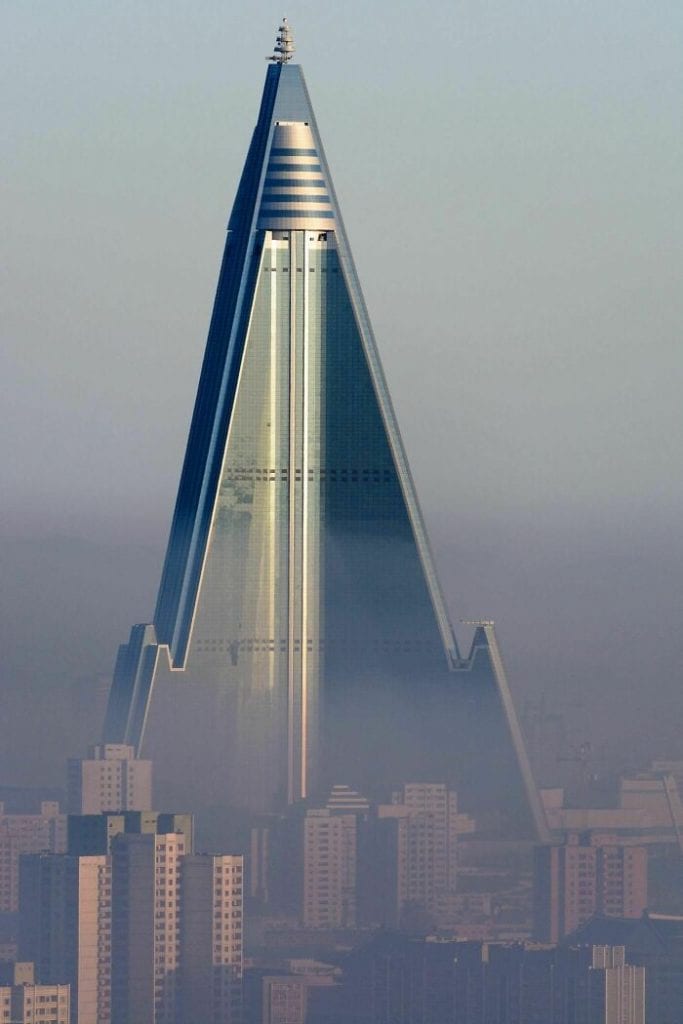 It looks more like a nuclear warhead than a building. Yes, it has a unique architectural design, and the construction began in 1987 only to have been stopped in 1992 after the country suffered an economic crisis due to the dissipation of the Soviet Union.
Would you like to live in an inverted pyramid?
When the word 'pyramid' is mentioned, people instantly think of the ancient structures in Egypt or the glass pyramid of the 'Louvre' in Paris. Well, there's another pyramid that would like to be just memorable as the ones we have just mentioned.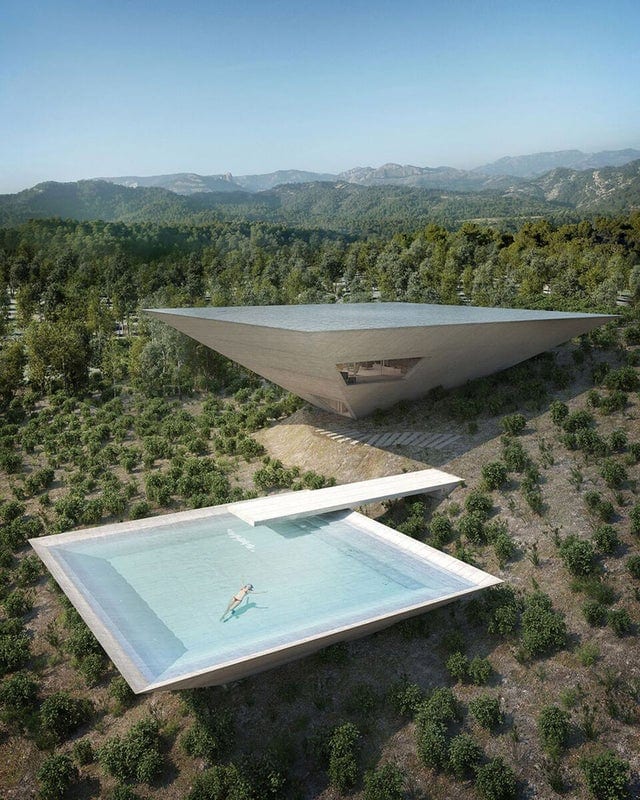 This is the inverted pyramid house in Spain, and this weird architectural creation is still a design stage. It is part of the Solo Houses project, and is said to offer stunning views of the surrounding forests and the pool. Wouldn't it be uncomfortable living in such a house? We love the pool though.
Something smells fishy
Sometimes, you shouldn't take things to literally, but the designer of this bizarre building must not have gotten the memo. This building is the Department of Fisheries in Hyderabad, India. For lack of better design, they just built it to look like a fish.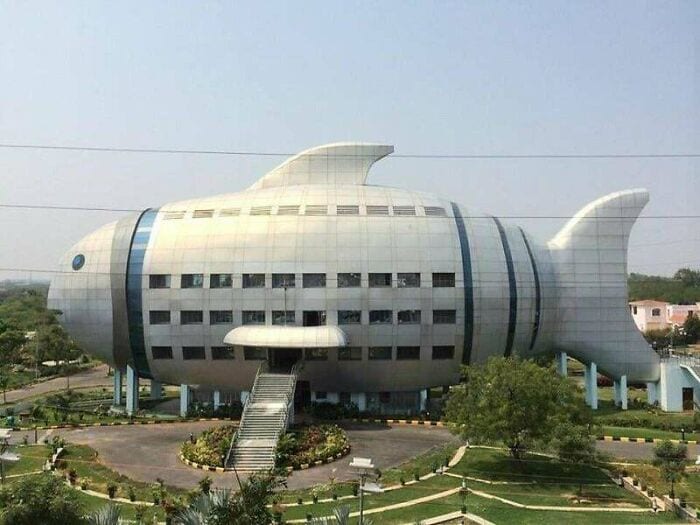 Or perhaps people kept getting lost, and they wanted to make it easier on everyone. "Hey where is the Department of Fisheries? It's the building that looks like a fish. You can't miss it." Well, they definitely don't like boring buildings over there.
The National Carpet Museum
If India has a Department of Fisheries that look like a fish, Azerbaijan is not to be left behind. No sir! They also have the National Carpet Museum that was made to look like a rolled carpet. Now, this is a building we want to visit.
Located in the nation's capital, Baku, it also looks like a roll or log cake. We'd love to see the architecture inside, as well as their collection of what we think is some of the most beautiful carpets in the world.
Catty kindergarten
If this were our school when we were in kindergarten, we would never pretend to be sick because we wouldn't want to miss a single day of school. This cool building is in Germany, is dedicated to Tomi Ungerer, a local author and artist of many well-known books.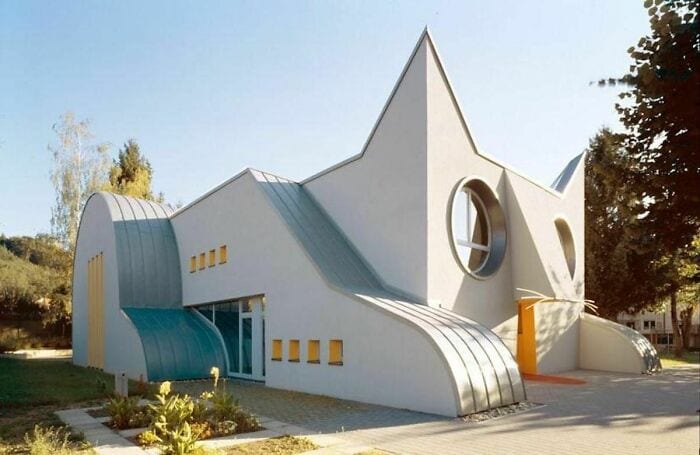 Located in Karlsruhe, the building was created in 2011 with the mission of stimulating the childrens' imaginations with its design. We can't deny the creative approach they took when they built this school, and we only wish more schools were like this.
Life in a pancake
If you wanted to live in a stack of pancakes when you were younger, we're here to tell you that now, you can live out your childhood dreams when you go to Guizhou, China to live in this building. If there's one thing we love about this, it's the airy balconies.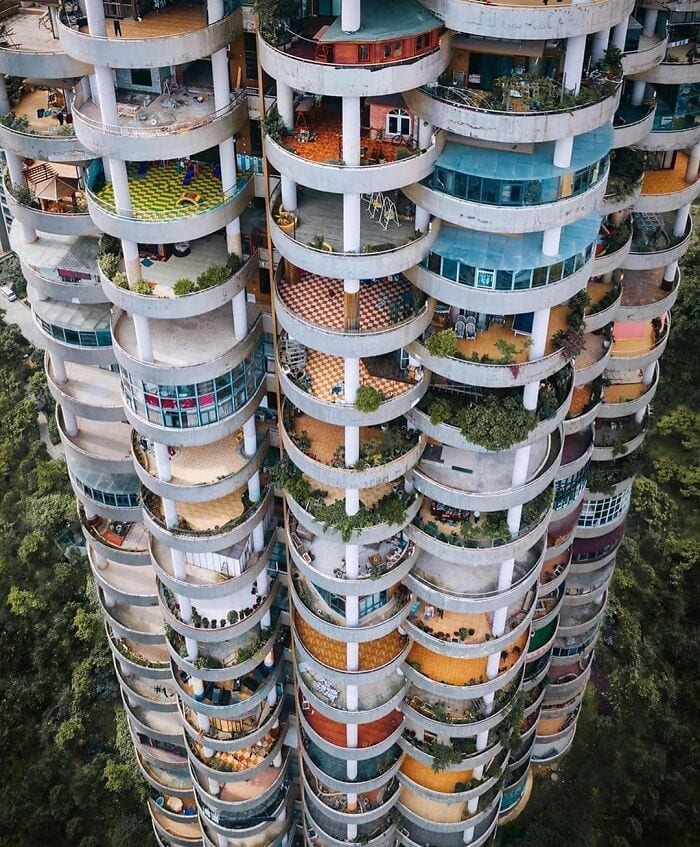 However, we can't shake off the feeling that it might start to tumble to the ground anytime. We can't help but think that the foundation is not strong enough, and might give way anytime now, although it looks good from the angle the picture was taken.
Wafer buildings in Singapore
We have seen this building in person, and it does look cool from afar. It's as if giant children were playing with their wafers and decided to build a community with them. However, we can't shake the feeling that the delivery people have plenty of problems finding the correct address.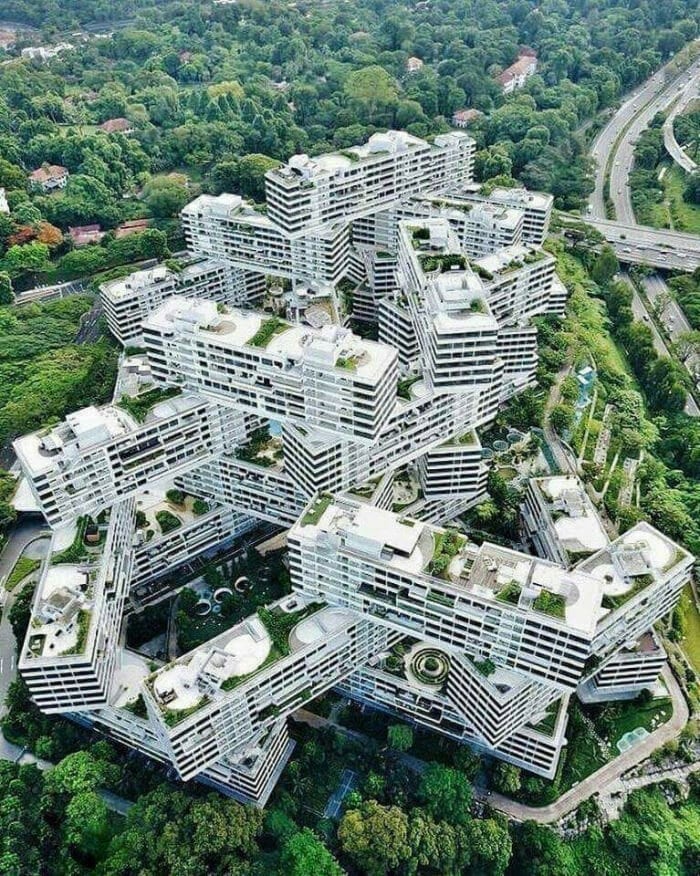 This architectural monster won the Building of the Year at the World Architectural Festival in 2015, and was labeled as a "trailblazer". The project, which is residential, was completed in 2013, and was created by famous architect, Ole Scheeren.
Is this a building or a portal?
This building looks like a portal to another dimension because of the huge hole in the middle in which Superman, or perhaps another superhero, uses to escape reality. And perhaps when they come out on the other side, they will be in another world or time.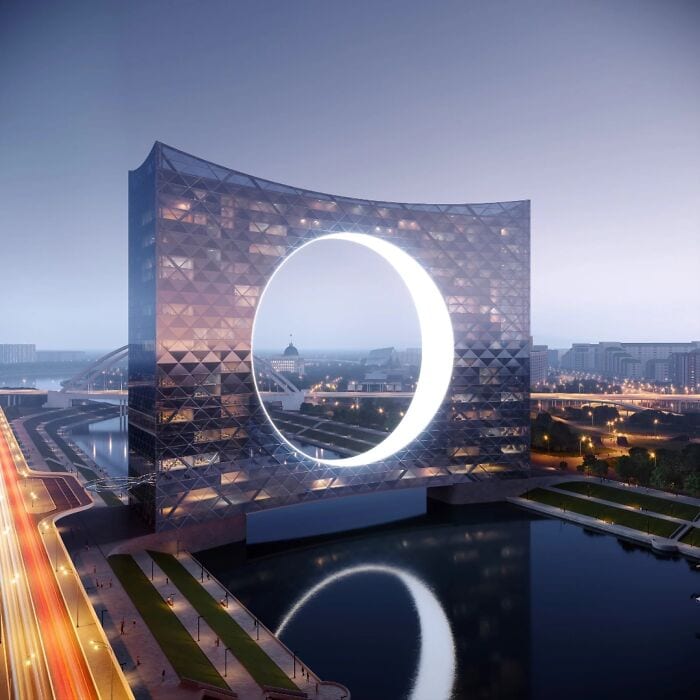 This is called the Tower of the Sun, and is located in Kazakhstan. Kazakhstan doesn't have a shortage of unusual buildings, and this is just one of them. We'd love to visit the country one day to discover all of its architectural treasures.
Living in a pineapple
We know of a famous character who lives in a pineapple, Spongebob, and he lives in a pineapple under the sea. This pineapple-like structure is something different than his dwelling, because it's above water and it's not in Bikini Bottom.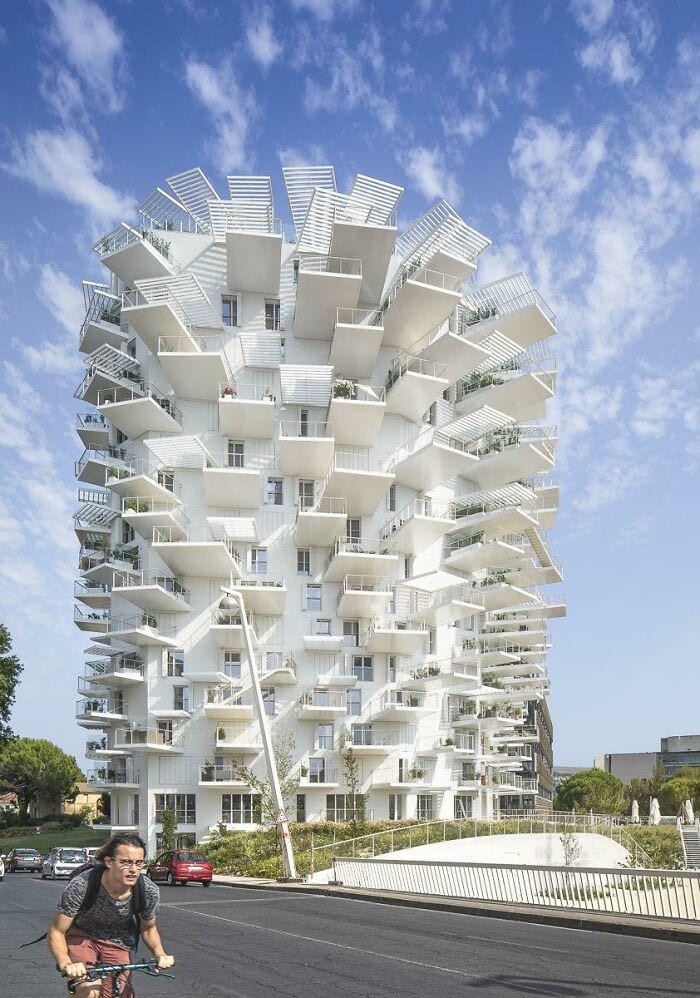 It's in Montpellier, France, and is called, Arbre Blanc. A creation from architect, Sou Fujimoto, it looks like the dream of a Parkour enthusiast. Look at all the balconies resembling dive decks. You can certainly mingle with your neighbors if your worried about social distancing.
A holy dove building in Java, Indonesia
Although this looks like a chicken, this structure is supposed to be a pigeon, according to its architect. People have resorted to calling it Geraja Ayam or "Chicken Church," and has become one of the most visited tourist spots in Central Java.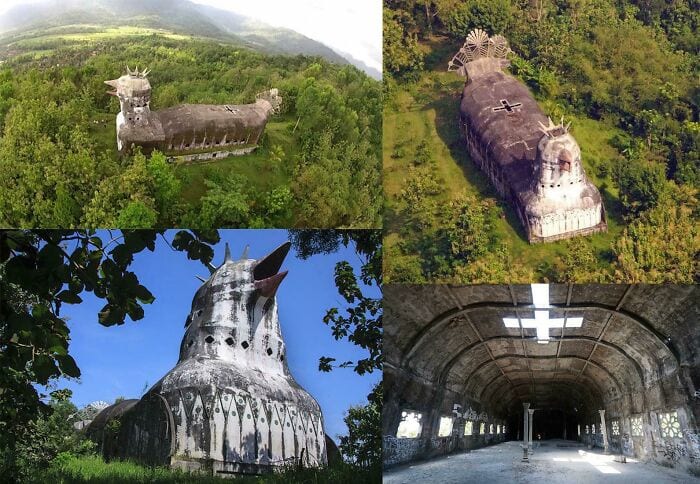 Although the exterior looks complete, the interior is empty, and construction has pretty much halted since 2000 due to lack of funds. Daniel Alamsjah was the creator of the "Chicken Church," and he envisioned it as a prayer house where people of different religions could come together and pray.
The largest hotel in the world
This building isn't exactly an architectural marvel because the shape and the design is pretty much common, but we are floored by its massive size. It's reported to be the biggest hotel in the world with more than 10,000 rooms.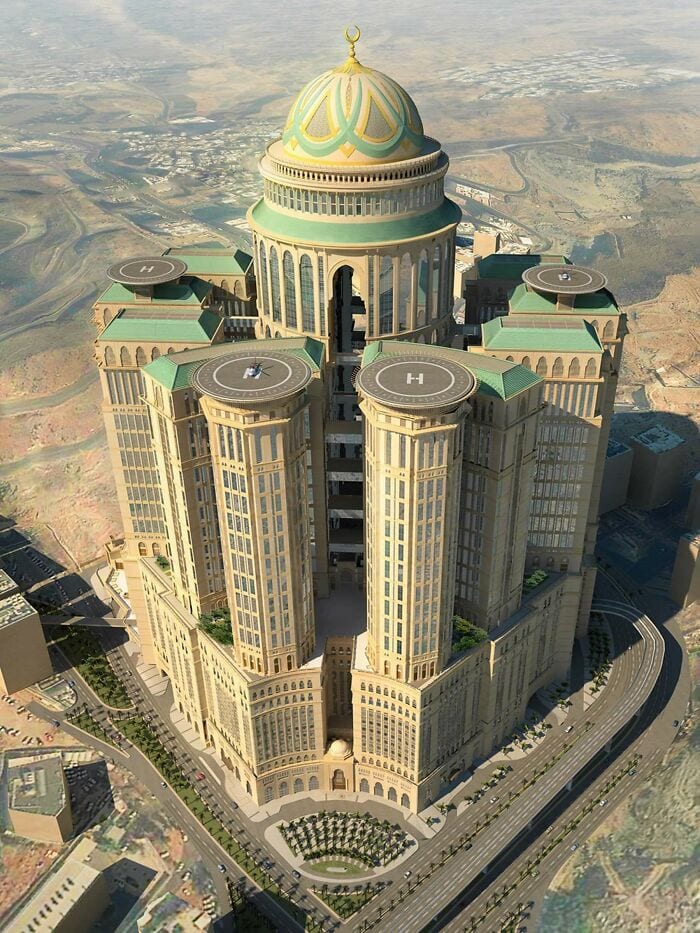 Located in Saudi Arabia, it has four helipads to cater to the super rich who would like to avoid traffic and go to the hotel via their own helicopters. It sure is nice to be among the mega wealthy. Saudi Arabia isn't exactly what comes to mind when tourism is mentioned, but we read somewhere that this hotel is more for those who are attending the Haaj in Mecca.
Can you live in half of a house?
The problem when you share a townhouse with someone else is that when one party decides to sell, and the other does not, there's going to be a huge problem. That's exactly what happened here. One half of the owners decided to sell, and the other half decided they would rather not.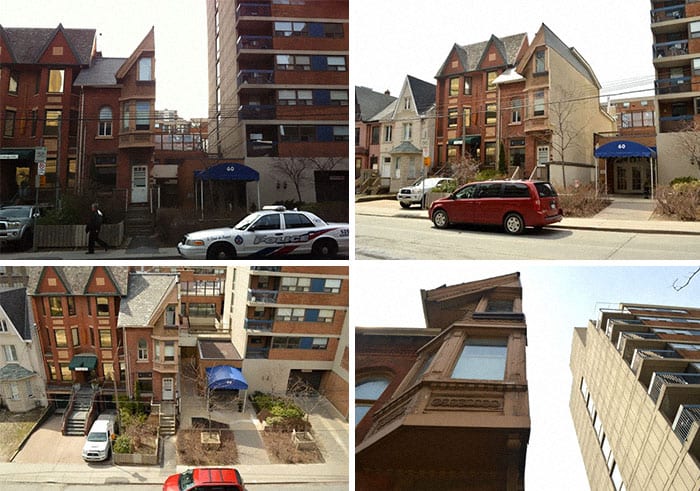 So, the people who decided to stay kept just half of the townhouse. It looks unique, but is it even practical to live in such a place? Do they only get half of a bathroom, half of a kitchen, and half bedrooms? We're curious.
The Pixelated Tower
When you talk about buildings with interesting architecture, you should include Bangkok, Thailand. The city of angels has the MahaNakhon Tower, which was built in 2016 and used to be the biggest building in the city. In English, it's called the Metropolis Tower.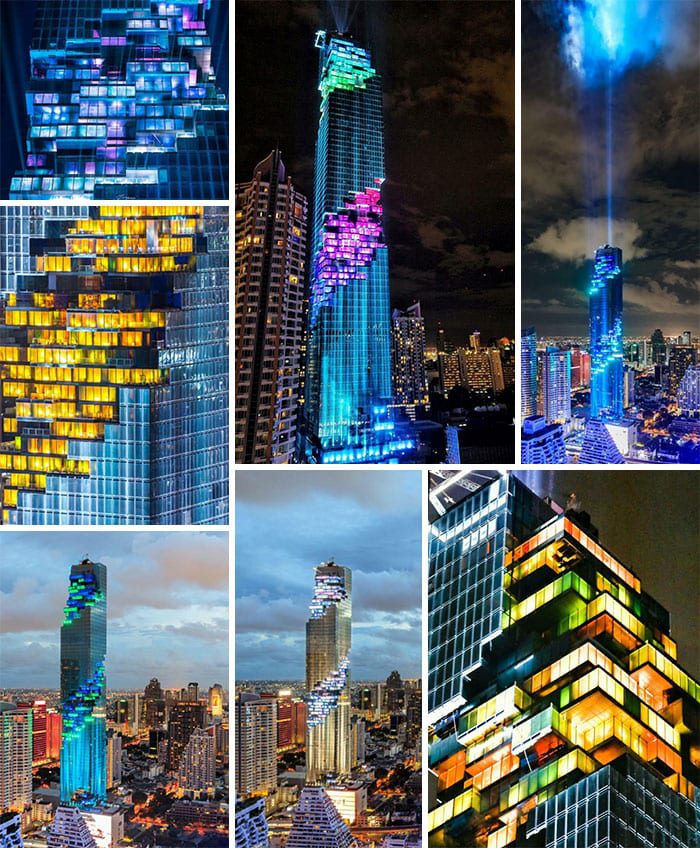 It may not look outstanding during the daytime, but wait until the sun sets, and it will actually blow your mind. If you ask us, it's way more beautiful than other skyscrapers in the Western world. We love it! It even has its own blue sky beam.
The Three Huge Men building
This building, we think, is a take on Goldilocks and the Three Bears. This is something we'd like to call, "The Three Huge Men" building. It looks unique, but the only thing we'd like to know is how much natural light does it allow in?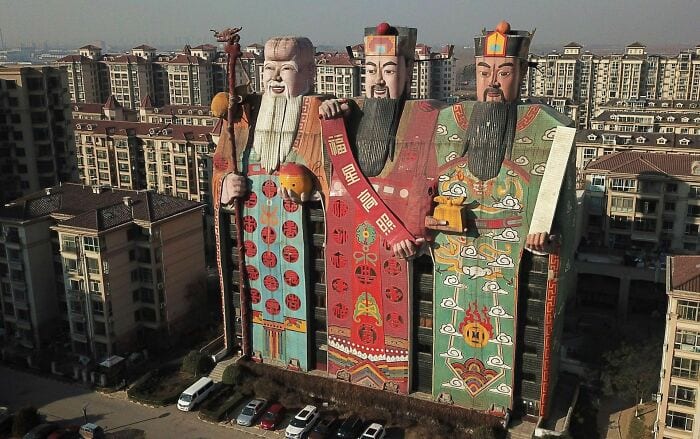 From the look of things, it seems that most of the windows are covered by the three guys, but the design makes it super easy to identify. "Hey, where are you guys staying? We're staying in the building with the smiling old guy."
We'd like to get a place here
This is a cool building in the Netherlands which we'd love to live in. Not only is it a place where you can relax and forget about your problems, it also comes with a huge open market. You don't have to go very far if you'd like to shop.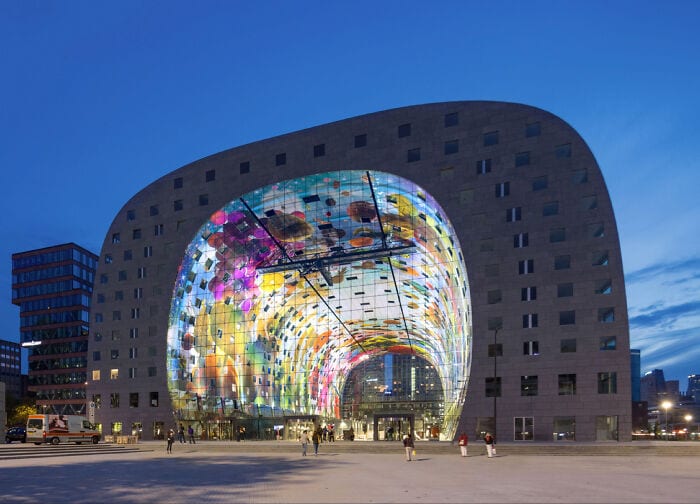 There's only one catch though, the things they sell come at a high price, and we're pretty sure the rent is also out of this world. That's the price you have to pay for living in such a stylish and modern building.
What's up with these animal buildings?
Sometimes, designers and architects want to come up with something new that's never been done before, that they end up sacrificing practicality for style. A case in point are those animal buildings. Yeah, they're cute, but are they utilizing the space well?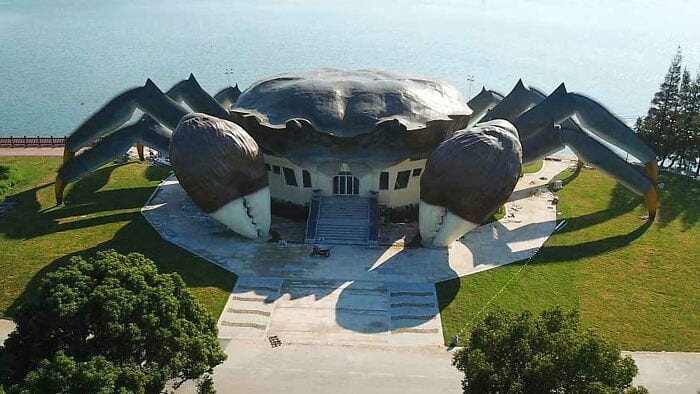 Well, there's another addition to that – this crab building in China. This could be a seafood restaurant, but it could also be a place where the institute of marine biology has an office. Maybe this is the new piece of real estate acquired by Mr. Krabs.
The gargantuan frame
This is aptly called, The Frame, in Dubai, and this is a building in which we have actually seen with our own eyes. When you're casually driving by it, it looks amazing no doubt. The building was made with steel, glass, aluminum, and reinforced concrete.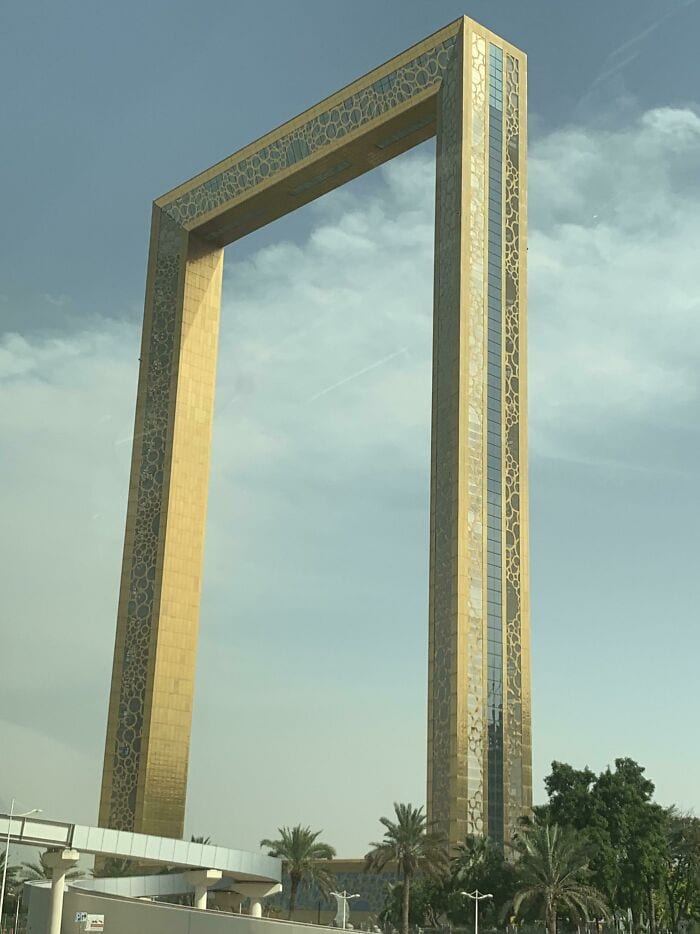 It was built in a specific location which allows visitors to see the landmarks of modern Dubai on one side, and the landmarks of old Dubai on the other. It's actually a clever idea ,and being on it, it is almost like seeing two different perspectives of the city through your own eyes.
Fit for a superhero or a super villain
This looks like a proper hideout for a superhero or a super villain, and they are not even being discrete about it. It could also belong to the set of Star Wars. There is only one issue to this kind of "home," however.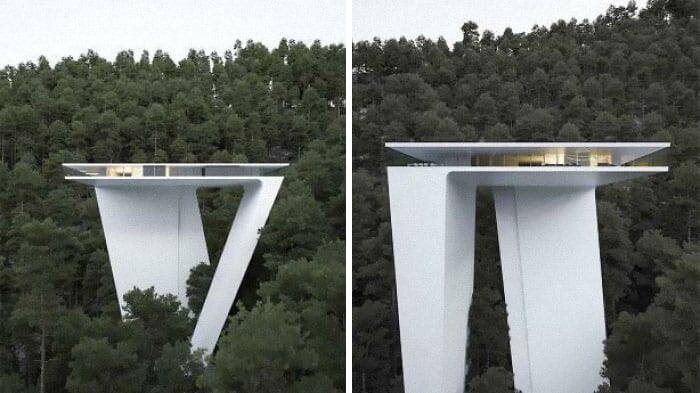 What if the elevator breaks down? You'd have to take the stairs up and down, but at least you'll be participating in strenuous exercise, which you probably didn't expect. Well, at least, if you are superhero living in this house, the extra exercise wouldn't hurt.
The little round house
When looking at this house, we feel like we've been transported to the land of the Teletubbies. It's curvy and interesting, to say the least. This is called the Spaceship House in La Selva Beach, Santa Cruz, California. It was built in 1972 and has over 700 square feet of space.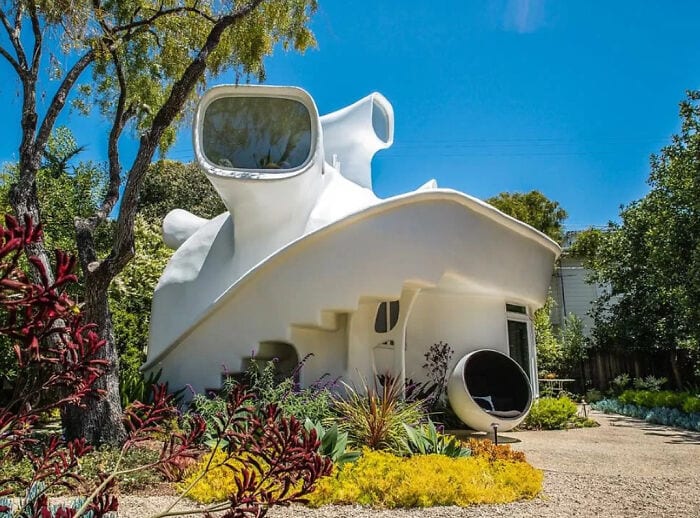 What makes this structure unique is it actually doesn't have any corners, but the downside is that the house also doesn't have any closets. It was built by landscape architect, Mary Gordon. The views of the Pacific Ocean, however, make up for the lack of closets.
Old and new side by side
If there's one thing Dubrovnik is famous for, it's the Old City Walls. The walls run approximately 1,940 meters in length, and it encircles most of the old city. It also was featured in HBO's hit show, Game of Thrones.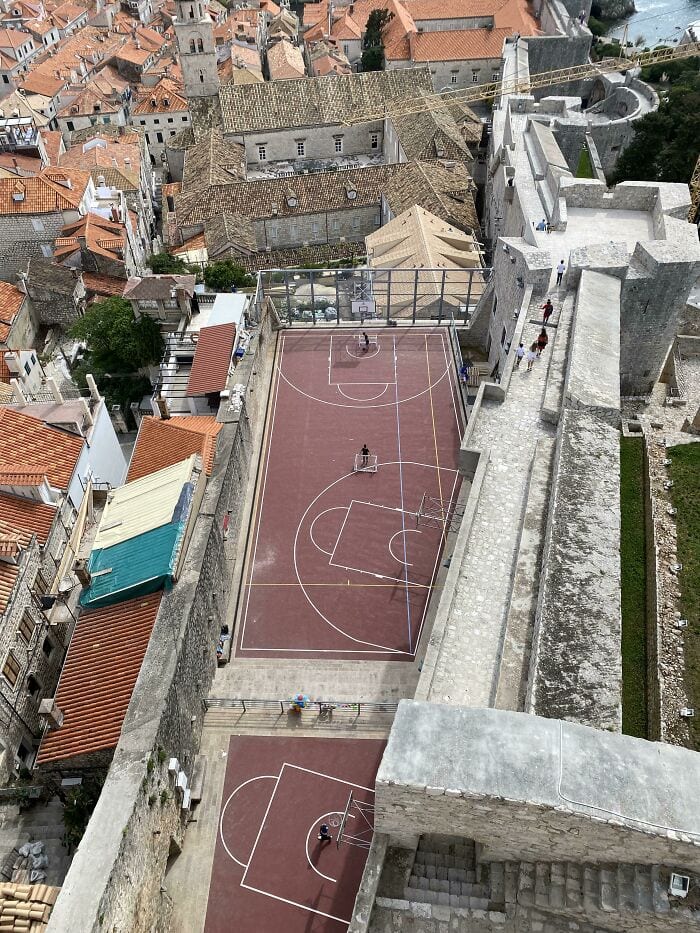 We're not sure if they didn't have enough space over there, but it sure looks like they needed to build a very modern basketball and football court right in front of it. Aside from the structural concerns, it kinda gives us sore eyes too. It ruins the aesthetics of the old roofs.
We'd like to live in a marshmallow
This is what we had in mind when we envisioned ourselves living in a marshmallow as children. Does it feel soft too? Are the walls fluffy? We don't always say this, but we'd love to touch the walls of this house.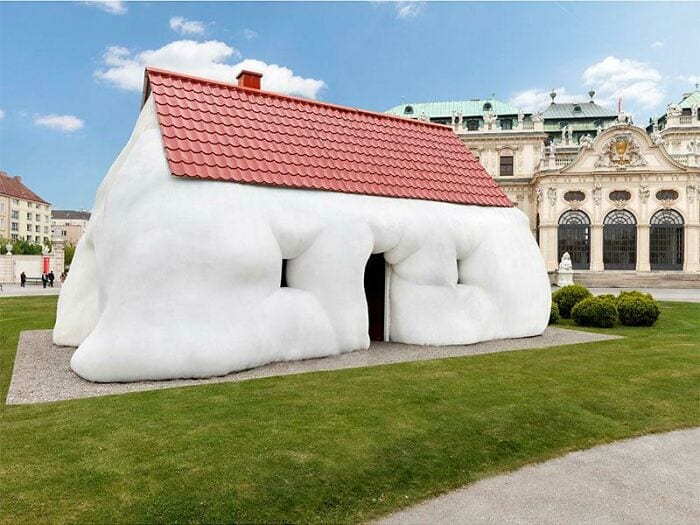 If this house is listed in Airbnb, you might be interested to know that this it's in Austria, so you can book it whenever you're in town. We think this house would look even more interesting in the Winter when snow is falling all around it.
The tired pyramid
What does a pyramid do when it's tired? It rests and instead of standing upright with the pointy end on top, it's going to recline with its pointy end on the side. This is a good example of a tired pyramid. He can't take any more of the work.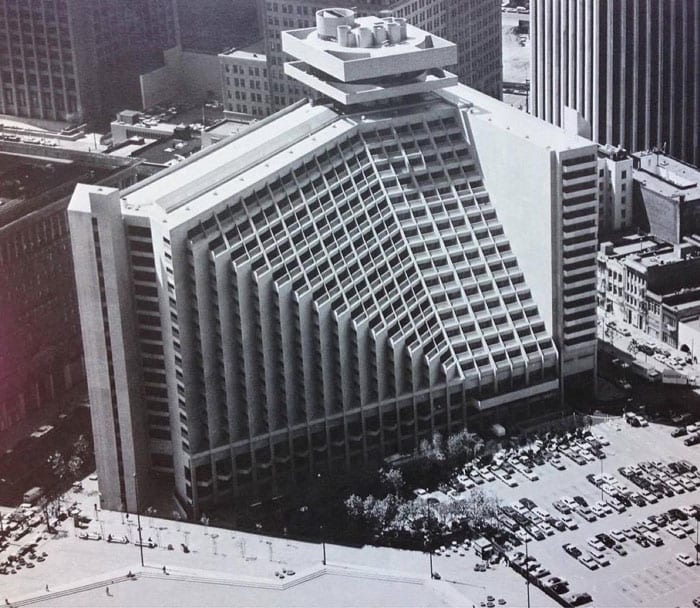 This is the famous Hyatt Regency Hotel in San Francisco. Not only does it look like a really tired pyramid, it also looks like the back of an old television. This hotel has been featured in various Hollywood movies such as Time After Time.
Look Ma, I can touch the car
We don't know what's up over there in China when it comes to architecture, but they seem to have a penchant for placing residential buildings right next to roads and highways. Don't believe us? Look at this apartment in Chongqing.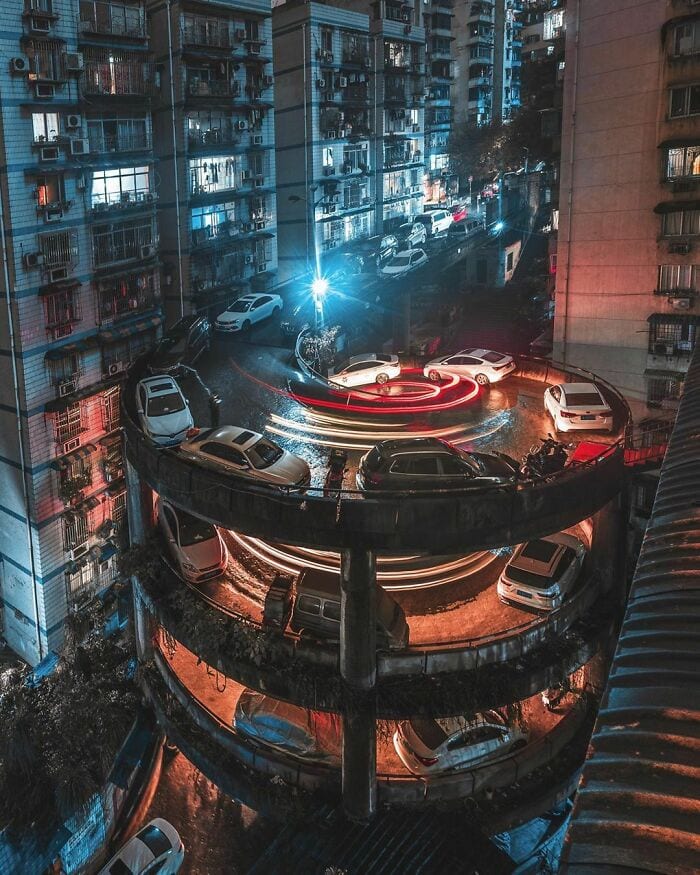 It's next to a helicoidal street, and if you reach through the window, we're pretty sure you can touch the cars passing by. That's how close they are. Can you even sleep with all the noise of the honking cars?
We'd love to shop there
This is an interesting shop which we definitely want to visit when we are in Tokyo. We love the expression on its face, and it's beckoning shoppers to go through its doors to see the wonders behind its eyes. We also wonder what they sell here.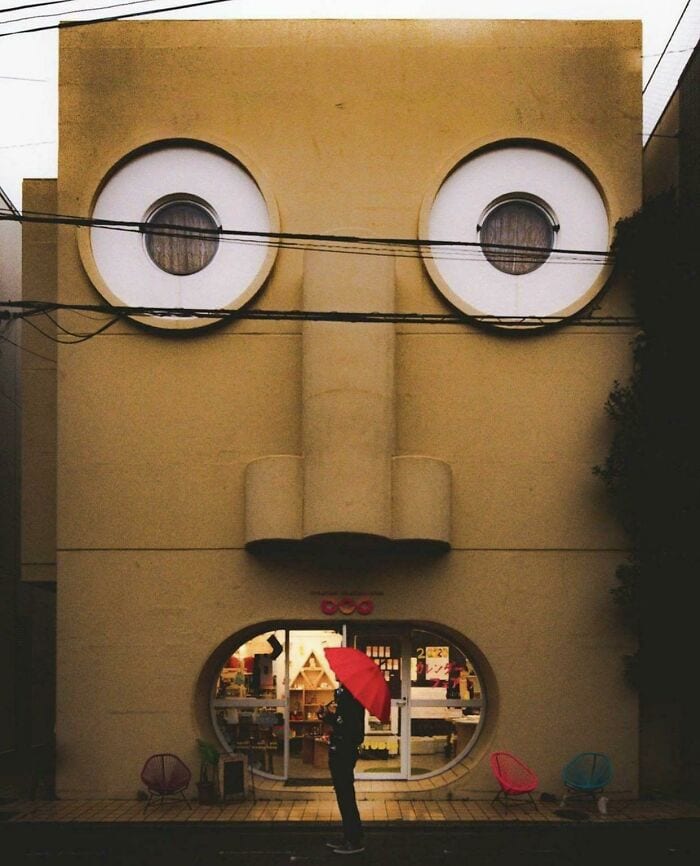 The contents inside should be just as quirky and unique as the building itself. We like how prepared the guy is outside. He brought his own umbrella in case there are occasional sneezes while he's standing directly underneath the building's nose.
When you have too many windows in your inventory
Don't get us wrong, we love windows. They are vital for ventilation, and they let in as much natural light to a space as possible. However, we think you could all agree with us when we say that this house has one too many windows.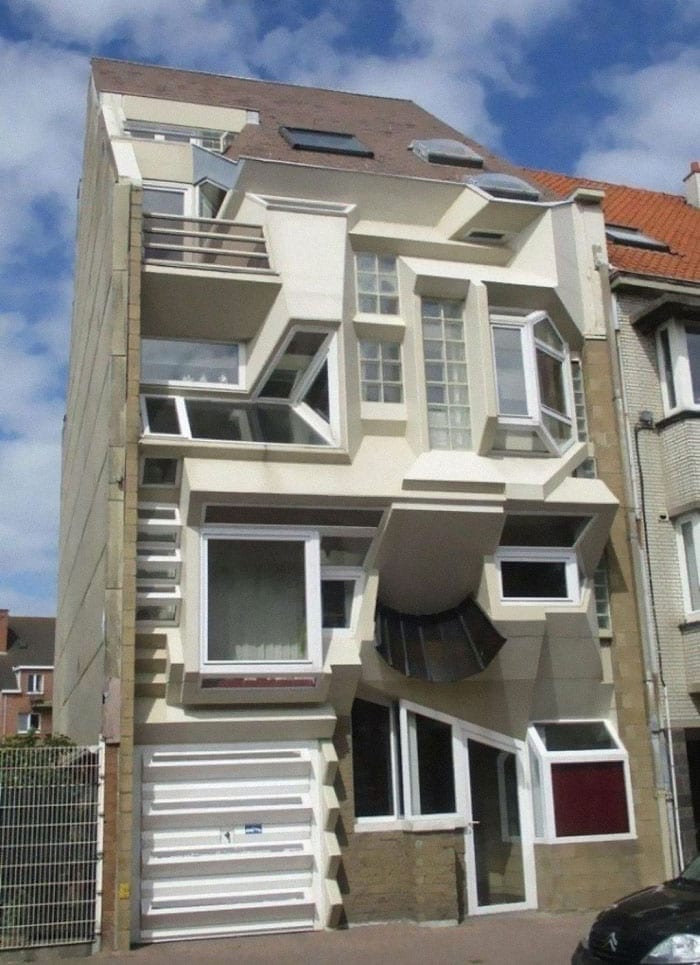 Perhaps the builder had too many in his inventory and couldn't find any other way to dispose of it than try and be creative. Are the residents exposing themselves to pedestrians and neighbors too much? Boy, they're gonna need plenty of curtains.
How does this building remain standing?
We only have one question about this structure and that's, how is it still standing until today? The base doesn't look strong enough to support the entire structure because it's too small and fragile. This structure is located in Krasnosilka, Ukraine.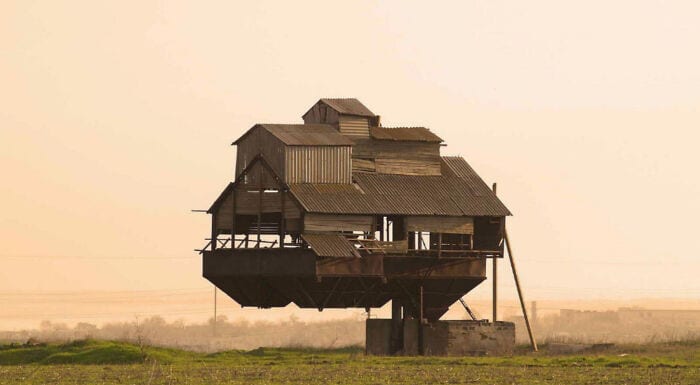 It used to be a potato sorting station that has been abandoned for a few years. It reminds us of the house in the cartoon, Howl's Moving Castle. The only difference is this structure has been there for several years, and it hasn't moved an inch.
A house in the desert
When thinking about houses in the desert, most people have the impression that they are made of adobe, and these houses are not only beautiful, but also unique. The architect of this house wanted to be different, and we can say he definitely accomplished that.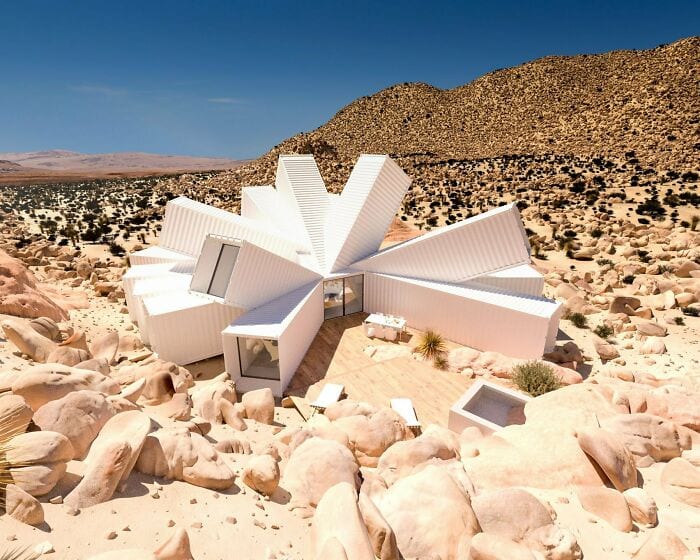 This 'container' house is painted white, so it's hard to miss because it also looks like a blossoming flower. The higher containers, however, don't seem very practical for living. Is there sole purpose just to provide shade to the lower 'containers'?
Choo Choo train
Japan has always been known for its advanced technology, and they also have some of the most amazing buildings in the world. If you want to be impressed with a rich culture and history, technology, and modern skyscrapers, you can never go wrong with Japan.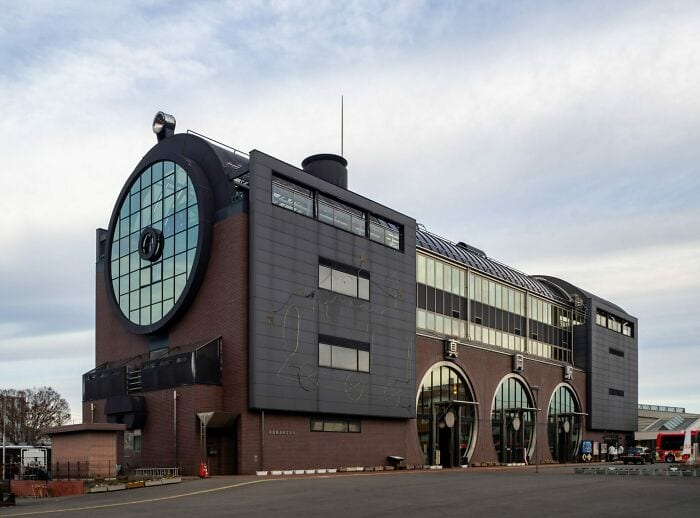 This building, you may have already guessed, is a train station. It is the Moka Train Station that was built in the shape of a locomotive. It looks insanely amazing, and we're sure that little children would enjoy visiting it too.
Well, this is freakin' cute
Well, we have one word for this building, cute! The look on those sheep's faces make it seem as if they have an insider secret they would rather not share with the public. Notice how the ram is eyeing the other. What's up with these two?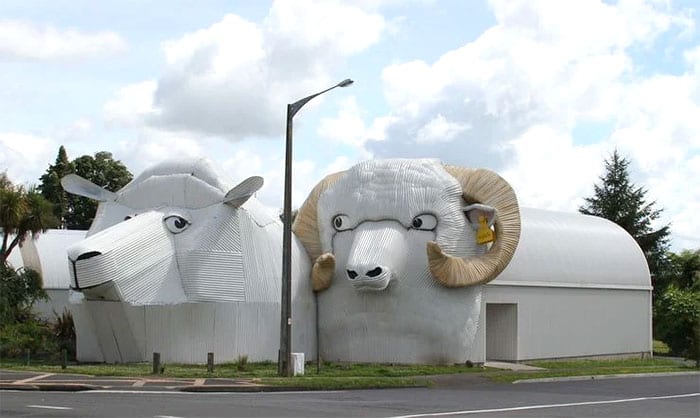 Located in Waikato, New Zealand, the world's biggest corrugated iron sheep and ram was placed on the market in 2016 by its owners and creators, Nancy and John Drake. It houses a wool and craft store. It was an instant hit with the public when it opened in 1994.
A cave with modern amenities
One of the things that draw thousands of people to Cappadocia, aside from the hot air balloons during sunrise, are the famous cave hotels. The region is abundant with valleys, caves, rock formations, and skylines that promise tourists an experience unlike any other.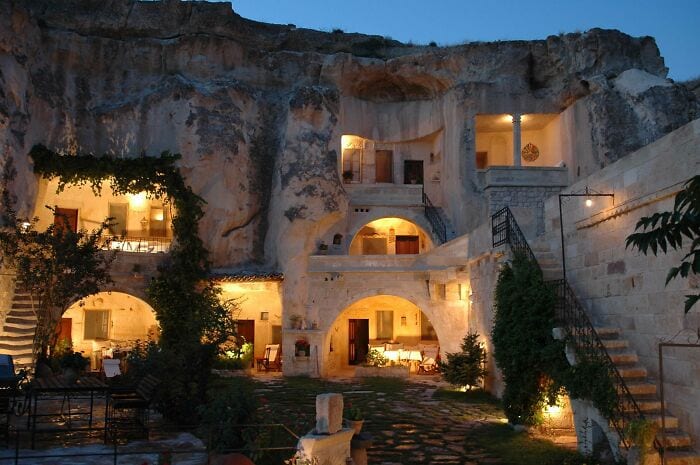 This ancient cave hotel comes with modern amenities, and there are plenty of them to choose from if you ever venture to Turkey. You can feel like a real caveman while taking a bath in your modern shower and eating your breakfast buffet.
Circular housing in the Netherlands
Not only do people from the Netherlands have a better quality of life, they also get to enjoy some of the most creative and stylish houses. Just look at this awesome structure below. The Dutch sure know how to make their homes interesting.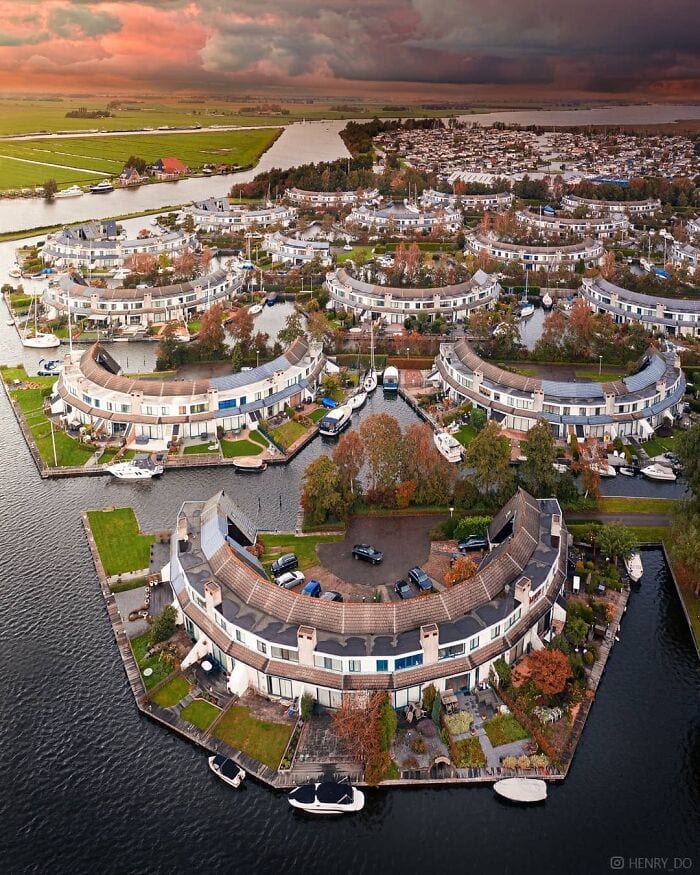 The roads may be long and narrow, but we love the fact that you have the option to either drive or go in and out of the place by boat. After all, more than 25% of the Netherlands' territory is underwater.
The world's oldest astrological clock
This isn't a building with a bizarre design, and we don't have any questions as to the practical use of the space, but we included this structure in our list because architecturally, it looks amazing. This astrological clock is located in Prague.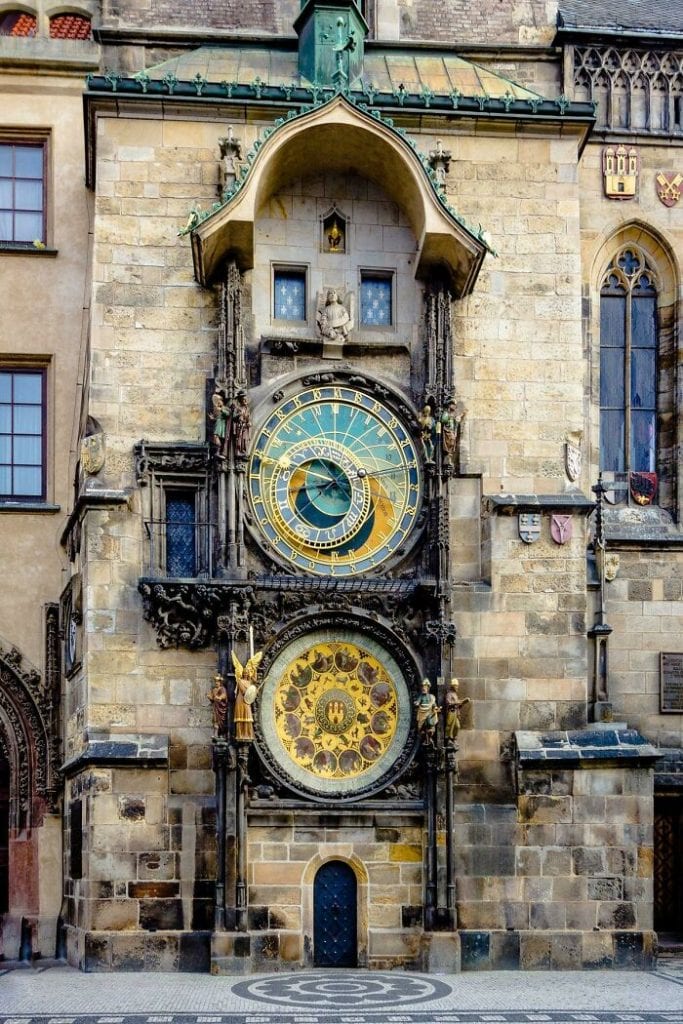 It's been in operation for more than 600 years and is still working well. This amazing creation has so much history, and people from all over the world travel to Prague just to see it with their own eyes. This is a clock we wouldn't mind waking up to.
Shell's 1930s gas station
This looks like the love child of a Shell's gas station and a McDonald's that nobody dreamed of. If someone told us this was what old Shell gas stations looked like, we wouldn't believe them until we saw it with our own eyes.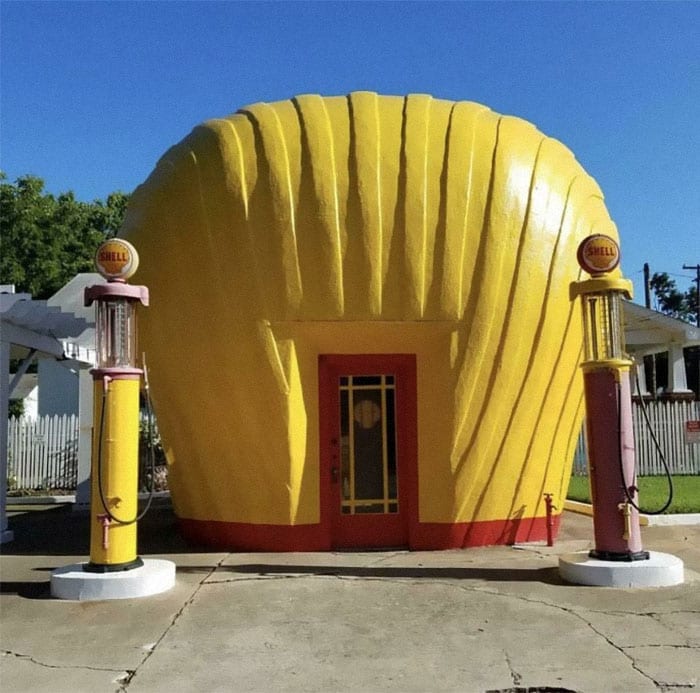 The designers must have wanted it to stand out, while at the same time, wanting people from afar to see it right away. It doesn't even need a sign because you'd know it's a Shell station instantly. "Shell I take you on a tour of the station?"
The roof house
Those who are familiar with Russian folklore and Baba Yaga would agree with us if we said that this home reminds us of her house, but without the chicken legs because they upgraded them to cold hard steel. Modernized, eh?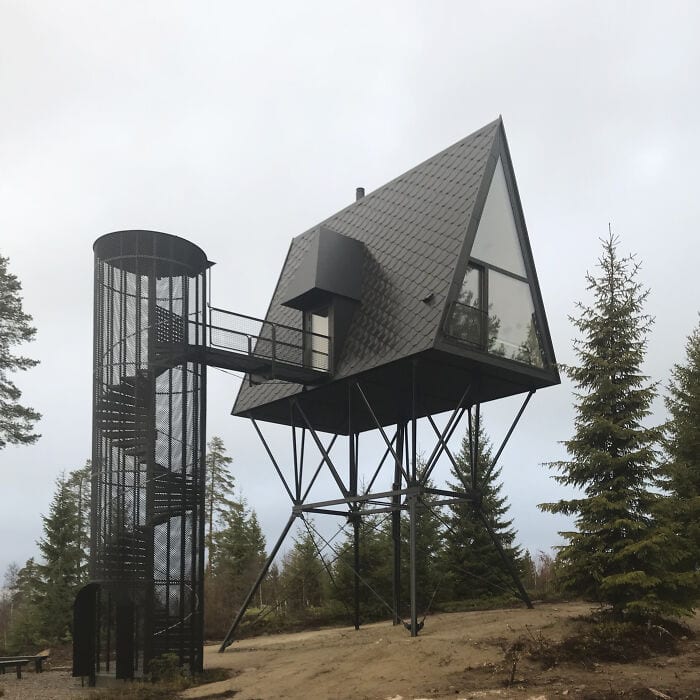 This is the PAN treetop cabin in Norway, which you can rent for your next holiday vacation. It's just two hours away from the nation's capital, Oslo. There's only one thing we don't like about it. We can't imagine lugging heavy luggage up those stairs.
The gutted mackerel airport
Nowadays, if you want people to notice your buildings, you have to be willing to take a risk and think outside of the box when it comes to design. Average buildings and skyscrapers with traditional shapes just don't cut it anymore.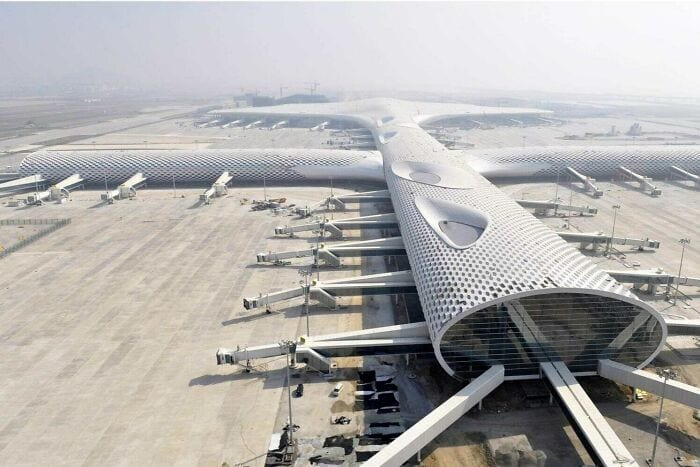 When the Shenzhen International Airport in China was built, the designer thought it would be a great idea to build it in the shape of a gutted and flattened mackerel with its head missing, but a futuristic mackerel nonetheless.
The wavy building
If you are on the hunt to see unusual buildings, you should go to Japan like we said before. This is the newest Louis Vuitton store in the Land of the Rising Sun. Designed by Japanese studio, Jun Aoki & Associates, it's located in Tokyo's Ginza shopping district.
The seven-story store is wrapped in an undulating pearlescent material, making it look like it's moving. It looks cool, and other people have resorted to calling it the 'jellyfish building.' The building also looks like it still has its protective plastic shrink wrap on.
Living in a monolith
When people think of homes, they think of cozy places where there's enough room for everyone and perhaps, um, doors, windows, and maybe even a view. This house has none of that. It doesn't even have the usual shape of a home.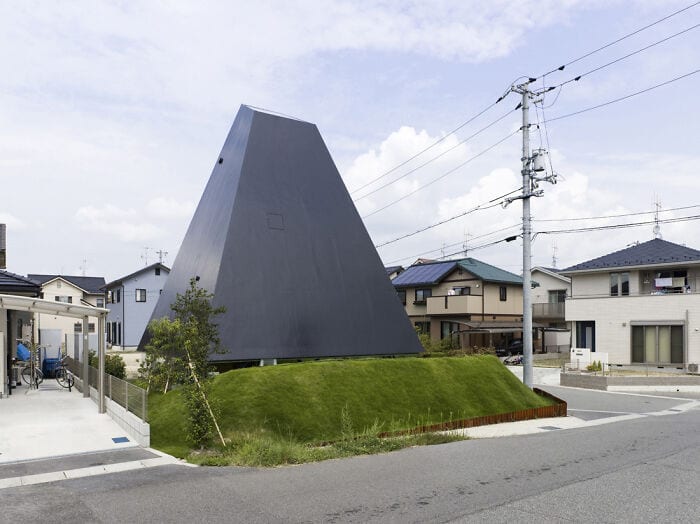 It's just a black monolith with no features at all. We imagine the feeling of living there is just like being cooped up in a prison, voluntarily. This monolith is located in Saijo, Hiroshima, Japan, and was designed by Suppose Design Office.
The IKEA house
We'd like to call this the 'IKEA' house because of the size and the distinct color. This modernistic home is located in Venice Beach, California. It's warm and cozy, and even has a balcony that's perfect for a California property.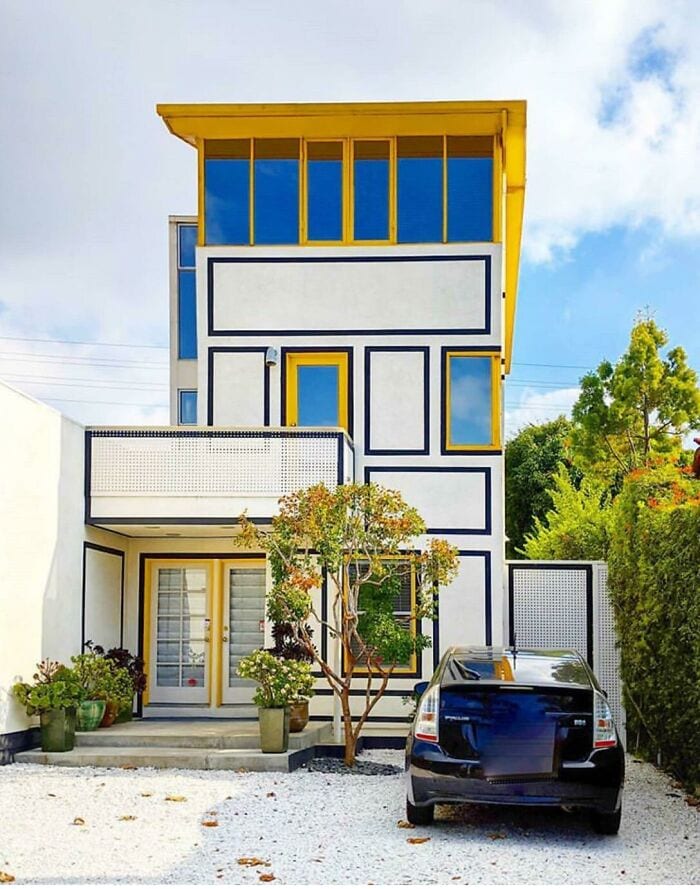 The house looks as if it was painted by a child, and then later made into a real home. The only letdown for this property is the lack of a proper lawn. A nice lawn could significantly increase its value. We love it!
#43 Make sure you have enough land for your house
Before you even start building your dream home, you must at least make sure that you have ample land for everything you want to achieve. Do you want a lawn? Do you want a pool? How many rooms would you like your house to have?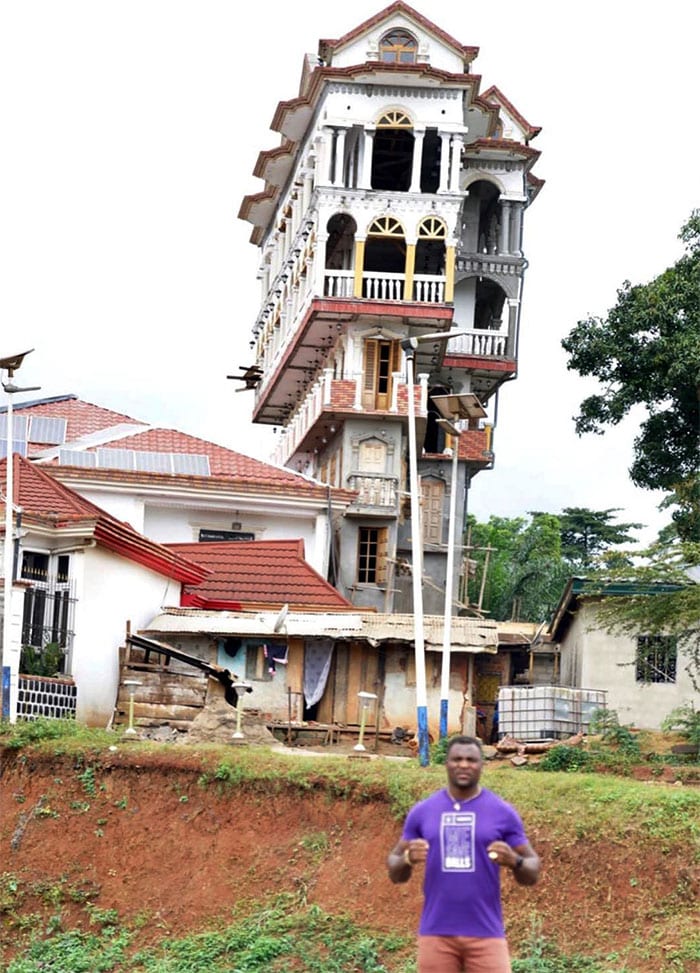 This house, located in Barie, Cameroon, looks like it was created from no building plan at all. We assumed it was just built on a whim. It stands precariously on a small plot of land, and from the looks of it, it's not structurally sound. We wouldn't step in there.
The famous Walden 7
One of the best things anyone can do when traveling is visit buildings that hold some kind of history and significance. This structure, called Walden 7, is a social housing building designed by Spanish architect, Ricardo Bofil, and is located in Barcelona, Spain.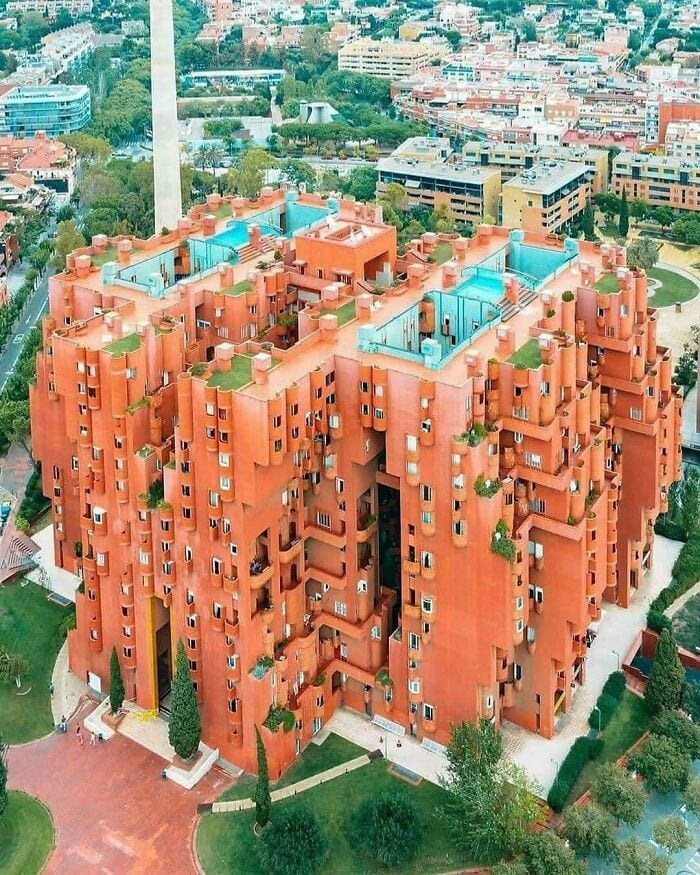 The structure looks like a freaky maze, and we even checked the interior of the courtyard spaces, and they're quite amazing too. We'd love to see this with our own eyes and wander through its halls. Hopefully we won't get lost.
A must-visit when in Bangkok
This is the famous aerial view of the Pavilion of the Enlightened, located in Bangkok, Thailand. There are more than a hundred magnificently restored buildings on the property that includes attractions such as, temples, a floating market, and many more sights.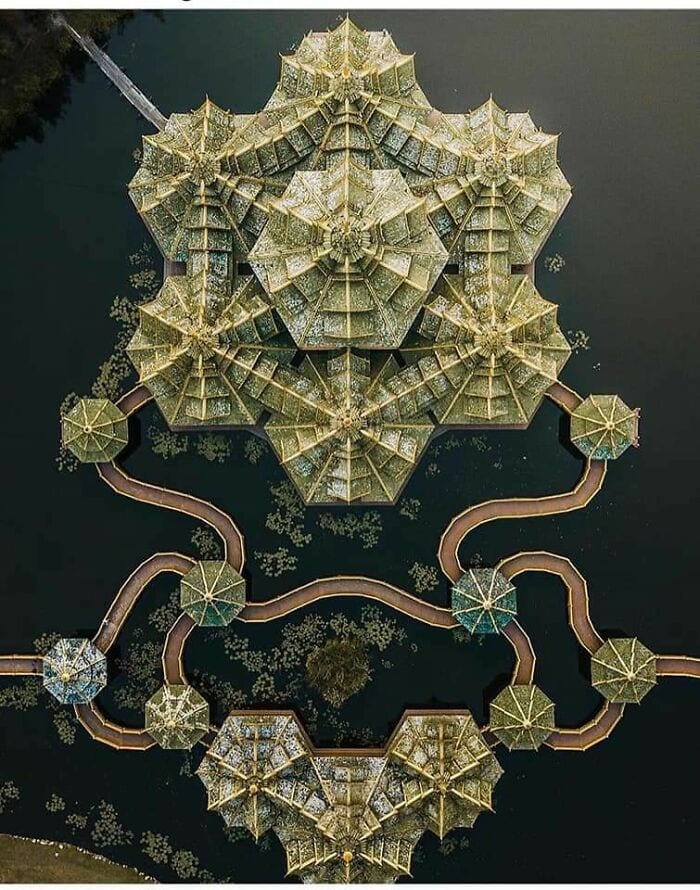 It was built to symbolize the story of 500 monks from different backgrounds who achieved nirvana, and is a cross between a museum, a theme park, and an architectural site. Its shape and design does remind us of a Romanesco broccoli, in all honesty.