Marriage Proposals That Are Downright Next Level
By Ish Bautista September 10, 2020
---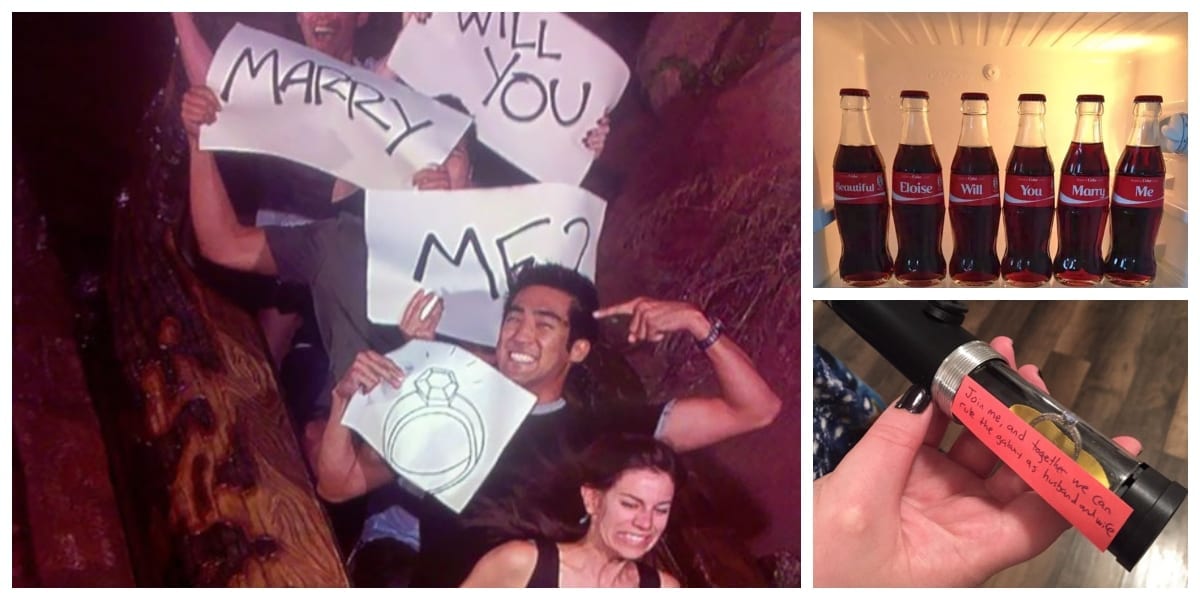 When we're young, we don't really think about all the stresses and worries that come with being an adult. We spend our time playing in parks with our friends or reading books. When we get older, and usually about when we hit our late 20s, the idea of getting married starts becoming appealing. The search for a potential partner commences, or maybe it had already begun. After meeting that lucky person, we start to think about the possibilities of building a life with them. The proposal usually falls on the man's shoulders, and the stress of getting it exactly right causes many sleepless nights. Here are men who went above and beyond with these marriage proposals, and they're sure to give you a dose of inspiration – or even a good laugh.
Sky Diving
This marriage proposal isn't for the faint of heart. It's for the people with an iron stomach who love participating in daredevil-like sports, just like this couple – who are clearly made for each other. Tina and her love went skydiving when he decided to pop the big question.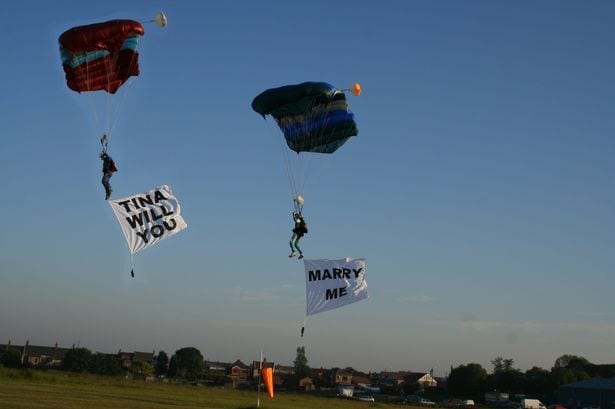 Before landing, he unleashed the magic message. Seeing his words while falling from the sky is truly an experience to remember. We hope they had fun in the sky and that their time on land during their wedding will equally be as incredible.
Written In the Stars
This message looks like it was written in the stars. Even though this might look like a real galaxy, it's part of the Mark Smith Planetarium Show. Alan Gilbert and his partner Krystal are both big fans of the universe and worlds outside our own.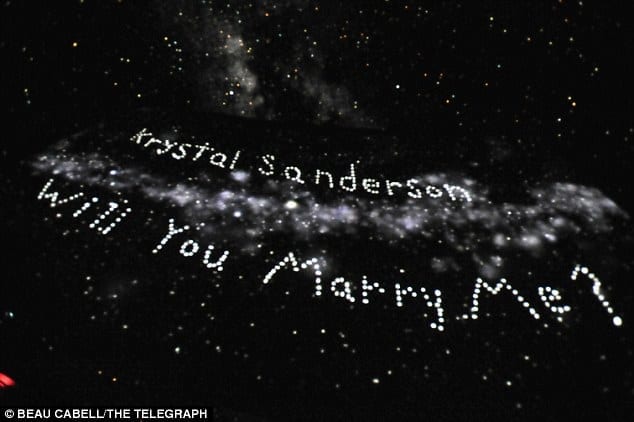 The cosmos, the stars, and everything the galaxy contains – is one of their shared loves. They adore the galaxy, so he decided to propose to her during the show while she was looking up at the sky. The couple left the Planetarium Show with the biggest smiles on their faces, gleaming just like the stars.
Try Today's Puzzle Honey
Today's Crosswords require a lot more thinking than they did back in the day. With the advent of social media and entertainment news, people need to be in fine form to answer these crossword puzzles. Luckily, this man's soon-to-be-bride is a huge Crossword nerd.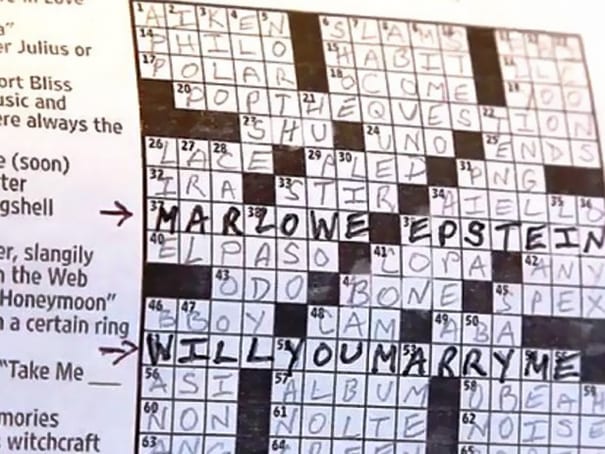 How awesome would it be when you're answering a crossword puzzle, and the magic question pops out! Crazy! He didn't have to execute a master plan; he just needed to ask himself: "What does Marlowe love?" What a sweetheart her partner is and so thoughtful too.
The Umbrella Academy
This marriage proposal is a sweet one and truly took a lot of work executing. Imagine being on the other end of this proposal- looking at the words being shown to her as those brollies turned? What a colorful and original move!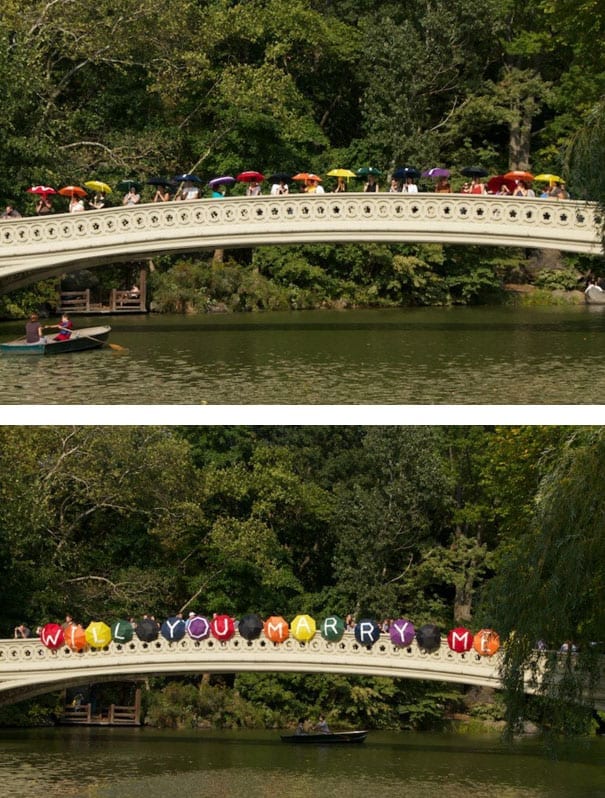 We love how each umbrella has a different color, and it seems like they've practiced this before executing it. This bridge was a spot on place to ask someone to marry them! We only wonder if the lucky couple is on the boat – now that would've been a straight-up Disney movie ending!
Rock Climbing Proposal
This rock climbing proposal is one for the books. It's truly a sight to behold, and this man went over the top to propose to his love. The couple is a huge fan of rock climbing – so he thought, why not propose to my love in the gym?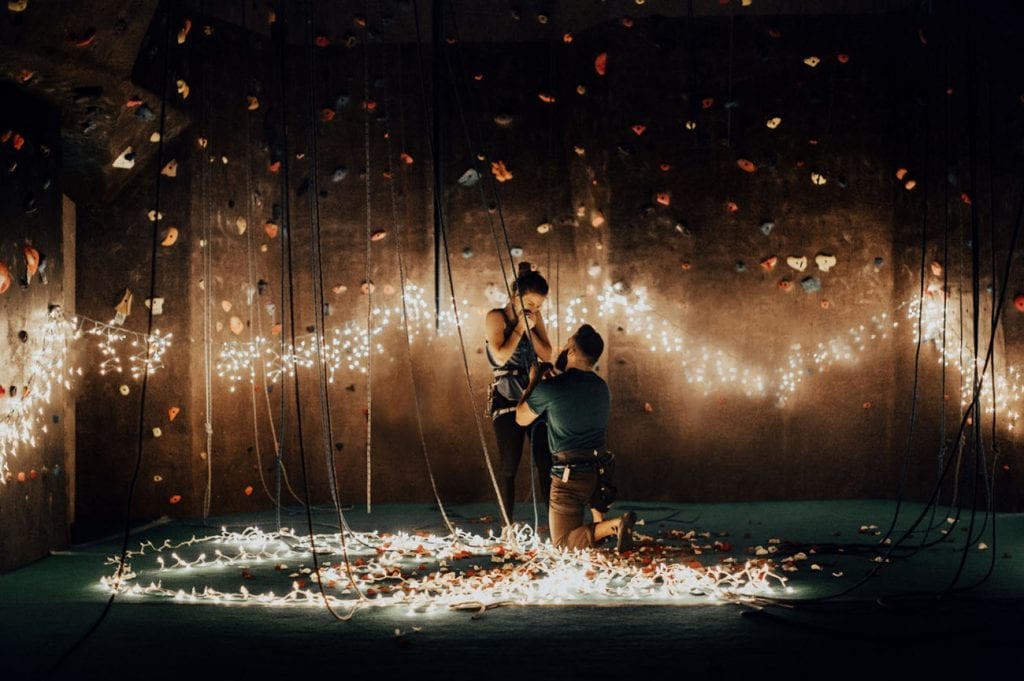 This simple gesture might not look like much, but it's the thought that matters. The lights make the gym look like a magical place, which goes to show that a little creativity and attention to detail can make anywhere the perfect setting for a romantic proposal.
Dr. Who
This is another great idea for TV show fans who love Dr. Who and other movies of the sci-fi genre. This little tardis contained a diamond ring and was made just for making this proposal perfect. This nifty idea is one of the best ones we've seen so far.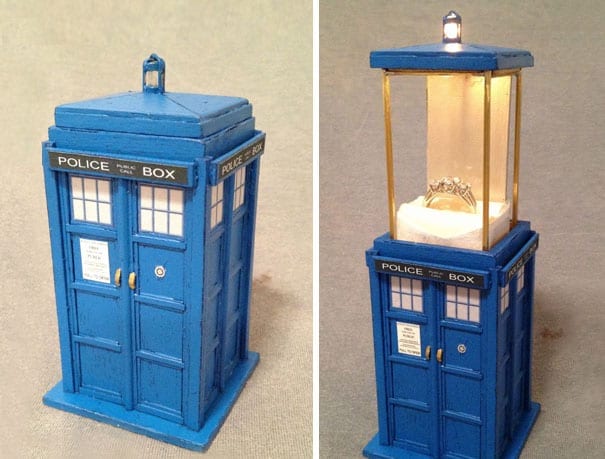 How creative and kooky is the box! The handcrafted tardis says a lot, and the design is very well executed. Dr. Who, the time-traveling figure, is one of the coolest shows out there, and if this couple watches it, they sure do have great taste in good shows, and in finding the ideal partner.
Slow and Steady
Usually, slow and steady wins the race. In this wedding race, this man was in no rush to propose to his love. The timing didn't matter as long as he got it right, and indeed he took his sweet time. In a span of five months, he's been proposing to his queen without her knowing.

Unfortunately, she wasn't awake or had her back turned for the first few proposals, and he had to ask her multiple times until she finally caved in. Right in time for Christmas too! This man is an expert in biding his time, and we can't get enough of this proposal story.
The Unbreakable Vow
Harry Potter fans will be thrilled to see this marriage proposal. This idea is excellent if you're a big fan of the books. This man decided to carve a spot for the ring in Harry Potter's Half-Blood Prince. He then attached a ribbon and dangled a ring from it.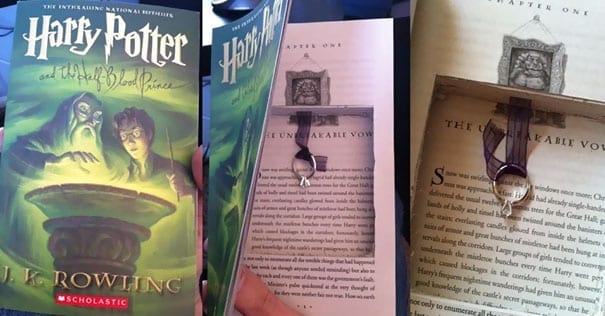 How thoughtful and creative! This look is undoubtedly a unique one that would be loved by fans everywhere. Such a sweet gesture for an iconic book. This lucky woman is surely loved, and her partner seems to value the little things in relationships.
Keyboard Proposal
This keyboard proposal is a sweet and nerdy gift. If you're a couple who values working hard and playing (video games) harder, then this is the perfect wedding proposal for you. The keyboard has the words: "will you marry me?" engraved on it.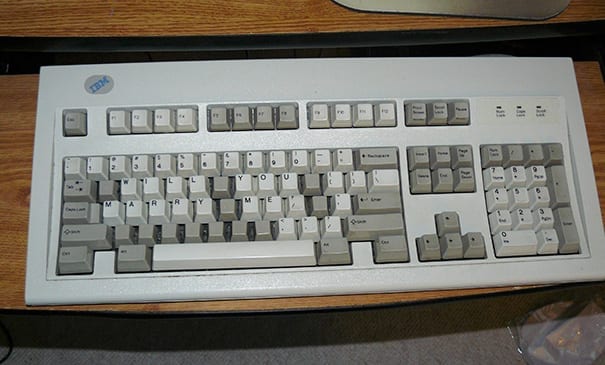 So make sure that before you start working hard, always to look down, because if you aren't, you just might be missing something. This woman wasn't expecting a marriage proposal on her keyboard, but when she saw it, she was overcome with joy.
Wakesurfing
When proposing during water sports, it's always important to be careful. Make sure not to bring the ring with you while you're doing the actual activity. This man really spent his time thinking about this proposal, and he nailed it!

While they were wake surfing in tandem, he decided to pop the big question. He didn't bring the ring with him – thank goodness and decided to give her the trinket on the boat afterward. Good job, man, you truly outdid yourself.
Up Themed Proposal
Carl Fredricksen from Up always dreamed of visiting Paradise Falls. If you've seen the movie, you'll clearly remember the old man and his desire to travel. He wanted to experience it with his wife, but unfortunately, she passed, leaving him alone to fulfill his dreams without her.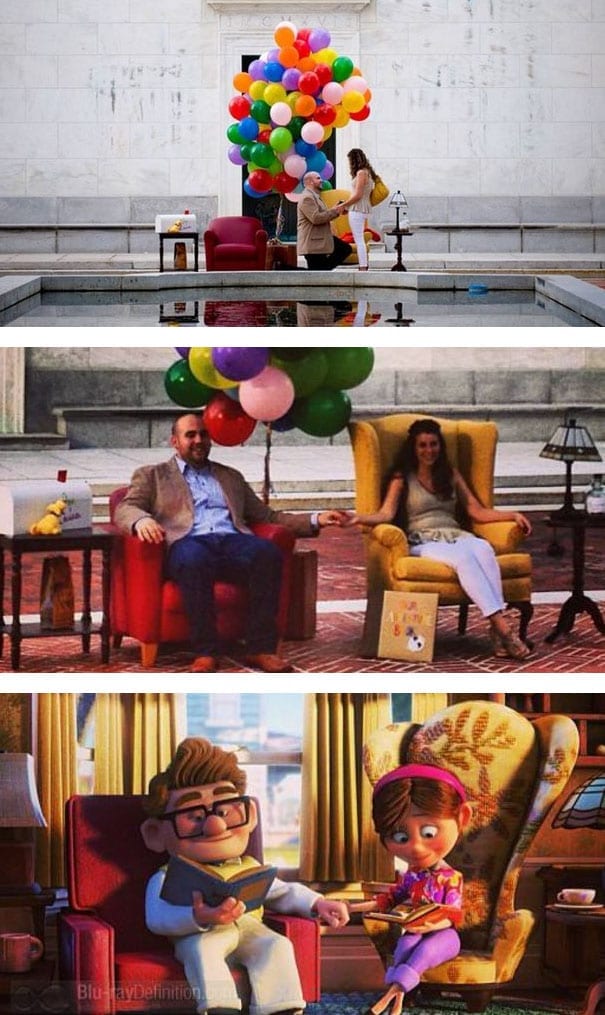 We hope this couple will be able to travel to their heart's content. After all, why not? The world is a big place, and there's so many countries, jungles, and beaches to explore. The multicolored balloons were a nice touch, and the setting was set in stone!
Sand Castle Dreams
This wedding proposal is what dreams are made of. This proposal is one of the coolest we've seen. The pair were walking on the beach one day on vacation abroad when her partner drew her attention to a sandcastle on their way.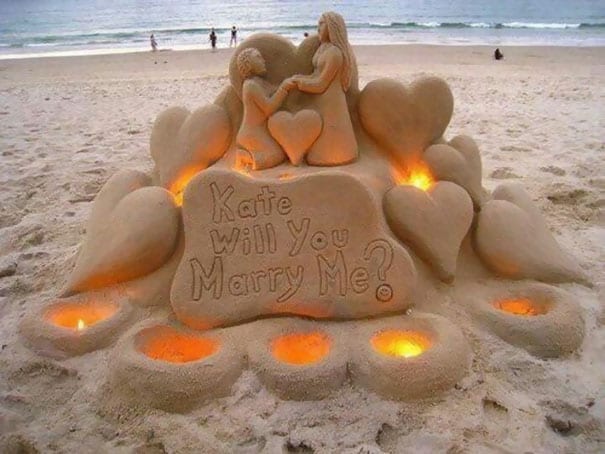 She stopped dead in her tracks and her heart instantly melted. The lights were a soft touch and must have amplified the wedding proposal even more. Such a sweet gesture on his part and we wish them the best life possible.
A Classic
For all the bookworms out there, this marriage proposal is for you. Take your loved ones' favorite book and place your private message inside, paired with the ring. What better way to show your love for your partner via their love for books?
People who adore books will simply melt at the sight of this proposal. Not only is it heartwarming, but it's also elaborate. The cut out was made in the shape of a heart, and it indeed shows attention to detail. This intimate gift is one all women dream of.
The Runner's Marriage Proposal
This is for all the gym buff couples out there. The types of couples who have Instagram posts of all their training routines. The people who drink power smoothies in the morning before going for a run around the block.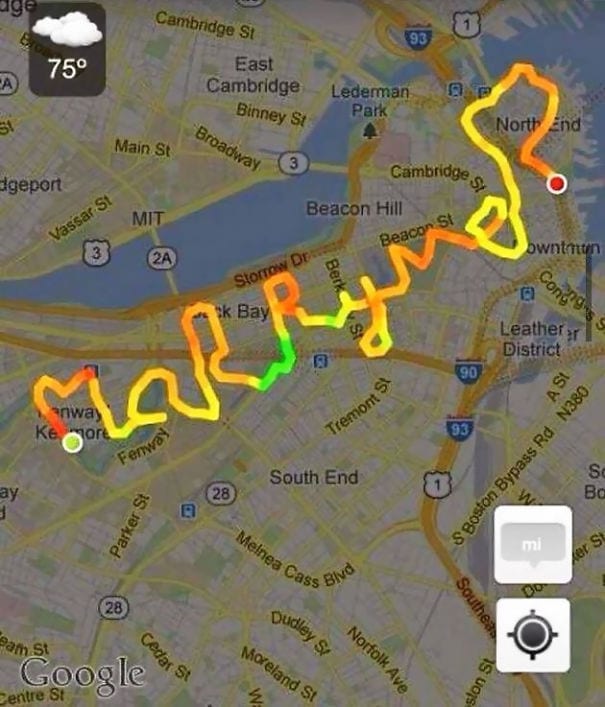 This man wanted to propose to his girlfriend in a unique way. He invited her on a running route that involved following a specific path. He asked his girlfriend to trace the path after, and in the end, she found a heart-stopping message waiting for her. She must've stopped dead in her tracks!
I Choose You
Pokemon is the ultimate classic game that rocked our worlds as kids. The game changed our lives, made us pokemasters of our own worlds who encountered challenges, and leveled up our pokemons. It truly was a magnificent game that kept us enthralled for hours.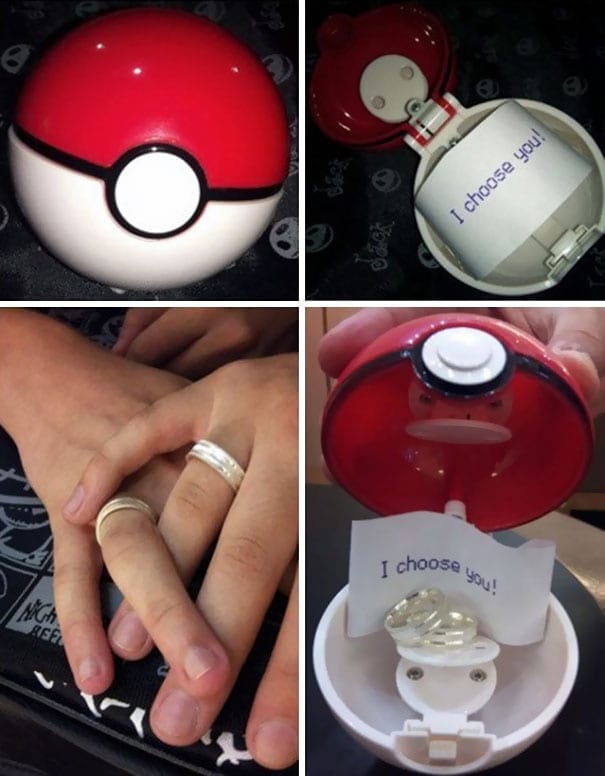 Nowadays, it's nice to reminisce about past childhood video games, and this man went down that route. He custom made a poke ball to fit a ring! This lovely couple truly leveled up from puppy dog love to a full-grown engaged couple. We hope they don't lose their fun, childlike side!
With the Help of a Friend
This guy is getting all the help he can get from their dog. Sometimes it's advisable to ask for a hand from a good friend, a family member, or even someone you went to school with. This man decided why not use the help from someone cute and floofy?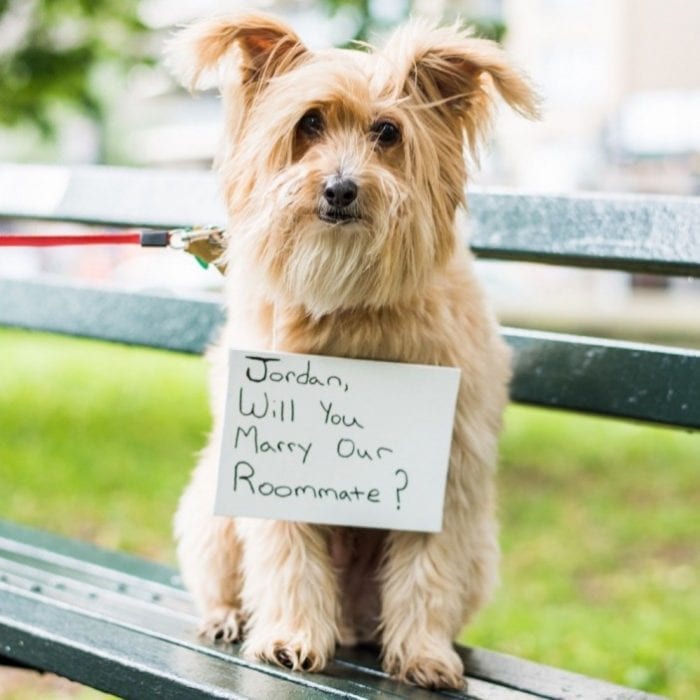 Jordan is one lucky gal for having these two in her life. It looks like they only want the best for her. This calls for a family gathering – and a cute one at that. The future baby of this family is going to have the sweetest parents- and fur-brother ever!
Pride and Prejudice Proposal
This heartwarming moment of a Pride and Pride marriage proposal is sure to knock you off your socks. If you're a big fan of the book, then you're sure to love this proposal. Bethany Albert was surprised to arrive at her home to hear her sister, claiming that "Mr. Bingley had returned to Netherfield at last."

The entire family was even in on it, and they practiced their lines very well. They executed the most important parts of the movie, with the proposal being the highlight of it all. The two lived happily ever after, just like the perfect book ending.
Cards Against Marriage
Cards Against Humanity is one of the funniest games out there – with their kooky answers. It's a wickedly-naughty game to play with a small group of close friends. It makes for a super ice breaker to make people feel less awkward at social events.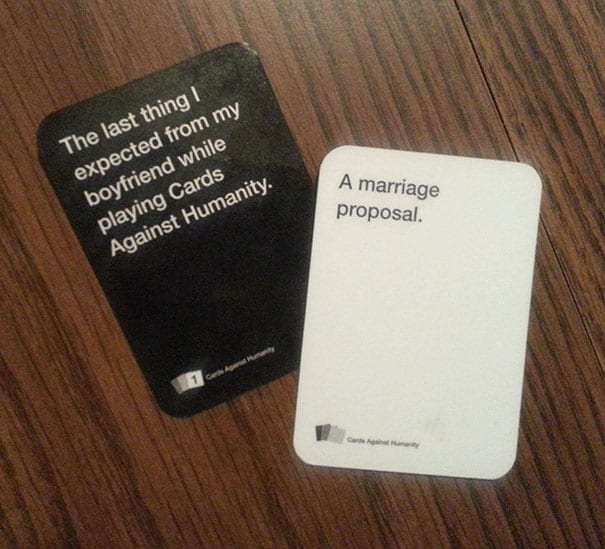 What a smart idea to use a deck of card to bring up the question of marriage. This isn't an idea you come across all the time, and it can be truly random seeing it in a deck of cards. Imagine playing cards only to be proposed to! What an awesome win.
Custom Labeling
This kind of marriage proposal is one for the books! Or should we say, Coca Cola books. The arrangement of the Coke bottles is spot on, and the man looks like he spent hours coming up with the thought process for this idea.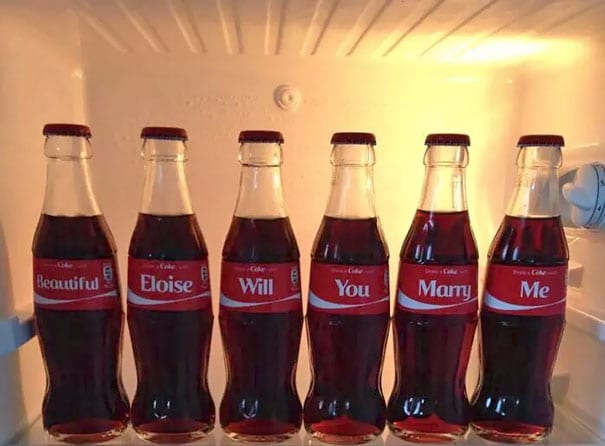 Eloise is a lucky lady! Good on her man for spoiling her with a lot of coke bottles and a lot of love. That's a surprise waiting in the fridge that we wouldn't mind seeing. This couple must really enjoy Coke, or at least Eloise does.
Kinder Egg Surprise
This Kinder Egg marriage surprise is one that'll make you think of the sweet chocolate egg in a different light. Usually, one of the best things about the Kinder Egg surprise is finding a special treat inside. This soon-to-be-husband unleashed his creative surprise very well.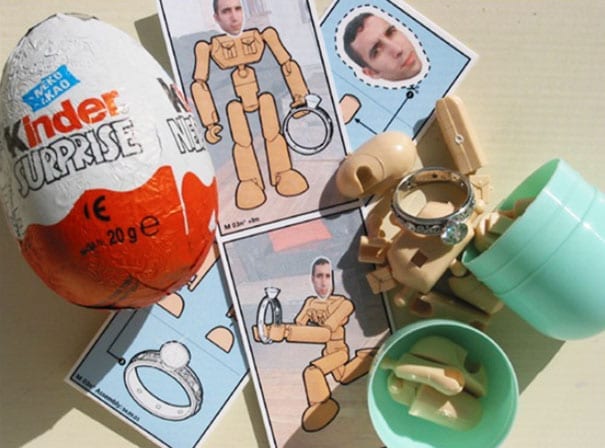 When he handed her the chocolate egg, she surely didn't expect it to contain anything other than a toy. Little did she know that a diamond ring was waiting for her too! What a sweet surprise, rather than just getting a piece of chocolate – she's getting hitched.
Dolphin's Proposal
Is the dolphin proposing to the man, or is the man proposing to the woman? It's a little hard to tell! We kid. Jokes aside, that is one well-trained dolphin and a cute one at that. Look at how he strains to keep the object straight in his mouth.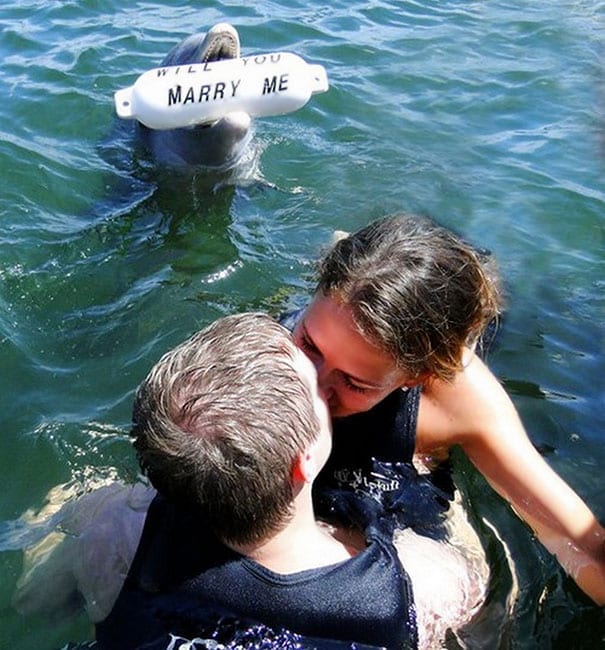 Such patience being shown by flipper! Once this couple stop kissing, she'll turn around to this adorable sight. It's super unexpected, and she'll surely be surprised! Nice one, dude. We're sure you scored some extra points with your lady. Now someone feed the dolphin some fresh fish for being such a great accomplice!
Lindsay's Jungle Log Jam
Amusement park proposals are amazing because the timing has to be just right. You don't want to mess up your marriage proposal by missing three seconds of precious camera time. This guy had a lot of good friends on his side to help him with his proposal.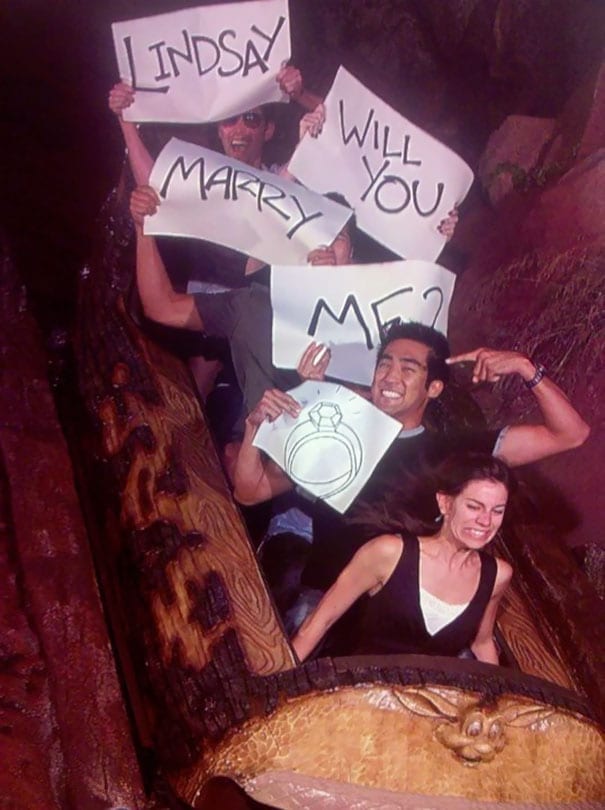 He invited all of them to go on the jungle log jam with him and his girl. There he planned to execute his winning proposal – midway through her screaming. Now that's a moment she'll always remember and never look at the same (in a fantastic way!)
The Wonderful World of Princess Peach
This marriage proposal goes to show that even women can propose to men – with the right timing and intention. The super Mario themed proposal is wicked, and we love the originality and the wording she included in the box.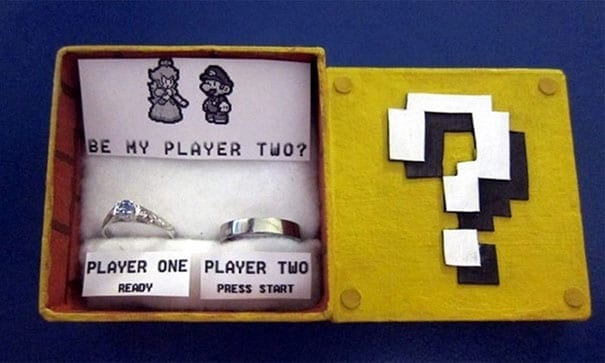 Princess peach is already ready with her own ring, and all she needs is her partner to press start. What will his answer be? We sure hope he smacked the start button right away – because he sure found himself a keeper for life!
Crop Marriage Proposal
One of the benefits of having a farm is having your own fields. You can grow whatever you want, any vegetable or crop. And while you're at it, you can hack everything down too if you so wish to do so.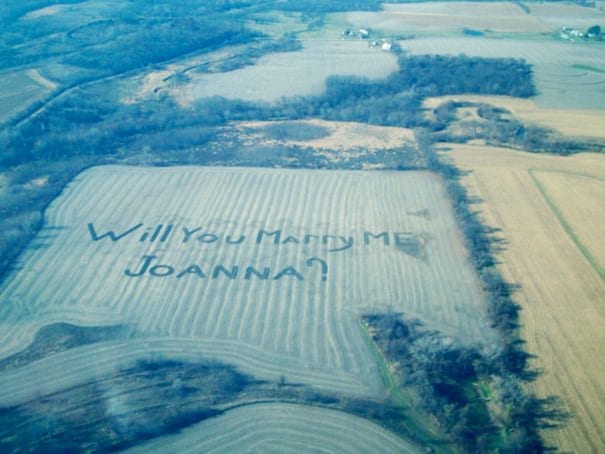 This man decided to propose to his partner using the farm fields to help send the message. He cropped the fields and made sure the words formed what he wanted them to. His handwriting is perfect, and his partner was probably head over heels with this message. Or should we say, up in the clouds with content!
Disneyland Dreams
This man decided to take his partner to Disneyland to show her all the cool spots. Unfortunately, she had no clue that what she was holding was the very reason they were in the amusement park in the first place.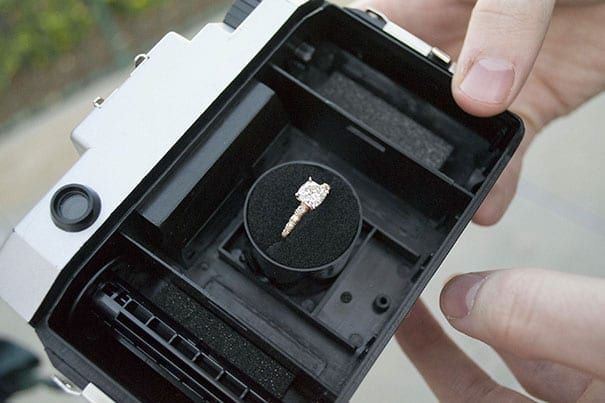 He wanted her to celebrate her inner child before they embarked into the world of marriage and commitment. The camera was a nice touch to disguise the hidden surprise. We just have one question: "Will she be bothered that the camera didn't have an actual film loaded?" Hope not!'
Light Show
This man decided to delight his wife with a light show. But not just any ordinary light show – he wanted to go all out. The whole shebang and nothing less. This guy used so much electricity – but it was well worth it!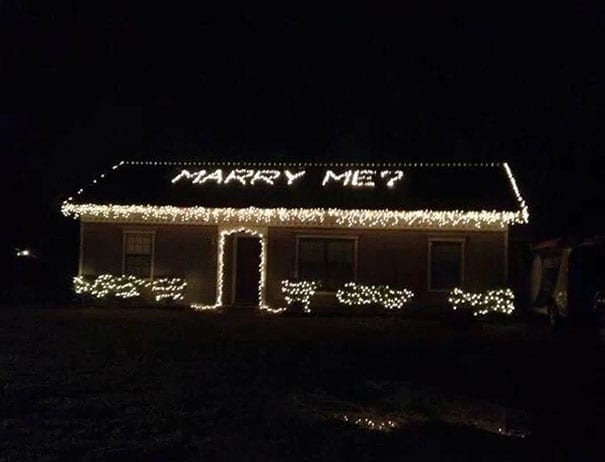 His proposal was straight out of a fairy tale book. This guy truly has an eye for details. He decorated their entire house in lights with the magic words on the roof. If this isn't the most romantic sight we've seen today, we don't know what is!
Illustrated Book
This guy really put in the work for his partner's proposal. He even made an illustrated book to make sure that he captured the right moment to ask her. When she reached the last page, this is what she saw at the end.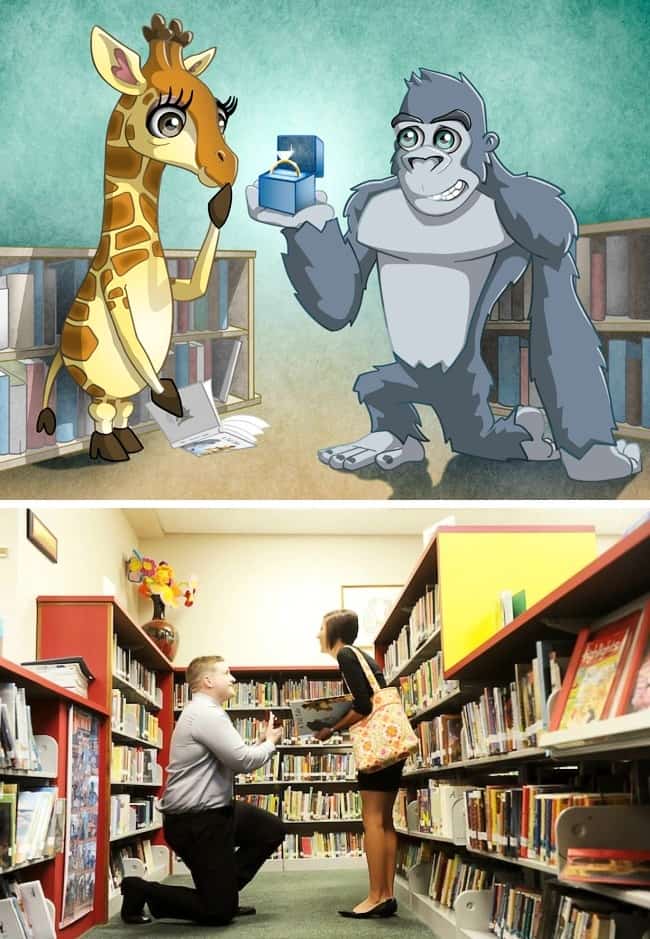 Afterward, he got down on one knee and popped the question. This all happened in a local library, how awesome is that! For all the bookworms out there, this heartwarming gesture is sure to make you giddy and feel butterflies all over.
Frozen in Time
Almost everyone on this earth is familiar with Elsa from the movie Frozen. And who could forget Olaf? This couple loved Frozen so much that they decided to recreate scenes from the movie for their big moment, complete with costumes.

The guy even rented a horse to propose to his girl. Talk about over-the-top proposals! This guy is the prince of it. He really knows what he's doing, and he's undoubtedly on top of his game. The ending of this series comes straight from the movie – literally! Looks like a happy ever after for these two love birds.
Extra Cheese
This couple sure does love their cheese. Instead of proposing the regular way with a ring and on one bended knee, this man wanted to go for a non-conventional way of popping the question. With the help of good ol' cheese.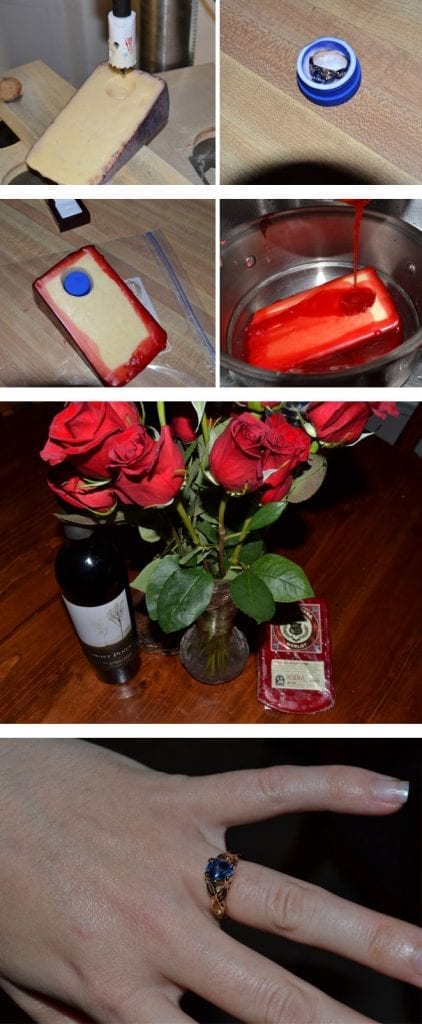 He took extra caution so that his partner wouldn't swallow the ring accidentally. He sealed it in a blue cap and even made its own coating. How could she say no to delicious cheese and a beautiful blue diamond ring?!
Scavenger Hunt
Proposals that require a bit of thinking and planning from the groom to be are some of the best ones. This man wanted to propose to his girl with the help of her family members. He arranged a scavenger hunt, so she could piece together the puzzle.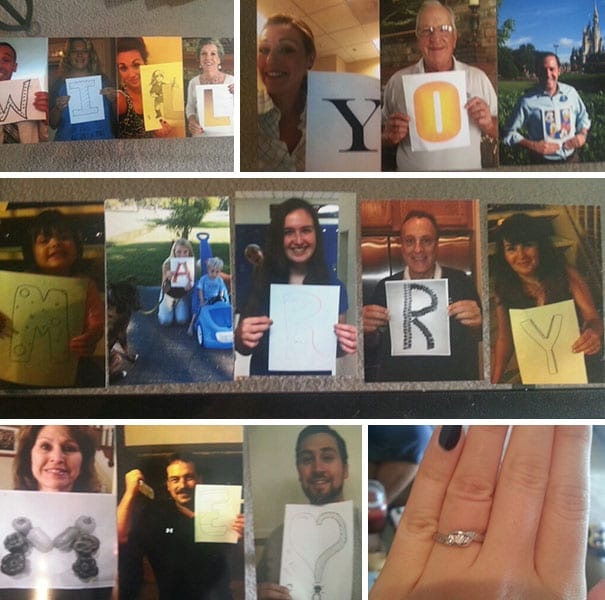 It wasn't just any regular ol' scavenger hunt; the family members each had a say and a letter to hold. The entire puzzle is a completed message that the girl has to answer. In the end, she couldn't help but say yes to this grand gesture.
You Rock!
Couples who rock climb together stay together. This adventurous duo decided to visit a nature reserve one weekend when the man popped the question everyone else was waiting for. He finally asked his girl to be his future wife.

But the question didn't come easily; she had to go rock climbing in order to get the ring. Once she made her way up the mountain, he decided to ask her the million-dollar question. This lucky lady was overwhelmed with joy and the adrenaline of climbing up a mountain!
The Binding Card
The ring of engagement is a card that isn't for the faint of heart. It's for the willing gal who's keen on having her best friend as her partner for life. This card is a magical one that makes sure that you and your dear are bonded for life.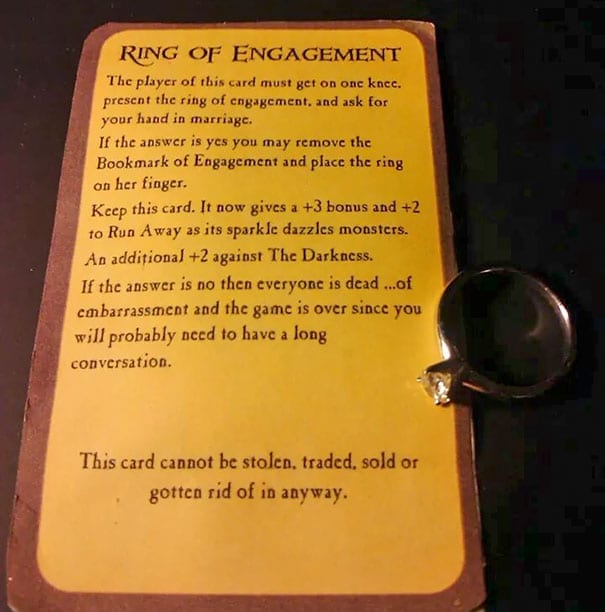 If you say no to this card, you risk embarrassing everyone at the table and, ultimately, your partner. But again, the choice is, of course, in your hands. Judging by the ring on the table, the card received a resounding and definite yes.
Eew or Aww?
This man and his partner have a deep love for the sciences. So when he asked his scientist partner if he'd like to marry her using a petri dish, she was blown away. For some people, they might find this a little gross, but as the saying goes- there is a lid for every pot, and she thought it was the most romantic thing anyone had ever done for he.r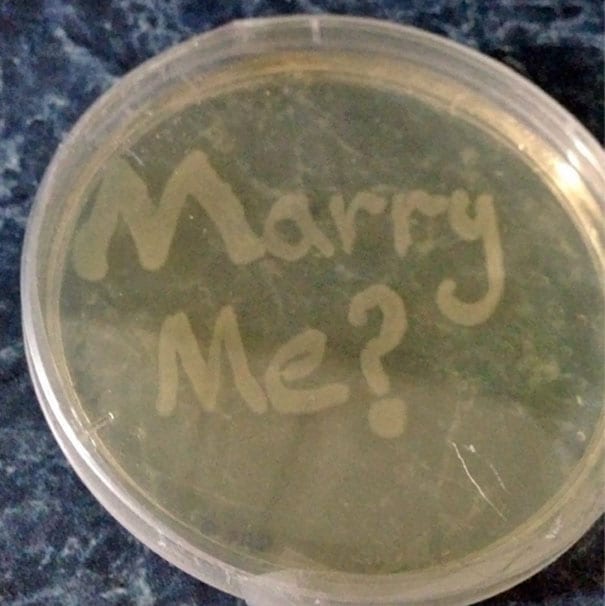 If your partner has some special interests and you've thought about popping the question, it's a great idea to incorporate the proposal with said interest. To ignite her passions even further. This proposal was just so well calculated! We wonder if they studied the microbes of the letters after?
Dish For Free
Imagine going on a date with your partner, and he asks you to order whatever is on the menu. You order a Stella, a margarita, and a meal. Once the bill arrives, he passes it your way, and you check its contents only to find that you didn't order one thing – a marriage!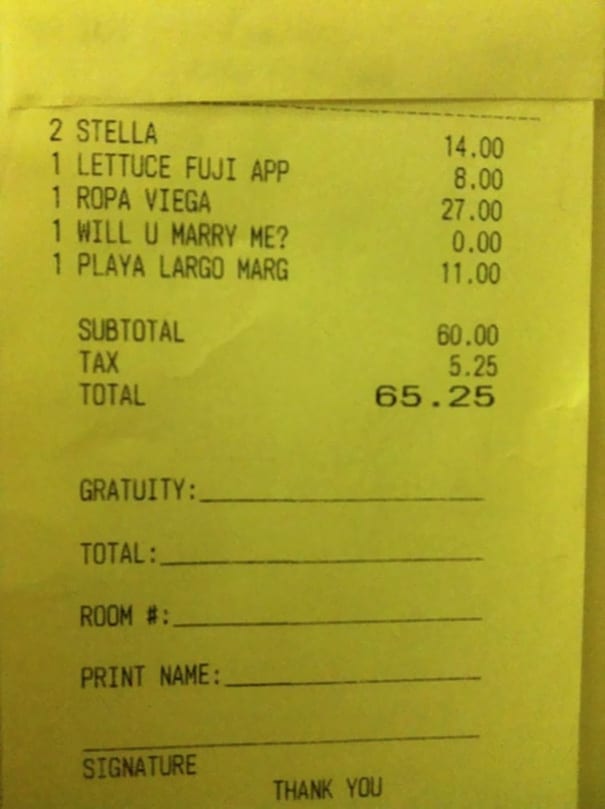 You take it anyway since it's free. Your partner leans in to give you a kiss and tells you it was his cute little surprise. This proposal goes to show that it's the little things that matter. What a sweet gesture this was! They won't need anymore dessert with the sweetness in this message.
Playing Pictionary
Pictionary is one of those games that you can't get enough off. It's a lot of fun for the entire family, and it's even more fun when you get proposed to in the middle of the game. These two are huge fans of board games, and this guy thought it would be a great idea to propose to her while playing a game.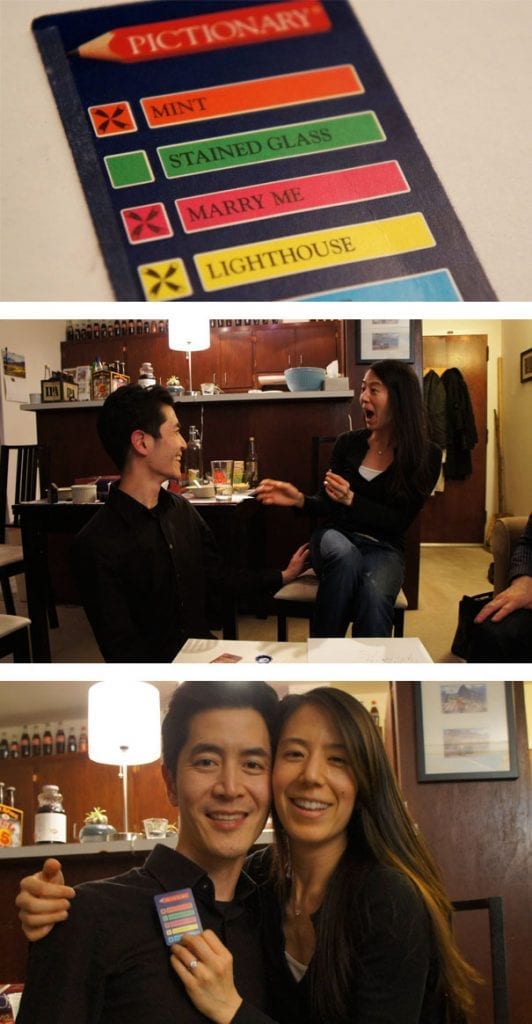 She was shocked by the gesture and totally did not expect it. One of the cards had a "marry me" option. Which goes to show how much attention to detail this guy put into the deck. If you're a board game fan, this is a great option to explore.
Vinnie and Brooke
Vinnie decided to go all the way and ask his girlfriend Brooke to marry him. Since the two are both fond of tattoos, he decided to pop the question in a tattoo. Brooke is a tattoo artist, and she certainly appreciated the gesture.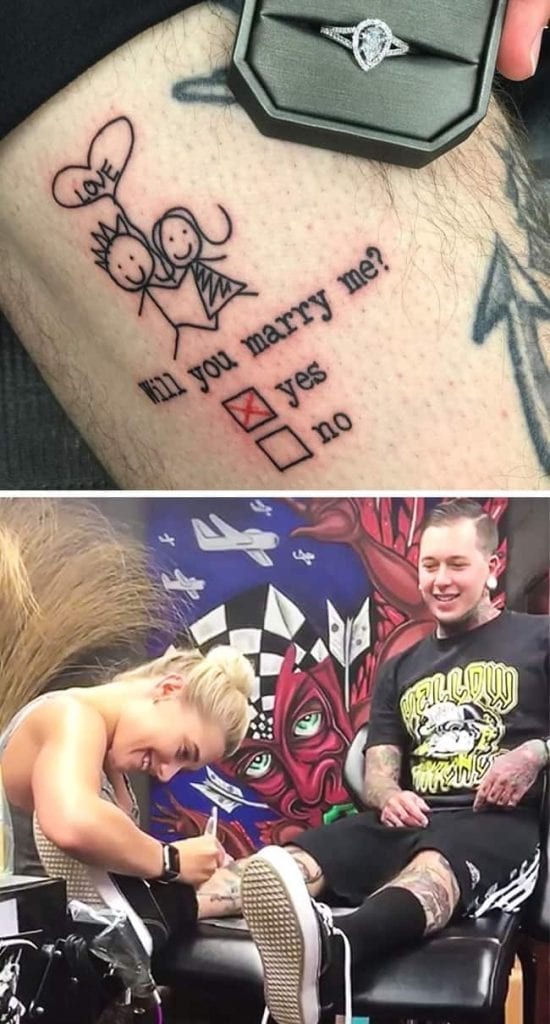 Vinnie and Brooke are all smiles when Brooked ticked the yes box. The two are now happily married, and Vinnie gets a beautiful tattoo on his leg done by his wife. The drawing is adorable and reminds us of young love. We hope they stay forever young and in love.
Starbucks Proposal
Who doesn't love a good venti caramel macchiato? The staff of Starbucks and its peeps were having their regular cup of coffee when this guy couldn't resist the urge to ask his girl to be his wife. The whole cafe was blown away by the looks of it.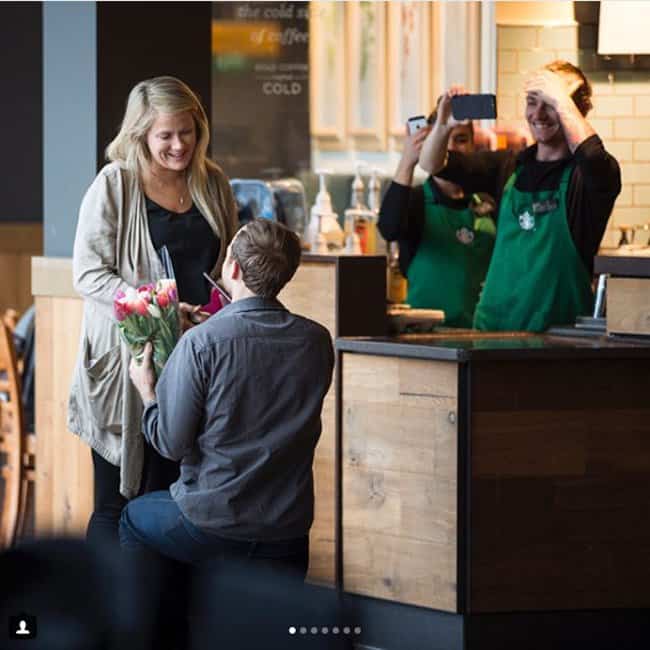 This woman is one lucky gal, and the staff can agree to that too. Maybe Starbucks was one of the places they first met? No-one can honestly know how special a place is for someone; only these two people truly understand the place that Starbucks has in their hearts.
Handmade Monopoly Board
This man wanted to go all for his marriage proposal for his soon-to-be-bride. The couple is a huge fan of board games and so he thought it would only be fitting to involve one of their favorite games ever in the proposal.

He handmade the board and even made a small insertion in the board to place the ring. How tactful and tasteful! Getting this card is akin to winning the jackpot – the jackpot of marriage. This woman ultimately won the game and the love of her life
Aquarium Proposal
Everyone proposes in their unique and strange ways. This man decided to pop the question to his girl in an underwater aquarium in China. We wonder where the creatures are in this aquarium, and did the place have to make sure they were all gone?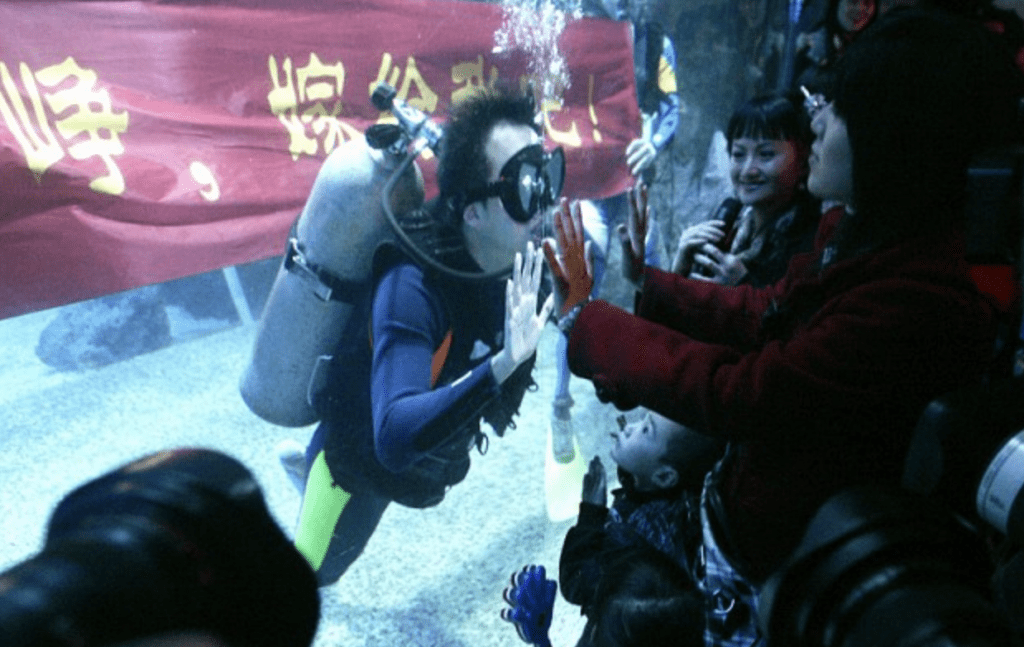 This man truly loves his girl and he will go to great depths to show his love for her. The Chinese are known to be over-the-top with their gestures, even imitating famous monuments. This is another testament to how creative they can be!
Geode Mining
This couple went on a little geode mining trip and he wanted to bring his girl to the best place for that. He arranged a quick trip just for the two of them to experience the magical world of crystals and rocks. Since he and his partner were avid fans, why not craft a proposal themed around that?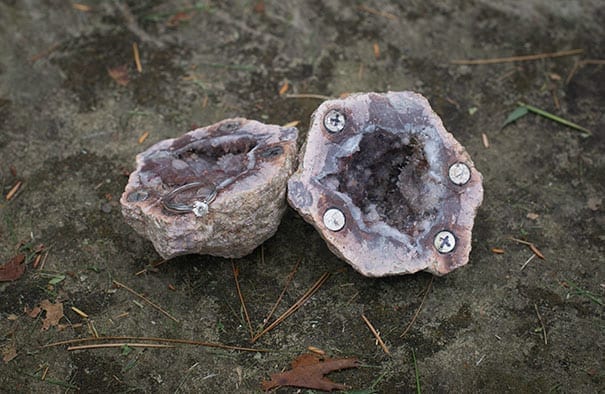 While they were looking for interesting objects, his partner came across this rock. When she noticed that it wasn't an actual rock, she was head over heels in love. This was such a creative idea to merge two worlds together. The world of nature and the wonderful world of marriage.
Uniting the Force
Star Wars fans unite for this beautiful proposal that transcends galaxies. This wedding proposal truly defies the test of time and is a proper display of this couple's love for each other. It looks like this couple is a match made in heaven.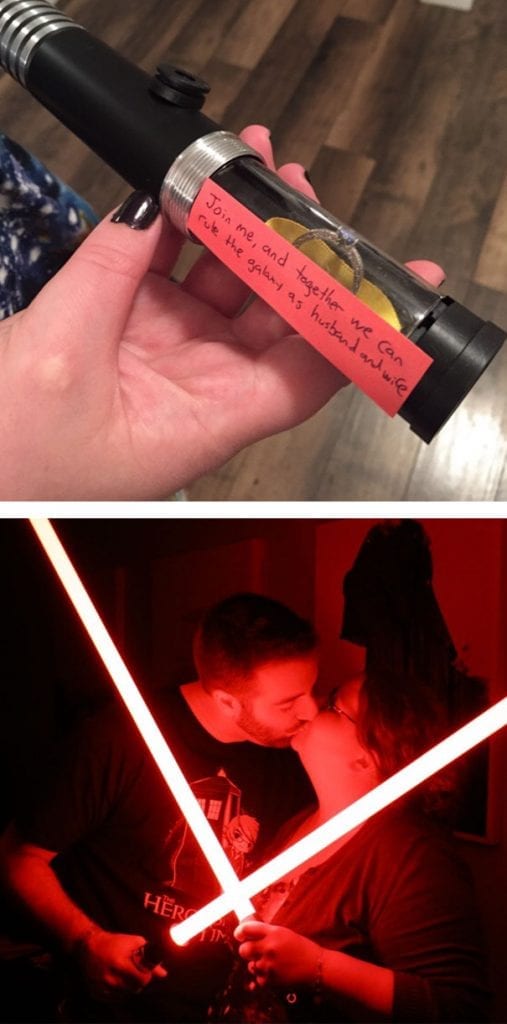 A couple that watches Star Wars together, stays together. We're living for this proposal, and we wish them a lifetime of happiness and love. The lightsaber proposal was a cool touch, and the note is a cute one too.
He's Alive
At first glance, you might think that this man swallowed the ring but not at all. He simply bent metal wires to form the words: "marry me?" and attached the ring to his neck and the words via tape – how crafty!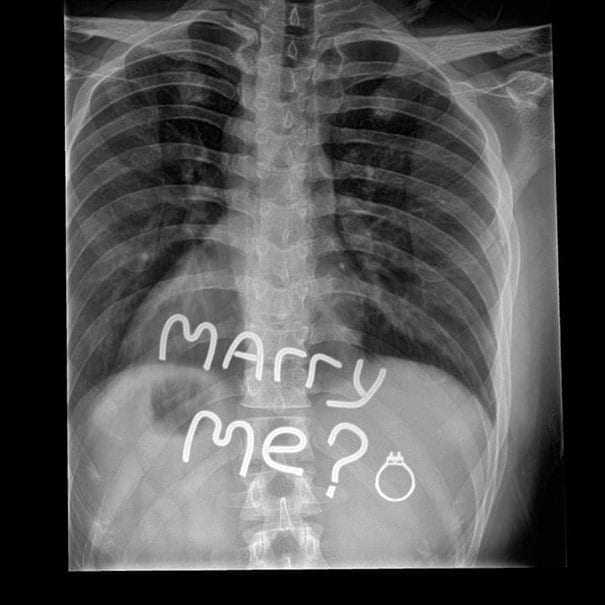 His partner is an X-Ray tech and he only wanted to surprise her with a grand gesture. We appreciate the creativity behind this and the guy truly knows what he's doing. This idea was a unique one and it's a pretty rare sight too.
Looking to The Moon
This is such a nerdy and cute idea but we absolutely love it. Imagine being young and wishing to see the universe or even just the moon. This lady got a special present when her partner gave her a telescope – and more.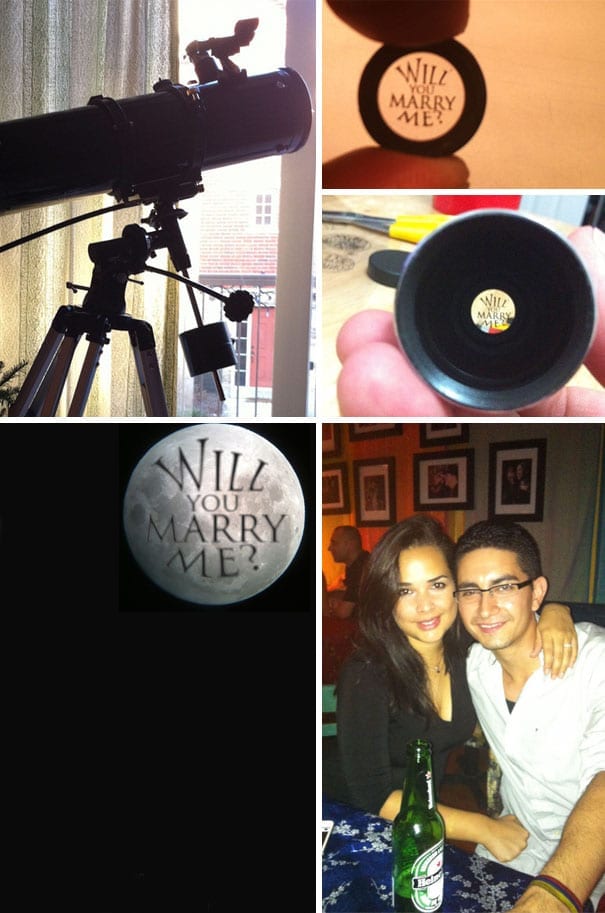 He asked her one night to look through the telescope to stare into the moon. Plastered on the moon were the words: "Will you Marry me?" How touching is that! Expecting to see the moon and then seeing it get even better with an offer to spend the rest of your life with the man of your dreams.
Getting Artsy
This isn't your regular marriage proposal, it's an artistic one. This guy managed to bust out his graffiti art skills in a marriage proposal. How cool is that? This man has an eye for design and he wanted to put it to good use.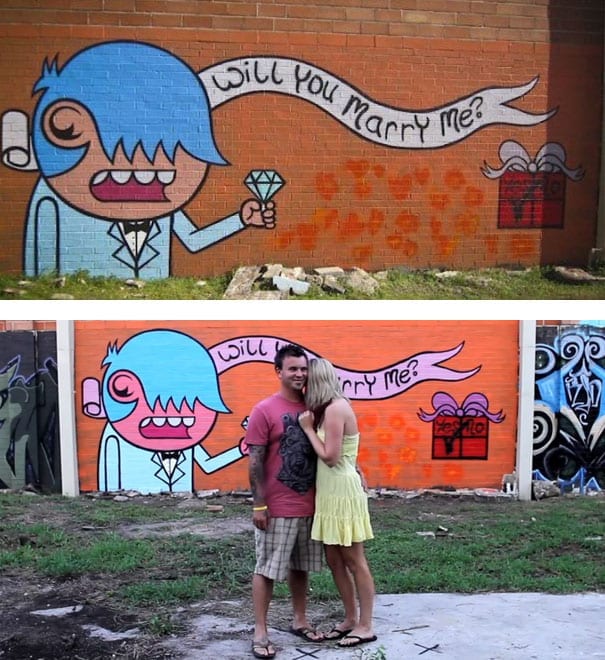 His wife to be checked the yes sign and she looks head over heels in love. When thinking about how to execute a marriage proposal, consider all possibilities and rule them in. It's always a good idea to think twice before jumping into the question and a little thought goes a long way.