I'm A Pediatrician And A Mom. I Tried Coterie – Here's My Honest Review
By djadmin October 25, 2023
---
Editor's Note: I'm Dr. Noy Halevy-Mizrahi, pediatrician and new mother. DocJournals asked me to guest write about Coterie's  diapers.
This post is in partnership with Coterie. We only endorse products we believe in.
As a pediatrician and new mother, let's just say I have quite the mommy-and-me community. One of the most gratifying things about my job is that I get to blend my personal experience with my 15-month old son, Sam, and the knowledge gained from my pediatric practice. I like to use this to help other families get through the often challenging situations us parents can face.
If I had a nickel for every time I had a parent come in worried about a diaper rash, I wouldn't have to be a doctor anymore. I've counseled so many families about how important it is to have frequent changings. Babies' skin is incredibly tender and leaving a wet diaper on too long can lead to diaper rash. It's also important to keep the area dry in order to prevent and heal any rashes.
Not many children get through infancy rash-free. Sam has woken us up in the middle of the night with sopping diapers one too many times.
The last thing I want as a pediatrician and mother is an unhappy baby. Although diaper rashes are fairly common, that doesn't mean they have to be frequent. One simple hack is finding a diaper that keeps your baby's bottom clean and dry.
I'm always digging into what the new moms who arrive in my office have to say about their routines. Recently, a patient of mine — with 2 children under 2 years old — mentioned that she uses a brand called Coterie. They're diapers advertised for high absorbency and double the capacity of competitors like Pampers and Huggies.
She said that Coterie diapers have quicker-wicking technology and faster drying time, and that has kept her little one extra clean with fewer changes needed. The next break I had, I went on Coterie's site and ordered up a monthly supply, deciding to test them out with my own son, Sam.
Here are my personal thoughts on Coterie:
Safer Materials
Many brands don't reveal what's in their diapers. But I appreciate Coterie's transparency about the materials that go into each diaper, publishing third-party laboratory reports for the public to see online.
Their materials are reported to be free of fragrance, lotion, latex, dyes, alcohol, rubber, heavy metals, parabens, phthalates, chlorine bleaching, VOCs, and animal testing. These heavy metals and toxic chemicals can harm your baby's health.*
Dyes and alcohol can cause allergic reactions and irritation, which in turn puts infants at risk for rashes and infection. Getting Sam into a diaper that doesn't contain these irritants has always been one of my priorities. At the end of the day, babies need diapers that are safe for their sensitive skin! I was happy to see that Coterie considers this a priority too.
Technology & Design
Coterie diapers go on easy-peasy. Each diaper has tiny side cuffs to prevent leaks. And there's a stripe at the center which turns blue when the diaper is full. So my partner and I know precisely when our son needs a change, reducing the amount of time Sam's diaper is wet and possibly irritating his skin.
Coterie says that their diapers are made with a "quick wicking" technology that allows babies to stay clean and dry longer. Having used these on my son, I do feel that was the case for him. These diapers magically resulted in less laundry for my family and less early morning wake-ups for Sam due to soaking pajamas — a win!
Fit And Comfort
Coterie diapers fit so well and dry faster than any other diaper I've tried. Sam's diapers are no longer sopping wet. Since we started using their diapers, we've noticed that his skin irritation and itchiness has been reduced.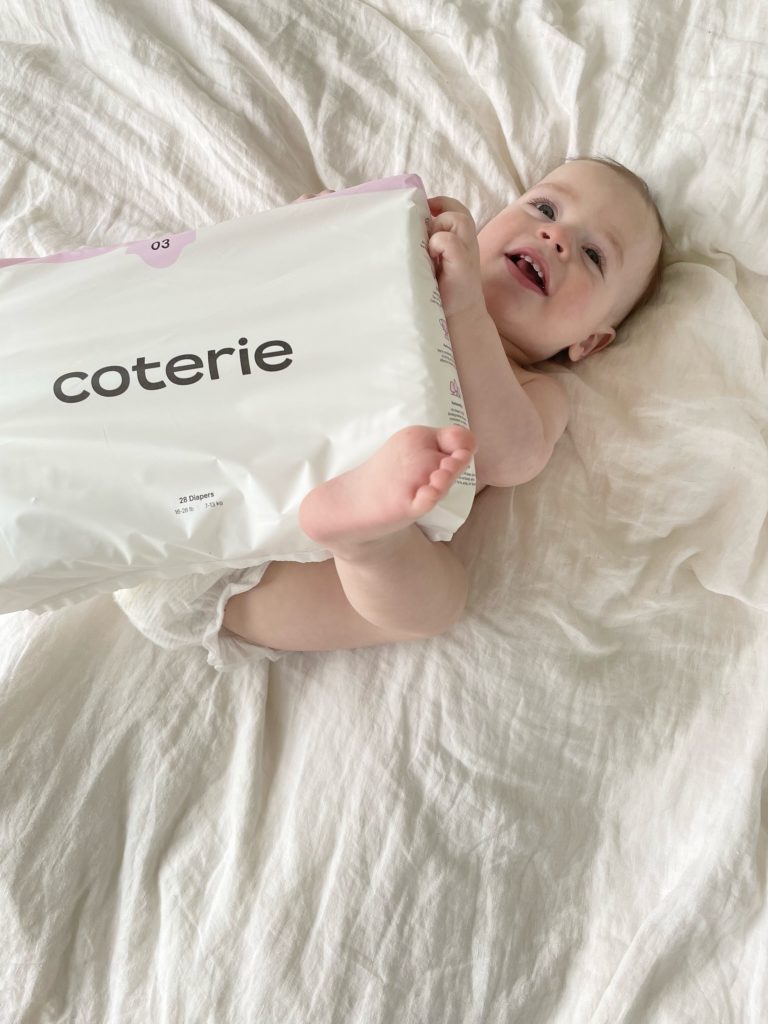 Final Verdict
Although Coterie diapers cost a bit more, their quality has been outstanding, so I don't mind paying that little extra. They offer free standard shipping on orders over $49 and 10% savings on subscriptions and SMS order management — no more last-minute diaper runs!
Preventing skin irritation while keeping my little one dry, comfortable, and safe makes Coterie my new go-to diaper brand. Coterie's transparency makes me all the more comfortable with that choice.
Superior absorbency. Soft as cashmere. Use Code 10EXTRA For An Additional 10% Off Subscriptions For New Customers!
*https://www.smallfootprintfamily.com/dangers-of-disposable-diapers