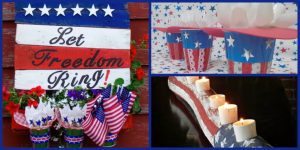 Bring Out The Bold Stripes And Bright Stars With 30 Crafty Fourth Of July DIY Projects
By Larissa C
---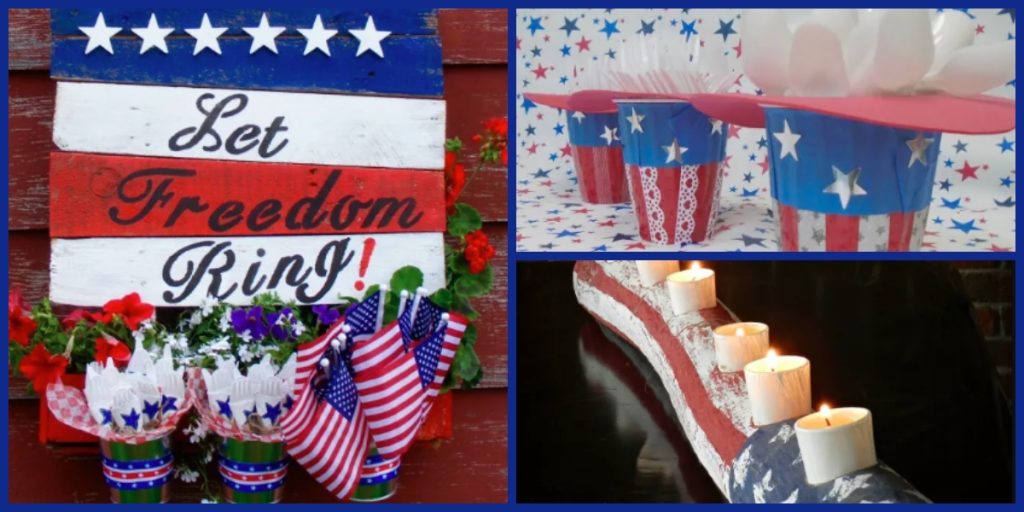 One of the most beloved holidays in the United States is Independence Day — or July 4th. Every household celebrates this important date in one way or another, but there is one aspect of this sparkly holiday that every American home has in common: decorations.
Decorating the house for the holidays is always a special time, and it's even better when you are the one creating the decorations. While you can always buy ready-made décor from any dollar store, crafting your own decoration is much more fulfilling.
This article covers 30 brilliant ideas to spice up your July 4th decorations this year. Whether you like a flamboyant or minimalist decoration style, you are certainly going to find something in this list that catches your eye. Here are 30 brilliant DIY ideas for your Fourth of July decorations!
A bandana banner
You will certainly appreciate this opening idea if you're not exceptional at sewing. Stop by a dollar store and grab four red and white bandanas and three blue and white bandanas. That's how many you'll need to spell out the word 'America.'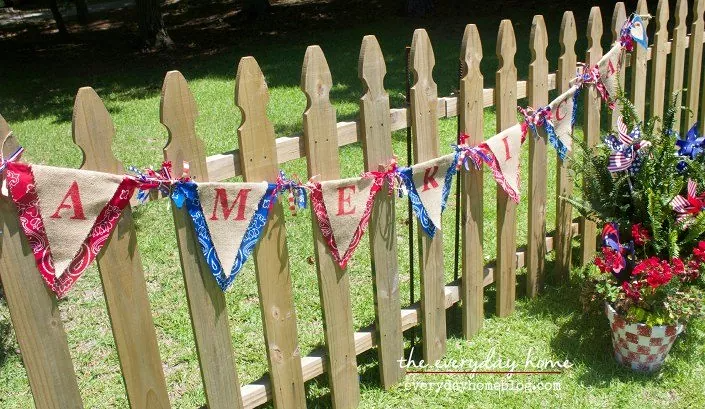 Next, find some burlap and cut it into triangular shapes to place on bandanas in the same way you can see in the picture. Instead of sewing them together, you need to fold the burlap and the bandana over a string of twine and glue them together!
Firework Pattern Made Of Sharpies And Alcohol
Have you ever seen what happens when a drop of alcohol falls on something written in Sharpie? The alcohol kind of makes the paint "dissipate" and gives a blossoming effect to whatever was written before. Let us do a bit more explaining.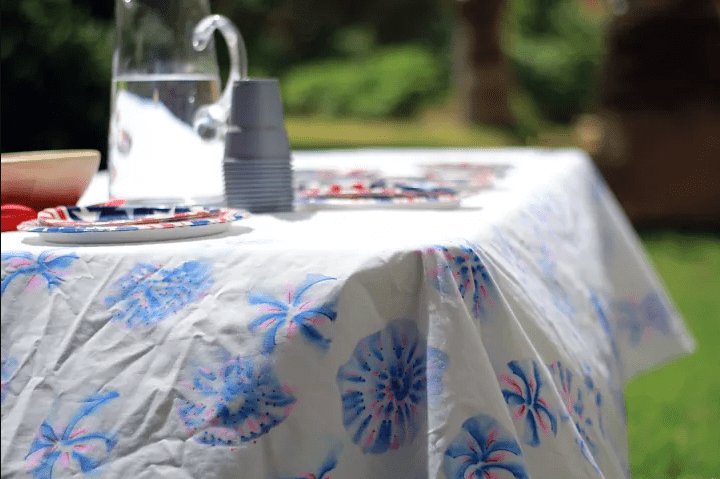 For this craft, this person used a white cotton sheet, blue and red Sharpie pens, and alcohol stored inside a bottle. They drew the fireworks on the sheet and squirted alcohol all over it. It's pretty simple, and it's a perfect decoration for Independence Day!
Festive Yarn Flag
While everyone loves to decorate their homes for the holidays, the sad truth is that we don't always have the time to go all out and impress the entire neighborhood with our decor. If you find yourself in this position more often than not, here's a lovely idea.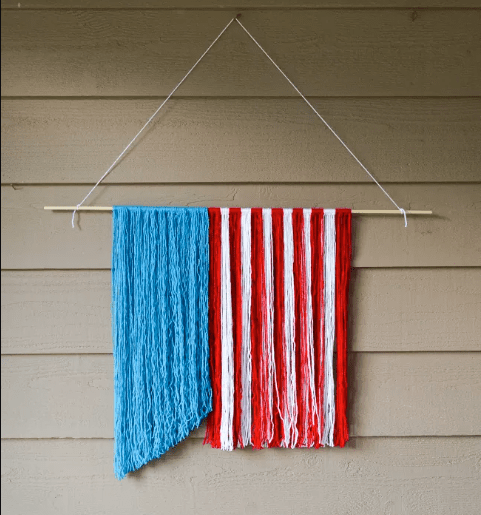 Instead of buying a USA flag from a dollar store, you can recreate this simple yarn flag. All you need is a hefty amount of blue, red, and white yarn. Then, arrange the string on the stick in the pattern of the flag, glue them down, and hang it on the wall. Your guest will be impressed!
Reusing Bottles As Pieces Of Decoration.
Once you become a homeowner, you develop an interesting mentality that might sound like, "I won't throw this out because I might need it later." And it's that mindset that sometimes makes us save too many empty bottles. Well, now you have a reason to use them.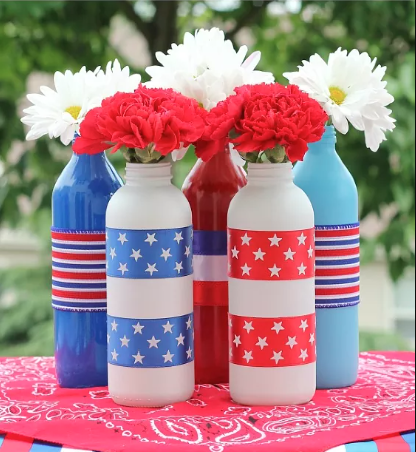 If you choose to upcycle those empty bottles, then you will take your holiday decor to the next level while also helping the environment. And the good news is that they're pretty simple to make. All you need is a few glass bottles and some spray paint. Easy enough, right?
A Rustic Pallet Flag
Who said that women only like cute and flowery decorations? Many women love changing their style by adding rustic elements to the mix! If you are one of these women, you will undoubtedly appreciate this next July 4th decoration idea.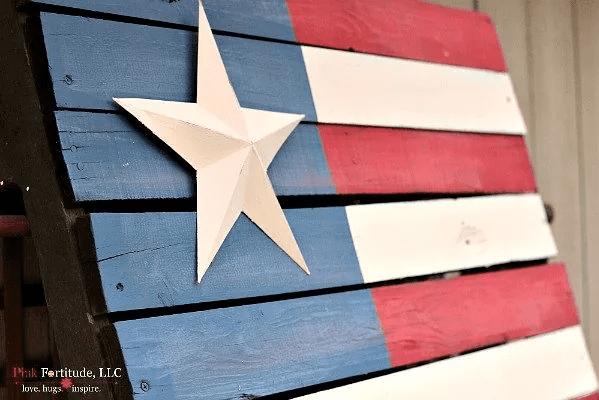 You need a pallet, paint, and a star. Paint the wood pallet with blue, red, and white paint. You can find the star at any dollar store, so it shouldn't be an endeavor. Alternatively, you can also get a bunch of smaller stars instead of just one large one.
Glass Gem Coasters
If you're throwing a July 4th party, you are certainly expecting to welcome a bunch of guests. And having guests over means cleaning everything after they leave. It also means making sure that no one ruins the coffee table with their wet glasses.
Some people may not like coasters, but these items are essential. They're the best way to avoid ruining the wooden tables in your home. This person built coasters out of red, blue, and white glass gems she spotted at a dollar store.
Rustic Flags
Here we have another decoration idea for those who are partial to rustic items. Painting a pallet might be the ultimate rustic décor, but not everyone has the time to do that. If you're one of these people, here's an alternative idea for you.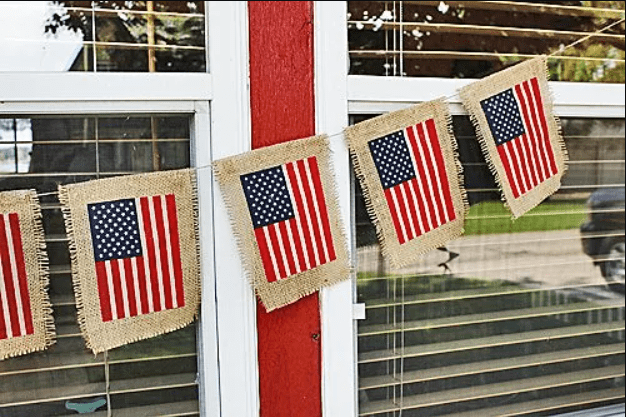 Instead of painting an entire pallet, you can always buy American flags from a dollar store and soak them in tea. Once they've marinated for a while, and after they dry out, your flags will have a yellowish tint that matches the color of the burlap.
A Simple Ribbon Wreath
Do you know how people say that black shoes match any clothes you have? Well, the same logic applies to wreaths and home decor. No matter what it is that you are celebrating, putting up a decorative wreath will certainly match the vibes.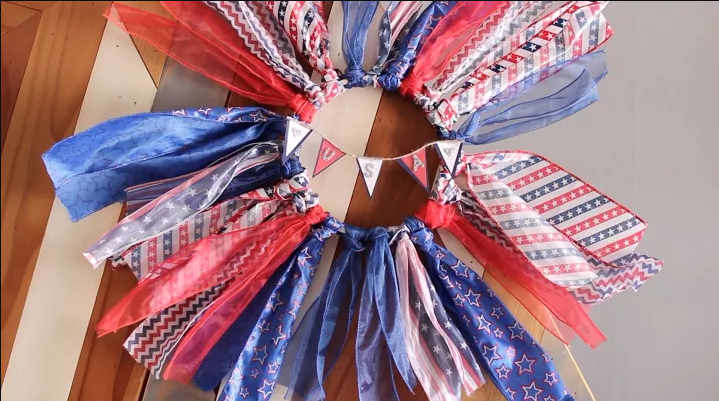 This person created this patriotic wreath using very basic material and no glue at all! Once you find something to work as a wreath base, loop the red, white, and blue ribbons around it until the wreath is done. This is a simple, beautiful, and cheap piece of decoration!
Patriotic Mason Jars
Independence Day is all about showing our love for our country, hence why every single piece of decoration matches the colors of the American flag. And if you're creative enough, you can turn anything into a red-white-and-blue piece of décor.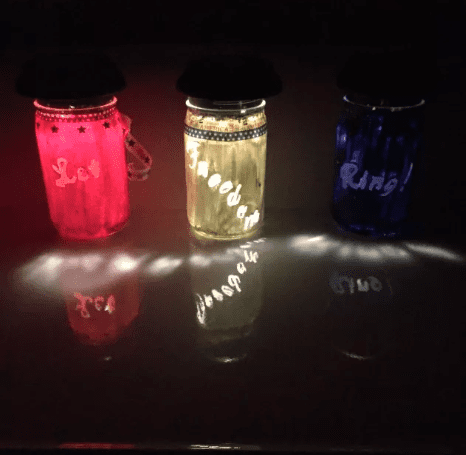 This craft-loving lady shared her interesting decoration idea with the world, and we're here for it. She used three mason jars and painted each one with a different color of the USA flag. Then, she used solar lights to light them up! You can always use fairy lights, too.
Colorful Plasticware Holders
Here goes another decoration idea for those who are expecting to receive a lot of guests over the holiday. Instead of using silverware, you can avoid all the trouble of washing them after the party by using plasticware, and here's how you're going to display them.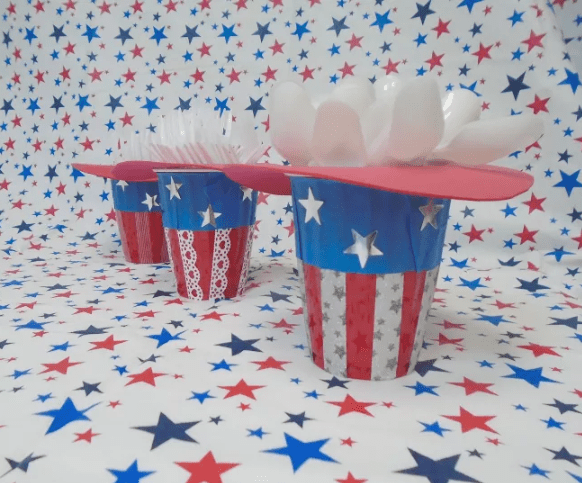 All you need are three red solo cups, blue tape, red foam, and star-themed washi tape. Wrap the blue tape around the top half of the cup and then stick the washi tape over it. The last step is to cut the red foam into the shape of a donut and glue it around the rim of the cup.
Decorative Wine Glasses
If you don't have a lot of time to prepare for July 4th this year, then you are most certainly looking for crafts ideas that will save you time. While none of the ideas we've shown you so far were particularly time-consuming, this one is quite simple: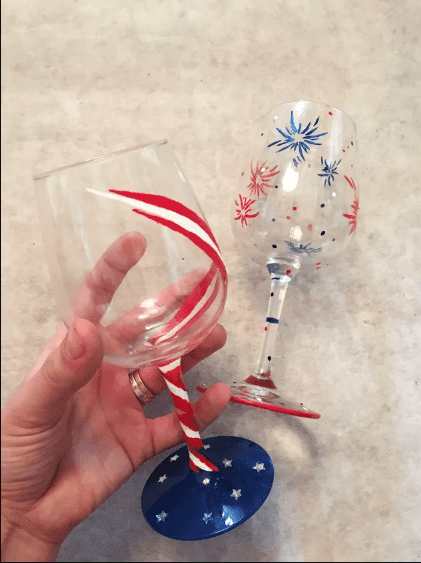 If you already have wine glasses and red, blue, and white paint at home, you won't even have to spend any money to create these beautiful patriotic glasses. You just have to use the paint (and a brush, of course) to decorate the glasses. You'll be celebrating in no time.
String Lights And Mesh
This July 4th craft idea is perfect for those who want to save money and reuse decorations from previous holidays. As you will see in the picture below, this string light wrapped in red, blue, and white mesh is adorable and will certainly add a lovely vibe to your home.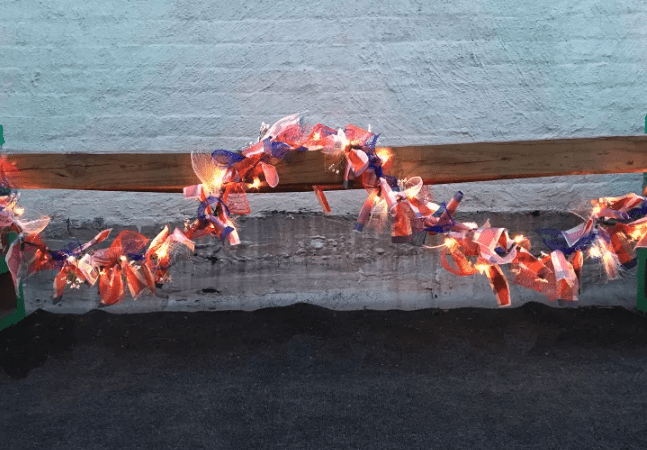 You probably have string lights from Christmas stored somewhere. The first thing you need to do is check if the lights are working. Then, wrap the mesh all over the extension of the string lights. And if you have colorful lights, the final result will be even better!
Cookie Cutters As Décor
Garlands are the perfect piece of decoration for every important date. They're quite popular during Christmas, but you can also create beautiful garlands for Thanksgiving, Halloween, and New Year's Eve — and also for the Fourth of July.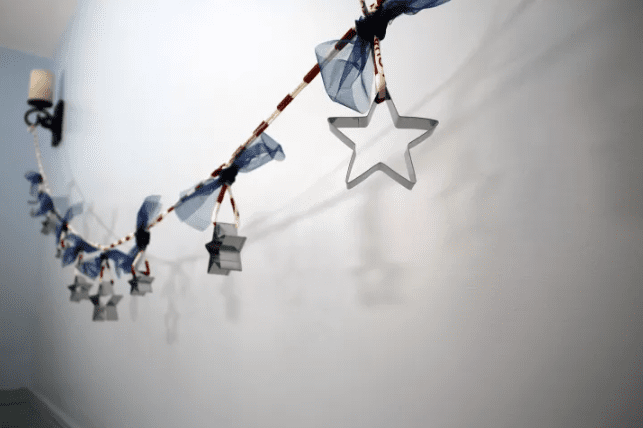 This person created a garland using a bunch of star-shaped cookie cutters from a dollar store. She used red and white yarn, navy mesh, and cookie cutters to create this simple, beautiful, and inexpensive garland to celebrate Independence Day.
A Patriotic Jar Luminary
Some people can get pretty creative when brainstorming and crafting ideas for all the important holidays we celebrate in a year. And we can safely say that this woman was certainly thinking out of the box when she decided to make this beautiful jar.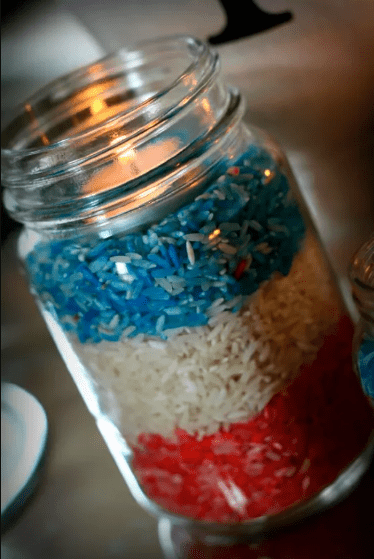 For this idea, you just need a bag of rice, food coloring, a bottle of alcohol, a jar, and a candle. First, mix the red food coloring with the alcohol in one bowl and do the same with the blue in another bowl. Then, soak some of the rice in the red mix and some in the blue. Once the rice absorbs the color, let it dry out. The final step is to put the candle inside the jar surrounded by the rice.
American Candles
This article certainly teaches you that simple things have plenty of beauty. You don't need to go all out and come up with insanely original decorations to have a festive party. If you follow some of our tips, your July 4th celebration will be unforgettable!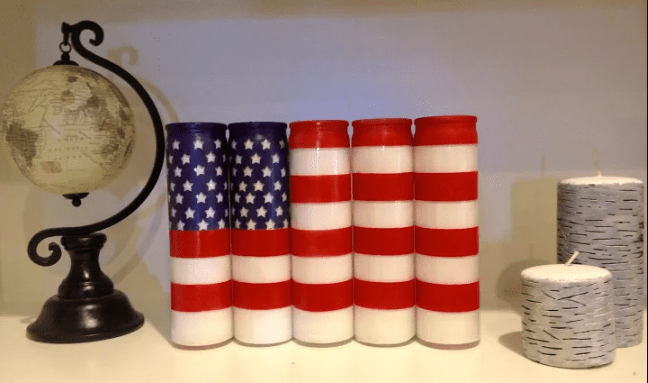 We mean, if you make some of these American flag candles, everyone will see just how patriotic you are. And you won't need to spend a lot of money to make them. All this project requires of you is to paint the candles using a brush!
Patriotic Straw Hats
July 4th falls right in the middle of summer, so you can expect to have some great weather on this day. You'll probably have to wear a hat to protect yourself from the sun — so why not make it patriotic?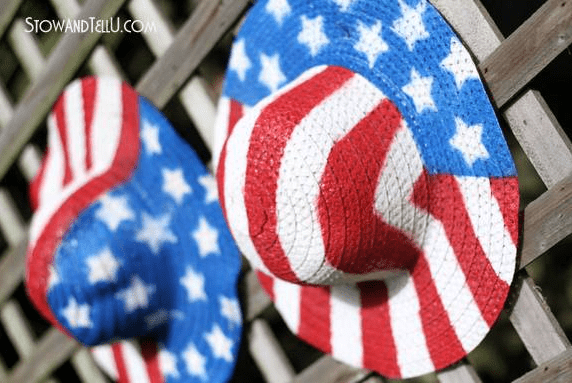 You can get a couple of straw hats from any dollar store. Paint the hat white, then use some foam stars, masking tape and spray paint to create the red stripes and the stars. It's pretty easy, and your hat will definitely make you stand out!
Candy Rockets For Children
We're more than halfway through this article, and we have yet to show you a craft idea that is meant for children. The truth is that children love the Fourth of July celebrations, and it's likely that there will be a kid or two at your party.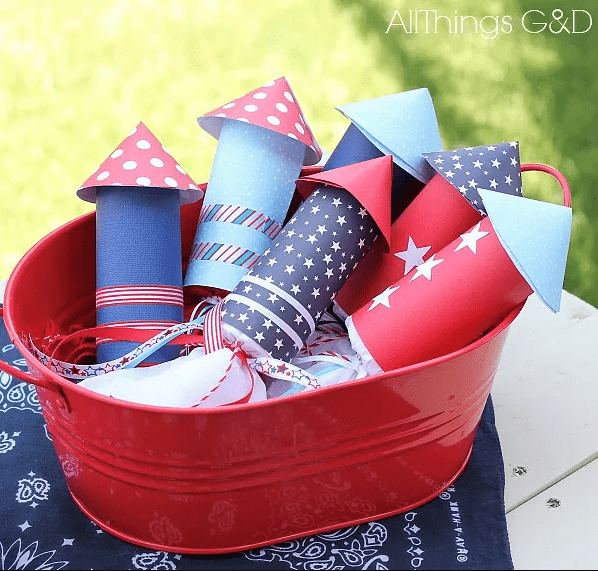 This lady came up with a great idea for kids: candy rockets. In order to make these cute rockets, all you need is tissue paper and decorated toilet rolls. Once you're done creating the rocket, you can put candy inside, and then stick you can close it off with the top of the rocket.
A Patriotic Cooler
When we think of July 4th, there are some things that immediately come to mind, such as cold drinks, barbecue, fireworks, and lots of red, white, and blue stuff. And while lots of people don't think about doing this, this lady decided to decorate her drinks cooler accordingly.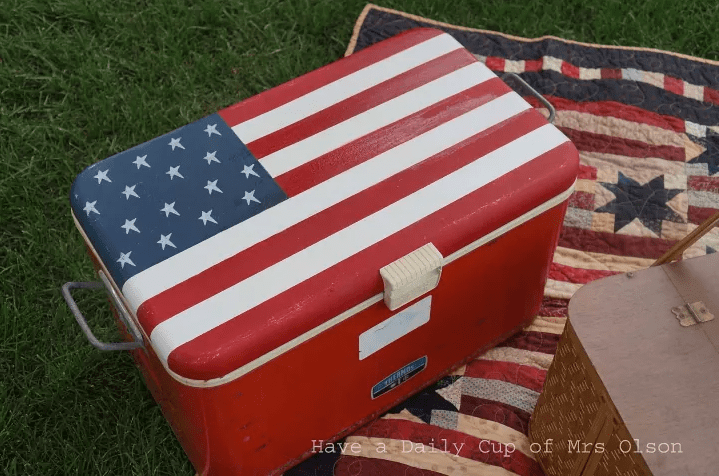 The cooler was already red, so there was no need to paint anything but the lid. Because the material that constitutes coolers is kind of different, you'll need latex paint in order to recreate this beautiful American flag design.
Freedom Planter
This next craft idea is perfect both for the fourth of July but also for the rest of the year. That's because this decoration piece also has a quite useful purpose. Instead of simply painting the American flag colors on a pallet, you can create this beautiful planter.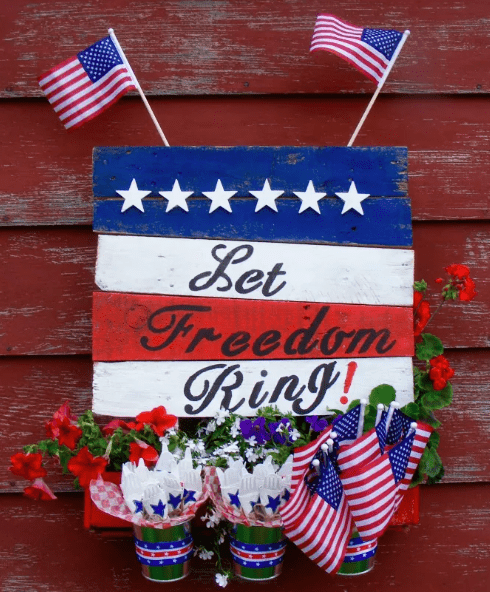 All you need is red, white, and blue paint, as well as some pieces of wood. This planter will definitely show your guests how much you love your country — but not just on Independence Day. It'll keep the patriotic spirit alive in your home for the rest of the year!
Flags Made Of Jeans
Do you like keeping old items in case you might need them in the future? In this case, you'll certainly appreciate this next idea. Instead of getting rid of old clothes, this woman makes sure to save all her old jeans so she can use them for crafting.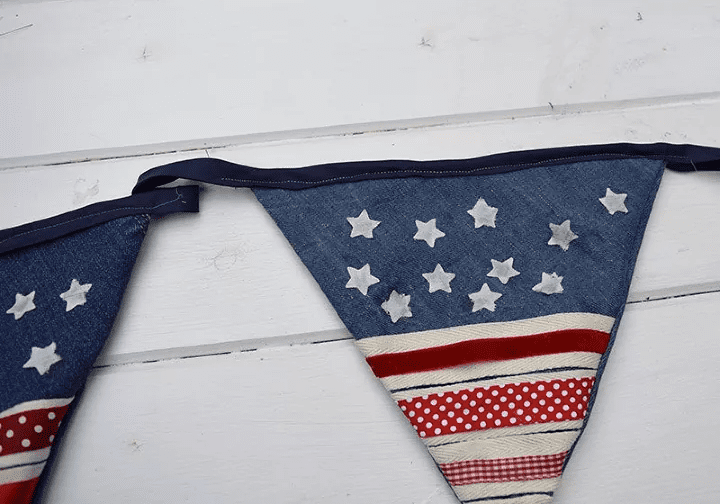 For Independence Day, cut the denim in triangular shapes and decorate it using red and white ribbons. As for the stars, you can either draw them onto the denim using fabric paint, or you can cut the stars out of another piece of fabric and then glue them on.
Mason Jar Centerpiece
No matter the time of the year, centerpieces are always an exciting décor piece. You don't even have to put up any other décor if you don't have the time — as long as you have a centerpiece, you'll be good to go.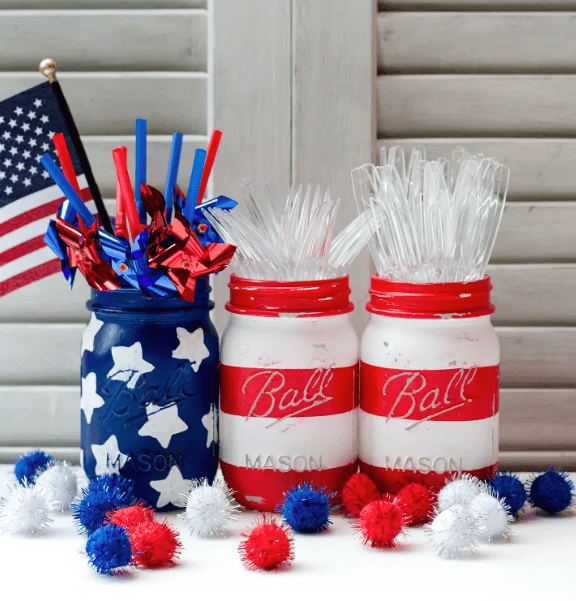 You probably have an empty mason jar or two collecting dust. Instead of getting rid of them, you can turn these jars into beautiful centerpieces. All you have to do is paint the American flag colors all over the jar and then put some plasticware or decorations inside of them.
A Denim Wreath
We have already given you an idea on how to create a cute ribbon wreath for July 4th, and we also showed you another craft idea that used denim jeans. What if we mixed both these ideas and came up with a lovely denim jeans wreath?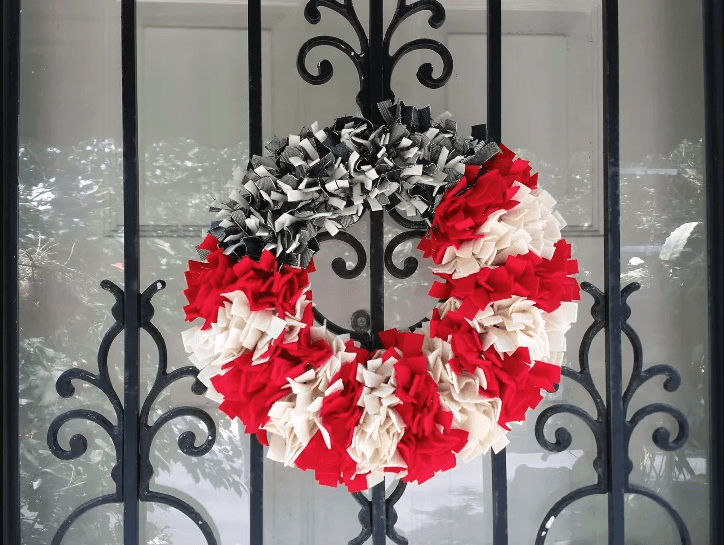 This woman simply used a wreath metal frame, a few sheets of red and white felt, and some old jeans. You can cut the felt sheets and the jeans into many stripes. Then, all that's left to do is wrap them around the frame, and you'll have a patriotic wreath.
A Skittles Flag!
If you have kids at home, they will certainly love this next idea. It is always nice to get the kids involved in the preparations for the holidays — not only will they love it, but it's also a great opportunity to bond with your kids.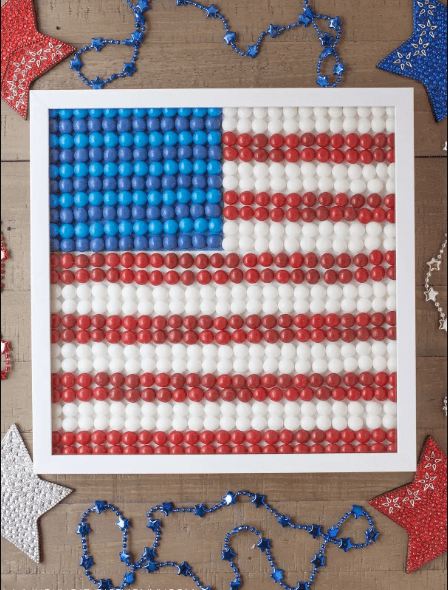 We're pretty sure your children will never forget the day they created an American flag using Skittles. In fact, the kids are going to love this idea so much that you'll have a harder time keeping them from eating all the candy than building this simple and cute Skittles flag.
Patriotic Decorative Silverware
As you can see in the title of this slide, this next decoration is merely decorative. And no, we're not being redundant. We have to highlight that this next idea is only decorative because it is made of silverware!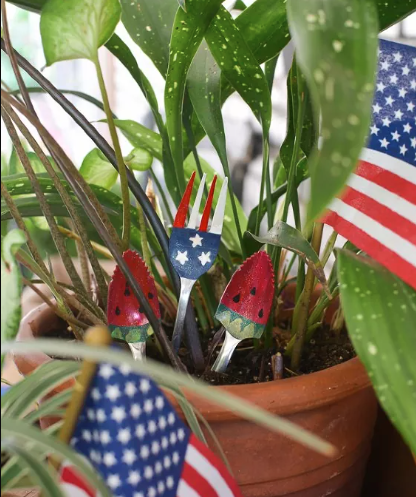 If you want to try this craft idea, the first thing you have to do is find the oldest silverware you have. You can paint them using acrylic paint and a paintbrush. Once the paint is dry, you won't be able to use them to eat food anymore, so make sure that everyone in your house knows that!
Garden Stars!
Most of the decorations that we have shown you thus far were mostly meant to decorate the inside of your home. However, if you have a garden, we think you most certainly want to decorate for Independence Day as well.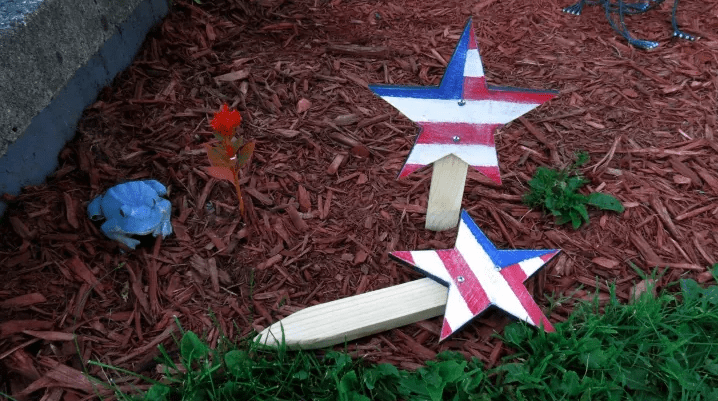 This person had this brilliant idea of creating American flag garden stars. They are pretty easy to make, and they will decorate your garden beautifully. You only need plywood and red, blue, and white paint for this craft. Cut the plywood into star shapes and attach them to a stake using screws.
Burlap Flag
Burlap is easily one of the most popular materials in the crafting world. That's because it's easy to find and it is not expensive at all. Not to mention that you have a significantly large amount of options on how to create decorations using burlap.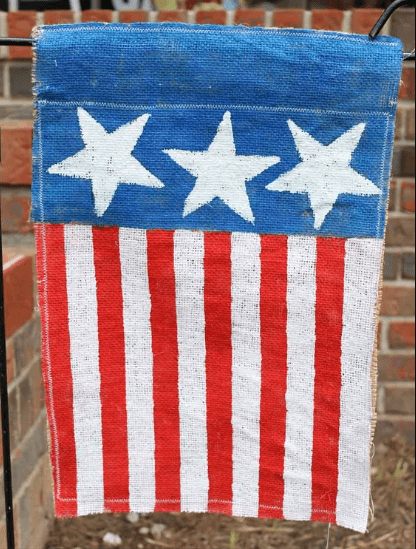 This burlap American flag is pretty easy to make, so it is ideal for those who don't have a lot of time to decorate. Once you get a hold of a large piece of burlap, use masking tape to delimitate the stripes, and then get to painting your flag!
A Ribbon Flag
In case you are seriously invested in coming up with DIY crafts for July 4th, and you don't want to spend a lot of money, you'll love this next idea. In fact, you won't even have to spend any money at all in order to create one of these "ribbon flags."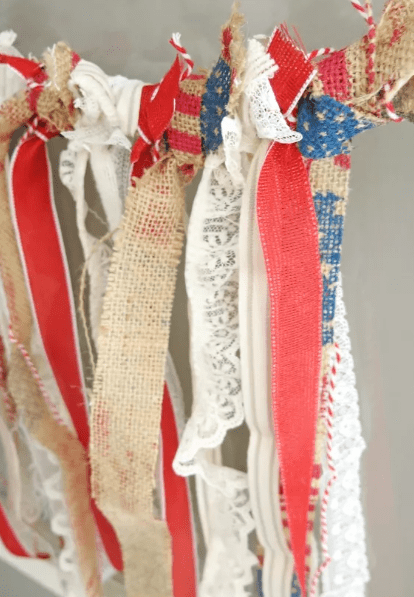 That's because all you need to make one of these is fabric, ribbon, and a tree branch. Everyone has these materials at home! Once you've collected all three, you can cut the fabric and the ribbons into strips. The final step is to wrap them around the tree branch!
A Candle Log
This idea we will show you below will require a little bit more time and effort than the previous decorations we've seen on this list. That's because you will need to find a relatively long log and some specific equipment to carve candle-shaped holes into this log.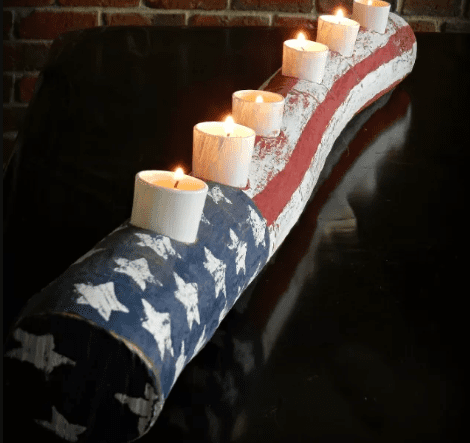 Once the holes on the log are ready, paint the log with the colors of the American flag. Keep in mind that it may take some time to paint the entire log. Once all of that is done, you can stick the candles in the holes and you'll have a beautiful American flag candle log!
Patriotic Wind Catcher
If you are new to the whole DIY craft world, you might not know that wind catchers are quite a popular item. These crafts are especially popular with kids because they will love helping you make one of them.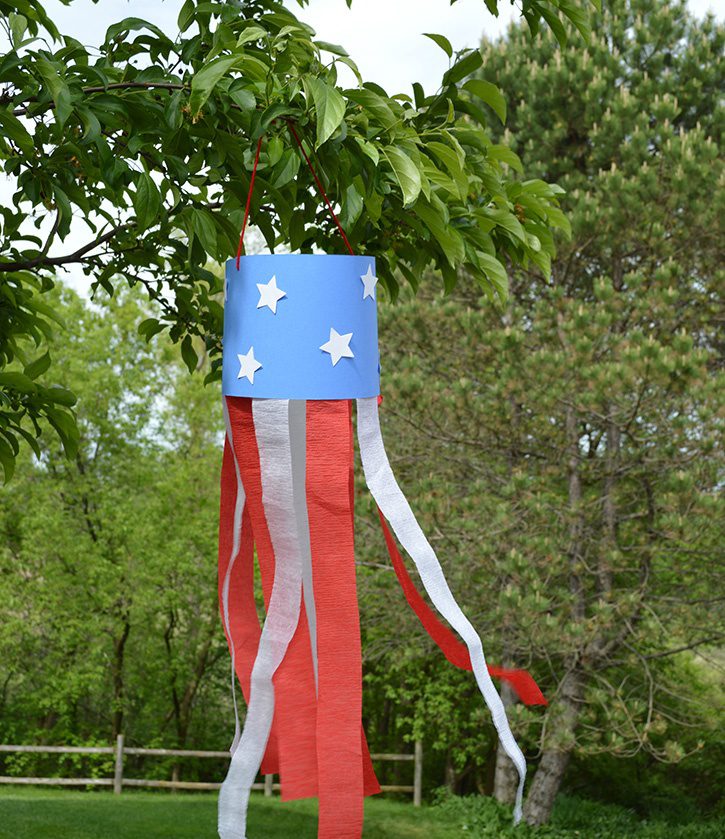 All you need to make one of these is a few toilet paper rolls, blue paper, red and white ribbons, star-shaped stickers, and glue. Wrap the blue paper around the roll and punch 12 holes around the bottom of the roll so you can stick the ribbons through the holes. The last step is to attach the star stickers to the roll, and you'll have some adorable wind catchers!
Popsicle Stick Flag
Another simple and inexpensive DIY July 4th craft is this popsicle stick flag. Most parents keep popsicle sticks around the house in case they need them someday — and that day has come. Whip out the sticks, the glue, and the acrylic paint!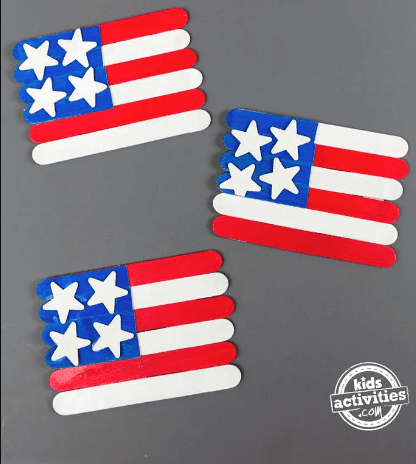 You can paint the sticks before or after you glue them all together. The only thing you have to keep in mind is that you have to paint the top 4 sticks half blue and half red or white. Once you're done with that, attach the stars to the blue part of the sticks, and you're done!