40+ Pretty Pallet Projects To Perk Up A Home
By Jhoana C January 18, 2021
---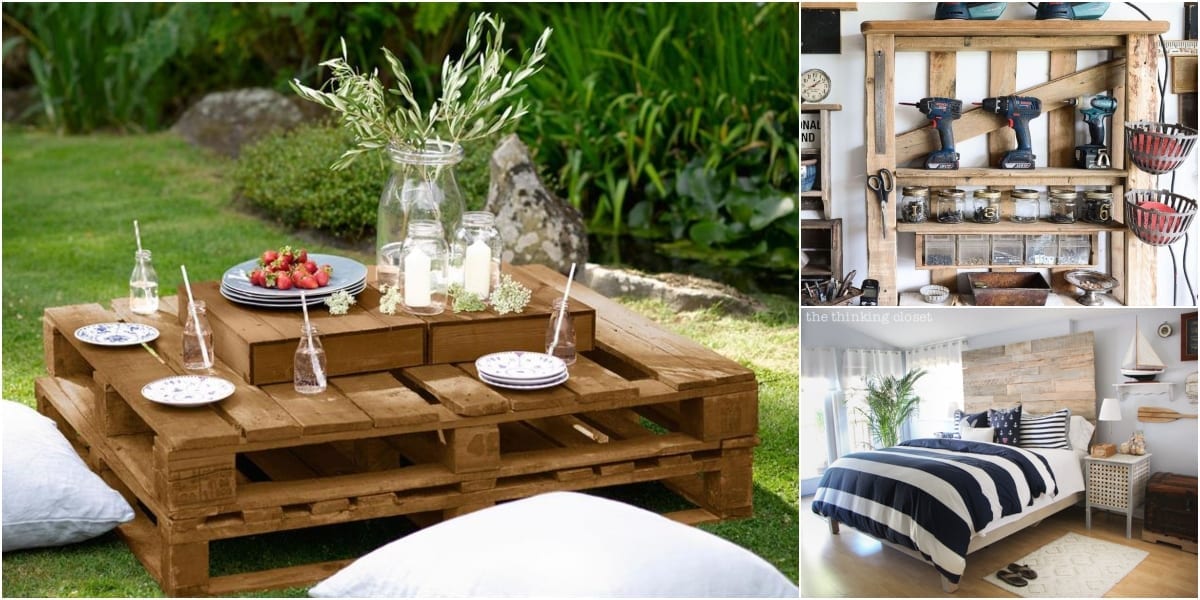 Although once a fixture in depots and warehouses, more and more homeowners are welcoming wooden pallets into their homes. The wooden pallet is an environmentally-conscious person's best friend because not only are they dirt cheap (that is, if you even have to pay for it), they can also be turned into all sorts of furniture for your kitchen, living room, dining room, and just about any room in your home. Wooden pallets have gained a reputation for being awesome building blocks for various DIY projects. With a little creativity and pizazz, you can easily turn the humble pallet into inspirational and functional design ideas. If you happen to have some pallets lying around, now is the best time to use them and turn them into something you'll use and love. Here are a few ideas to get the ball rolling and get your mind thinking.
Create a pallet swing bed
If you don't have a hammock in your backyard, you can always make a pallet swing bed. With effort, time, and some elbow grease, this project will immediately become the favorite feature in your backyard. It's the best way to enjoy the summer days.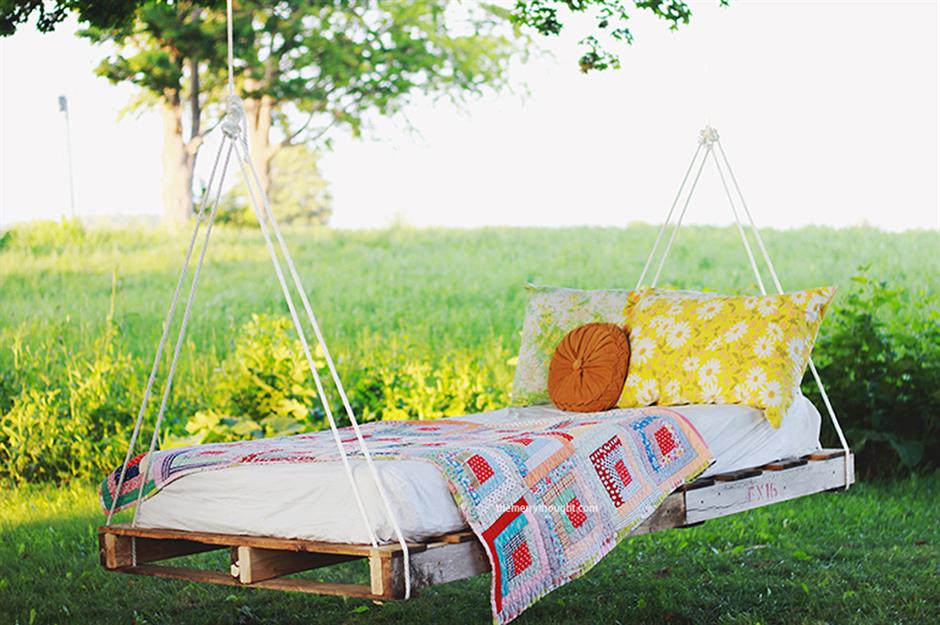 What you'll need for this project are pallets, some lumber, rope, mattress, screws, measuring tape, a saw, and mattress covers. Measure your mattress to figure out how many pallets you need, and be careful when using the power tools when assembling your swing bed.
Go all Scandinavian with a pallet dining table
Characterized by minimalism, simplicity, and functionality, Scandinavian home décor is taking the world by storm today. Who doesn't want an uncluttered look? We sure do. If you have a few pallets around the house and would like to make good use of them, this is a perfect time.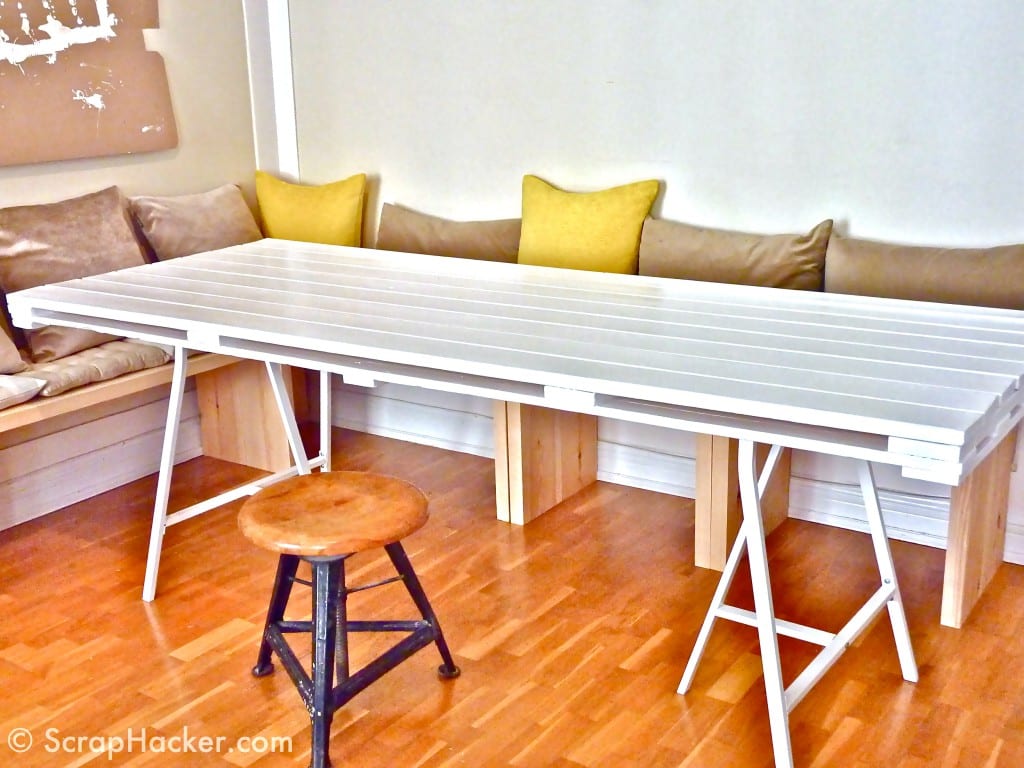 Look at that Scandinavian dining table in the photo for inspiration. You don't have to spend much money if you already have a few pallets. All you need to get is white gloss paint and trestle bases, which are coincidentally available in IKEA.
Glam up your home office
Since most of us nowadays are working from home, our home offices must be clean and organized. Nobody will get inspired to work with a cluttered desk with papers and pens all over it. Why not glam up your home office by using a pallet?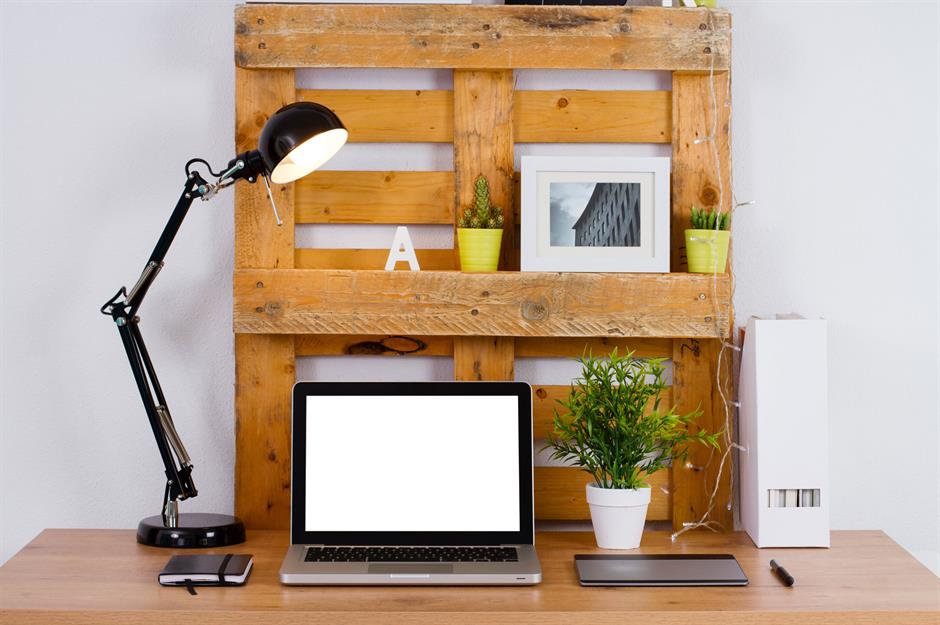 Don't believe us? Just look at the picture above. Doesn't that sight make you want to dive into work and get things done, stat? Clean and repaint a pallet and secure it to a large desk, and you have yourself compartments for your stationery and a place where you can display a few photos.
Sleep comfortably on your pallet bed frame
Our bedroom is our sanctuary, and our bed is what we crawl into to get solace and rest. If your bed is uncomfortable, you will not get energized and reinvigorated to face another day. So, ditch your uncomfortable bed and invest in a nice one; you deserve it after all your hard work.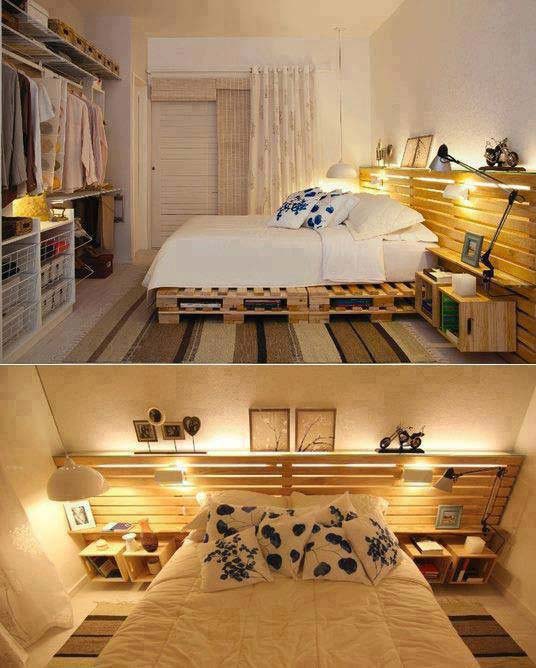 Or, if you're thinking of doing up your entire bedroom, you can get inspiration from the photo above. You can get pallets for next to nothing and use them as your bed frame. Feel free to let your creativity flow when it comes to organizing your bedroom.
Use pallets to organize your book collection
If you're like us who like to escape the world from time to time by reading books, then you might have a huge collection of books at home. They can easily get out of hand, so make sure you stick to organizing them with the help of pallet bookcases.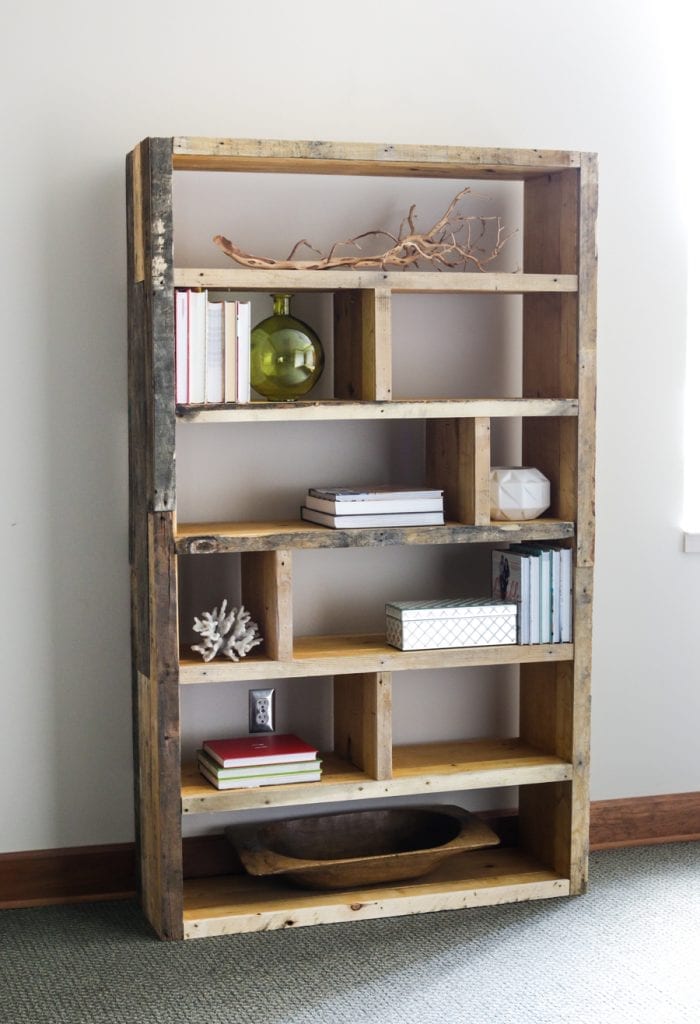 This upcycling project will not only make organization fun and interesting; it will also add texture to your home décor. Get some timber to build your shelf's skeleton and use wood glue and a nail gun to attach pallet wood to the outside. This will also give your home a fun, country-style theme.
Create a comfy space with a modular pallet sofa
You can do your part in helping preserve Mother Nature when you upcycle pieces you already have to make something useful. No need to buy new products. If your sofa is worn out, you can create a new modular sofa by using pallets.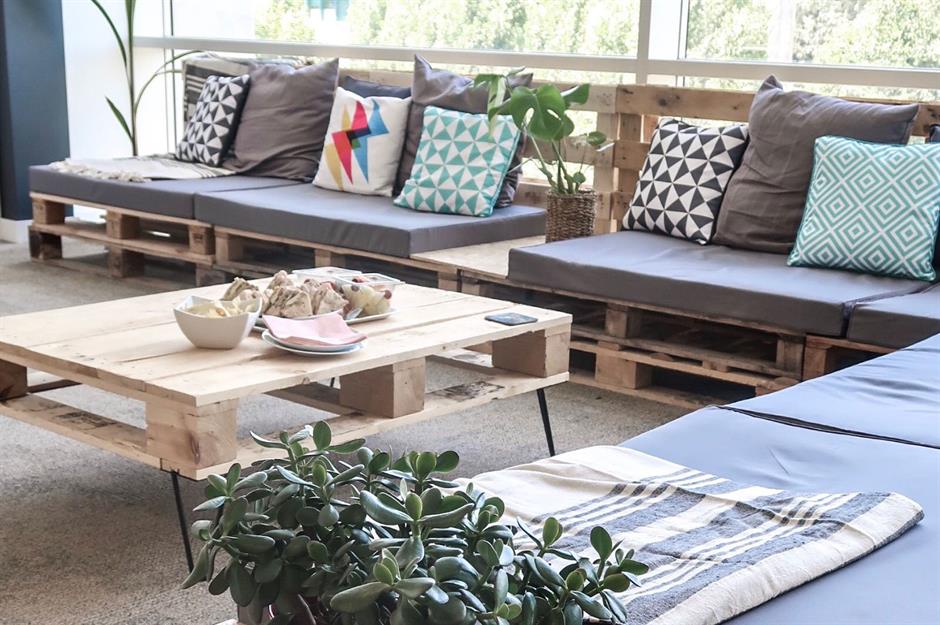 Just stack two pallets on top of each other to make an extra-large corner sofa. Have cushions made to order to fit the pallet dimensions perfectly and you have yourself a furniture piece that everyone will be talking about for all the right reasons. Complete the look with a pallet coffee table too.
A rolling pallet coffee table
To continue with our theme of a living room decorated and furnished with pallets, let's talk about the rolling pallet coffee table. It will complement the previous project perfectly, the modular pallet sofa. Made from used shipping pallets, this is a great effort at upcycling too.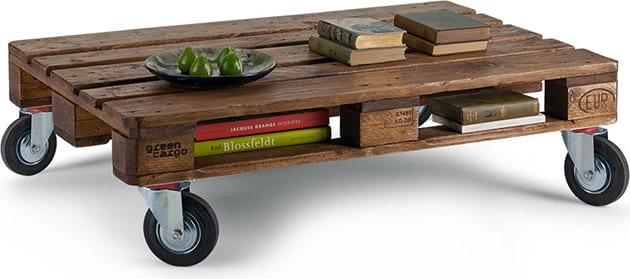 This will make a unique living room accent that can also be very handy when you need to move things around the house. Just clean and repaint any pallet and attach wheels onto the base and you're done. You don't need much time for this project, but it will have a maximum impact on your living room
Make sure you find everything in your kitchen by creating a spice rack
A small kitchen isn't ideal, but if that's what you've got, then you have to make do with it unless you have the money to renovate your space. A small kitchen isn't a total disaster because there are plenty of things you can do to make better use of the space that you do have.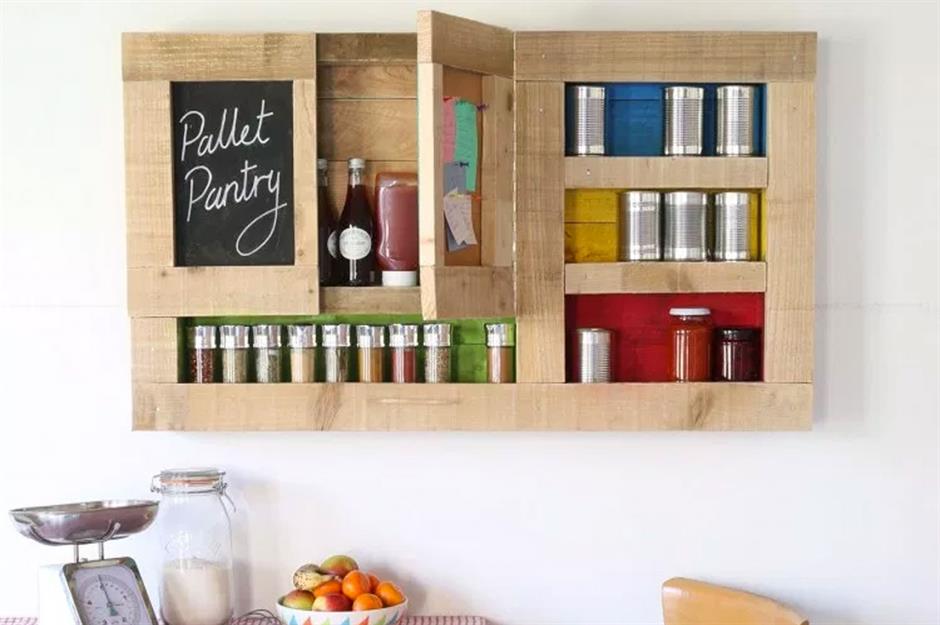 You can create a nice spice rack with the use of pallets. This wall-mounted pantry could just be the thing you need. It gives your kitchen a retro look, and with a blackboard mounted on it, anyone can easily tell what's on it, so finding things won't be a problem.
How about a pallet bed for your favorite doggo?
We're quite sure no pet will be able to resist having a pallet bed to rest on. If you've seen some of the pet beds sold today, you'll know that some of them can be ridiculously expensive. You can save a lot of money by making your own.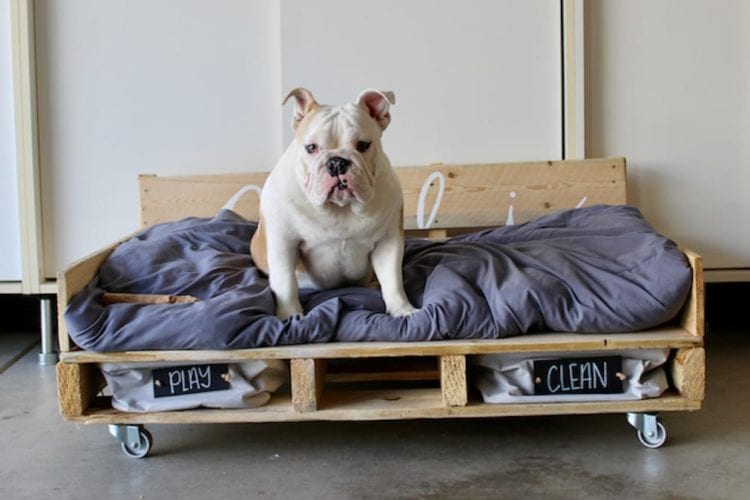 If you look at the surface area of standard pallets, you'll be convinced that they are made to fit and spoil any pet perfectly. Just add a headboard and sides to a pallet and complete it with a cozy mattress, and your pet will be ready to jump and lounge around.
Enjoy a relaxing bath with the perfect caddy
Who doesn't like soaking in a relaxing bath after a long and demanding day at work? Any bath will be made more relaxing and enjoyable with a glass of wine and a good book, but of course, you need a bath caddy for that.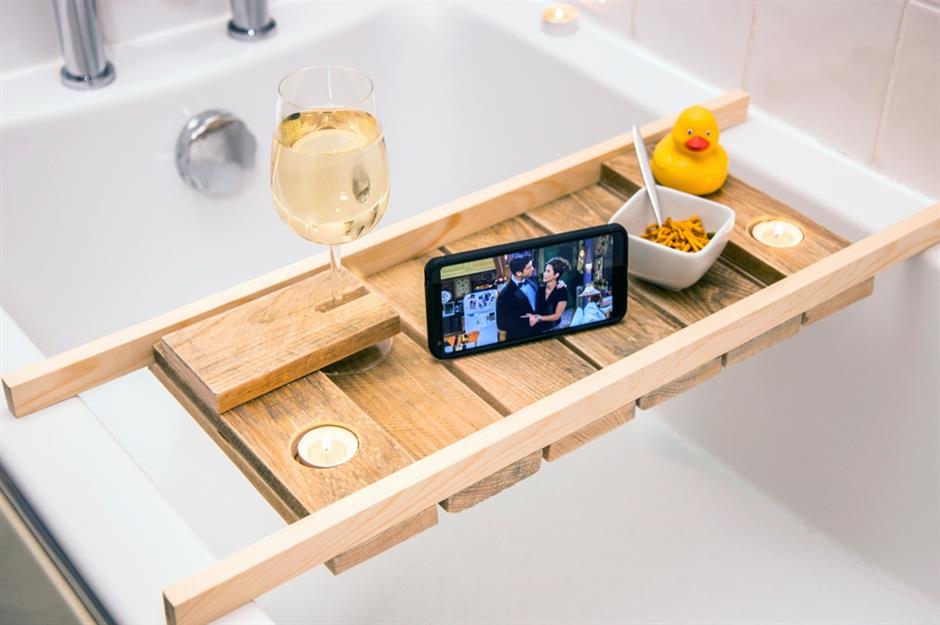 Well, pallets make the perfect bath caddy. Look at the photo for inspiration, and you'll be convinced of what we're saying. You can personalize a pallet with extra features so that you can have a handy wine glass holder, some candles, and maybe a stand for your Kindle, book, or mobile phone? We wouldn't ever want to get out of the bath if we had this.
Pallets make the perfect planters
Herbs can cost you money, and there's no point buying the dried kind; they are better when they're fresh. If you have a knack for growing plants, have a little extra space at home, and have some pallets to spare, why not make planters?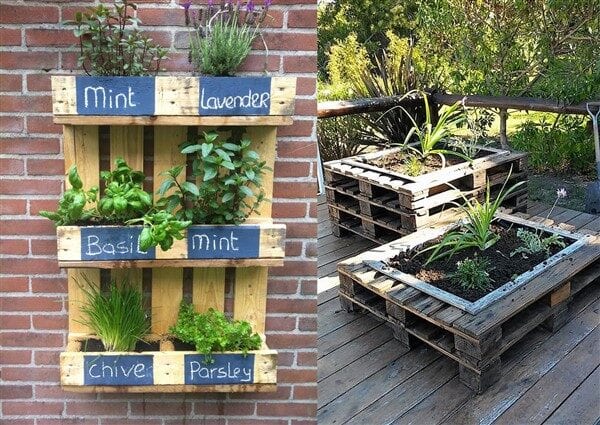 Flip the pallet on its side, and you'll find that the grooves make the perfect sized containers for the small herb pots and all sorts of plants. You can easily arrange attractive succulents, flowering plants like pansies, and of course, beneficial herbs.
Pallets make useful coat racks too
Why go the conventional way when you can easily hang coats in style? Coat racks are a practical addition to any home, and they can either be mounted on the wall or hung from the ceiling. Pallets make stylish statements to your home and can add some valuable storage space, and you can up the style factor by using decorative hooks and knobs.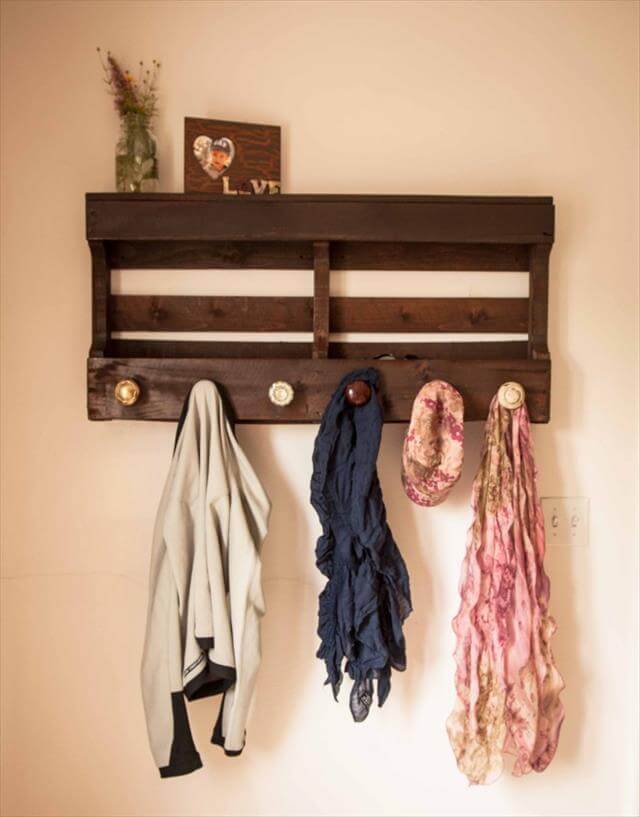 Not only can you make sure that coats aren't thrown around the house, but you also help in the recycling efforts. Plus, doesn't it make you proud that you can create something so nice from a pallet? Don't be afraid to express your creative self.
Glam up any picnic with a unique picnic table
You can be stylish and creative and think green all at the same time by recycling and using the things you already have in your home. If you have extra space in the backyard that will make a suitable picnic area, you're in for a treat.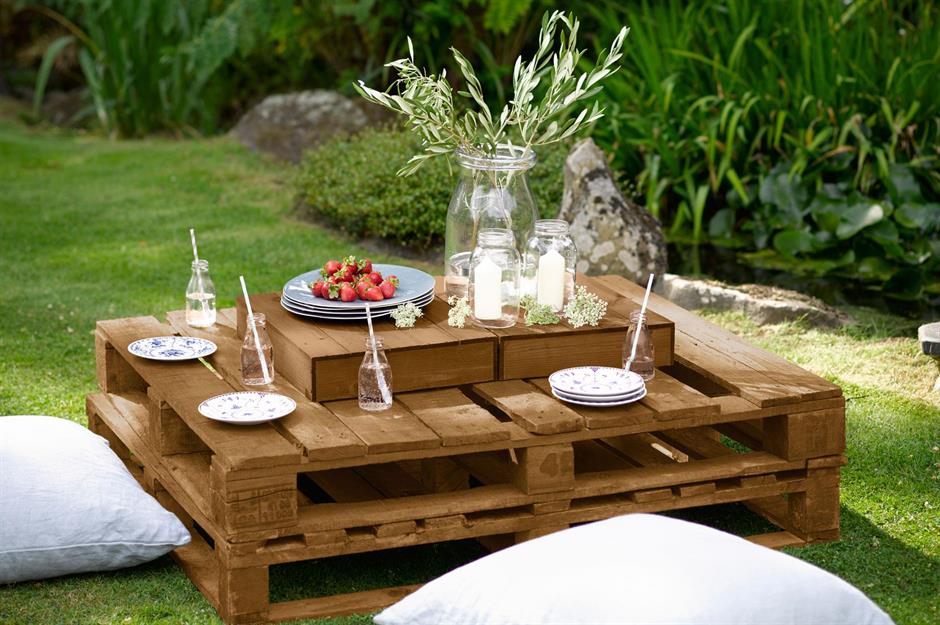 You can easily make a low-level picnic table by simply stacking two pallets on top of each other, no gluing or nailing needed. Just make sure you sand down the pallets before using them to avoid splinters and make sure you apply an all-purpose wood stain too. Complete the look with a few cushions and a fun table setting, and you have yourself an Instagram-worthy picnic.
Spruce up your bedroom with a pallet bedside table
If you have some serious carpentry skills and a little bit of time on your hands, this next project might be suitable for you. You can surprise the Missus with a pallet bedside table especially made for her by you. We're quite sure any woman would love that.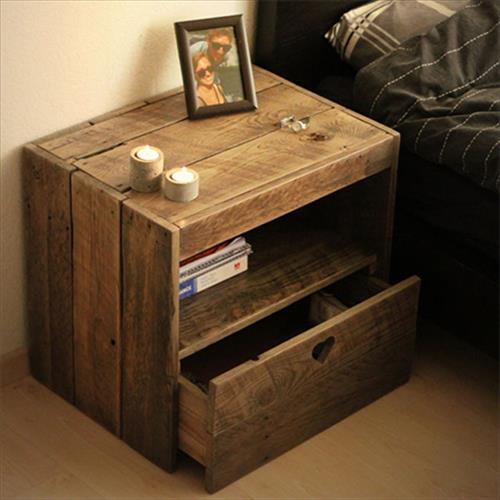 There is plenty of inspiration on the Internet, but the one shown in the photo above is not too shabby. We think it looks stylish and can easily spruce up any bedroom. Not only will it allow you to display photos and other objects, but it can also give some extra storage space with the addition of a draw or shelf.
Give your shoes a home with the DIY pallet shoe rack
Pallets are versatile and can be easily revamped into many useful items for the home. They can be turned into tables, bed frames, planters, and even shoe racks. Shoes are often scattered around the house, and if they are not organized, they can make the home look messy and unappealing.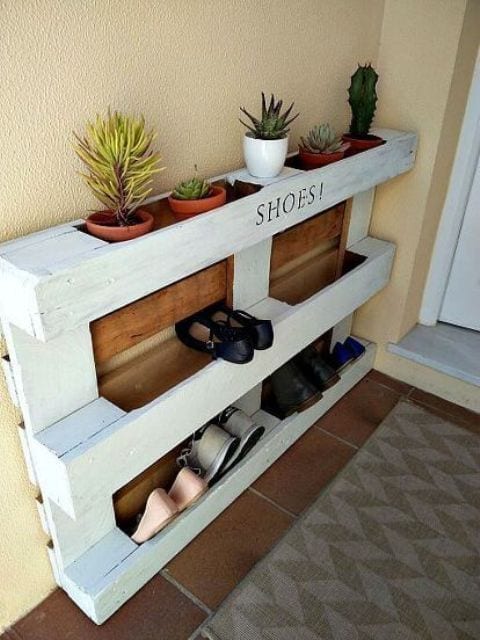 Who wants to step into a home with shoes left strewn at the doorstep? You'd easily think that the homeowner is disorganized and doesn't have her act together. By using a wooden pallet, you can make a simple shoe rack, or you can opt for a more stylish design.
Add a pallet wine rack to your home
If you are a wine connoisseur who would like to display your wines decoratively and uniquely, you can never go wrong with wooden pallets. You get plus points, too, if you have tools at home and average DIY skills.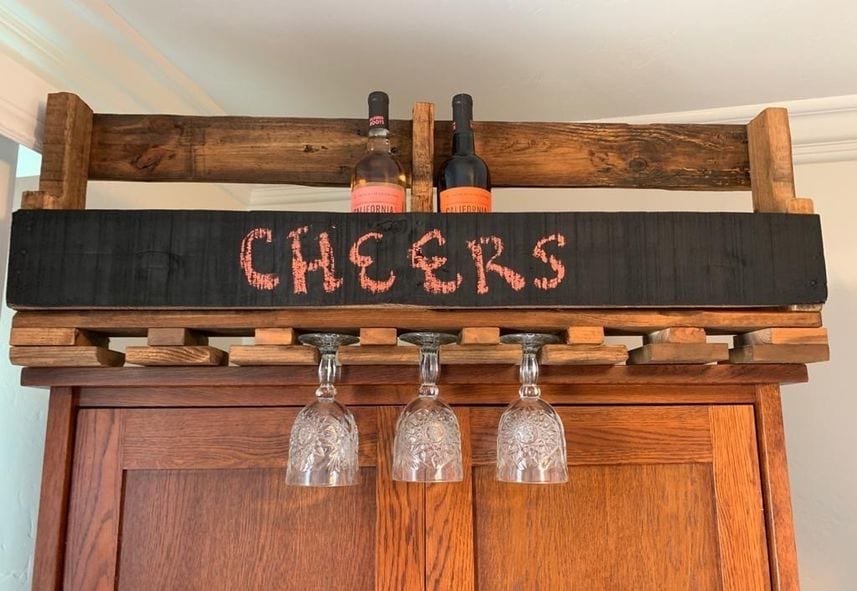 This project is more suitable for the weekend, and although it requires some effort, the result is well worth it. You can easily impress any guest with this wine rack, and it would make an interesting addition to your home.
Make a rustic serving tray
It's always a sad thing if you have to throw something away, and it doesn't make Mother Nature happy either. Fortunately for people who own a few pallets at home, there are plenty of things they can do, and one of them is to convert them into a rustic serving tray.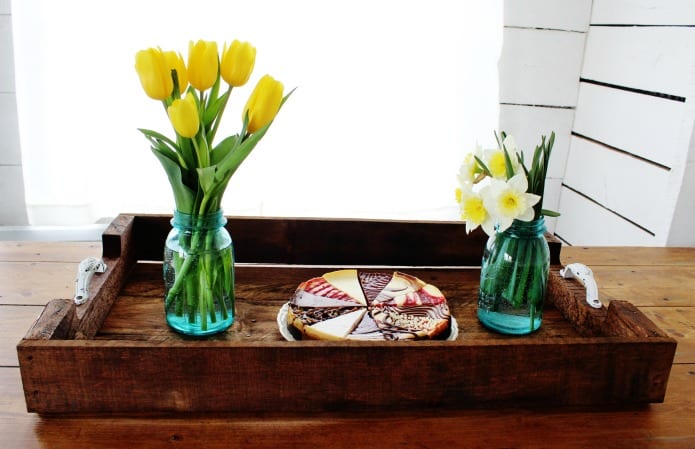 You can easily make a tray according to your preferred size preferences and paint it in your desired choice of colors. You can go for a rustic look, a distressed look, or make them look new; the look and feel of the serving tray is entirely up to you.
Work on your pallet laptop stand
Most people who use computers all day long often end up with shoulder and neck pain. Hunching over a computer for most of the day can cause not only discomfort but also injury. This can be alleviated by something as simple as elevating your laptop to eye level.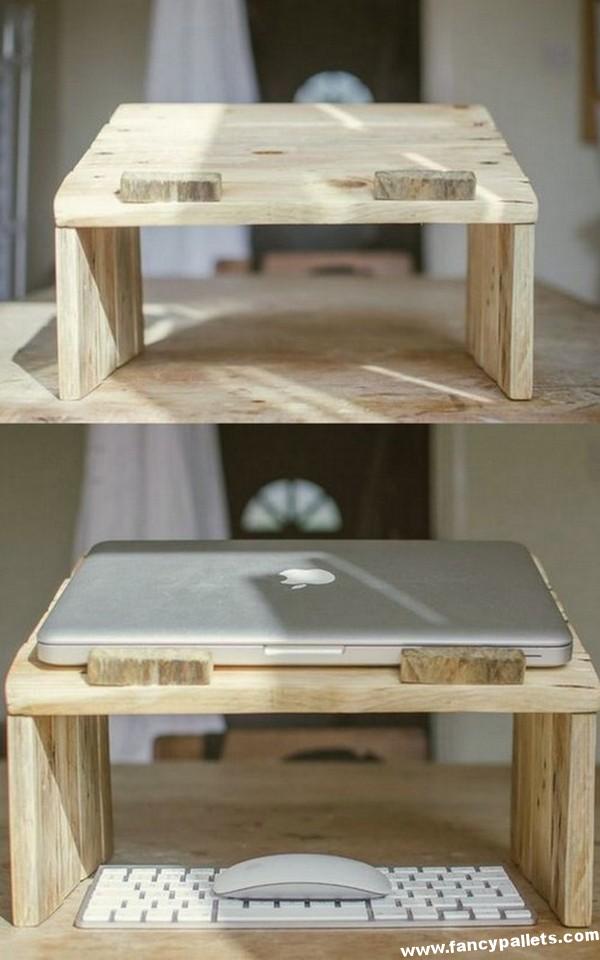 Although there are plenty of laptop stand designs available today, there's no need to purchase one if you have a pallet at home. You can easily make one that helps reduce shoulder and neck pain and is also stylish enough to make your desk a joy to work on.
DIY pallet tools organizer
There's no need to spend a lot of money to get your gardening tools organized. During these uncertain times, it is necessary to save money, and you'll be happy to know that you can make a pallet tools organizer for next to nothing.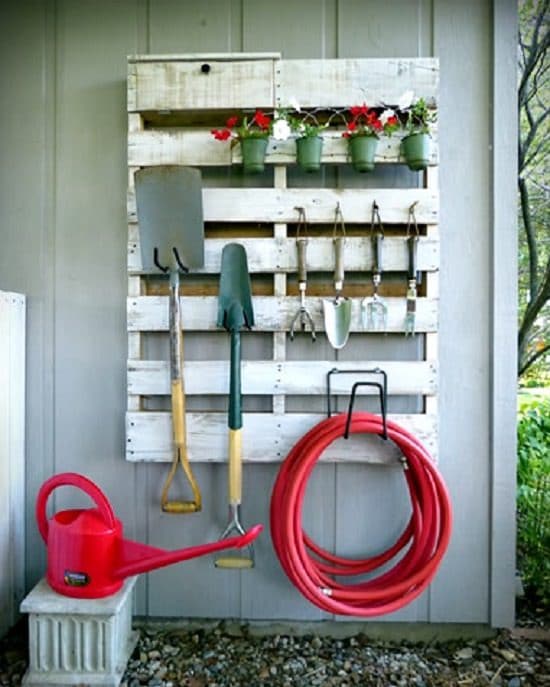 This is a project that anyone can easily follow and make, but if you don't like the look of this particular one, there are plenty of other inspirational ideas online. If you want to enhance the look, you can simply hang some flower pots on it as well.
Display lasting memories and cute photos
We all have loads of photos of happy and memorable moments, whether they're from a vacation the family took years ago or of a celebration of life's important milestones. Pallets are a unique and decorative way of displaying cute photos.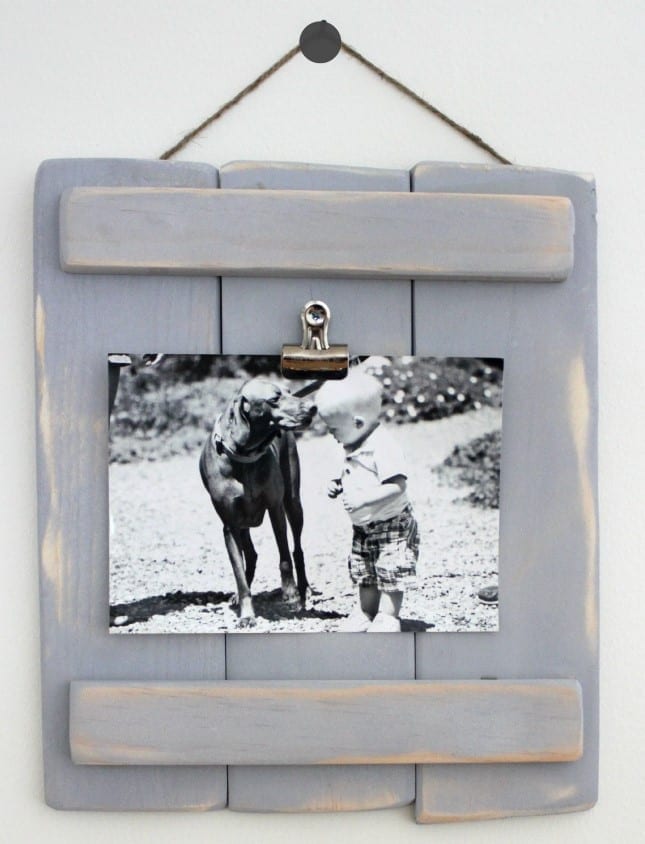 Pallet plaques can be mounted on the wall or put on the fridge; the location where they can be displayed is entirely up to you. By using bulldog clips, you can easily change and display any different photos as you chose.
Jazz up your mirror with pallets
You can easily add some pizazz to a boring mirror by adding framing it with a wood pallet. This rounded mirror has been made even more beautiful with the help of rustic wooden pallets. Without the wooden pallets, the mirror wouldn't look as magical.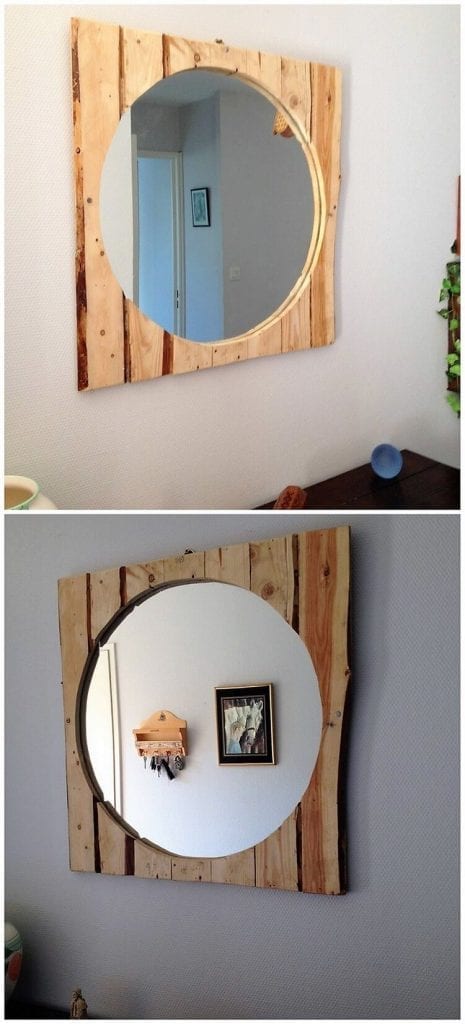 It's not a problem if you have a square mirror because you can easily adapt the pallet design to make an interesting frame, and there are plenty of projects online which you can check out for inspiration. Mirrors with rustic pallet frames will easily add a lot of personality to any room in the house.
Make a ladder pallet shelf
You can easily make a boring wall more interesting with the help of a ladder pallet shelf. An angled piece such as this can create a unique view that plays with proportion. This will also allow you to display your photos and meaningful trinkets.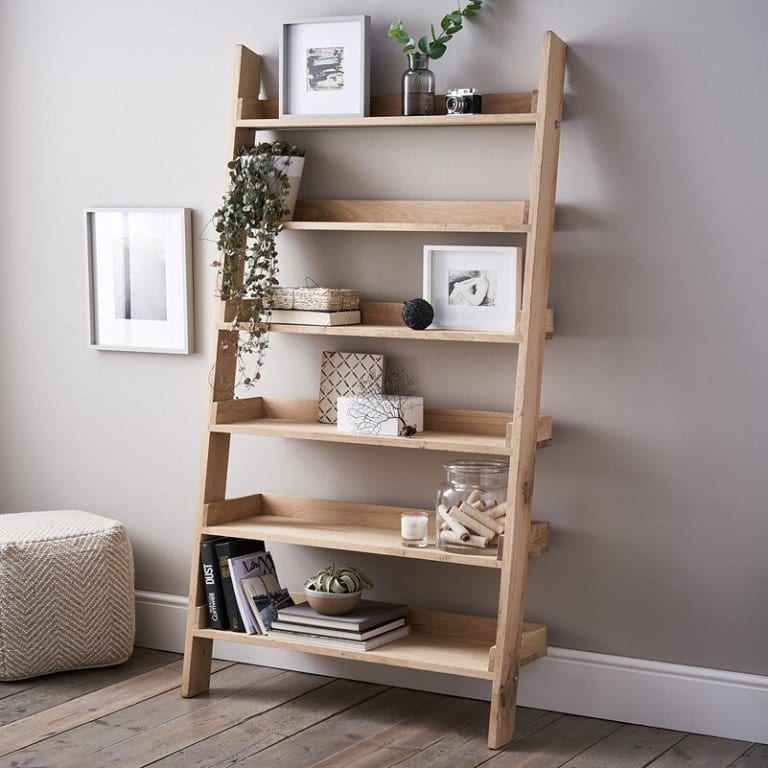 Bigger boxes can easily fit on the lower shelves, picture frames can go in the middle, and small flower vases can sit on the ladder's top-shelf. Or you can decorate it any way you want. After all, it's your home and you're in charge.
Make a unique triangular pallet shelf
Rectangular shelves are so yesterday and, frankly, a little boring. Everywhere you go, whether it's a home, a hotel, a restaurant, or a bar, has rectangular shelves. Why not veer away from the mainstream and go with something that you haven't seen before?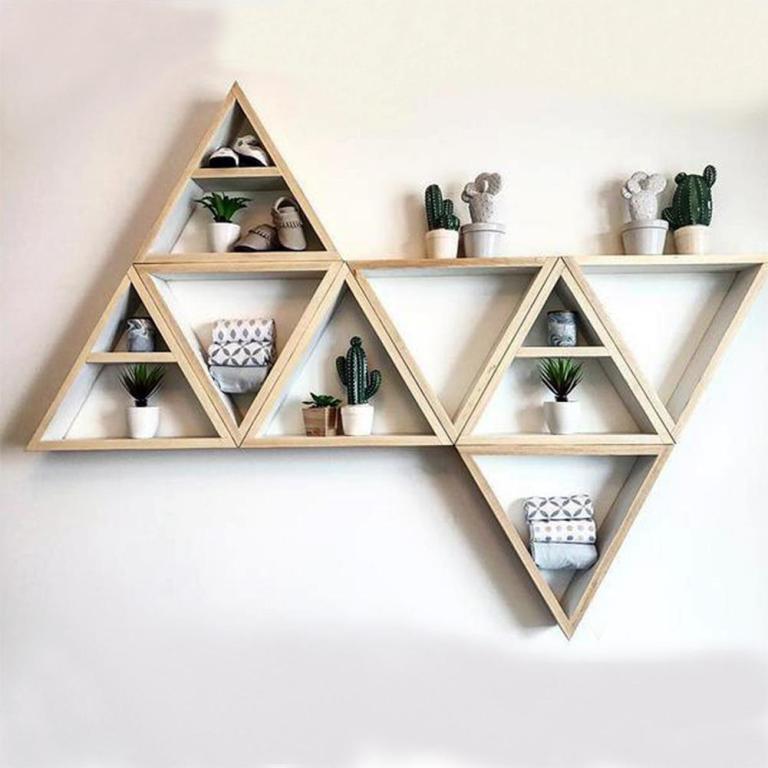 Why not make some triangular pallet shelves for your home? Arranged to point in opposite directions, they make a stylish and attention-grabbing feature that will make anyone say "Wow!" You can also display lots of tiny succulents and other decorative items.
Create pallet towel racks for your bathroom
Any bathroom is incomplete without a stack of clean and fresh towels ready for use. Hey, if you want a convenient and satisfying bath after a long day, you're gonna need those towels. You can display fresh towels and spruce up your bathroom with a pallet towel rack.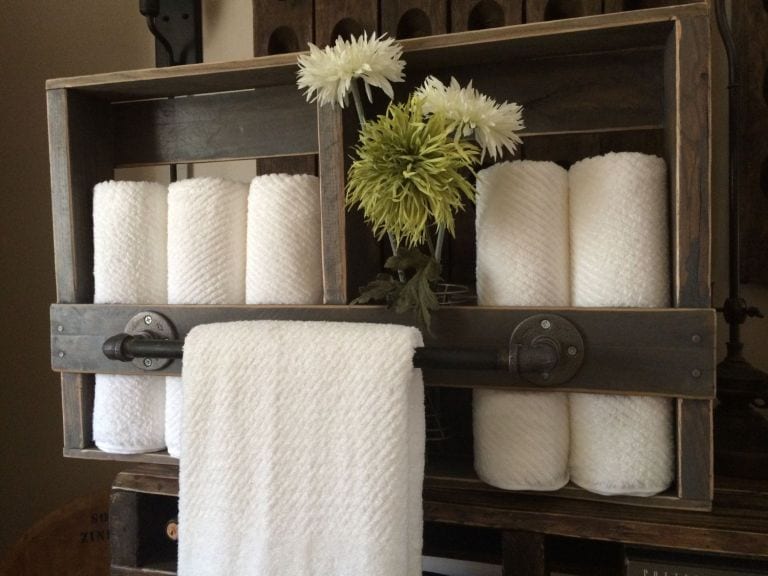 This towel rack can easily contain up to 6 rolled and clean towels. You can also hang a used towel on the front from a decorative rack. Isn't that snazzy? The rack can easily be mounted on the wall and moved to any spot you'd like.
How about a floating pallet shelf?
People often first think of vertical shelves when talking about pallet wall shelving. Still, there's more than one way of maximizing organization in your home and making it look stylish all at the same time by making pallet shelving units.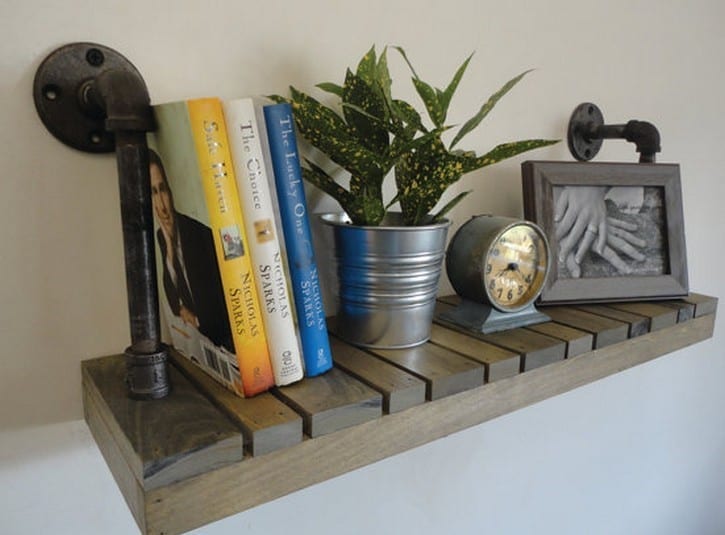 There's always the option of floating horizontal pallet shelves, which will give you what looks like a floating table without any legs. Just make sure that you sand and stain or paint the wooden pallet before mounting it on the wall.
Organize your garage with a pallet rack
The garage is one of the places in the home which can quickly become disorganized. With all the tools and various objects in the house that get stored in there, it's quite seldom to see a garage with everything in its rightful place.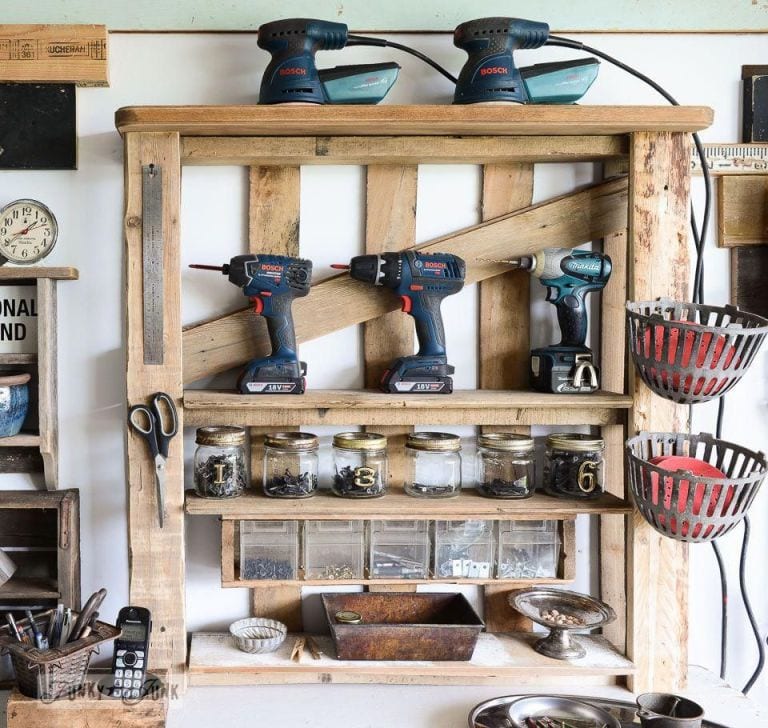 Well, you don't have to dream of a well-organized and clean garage; you can easily have one with the help of a garage pallet rack. It will make finding small things such as nuts and bolts easier, and you'll get more storage too.
Build a pallet workbench
If you are somewhat of a DIYer and have various projects during the weekends or whenever you have free time, then you probably need a workbench. It can easily hold your various tools, as well as other pieces that are essential for your projects.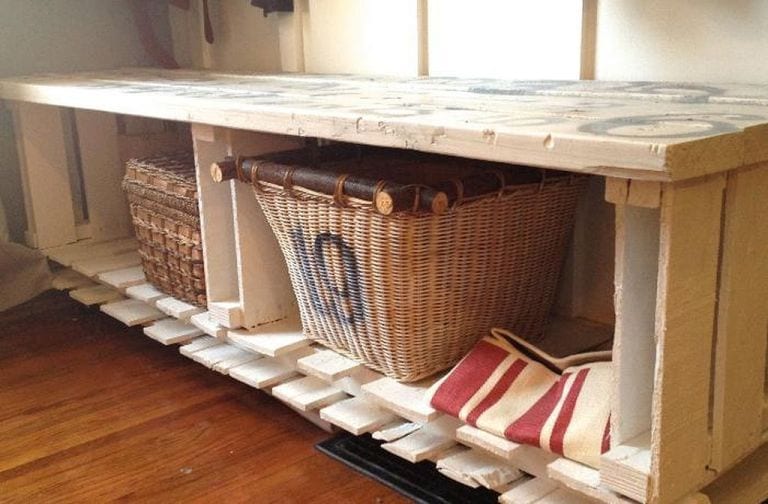 The workbench can increase a space's functionality, contribute as a work table, or function as extra seating, depending on your needs. It's good that pallets are made of sturdy materials so that you will not need to reinforce them.
How about a kitchen island?
You can give your kitchen a new look with very little expense and just a little elbow grease with a DIY kitchen island. This kitchen island assembled from wood pallets, poplar boards, metal brackets, and a butcher-block countertop will easily add a modern style or rustic charm to your home, depending on how you want it to look.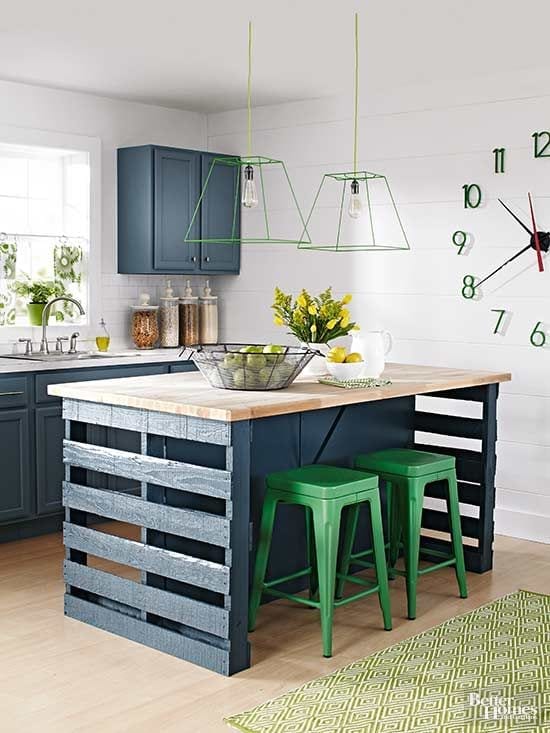 If you want a weathered look, you can sand down the pallet and keep it natural. If you want to make it look new, you can sand it and make it super smooth before applying a coat of paint of your preferred color.
Create balcony storage with seating
Your balcony should be an inviting place to relax. You can sit there and maybe do some people-watching, or you can enjoy a good book with a cup of tea. It should be a spot where you can be at peace and alone with your thoughts.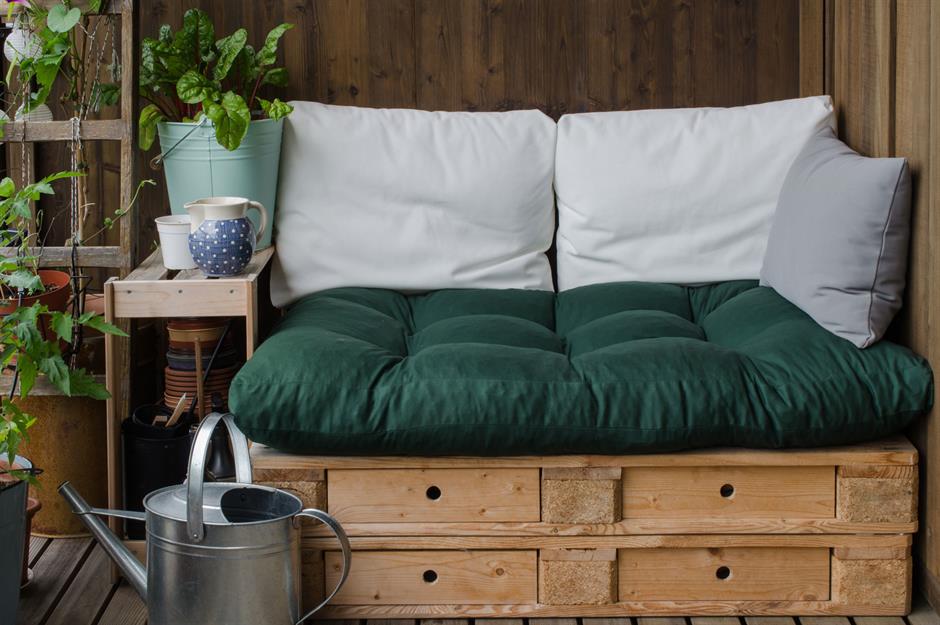 Of course, your balcony needs good seating. Without one, you won't be able to enjoy your little nook. If you want to make the most of your balcony, you can use wooden pallets and stack one on top of the other. You can also fit little drawers into the pallet holes for extra storage, add some comfortable puffy cushions, and you are all set.
Give light fixtures more character with wooden pallets
If given a choice between regular light fixtures and light fixtures with character, we're quite sure you'd go with the latter. Who wouldn't? The last thing you need in your home is a boring addition which won't make it more interesting or cozier.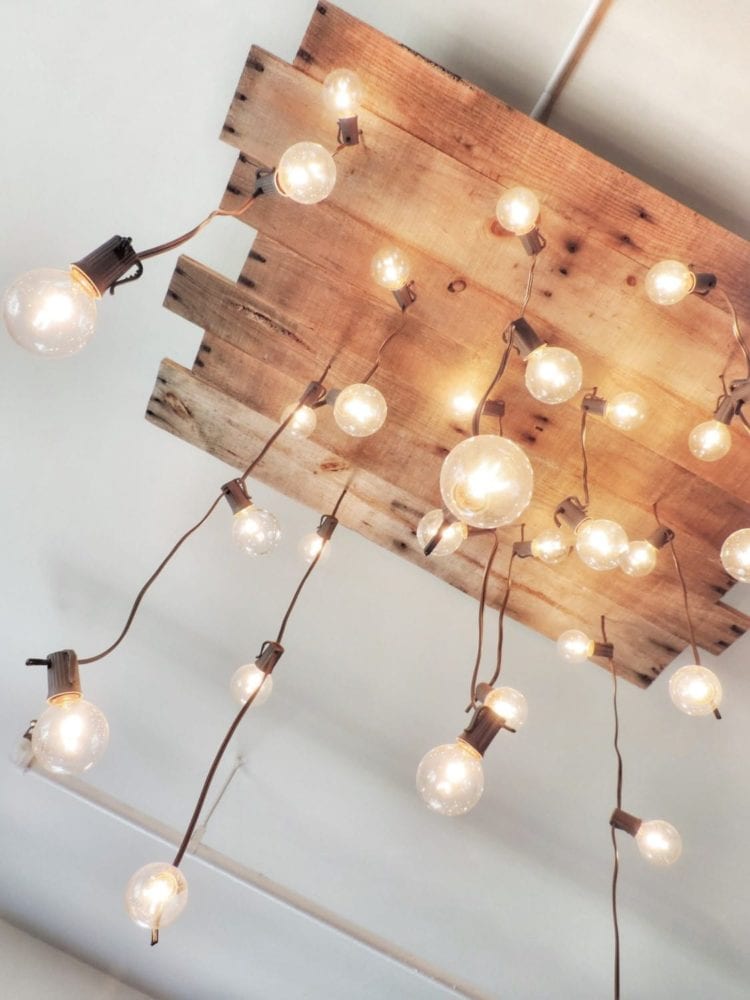 Wooden pallets are affordable options that can brighten any room and make it more interesting. Don't worry about electrical components because they can be purchased from your local stores or online from Amazon or eBay. You'll be amazed at how your room will be transformed with a light fixture such as the one shown above.
Candleholders
A beautifully-trimmed centerpiece makes a table more attractive. Candleholders make great centerpieces because not only do they add some light and character; the aroma of the candles makes the atmosphere more pleasant too. Why not showcase your mesmerizing candles in a wooden pallet?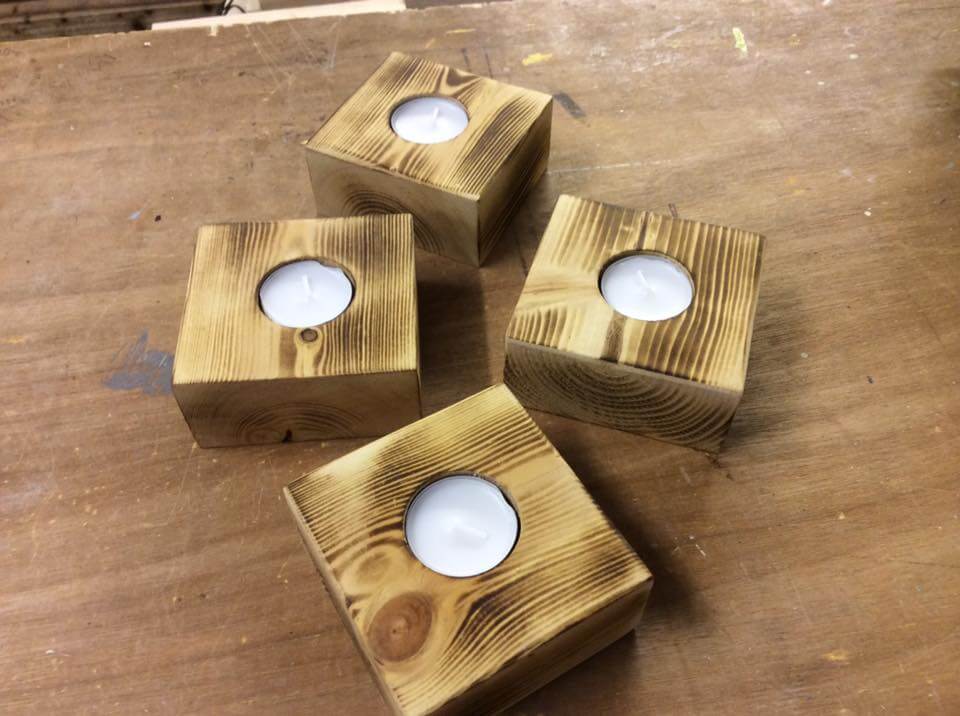 Stained in a woody brown shade, or painted to match your decor, these candleholders will make great table accents. The candleholders you see in the photo are for tea light candles, but you can certainly fashion one to any size you want.
Liven up your walls
Liven up any sad and old wall with a pop of color. Don't have the money to buy an expensive painting? No need to worry. You can create your very own work of art if you have a wooden pallet somewhere in the house.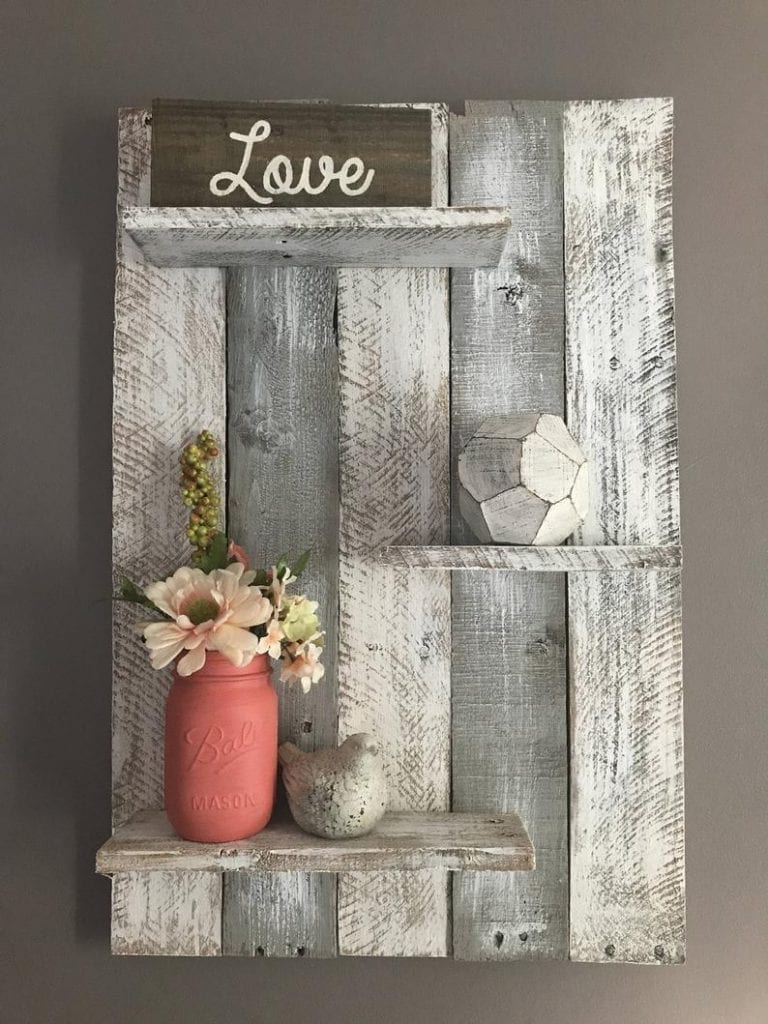 Grab a paintbrush and your desired color of paint, and have fun while going at your pallet. Want a nautical theme? Blue and white will do the trick. Let your creativity shine through and complete the nautical look by displaying some seashells.
Set up a cozy reading corner
Pallet furniture is versatile and durable and regardless of your needs, you can always fashion something from it. You can come up with all sorts of things such as wall decorations, bookshelves, and even beds. The best thing about them is that they are also great for the environment.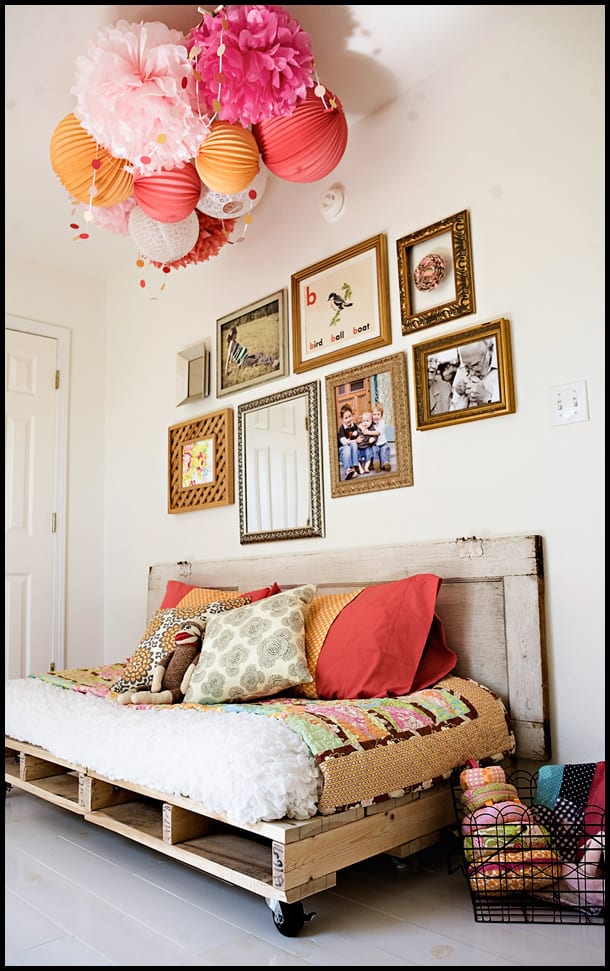 If you have a little child or if you like to read, why not create a cozy reading corner with the use of wooden pallets? It would be great to have a place where you can escape reality, even just for a few minutes. Don't forget to throw in some comfortable cushions.
Give your room instant privacy
If you need personal space in a room, visual screening between rooms, or just a solution to any privacy problem, room dividers are the best option. The great thing about them is they're not fixed, and they're lightweight, so if you move to another apartment, you can easily bring them with you.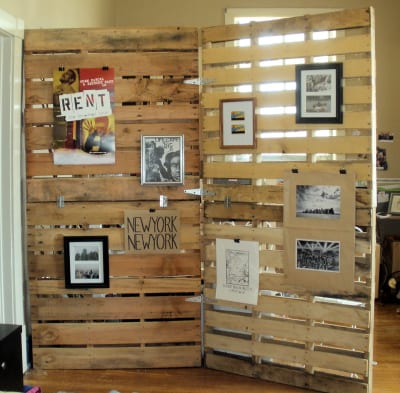 This wood pallet room divider is a great choice for people who share their place with someone. Besides giving your privacy, it can also double as a mood board where you can hang your favorite photos and artwork!
Pallet TV stand
If you have recently transferred to a new place, you probably need a few things to complete the look of your new home. Moving out on your own can be challenging because it means additional expenses. If you want to be comfortable in your new space, you have to furnish it efficiently.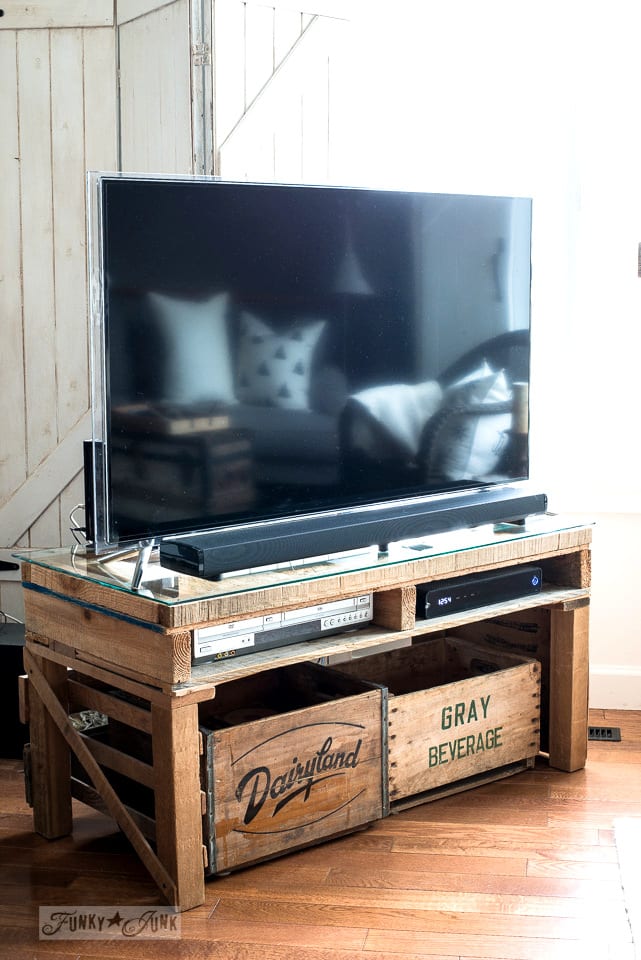 If you don't have a lot of money to spare but have great DIY skills and a few pallets at your disposal, you're in for a treat. Need a TV stand? You can easily create one! The simplicity of this pallet TV stand has a great contrast with the LCD's sophistication. There's no need to buy an expensive TV stand.
Everyone needs a pallet firewood holder
A fireplace is wonderful, especially during cold winter months. Although most homes and apartments now come with modern heating systems, there is something charming and nostalgic about fireplaces. Nothing beats sitting in front of it cuddling the one you love or a cup of warm cocoa if you're single.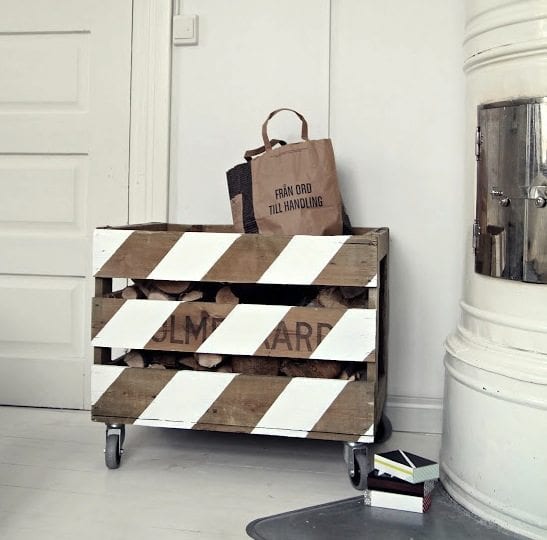 Storing firewood for your fireplace can be quite messy, but you need to have it close so when you start to feel chilly, you can easily start a fire and keep it attended to during a long cold winter's night. This pallet firewood holder is just what you need.
How about having an entire office made of pallets?
Nowadays, sustainability is the name of the game. It is a must to be mindful of the things we choose to buy and use if we are to be good citizens of the world. We have seen the effects of global warming, and the last thing we want to do is make things worse.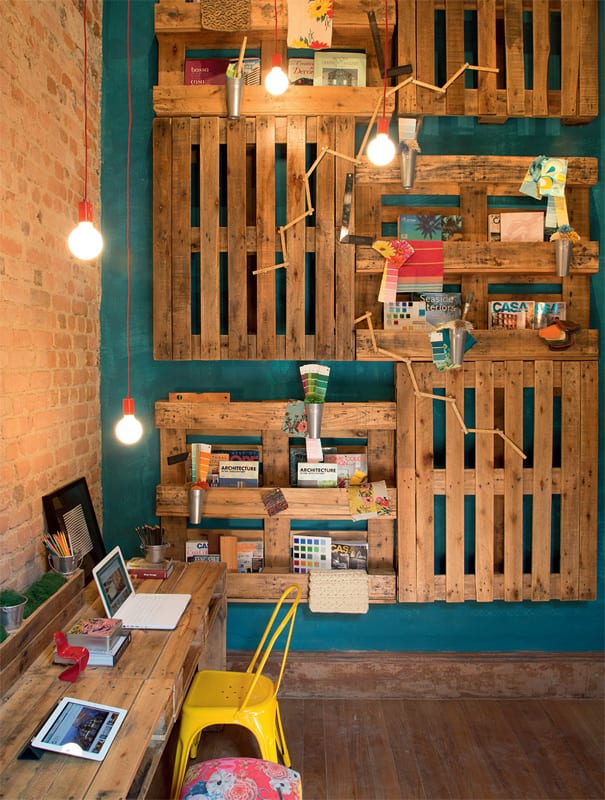 If you're working from home permanently or have taken on a freelance job that only needs you to perform your tasks online, a home office is necessary. You can save a lot of money by decorating your entire office with cost-effective and functional wooden pallets. The environment will thank you for it too.
Hang and display coffee cups on your DIY holder
Most of us enjoy a cup of joe in the morning to give us the much-needed jolt of energy to start our day. You probably have plenty of coffee cups in your home that you stash away in the drawer. Why don't you display them proudly and let everyone know how much you love coffee?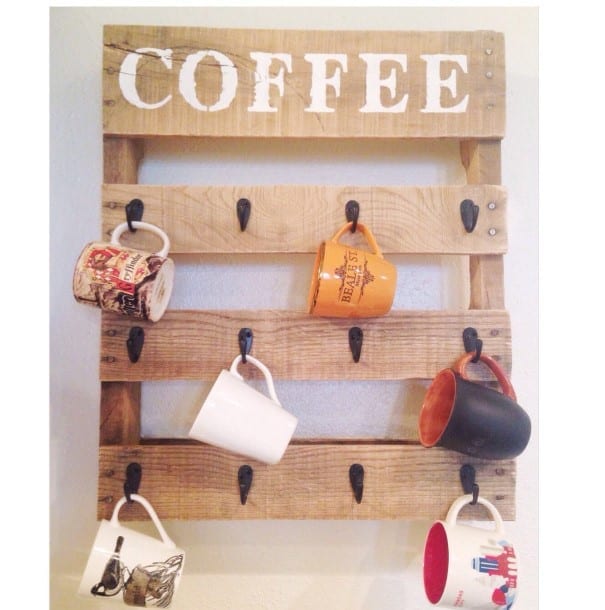 This author's DIY project is just what we need today. She also got lucky because she ended up spending next to nothing, thanks to a wooden pallet she found on the side of the road. This project is easy to do, but there is one thing you shouldn't forget, and that's to power wash the wallet because you'll be hanging things there which you'll be drinking from.
Add more seating to your living room with a wooden pallet sofa
When people think of furniture made from pallets, they automatically assume that they are rough and uncomfortable. That's very far from the truth. Not only are pallet furniture as comfortable as traditional furniture, but they are also more interesting.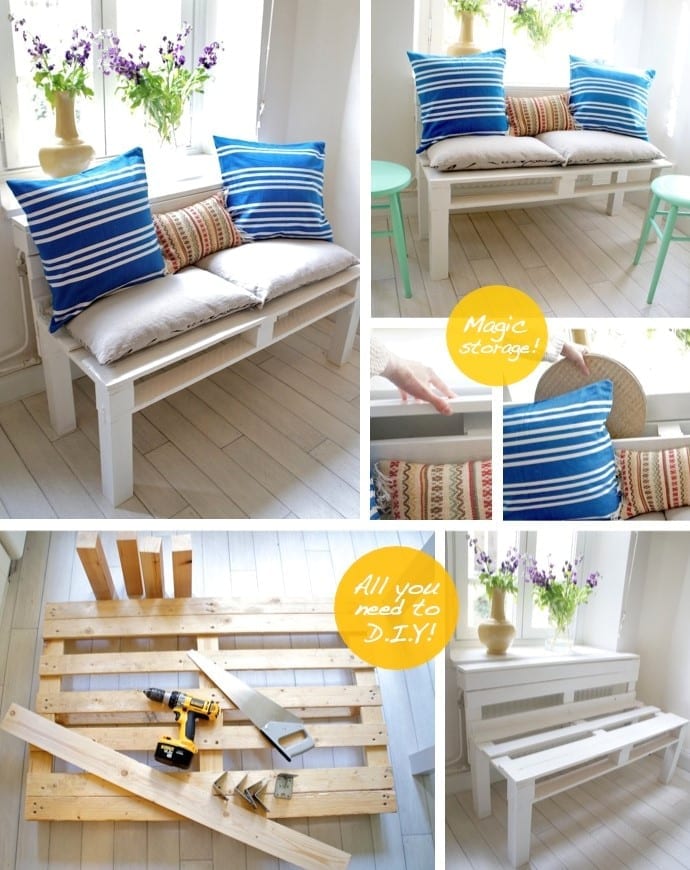 And if you are concerned about the global warming crisis, wooden pallets are sustainable because they can serve many purposes. If you need to add more seating in your living room or on your porch, you should consider pallet sofas.
How about office desks made of pallets?
This is something you'll need to convince your boss about if you're not the business owner yourself, but if you happen to work in an environmentally conscious company, this will make an excellent pitch for an idea to redo the office decor.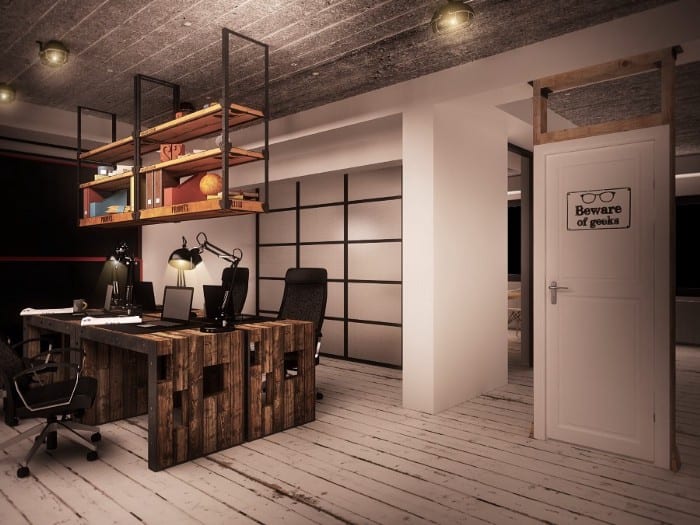 This would probably fit in an office environment that's more informal, but this is a cost-effective and eco-friendly alternative to dress up the office, make everyone's workspace more comfortable, and contribute towards the efforts to help preserve Mother Nature.
Display your unique plates on a pallet plate rack
If you're not yet convinced that wooden pallets make great racks, here is yet another reason. Most of us collect plates with quirky shapes and unique designs, and if you have some in your kitchen, you should make the most of them by displaying them.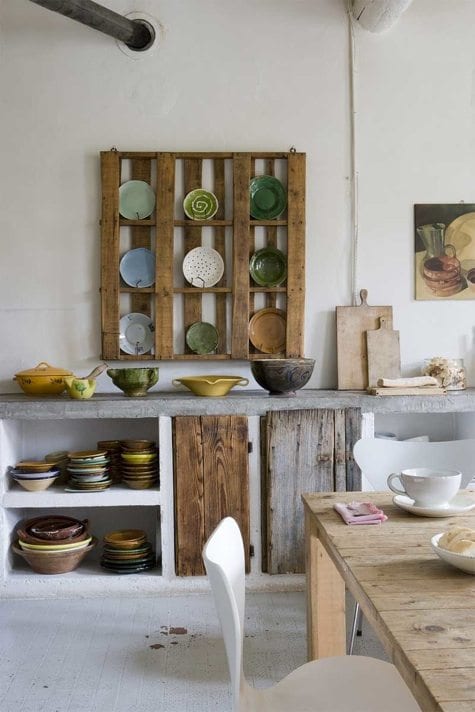 Even if you have a small vacation home or a small cottage, this will make an excellent addition to your décor. This rustic style is sure to impress any guest. Just ensure that you mount the plate rack securely to avoid your precious plates falling on the floor.
Repurpose pallets and turn them into desks
Here is yet another great idea for someone who has a few pallets sitting at home and being forgotten about. Everyone needs a suitable desk at home, whether it is for arts and crafts, work, or study purposes. This cozy desk will inspire you to get plenty of work done.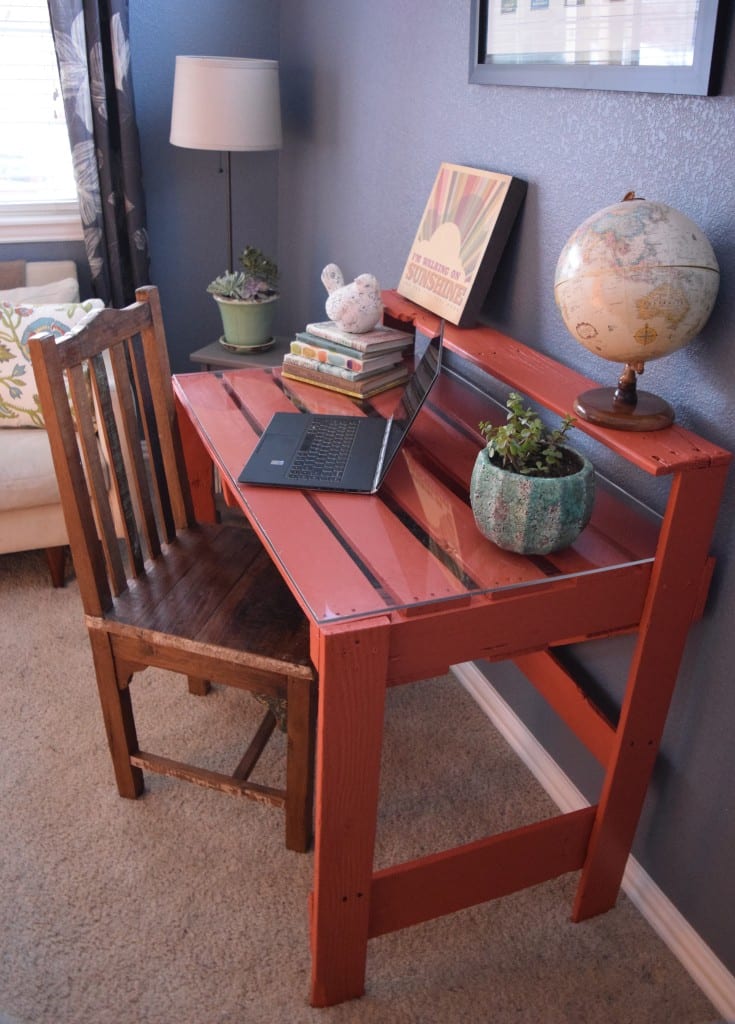 You can dress up your desk by displaying photographs, a few books, and even some trinkets. You also have the option to keep the pallet's natural color or paint it. Let your creative juices flow and put some life into your wooden pallet desk.
Don't have a headboard? Make one!
A headboard gives the necessary support to your bed, but its most important purpose is to prevent any abrasion on the walls. Another thing it does is give your bedroom a cozier feel. You can buy beds with headboards, or you can purchase them separately.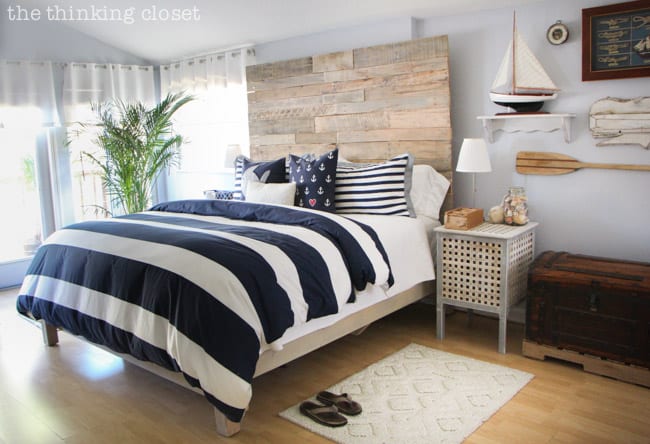 One thing's for sure, though; it will cost you some money. If you want to save your dollars but still get a new headboard, here's a design idea you'll like. Wooden pallets make great headboards, and they cost you very little too.
Be on time with a wooden pallet clock
Tired of buying the ubiquitous clock from IKEA because all your friends have the same one? Stand out from the crowd and be on time all the time with a wooden pallet clock. This may look like it needs a very high level of craftsmanship, but it doesn't.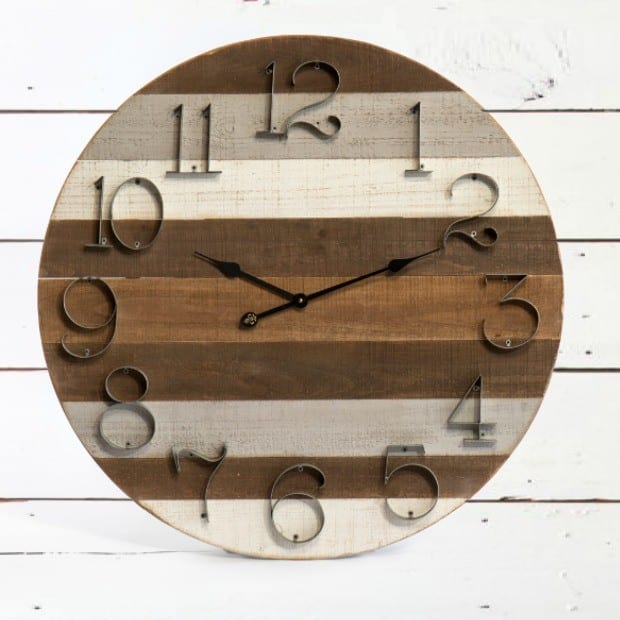 You can go with plain pallets and attach the clock hands and mechanism, or if you feel a little artsy, you can paint the numbers on and maybe add a few decorations. This is just one idea, but there are plenty of other sources on the Internet which run the gamut from the very simple to fancier ones.
Keep the trash out of sight with a pallet trash can
No one likes working in a dirty and smelly kitchen, and since most of the waste in the kitchen is made up of food products, it is essential to ensure that the trash can is sealed tight and, if possible, hidden from plain view.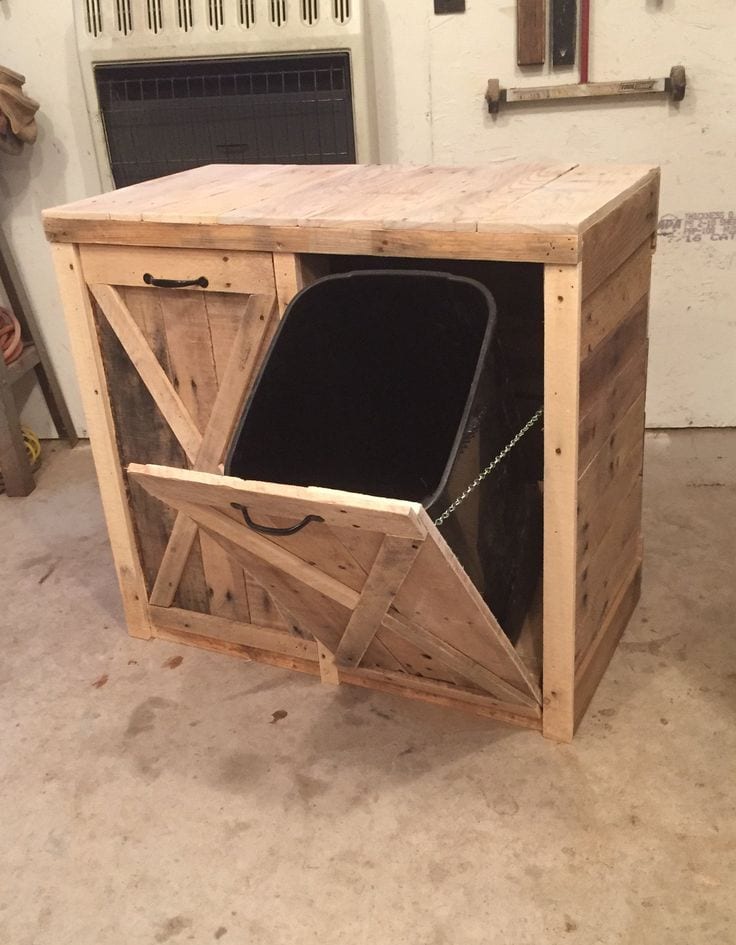 Wooden pallets make excellent trash can holders. Not only are they functional, but they can also become added décor in the kitchen. Now you can go all OC like this person who decided to segregate her trash, or you can just put everything in one place.