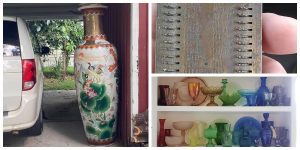 Rare Finds That Prove Thrift Stores Are A Gold Mine For Treasure Hunters
By Miguel DG
---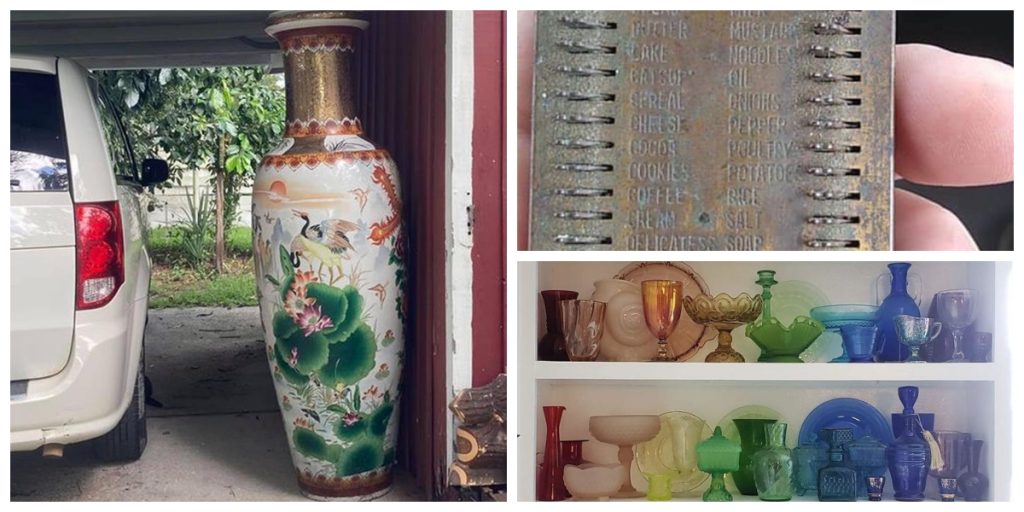 Most of the time, people go to garage sales, flea markets, and thrift stores just to buy used items such as clothing, furniture, and other knick-knacks for a fraction of the cost. However, there are times that customers get more than what they paid for – quite literally! From valuable art pieces to tons of cash to rare memoirs of a historical figure in the past, these shops offer quite an experience to their buyers. Most of the photos you are about to see are courtesy of the Facebook group Weird (and Wonderful) Secondhand Finds That Just Need To Be Shared, in which members post their cool and wacky finds for the rest of the world to see. These are some of the actual things that people have found in thrift stores, garage sales, and flea markets that are considered as a bang for a buck purchase – quite literally.
Refurbished Bookcase Coffee Table
They say that most people love reading books in the living room to chill and relax. This buyer found this totally cool and giant book-designed coffee table on a Facebook seller profile, and to their surprise, the "spines" are doubling as drawers!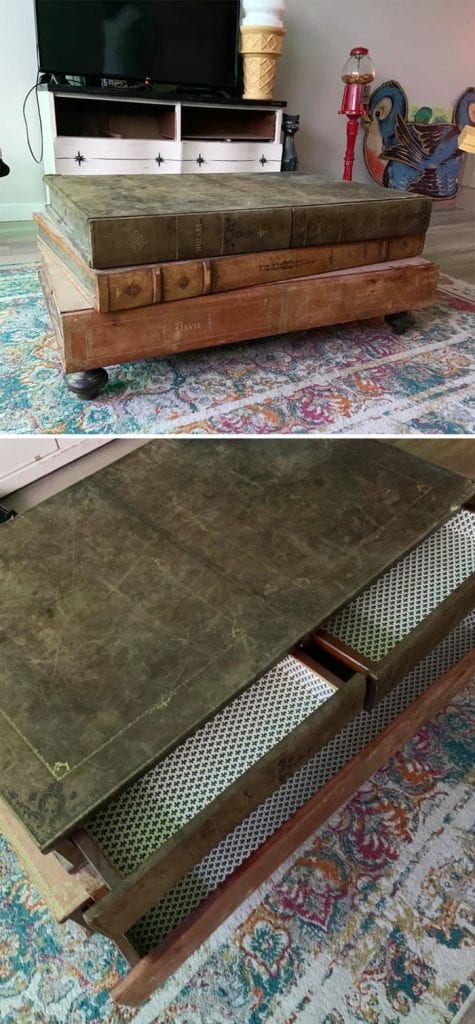 The drawers are lined with clean-looking black fleur-de-lis patterns scattered all over the drawer. And get this: each book is actually leatherbound, making it look super vintage! Now this person has the ultimate conversation starter for their guests when they come over.
Taking Grocery Shopping To A Whole New Level
Well, this doesn't really count as a sale, but it was still found in a grandmother's house, which is a treasure trove for all things unique and valuable — so it still counts in our book, regardless, because why not?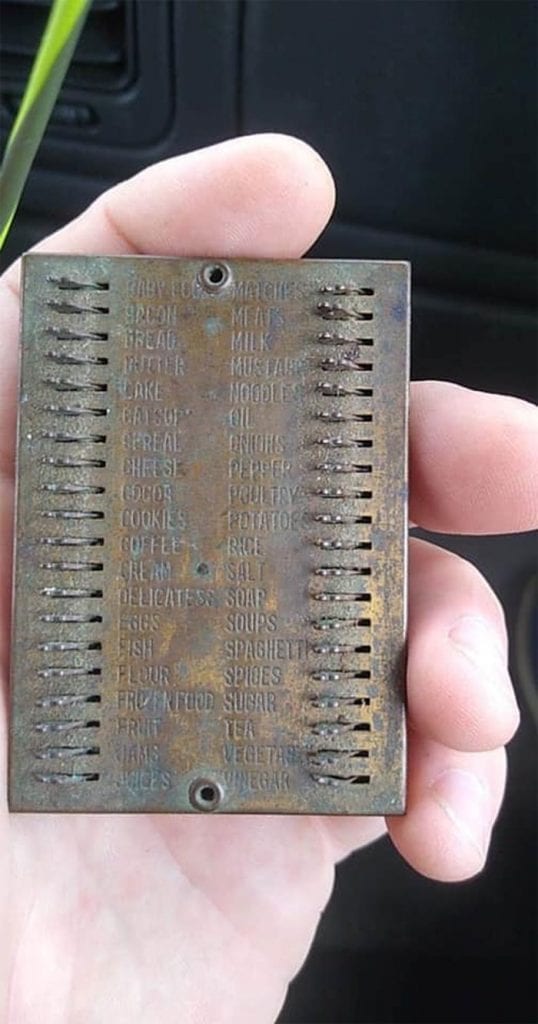 This person posted that he found this vintage shopping list made of metal in his grandmother's house in Louisiana. The knobs can be turned left and right to indicate that the listed food item is already in the shopping basket. Who needs an app when they can turn heads while grocery shopping with this vintage find?
A Two-in-One Living Room Staple
This next entry shows that one man's trash is truly another man's treasure. The owner of the post said he was helping his friend clean the house that was flooded when he saw the friend's neighbor throw this amazing side table on the side of the street.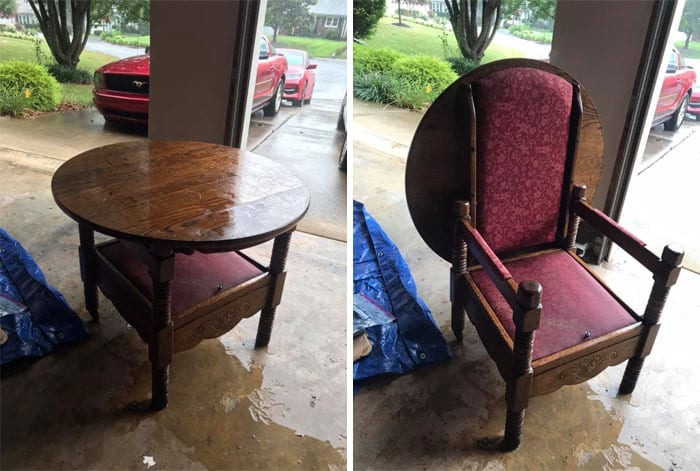 He saved this baby and brought it home when he discovered that this table transforms into a chair — complete with a mauve-colored cushion! This is perfect for those times when a guest cannot sit on the sofa because there's no room.
Bringing The Fast-Food Restaurant Experience To Home
This is for all the fast-food restaurant lovers out there. A buyer saw this bold, yellow restaurant table with matching benches on either side of the Facebook marketplace, and the moment she saw it, it was definitely love at first sight.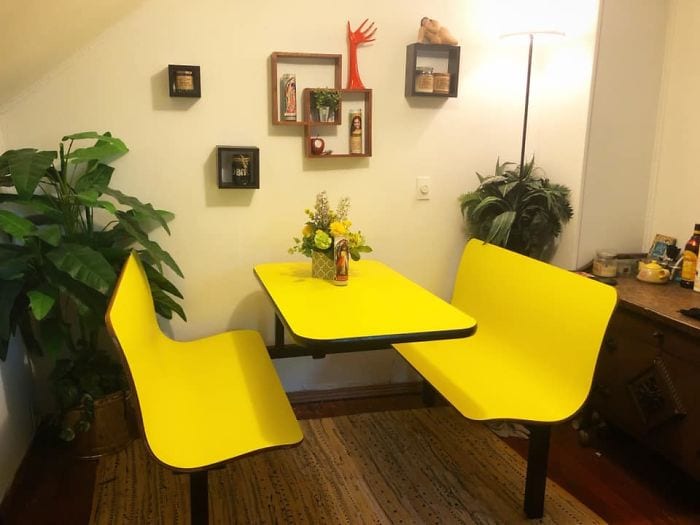 She immediately bought the beautiful table and set it up as a dinner booth in her home. This goes well with the current pandemic situation: bring the fast-food experience to the comfort of your own home if you can't enjoy it outside.
Amazing Celestial Finds At Goodwill
Sometimes, you must go knee-deep and find the greatest treasures in every garage sale you can find. This buyer bought a full set of these celestial bodies-themed dishes, and she was head over heels for their stunning beauty.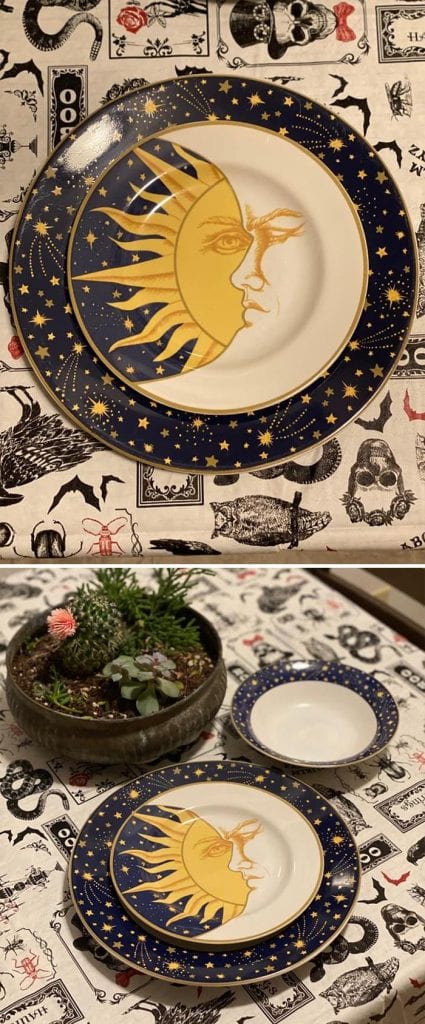 These dishes look very expensive, and it would be a shame if they were only used for eating and not for admiration. This should be displayed on this person's living room shelf to show everyone how amazing they are at thrift hunting.
Taking Glass Art To A Whole New Level
This user posted on Facebook her collection of different glass vases, plates, and other kinds of glassware she collected over the years in many different colors. She even placed them on her shelves according to the colors of the rainbow.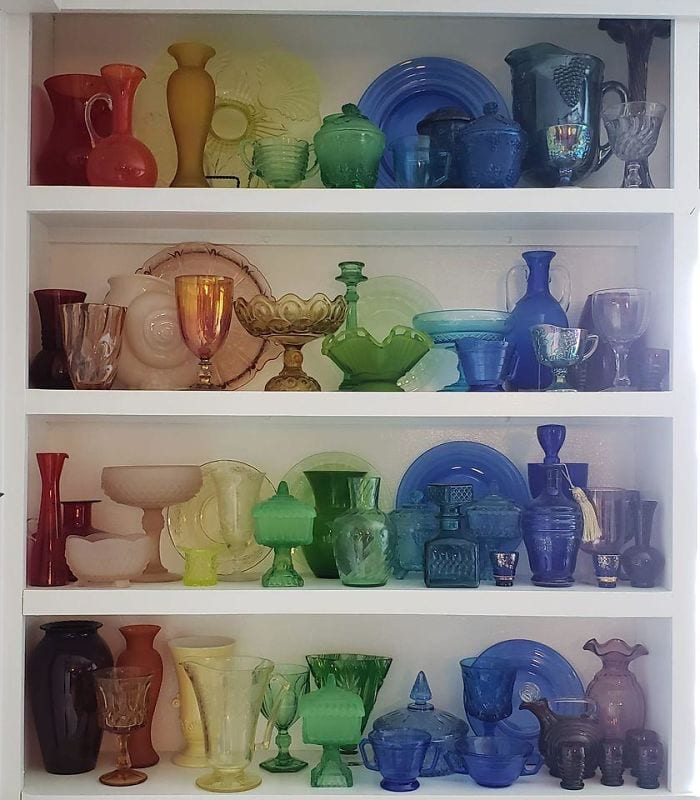 This user further commented that some of the glasses are true depression glass from the 30s. Some are even mid-century pieces! She has collected this stunning glassware collection from many different yard sales, thrift shops, and antique stores over the years.
An Unusually Cool Animal Transformation
Disclaimer: this is not a real, live animal. No animals were harmed in the transformation of this stunning jungle royalty. This Facebook user posted that she found a wooden statue of a leopard in a yard sale, and she was already in love even though there were patches of missing paint all over.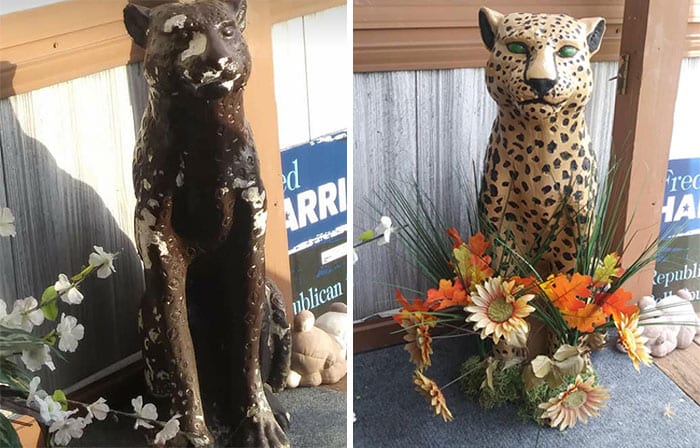 Thankfully, her daughter has the hands of an artist. She transformed it into a graceful leopard that's newly painted and highly detailed. Even the spots were on point! This stunning wooden leopard statue is now living its second life as a flower vase alternative in their home.
How To Train Your Wooden Dragon
This one will blow the minds of anyone who is into dragons and other mythological characters. This Facebook user had posted this stunning rocking dragon made entirely of wood that she saw with her dad. She was bummed when she found out it was already sold.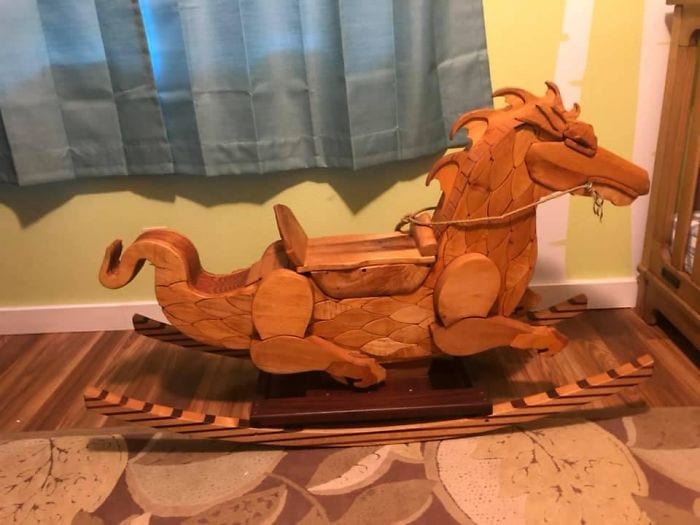 Fortunately, it was her dad who bought it from them. The seller told them that it was from a church auction, and the craftsmanship is indeed detailed and superb. They are now planning to pass this on to future generations as a family heirloom.
Giving Stained Glass Art A Whole New Meaning
For those who are thinking that stained glass windows are only meant for churches and other places of worship, this yard sale find will prove you wrong. This user posted what she found at King's Hardware in Shreveport, Louisiana.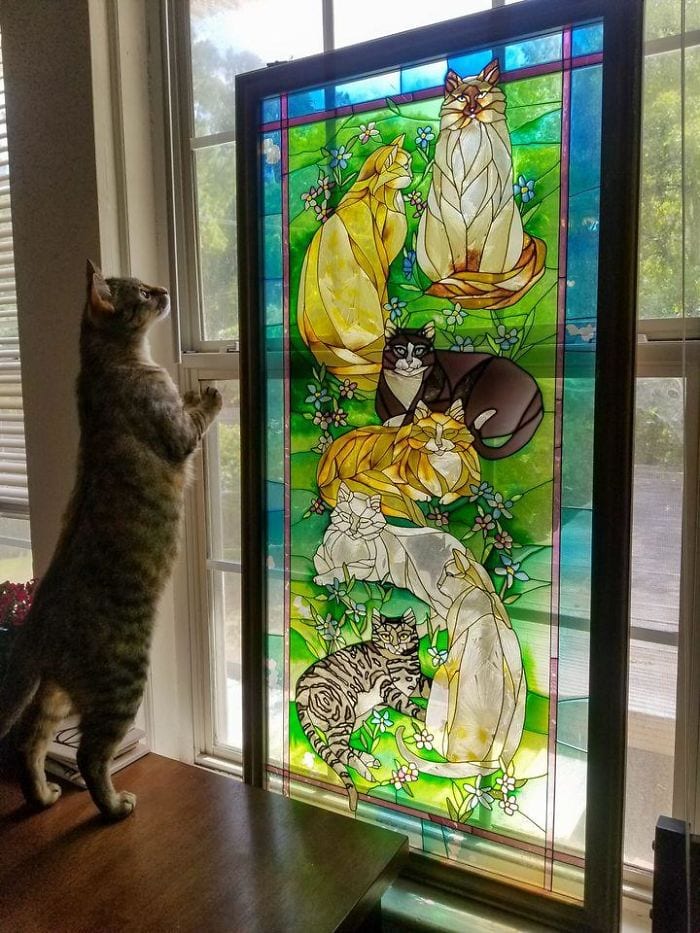 She found a stunning stained-glass piece of art picturing cats framed in wood. The amount of intricacy and the level of detail and effort poured into creating this fantastic feline art is totally undeniable. It looks like even Nibbler, their cat, approves of the artwork!
Comfort Chair of Generations
Now this entry is not necessarily a yard sale find but more of a hand-me-down. This Facebook user has posted that their uncle has given them a cozy and comfortable sofa chair which was bought in the 60s or the 70s.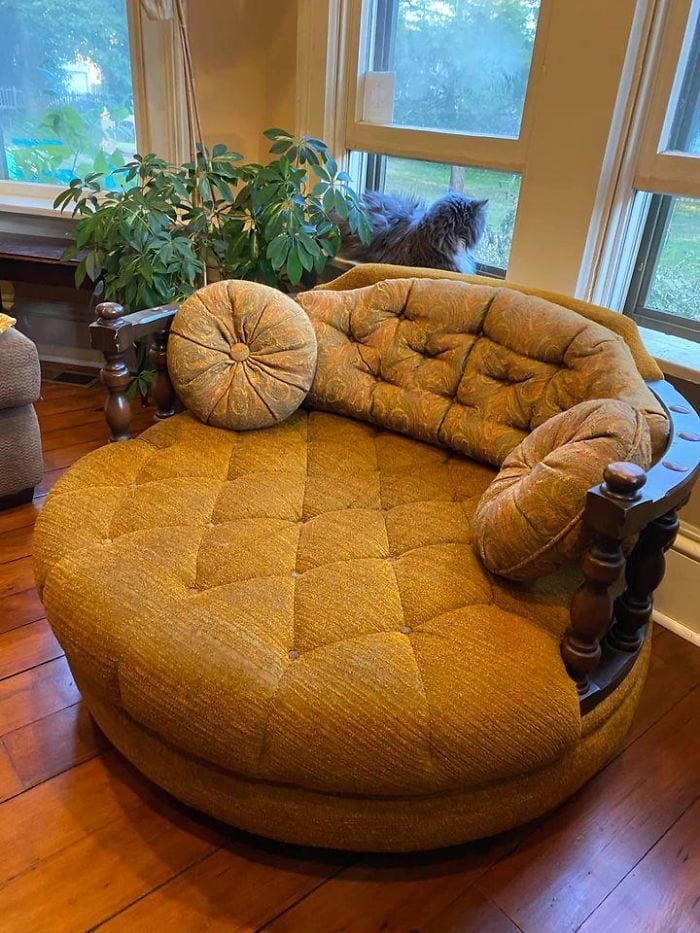 The user noted that they have been in love with the couch since they were young, and it was like all the stars aligned for them when their uncle passed it down to them. This is a family heirloom that is going to be passed for several generations.
Under The Table With A Turtle
We all want to go out for a swim once in a while since it has been almost a year since we were able to fly to different beach destinations for vacation (thanks coronavirus). This Facebook user does not feel homesick anymore, however, thanks to this amazing find at an estate sale.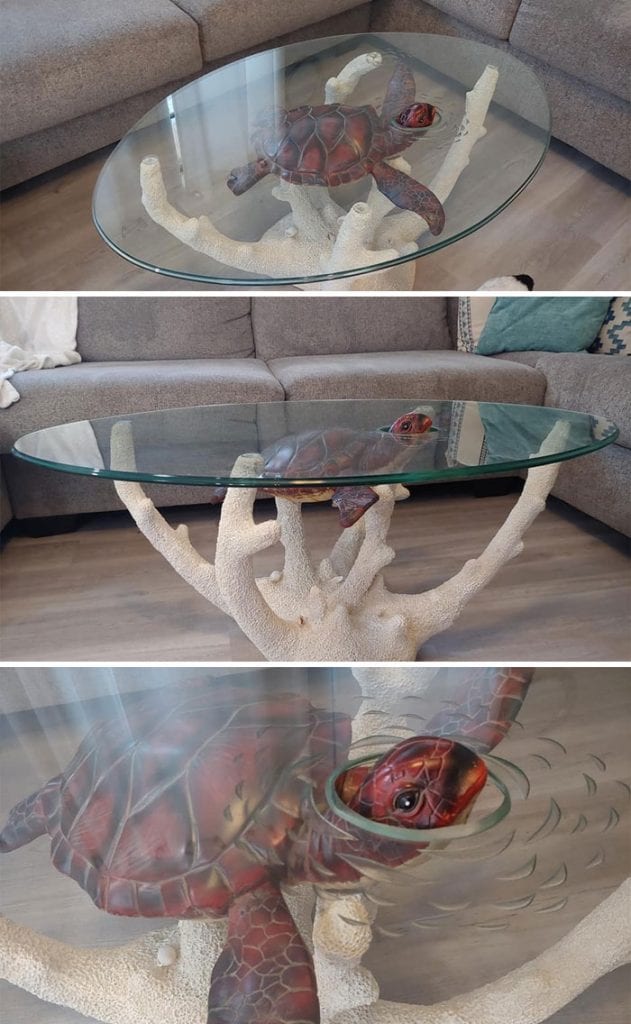 This under the sea-themed coffee table has legs shaped like corals, and the centerpiece is indeed a conversation starter – it has a wooden turtle right in the middle of the table! The wooden turtle head peeks through the "water" glass table, which gives the illusion of an under the sea tea party.
Bringing The Addams Family Fantasy
The Addams Family is timeless, with so many people dressing up as them on Halloween. Not only that, but the furniture used in the show was as iconic as the legacy they left behind for television history. So, you can imagine how ecstatic this Facebook user was when she found a chair like the iconic Morticia Addams chair.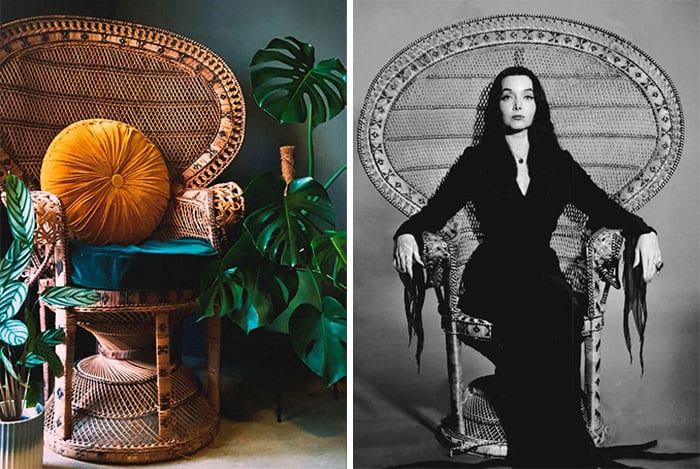 She found this classical piece on a Facebook marketplace, and she bought it immediately. She's a total fan of the show, having enjoyed many reruns now and then. We can imagine her binge-watching her Addams Family reruns while sitting majestically on this stunning rattan chair.
Monster Quilt
Colorful quilts were a part of everyone's childhood, no matter where they grew up. They were able to give the children intense comfort levels while enjoying the fun prints on these quilts, be it handmade or store-bought. This person found this cute piece at a kids thrift store for only $4.99.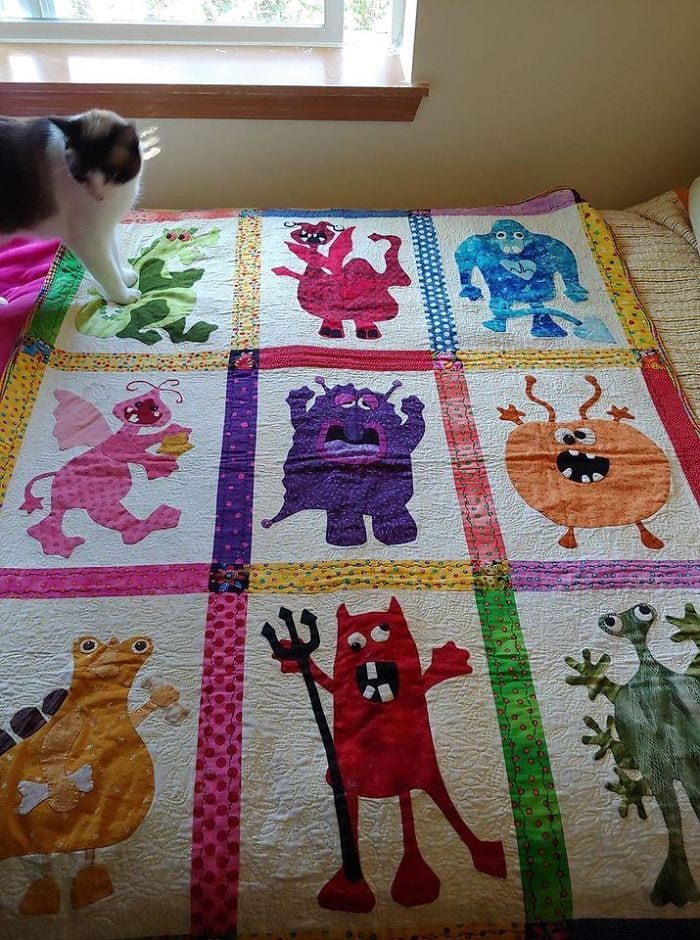 It was adorned with many colorful monster pictures arranged in rows all over the cream-colored quilt, with colorful borders separating one monster from the other. This looks very cozy and reminds us of when we used to take little naps on these comfortable quilts. Little Miss Kitty on the photo also approves!
A Totally Sentimental Statue Heirloom
This next entry is a testament to true undying love. This was not a garage sale find but more of a family heirloom being sold online. Their dad passed away first, and their mom followed less than three months later due to leukemia.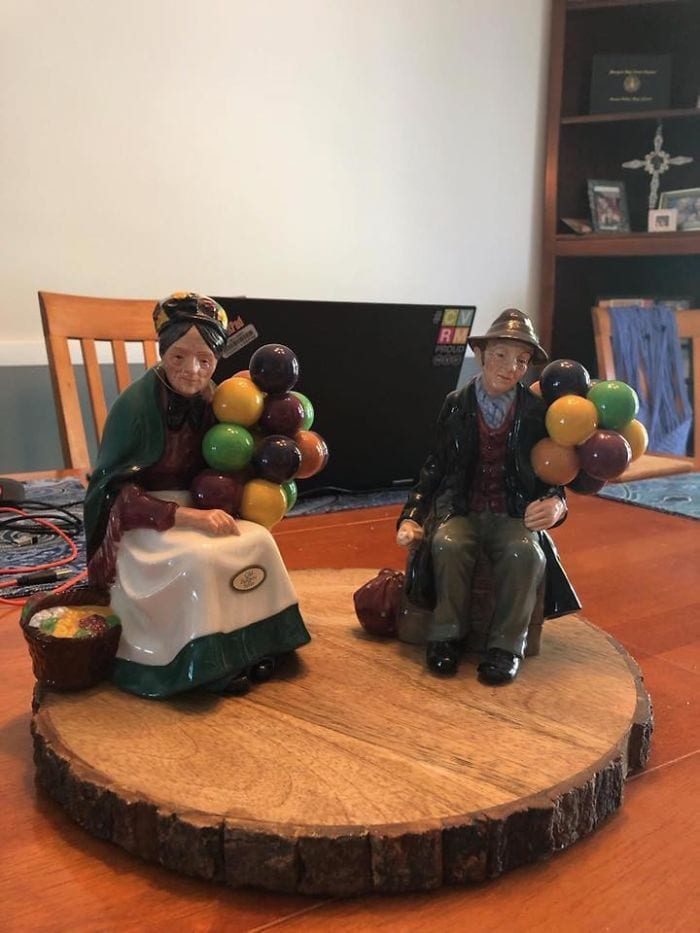 This Facebook user had difficulty deciding what to do with the Royal Doulton Balloon Lady owned by their late mom. Soon after, it was sold, and the buyer sent them a picture of the Balloon Lady reuniting with the Balloon Man. Now talk about bittersweet reunions.
Loving It Was Red
This Facebook user had posted that she had lost her four-year-old baby girl last year, and her late daughter's favorite color was red. They saw this gorgeous wooden and velvet sofa in crimson red at a local antique store, and she felt the familiar tug at the heartstrings upon seeing it.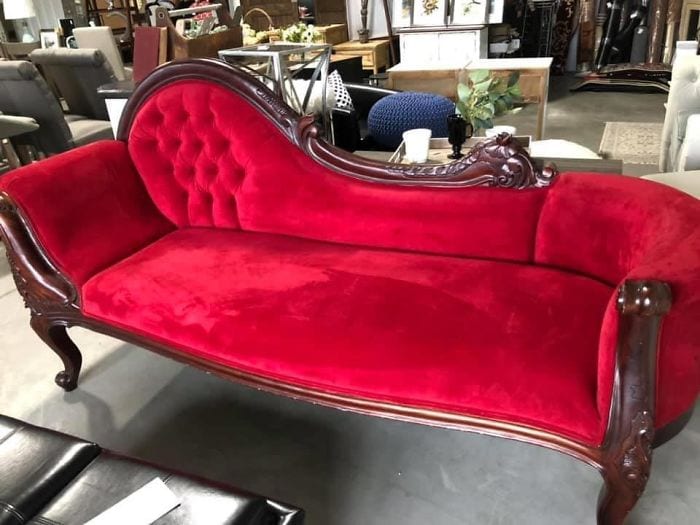 They bought this beauty and put it in their office. The mother was instantly reminded of how their daughter used to bring positive energy into their lives before she passed away, and seeing this gorgeous red sofa made her smile, feeling like her daughter was still with them.
Protection From Miss Rona In Style
The global pandemic has brought out the crazy and the unexpected in us, including our style choices when going out. This Facebook user saw this freaky yet fascinating mask of the Plague Doctor from the Dark Ages in an antique store, and she knew she had to have it.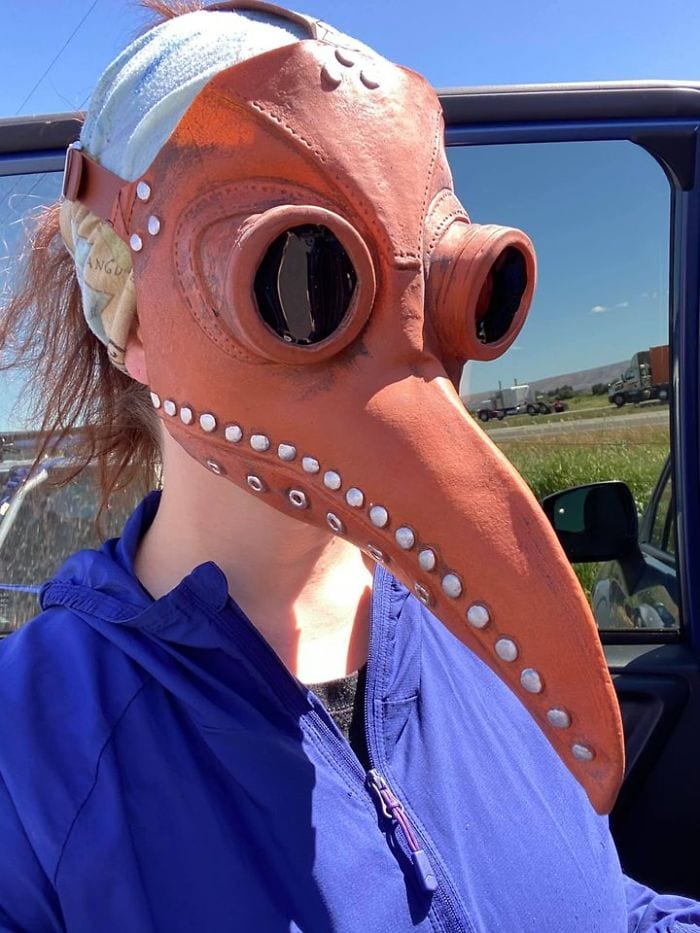 This stunningly accurate mask was reminiscent of the doctors' masks back then used to wear on their house visits. It is notable to remember that it was the time when the bubonic plague spread like wildfire to many parts of the world, and it is totally relevant to the current state of affairs.
Getting Quirky And Ridiculous In Style
Summer calls for the need for protection from the harsh rays of the sun. Usually, we wear hats, caps, glasses, sun visors, sunscreen, and more, but this Facebook user has found the ultimate summer companion – this insanely huge summer hat.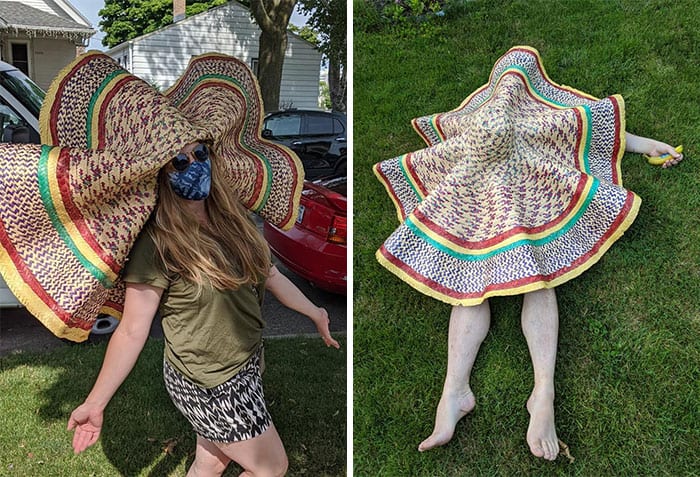 She found this showstopping hat at an estate sale in Milwaukee, Wisconsin. She said it was not too heavy, and it protected her from the harsh rays of the summer sun and some sand. She said it is also good for confusing the prey before you spit poison at them. Quirky, we know.
Finding Your Treasure in Someone's House
Some of us have moms who might have dabbled with creative activities such as drawing, painting, sculpting, and other things. Some of us might not have liked it, but still, some others loved it, including this Facebook user.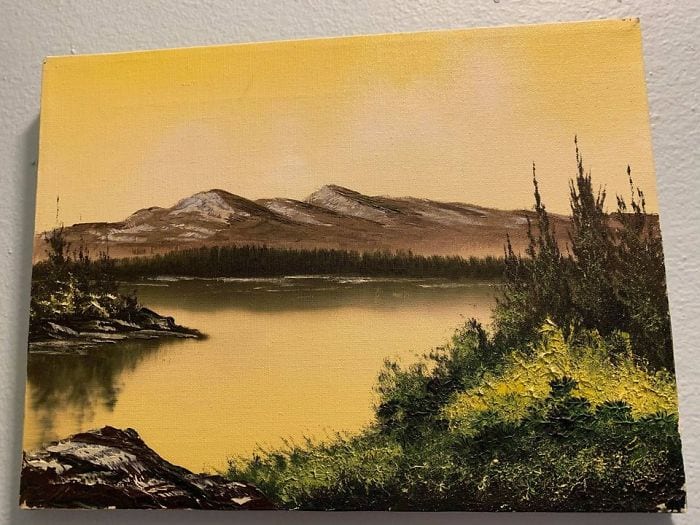 They received a message from someone on Facebook telling them they had one of their mom's paintings in their local Goodwill. She asked them if they want it, and they sent it to them. That counts as an extra special thrift store find for them.
Bringing Back The Boogie With This Dining Set
One of the reasons people are in love with finding amazing gems from garage sales is that they want to find vintage items worth more than expected. This Facebook user bought this stunningly bright mustard yellow retro dining set from a garage sale.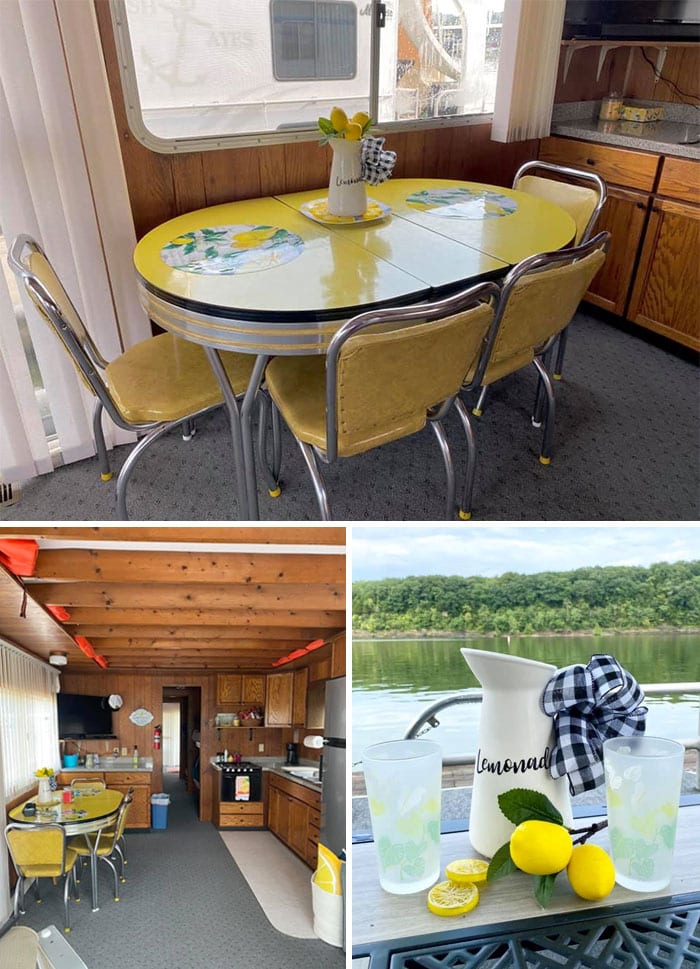 They bought it with the houseboat because the previous owners have left this table, which is now known as the lemonade table. Seeing this bright yellow dining set and eating breakfast on it is a great start to anyone's day.
Making Everyone Green With Envy
We all have our favorite colors, and sometimes, we want all of our things to be in our favorite colors. This Facebook user saw a post on the Marketplace with the seller selling other items in the first place. Then she saw the green glass in the background.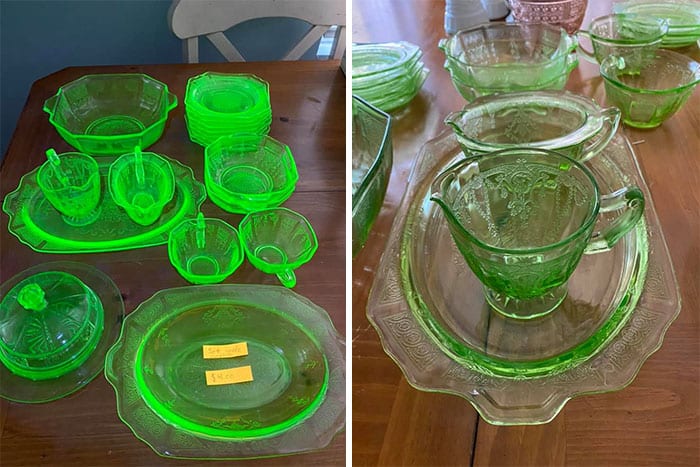 She further messaged the seller about the price of the green dishes, and she got it for only $4 for the whole set! Talk about scoring a great find in the Facebook Marketplace. This neon green glass set is perfect for afternoon tea with friends, making them green with envy.
A Jacket With A Morbid Past
Sometimes, what we find in flea markets and thrift stores once belonged to people who used to roam the Earth when they were still alive. Even though some items have spooky vibes, we cannot deny that some finds are still marvelous.
This Facebook user's grandmother left behind a ton of valuable items after her death. Nothing left for her, but she didn't mind. Six months later, she found a jacket with a note from her grandmother saying she wants to be buried wearing it. Clearly, it didn't happen, so she kept it as a sign of her undying love for her grandmother.
Finding A Dome That Is Dope
So many vacations, events, and gatherings were unfortunately canceled due to the global pandemic. Instead of griping over the what-ifs, this couple from Facebook decided to make the most out of it by buying this dome for their backyard.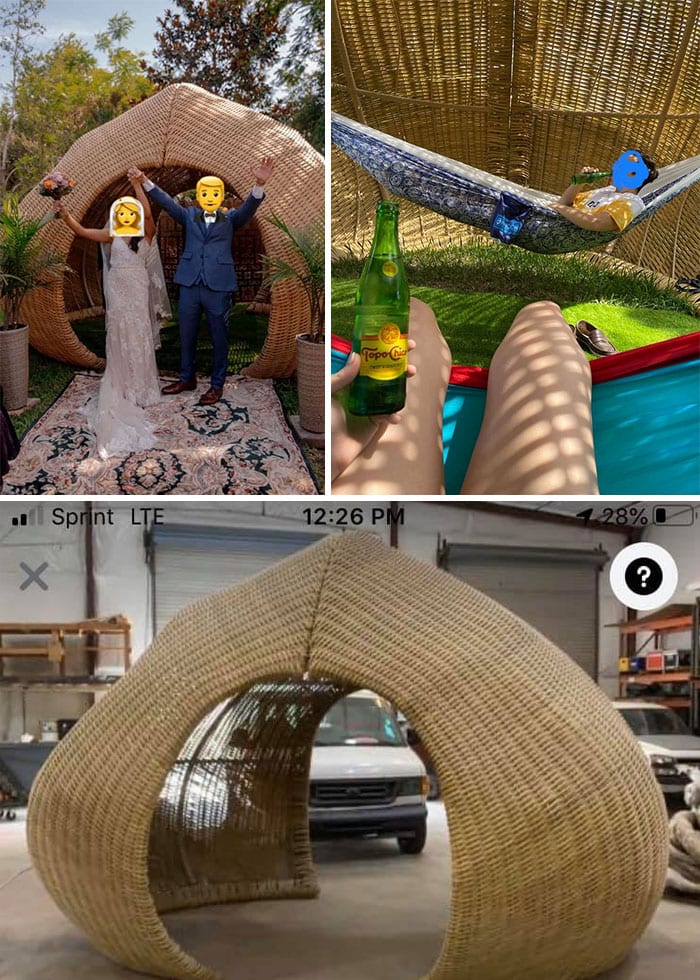 Made from rattan, it's approximately 16 feet wide and 10 feet tall. This was perfect for their backyard, and they added a couple of hammocks and an Astroturf inside. Eventually, they held their wedding in their backyard, and it was the best experience for them.
Digging Treasure From Tons Of Blankets
Sometimes, we really have to dig deeper to find awesome finds of amazing value. When this Facebook user's grandmother passed away, she ended up with a large box filled with blankets. While searching through the blanket box, she found something else.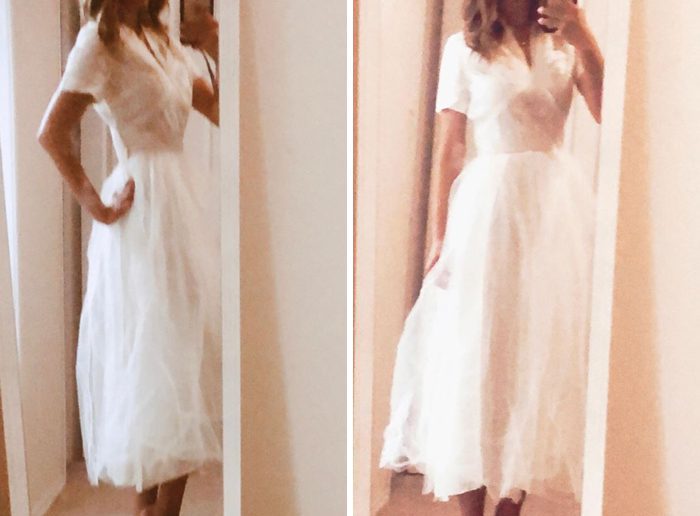 Upon digging deeper inside the blanket box, she found out her grandmother's wedding dress! She recognized it from an old photograph, and she immediately fell in love with it. It was simple yet elegant, and it also holds a special place in her heart.
House Hippo's Got An Upgrade
This Facebook user posted a picture of the house hippo she saw the last time she was in her local charity shop. She thought it would be a cute conversation starter for guests in their living room, which is why she bought it immediately.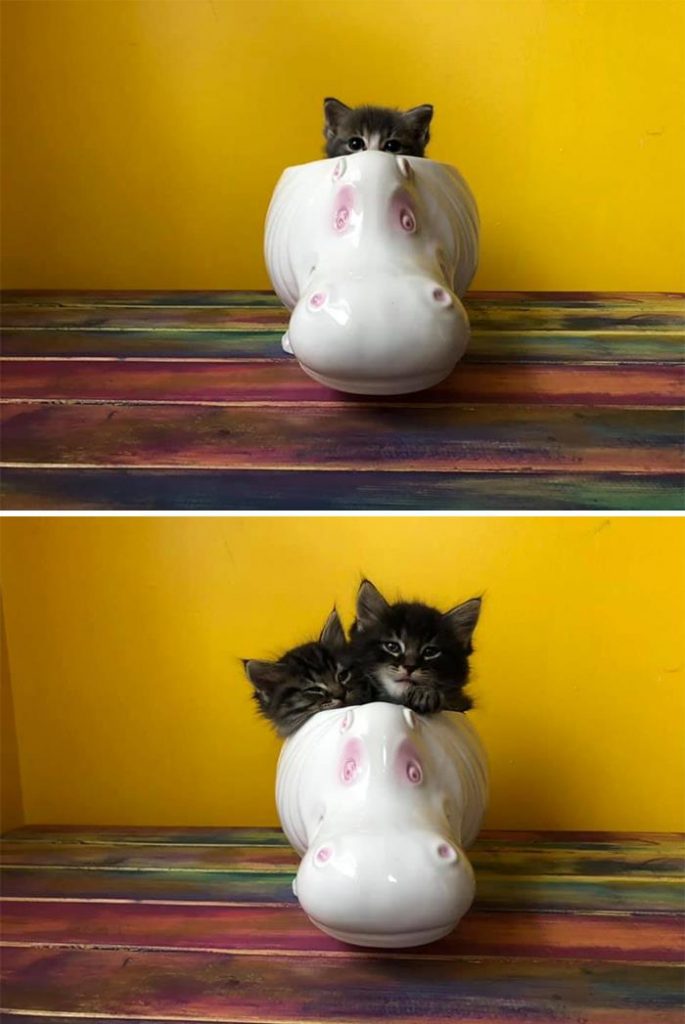 A month after, she posted an update saying the house hippo's got an amusing upgrade. Her kitten has found the cute hippo in her new home and made its own home out of it, and we are all for it.
Scoring Vintage Finds On Facebook Marketplace
This is another case of someone falling in love with something vintage on the Facebook marketplace, which seems to be filled with treasures. This Facebook user has posted this amazing find they saw on Facebook – a stunning table and chairs set made in 1964.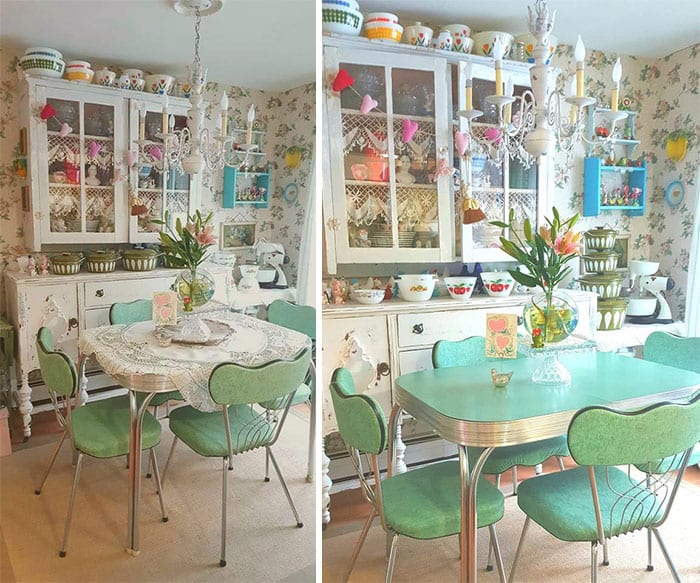 This celadon-colored dining set is perfect for any vintage lover's home. The user styled it with a white crocheted doily and some trinkets. This makes every dining experience a wonderful one and a sure way to spark conversations with friends and visitors.
You Cannot Get Mad Over A Huge Cat
This thrift store find has a hilarious back story. The Facebook user who posted this told her audience this find is the reason why she does not let her husband decide things on his own. We were curious at first, and then we saw why.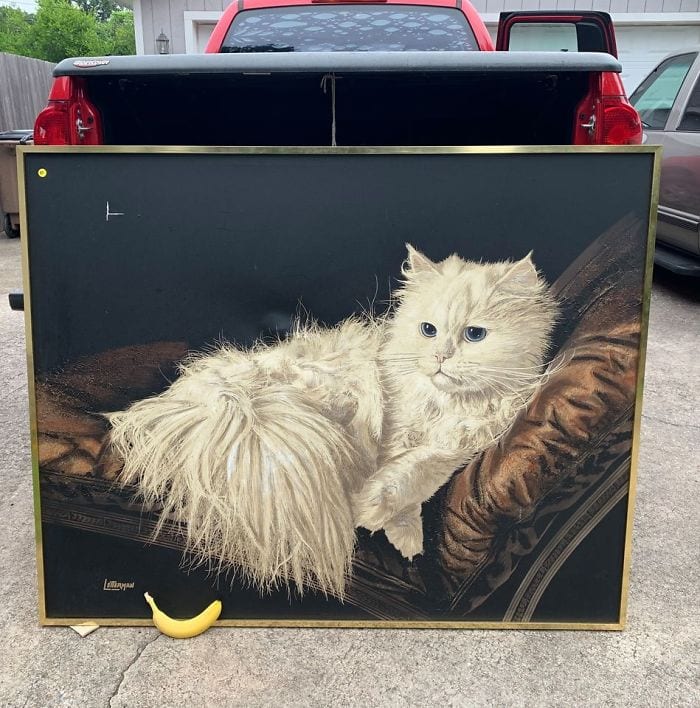 She posted a photo of her husband's newest haul: a 5-feet long and 4-feet tall landscape portrait of a white furry cat set on a black backdrop. The furry friend was seen leaning on a soft chair, and it was sold for only a dollar. Then again, who can get mad over such a cute work of art?
Starting Your Day By Releasing The Kraken?
Of course, we do not mean the actual thing. This Facebook user has found something interesting during her trip to the local thrift store. She found a cup, which looked unassuming at first, until she looked at the inside of the cup and was shocked.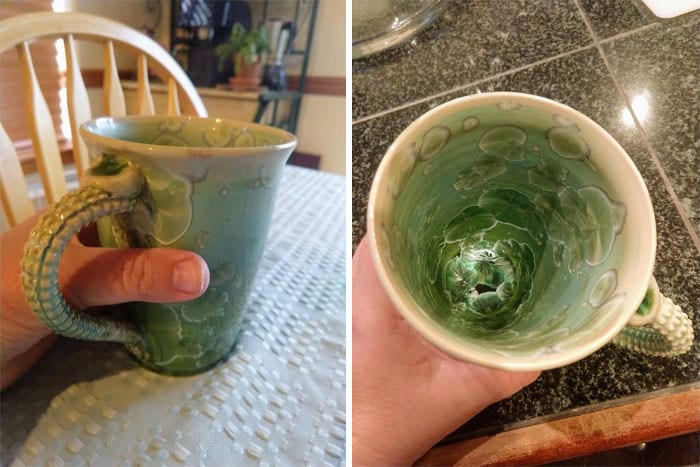 The jade-colored inside of the mug gives us the chilling vibes of releasing the Kraken from the depths of the mug. The patterns were probably from years of use, or maybe the design was intended. Nevertheless, it looks interesting and a good way to start every single day.
Keeping The Dishwashing Bottle Comfy And Cozy
This was another hand me down from the original post's relative. Their grandmother passed away in June of 2019. They had an extraordinarily strong relationship which is why many of her possessions when she passed away were passed down to her.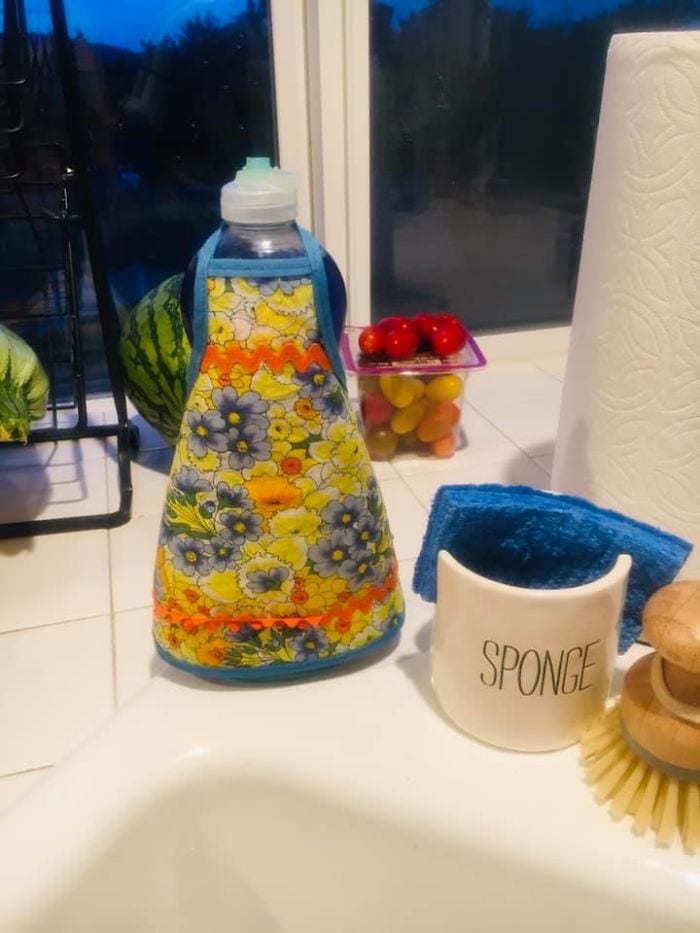 One of these prized possessions was this adorable soap bottle apron, keeping the dishwashing bottle comfy and cozy while serving in the kitchen. The soap bottle apron was very reminiscent of her late grandmother the most, simply because it spoke to her.
A Truly Golden Bumblebee Moment
Good things really come in ridiculously small packages. This Facebook user posted a photo of the bumblebee pin attached to a $4 shirt she bought in a thrift store. She did not expect this tiny surprise that came with her plain shirt.
The bumblebee pin was stamped 14K on the bottom, which she got for free compared to when she discovered it back then, probably in a black satin-trimmed box. This really was a literal treasure because she did not expect to receive this at all.
A Truly Quirky Find At A Yard Sale
This Facebook user found out a totally hilarious and quirky find at a yard sale. She picked up a big, yellow banana-shaped dog, and she thought it would be funny to bring the banana dog home with her. We don't know if the real dog approves, however.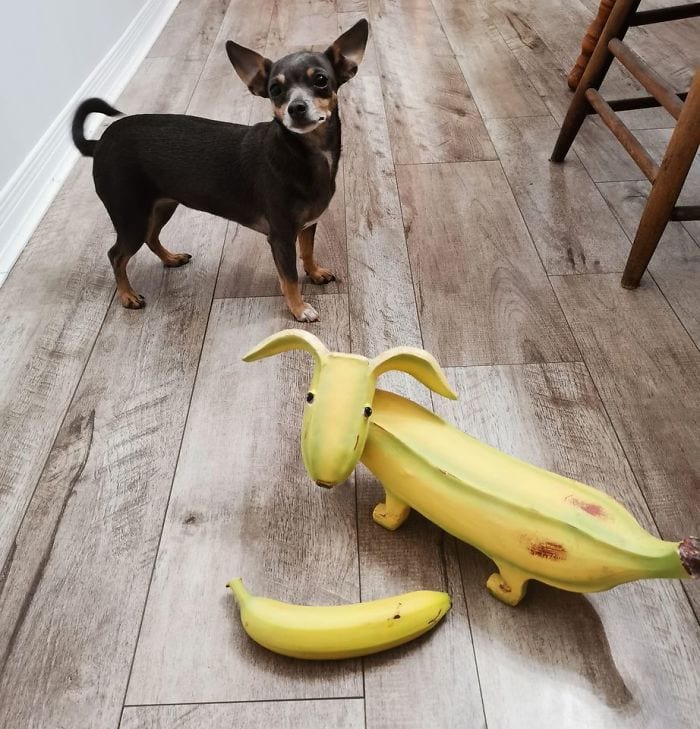 She sent a photo of the banana dog, standing proud and mighty, beside her actual chihuahua puppy. Surprisingly, they were both the same in size, although the banana dog was longer than the actual one. It is totally understandable that the dog was confused in the photo.
Finding Your Spirit Animal On eBay
Recently, people have been referring to animal powers as their "spirit animal," channeling their innermost thoughts with just one similarity or reference. This Facebook user was a law school grad preparing for the bar exams and just needed a little bit of support.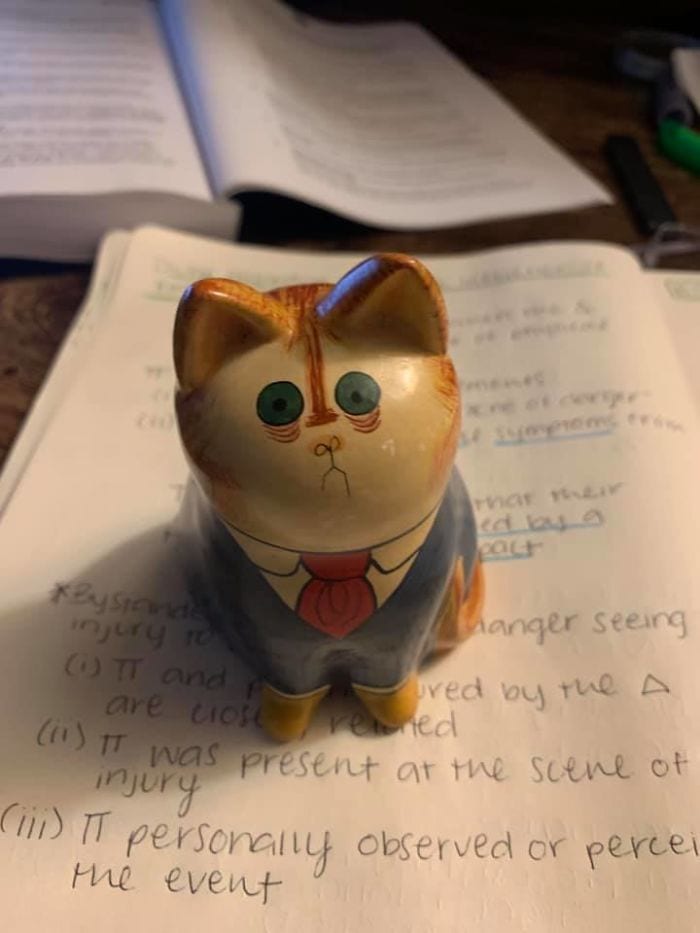 They saw this figurine cat wearing a business suit with eyes that say it all, and it was safe to say that it was channeling all the law school grad's innermost emotions at the time. This wooden cat figurine became their spirit animal, which is totally relatable.
Seeing The Silver Lining of Light
There are things that look awfully expensive and sophisticated that can be found in thrift stores and flea markets. These items are too good to be passed on, so whenever people see items of this kind, they just go and grab them.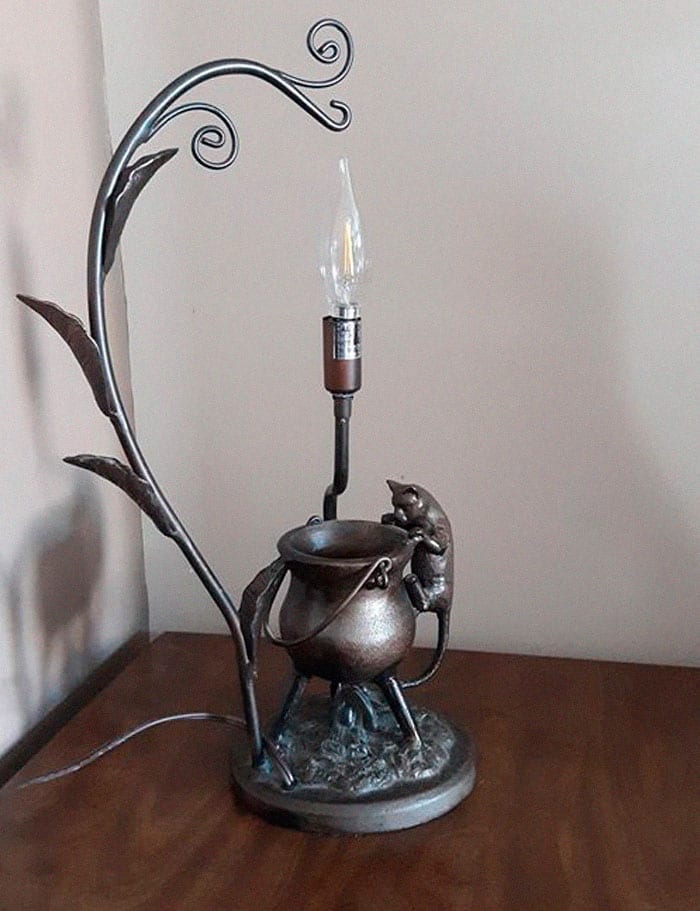 This Facebook user saw this gorgeous-looking lamp with arching beanstalk-like designs on the side. The lamp sits above a brass cauldron-shaped pot with a cat peeking on the side. This is too good to be passed on, and we agree with that.
A Tall Order At A Thrift Store
There are times when there is no height limit to what we can buy, whether online or in stores. This Facebook user was in total awe when they saw something that seemed too big but too beautiful to leave behind. Needless to say, they made it work.

They bought a six-foot-tall ornate ceramic or porcelain jar that is taller than their house. Painted with the ancient Chinese decorations of cranes, lotus flowers, mountains, dragons, and all sorts of Oriental-themed designs, this huge jar has found a new home.
Puzzling No More
Old habits do die hard. This person had found the perfect gift for their grandmother, who was turning 90 when she posted on her social media. Her grandmother loves crossword puzzles, but she told everyone not to bother her by buying birthday gifts for her birthday.

Of course, this didn't happen. When she saw this quirky-looking crossword puzzle-themed cookie jar from a peddler's market in Lebanon, she grabbed the opportunity and bought it for herself. Rules be damned; she's sure her granny would love her for breaking the rules.
Greatest Goodwill Find For Cheap
There are times that the cheapest items have the biggest impact on us. This Facebook user posted one of the greatest finds they saw on Goodwill. We all know what sorts of funny and interesting items one can find there, but this one takes the cake.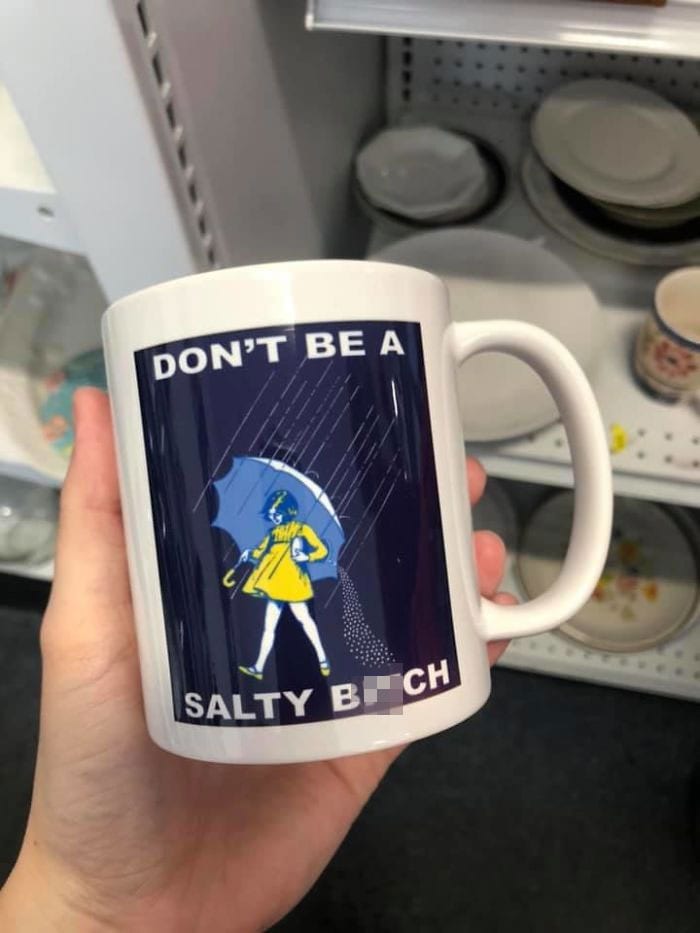 She found this cup with a mantra to live by for only fifty cents. This should be more expensive for something so witty and intelligent, although we're thankful she bought it for cheap anyway. It goes to show that nuggets of knowledge can come from anywhere.
Mona Lisa Found Dead In A Ditch
This list also features interesting finds in local flea markets, garage sales, and thrift stores that sadly were not bought or owned by the person who posted about them online. Nevertheless, they made us laugh, and that is always priceless.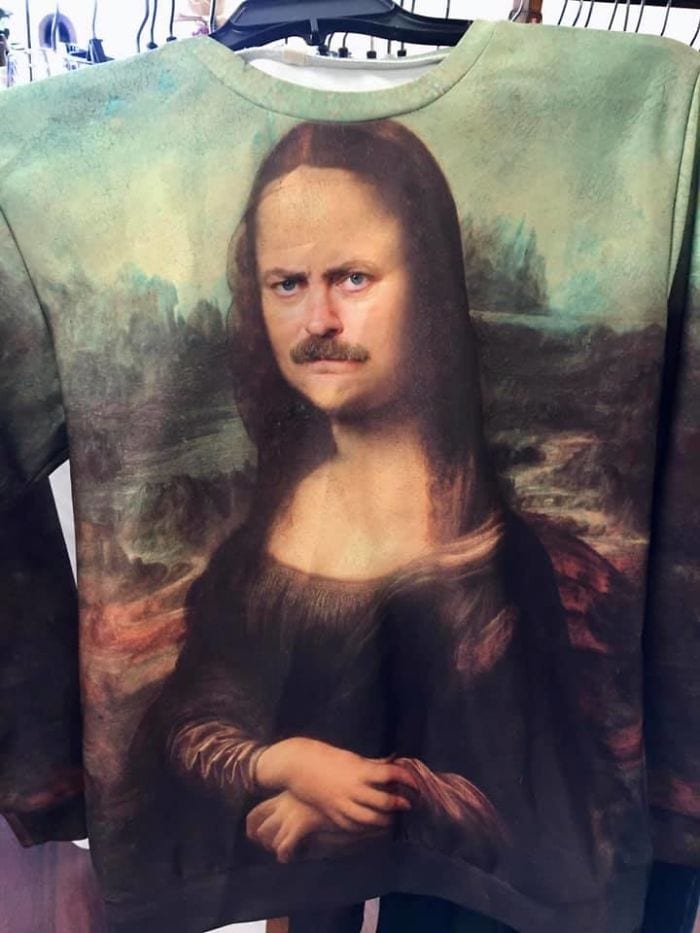 This user found this hilarious shirt of Mona Lisa merged into a man's face, and even though it would surely knock anyone's socks off, they decided to leave it there. Maybe someone else would find this shirt in their shopping bags soon.
Too Funny To Bring Home
This entry is another example of finds that are too good to bring home with them. Someone found this interesting embroidery framed in black wood with some words to live by. This person was seriously considering buying it, but they left it in the end.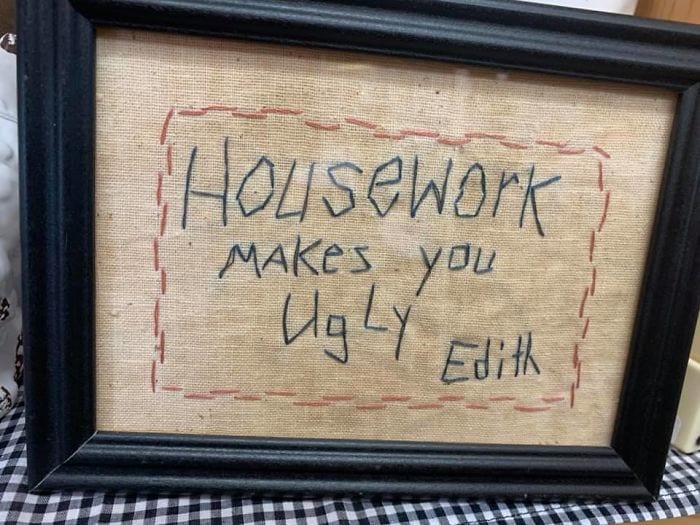 The framed embroidery says, "Housework makes you ugly," by someone named Edith. Edith, honey, wherever you are, your words will soon be someone else's mantra to live by, so hang in there until you find that perfect person with the guts to bring you home.
Too Creepy to Bring Home
This next entry on the list was something no one would have the guts to bring home with them unless they are ready to pack their bags once they insist on doing so. Lo and behold, some gutsy guys have brought them home.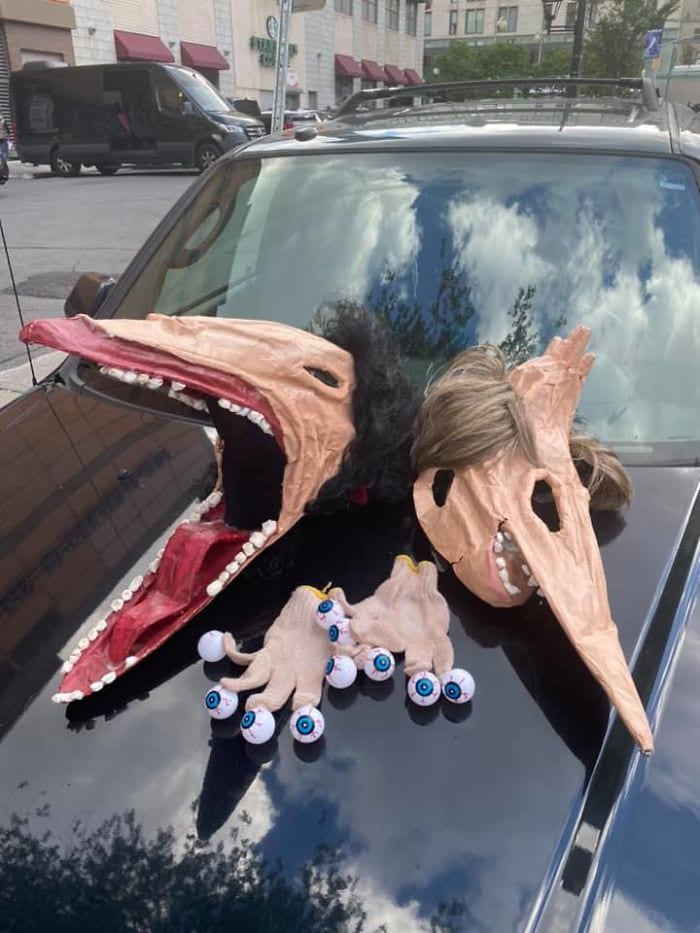 Someone has found these, uhh, quirky masks in a secondhand store. These are also handmade, which adds extra points, we think? The user has further said that these will be exhibited at Taverne Cobra, the ultimate 90's dive bar in the middle of Montreal.
Someone's Trash Is Someone Else's Living Room Couches
There are times that clashing prints might prove they are too much, so their owners would probably throw them or give them to someone else who sees the beauty in it. This happened to this Facebook user when he saw this matching pair of armchairs.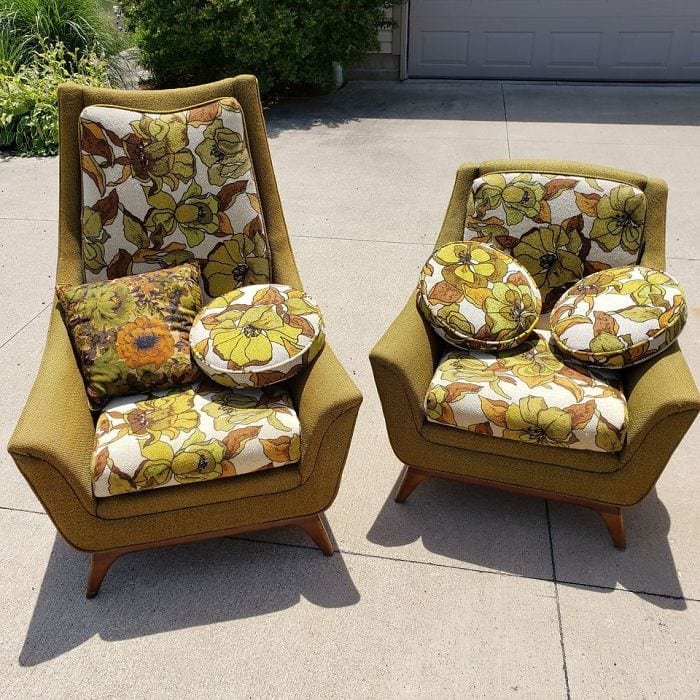 They saw it on Facebook Marketplace, and the owner said they thought no one would see the beauty in these garishly printed couches until someone did. The buyer said it looks simply wonderful, and the chairs were made in East Palestine, Ohio, in the 60s.
Another Celestial Find In A Thrift Shop
We already talked about gorgeous celestial plates in the first portion of this post, and this is another one that can be a lovely addition to the list as well. This Facebook user saw this spectacular piece – a face of the sun engraved in a shape of a leaf.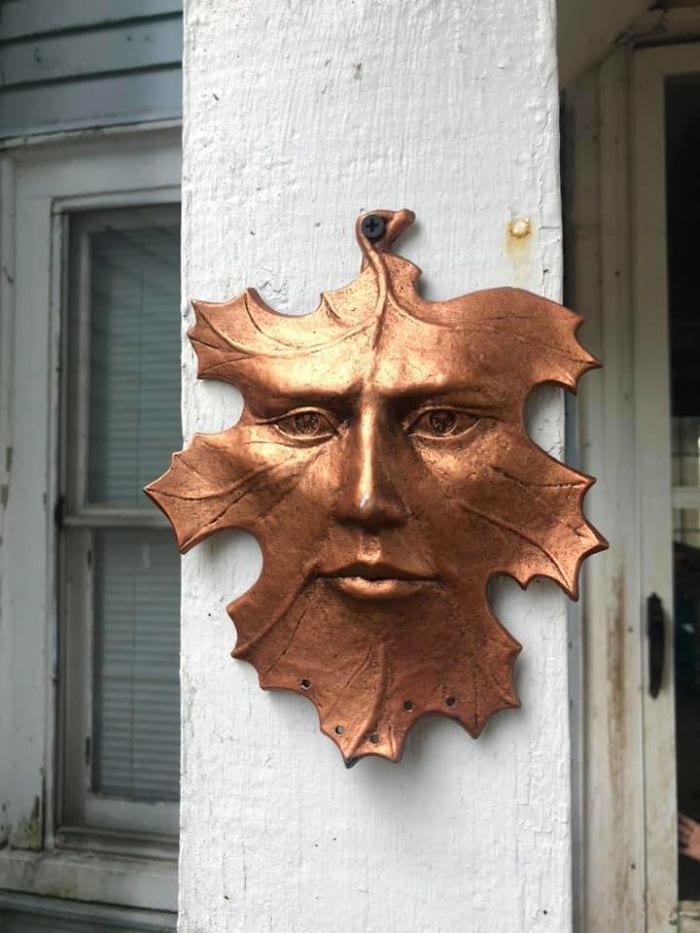 They immediately fell in love with this, so they must buy it to bring this gem home. It is now guarding the outside of their house. Now talk about something celestial guarding your house all day, all night. You will most definitely sleep better!
Total Irony
So, this doesn't really count as an interesting find in a flea market, local thrift store, or your neighborhood garage sale, as this was found lying on the ground elsewhere. Still, there's this keychain below presents an ironic situation that we didn't fail to notice.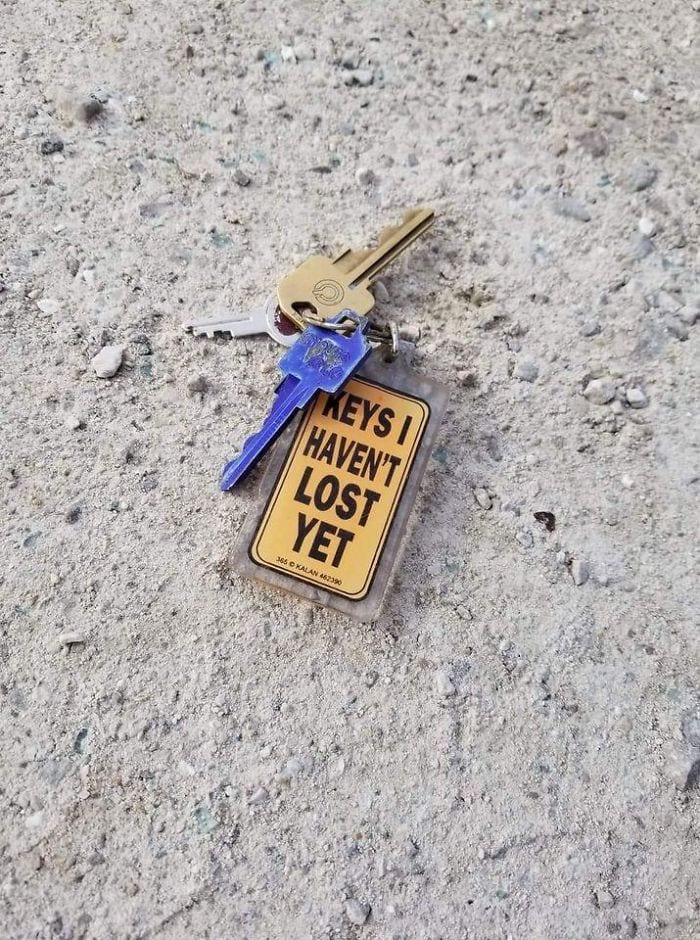 A Facebook user posted photos of many keys he saw on a hiking trail he used to visit. These look insignificant at first, but the keychain attached took things to a whole new level. It says, "Keys I haven't lost yet," and yet they're not with the owner. We just hope the owner has reached their house safely.
Bringing Your Necessities in Style
This is yet another stylish find for those who are obsessed with everything vintage, antique, or in between. This Facebook user found these sunglasses with her mom at an antique shop several years ago. These might look plain at first…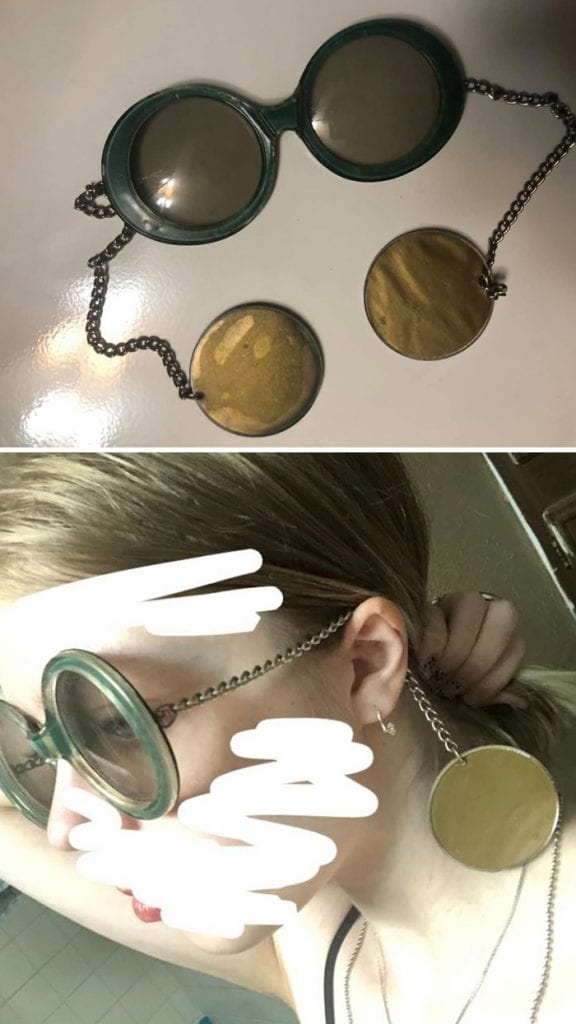 …until they saw the chains attached to each side of the sunglasses! These sunglasses have chains attached to them that serve the double purpose of securing the sunglasses on their face while adding a touch of style to the overall look. Win-win!
If It's Meant For You, It's Going To Be Yours
So, this is an entry where the buyer has left the item in the store and put her chances to fate to see if the item is really for her. This Facebook user saw this backpack shaped like Rocky from Chicken Run. However, she felt it was a bit ridiculous to purchase, so she said to her partner that it is really meant for her if it's for her.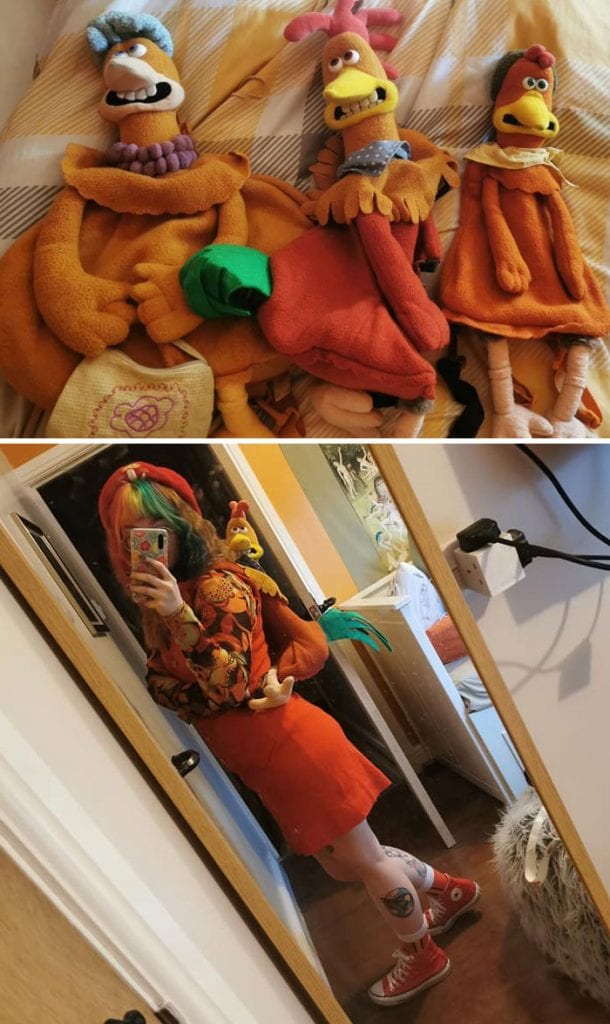 They soon found out that the Rocky backpack is somewhat of a rare find, so they rushed to the store and bought not only the Rocky one but also the Babs and Ginger. These bags are rare finds, so it's just a stroke of luck that they are really meant for each other.
Another Celestial Find Online
This completes the celestial find trinity for this post. This Facebook user found this vintage children's armchair for only 10 pounds on Facebook Marketplace! The armchair is midnight blue and adorned with different celestial patterns scattered all over it.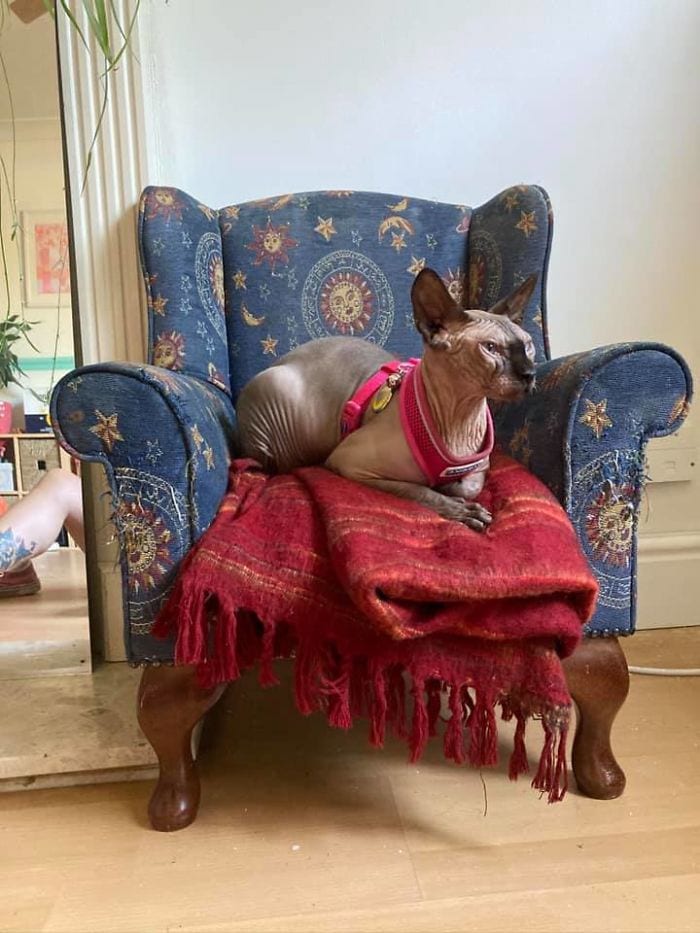 The contrast between the golden yellow stars, moons, and suns with the sun charts and the midnight blue background proved to be an iconic combination that's perfect for the goddess that sits upon them. It looks like their cat Romeo has finally found his throne in the kingdom.
Another Stained-Glass Masterpiece For Cheap
This is another entry where stained-glass and cats reigned supreme for this purchase. This Facebook user saw this wonderful artwork of cats sitting in a garden filled with flowers and grass, seemingly enjoying themselves without a care in the world.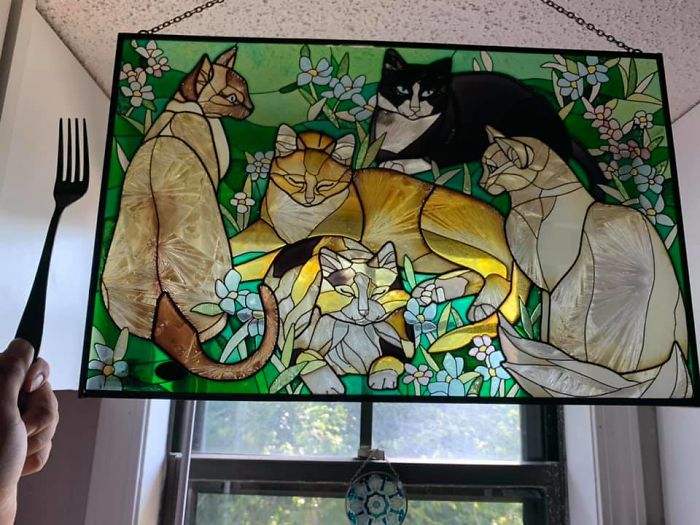 They found this for only $20 at Those Were The Days, a local thrift shop in Warrensburg, Missouri. The delicate placement of the stained-glass pieces to form a stunning work of art is undeniably gorgeous. Who says stained-glass art is only for the church?
A Nautical Find For Cheap
Earlier in the list, we talked about a wooden turtle peeking out from under the middle of an underwater-themed coffee table found online. We think this one should complement that specific coffee table, or at least the side table in the room.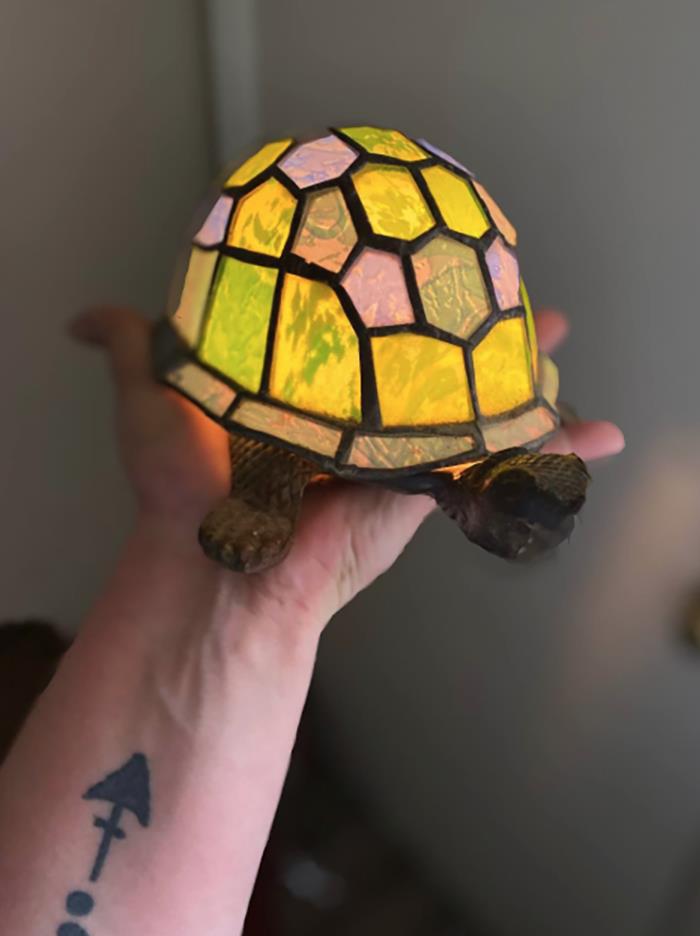 Someone got this turtle lamp for only $5 at a yard sale nearby. It was made with delicate shell-like pieces in different colors, forming a hard shell for the turtle made of brass. This is surely a conversation starter in their living room for guests and friends alike.
Globetrotting In The Comfort Of Their Own Home
This next entry takes the term "around the world" with a different twist. Someone found this fun chair for sale on Facebook Marketplace. It was shaped like a half-globe, with metal pieces acting as the continents on either side.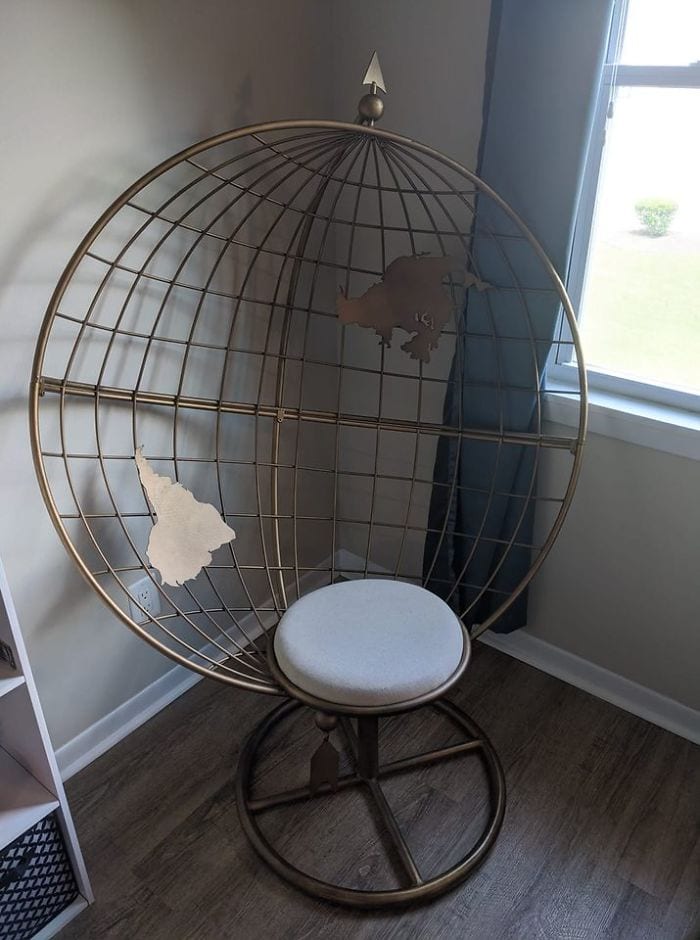 Made of mixed brass and steel, the buyer said they just need some comfy pillows to turn this into an amazing-looking chair for their reading nook. It is surely every geography geek's dream to have this around their house. And it looks comfy too!
Crocheting All The Way To The Top
This entry shows how prolific grandmothers can be on something so dainty and mundane as doing stuff like crochet and embroidery. This Facebook user posted her grandmother's project of crocheting squares for three unfinished quilts.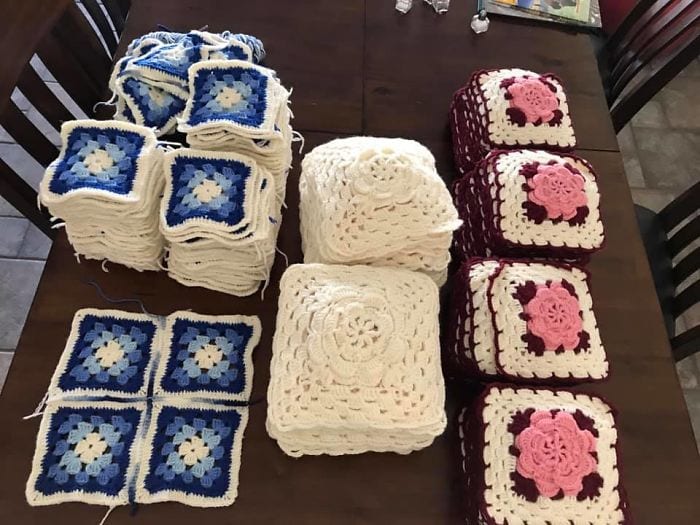 Unfortunately, her grandma passed away, and this was left to collect dust in her house. Her father was cleaning out the house when they saw this and thought it would be a good idea to finish what their granny left for them. They were able to finish what she started.
Showing The Different Sides Of Life
Saving the best for last – this last entry on the list was unfortunately deemed too good to be taken home with the one who posted about them online. Someone on Facebook saw this hilarious T-shirt showing how optimists, pessimists, and realists see things.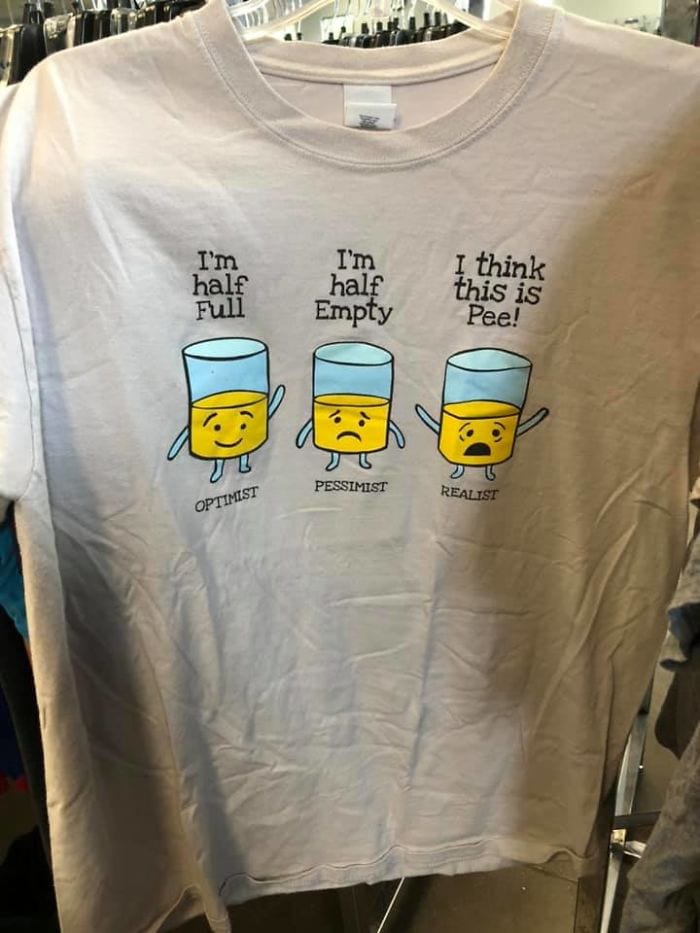 While the message is overall funny and makes total sense, the Facebook user thought it's too strong for them to be worn outside. This would totally spark conversations among many people, and we guess they were not yet ready for the attention.