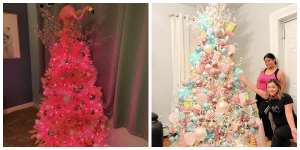 45 Creative Christmas Trees That Filled Us With The Festive Spirit One More Time Before The New Year
By Amy M
---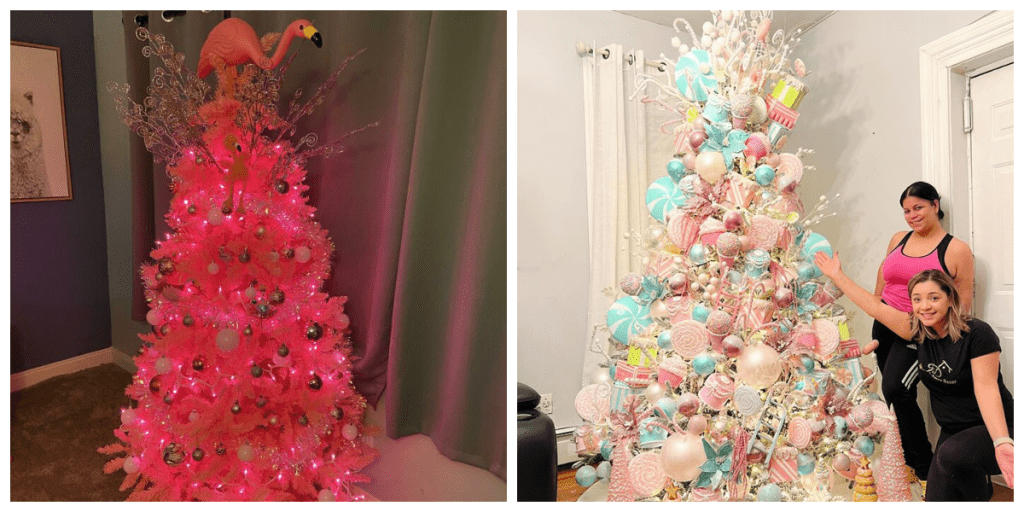 We all know that Christmas is one of the prettiest times of the year. People get into the Christmas spirit by drinking hot cocoa, wearing funky sweaters, watching Christmas movies, and decorating gingerbread houses. Lately, people have also been listening to Mariah Carey's hit song All I Want For Christmas Is You.
But one of the oldest traditions for the holiday is decorating the Christmas tree.
Christmas trees are like an artist's blank canvas. Anyone can let their imagination run wild. We're used to seeing the traditionally decorated tree with colorful string lights, red and green baubles, and a star tree topper. However, some people don't settle for the traditional.
There are lots of folks who prefer to put their own spin on their trees. We know the holidays just passed, but we're still feeling the Christmas vibes, and these creative Christmas trees will definitely fill you with the Christmas spirit one last time before the new year.
Alien Invasion
This is what happened when a sci-fi enthusiast got their hands on a Christmas tree. They probably found old decorations from Halloween in a box somewhere and wanted to have fun with them. Or maybe they wanted to break old traditions and decided to go with what they enjoyed.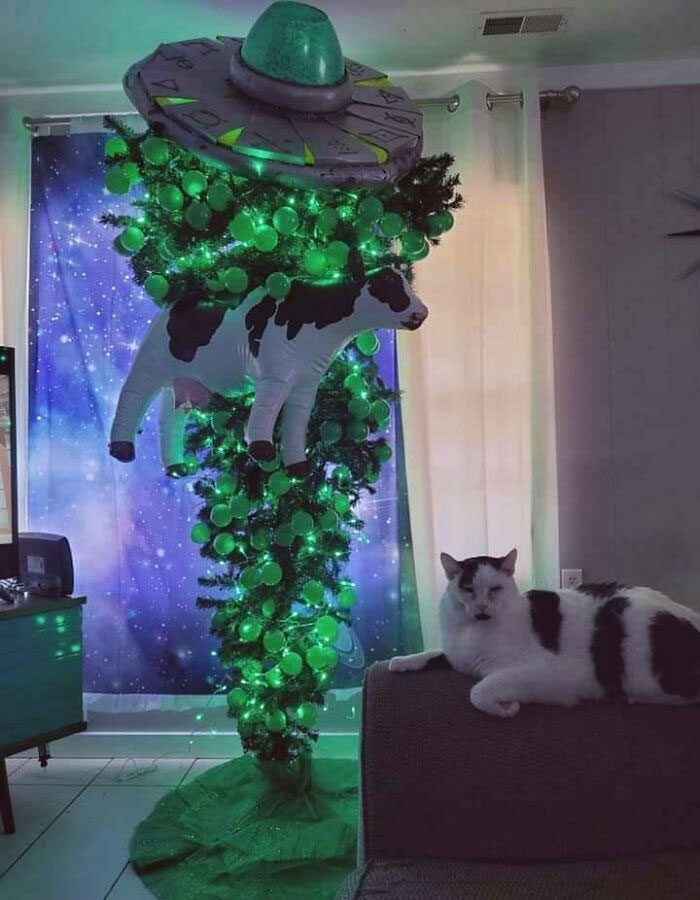 Judging by their galaxy-themed curtains in the background, Star Wars was most likely their go-to Christmas movie instead of Love Actually. Elon Musk could ask to borrow this tree for next Christmas. We know how much the man appreciates the Sci-fi genre.
Christmas in a Box
This lady's mom was clearly on Santa's naughty list because she didn't get the tree she had wished for. Instead, she got the box it came in. You couldn't say her daughter didn't put effort into it. She took the time to wrap festive lights around it.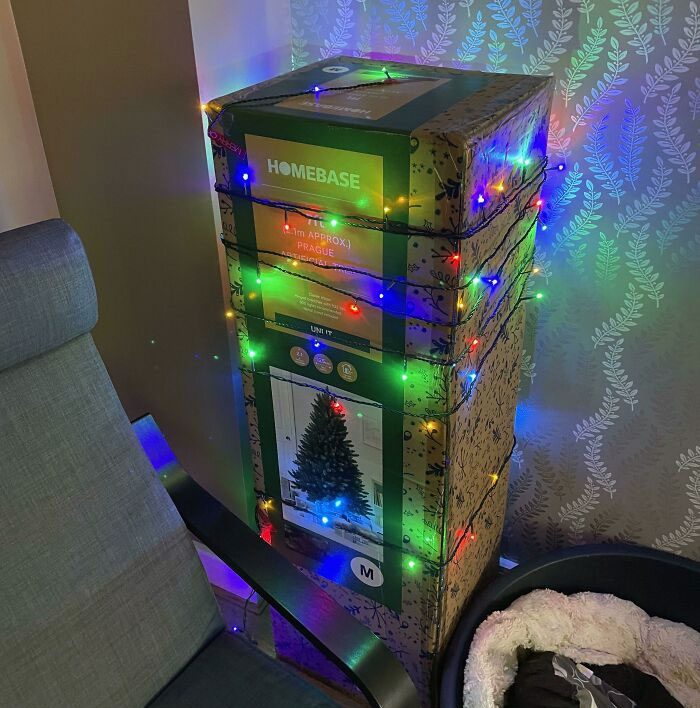 One man's trash is another man's treasure. It was possible that she found this lying around her neighborhood or perhaps even received funny looks when she asked people for a discarded box. This was a recycler's way of having celebrated Christmas in style.
Queen of the Holiday Season
All people wanted for Christmas was a Mariah Carey-shaped tree. Love her or hate her, "All I Want For Christmas Is You" has always been the go-to holiday song. There was no need to place presents under it. Mariah is the gift that keeps on giving.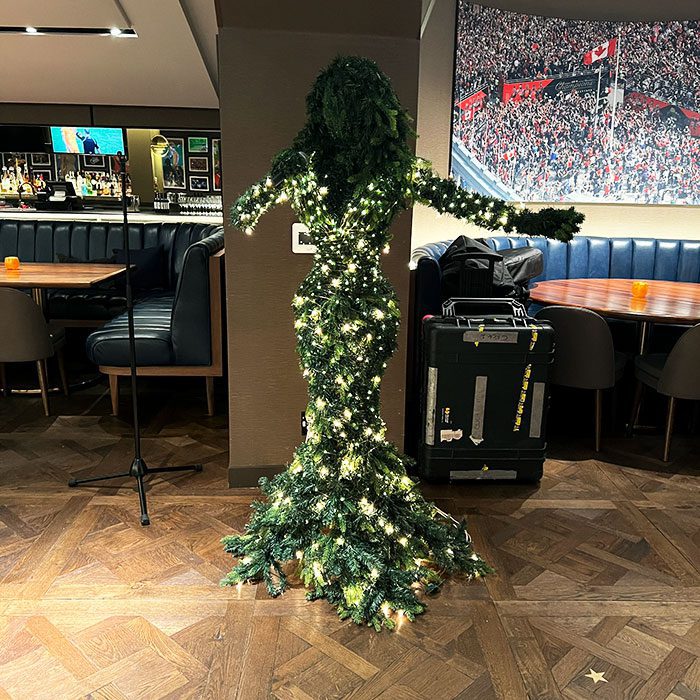 No prizes for guessing who this was. We all know that the legendary singer is synonymous with Christmas celebrations. It is obvious that a die-hard fan had this specially created. Along with the song, this tree made the top of the charts.
Grinchmas Tree
You could be wondering if the roof bent the Christmas tree, but no, this was done to recreate the Whoville tree from How the Grinch Stole Christmas. There's one thing that the Grinch wouldn't have stolen from them; their imagination.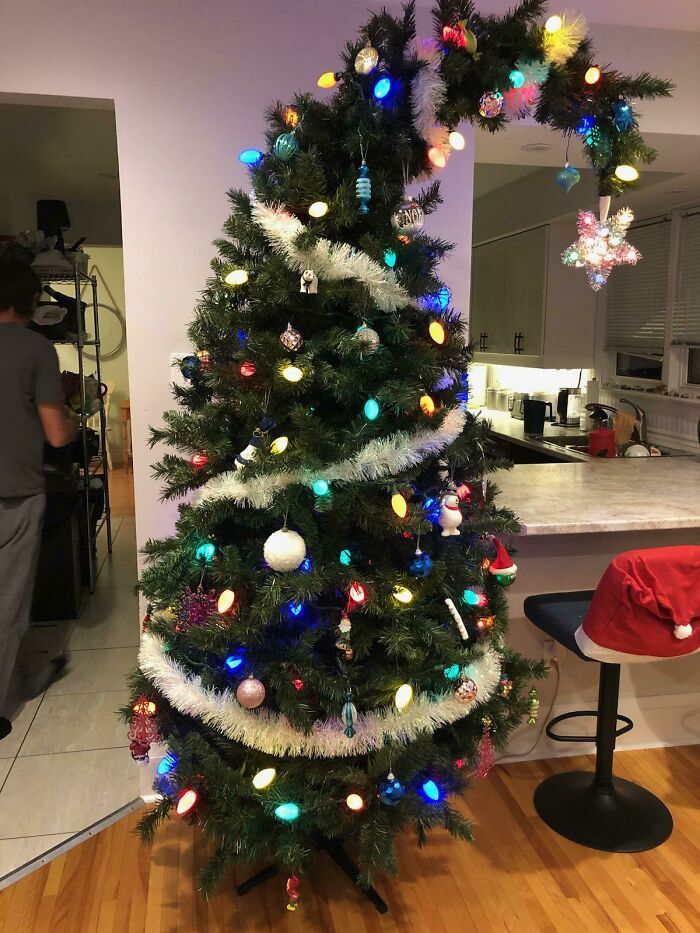 This tree was perfect for a limited budget. Not much was required to make this stand out, just tinsel and trimmings. You'll feel transported to the adored story created by the one and only Dr. Seuss. You'll also feel hated by the Grinch for your cheery spirit!
Mother Nature
The crafting of this tree was ten years in the making. We can all appreciate the labor of love that was put into it, and it was worth the wait. The handmade butterflies showed the person's dedication to creating this beautiful tree. This person could totally make this their profession.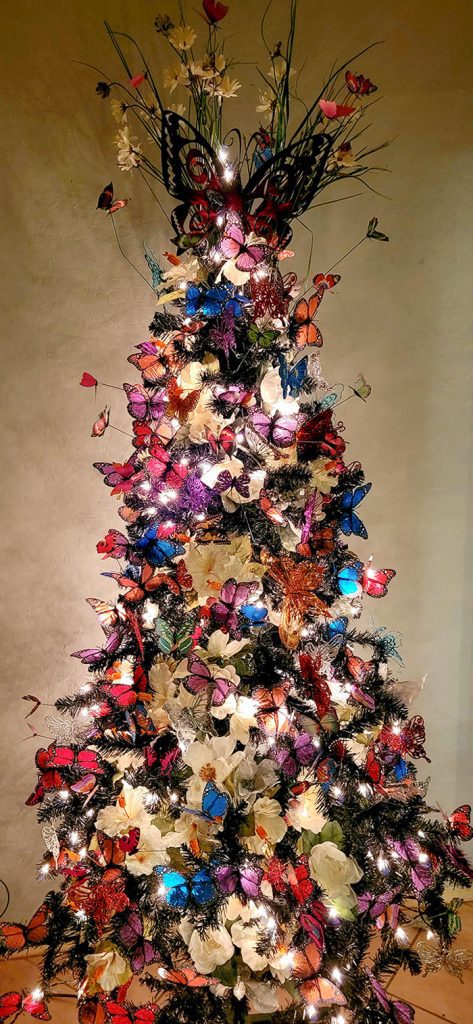 The room was filled with the fragrant scents of a variety of flowers. It was beautifully inspired by nature. They're fortunate that bees weren't around that season, or else they'd be all over this tree. We are excited to see what theme they will try next year.
Pretty Flamingos
The Philadelphia Zoo had a beautiful flamingo-decorated tree displayed for their annual LumiNature event, which began in 2019. The light show debuted other designs, such as a show-stopping penguin beaming with 40,000 lights. But our main focus was on this unusual tree.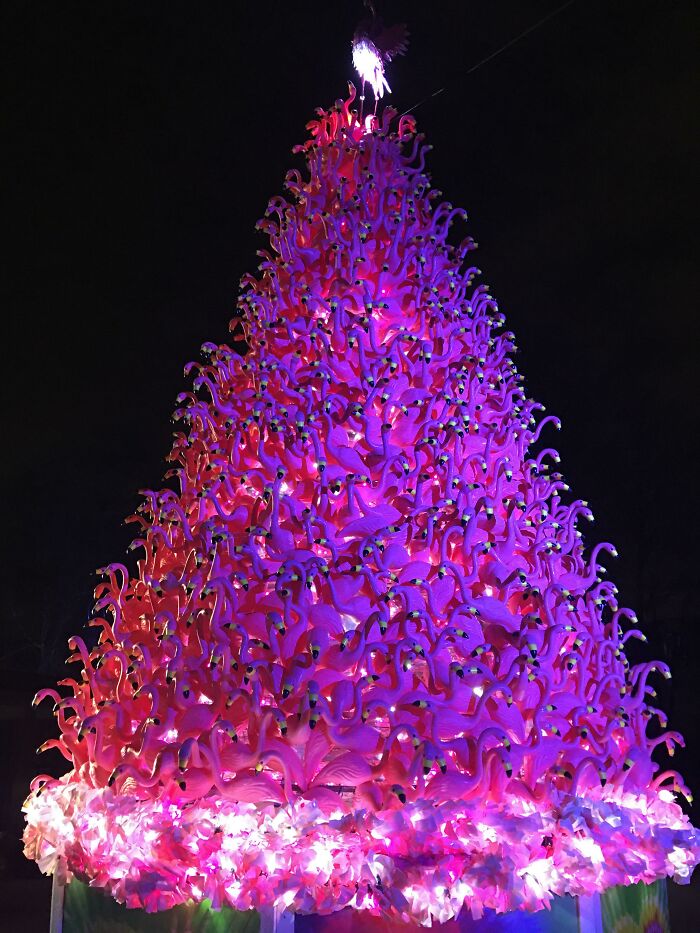 The 25-foot-tall Christmas tree was made with plastic pink flamingo ornaments, so don't be alarmed because they're not real. The zoo could be enjoyed both during the day to visit the animals and at night time when the Christmas spectacle had begun.
Vintage Holidays
Someone inherited their grandparent's vintage ceramic Christmas tree. We're curious to know if one of them personally handcrafted it or if they purchased it. It's a nice keepsake to pass down to each generation. Since mass-produced trees have taken over, these are worth more than just the sentimental value.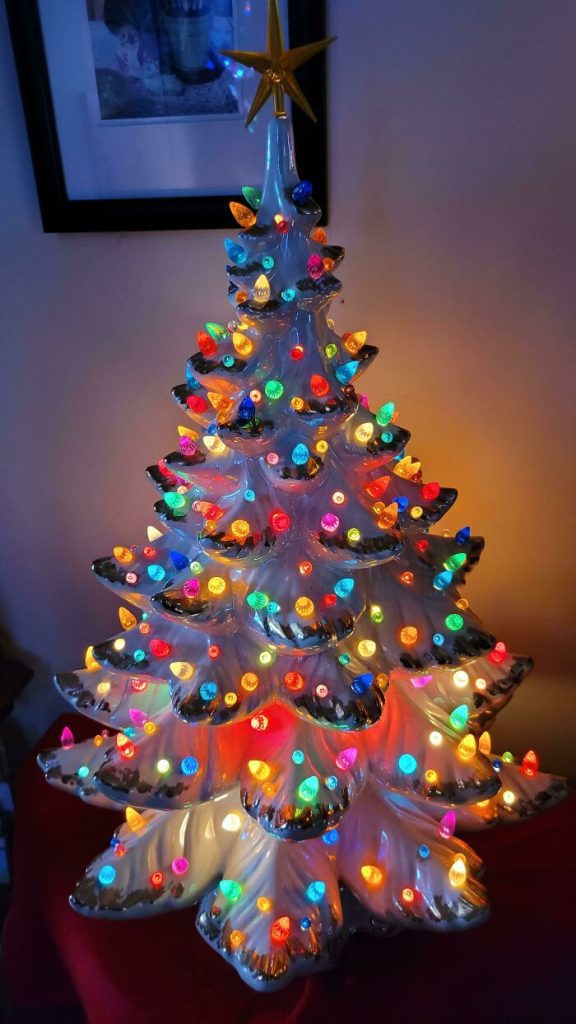 Ceramic Christmas trees have an interesting history behind them that many people might not know about. In the 1960-1970s, people would head out to their local shops to create ceramics to either give as presents or use around the house, resulting in these decorations being made.
Reading Tower of Christmas
Books sit on shelves gathering dust for years after people have read them. Now, bookworms have an excuse to purchase more reading material to add to their collection; it's to build a Christmas tree. The tree can be dismantled one book at a time. It would be a fun game to end the season.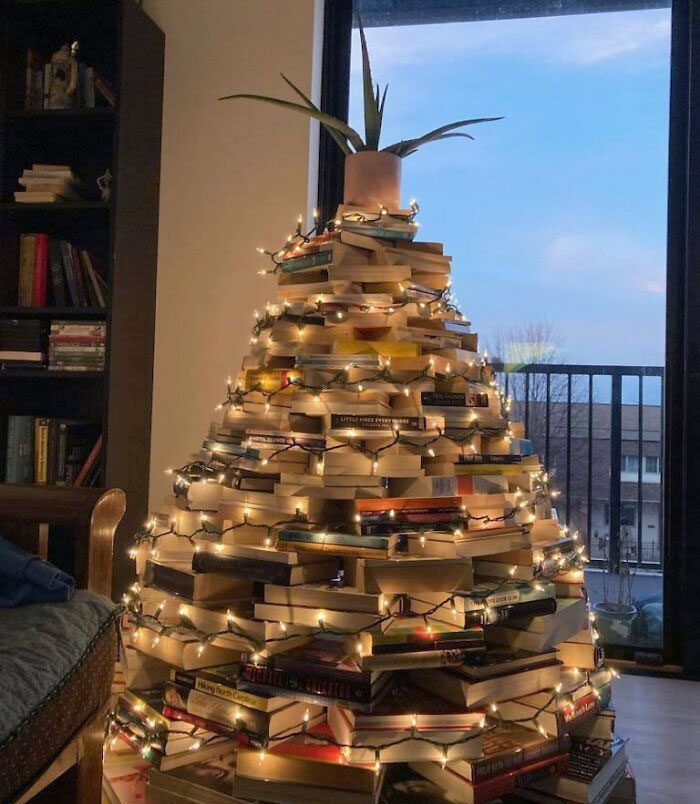 They might not have had leaves on this one, but they topped it off with a bit of greenery instead of a star or angel. It was a festive touch with a difference. There's only one instance someone could've been unhappy with this; if their favorite book was added to the bottom of the pile.
The Treepee
This family won over their children's and furry friends' hearts by creating a bright and fun teepee tree. It's perfect for kids to camp there overnight to catch a glimpse of Santa Claus delivering presents and enjoying the milk and cookies.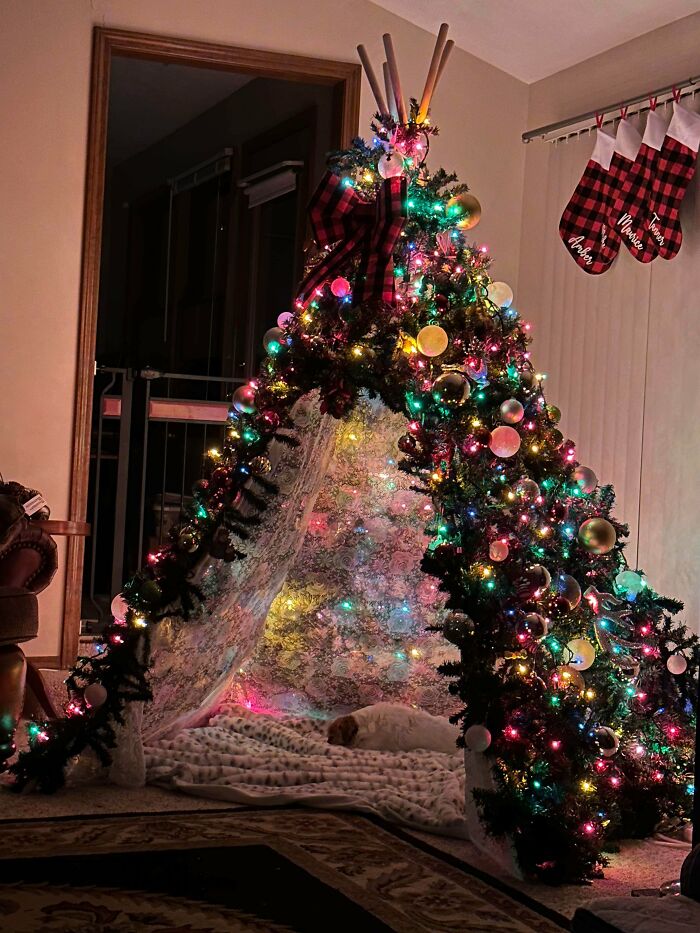 The whole family would be using this teepee. It was most likely built with the young ones in mind. Adults are known to let out their inner child every once in a while, especially during this joyous occasion. It wouldn't be a bad idea to leave it there permanently.
Scientific Creation
Even scientific minds needed a creative outlet. Working with what they already had, the staff managed to assemble a Christmas tree entirely out of latex gloves. The addition of the tinsel, star, and beads added the needed Christmas touch. A playful element was added to the mundane work environment.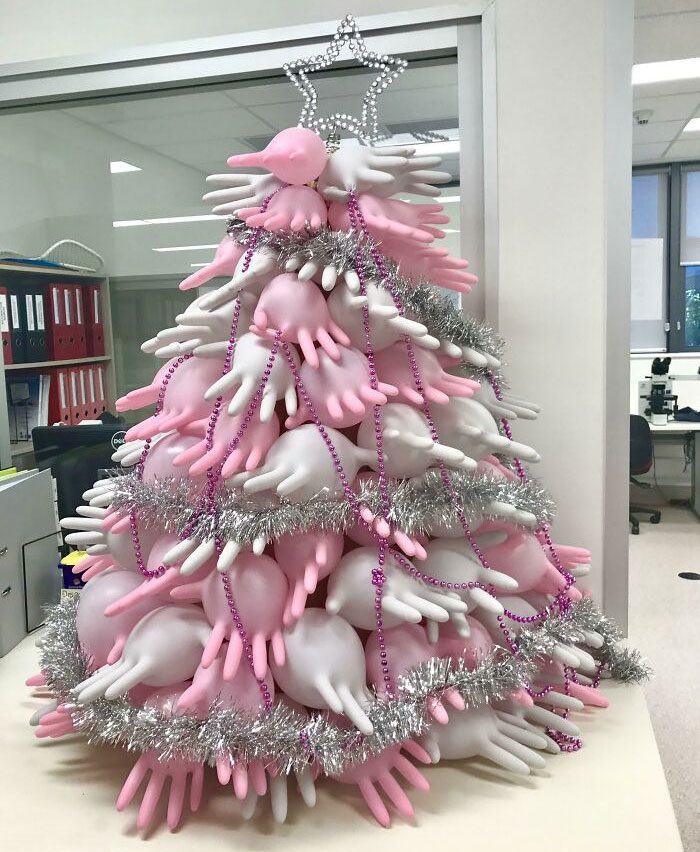 The laboratory staff does very important work. It was nice to see that they took some time out of their busy schedule to have fun. Probably not much got done that day. It was no doubt the topic of conversation around the water cooler.
Candy Land
This tree was a feast for the eyes. It looked about ready to be eaten. Looking at it sparks the excitement of being in a candy store as a child. Luckily it was not edible, or else the tree would've been left bare. The tree captured the true spirit of Christmas.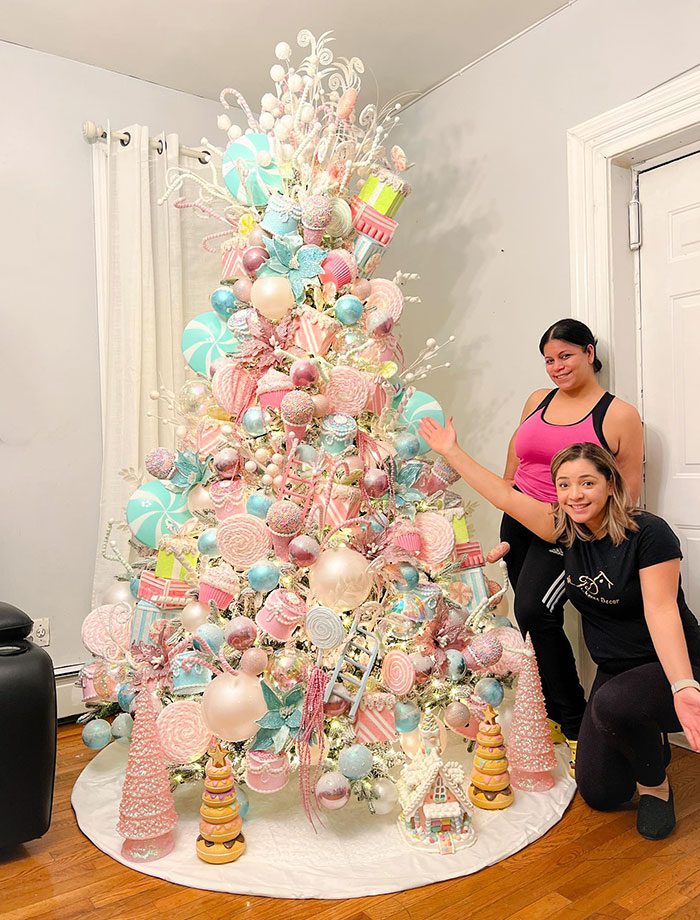 If Charlie and the Chocolate Factory had to be a Christmas tree, this would be it. Imagine how many hours were spent making these eye-catching decorations and covering every inch of the tree. This is what sweet dreams are made of.
Sweet Treat
The classic red and white color scheme was chosen by this family for their decorations. The matching wrapping paper complimented the peppermints, candy canes, lollipops, and baubles nicely. It added a pop of color to the otherwise pristine white room.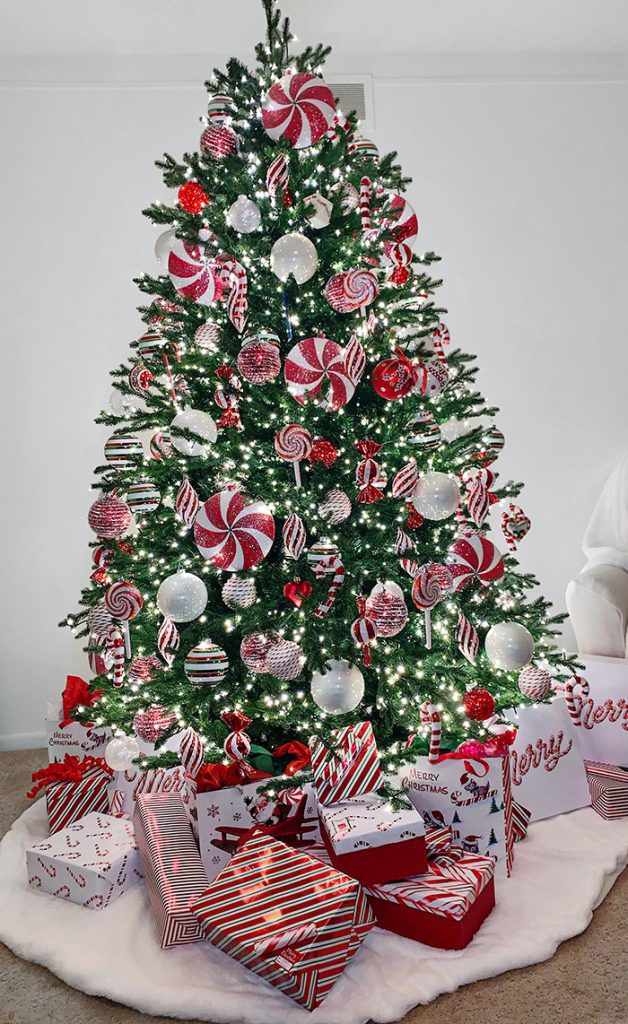 The twinkling lights and glittering ornaments paid homage to the traditional style of decorating for the holidays and brought the room to life. The photo was taken during the day, but you can imagine just how magical it looked at night time.
Flower Power
Who says trees can only be used around Christmas? Not only was this put up for the December holidays, but it was also used for springtime and Easter. It gave the home an extra special feel around spring with the multicolored flowers.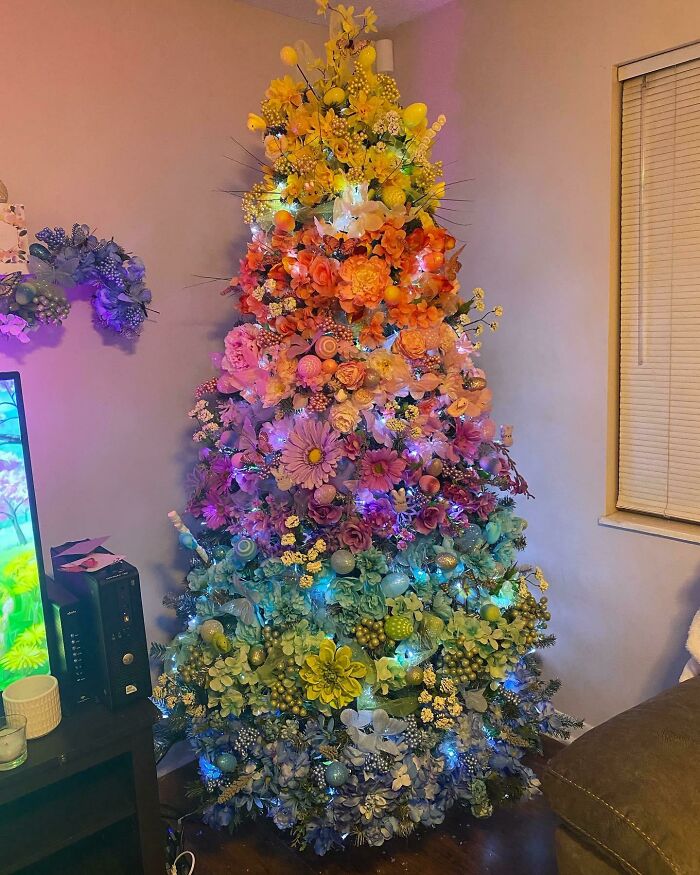 Flowers have the power to uplift anyone's spirit and evoke a feeling of joy. It was the perfect opportunity to display nature's garden in their home. Many can ditch their conventional baskets and containers for this new and improved floral display.
Fun in the Sun
People love to retreat to a sunny coastal destination to relax and enjoy the holidays. Puerto Vallarta welcomed their holiday goers with this tree that was created using only sand and brought Christmas to the beach in a unique way.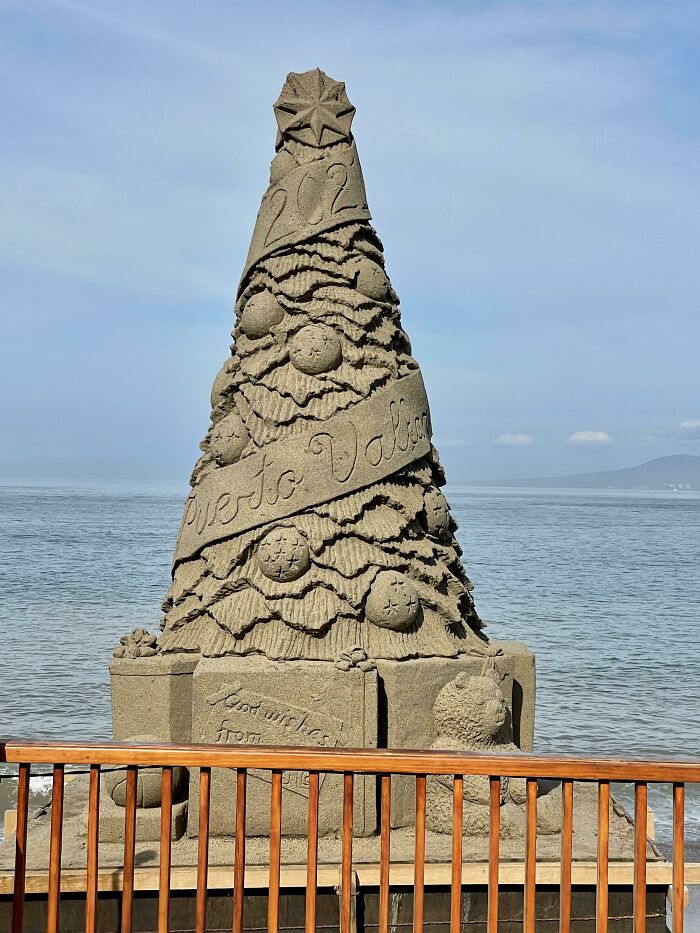 It was a clever way of commemorating Christmas at the seaside by embracing the natural elements. This type of tree should only be admired from a distance lest your playful instincts kick in, tempting you to flatten this work of art.
Quiltmas Tree
A family tradition was most likely started when this woman accepted the challenge given to her by her good-spirited husband to create a quilted Christmas tree. Their son pitched in with his own idea of adding a lightsaber tree topper.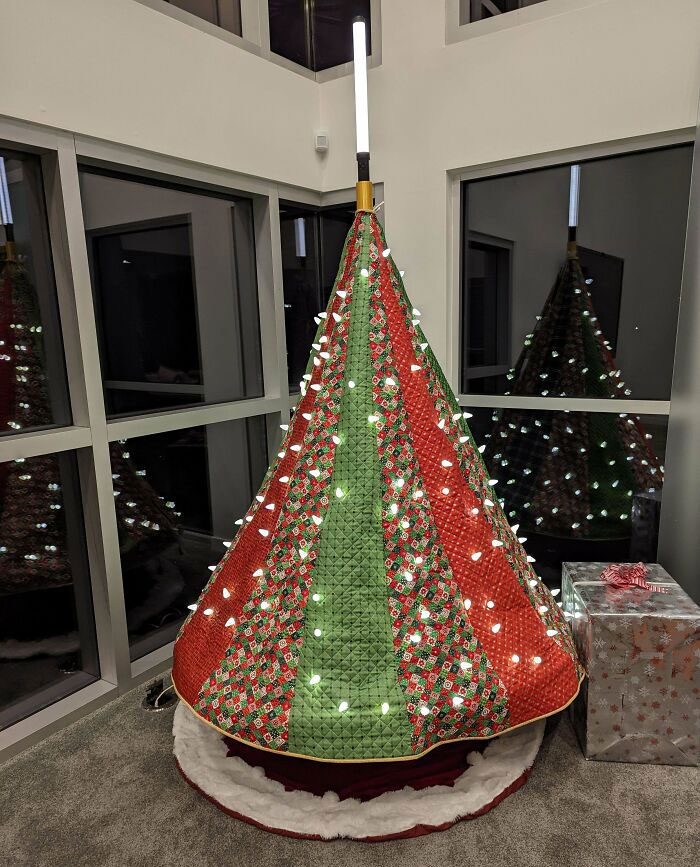 Her husband helped out by making the 3D-printed lightsaber holder and provided the base for the tree. You might be wondering how the shape was achieved. It was formed by two camera tripods stacked with rope. What a talented family!
Book Smart
Yale Medical Library joined in the Christmas celebrations by building what they called a "book tree." It fitted in with the library's studious atmosphere. They found a brilliant use for the National Union Catalog, which is used to see what items the library possesses.

The staff hadn't created anything like this in the past, probably because of the countless hours it took to carry the bulky books around. In the end, it was worth all the effort. The book tree embellished with lights and a star on top added excitement to the library.
Pierre GasTree
This person showed their love and support for French racing driver Pierre Gasly by having decorated their Christmas tree in honor of the pilot. No wonder they let him take over their holiday theme; he is a very talented young man.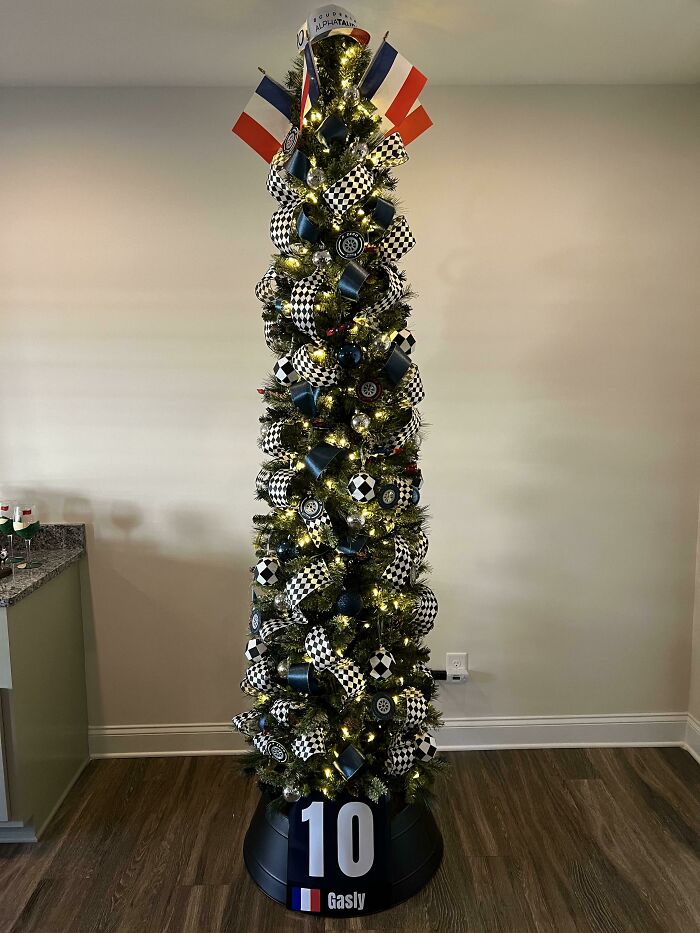 All the race car fanatics would have swapped out their classic Christmas decorations for this display. They wrapped it from top to bottom with racing car-related objects such as wheels and racing flags. The lights added a nice Christmas feel.
Crabby Christmas
The town of Wells-next-the-Sea Harbor made a Christmas tree with the use of crab and lobster pots donated by the fishermen. The community of this town expects to see this iconic tree put up every December for the Christmas holidays.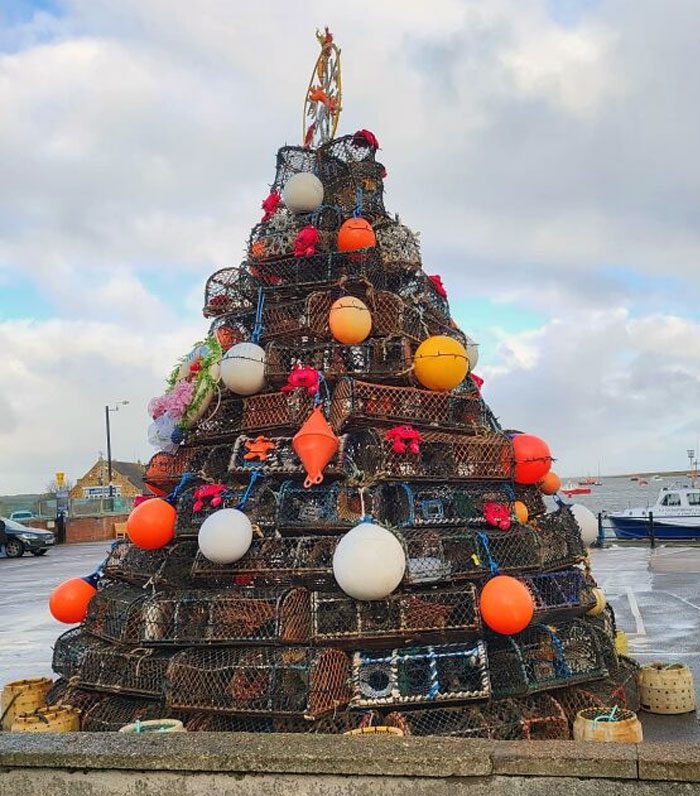 The tree was adorned with buoys, cute crab toys, string lights, and a starfish and lobster topper. It tied in nicely with the coastal setting. This town is known for its crab pot tree, but there was a tree just like this one situated in Morro Bay as well.
Swing from the Chandelier
The Allen Lambert Galleria in Toronto had a chandelier-style Christmas tree that was hung above the fountain. They made it come to life with dazzling lights and golden baubles. The look was completed when the fountain spewed water as it acted as the trunk of the tree.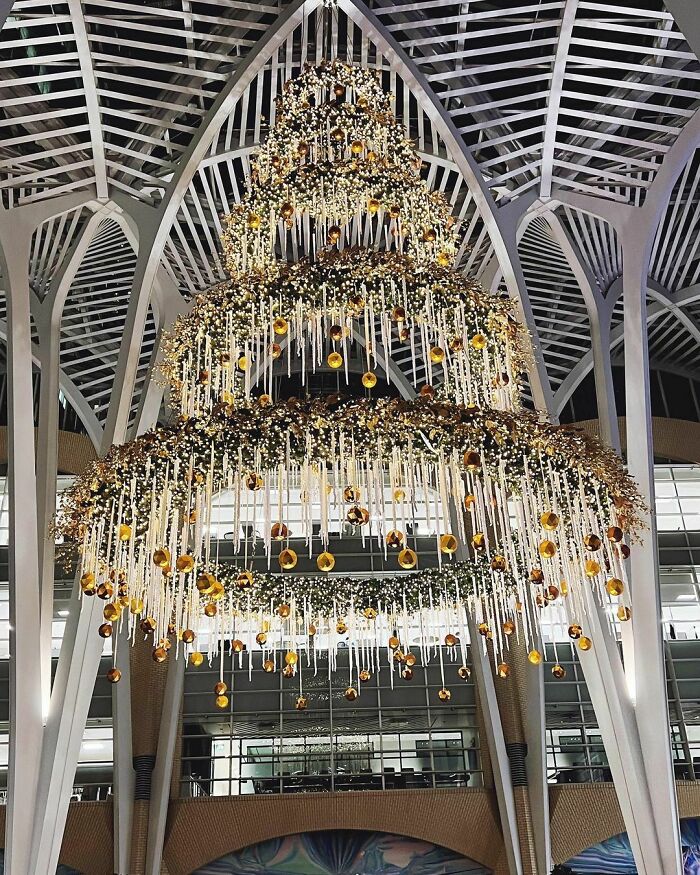 The tree was a great fit for a Christmassy vibe. It added a magical atmosphere to the elegant space that was designed by the famous Spanish architect Santiago Calatrava. People who passed by probably stared at this remarkable creation for hours.
Futuristic
This Christmas tree is suitable for people who have a minimalistic approach to decorating. The futuristic-looking tree was designed to hang from the ceiling and included a color-changing light at the bottom to cast shadows of the tree around the room.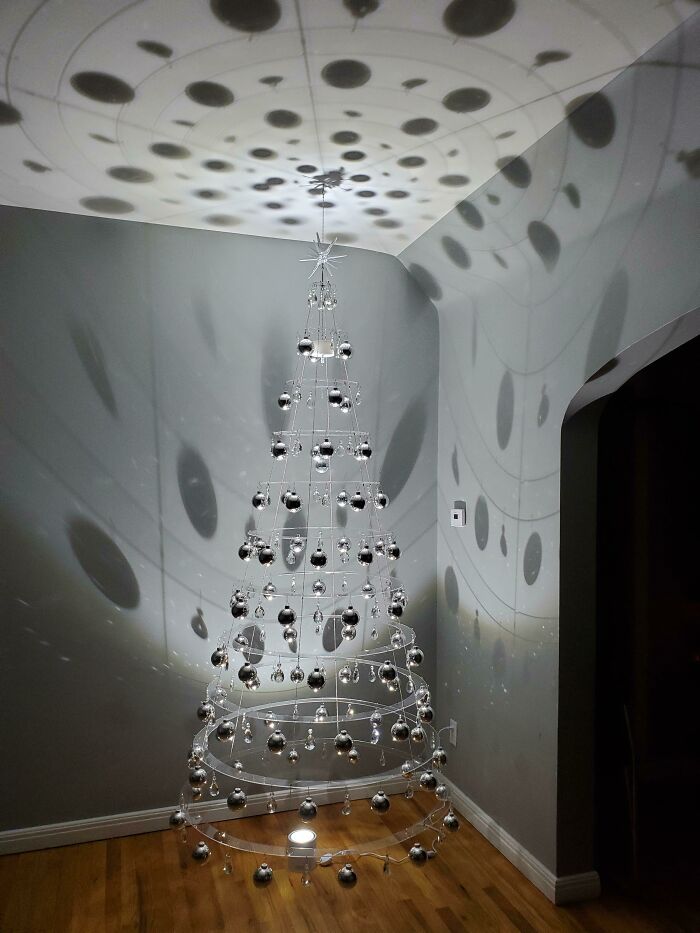 The eccentric depiction of a Christmas tree would've looked suitable in an art gallery. It might not be everyone's cup of tea, but it's still a cool design. The silver baubles that were added at least gave it more of a festive feel.
Fisherman's Delight
The Northern Scotland village of Ullapool produced a Christmas tree that was made with the use of around 400 fishing creels designed for catching crabs and prawns. This design was used to represent the rapport the town has with the sea and fishing.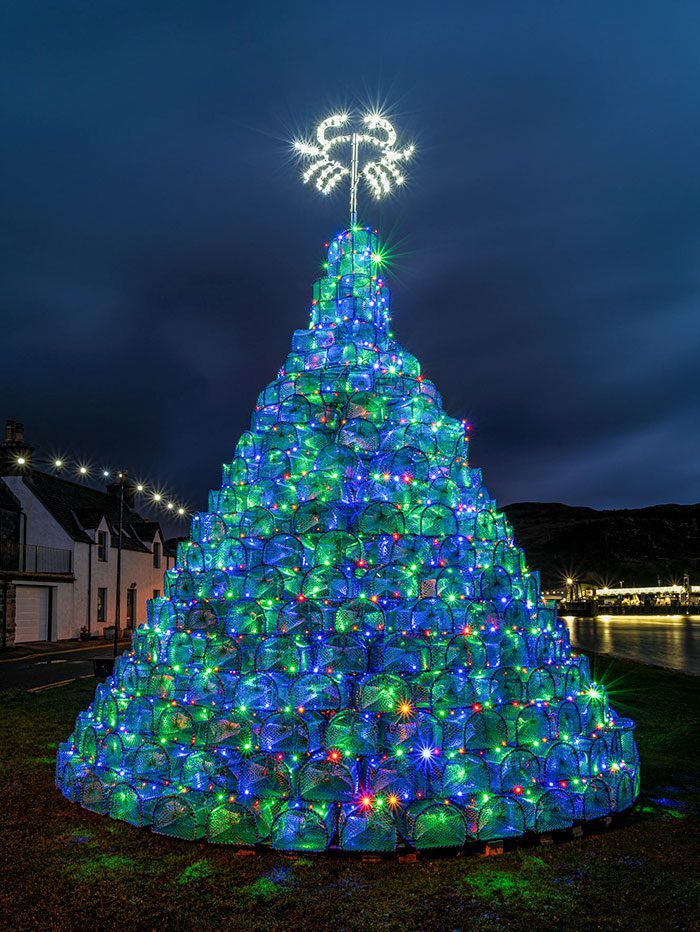 The tree looked stunning when it was all lit up. The crab that was placed on top completed the masterpiece. The chosen theme fitted perfectly with the coastal environment. The enthusiasm shown for the design made more people create their own trees just like this one.
Branching Out
This farmhouse-style tree oozed rustic charm. Festive touches were featured with the use of neutral homemade paper baubles and orange peel decorations. This unconventional Christmas tree that was made of sticks would have also looked ideal in a cabin setting.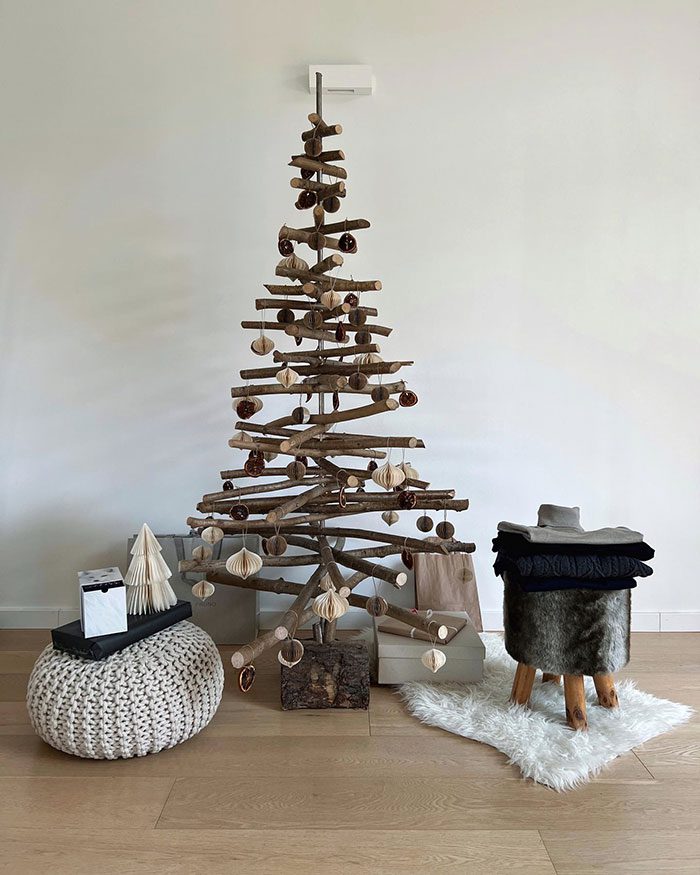 If you don't enjoy the natural pine scent and plastic isn't an option, you should consider this echo-friendly tree that could be a great DIY project for the whole family. If you decide to recreate this, make sure you don't leave your dog alone with it.
Granny Squares
A group of women from the town of Lozoya in Madrid created a crochet Christmas tree in the main square. They deserve to be applauded for their efforts. It must've taken them months in order to complete this. The detail is remarkable.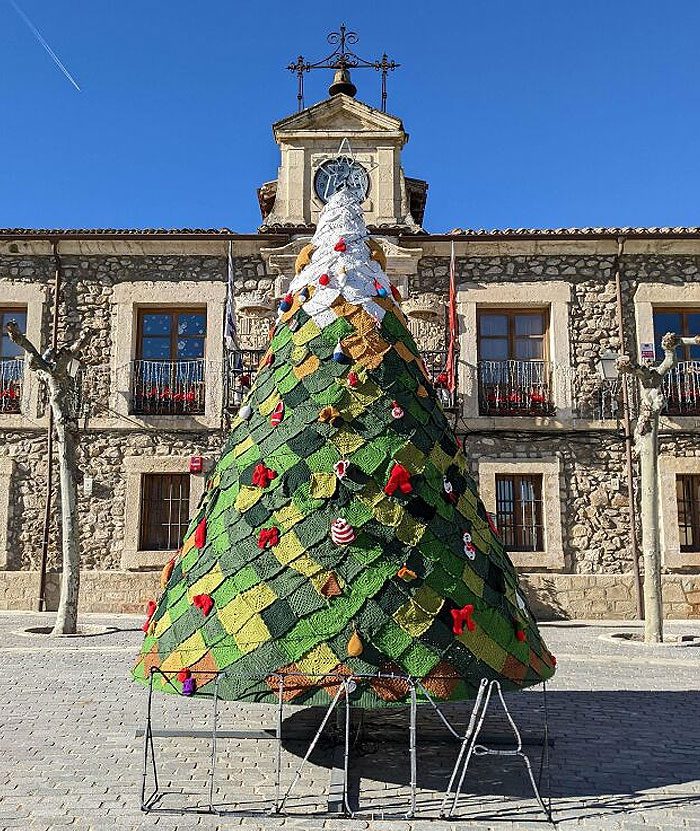 Any item that is crocheted looks impressive, but this one takes the cake. Twinkling lights were added to this tree, but it stood out regardless. The white squares that were made mimicked snow that had settled at the top of the tree, and it was dressed up with crotched ornaments.
It Looks a Lot Like Christmas
This tree screamed Christmas. They made the tree come to life by wrapping it with sparkling lights, ribbon, and shiny baubles. The gold accent gave it a glamorous look. It gave their home warm and classic energy and shone brightly in their living room.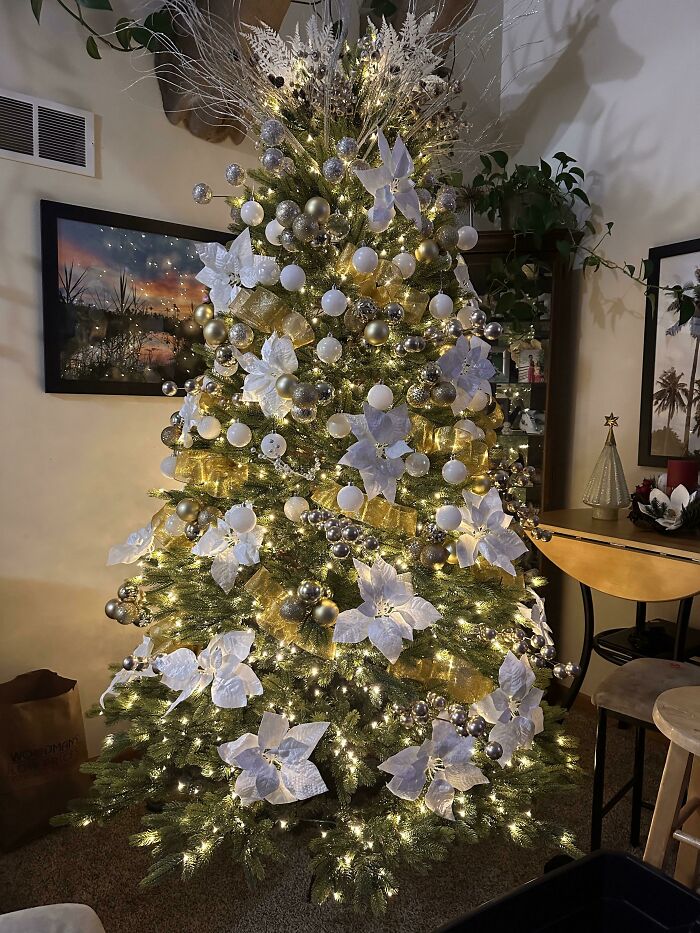 It's now in fashion to switch your green tree for a more modern one, but the best thing about standard Christmas trees is that they will never go out of style. Growing up, our families had these trees. Seeing them brings us back to our childhoods and revives cozy, cheerful memories.
The Northern Lights
They say less is more, but we love this colorfully decorated tree with all those eye-catching ornaments. Our eyes are also drawn to this machine that was placed on top of the Christmas tree to achieve this breathtaking look. The best part is that you can leave it on all year round.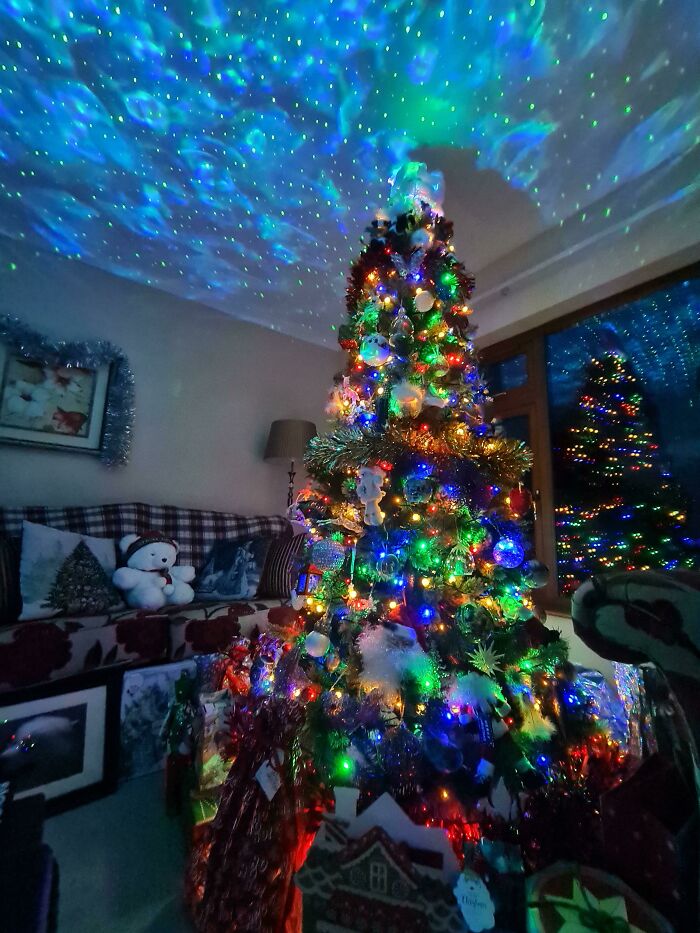 This look was created using an aurora projector. This is the closest some of us will ever get to the northern lights. Who says you have to pay a ton of money to see beautiful lights when you could just experience it in the comfort of your own home?
Topsy Turvy
This upside-down tree might be strange, but there are many reasons why this was done. Folklore tells us that this was created by someone named Boniface as a way of explaining the holy trinity to non-believers using the triangular shape that was formed by the positioning.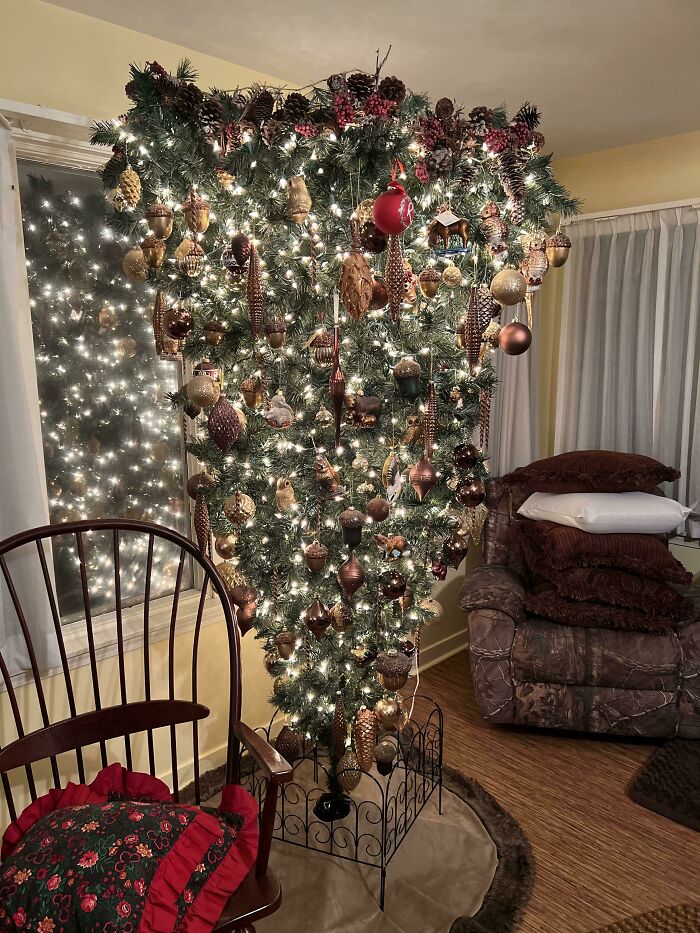 This person probably did it for fun and practical reasons. The fence was probably to keep toddlers or dogs from damaging the display. It could've also been executed to place more presents under the tree or to have hung ornaments easily. Whatever the reason, it didn't detract from the whimsical look.
Succulent Tree
Every plant parent would be so excited to see these succulents that were grown and turned into a Christmas tree adorned with a cranberry garland and star tree topper. There's finally a way to involve their plant babies in their holiday celebrations.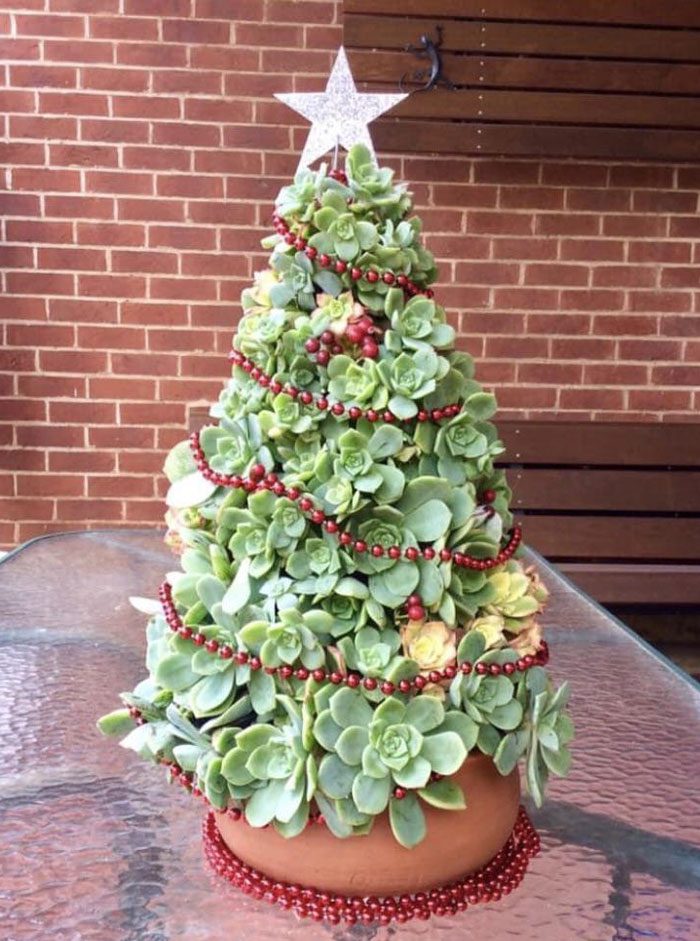 This is a perfect substitute for a plastic tabletop tree decoration. It is so creative and low maintenance that you don't even have to worry about keeping it alive. If you don't feel like putting up a full-size tree, consider this creation for your next Christmas.
To Infinity and Beyond
Bring the cosmos into your living space with this stellar creation. This space-themed Christmas tree looked out of this world – pun intended. Whoever created the amazing tree is very artistic and has a deep appreciation for space and all its glory.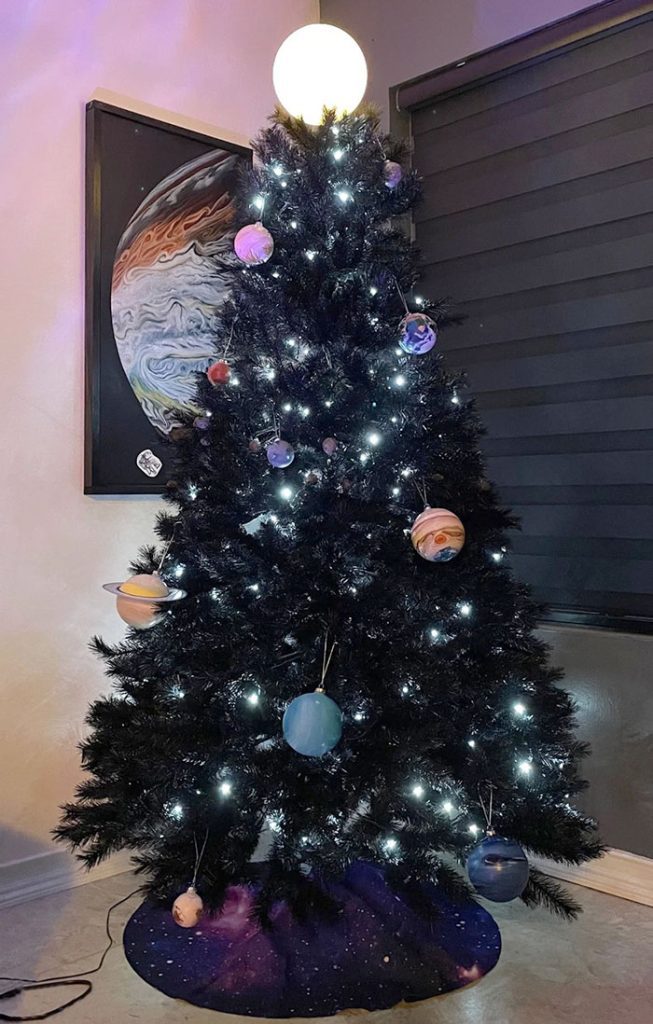 The amazing planet-shaped baubles were painted by hand, and the asteroid belt was made with the use of air-dry clay. The twinkling lights replaced the need for handcrafted star ornaments. We absolutely love this tree to the moon and back!
Crochet Central
This impressive Christmas tree was built to the height of six meters using 1,300 donated crocheted squares. It was a nice way for the community of Trivento, Italy, to get into the Christmas spirit. The design was accomplished by a group of women from the village.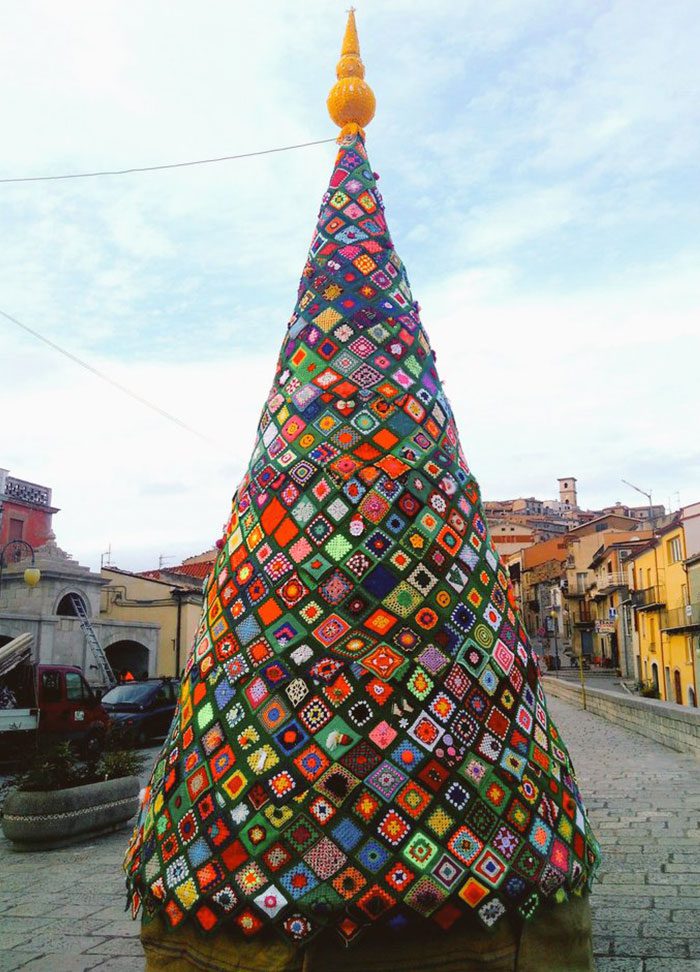 A woman named Lucia Santorelli had given Trivento the title of the "world capital of crotchet" thanks to her idea of covering the town with these stunning crocheted decorations. The Christmas tree added character to the already charming central square.
All lit up
The streets of Viljandi, a town in Estonia, were lit up for Christmas with a tree that was made out of 77 repurposed street lights that were used to illuminate the roads of the town. That definitely was a bright idea.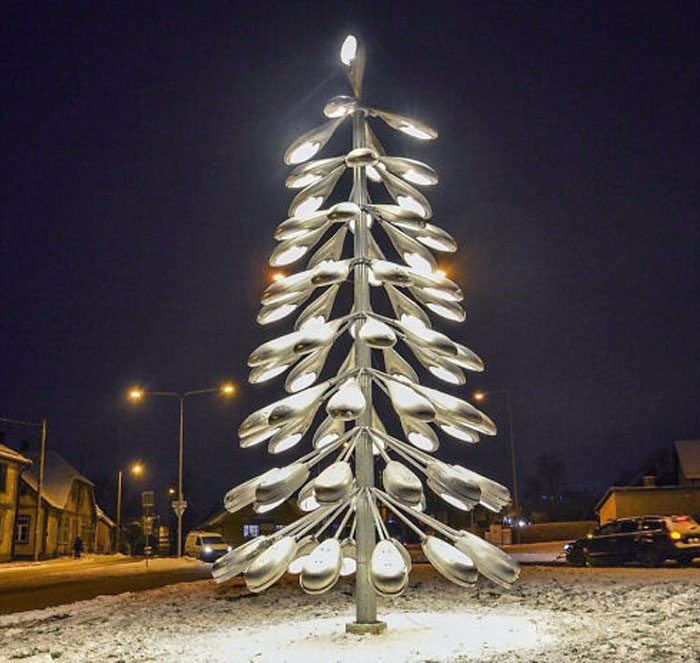 This tree could be spotted from miles away. It could be mistaken for spoons at first glance. The only way this might not give you Christmas cheer is if you live across from this stunning creation, as it might make it difficult to sleep at night.
Christmas is in our DNA
This Christmas tree looked mesmerizing. The person who made it was blessed with a gift for arts and crafts. It looks like you need to have a lot of time on your hands to make this tree that shares a resemblance with the DNA symbol.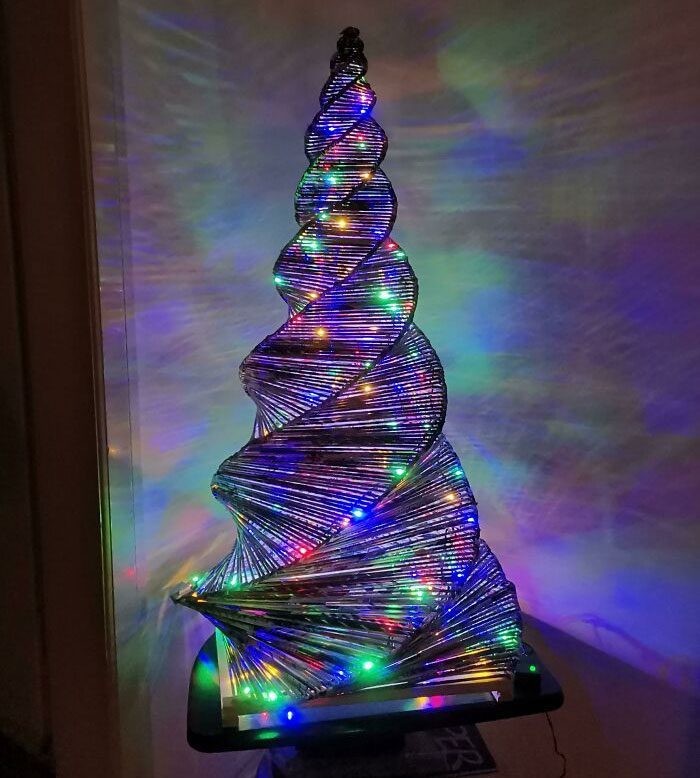 We would never have guessed that this was made using rolled magazine papers and glue. What an incredible way to give your old reading material new life. The lights that were draped around the tree gave it a festive look and cast a cool shadow on the wall.
Swan Lake
This hotel created a tree that looked like it was taken straight from a fairytale book. The tree was covered with ice skates, snowflakes, and a swan placed on top. The lights added a warm, welcoming glow to the lobby.
It's a nice idea for hotels to welcome their guests with a marvelous tree for the Christmas season. It gave a homey feel to those who are spending the holidays away from their families. That time of year is when hotels are normally empty, but guests can be attracted if it has a jolly atmosphere.
Balloon Party
This fun-loving tree was created using balloons and included cute cardboard cutouts of Santa Claus and the polar bears from the North Pole. The polar bears sported cute winter gear, and Santa was hilariously placed with half of his body sticking out of the balloons.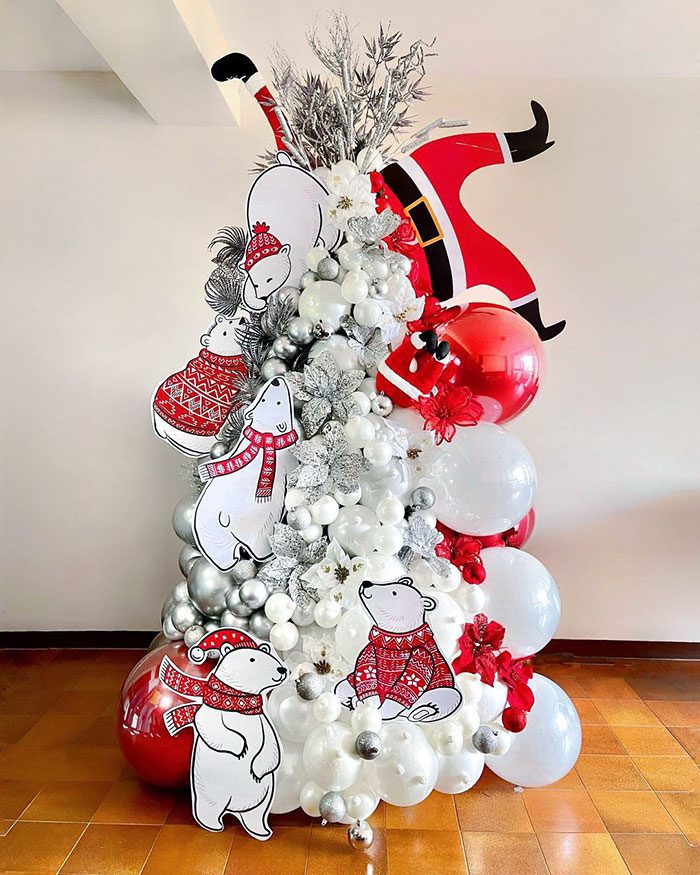 The tree didn't need to be draped in Christmas lights as the red, white, and silver theme stood out by itself. Plus, if you tried to hang lights on this, you'd probably end up toppling onto the display and destroying a lovely creation.
Owl Mania
What a neat idea this person had to make a Christmas tree out of cardboard. It looked simple to make yet still very imaginative. It proves that you don't need a green tree to add a Christmas feel to your home. As long as you have some colorful ornaments, you're good to go.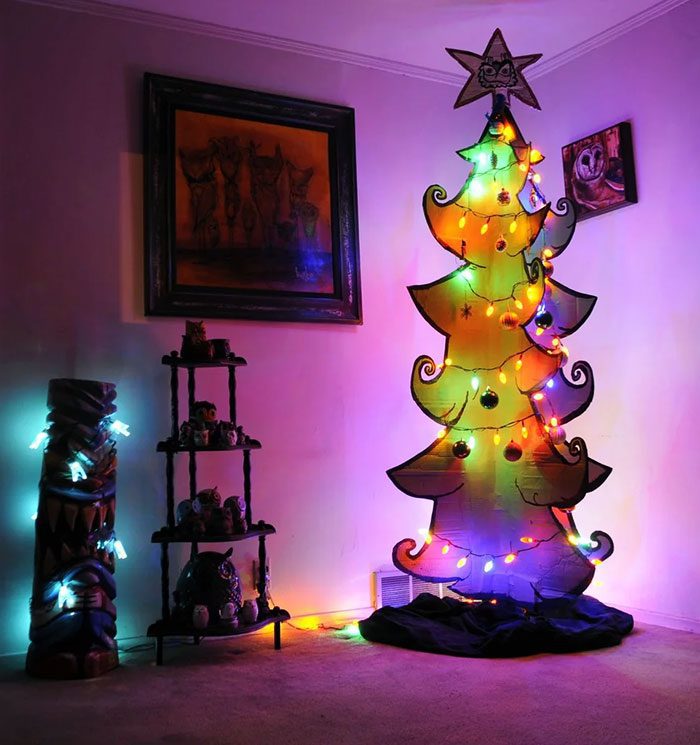 It is surprising that their whole tree was not decked out in owl ornaments to showcase their apparent love for these feathered creatures. One drawn owl did make an appearance on top of the tree as the star tree topper.
Green Tree
Everyone should take a green initiative like this Christmas tree that was made by using upcycled bottles. Each year a ton of plastic is discarded in landfills. The holiday season is known to be a time of excess so compensate by recycling objects to either decorate or make your tree.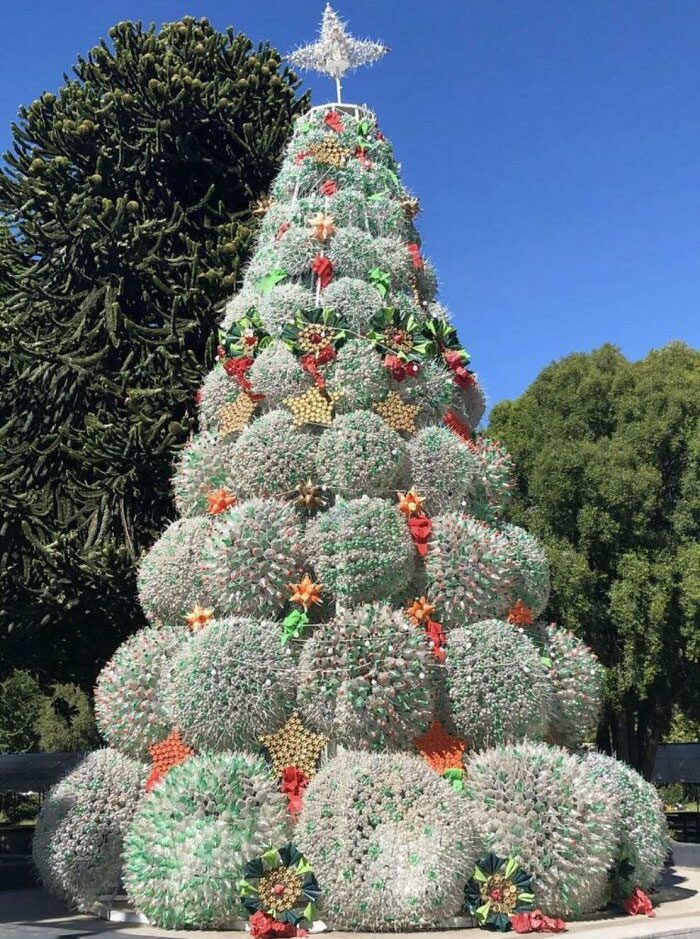 This is the real definition of a green tree. Not a single part of the bottle was spared. It appears the bottle caps were used to make stars. Hopefully, once this was taken down, they still recycled the bottles making it a continued sustainable solution.
All the Colors of the Rainbow
If you stop to think about it, a rainbow tree for Christmas makes perfect sense. The holidays and a colorful rainbow both evoke feelings of joy. This person made a statement with these striking pastel colors for their space. Looking at this tree instantly uplifts our spirits.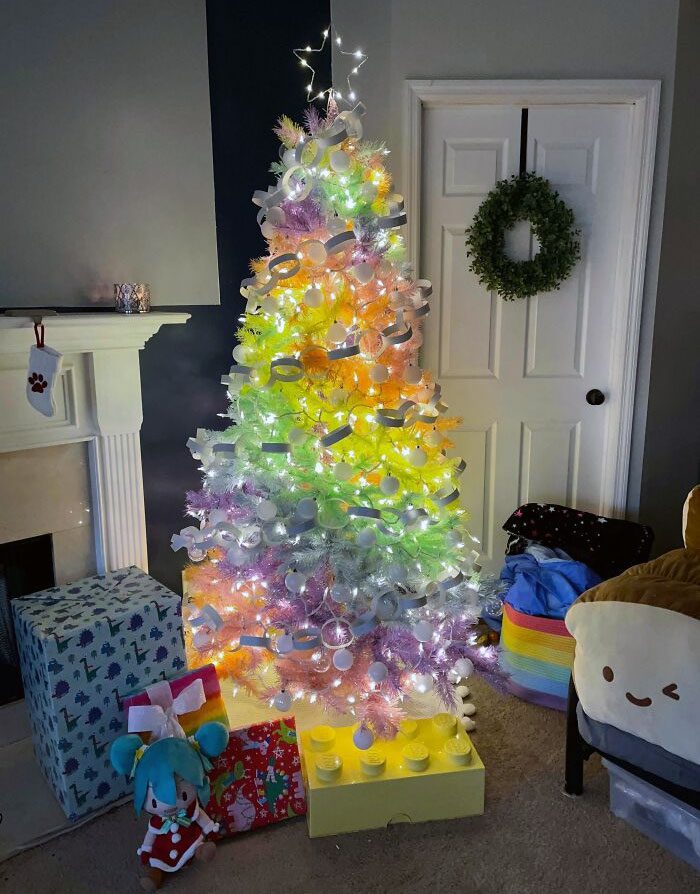 The eye-catching tree didn't require string lights or ornaments of any kind as it shone brightly on its own, but it was added regardless. The plain white decorations that were used were ideal as they didn't take away from the multicolored display.
Pretty in Pink
We're obsessed with this flamingo-themed Christmas tree. They shook things up by replacing the traditional green, white and red and went with a saturated pink. This tree would look perfect in Barbie's Dreamhouse. The neon color might hurt your eyes, but it's hard to look away.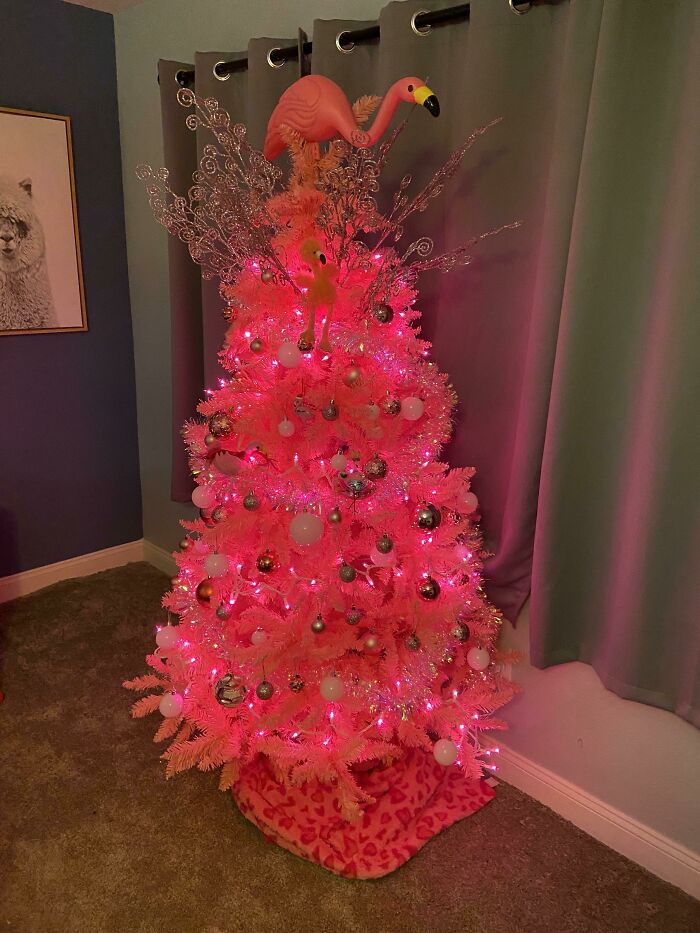 Flamingos have no link to the history of Christmas, but this doesn't stop people from using these trinkets every year. They symbolize many things, including beauty and grace. The flamingo ornaments fit in nicely with this pink tree. The glittering ornaments looked dazzling.
Mario Bros
We're all familiar with the classic arcade game Super Mario Bros developed by Nintendo, centered around the brothers Mario and Luigi, who are plumbers. It also features other iconic characters like Princess Peach and Bowser. This person hand-crafted each character for their special Christmas tree ornaments.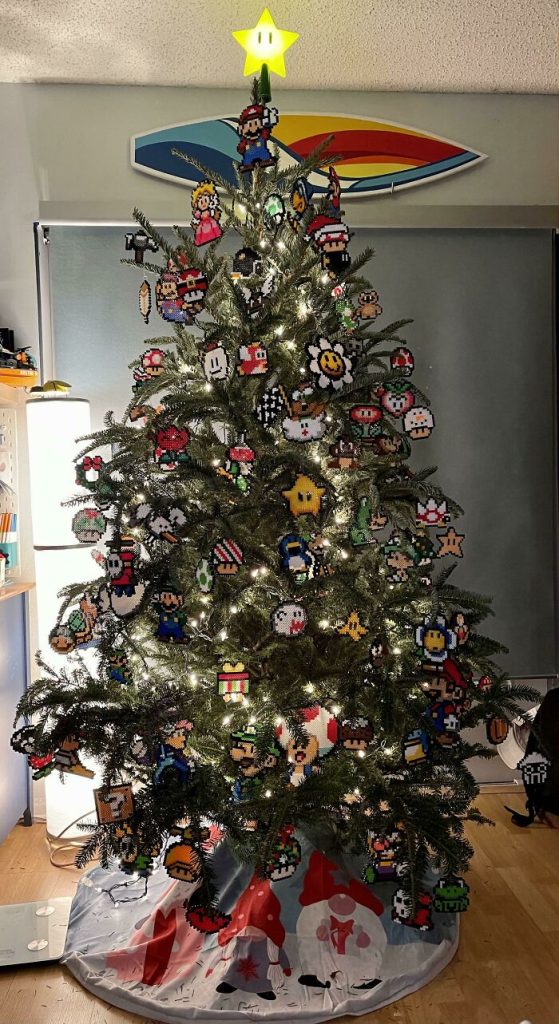 They were devoted to making each fictional character or object found in the game until they ran out of hanging space on their tree. Each design was done by "Perler beading" them. That is when small plastic beads are melted together to form a solid design.
Lady Solstice
This person celebrates Christmas with their dad and solstice with their mom every year because she's not religious. They like to play around when decorating the tree, so when they found a mannequin lying around, they decided to turn it into a lady solstice.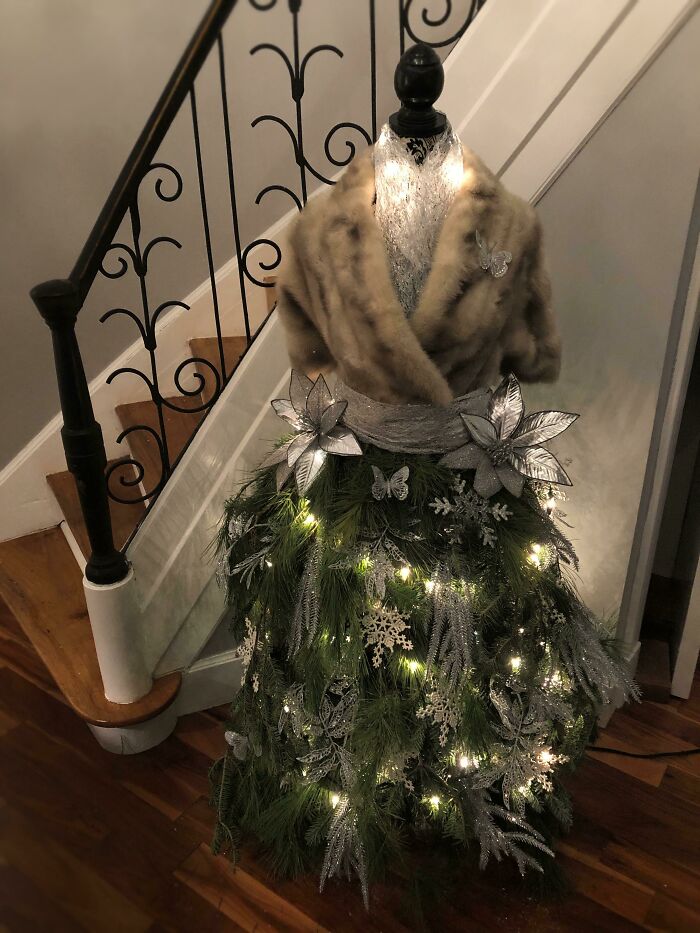 The mannequin was elegantly clothed in a fur coat. The bottom half of the tree acted as the skirt decorated with silver butterflies, flowers, tinsel, fairy lights, and ribbon wrapped around the waist. They must've enjoyed designing this classy tree.
Twisted Xmas
This modern 3D Christmas tree was designed with wooden moveable strips. It formed a spiral shape and looked as if an engineer had designed it. It has a minimalistic look, but the baubles and lights added a cheery feel. This person's talent is spiraling out of control.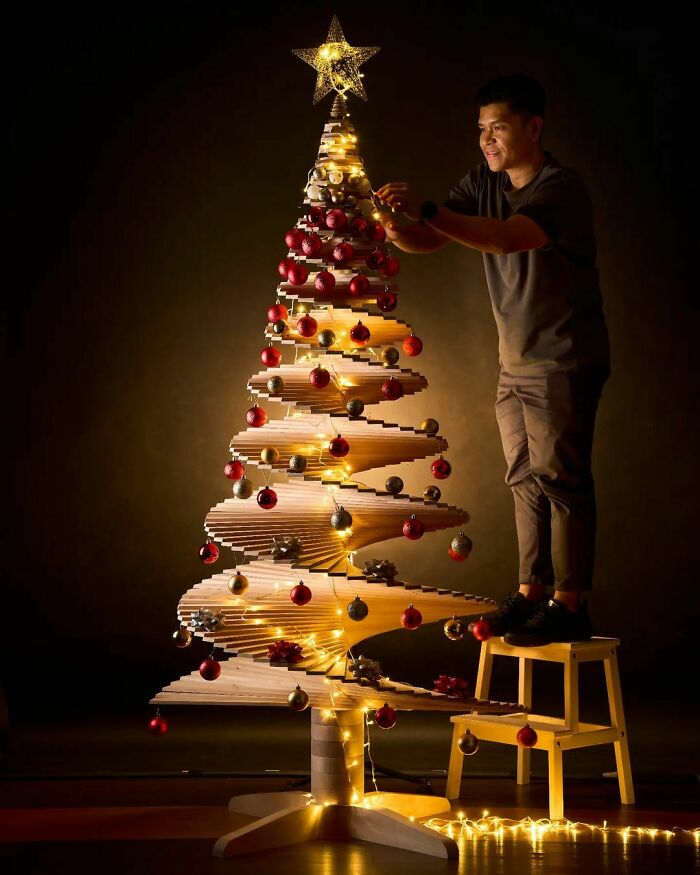 We're secretly hoping the baubles fell off the tree so that the satisfying sound of it hitting the wooden steps could be heard. It would be great if it could be taken apart easily and put together again for the next holiday season.
Walking into Christmas
This huge walkthrough Christmas tree stunned all the onlookers with its ornaments and lights. The snow in Vancouver added to its magical feel. This was a traditional Christmas tree with an interesting twist. Imagine all the beautiful holiday photos that were taken here.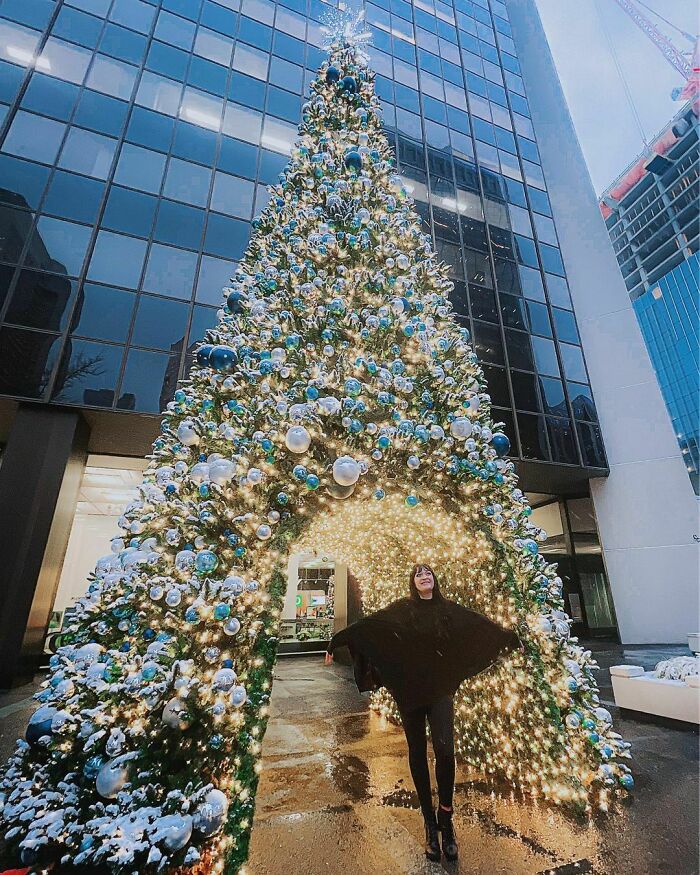 The archway allowed people to stand underneath it and capture unique photos. No more of the plain "standing in front of the Christmas tree" photos. This tree would've let you make this an up-close festive experience whilst standing underneath the shimmering fairy lights.
Baguio City Celebrations
The gleaming lights of this Christmas tree in Baguio City in the Philippines captivated thousands of people. Police officers ensured the safety of the large crowds that came to witness the formal lighting event that takes place every December holiday.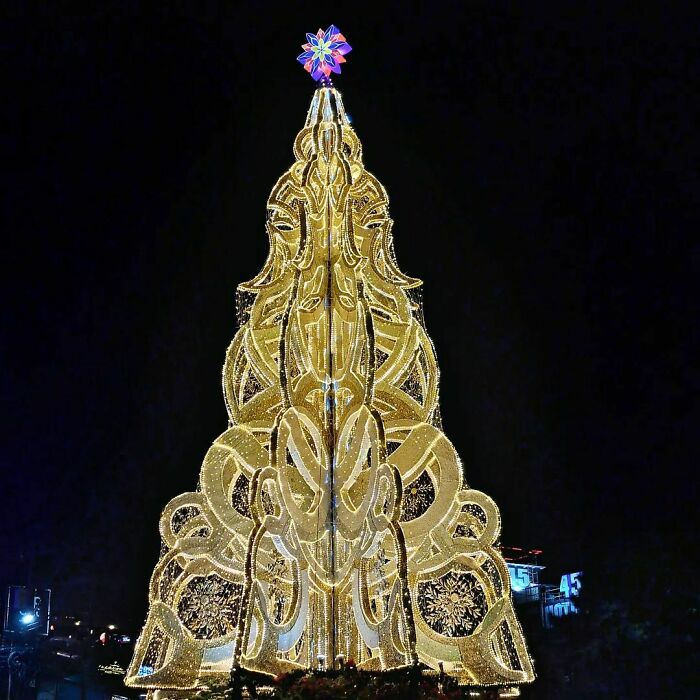 Christmas in Baguio City is the ideal place to experience festive activities. This tree was the star attraction. Thousands of lights were strung up to create a whimsical and intricate design. There was no need for various ornaments as this tree looked jaw-dropping in all its glittering splendor.
Rainbow-rific
We love all things rainbow themed. This Christmas tree was decked from top to bottom with multicolored baubles, and the golden star topper was the cherry on top. If you love color, include this cheerful trend in your next Christmas celebrations.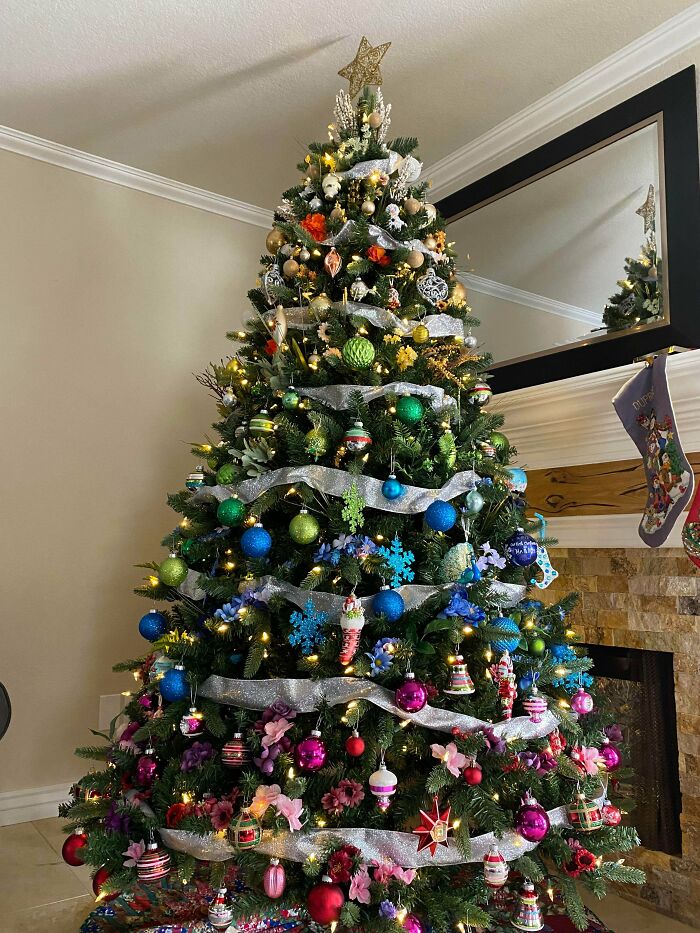 This rainbow theme can be achieved in one of two ways. A fully multicolored Christmas tree can be bought, or if you like the classic green pine tree, the rainbow could still be displayed in all its magnificence by hanging the colorful baubles as this person did.
Carpenter's Christmas
This person had to be very good with a jigsaw to have created this wooden Christmas tree. This master woodworker only used three tools to make this: an orbital sander, a cordless drill, and a jigsaw. The tree was personalized by adding different decorations.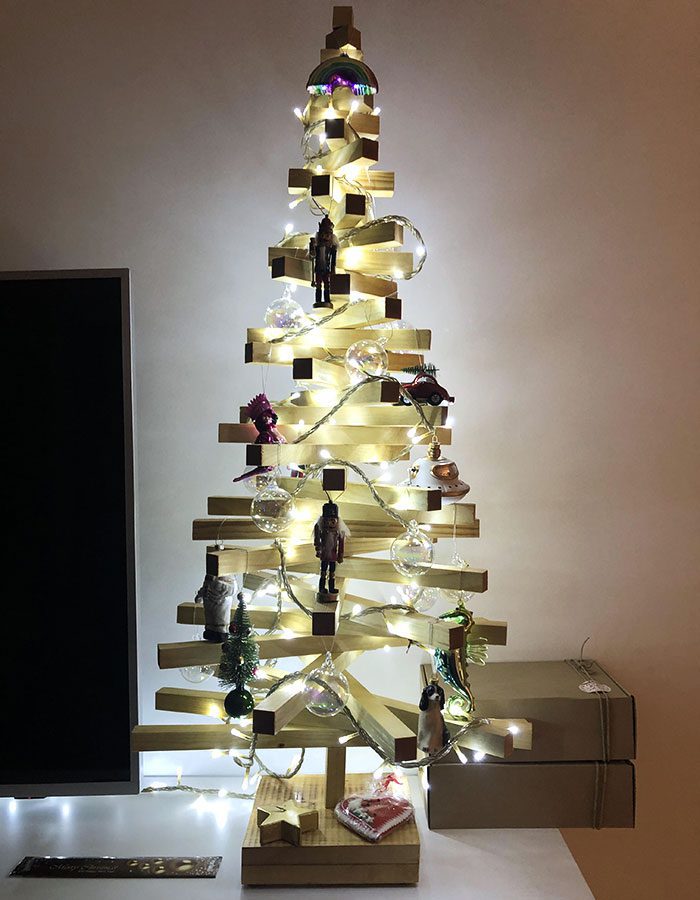 If you're not handy with tools, it's better to give this DIY project a miss; we don't want any mishaps. On the other hand, if wood making is your thing, then use any wooden planks that are lying around your house to create this cool design and decorate it to your liking.
Winter Wonderland
This glorious jewel-toned tree brought Christmas magic to Beacon Park in downtown Detroit. This visual stunner looked like a winter wonderland with the snowfall and the glowing lights. The light that was emitted from the tree created a remarkable effect at the top of the tree.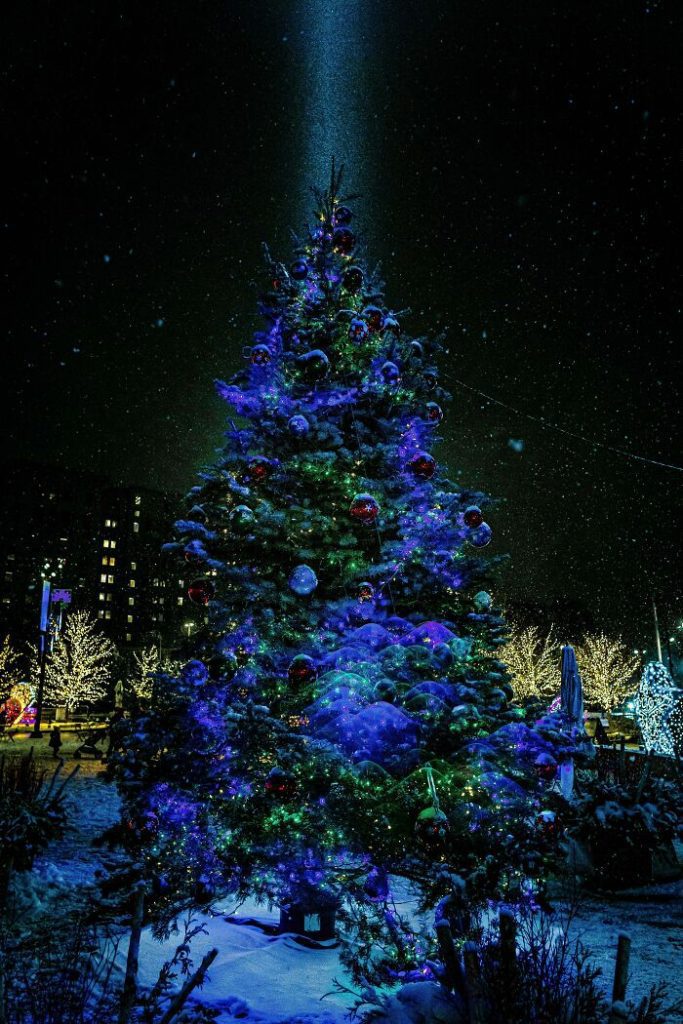 People should take an evening stroll through the park to truly appreciate these whimsical creations. This tree looked like the epitome of Christmas. An image taken of this Christmas tree would be a perfect postcard to send to your friends and family.